This One Pan Ham & Cheese Tortellini is super creamy and flavorful, and a delicious was to celebrate National Cheese Day! Everything is cooked together in one pan for a quick, family-friendly weeknight meal with easy clean up.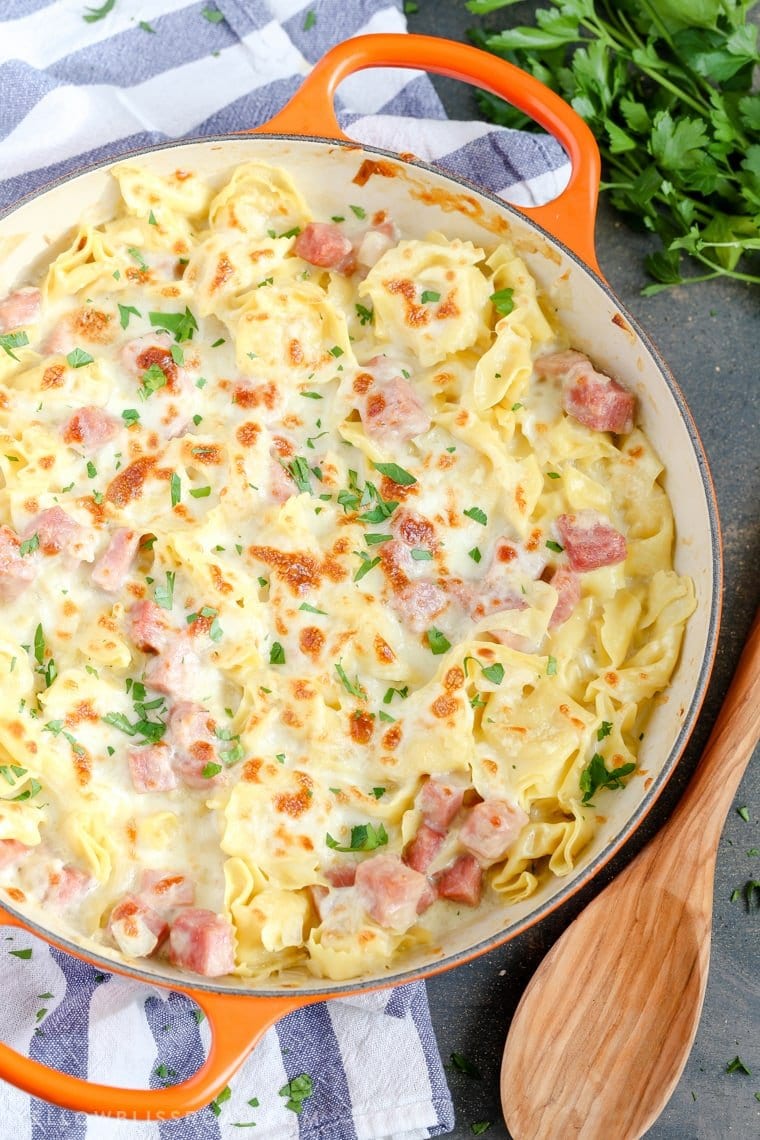 Ham & Cheese go together like peanut butter and jelly. That saltiness of the ham is mellowed my the creaminess of the cheese, and on the flip side, the creaminess of the cheese is cut by the saltiness of the ham. My kids are huge fans of tortellini, so pairing that with ham and cheese for National Cheese Day was kind of a no-brainer.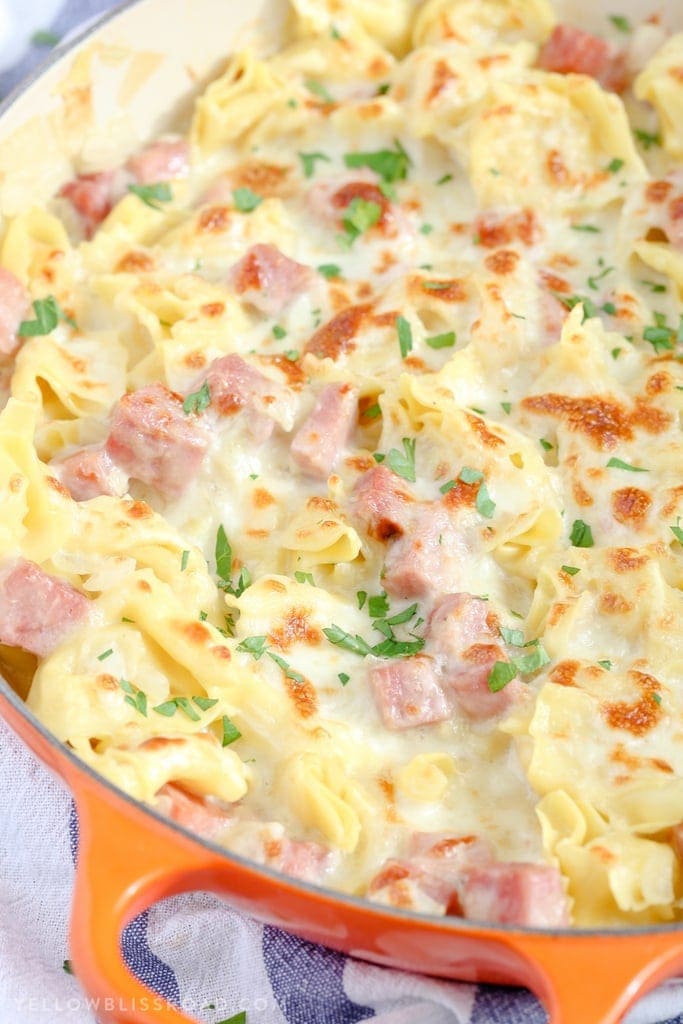 Plus if you've been a reader for a while you've probably tried some of our other favorite one pan meals, like Italian Sausage & Tortellini and Beef Stroganoff. If you haven't tried a one pan meal yet, what are you waiting for?! They are a huge time saver in the kitchen, especially on busy weeknights when cooking is the last thing you want to do. No slaving over a hot stove for hours, no heating up the kitchen for an hour with a hot oven. Just 10-15 minutes on the stovetop is all you need for this One Pan Ham & Cheese Tortellini!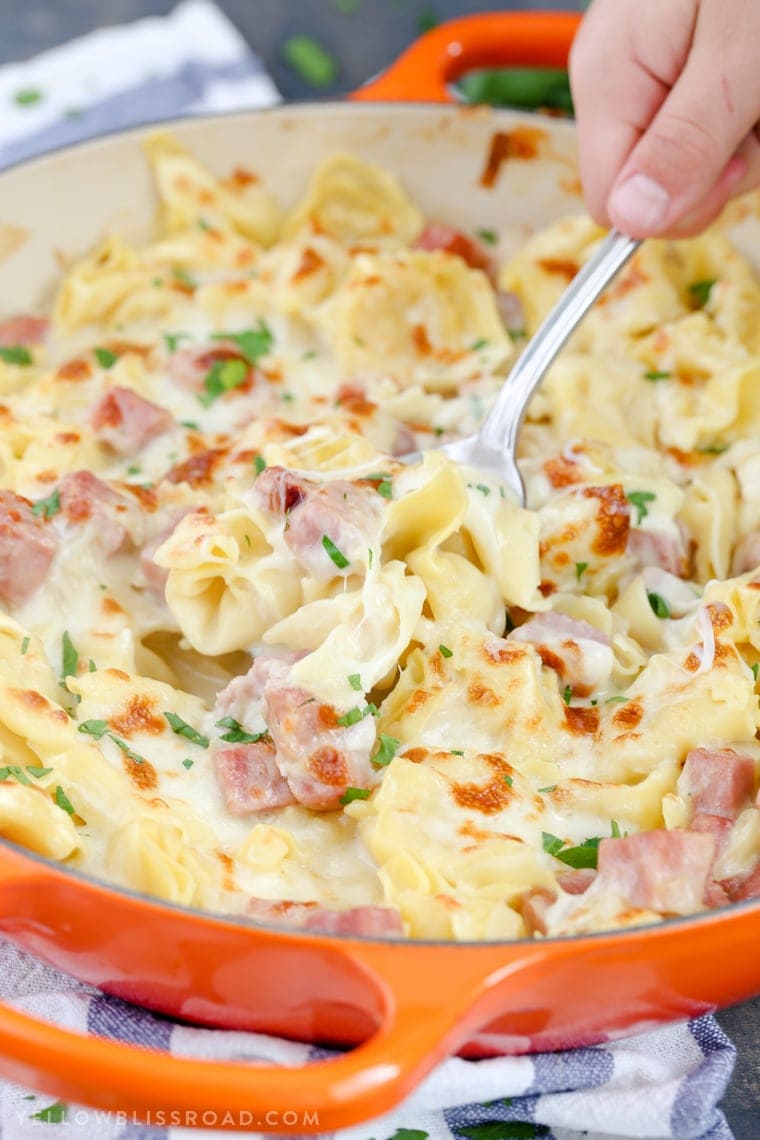 If you're not a fan of tortellini, we can't be friends. Kidding…sort of. But if you're not, then you could use a dry pasta in this dish in place of the tortellini. The cook time will have to be lengthened a bit, and you might need a bit more liquid, but the method is pretty much the same.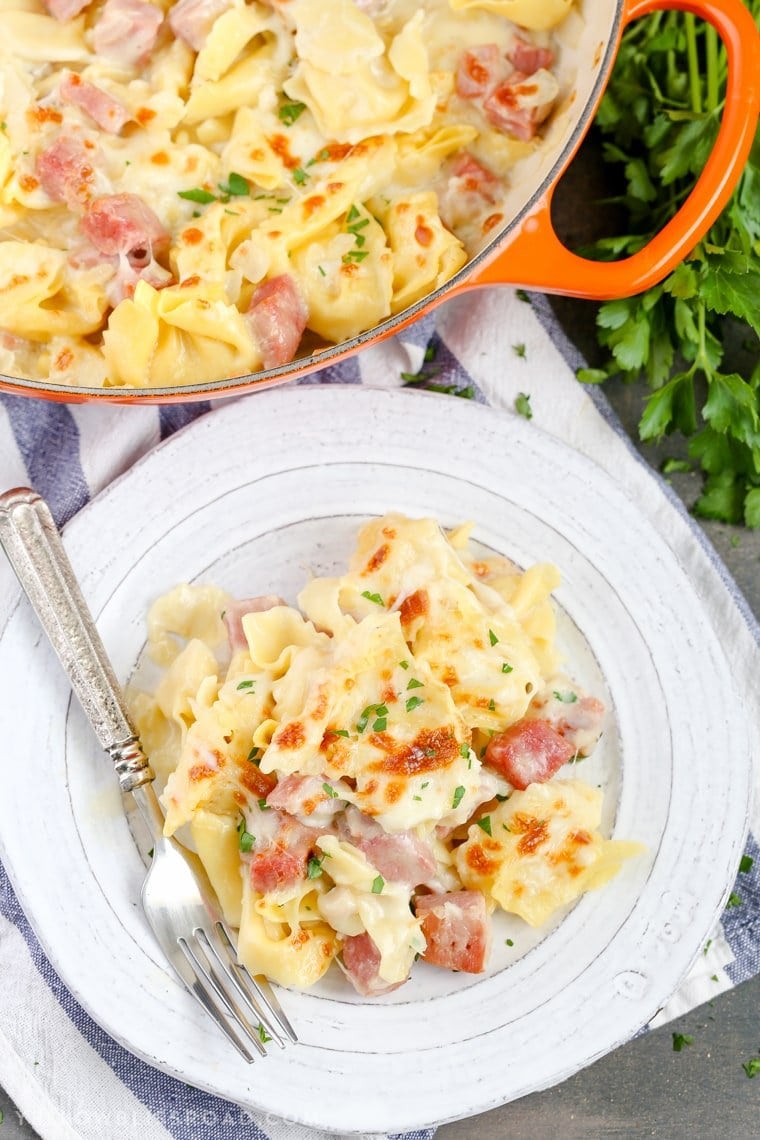 When the One Pan Ham & Cheese Tortellini is finished cooking, you're going to top it with a ton of cheese. Half of that cheese is stirred right in with the ham and pasta to create the sauce. The rest of the cheese is left right on top of the pasta to melt and create that lovely golden crust under the broiler. Now if you're adverse to turning on the broiler for a few minutes you can just cover the pan with it's lid or some foil and let the cheese just melt on it's own. It will take about 5-10 minutes. I recommend the broiler method because the cheese gets ooey gooey and those golden brown mozzeralla bits. So good!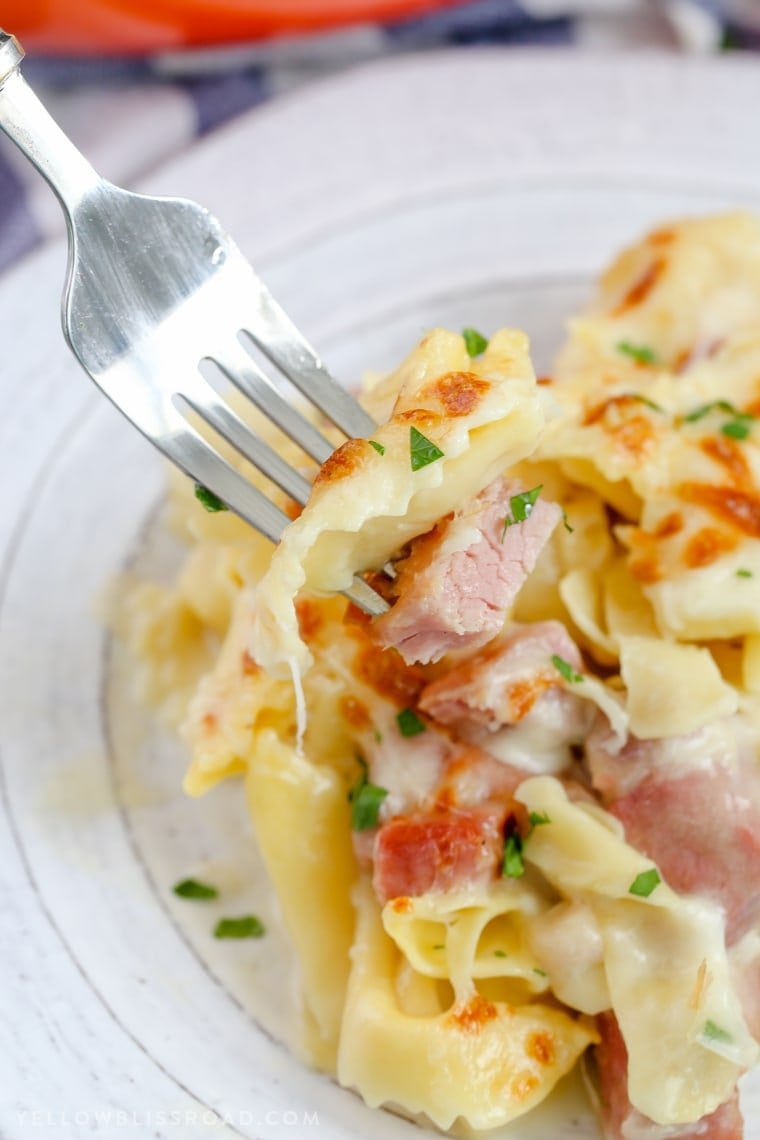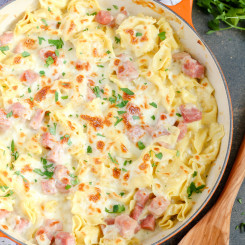 One Pan Ham & Cheese Tortellini
Print
Pin
Rate
Prep Time: 10 minutes
Cook Time: 15 minutes
Total Time: 25 minutes
Servings: 4 -6 servings
Ingredients
1 tablespoon olive oil
1 small onion diced
2 cloves garlic minced
2 cups diced ham
1 20- ounce package fresh or frozen cheese tortellini
1 3/4 cups low-sodium chicken broth
1/2 cup heavy cream
1 1/2 cups fresh shredded Mozzarella cheese
1/4 cup fresh shredded Parmesan cheese
Fresh chopped parsley
Instructions
Heat olive oil in a large, oven-safe skillet over medium heat. Add onion and cook, stirring often, until softened. Add diced ham and garlic and cook for several minutes, until browned.

Add chicken broth, tortellini and heavy cream. Stir until combined and bring to a boil. Cook for about 8-10 minutes or until most of the liquid is absorbed and tortellini are tender.

Meanwhile, heat the broiler on your oven (place the rack in the center of your oven).

Remove from heat. Stir in half of the Mozzarella and all of the Parmesan cheese until melted.

Top with remaining Mozzarella and place under the pre-heated broiler for about 3-5 minutes, until golden and bubbly (watch closely to avoid burning). OR if you prefer not to use the broiler, cover and let sit for 5-7 minutes, or until cheese is melted.

Garnish with fresh, chopped parsley and serve immediately.
Here are a bunch more cheesy recipe that are perfect for celebrating National Cheese Day!
Chicken, Bacon & Blue Mac & Cheese
And how about these awesome NEW recipes from some of my friends!
Cheddar Broccoli Soup From Ashlee Marie
Cheesy Garlic Bread from Life Made Simple
Stuffed Cheese Buns from The Baker Upstairs
Garlic Bread Grilled Cheese Sandwiches from Creations by Kara
Fromage Fort (Cheese Spread) from Foodie with Family
Cheese Blintzes with Fresh Strawberries from Real Mom Kitchen
Cheesy Pesto Bread from Gather for Bread
Instant Pot Cheesy Enchilada Rice from 365 Days of Slow Cooking
And how about a few more just for fun…
Pimento Cheese from Foodtastic Mom
Italian Cheesy Bites from Fed Up Foodie
Pepperoni Grilled Cheese with Marinara Soup from A Mindful Mom
Triple Cheddar Chicken Pasta from Lil Luna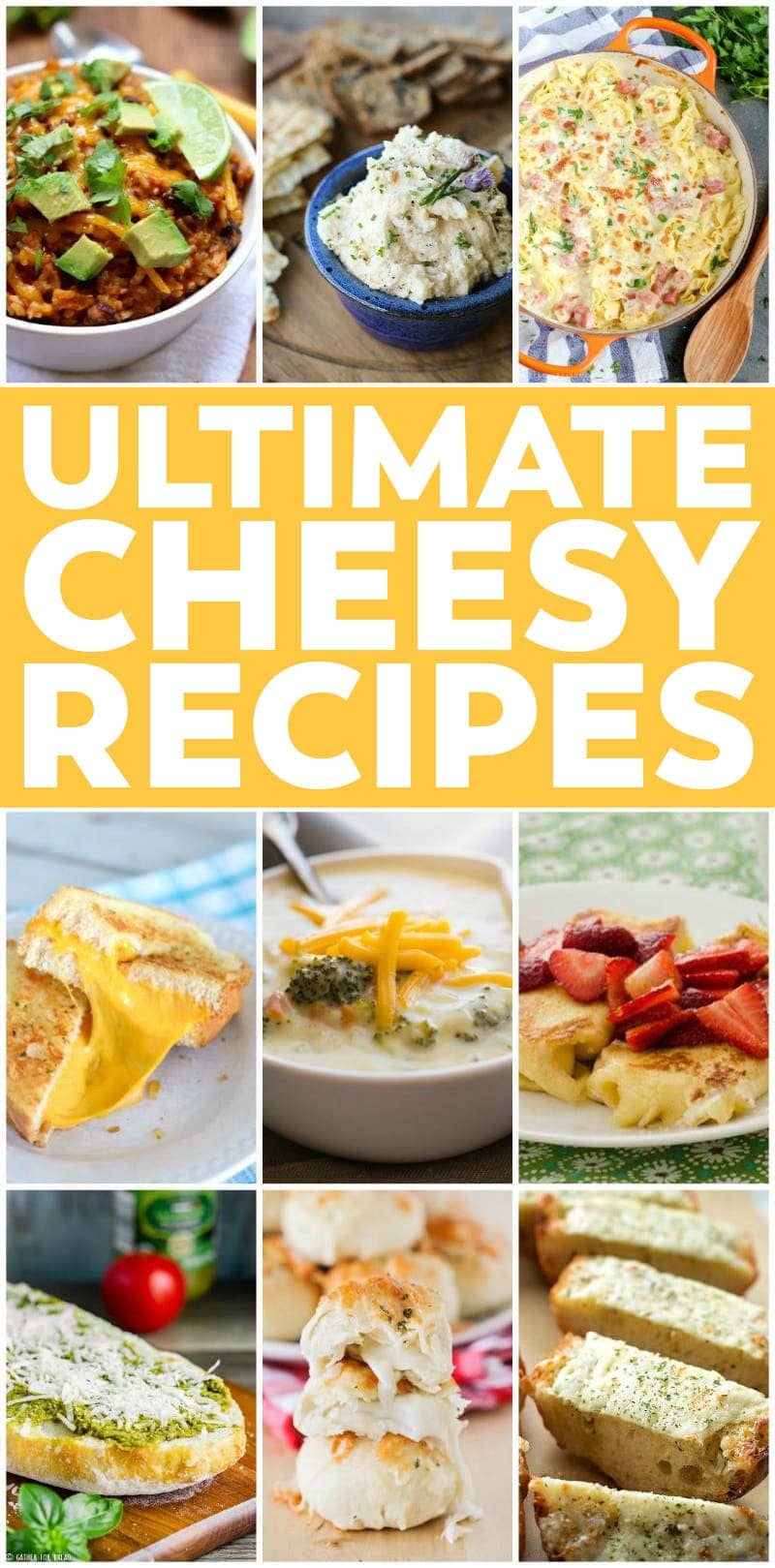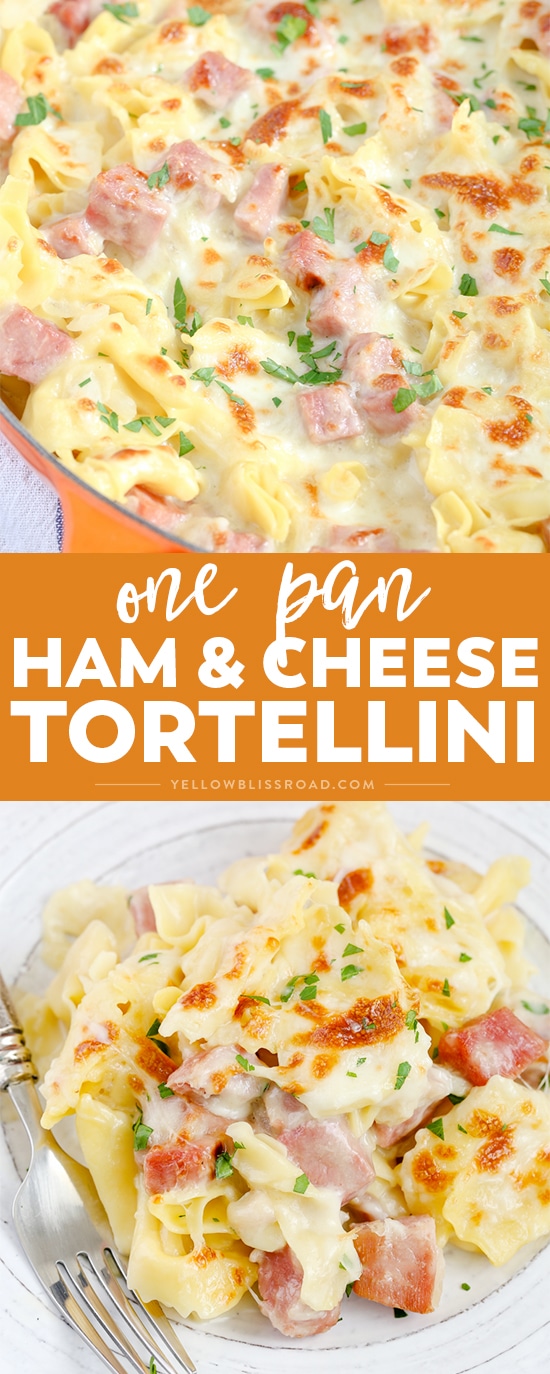 Hi! I'm Kristin, the creative mind behind Yellow Bliss Road where you will be inspired by tons of easy to follow recipes, lots of free printables, and a little sprinkling of life thrown in for good measure.