This One Pan Garlic Parmesan pasta is a light enough recipe to serve as a main dish, or a delicious side dish to accompany your favorite meats. Tender linguine pasta tossed in a creamy, cheesy garlicky sauce make this one pot pasta total dinner-time perfection that's ready in 20 minutes!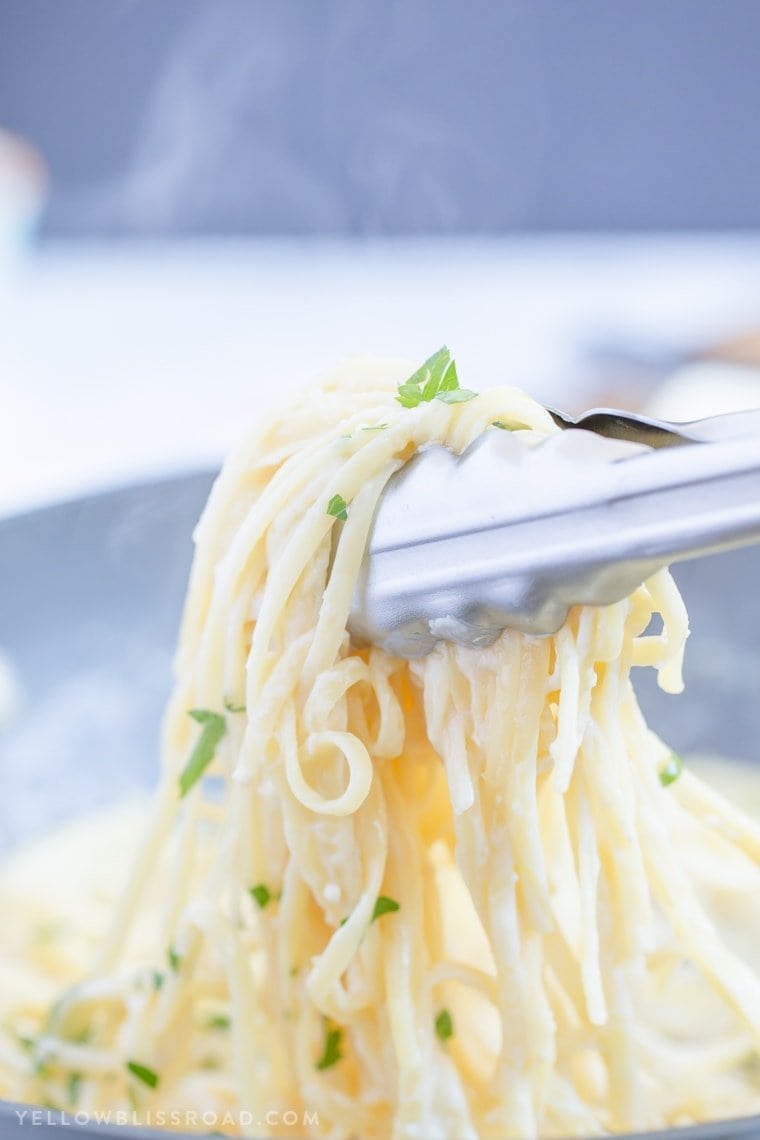 From time to time I will update an older post, not because the recipe wasn't good, but because three years ago my photos were pretty bad, and really didn't do justice the dish! This is one of those, because this One Pan Garlic Parmesan Pasta is Ah-Mazing!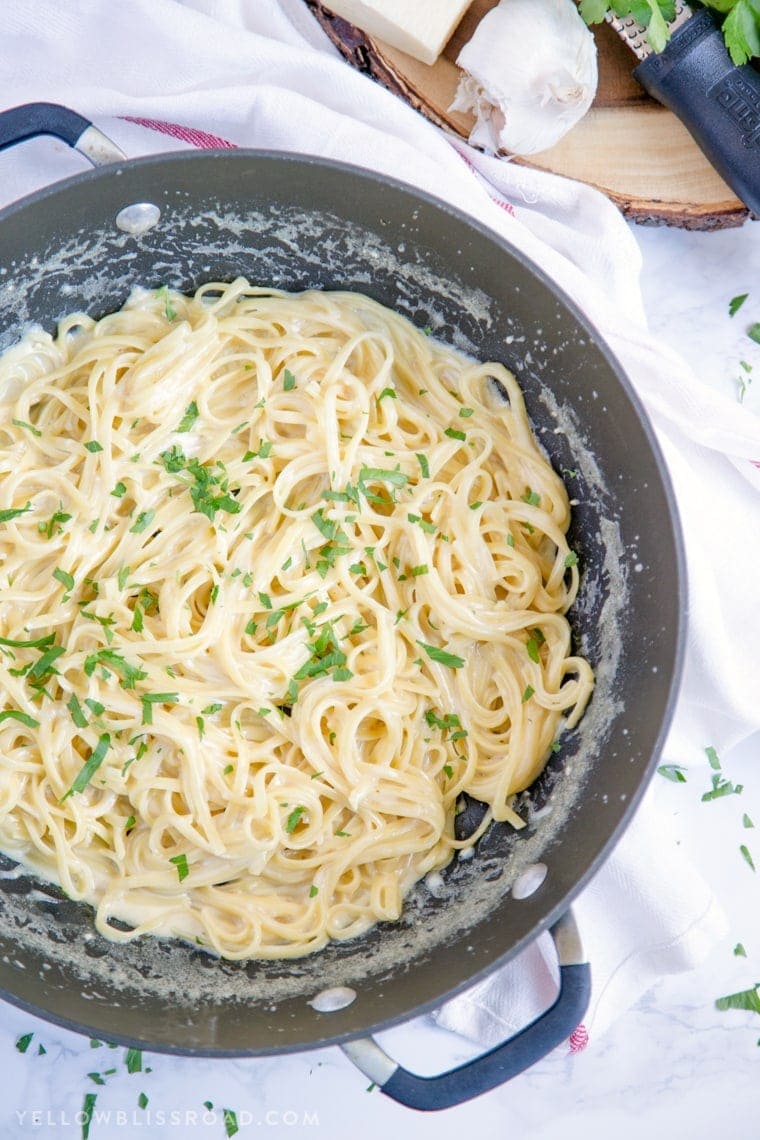 HOW TO MAKE ONE POT PASTA WITH GARLIC AND PARMESAN
This one pot pasta dish is lightened with the use of nonfat milk with or in place of whole milk or heavy cream. For the remake, I chose to use half nonfat milk and half heavy cream. The more cream you use, the more richer your pasta dish will be. I also chose linguine instead of fettuccine, but really any long, skinny pasta could be used. You'll just need to adjust the cooking time slightly.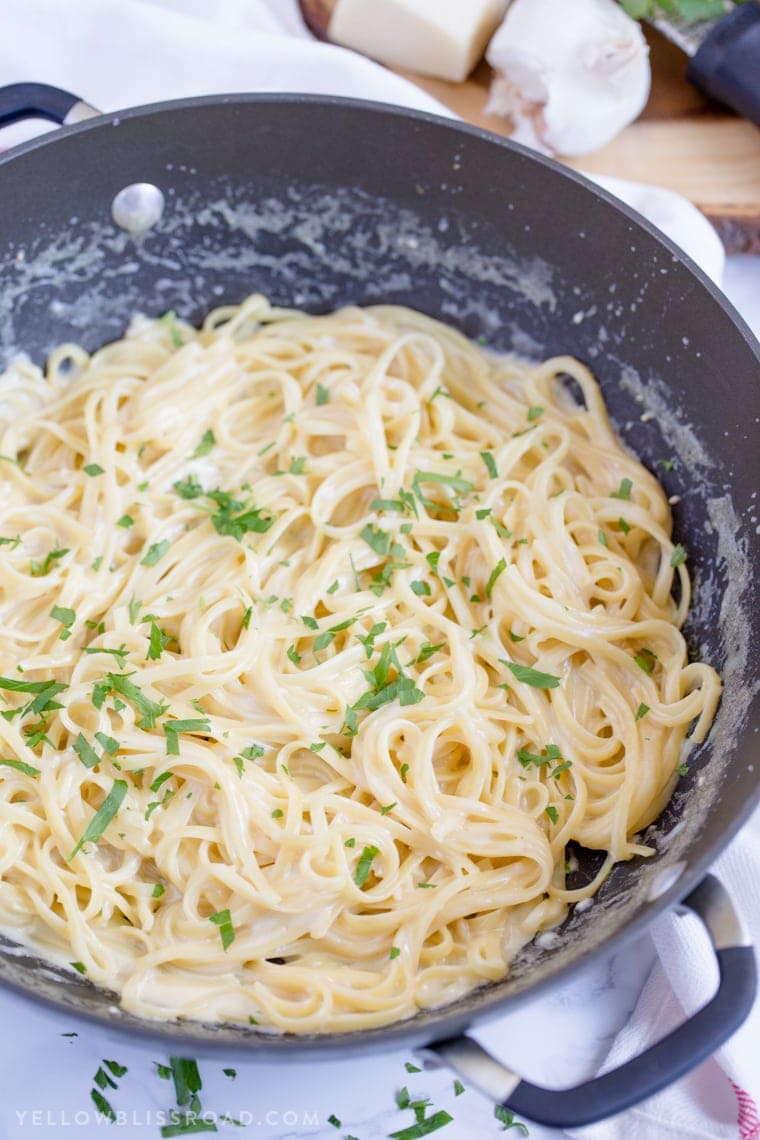 First heat some olive oil in a 12 inch skillet. Add the garlic and stir as it cooks. It will become quite fragrant at this point and your family will come in wondering what that amazing smell is.
As the garlic is just beginning to brown, you'll add the rest of the ingredients, except the cheese and parsley. It will be getting all nice and bubbly at this point, so you'll want to stir it up to coat the pasta and bring it to a boil over medium-high heat. Cook the pasta for about 10 minutes or until tender. Once the pasta is cooked through (there should still be just a little liquid left in the pan), stir in the Parmesan cheese and parsley.
Pro Tip – Add the Parmesan in a thin layer evenly across the top of the pasta and then gently toss to melt and coat the pasta. Do this in two batches if necessary to ensure the cheese doesn't clump as it melts.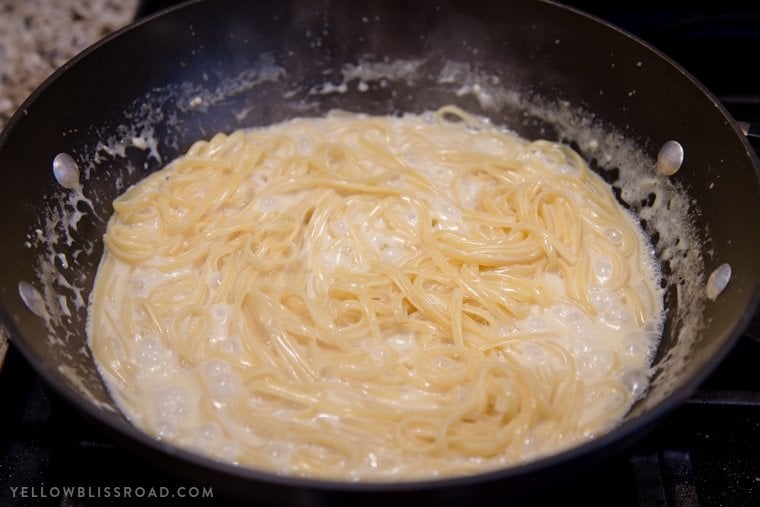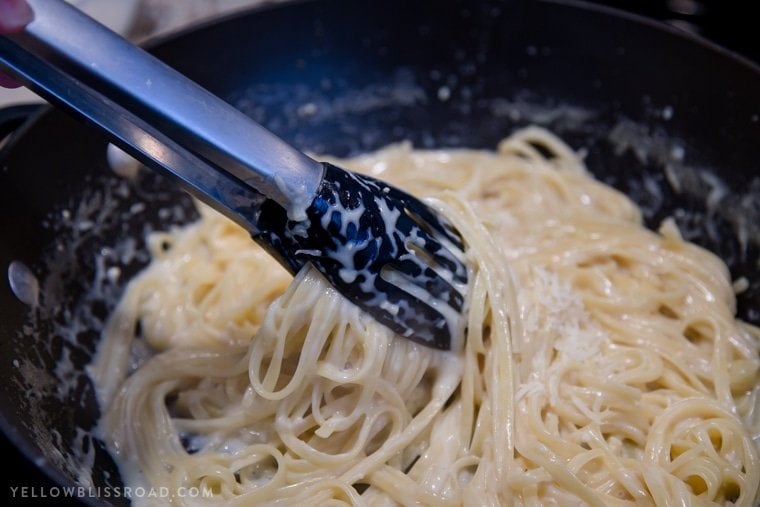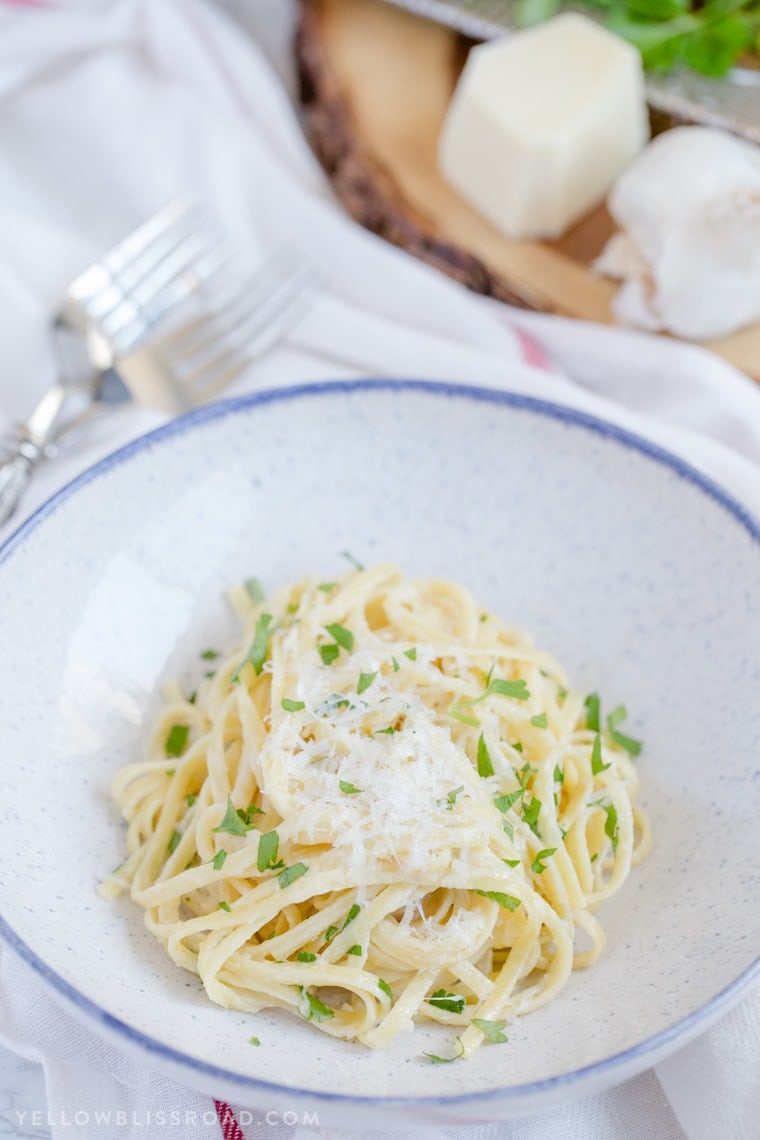 Looking for more One Pot Pasta recipes?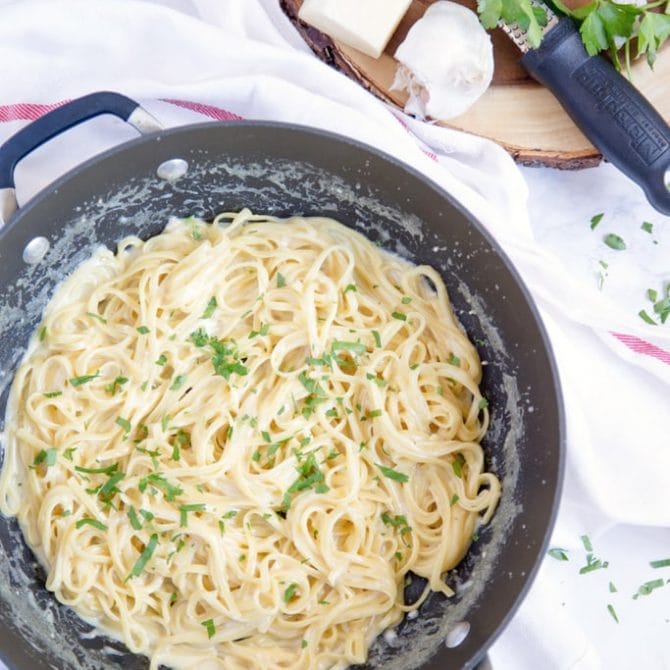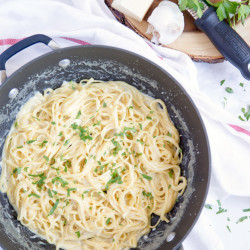 One Pan Garlic Parmesan Pasta
Ingredients
1 tablespoon olive oil
2 tablespoons minced garlic
2 tablespoons butter
8 oz. dry linguine noodles
2 cups low-sodium chicken stock
1/2 teaspoon salt
1/4 teaspoon pepper
1 cup milk/cream (I use half nonfat milk and half heavy cream
1/2 cup fresh shredded Parmesan cheese
1 tablespoon chopped parsley
Instructions
In a 12 inch skillet over medium-high, heat olive oil and add garlic. Stir and cook until garlic becomes fragrant and just starts to brown; about 1 minute. Add pasta, salt, pepper, butter, chicken stock and milk/cream. Stir and bring to a boil.

Reduce heat to medium-low, cover and simmer for 20 minutes or until pasta is tender. *OR cook and stir constantly for about 10 minutes for a quicker finish time.

Remove from heat, toss pasta, and stir in Parmesan Cheese (sprinkle cheese in a thin, even layer for best melting). *Pro-tip - I use a microplane and grate right over the pasta.

Sprinkle parsley on top. Divide into bowls and serve hot.