I'm super excited to share this One Pan Philly Cheesesteak Pasta with you today. It was a recipe that I thought up late one night and to be honest I wasn't really sure it work out as well as it did. But oh my goodness was it delicious! It's the perfect one pan meal that the whole family will love!
This delicious pasta cooks in one pan and from start to finish, takes less than thirty minutes, and uses minimal dishes for an easy cleanup.
To make the pasta, you'll need some roast beef from the deli. You want the rarest they have, and for them to slice it thinly. You'll also need some thinly sliced onions and bell peppers.
I cooked the onions about halfway first, then added the bell peppers because I prefer to have the onions nice and soft and the peppers a little firmer.
Next you'll add the roast beef, some beef broth and rotini pasta. Once it boils you just cover it up and walk away for about twenty minutes.
After about twenty minutes, remove the cover from the pasta. If there is still a lot of liquid (and this goes for most of the one pan meals), just turn the heat up and let it reduce with the cover off, stirring intermittenly. This should only take a couple of minutes and the liquid does not need to be completely gone. It will continue to be absorbed as it sits.
Next is the best part – the cheese! I topped the cooked pasta with slices of Provolone Cheese. I only used about six slices, but next time I would use more.
Doesn't that look amazing? Trust me – it was! I hope you'll try it out for yourself.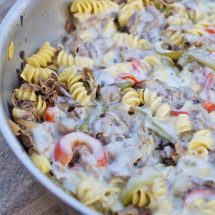 One Pan Philly Cheesesteak Pasta
Print
Pin
Rate
Prep Time: 10 minutes
Cook Time: 20 minutes
Total Time: 30 minutes
Ingredients
2 Tbsp olive oil
1 cup thinly sliced onion (about 1 small onion
2 cups thinly sliced bell peppers about 3 - red, and/or green
1 pound thinly sliced rare deli roast beef
2 cups beef broth
1 cup water
1/2 pound of small dry pasta like Rotini (about 2 1/2 cups)
6-10 thin slices of deli Provolone Cheese
Instructions
Heat olive oil over medium high heat in a 12" skillet.

Add onions and bell peppers and cook, stirring often, until vegetables are soft and onions are clear.

Cut roast beef into one-inch pieces. Add to the veggies in the pan.

Add pasta, broth and water, stir, and bring mixture to a boil.

Cover pan and reduce heat to low.

Cook for 18-20 minutes. Uncover and if there is still a lot of liquid in the pan, turn heat back up to medium-high and cook, stirring often for a few minutes until liquid is mostly absorbed.

Turn off heat and top pasta with cheese slices. Replace cover for about five minutes, or until cheese is melted.

Divide into bowls and serve.
This is just one of the many Simple Sunday Supper recipes available on Yellow Bliss Road. Each Sunday you can expect a delicious, original One Pan Meal or other dinner recipe that is ready in thirty minutes or less! Be sure to come back and visit!
 For more delicious one pan meals, be sure to check these out: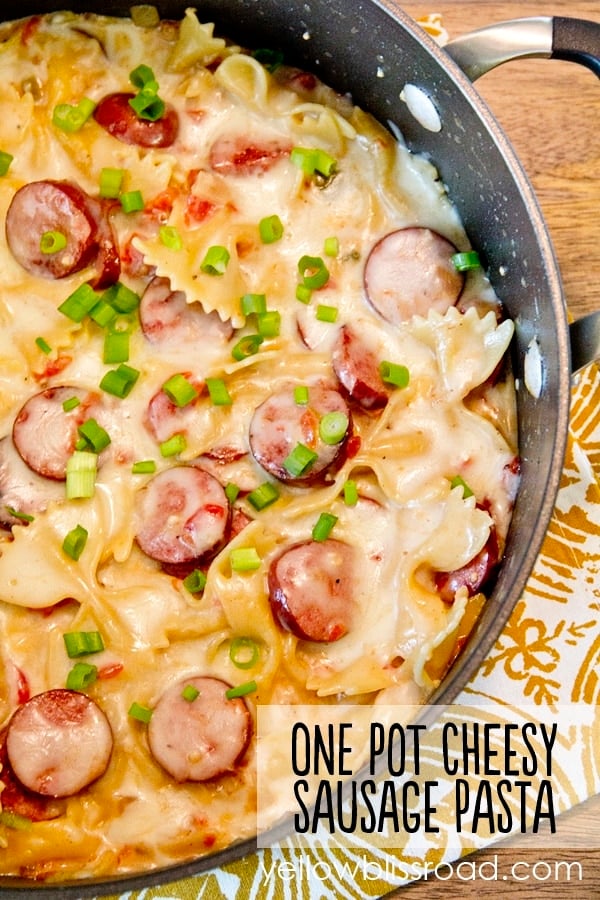 Cheese Smoked Sausage and Pasta Skillet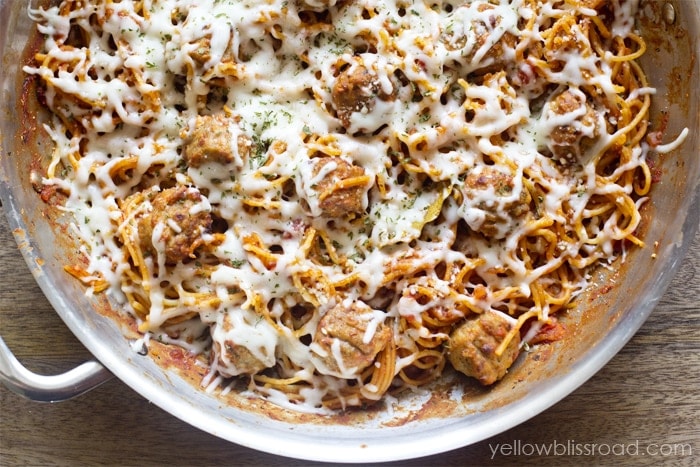 One Pan Spaghetti and Meatballs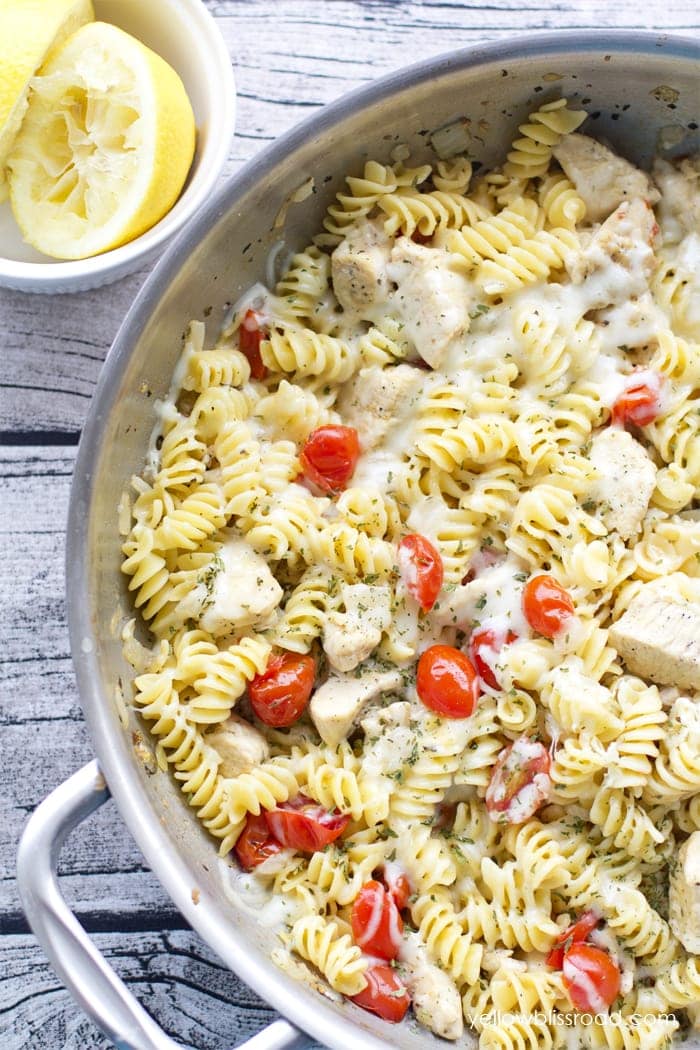 Spicy Lemon Chicken Pasta with Tomatoes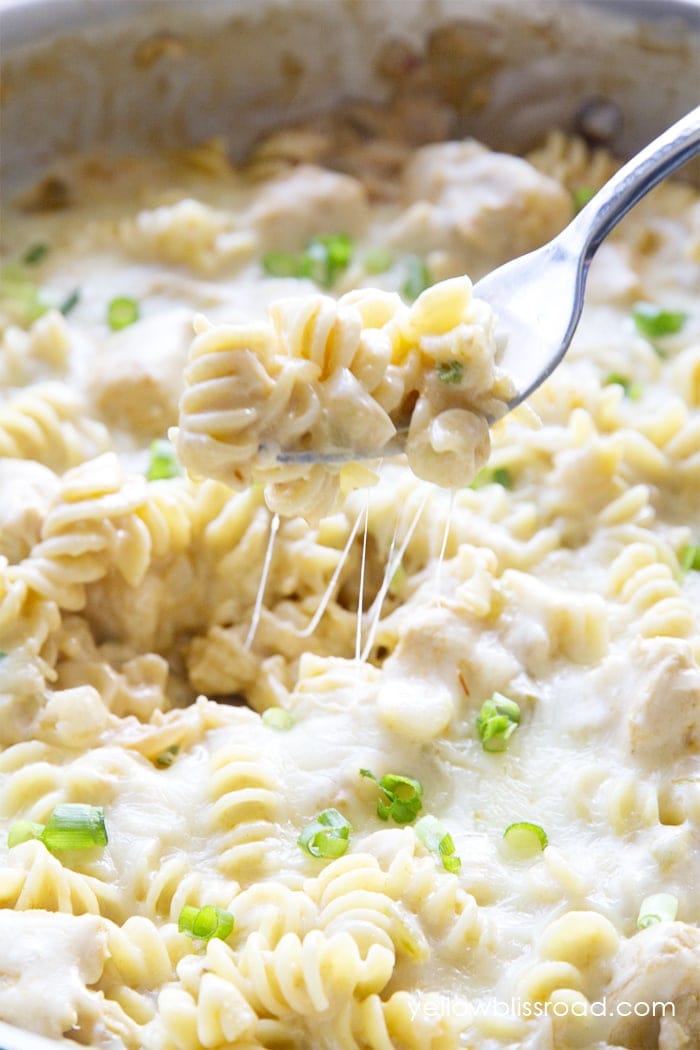 Green Chile Chicken Enchilada Pasta
For all dinner recipes on the site, go here.
For a complete list of recipes, go here.
Hi! I'm Kristin, the creative mind behind Yellow Bliss Road where you will be inspired by tons of easy to follow recipes, lots of free printables, and a little sprinkling of life thrown in for good measure.