Easy to make and full of flavor, this Pan Roasted Lemon Garlic Chicken is sure to please even the pickiest in your family!
My kids aren't huge meat eaters, especially my daughter. It takes a lot to get her to eat even a few pieces of chicken; and steak? Forget about it. But when I made my Pan Roasted Herbed Chicken a couple months ago, she literally gobbled it down! I'll admit I ate two pieces, it was THAT good.
And friends, let me tell you, this Lemon Garlic version was even better! The tartness from the lemon and the kick from the garlic were magnificent and the rosemary gave a nice floral note. These recipes call for you to leave the skin on, and it crisps up giving the most wonderful texture to the chicken. Of course leaving the skin is all about flavor, and there's tons of it in this dish!
If you prefer to save a few calories and not eat the skin, you don't have to, but let it cook with the skin on to give that nice juicy flavor.
Pan Roasted Chicken is easy to make, and in just a couple of steps.
First combine the marinade mixture in a bowl and pour it over the chicken in a zipped bag. Let it marinate for 30 minutes, then place the chicken, skin side down, in a large heavy bottomed and oven safe pan just long enough to brown it. Flip it and brown the other side, pour in a mixture of chicken broth and lemon juice and slide it into the oven.
As it comes out of the oven, spoon those pan juices over the chicken. The result is a mouth-watering chicken that your family will be begging you to make again and again!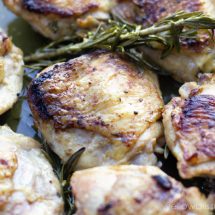 Pan Roasted Lemon Garlic Chicken
Print
Pin
Rate
Prep Time: 15 minutes
Cook Time: 40 minutes
Total Time: 55 minutes
Servings: 6 chicken thighs
Ingredients
Chicken
6 bone-in skin-on chicken thighs
1 cup low-sodium chicken broth
1/4 cup lemon juice + 2 tsp lemon zest
2 sprigs of rosemary
1 tablespoon minced garlic
Marinade
1/4 cup lemon juice
1/4 cup olive oil
1 tablespoon chopped fresh rosemary or 2 teaspoons dried
1 teaspoon salt
1/2 teaspoon pepper
2 teaspoons garlic powder
Instructions
Combine marinade ingredients in a small bowl. Place chicken in one gallon zippered bag and our the marinade over the chicken. Refrigerate for 30 minutes. (If you're in a hurry, you can reduce marinade time as needed).

Heat oven to 400 degrees.

Whisk together chicken broth, lemon juice, and minced garlic and set aside.

Heat 2 tablespoons of olive oil in a large, heavy bottomed skillet over medium high heat. Add chicken, skin side down, and sear until both sides are nice and browned, about 3 minutes per side.

Pour chicken broth mixture into the pan and add rosemary sprigs between the chicken pieces.

Bake chicken for about 25 minutes, until juices are clear.

Serve immediately.
Adapted from Damn Delicious.
 For more delicious chicken recipes, be sure to try these: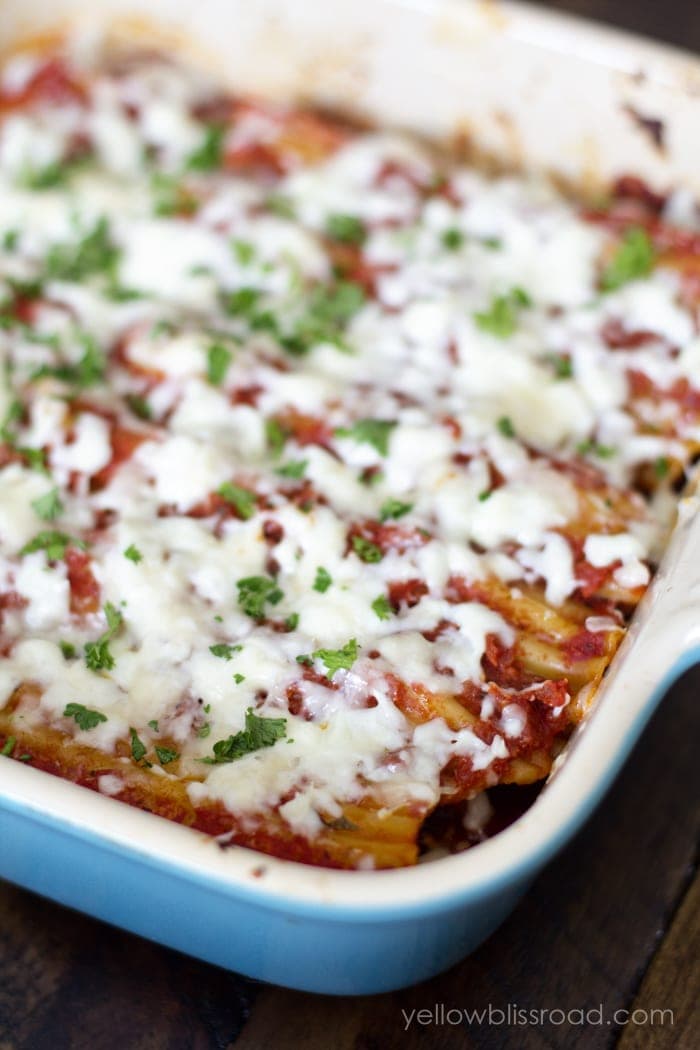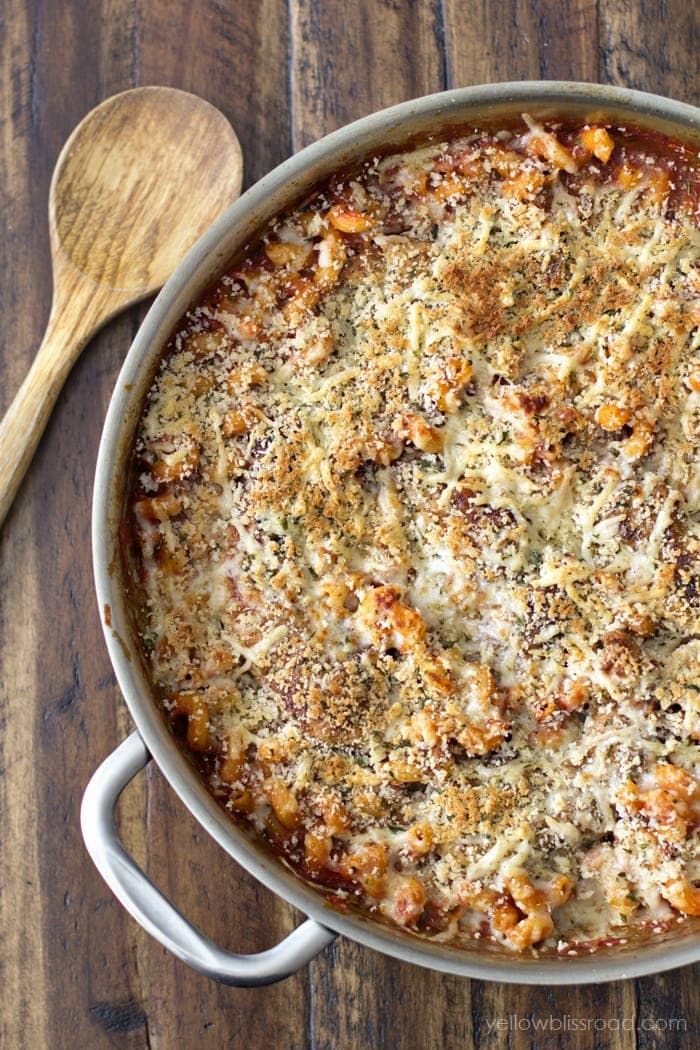 One Pan Chicken Parmesan Pasta
Cheesy Ranch Chicken Drumsticks
For all Main Course recipes go HERE and for a complete list of recipes, go HERE.
Hi! I'm Kristin, the creative mind behind Yellow Bliss Road where you will be inspired by tons of easy to follow recipes, lots of free printables, and a little sprinkling of life thrown in for good measure.