Tender, juicy chicken thighs smothered with savory herbs for a delicious main course that is incredibly flavorful. You won't believe how easy they are to make!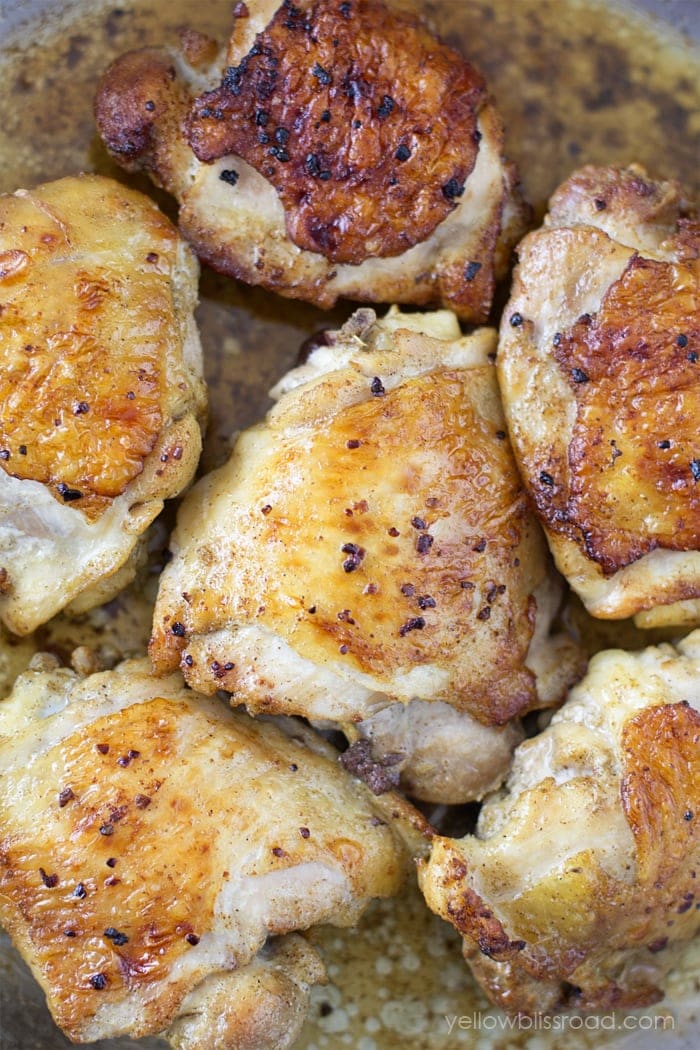 My daughter has been boycotting meat lately. She will eat a few bites, declare that she hates it, and call it done. But this? This she gobbled up in minutes. It's THAT good.
The pan roasting is actually a two step process. The chicken begins to cook in the pan on the stove, –  It's seared, skin side down (yes, you want to leave the skin on for this one) – and then the cooking process is finished in the oven. It makes for the most tender and juicy chicken. Its totally worth the extra step.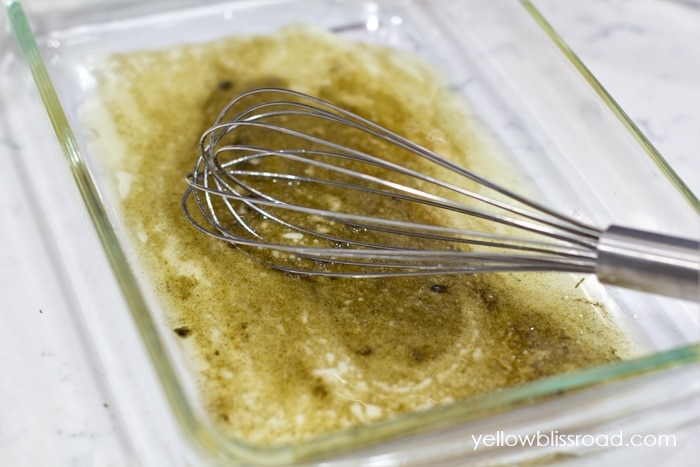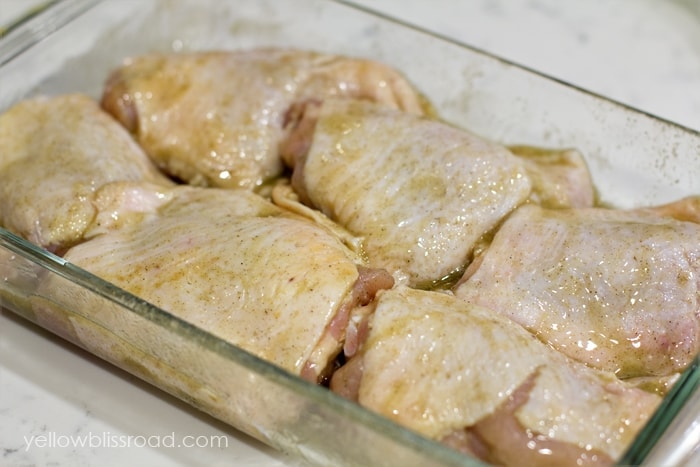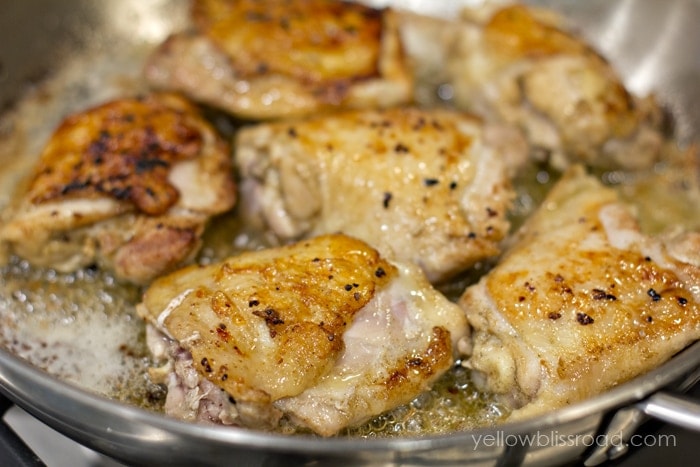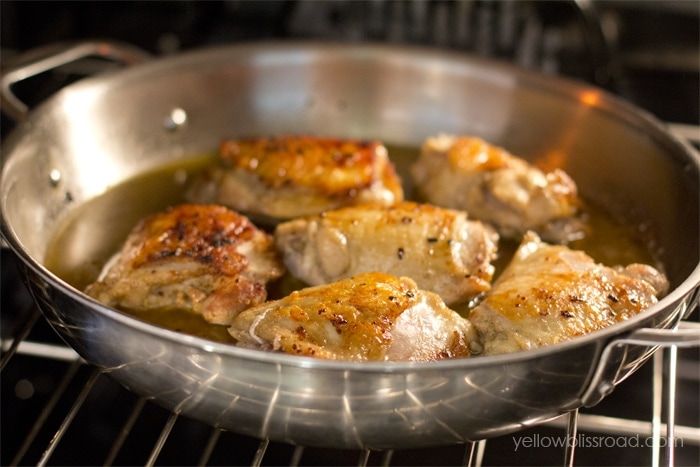 Start with olive oil and herbs in a glass baking dish. My latest herb obsession is poultry seasoning. It's got Thyme, Rosemary, Marjoram, Sage and a little black pepper. It gives the chicken such an amazing flavor, and it smells absolutely divine. Whisk the herbs and oil together right there in the baking dish and the dredge the chicken through it, coating both sides. Give the chicken a nice sear in a hot pan, add some chicken stock, then slide that pan right into the oven for about 25 minutes. That's it!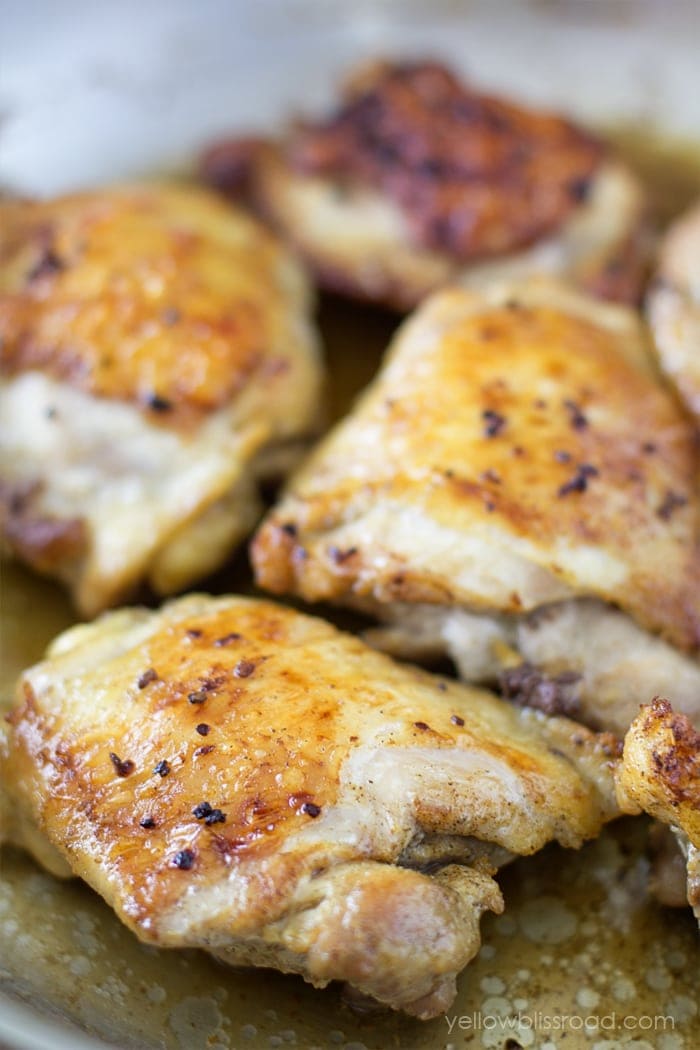 The searing give the skin a nice, crispy texture and keeps the meat juice and full of delicious flavor. I promise your whole family will love it!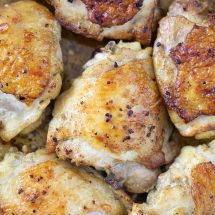 Ingredients
6 bone-in skin-on chicken thighs
1/4 cup olive oil
1 teaspoon poultry seasoning
1/2 teaspoon salt
1/2 teaspoon garlic powder
1 cup reduced sodium chicken stock
Instructions
Trim any excess fat off of the chicken thighs, leaving the skin in tact.

Pour olive oil and seasoning into a baking dish and whisk together. Dredge chicken through the herb mixture until each piece is well coated. Rub the coating in a little and get it under the skin.

Heat a 12 inch oven safe skillet with a little olive oil over medium-high heat. Place chicken in the skillet, skin side down, to sear; about 3-4 minutes per side. Remove from heat and add chicken stock. Slide into a preheated 400 degree oven.

Cook chicken for about 25 minutes or until an internal thermometer reads 175 degrees.

Serve immediately.
For more delicious dinner recipes, be sure to try these: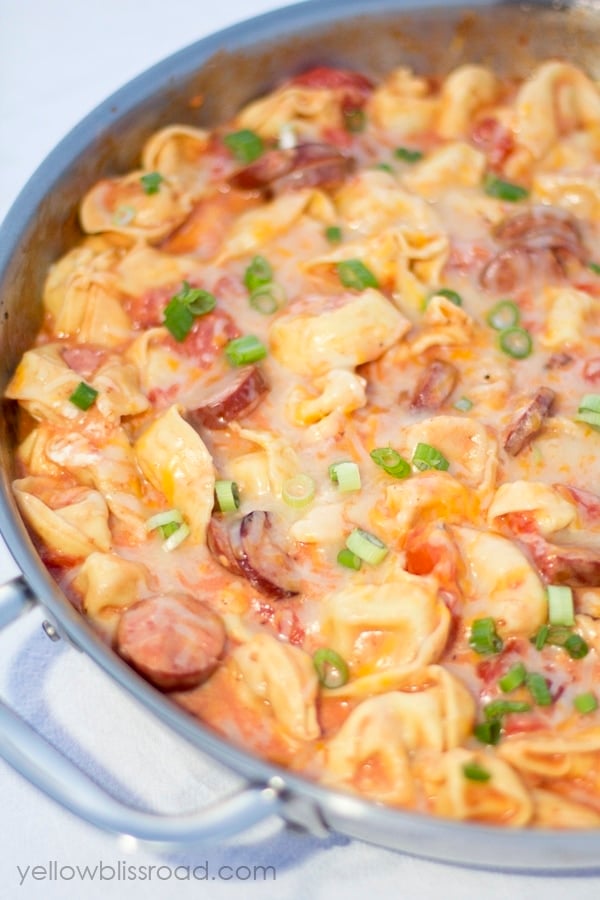 One Pan Smoked Sausage & Tortellini
Ranch Parmesan Crusted Chicken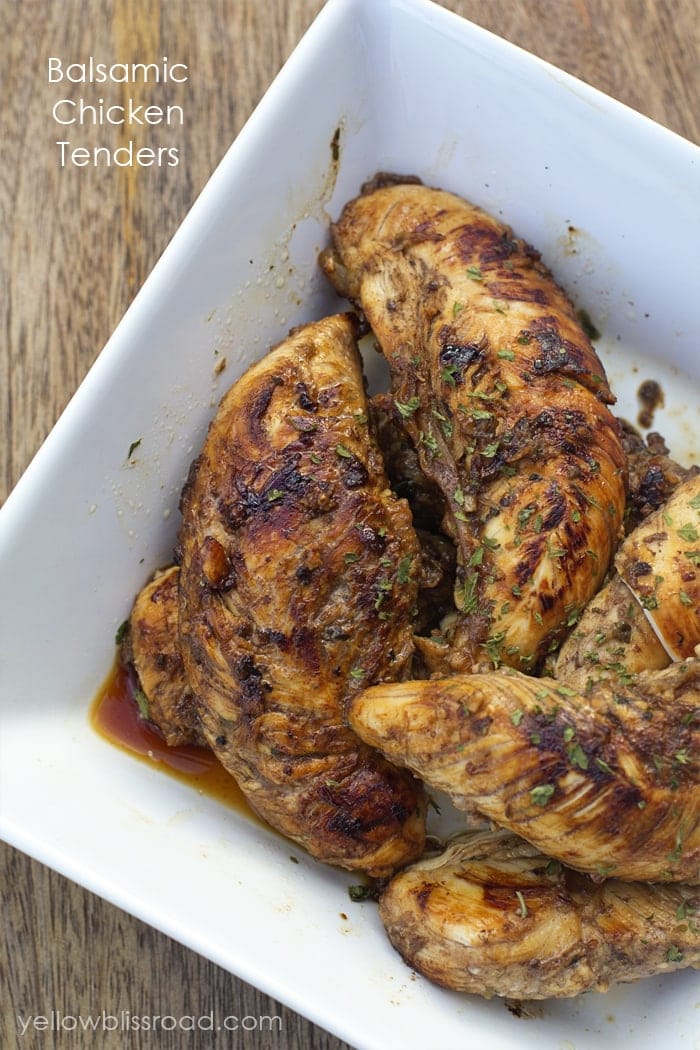 For all main dish recipes, go HERE.
For a complete list of recipes, go HERE.

Hi! I'm Kristin, the creative mind behind Yellow Bliss Road where you will be inspired by tons of easy to follow recipes, lots of free printables, and a little sprinkling of life thrown in for good measure.