Roasted garlic potatoes are the perfect side dish for any meal. They are tender and creamy on the inside with crispy edges, lots of garlic, and parmesan cheese.
Yukon gold potatoes are made with garlic, Parmesan cheese, simple seasonings, and fresh herbs and baked on a sheet pan for an incredibly addictive potato side dish that everyone will love.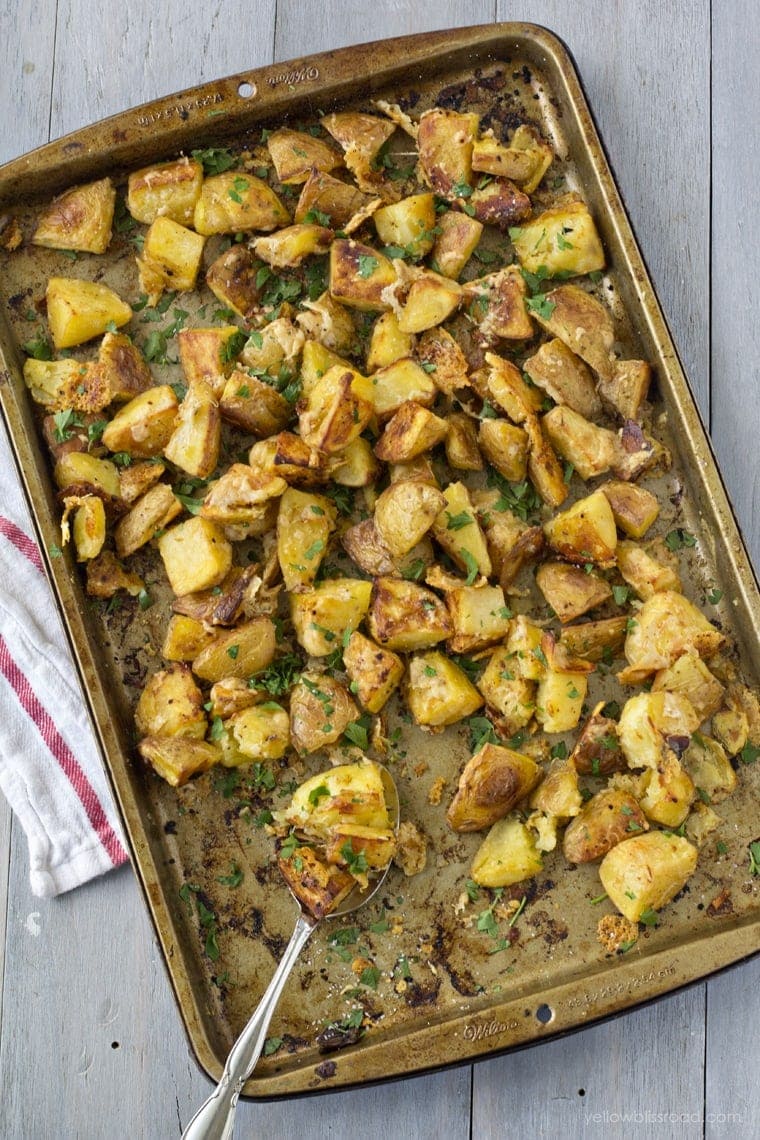 Why We Love These Roasted Garlic Potatoes
This recipe for roasted garlic potatoes is practically foolproof, made with simple ingredients like Yukon gold potatoes, olive oil, Parmesan cheese, and garlic. They go with anything from Juicy Grilled Hamburgers to Baked Chicken Tenders or even juicy Garlic Butter Steak Bites.
I roasted the potatoes in olive oil, garlic, and salt, then I tossed them in a whole bunch of freshly and finely shredded Parm and roasted them some more and then something amazing happened. The cheese melted and got crispy all over these already delicious roasted potatoes. It was the most amazing thing. Try them, I know you'll love them!
Customize them with different seasonings, like cajun spices or Italian seasonings.
I just use parsley but a variety of fresh herbs, like thyme or rosemary, could also be used.

I love a lot of garlic, but you can increase or decrease that amount.

The leftovers are great for breakfast with fried eggs.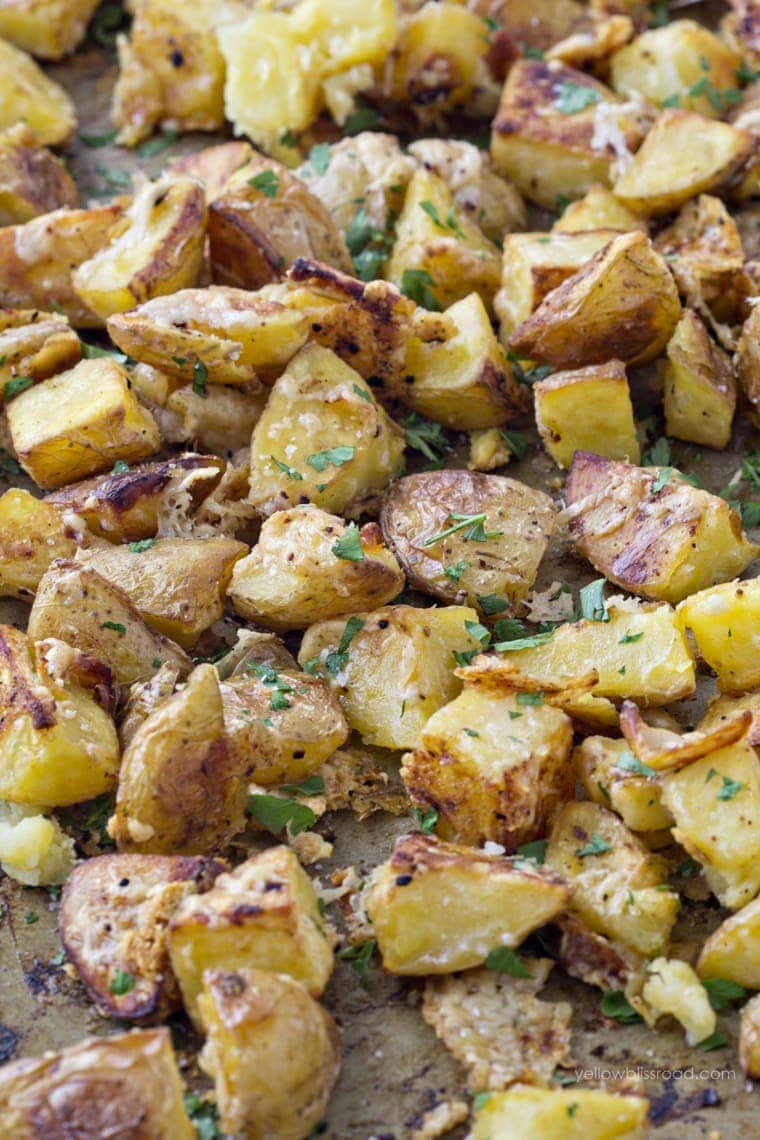 Ingredients For Parmesan Garlic Potatoes
Potatoes – Yukon golds are my favorite with their creamy insides and they don't have to be peeled. You can also use russets or red potatoes.
Olive Oil – nothing fancy just your favorite EVOO.
White Vinegar – A surprising ingredient, but just a little bit, that gives a great contrast to the creamy, fatty potatoes.
Garlic – 4 fresh cloves, medium to large in size. Peel them quickly by smashing them with the back of a knife.
Kosher Salt – Preferred over table salt, which tends to be much saltier and you'd need a smaller amount.
Black Pepper – Freshly ground. My kitchen is always stocked with a big pepper mill which makes easy work of grinding fresh pepper.
Parmesan Cheese – Fresh shreds off the block of cheese. Pre-packaged cheese is coated with additives that prevent melting.
Fresh Herbs – I use minced parsley but other fresh herbs can also work.
How To Roast Potatoes
See recipe card below for ingredient quantities and full instructions.
Prep. Preheat the oven to 425℉ and wash the potatoes, scrubbing to remove any dirt. Chop the potatoes into bite size chunks.
Mix and coat. Whisk together the seasonings, olive oil, and vinegar and toss with the potatoes in a large mixing bowl. Arrange on a nonstick baking sheet.
Cook. Roast the garlic potatoes for 35-40 minutes, flipping them once during cooking.
Toss with cheese. Scoop the potatoes back into the bowl and toss with the shredded Parmesan. Pour them back onto the baking sheet and roast for another 10-15 minutes.
Serve. Sprinkle with fresh minced parsley and serve immediately.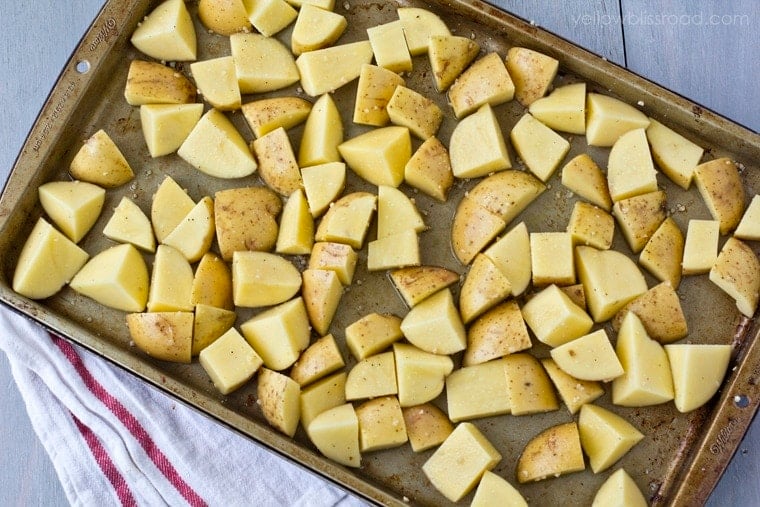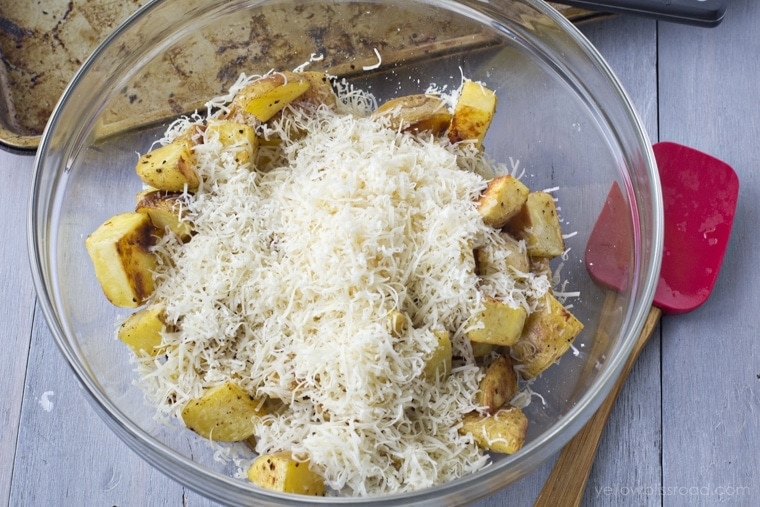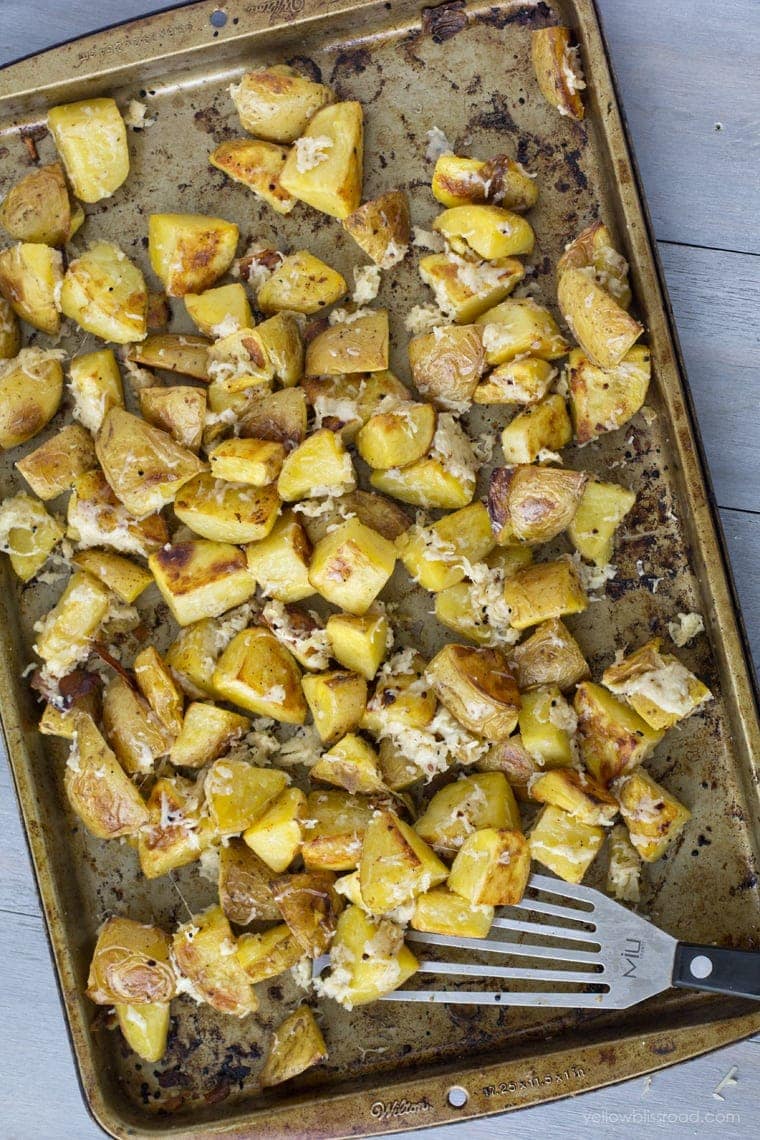 What are the best types of potatoes for roasting?
You can use any type of potato you like! Roasting is a great method for cooking red potatoes, Yukon golds, russets, baby potatoes, and even roasted sweet potatoes!
With the exception of russets that have thicker, tough skins, you don't even have to peel the potatoes. Just leave the skins on for extra vitamins and health benefits.
Is it better to boil potatoes before roasting?
You do not need to boil potatoes before roasting. As long as they are cut evenly they will cook evenly. You want them to be as dry as possible so they can get nice and crispy. I only par-boil my potatoes when I am making a cheesy potato casserole or fried potatoes.
Serving Suggestions + Variations
Roasted potatoes are one of the easiest side dishes to pair with any protein you're making. Their simple flavor matches with a variety of meats, from Grilled Steak to Juicy BBQ Baked Chicken Thighs.
Of course, if you want to play around with the flavors you can add different herbs and seasonings. Some ideas:
Storage
Store leftover potatoes in an airtight container in the refrigerator for up to 3-4 days. Reheat them in the oven or in an air fryer at about 375-400℉. They probably won't get as crispy, but they will still be tasty.
To freeze, arrange the cooled potatoes on a parchment paper lined baking sheet and pop it in the oven. Flash freeze for an hour then transfer them to a freezer bag and store in the freezer for up to 6 months. Roast in a 400℉ oven from frozen until heated through and crispy.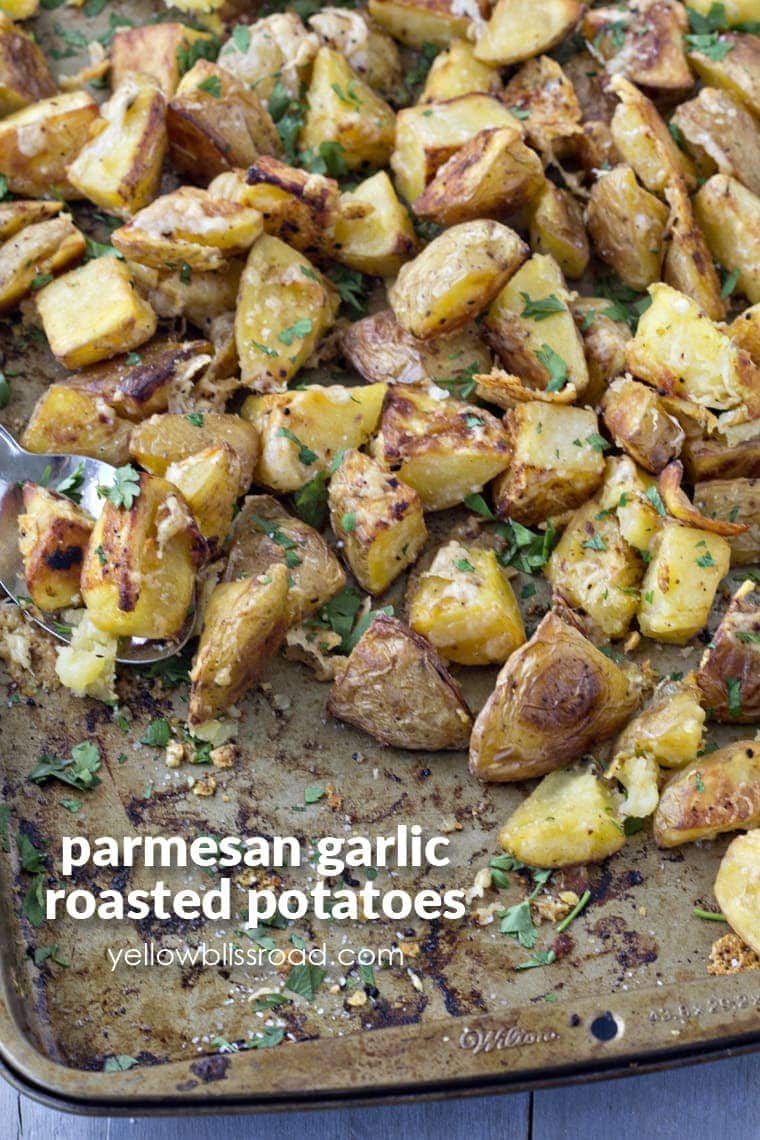 Cut potatoes all the same size, or as close to it as possible, for even cooking.
Grate cheese off the block, don't use a pre-shredded mix.
Let the potatoes roast for at least 20 minutes at first without moving them so they will get nice and brown.
More Potato Recipes
Recipe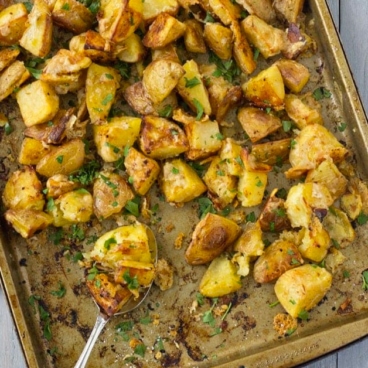 Oven Roasted Garlic Potatoes
Roasted garlic potatoes are the perfect side dish for any meal. They're tender on the inside with crispy edges, garlic and parmesan cheese.
Ingredients
3

pounds

Yukon Gold potatoes

cubed evenly into 1-2 inch pieces

3

tablespoons

extra virgin olive oil

1

tablespoon

white wine vinegar

4

garlic cloves

minced

1

tablespoon

kosher salt

1

teaspoon

fresh ground pepper

5

ounces

finely grated Parmesan cheese

2

tablespoons

fresh chopped parsley

Salt and pepper to taste
Instructions
Preheat oven to 425 degrees F.

In a large bowl, whisk together olive oil, vinegar, garlic, salt and pepper. Toss the potatoes in the olive oil mixture until they are well coated. Arrange on a baking pan in a single layer.

Roast potatoes in the preheated oven for 35-40 minutes, turning once.

Remove potatoes from the oven and place back into the large bowl. Sprinkle Parmesan cheese over potatoes and stir to coat. Arrange back on the baking pan and place back into the oven for about 10-15 minutes, or until cheese begins to brown and crisp.

Sprinkle with fresh chopped parsley and serve immediately.
Notes
I love the flavor and texture of Yukon gold potatoes here, but you can use any variety you'd like.
Nutrition
Calories:
250
kcal
Carbohydrates:
31
g
Protein:
10
g
Fat:
10
g
Saturated Fat:
4
g
Polyunsaturated Fat:
1
g
Monounsaturated Fat:
5
g
Cholesterol:
12
mg
Sodium:
1167
mg
Potassium:
748
mg
Fiber:
4
g
Sugar:
1
g
Vitamin A:
228
IU
Vitamin C:
35
mg
Calcium:
236
mg
Iron:
2
mg