This savory, juicy Cajun Pork Tenderloin is the perfect main attraction for any dinner. The cajun seasoning provides a ton of flavor without being too spicy, while a two-step roasting process guarantees a tender juicy bite every time.
We love pork tenderloin for how easy it is to cook and how it can take on a variety of flavors from Lemon Garlic to Herb Seasoned.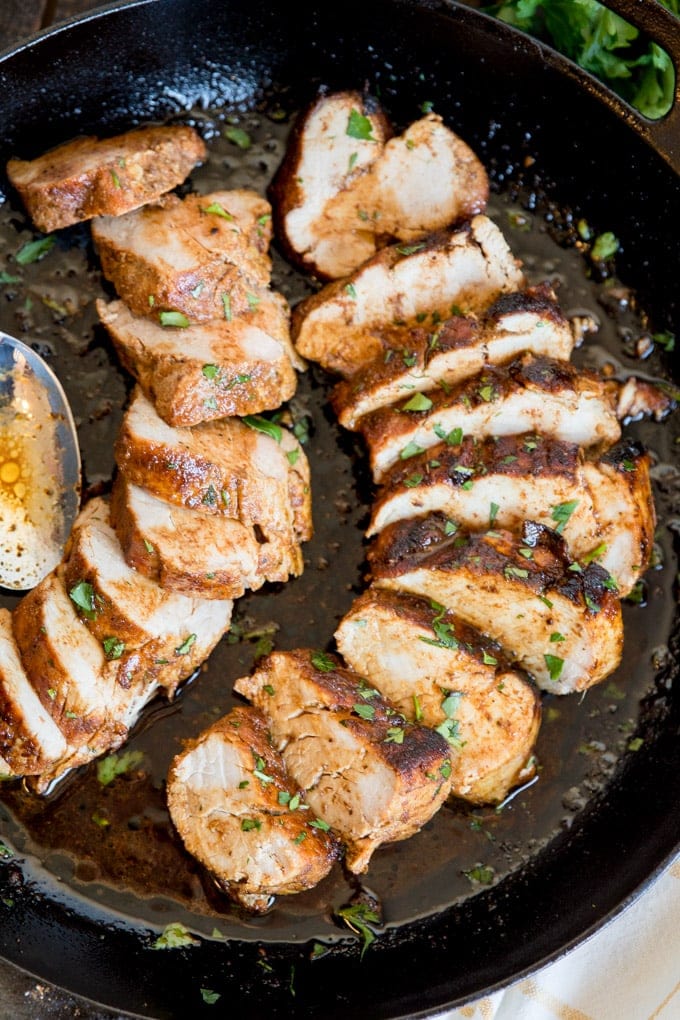 Cajun Pork Tenderloin Recipe
I have been cooking Pork Tenderloin using this method for about 15 years now. That's not to say that I don't love to throw it on the grill from time to time, but this searing and roasting method has my heart. It's tender and juicy every single time and it's perfect for feeding our family of five.
Tenderloin does best with a high heat cooking in a short amount of time. This meal only takes about 30 minutes from prep to finish!
This recipe calls for 2-2 ½ pounds of pork tenderloin. Since each tenderloin will average around a pound, you will use two of them, but try to get two that are about the same size and weight. They are often sold in packs of two, but you'll want to check with your local store.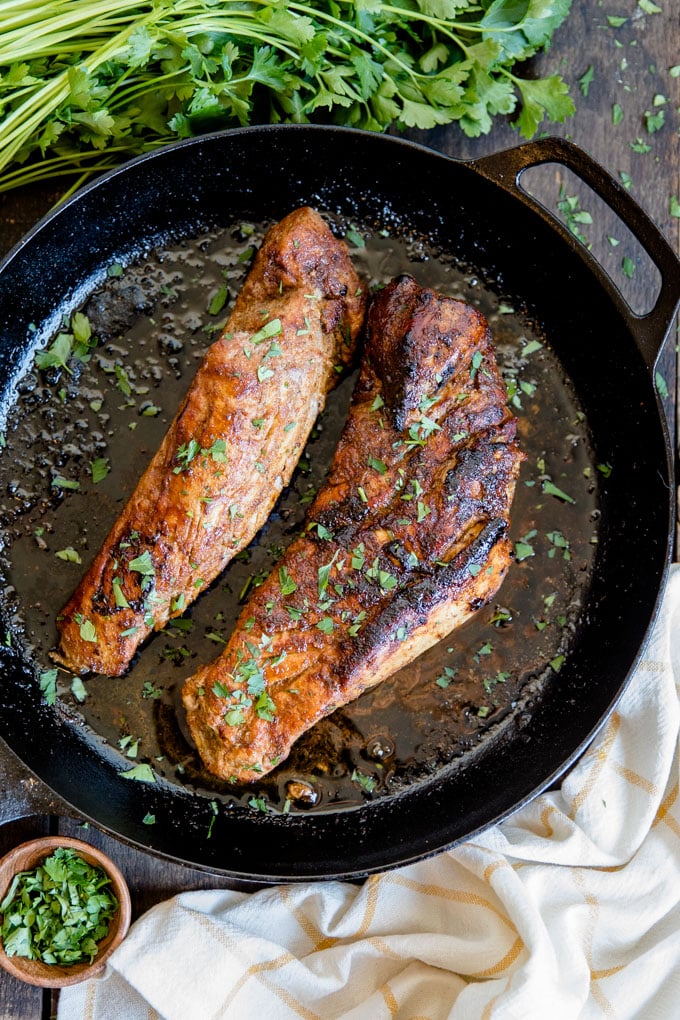 How To Roast Pork Tenderloin
There are two steps in the cooking process for pork tenderloin.
Start by preheating your oven to 425 degrees. You want a nice hot oven because it provides even cooking the whole time.
Seasoning the tenderloin with a couple tablespoons of cajun seasoning. You can use my homemade cajun mix or store-bought. I rub in a small amount of brown sugar to balance the spicy with a little sweet.
Heat some olive oil or melt butter in a large, oven proof skillet. I love cast iron, because it will give you the golden sear that you're looking for. Sear the pork on all sides over medium-high heat for several minutes or until it's golden brown.
Slide the skillet into the oven and roast for 18 minutes. Yes, this number is exact because it's always been perfect for me. However, since ovens can vary in temperature be sure to check the pork with a meat thermometer. It should register between 145 for medium rare and 165 for well done.
Remove the skillet from the oven and tent with foil. Let the meat rest for about 5-10 minutes for the juices to have time to redistribute.
Slice into half-inch thick rounds and serve immediately. It should be pull-apart tender and so delicious! Be sure to spoon some of the juices from the pan over the meat as you serve it.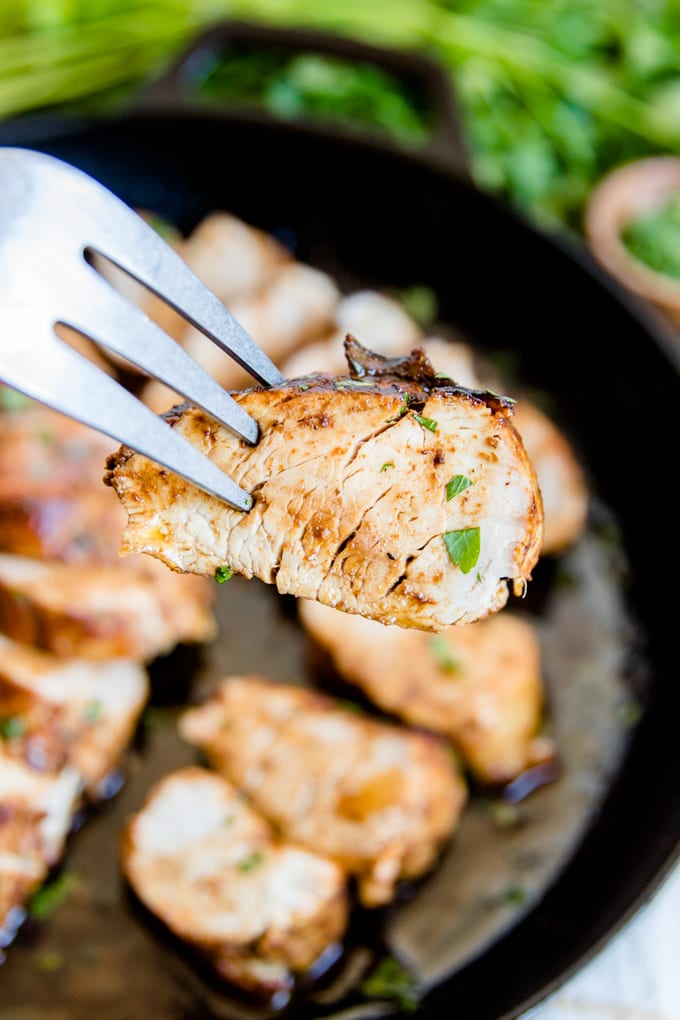 What is the difference between a pork loin and a pork tenderloin?
The main difference is the cut – they come from totally different parts of the animal. Both are very lean cuts of meat, but giving their variance in size and shape, one cannot be substituted for the other.
How do you know if a pork tenderloin is done?
The rule of thumb used to be that pork had to be eaten well done (165 degrees), which often resulted is a tough leathery piece of meat. The FDA now says that pork is safe to consume medium rare (145 degrees). This will give you a tender, juicy piece of pork that is slightly pink in the middle.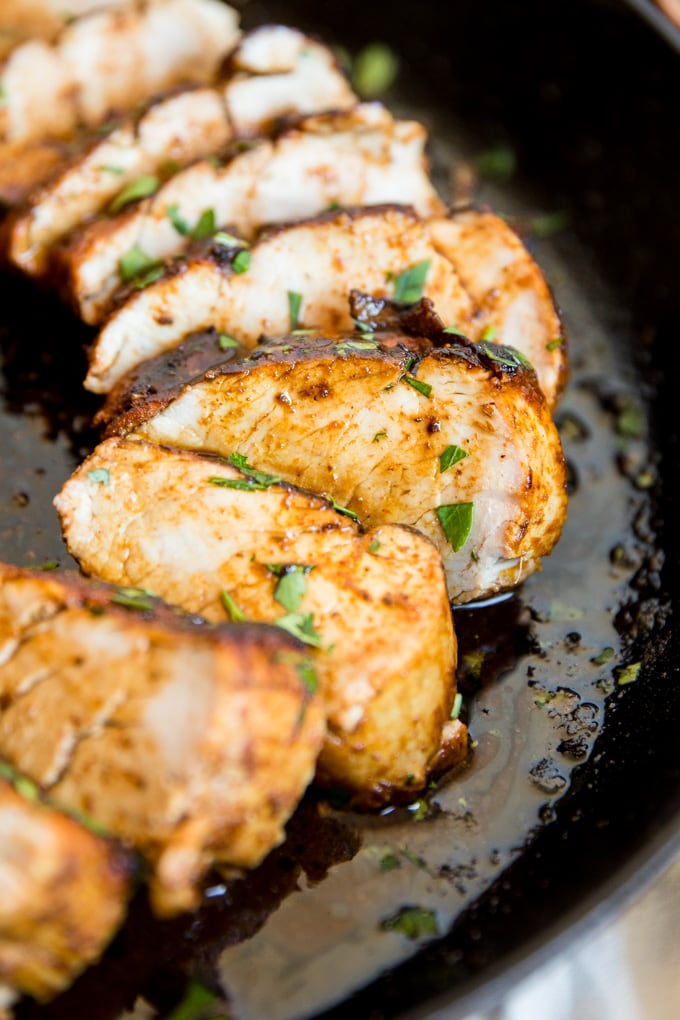 Tips For Perfect Cajun Pork Tenderloin
Trim it. There is a thin, silvery strip of skin that runs along one side of the pork. This is a tendon and you'll want to be sure to trim that before cooking because it is quite tough to cut through if left attached.
Season it well. In this recipe, we use cajun spices and brown sugar for a sweet and spicy pork tenderloin. You can also add flavor by adding fats, like butter or olive oil to a skillet and searing the meat before baking or roasting. Pork plays well with a variety of flavors, from sweet to savory to spicy.
Roast at a high temperature. I prefer to cook lean meats for less time and at higher temperatures. This method gives a nice color to the meat and also keeps it from drying out.
Don't overcook it. Pork is a very lean meat and can become quite dry if overcooked, even a little bit. Since the FDA now approves pork to be cooked to a medium rare, I recommended erring on the rarer side.
Let it rest. Tent the tenderloin with foil right in the skillet and give it time to let the juices flow back through the meat, making for a tender and juicy bite every time. If cut too soon, the juices will spill out onto the cutting board and that's just flavor escaping.
Slice into thick medallions. Using a sharp knife, slice pork tenderloin lengthwise into half inch rounds.
What To Serve With Cajun Pork Tenderloin
Our stand-bys that go with just about any meal are copycat Olive Garden Salad and some of the Best Ever Cheesy Garlic Bread. But you can't go wrong with any of these sides:
If you happen to have leftovers, they are great for Pork Fried Rice!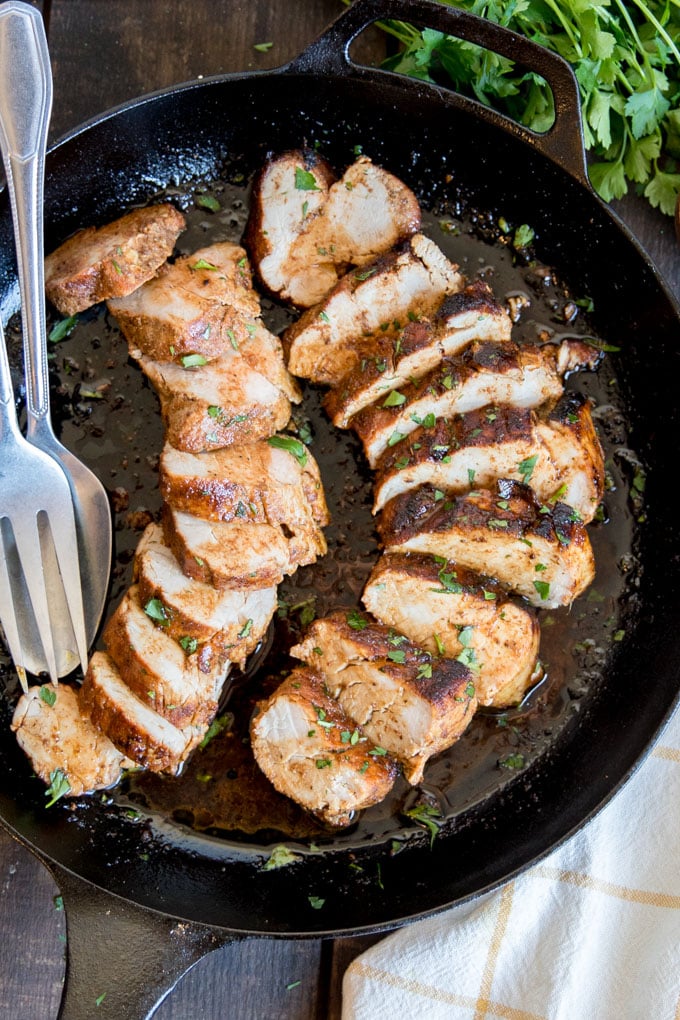 More delicious pork recipes that you will love:
Recipe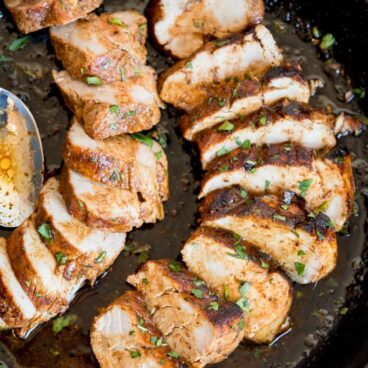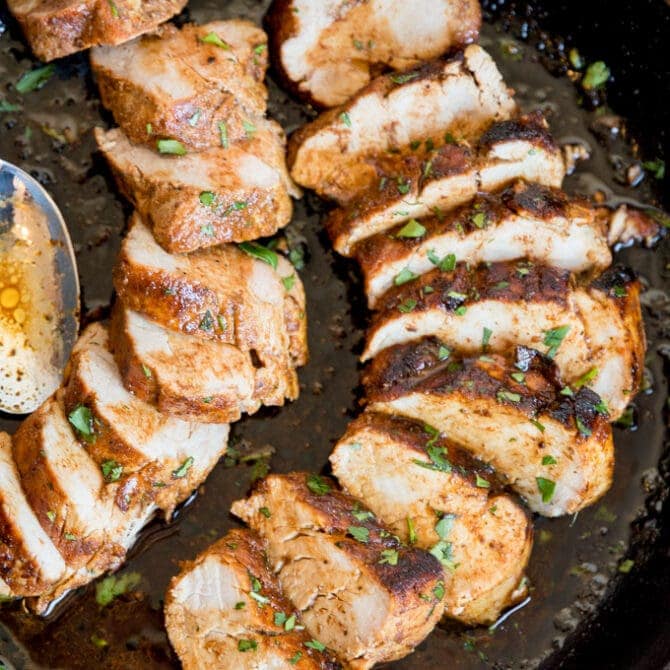 Cajun Pork Tenderloin
This easy Cajun Pork Tenderloin is the perfect main attraction for any dinner and a simple 2-step process guarantees a tender, juicy bite every time.
Ingredients
2 1/2

pounds

pork tenderloin

2

tablespoons

cajun seasoning

1

tablespoon

brown sugar

2

tablespoons

butter or olive oil
Instructions
Trim silvery skin from pork. Combine brown sugar and cajun seasoning, then rub the mixture into the meat.

Preheat oven to 425 degrees.

Heat butter or olive oil in a large, oven safe skillet. Sear tenderloin for two minutes per side to brown, then slide the skillet into the oven.

Roast for 18 minutes, then remove from the oven and tent with foil. Allow to rest for 5-10 minutes before slicing into ½ inch thick medallions.
Notes
Pork tenderloins can weigh anywhere from 1-2 pounds each. The recipe calls for 2 ½ pounds, which is typically two tenderloins. To ensure even cooking, be sure to use two tenderloins that are similar in size and weight.
Note that the cook time may vary. If your oven runs a little hot, or you are using a smaller, or skinnier piece of pork tenderloin, watch the internal temp and cook to 140 degrees F. 
Nutrition
Calories:
274
kcal
Carbohydrates:
3
g
Protein:
39
g
Fat:
11
g
Saturated Fat:
5
g
Cholesterol:
133
mg
Sodium:
134
mg
Potassium:
796
mg
Fiber:
1
g
Sugar:
2
g
Vitamin A:
1266
IU
Calcium:
17
mg
Iron:
2
mg