Learn how to make Pork Fried Rice the easy way with this simple, better than take-out Pork Fried Rice Recipe. Made with just a few ingredients and packed with flavor, this dinner is is a real crowd pleaser.
I love this recipe because it's a complete meal all made in just one pan, and it's a great way to use up leftover veggies! It's one of many delicious Asian inspired, better-that-takeout meals on the site, rivaling favorites like Crockpot Orange Chicken and The Best Copycat Bang Bang Shrimp.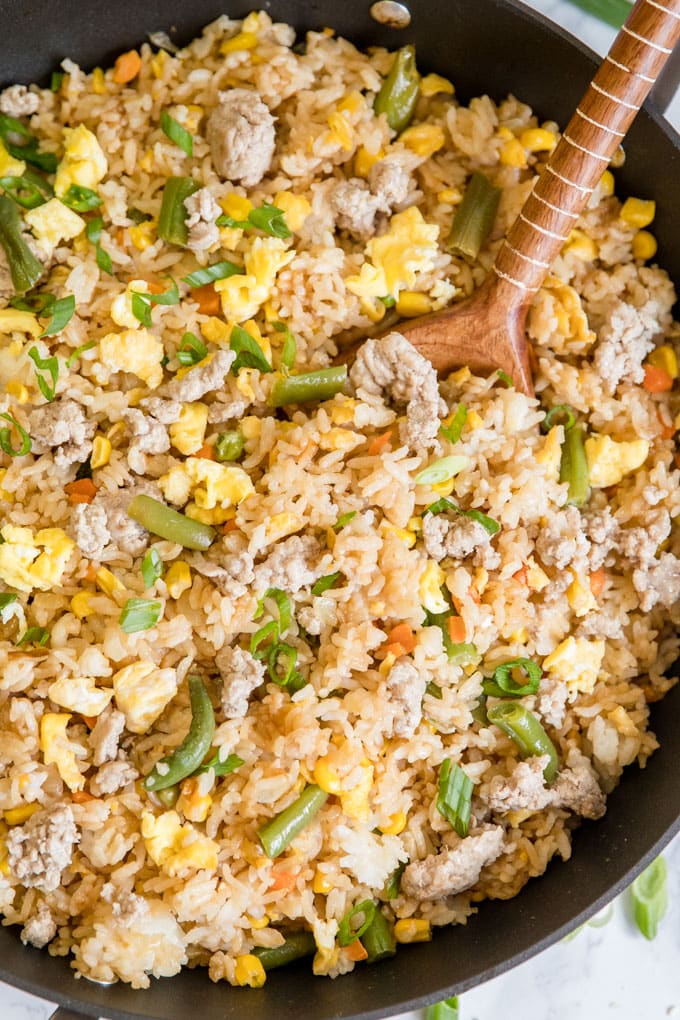 BETTER THAN TAKEOUT PORK FRIED RICE RECIPE
This recipe is a real family favorite. I love it because it's simple to make with ingredients I always have on hand and it's incredibly easy to customize. My family loves it because it's absolutely delicious!
I make egg fried rice at least once every few weeks, sometimes with scrambled egg, and sometimes I add chicken, pork or even bacon! I have been making this rice recipe since the first time I watched a Teppanyaki chef cook it in front of me at a local restaurant 20 years ago. Yes, I learned how to make Fried Rice from Benihana. Don't judge, because it's seriously the best thing ever.
HOW TO MAKE PORK FRIED RICE
When I say simple, I mean, seriously as simple as it gets!
Scramble some eggs in tiny bit of oil or butter. A nonstick deep skillet or Wok is best for this. Remove them from the pan and set aside on a plate or in a bowl.

Cook some diced onions in a little bit of oil, and when they begin to soften add the ground pork some minced garlic and season everything with salt and pepper Cook this for several minutes, until the pork is cooked through and no longer pink.

Stir in some frozen mixed veggies ( you can thaw them first, or not). I like to add a little butter at this point to add flavor but it's not necessary. You could easily swap some fresh veggies for the frozen, but you'll want to cook/steam them first.
Add cold rice to the skillet and stir it with a flat wood spatula.
Once the rice is heated through, add the egg and let it warms up, then add soy sauce and sesame seeds until you love the flavor. Serve it right away because it's more delicious when it's piping hot.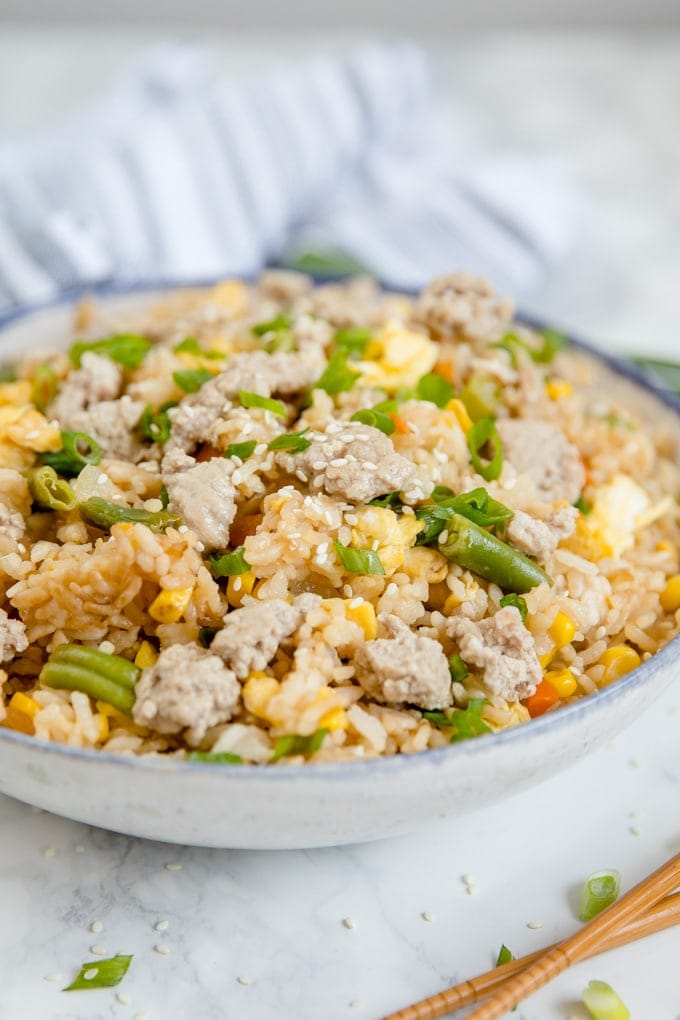 DOES THE RICE HAVE TO BE COLD?
Chilled rice is better than hot because it's had time to dry out a bit. The moisture in hot rice will yield a mushy mess if you try to fry it right away. If you don't have any on hand go ahead and cook the rice in a rice cooker and spread it out on a rimmed baking sheet then pop it in the fridge. In about 30 minutes you'll have perfect chilled rice that you can fry right up.
IS PORK FRIED RICE HEALTHY?
Depends what you add to it! Fried Rice is basically a cooked rice that's been fried in oil and the amount of oil that you use can determine how healthy or unhealthy the recipe is. If you are looking to make your pork fried rice healthier, use cooked brown rice instead of white.
CAN YOU REHEAT FRIED RICE?
I think this rice is even better the next day! Make sure to refrigerate the rice as soon as possible after serving, and store it in an sealed, airtight container. To reheat fried rice, microwave on high until it's piping hot, stirring a few times. You can also reheat in a skillet on the stove with a little bit of olive oil or butter.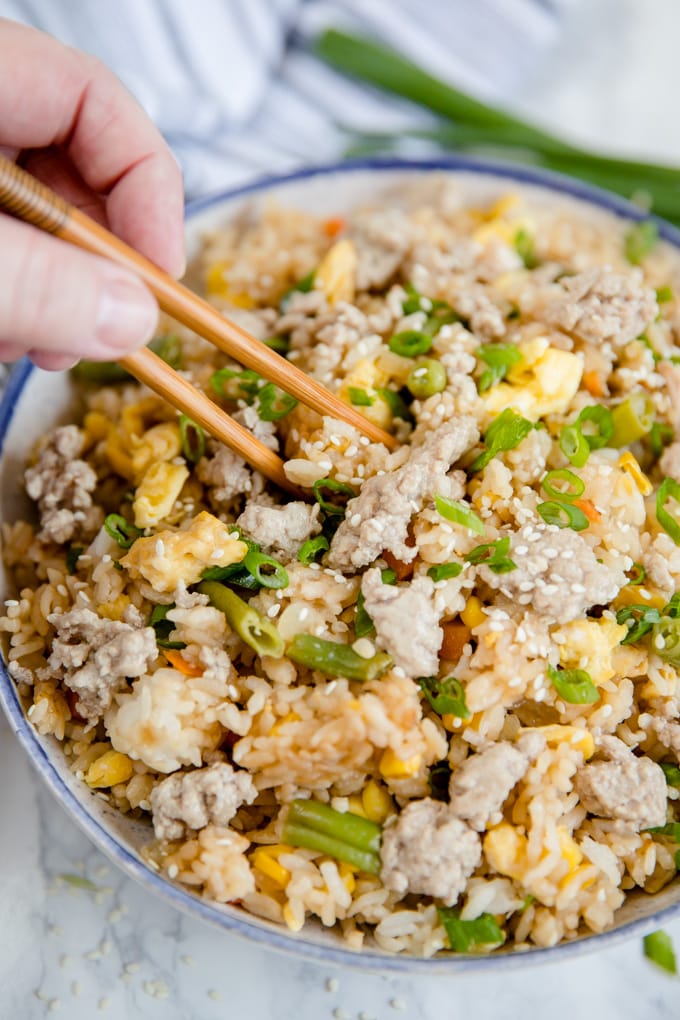 For more Asian inspired recipes, you'll love these:
Recipe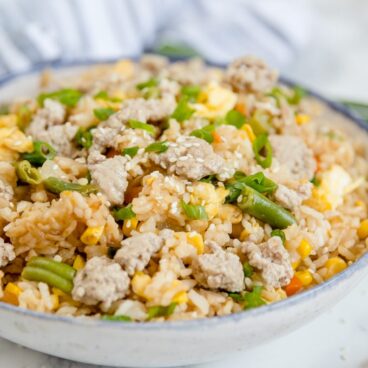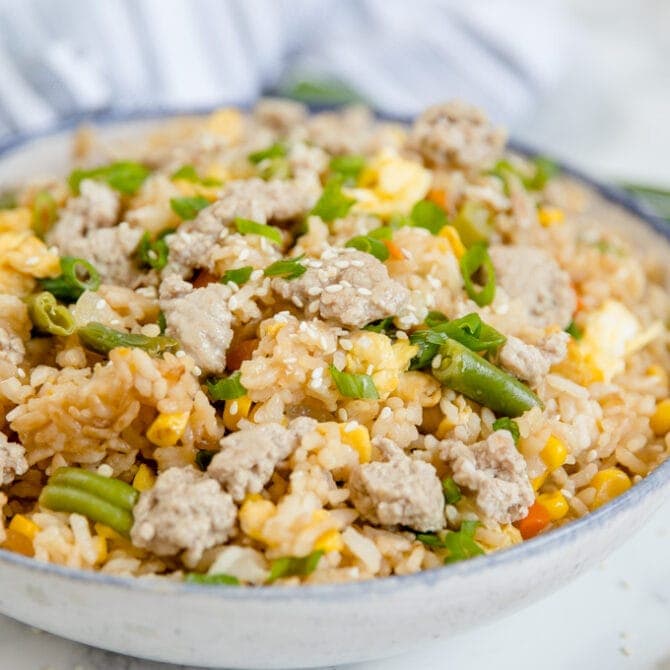 Pork Fried Rice
Learn how to make Pork Fried Rice the easy way with this simple, better than take-out Pork Fried Rice Recipe. Made with just a few ingredients and packed with flavor, this dinner is is a real crowd pleaser.
Ingredients
Olive oil

3

eggs whisked lightly

1

pound

ground pork

1

small onion diced

2

cloves

garlic minced

1 ½

cups

frozen vegetables

carrots, peas, corn, etc.

2

tablespoons

butter

4

cups

cooked and chilled white rice

3

tablespoons

soy sauce

Salt and pepper

Sesame seeds

for garnish

Sliced green onions

for garnish
Instructions
Heat a wok or large, deep skillet over medium-high heat and add a teaspoon of olive oil.

Whisk in the eggs and cook, stirring often, until set. Transfer to a plate.

Add 1 tablespoon of olive oil to the skillet, then add the ground pork and season with salt and pepper. Cook pork until no longer pink; about 5-6 minutes. Drain and transfer to the plate with the egg.

If needed, add a tablespoon of olive oil to the pan. Add onion to the pan and cook until translucent; about 2 minutes, stirring often to avoid burning. Stir in garlic, then add frozen vegetables and cook until heated through. Season with a pinch of salt.

Add cold rice to the skillet and stir to combine with the vegetables. Press down into the pan to brown the rice lightly for a couple of minutes, then stir and repeat a few times.

Return the pork and scrambled egg to the skillet and stir to heat through.

Remove from heat, then stir in 1-2 tablespoons of soy sauce. Use more or less based on your liking.

Garnish with sesame seeds and sliced green onions and serve immediately.

Store leftovers in a tightly sealed container for up to 3 days. Microwave to reheat.
Notes
Feel free to use any vegetables you like, frozen or fresh. If using fresh veggies, be sure to steam them first so they are soft. For a little extra flavor, use butter instead of olive oil.
Nutrition
Calories:
444
kcal
Carbohydrates:
38
g
Protein:
21
g
Fat:
22
g
Saturated Fat:
9
g
Cholesterol:
146
mg
Sodium:
632
mg
Potassium:
426
mg
Fiber:
2
g
Sugar:
1
g
Vitamin A:
2545
IU
Vitamin C:
6.9
mg
Calcium:
53
mg
Iron:
1.9
mg