My Shrimp Fried Rice is the best better-than-takeout fried rice recipe! Full of delicious seasoned rice, tender and juicy shrimp and lots of veggies, everyone will be impressed by this restaurant quality one pan meal.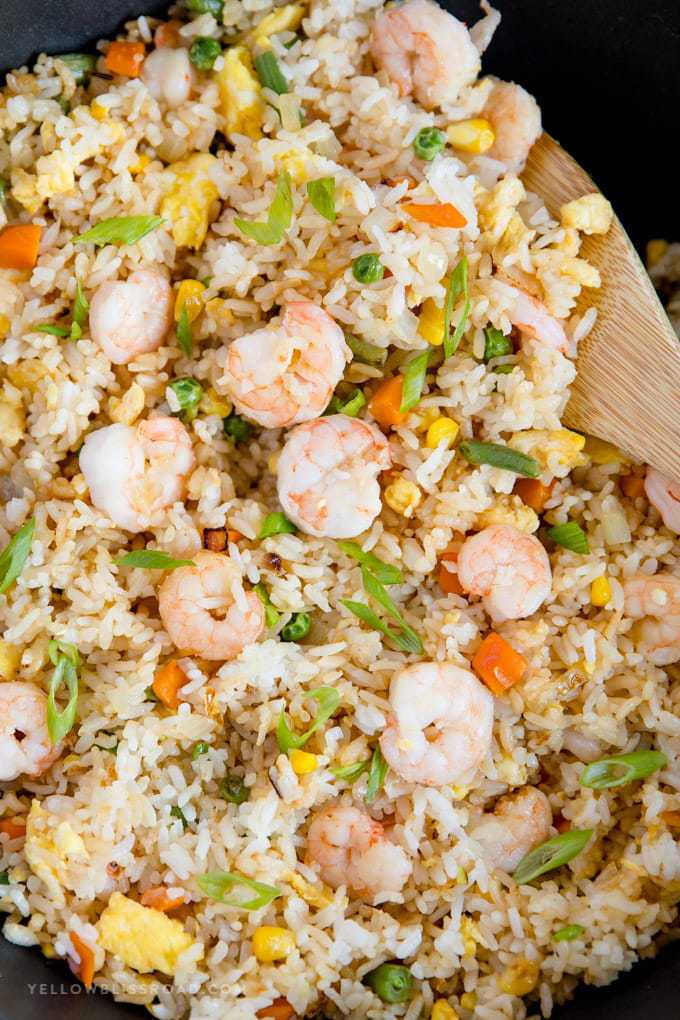 If you ask my kids what their favorite meal is that mom cooks, they will name three things: Soup, Taco Salad, and Fried Rice. I have been making this fried rice recipe for 20 years with all different kinds of proteins. It's great for leftover chicken, pork or beef, even bacon. Over the years I have perfected this recipe and it is the most flavorful, delicious fried rice you'll ever eat.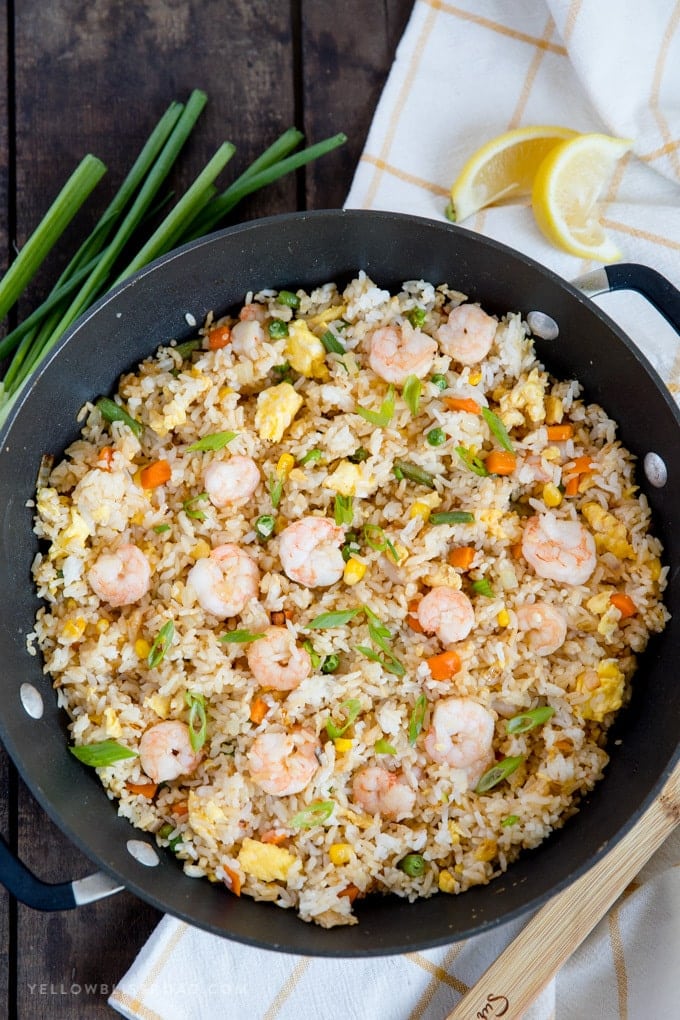 During my 20s my friends and I would eat out quite a bit. Something you can't do nearly as much once you have kids. Our favorite place to head out on a Friday night was a little Japanese Teppenyaki place (think Benihana on a smaller scale) with our 2 for 1 coupons. for around $15 each, we got the full meal with Miso soup, salad, protein and fried rice that was cooked right in front of us on the grill. The fried rice was always my favorite part…well who am I kidding it was all delicious. But the fried rice was absolutely amazing. I taught myself how to make this fried rice at home and it tastes just like that Teppenyaki restaurant.
My favorite kind to make is this Shrimp Fried Rice. That tender, juicy shrimp hidden throughout the veggies and rice are just so delicious!
How to Make Shrimp Fried Rice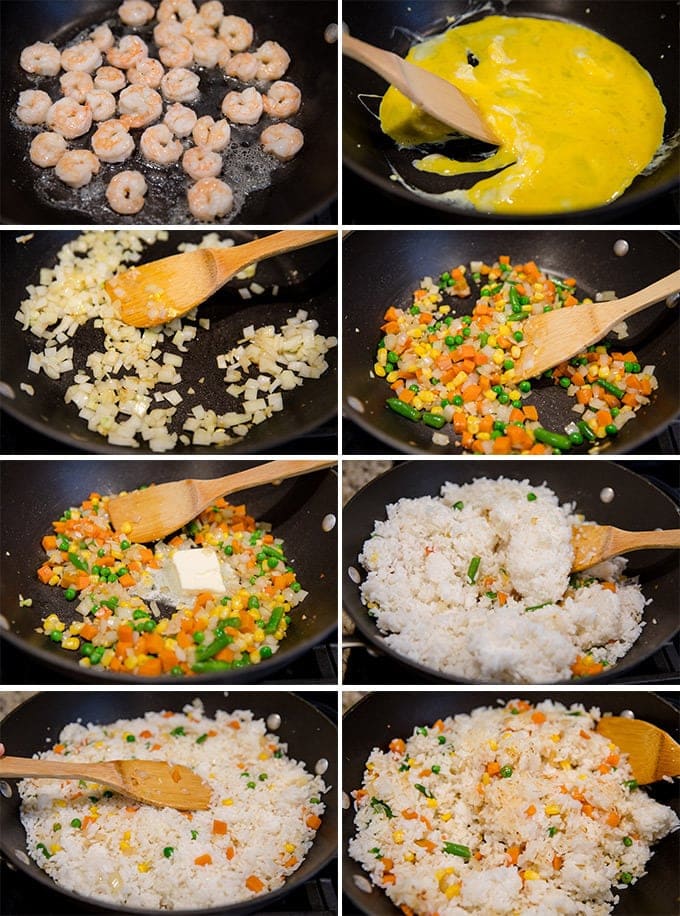 Chill the rice first. If you've ever been to one of these Teppanyaki style restaurants, you may have noticed that the rice always comes out chilled and pressed into a bowl so it stick together. When the chef adds it to the grill, he breaks it apart with his spatula as he blends it with the vegetables. Chilled rice is a must for make the best homemade fried rice. Day old rice that is chilled and then heated in the skillet has a sticky quality that is essential to a good fried rice recipe, something you just don't get with hot, fresh cooked rice. You could also cook some rice then stick it in the fridge for an hour.
Add layers of flavor by cooking ingredients separately, seasoning as you go. First you will cook the shrimp in a hot skillet, seasoned just with salt. I like to squeeze a little fresh lemon juice over the top when they're finished. Remove the shrimp to a plate, then cook the scrambled egg, seasoning it with a little salt and pepper. Next the veggies, also seasoned with salt, starting with the onions and garlic. I use frozen veggies for convenience (carrots, peas and corn). I add more butter at this point, and then the rice, breaking it up with a wooden spatula as I mix the veggies in with it. Once the vegetables and rice are heated through and the rice has some nice crispy bits to it, I will add the protein back into the skillet and season with soy sauce. Start with a tablespoon and add more if you like, plus a little salt and pepper.
Cook quickly over a high heat. This is of course depending on your stove's burner, something closer to medium may be better if your burner is particularly hot. You definitely want it sizzling though – we are cooking and constantly stirring here, there is no sitting and waiting. The shrimp will take just a minute or two per side, depending on their size, and the egg just a couple of minutes as well; same with the vegetables. Since you're cooking over a high heat, you want to make sure you are constantly moving the food around so it doesn't burn.
Crisp the rice. One of my little tricks that I like to use when making fried rice is to smush the rice mixture down into the skillet and let it cook like that for a minute or two, to caramelize bits of rice. Stir and repeat several times to get little crispy bits all through the finished product.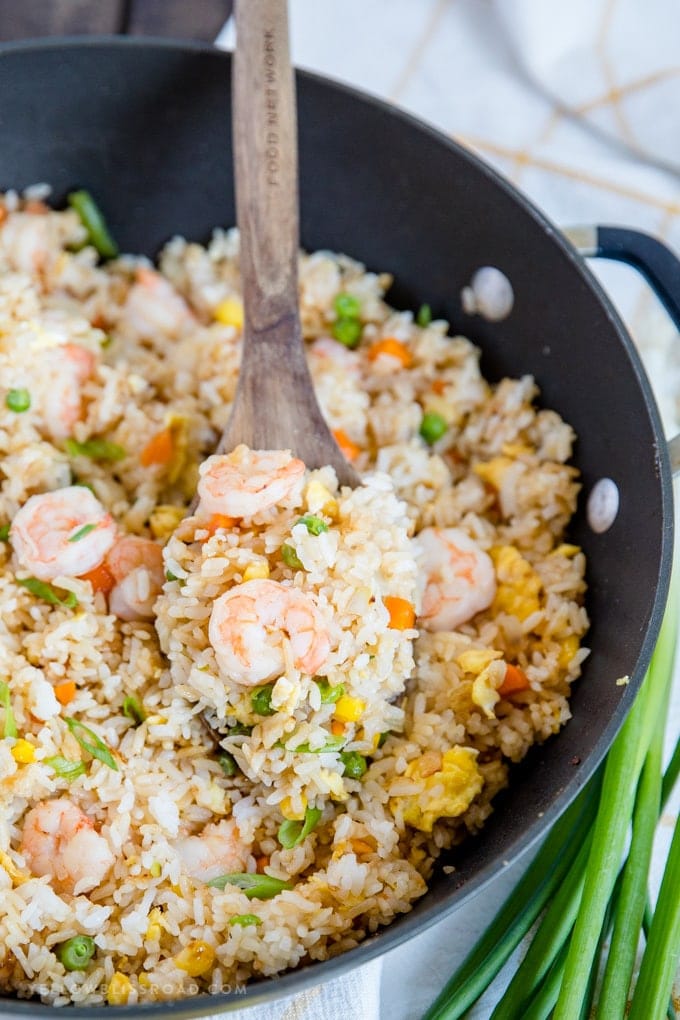 I've been asked what kind of rice to use, and my favorite is Botan Calrose Rice (aff link). It's a Japanese style "sticky rice" and for my family it has the best flavor and texture for fried rice. You can use other types like a regular long grain or Jasmine, and as long as you chill them first, you should be fine.
Making Shrimp Fried Rice is quick and easy, making it a perfect weeknight meal for your family. The base recipe is an excellent vehicle for any leftover protein, and this recipe makes for fantastic leftovers!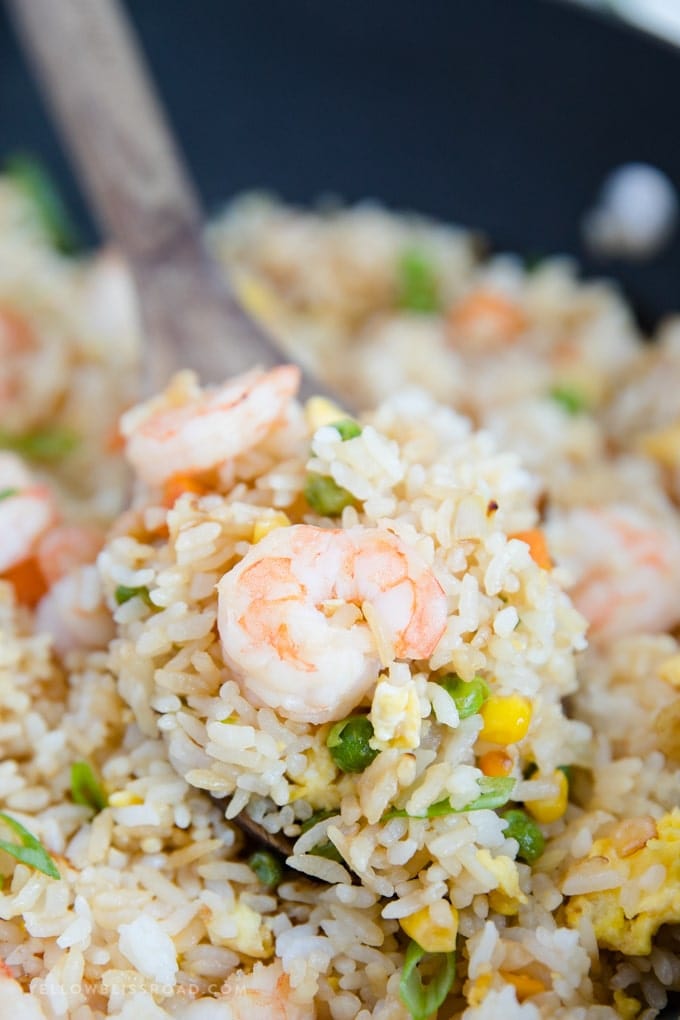 Love Fried Rice recipes?
Try my Bacon and Pineapple Fried Rice!
For more shrimp recipes, check these out:
If you've made this recipe, please come back and leave us a star rating or a comment below. Or, tag us on social media @yellowblissroad or #yellowblissroad for a chance to be featured.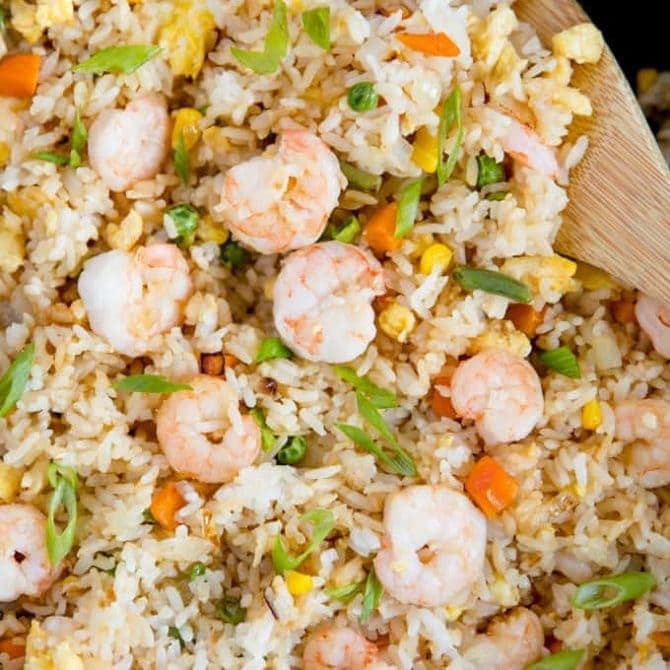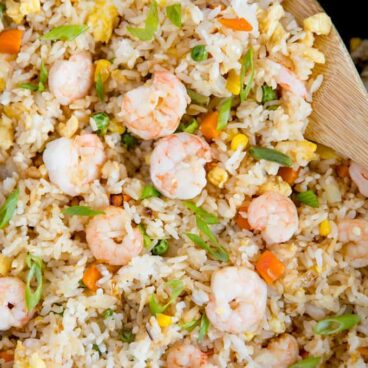 Shrimp Fried Rice
My Shrimp Fried Rice is the best better-than-takeout fried rice recipe! Full of delicious seasoned rice, tender and juicy shrimp and lots of veggies, everyone will be impressed by this restaurant quality one pan meal.
Ingredients
Olive oil

1

pound

small shrimp

shelled and deveined

1

teaspoon

fresh lemon juice

optional

3

eggs

whisked lightly

1

small onion

diced

2

cloves

garlic

minced

1 ½

cups

frozen vegetables

carrots, peas, corn

2

tablespoons

butter

4

cups

cooked and chilled white rice

3

tablespoons

soy sauce

Salt and pepper

Green onion

thinly sliced, for garnish if desired
Instructions
Heat a wok or large, deep skillet over medium-high heat and add a tablespoon of olive oil. Add shrimp, seasoned with a pinch of salt. Cook about 1-2 minutes per side or until bright pink and no longer translucent. Transfer to a plate and drizzle with a squeeze of fresh lemon juice. 

Wipe the skillet clean with a paper towel and add a teaspoon of olive oil. Whisk in the egg and cook, stirring often, until set. Transfer to the plate with the shrimp. 

Add another tablespoon of olive oil to the skillet. Add onion and cook until translucent; about 2 minutes, stirring often to avoid burning. Stir in garlic, then add frozen vegetables and cook until heated through. Season with a pinch of salt.

Add rice to the skillet and stir to combine with the vegetables. Press down into the walk to brown the rice lightly for a couple of minutes, then stir and repeat a few times.

Return the shrimp and egg to the skillet and stir to heat through.

Remove from heat, then stir in 1-2 tablespoons of soy sauce. Use more or less based on your liking.

Garnish with sliced green onions and serve immediately.

Store leftovers in a tightly sealed container for up to 3 days. Take care when reheating as to not over cook the shrimp. I recommend using the 50% power setting on your microwave.