Garlic Tomato & Shrimp Pasta is an easy to whip up pasta dinner and a delicious weeknight meal that takes just minutes to prepare. It's sure to be a new favorite!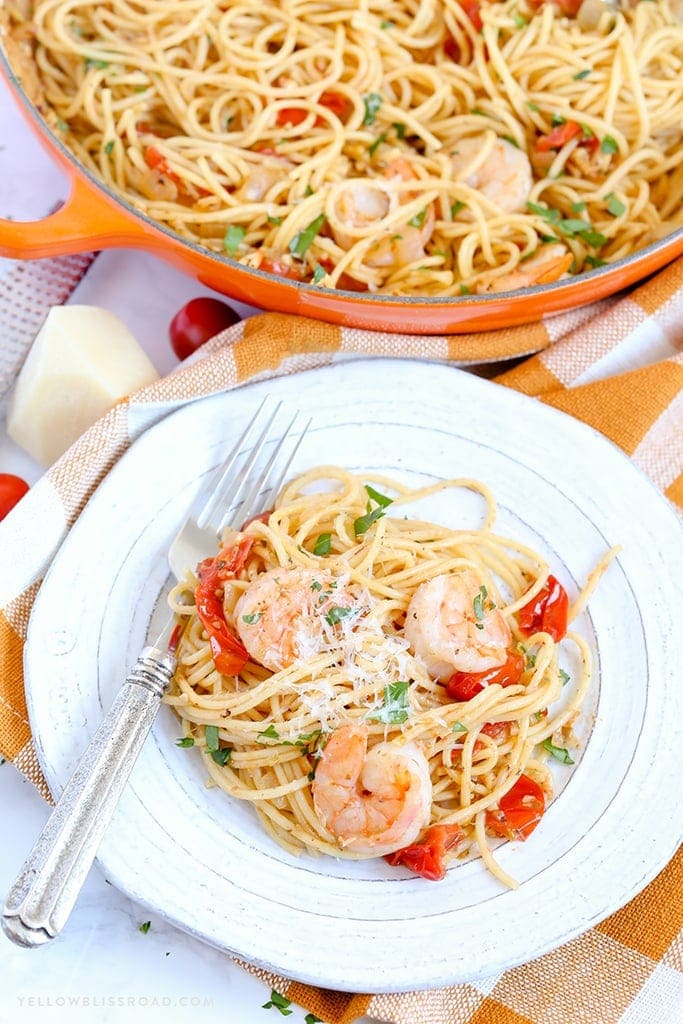 When I found out that my son is allergic to shellfish, I knew that my days of enjoying my favorite food – shrimp pasta – were over. It's an indulgence for me to enjoy the sweet, succulent crustacean when dining without my son.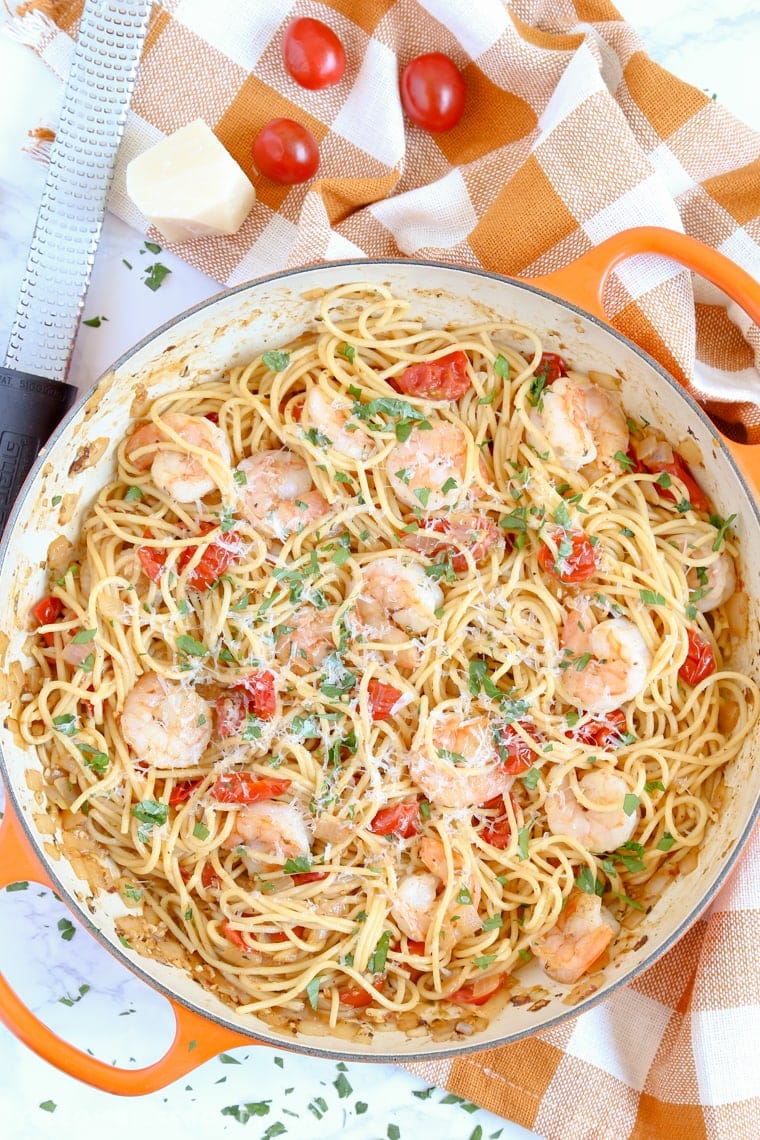 It's rare for me to actually cook it at home, but when I get an idea, like I did for this Garlic Tomato & Shrimp Pasta, I just have to try it. I am super cautious when it comes to cooking with foods that my son is allergic to, and it's something I rarely do and only when he's not home. I made this spaghetti for lunch one day, and it was downright amazing.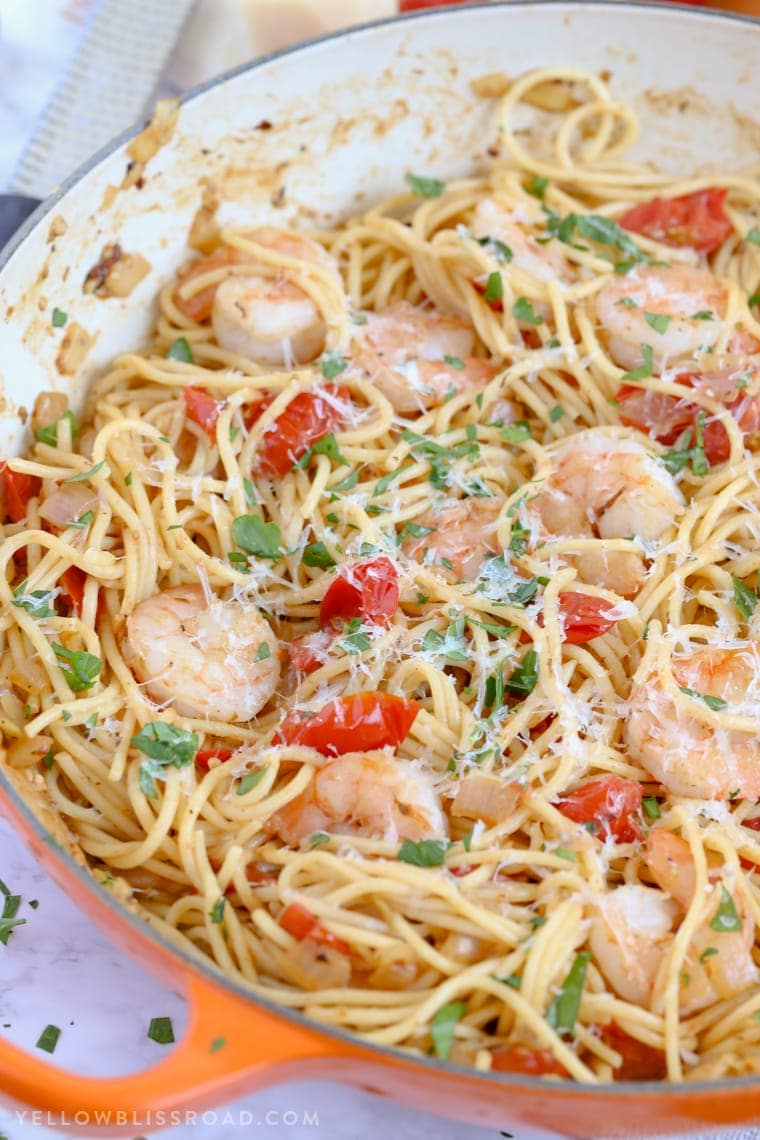 HOW TO MAKE GARLIC TOMATO & SHRIMP PASTA
Shrimp are incredibly easy to cook…but they are also incredibly easy to OVER-cook. You only need to keep them in the skillet for a couple of minutes on each side and they need very little salt. Depending on the size they take just 4 minutes or so to cook through completely, but you want to make sure that they are completed cooked all the way through. Raw shrimp is a no-no.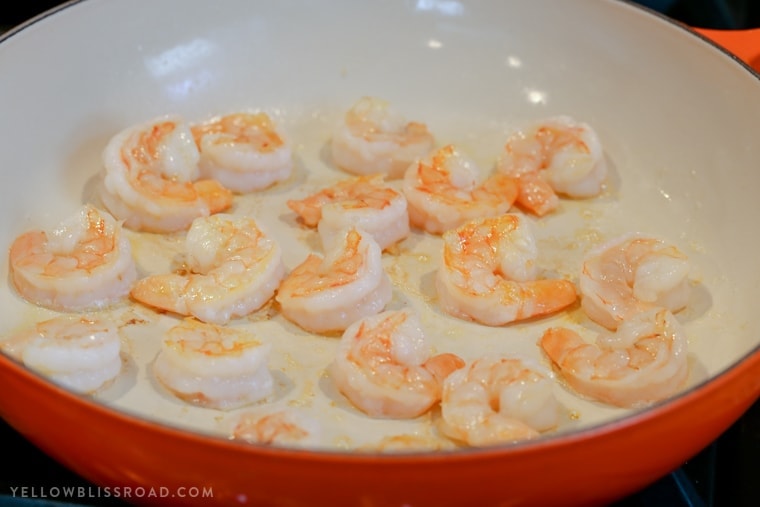 Their sweetness really comes out in the cooking process and that's why they pair so well with this sauce. It's an easy sauce, and one that I absolutely love making because it has my secret ingredient – apple juice. now, typically a sauce like this would call for white wine but I don't drink wine and I don't even keep it in my house for cooking with. Just not a fan. However if you do have some on hand you could easily swap out the wine for the apple juice if you like.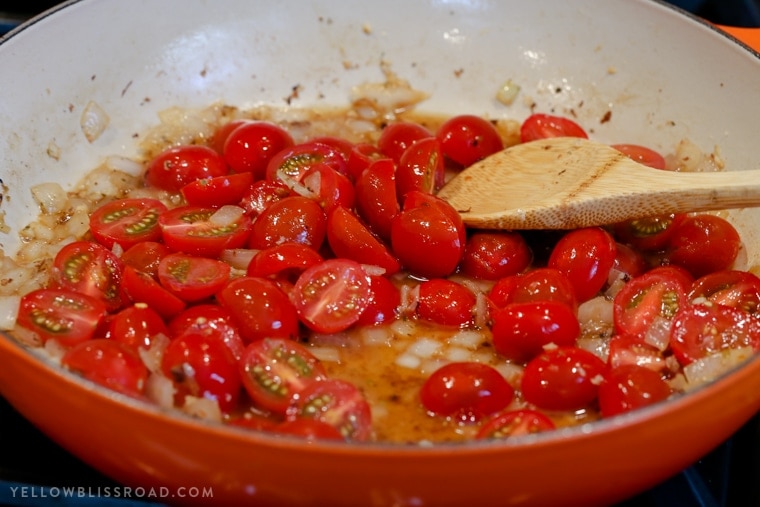 What's with the Apple Juice in this Shrimp Pasta?
Well, the tomatoes can be so acidic that they really need some salt and some sweetness to cut that down. The apple juice adds that sugar and an added flavor that really marries well with the rest of the ingredients. I love using fresh cherry or grape tomatoes, but you could also use a couple cans of drained tomatoes. The tomatoes break down and together with the juices and the onions create this incredibly tasty sauce that just lightly coats the shrimp pasta for a delectable bite.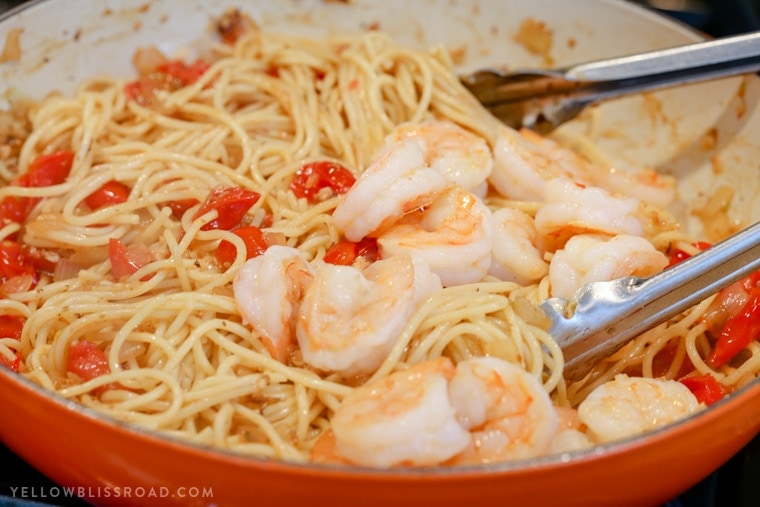 Tender pasta, succulent shrimp, and a sweet, fresh tomato sauce make this Garlic Tomato & Shrimp Pasta dish classy and elegant enough for company, but easy enough to throw together on a busy weeknight. Enjoy!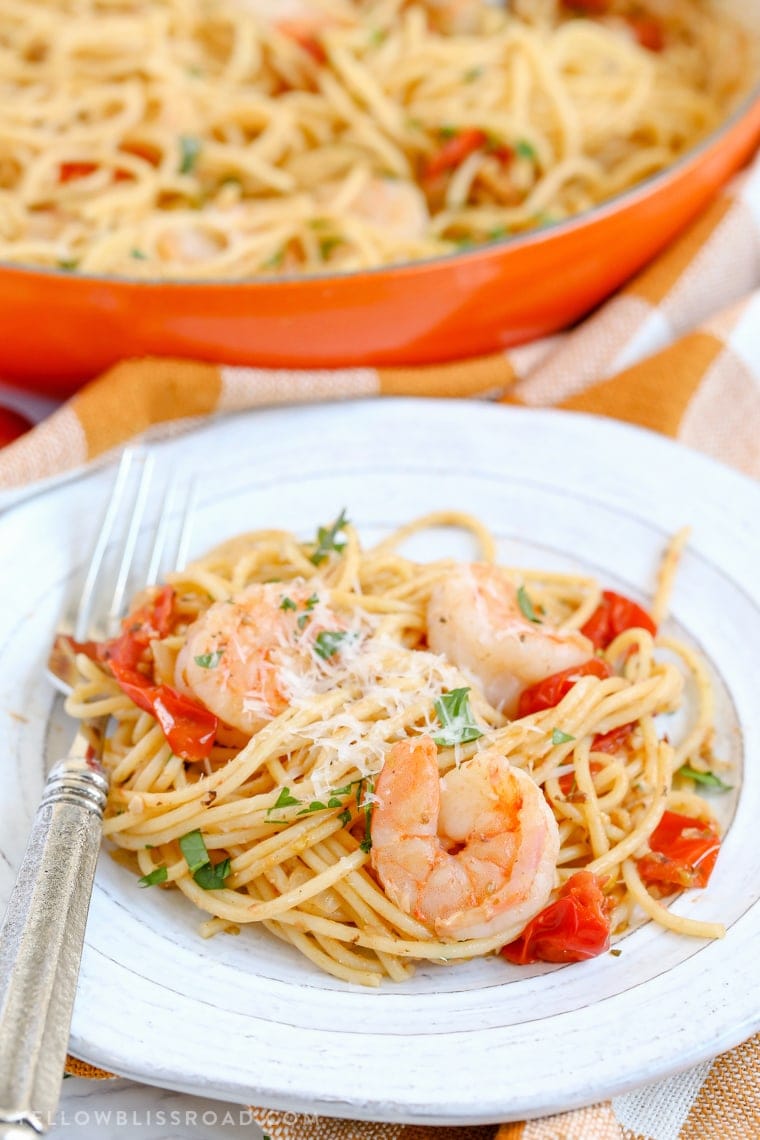 Here are some more delicious shrimp and pasta recipes to try:
Tools used to make this Shrimp Pasta
3 ½ Quart Enameled Cast Iron Pan – A versatile, multi-use pan that is a great addition to your kitchen.
Wooden spatula – This versatile piece is another essential. It's works great at stirring food in a skillet, and it perfect for scraping up all those little bits of flavor that often get left behind.
Recipe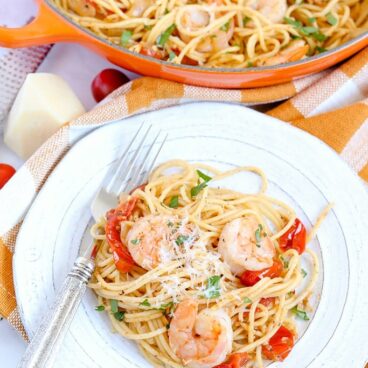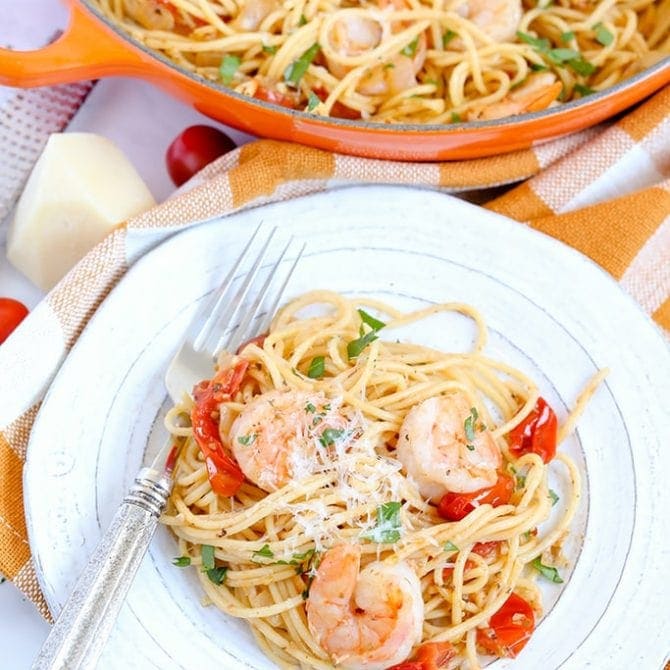 Garlic Shrimp & Tomato Spaghetti
Garlic Tomato & Shrimp Pasta is an easy to whip up pasta dinner and a delicious weeknight meal that takes just minutes to prepare. It's sure to be a new favorite!
Ingredients
8

ounces

spaghetti

cooked

1

tablespoon

olive oil

1/2-3/4

pound

shrimp

peeled and deveined (about 20)

1/2

cup

diced onion

4

cloves

garlic

1/2

cup

natural apple juice

1

tablespoon

lemon juice

1/2

teaspoon

oregano

1/2

teaspoon

red pepper flakes

2

cups

cherry tomatoes

slice in half

Fresh grated Parmesan cheese

for garnish

3

tablespoons

fresh chopped parsley

Kosher salt
Instructions
Heat olive oil over medium heat. Add shrimp in a single layer and season with a pinch of salt. Cook until shrimp is bright pink (no gray), turning every minute or so. Transfer to a plate.

Add onion to the pan and cook until onion starts to soften; about 2-3 minutes. Add garlic and continue to cook for 2 more minutes. Stir often so the garlic doesn't burn.

Stir in apple juice, lemon juice, ½ teaspoon salt, oregano and red pepper flakes. Bring to a simmer and add cherry tomatoes. Simmer about 3-5 minutes, stirring often.

Toss shrimp with the sauce, then the linguine. Sprinkle fresh grated Parmesan on top of the pasta and toss lightly. Garnish with fresh chopped parsley and serve immediately.
Notes
Serve this with garlic bread and a green salad.
Nutrition
Calories:
380
kcal
Carbohydrates:
70
g
Protein:
12
g
Fat:
6
g
Saturated Fat:
1
g
Polyunsaturated Fat:
1
g
Monounsaturated Fat:
4
g
Sodium:
27
mg
Potassium:
520
mg
Fiber:
4
g
Sugar:
10
g
Vitamin A:
929
IU
Vitamin C:
34
mg
Calcium:
56
mg
Iron:
2
mg