Tomato Basil Pasta is a quick and easy recipe made with tender penne pasta and juicy grape tomatoes and fresh basil. Perfect for lunch or dinner and ready in just 20 minutes, it's a delicious meal that the whole family will love.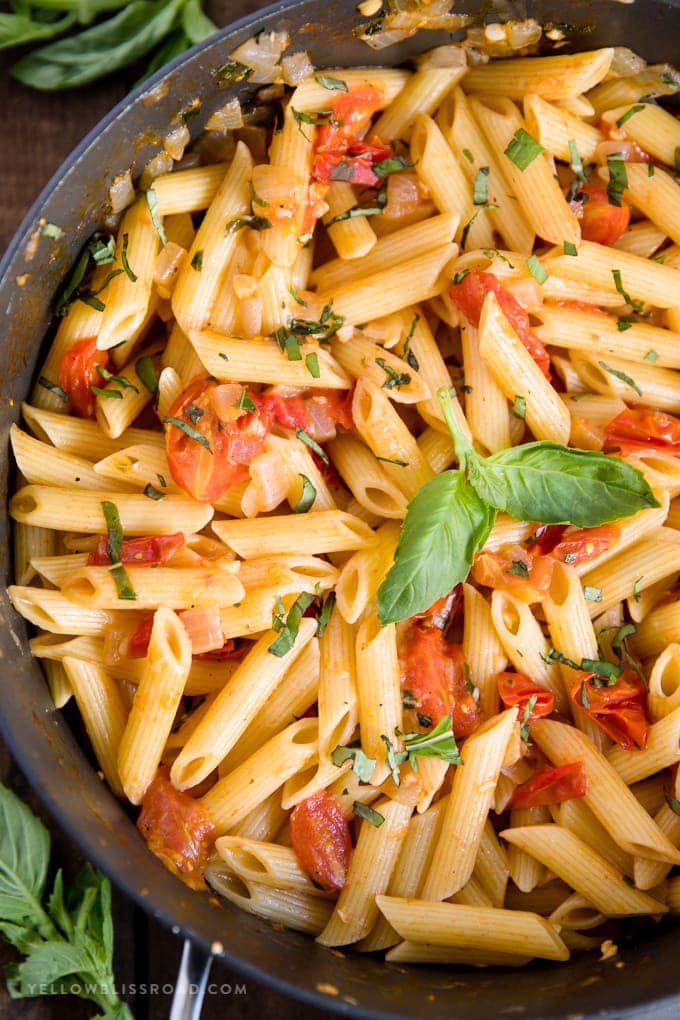 Pin this recipe for later!
Why You'll Love This Recipe
Penne pasta is my favorite pasta to cook with. It's hearty, it's rustic and there is no twirling required. It hold it's own against some pretty delicious sauces, like this creamy garlic sauce, and it's perfect in this Tomato Basil Pasta recipe.
It's also easy to pick up out of the pot with your fingers if that's how you like to do things. No judgement here.
There is no cream or butter, and you could use whole wheat or gluten-free pasta so you can feel good about eating the whole pan. It's super fresh, with a whole pint of sweet tomatoes and loads of fresh basil and garlic. Let's get cooking, shall we?
Ingredients
Penne Pasta – I love this shape for a hearty dish like this, but any type of pasta, from rotini to fettuccine, could be used.
Olive Oil – Opt for a higher quality for the best flavor.
Onion – Peeled and diced fine, or even grated if you'd prefer not to have chunks of onion in your pasta.
Garlic – Peeled and minced fresh garlic, or jarred. If you don't want pieces of garlic in the dish, slice it and saute to impart flavor without the chunks of garlic.
Red Pepper Flakes – For a little heat, add some red pepper flakes and saute with the minced garlic. You can adjust the heat level by adding more or less, or omit it altogether.
Grape Tomatoes – Beautiful, ripe tomatoes sliced in half to release all those delicious juices.
Fresh Basil – a big handful, more or less. Slice thinly with a sharp knife or just tear into the pan.
Parmesan Cheese – Freshly grated and stirred into the sauce right at the end. I also like to serve with extra cheese as a garnish.
How to Make Tomato Basil Pasta
See recipe card below for ingredient quantities and full instructions.
This pasta recipe starts as most good pasta recipes do – cooking the pasta just right! Bring some water to a boil, then salt it generously. I usually toss in a few good pinches.
Measure out about 3 cups of the dry penne pasta. This doesn't have to be an exact science, so a little more or a little less won't hurt. You don't want the pasta to be cooked all the way, so set your timer for a couple of minutes less than the package calls for. It will finish cooking in the sauce you're about the make.
Once the pasta is boiling, start on the sauce. Heat some olive oil and saute diced onions and garlic and a little red pepper flakes for heat.
Next add the sliced grape tomatoes to the pan. The tomatoes will release juices as they cook that will create the sauce.
After a minute or two the tomatoes will start to blister; at this point you'll add a ladle-ful of the pasta water straight out of the pot (about 1 cup of pasta water). The starch that's released from the pasta as it cooks will help to thicken the tomato basil sauce.
Simmer the sauce for a minute or two, then add the pasta. If you time it just right, the pasta will be about ¾ of the way done at this point, but if the pasta is ready sooner, just drain it and set it aside until you're ready to add it; shouldn't be more that a couple of minutes.
Once the pasta is added you'll just continue to let the tomato basil sauce simmer over medium-low heat. The pasta will finish cooking and become nice and tender, with a delicious tomato basil flavor.
The tomatoes combined with the garlic, onion and the pasta water will have created a yummy sauce that's smooth and luxurious and thick enough to coat the penne pasta. Stir in the fresh basil just before serving.
The finishing touch is a bit of Parmesan cheese that you can stir in, or just garnish the top with. Make sure to test the seasonings and add more salt and pepper if you like.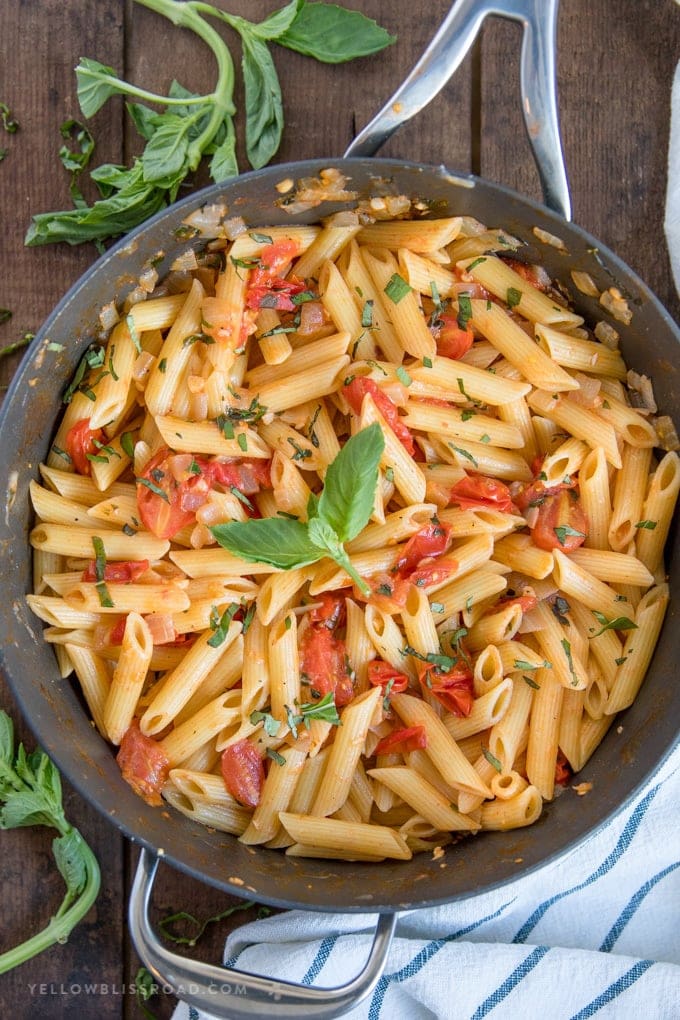 FAQs
Can I Use Dried Basil Instead of Fresh?
Fresh basil is recommended for the best flavor, but dried basil can be used as a substitute. Use about one-third the amount, as dried herbs are more concentrated, and add it when you add the tomatoes at the beginning so it has tome for the flavors to develop.
What Kind of Tomatoes Should I Use?
Grape or cherry tomatoes are commonly used, but you can also use diced Roma or plum tomatoes if you prefer. The key is to choose ripe and flavorful tomatoes.
Can I Add Protein to the Dish?
Absolutely! Chicken, shrimp, or tofu can be added for additional protein. Cook your protein of choice separately and toss it with the pasta at the end.
Can I Use a Different Type of Pasta?
Just because it's my favorite, doesn't mean that it's yours! While penne is commonly used, you can substitute it with other pasta shapes like spaghetti, fusilli, or linguine, depending on your preference.
How Can I Make the Dish Creamier?
Adding a splash of heavy cream or a dollop of ricotta or cream cheese can lend a creamy texture to the dish.
Can I Make This Dish in Advance?
While best served fresh, the sauce can be made in advance and stored in the fridge. Heat it up and toss it with freshly cooked pasta and fresh basil when you're ready to serve.
Helpful Tips
Use Fresh Ingredients: Fresh tomatoes and basil will give the dish a more vibrant and authentic flavor. If possible, choose ripe tomatoes and freshly picked basil.
Cook Pasta Al Dente: Follow the package instructions but taste-test a minute before the suggested cooking time. Al dente pasta holds the sauce better and adds texture to the dish.
Season the Cooking Water Generously: Salt the pasta water generously. This will season the pasta itself and enhance the overall flavor of the dish.
Add Basil at the Right Time: Stir in fresh basil towards the end of cooking to retain its bright color and fresh flavor. Cooking it too long may cause it to lose its vibrant taste.
Storage: Allow to cool completely, then transfer leftovers to an airtight container and into the fridge for up to 3 days. Reheat gently or enjoy cold, like a pasta salad.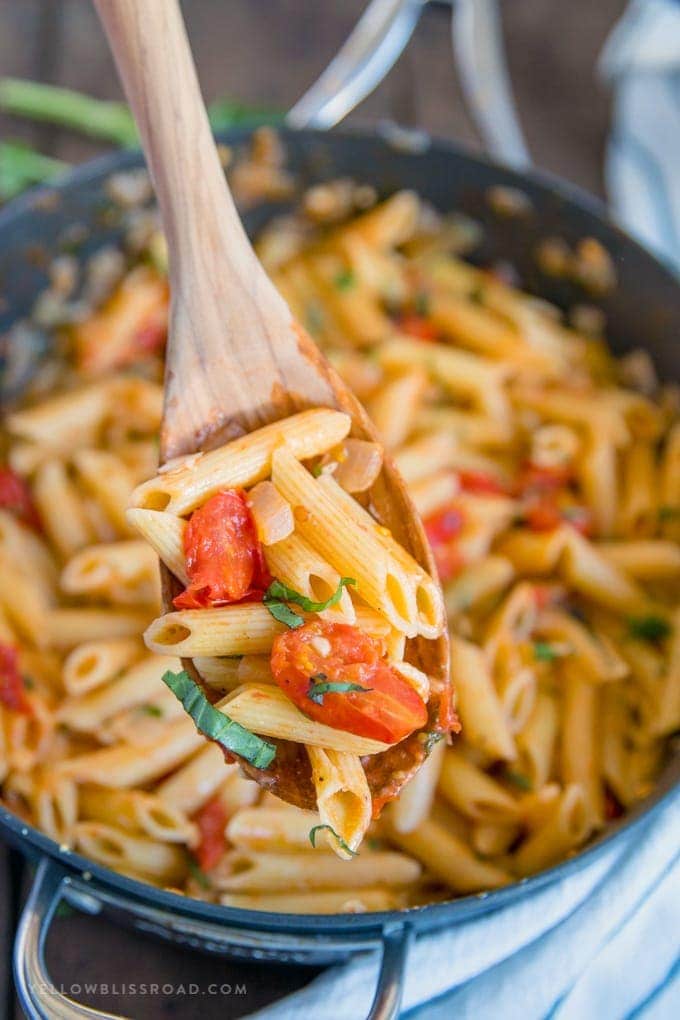 More Pasta Recipes to Try
Recipe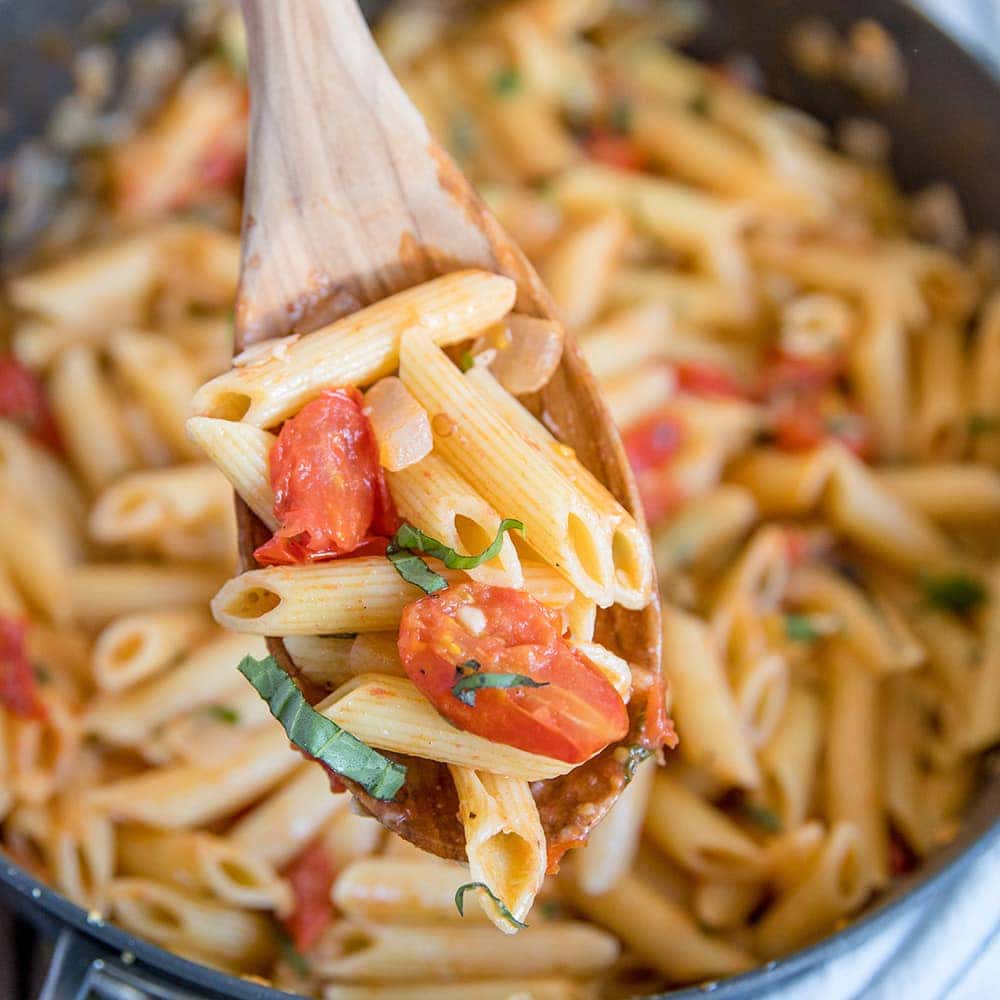 Tomato Basil Penne Pasta
Tomato Basil Pasta is a quick and easy recipe made with tender pasta, juicy tomatoes and fresh basil. Perfect for lunch or dinner!
Ingredients
12

ounces

penne pasta

3

tablespoons

olive oil

½

cup

diced onion

2

cloves

garlic

minced

1

pint

grape tomatoes

sliced in half

6-8

leaves

fresh basil

sliced into thin strips (chiffonade), plus some for garnish

Salt & pepper

1/4

cup

fresh grated Parmesan cheese

plus some for garnish

1/4

teaspoon

red pepper flakes

more of less for desired heat level.
Instructions
Bring a large pot of salted water to a boil, add the penne pasta and cook, until about three-quarters of the way done (2 minutes under what's called for on the package.

Meanwhile, heat the olive oil in a large saute pan over medium heat. Add the diced onion and cook until soft; about 3 minutes. Stir in red pepper flakes and garlic and cook for 1 minutes before adding the tomatoes and a pinch of salt and pepper. Cook until the tomatoes just begin to blister, about 2 minutes. Add a ladle full of the pasta water (about ¾-1 cup) and the chopped basil to the tomatoes.

Add the pasta to the saute pan and bring to a boil. The liquid will reduce as the pasta finishes to form a sauce; 3-4 minutes. Stir in ⅓ cup fresh grated Parmesan.

Season with salt and garnish with fresh grated Parmesan cheese.
Notes
Serve this with garlic bread for sopping up all the leftover juices!
Nutrition
Calories:
466
kcal
Carbohydrates:
71
g
Protein:
14
g
Fat:
14
g
Saturated Fat:
3
g
Polyunsaturated Fat:
2
g
Monounsaturated Fat:
8
g
Cholesterol:
5
mg
Sodium:
122
mg
Potassium:
519
mg
Fiber:
5
g
Sugar:
6
g
Vitamin A:
1080
IU
Vitamin C:
18
mg
Calcium:
94
mg
Iron:
2
mg