Cheesy Chicken Spaghetti is a delicious, satisfying baked spaghetti casserole dish that requires minimal effort. With simple, fresh ingredients this dish makes for a hearty batch of good ol' comfort food.
I love baked spaghetti and other baked pasta casserole type meals, like my Chicken Alfredo Baked Ziti. I found a lot of chicken spaghetti casseroles online, but so many of them had cream soup which I am just not a fan of – I prefer to just make it myself. So, this Creamy Cheesy Chicken Spaghetti recipe was born.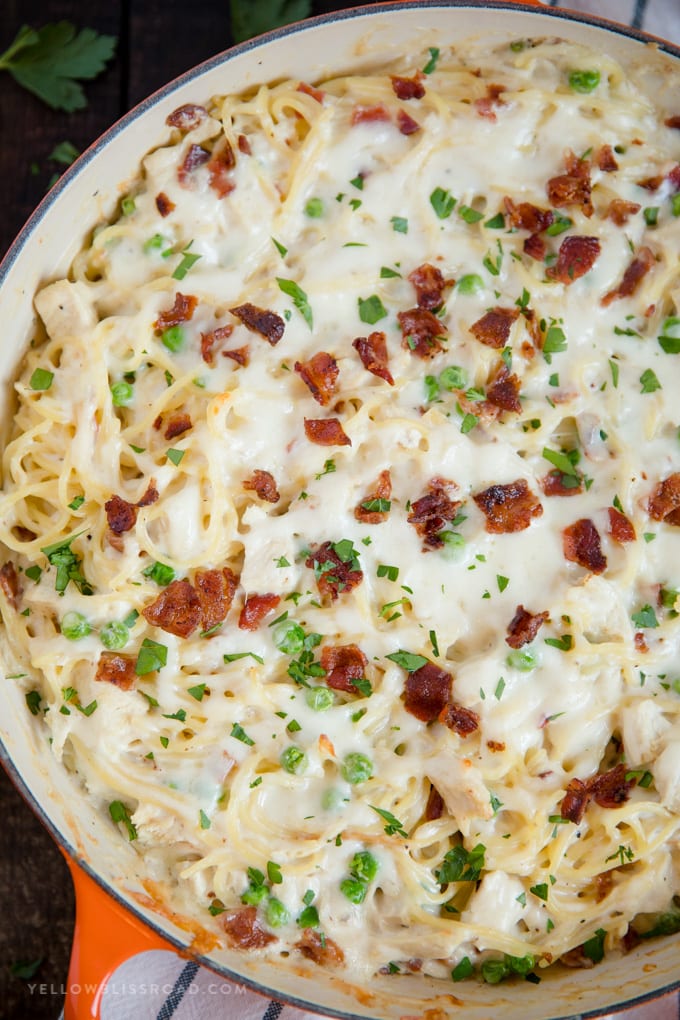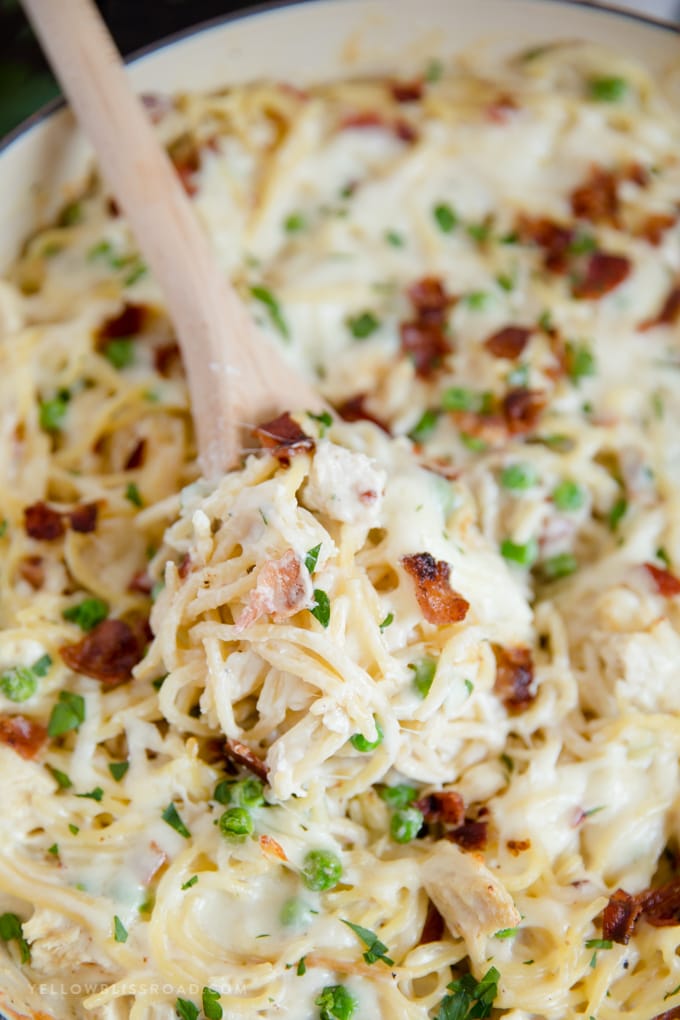 How to Make Chicken Spaghetti
This is a super easy recipe with simple ingredients that you probably already have in your pantry. I do make my own creamy base, but if you are short or time or just prefer it, you could use two cans of cream of chicken or mushroom soup instead. My son even went back for seconds, and he's a tough critic. I knew then that I had a real winner on my hands!
Folks this is pure, unadulterated comfort food. The kind that you crave when you've had a bad day or the rain is pouring down. My family of five can easily scarf down most of this dish when we're feeling especially naughty, but it does make about 8 servings.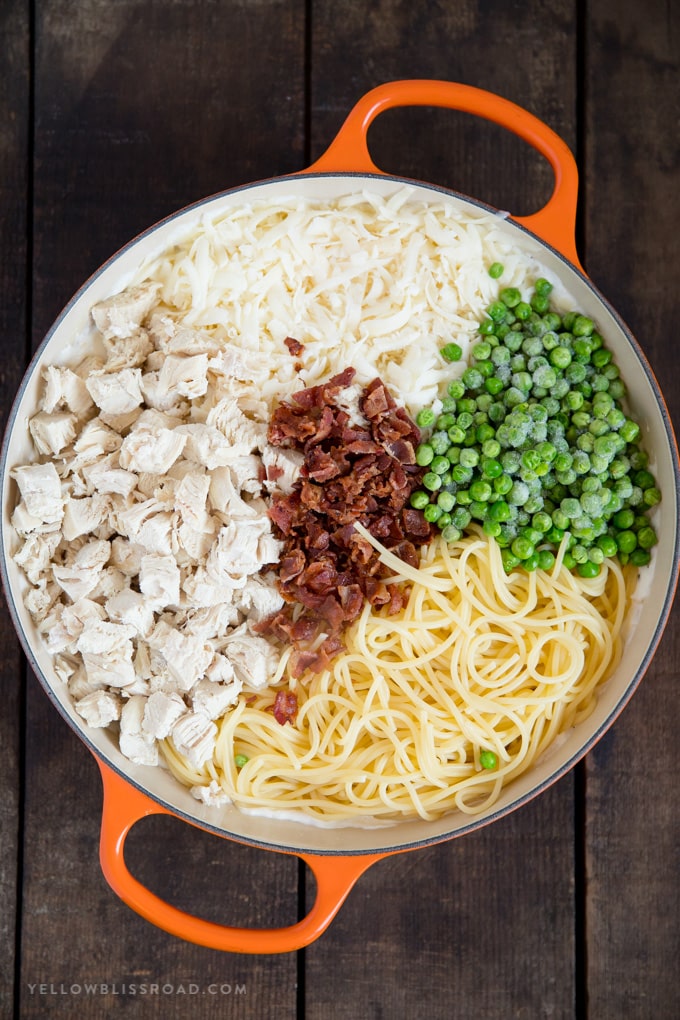 Here are some basic steps and tips for success:
The basic ingredients you need to make my Creamy Chicken Spaghetti recipe are: chicken (Try my easy slow cooker shredded chicken!), spaghetti noodles, bacon, peas, homemade cream of chicken soup (onion, garlic, flour, chicken broth and milk), sour cream and Mozzarella and Parmesan cheeses.
The first step is pre-cooking the chicken to add to your pasta recipe. For chicken pasta casseroles, I prefer nice big shredded chunks of chicken because it seems to just be easier to pick up with your fork. To cook your chicken, you can boil it, bake it, or cook the chicken in your crock pot.
Making the roux for the homemade cream soup is sup easy, and it's the next step! Basically a roux is a thickener made with flour and butter and sometimes seasonings like onion and garlic. The roux is made first and then the liquid that you are thickening is added, in our case milk and chicken broth to make the cream soup. It's glorious and creamy and smooth and delicious and so much better than the canned soups.
The sauce for this chicken spaghetti is pretty thick and cheesy and it thickens a little more as it bakes. If you want your sauce a little saucier, you have two options:

1. Add about 1/2 a cup of milk or chicken broth to thin it out,
2. Use less pasta or increase the amount of the cream soup mixture (more butter and flour, more milk and broth).

I wanted this recipe to be a full meal, so I added peas. But if you're not a fan you could leave those out and just serve a nice salad on the side.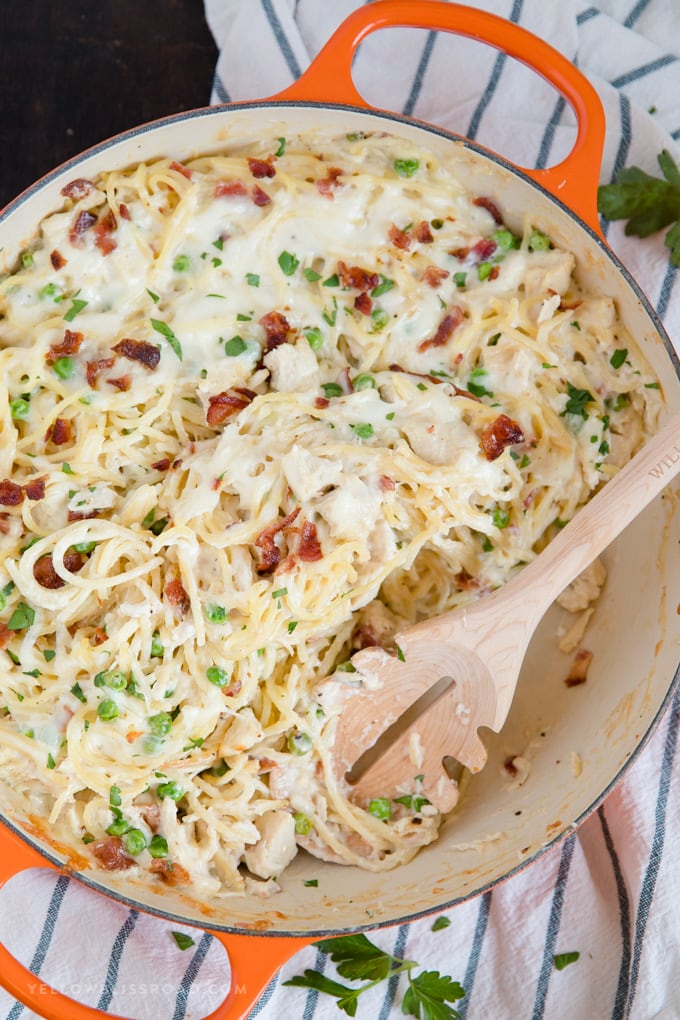 Can you freeze this recipe?
Absolutely! There are two ways to successfully freeze this dish. If you are planning this as a freezer meal, you could assemble and freeze without the initial baking. It will keep 4-6 months in the freezer.
Allow the baked spaghetti to cool completely in the pan, then pop it in the freezer until frozen. Then gently pop it out of the pan and into an airtight container or freezer bag. Of course this method anticipates that your original pan would fit inside the freezer container. To cook, place the frozen meal back into the original container, thaw in the fridge overnight, and bake as directed.
Cool the dish completely, then transfer to an airtight container or freezer bag, store in the freezer until ready to eat. To cook, place the frozen meal back into the original container, thaw in the fridge overnight, and bake as directed.
I don't like peas, do I have to use them?
Nope! You can leave out the peas completely or replace them with a veggie you DO like, like broccoli, asparagus carrots. You will want to steam them a bit first as they won't cook enough just in the oven.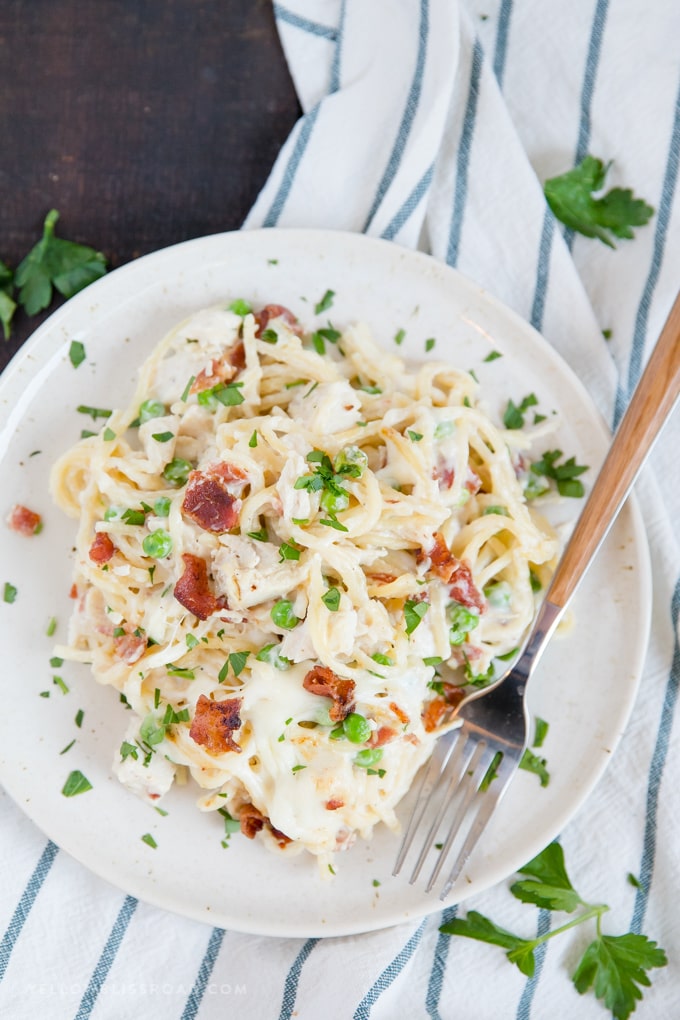 Want more simple, easy recipes?
Here are some delicious and hearty pasta recipes to try:
And here are some more spaghetti recipes you'll love: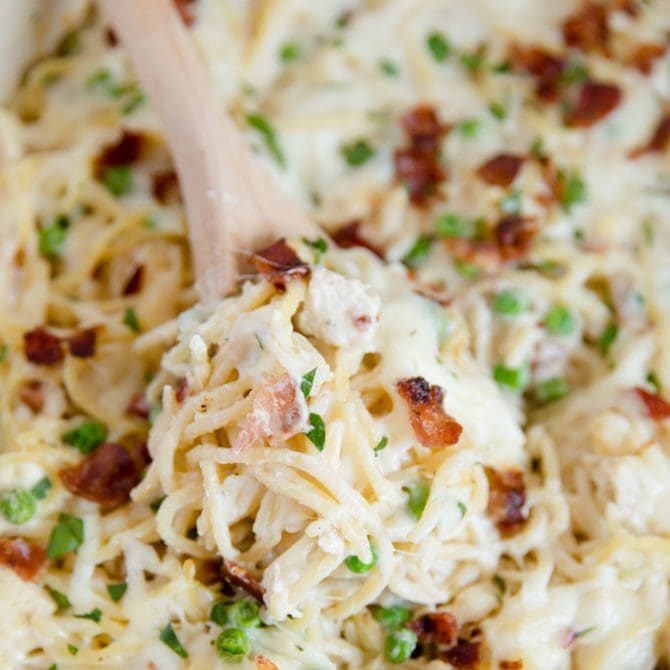 Creamy Chicken Spaghetti
Cheesy Chicken Spaghetti is a delicious, satisfying baked spaghetti casserole dish that requires minimal effort with simple, fresh ingredients that makes for a hearty batch of good ol' comfort food.
Ingredients
1 heaping tablespoon finely diced onion
1 teaspoon minced garlic 2 cloves
6 tablespoons butter
6 tablespoons all-purpose flour
1 cup chicken stock or broth
1 cup nonfat milk or any type will work
Salt and pepper to taste
12 ounces uncooked spaghetti about 2/3 of a package
1 cup sour cream
2 cups cubed or shredded cooked chicken breasts
1 1/2 cups frozen peas
½ pound of bacon cooked and diced, divided
2 cups shredded Mozzarella cheese divided
½ cup shredded Parmesan cheese
Fresh parsley for garnish if desired
Instructions
Preheat oven to 375 degrees F.

Cook the spaghetti in a large pot of boiling, salted water to just al dente (should still have a good "bite" to it). Drain and set aside.

Meanwhile, in a large saute pan or skillet, melt butter over medium low heat. Add onions and cook for 1 minute, then add minced garlic and cook 1 more minute. Add flour to the pan, and whisk together to make a roux. Cook until golden; 1-2 minutes. Add the chicken broth and milk, and whisk together to smooth out the lumps. Bring to a simmer and continue cooking until the mixture thickens; 2-3 minutes. Remove from heat. Season with salt and pepper. *If the mixture is too thick, whisk in a little chicken broth or milk to thin it out a little bit.

To the chicken broth mixture, stir in sour cream, 1 1/2 cups of mozzarella cheese and 1/2 cup Parmesan cheese. Add the cooked spaghetti, chicken, peas and bacon (reserve a small handful of the bacon for topping if desired) to the mixture and toss to combine and coat well.

Sprinkle the remaining ½ cup of Mozzarella on top of the spaghetti. Top with remaining bacon.

Bake in the preheated oven for 15-20 minutes or until golden and bubbly.

Let stand for 10 minutes before serving.

Garnish with fresh minced parsley.
Nutrition
Calories: 558kcal