Shrimp Ceviche is a classic Mexican appetizer full of citrus marinated shrimp, crunchy cucumbers, avocado, juicy tomatoes, and a splash of tomato juice. All combined to create the best Shrimp Ceviche you've ever tasted!
Adding another great, authentic Mexican recipe to our recipe box today, alongside other favorites like Authentic Mexican Rice and the best Chicken Enchiladas.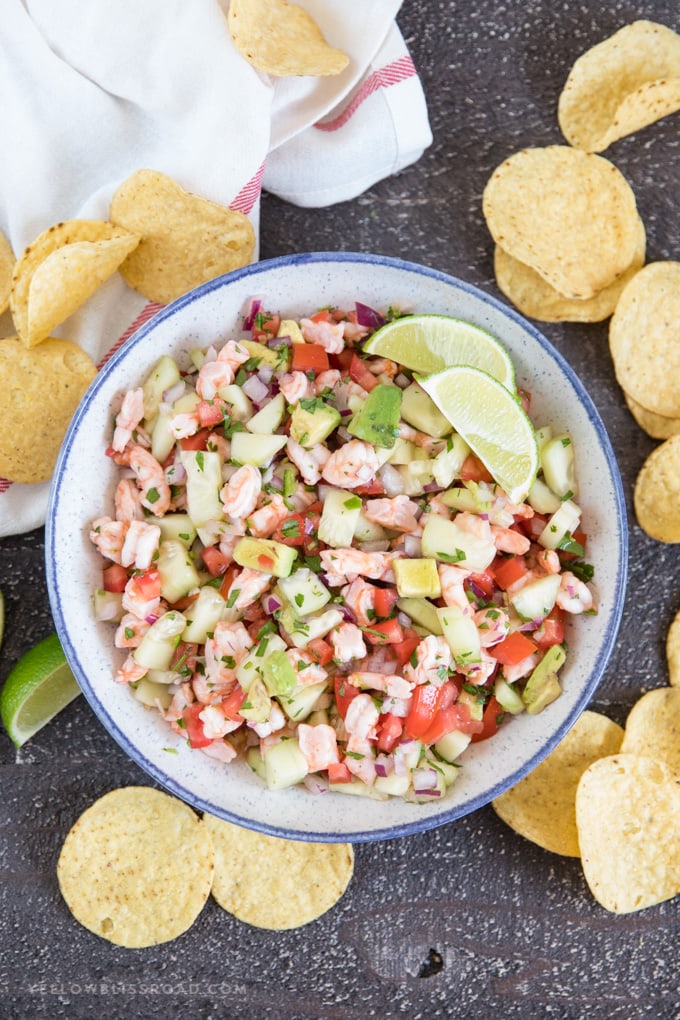 Shrimp Ceviche Recipe
My husband and I took a cruise to Baja for our honeymoon a few months ago. One of the ports we stopped at was Ensenada. We had already decided to forego the tours and excursions in favor of just exploring the port a little on our own and walking around town.
It also happened to be my birthday, and I was determined to eat some delicious Mexican food and sip on a nice, strong margarita. I got my wish when we stopped at this little Mexican bar with a cute outside seating area. We ordered guacamole, shrimp ceviche, and a margarita for me. It was some of the best Mexican food I'd ever eaten!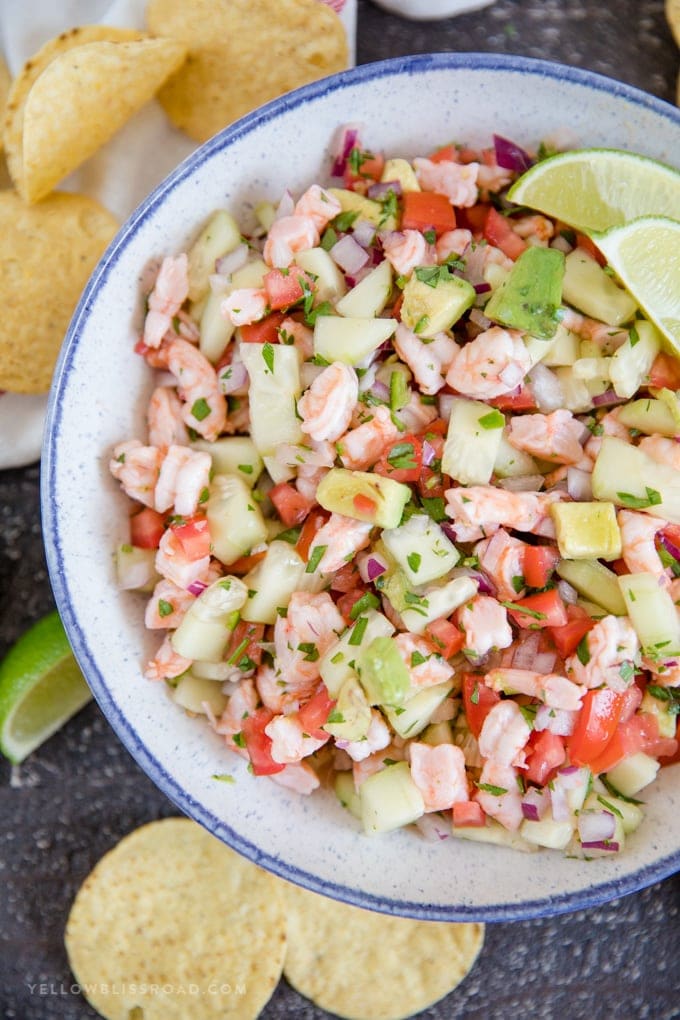 Upon returning home I knew that if I was going to recreate my husband's favorite Mexican food, I was going to have to call in some reinforcements. I texted my cousin, whose family on her dad's side is from Mexico, as is her fiance, and asked her if she had a recipe. Sure enough, she had an AMAZING one. Dare I say, the BEST SHRIMP CEVICHE ever!
How to Make Shrimp Ceviche Step by Step
First, gather the 10 ingredients needed to make our shrimp ceviche recipe: Raw shrimp, fresh lemons, red onion, cilantro, serrano chiles, cucumber, Roma tomatoes, diced avocado, Clamato, and salt. You can also use fresh lime juice in place of lemon – I prefer lemons because they are juicier.
Start by marinating the fresh shrimp in lemon or lime juice for 4 hours. Once the shrimp is bright pink in color, remove it from the juice and cut the shrimp in half. (If you prefer to cook the shrimp first, follow the alternate directions in the printable recipe). NOTE: The citrus marinade method for ceviche works best with fresh citrus and fresh, ocean caught (never frozen) shrimp.
Add the shrimp to a large bowl and stir to combine with all of those other delicious veggies. If you are not a fan of cilantro, you can absolutely leave it out. Italian parsley is a swap that I often use. It adds the same brightness and freshness. Same goes for the avocado. The Clamato can also be a personal preference, so you can use it, swap out for tomato juice, or leave it out altogether.
It's important to note that while swaps and substitutions are available, for optimal flavor experience we recommend enjoying the recipe as written. For heat, feel free to add some hot sauce like Cholula or Tapatio.
We like to serve our ceviche with tortilla chips and lime wedges for added flavor. To store, cover and refrigerate for up to 2 days.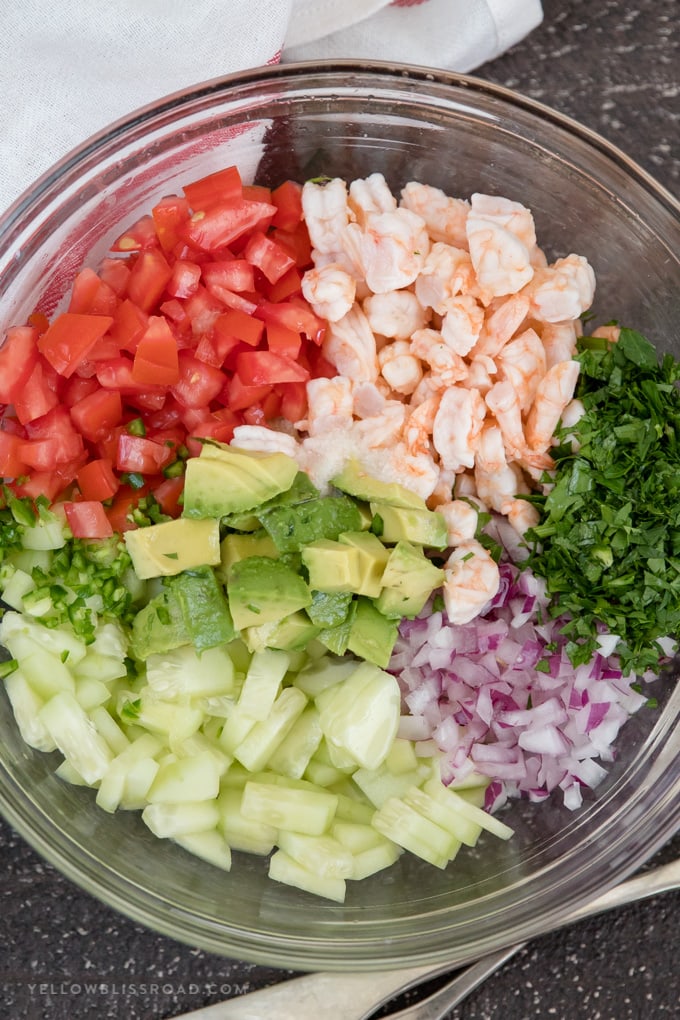 Is Ceviche safe to eat?
The acid in the lemon juice quickly transforms the shrimp as it marinates, rearranging its proteins and making it safe to eat. This is how the recipe is written and how my cousin recommends eating it.
However, if you are concerned and would prefer to cook the shrimp a traditional way, you can place the marinated shrimp in boiling water for 1 minute, then directly into an ice bath. Or, you could boil it first and marinate it after. I have found that marinating it first for the 4 hours really allows the lemon flavor to infuse into the shrimp, and a quick blanch in boiling water quells my fear of potential bacteria from the raw fish.
Use your best judgement here. If you are at all concerned about eating ceviche that hasn't been cooked, do a quick par-boil first.
Expert Tips and FAQs
How long does shrimp ceviche last in the fridge? Very fresh fish can last up to 3 days in the fridge. Fish cooked in acid, like this shrimp ceviche, will break down in that time period, so it is best enjoyed within 24 hours to get the very best texture and flavor. Ceviche does not freeze well so it's best to eat within a few days.
Can you use frozen shrimp? Absolutely! You can chop up some cooked frozen shrimp and add it if that's what you have available.
What color should the shrimp be? Shrimp cooked in citrus acid will not have the same bright pink or red color as sauteed or grilled shrimp. It should be opaque and turning a white or very light pink color.
What fish is safe for ceviche? If you are allergic to shrimp or just not a fan, you can use other types of fish, like bass, cod, snapper, or halibut. Cook the raw seafood in the citrus marinade just like the shrimp. The fresher the fish, the better.
How long should shrimp sit in lime juice? If you plan to blanche the shrimp after marinating, you can get away with a quick 30 minutes soak. But if you are "cooking" the shrimp in the juice, you'll need to let it sit for 4 hours.
How do you know when shrimp ceviche is done? Shrimp changes color when it's cooked. Raw shrimp is a deep gray color, and as it cooks in the fresh citrus juice it changes to a white or pink color and is no longer opaque.
What can I serve with shrimp ceviche?
Ceviche is delicious served as an appetizer or lunch with tortilla chips and extra lime wedges.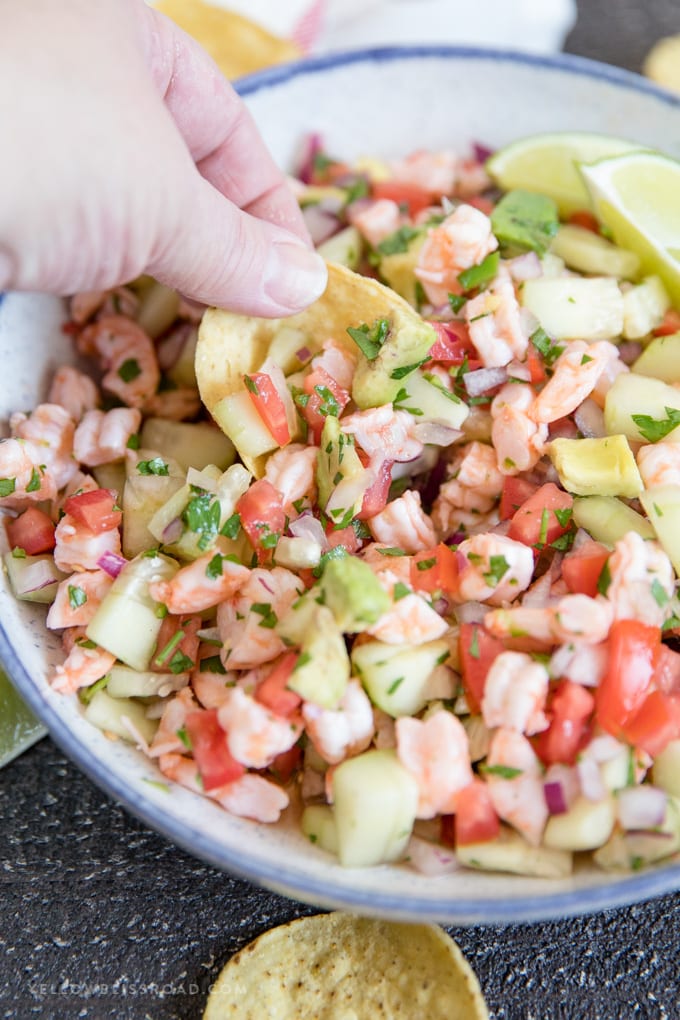 Here are some more Mexican inspired recipes to try:
More shrimp recipes to try:
If you've made this recipe, please come back and leave us a star rating or a comment below. Or, tag us on social media @yellowblissroad or #yellowblissroad for a chance to be featured.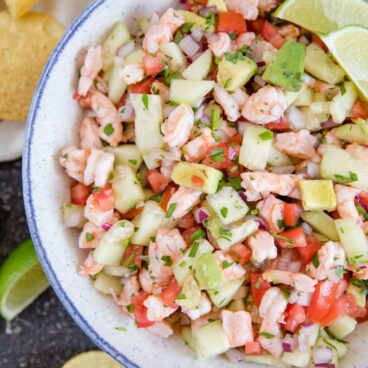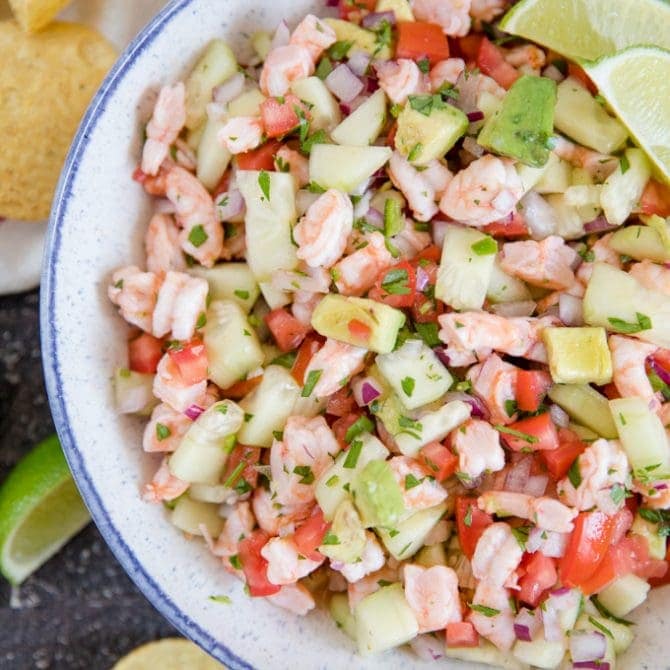 Shrimp Ceviche
Citrus marinated shrimp, crunchy cucumbers, juicy tomatoes and a splash of tomato juice combine to create the best Shrimp Ceviche you've ever tasted!
Ingredients
1

pound

medium-small raw shrimp

peeled and deveined

1/2

cup

lemon juice

about 3 lemons

½

of a medium red onion

finely chopped (about ¾ cup)

2

serrano chiles

ribs and seeds removed, finely minced

1/2

cup

chopped cilantro

1

cup

peeled and diced cucumber

1 small cucumber

2

Roma tomatoes

seeded and diced

1/2

teaspoon

of salt

1-2

avocados

diced

1

cup

Clamato juice

Lime wedges
Instructions
Rinse shrimp and pat dry. Soak shrimp in juice from 2 lemons for at least 4 hours or until pink. Discard juice. 

Optional step: Boil a pot of water and blanche the marinated shrimp for 1 minutes. Place directly into an ice bath to chill the shrimp and stop the cooking process. 

Combine with remaining ingredients. Taste and adjust salt as desired.

Serve on tostada shells or with tortilla chips. Garnish with lime wedges and squeeze juice over the top.
Notes
If you prefer to just cook the shrimp instead of the acid soak, boil a pot of water and cook the shrimp for 2 minutes or until bright pink. Rinse in an ice bath to stop the cook process. Soak in lemon juice for 1-2 hours. 
Nutrition
Serving:
1
cup
Calories:
213
kcal
Nutrition information provided is an estimate and will vary based on cooking methods and brands of ingredients used.