Shrimp Cocktail is a classic appetizer of flavorful, poached shrimp served with a homemade cocktail sauce that is party ready in less than 20 minutes.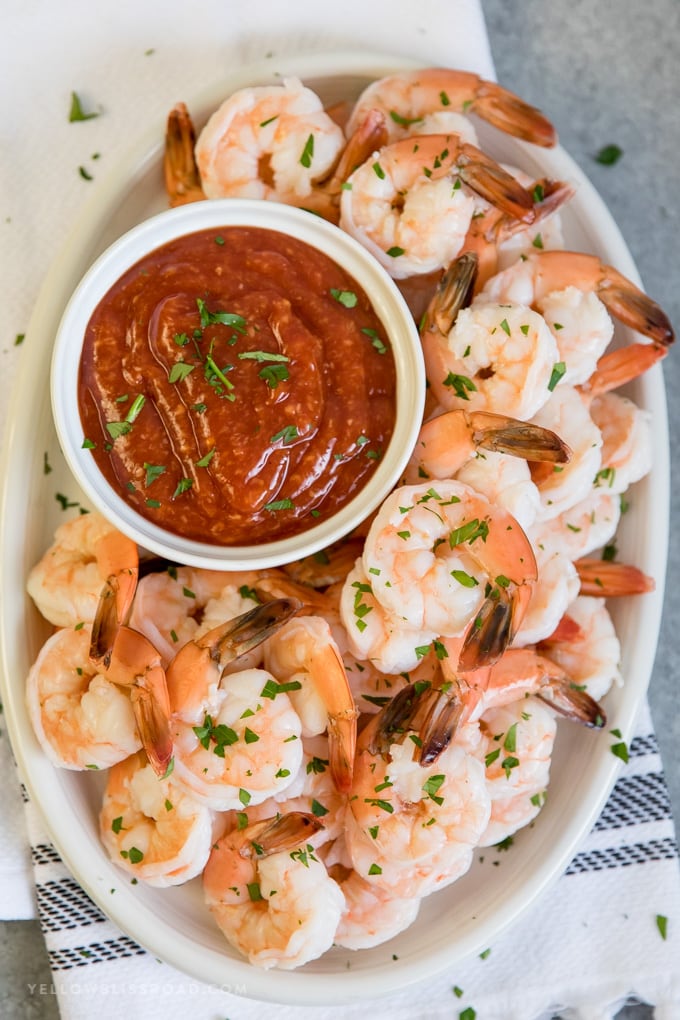 I have been enjoying shrimp cocktail for as long as I've been alive it seems. It was always the first thing on the list for any family party, and my dad was usually the first one to break into the platter. While my mom almost always made her own homemade cocktail sauce, we usually bought the pre-cooked stuff from the grocery store deli.
Buying pre-cooked definitely seems the easier way to do it, but the stuff you get from the grocery store tends to be rubbery from either over-cooking of an extended refrigeration time and it is sorely lacking in flavor. It can in fact have almost a watery taste if it had been frozen. I promise you that this recipe for poached shrimp is going to be so easy you'll never buy pre-cooked again!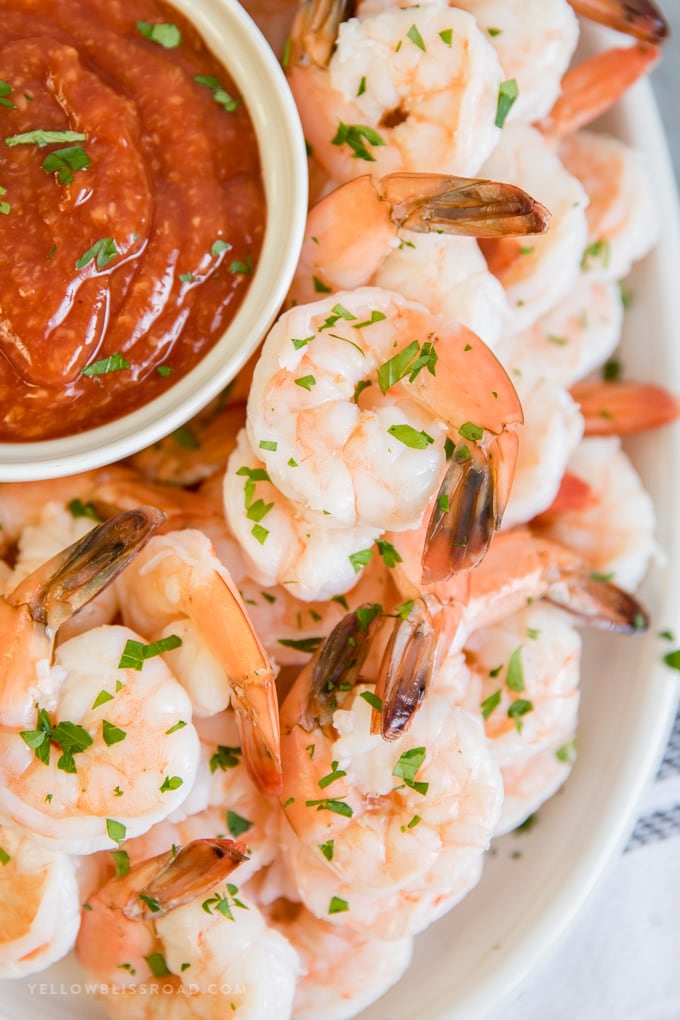 HOW TO MAKE EASY SHRIMP COCKTAIL
Here are the ingredients you will need to make this delicious poached shrimp cocktail recipe:
A pot of boiling water
Lemons
Garlic
Onions
Herbs: thyme, parsley, bay leaves
Salt
2 pounds of large shrimp, peeled and deveined
The process of poaching in the liquid is incredibly easy. Simply boil all of the ingredients (except the shrimp) together to create the poaching broth. This liquid will impart a flavor to the meat without being overpowering. While the liquid is boiling you'll want to prepare a large bowl of ice water.
Add the shrimp to the poaching liquid and cook them just for a couple of minutes. They cook very quickly so it's important that you watch them closely and don't walk away. Once they are nice and pink and beginning to curl, transfer them the ice bath. Serve chilled, garnished with minces parsley and with a side of homemade cocktail sauce.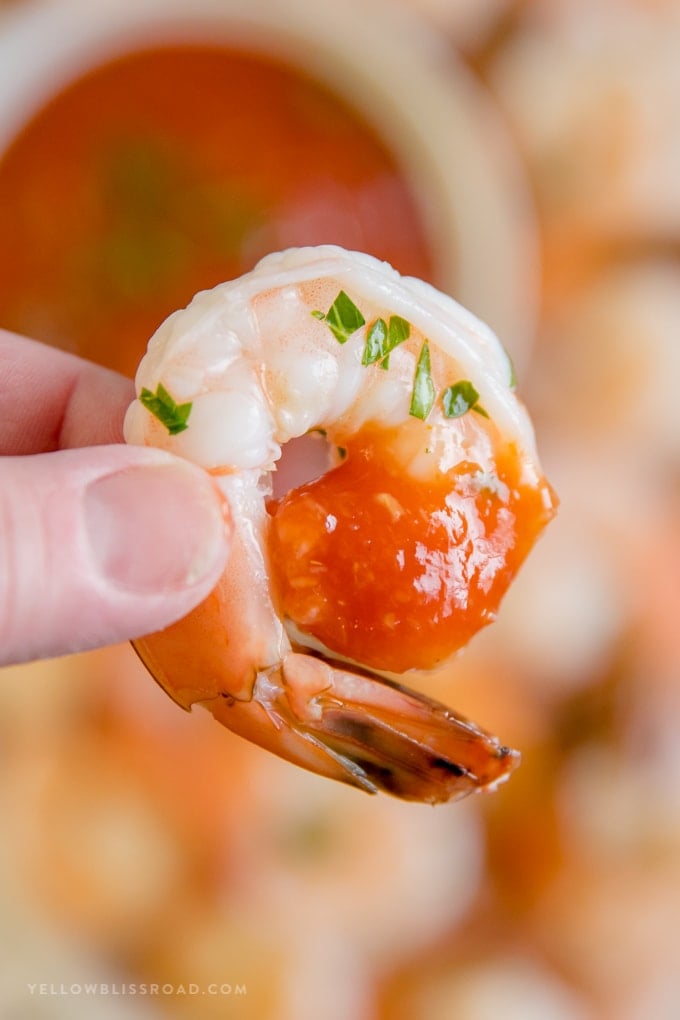 HOW TO PEEL & DEVEIN SHRIMP:
If you're able to buy raw shrimp from the butcher that's already been peeled and deveined like we are, do that! However, if it comes with the shell still on, you'll need to know how to peel and devein it. Never fear, it's easier than you might think. In fact there's something weirdly satisfying and primal about it.
To peel raw shrimp, start by cracking the shell open from the underside after you've removed the legs. Tear the shell away above the tail segment, leaving the tail in tact.
To remove the tail, simply squeeze the sides of the tail and pull the body out. For shrimp cocktail I recommend leaving the tail on to make it easier to pick up and eat once cooked.
To devein, use a paring knife to cut a small slit along the backside of the crustacean, then use the knife to gently remove the black strip of intestines and discard it.
How fattening is Shrimp Cocktail?
Good news! Shrimp Cocktail is actually very low in fat and calories! A single, jumbo sized shrimp has about 14 calories, so one serving is just over 113 calories, making it an excellent choice for snacking. The homemade cocktail sauce has about 56 calories per serving, so overall this is a very healthy choice!
It also has a high level of protein, and key nutrients and antioxidants.
How do you eat Shrimp Cocktail?
To eat shrimp cocktail with your fingers, pick up a piece of poached shrimp by the tail. Dip in some cocktail sauce then place the shrimp in your mouth and gently squeeze the tail to remove it. Repeat, over and over again. If the tails are removed, place the shrimp on a plate and spoon cocktail sauce over them. Use a seafood fork to devour.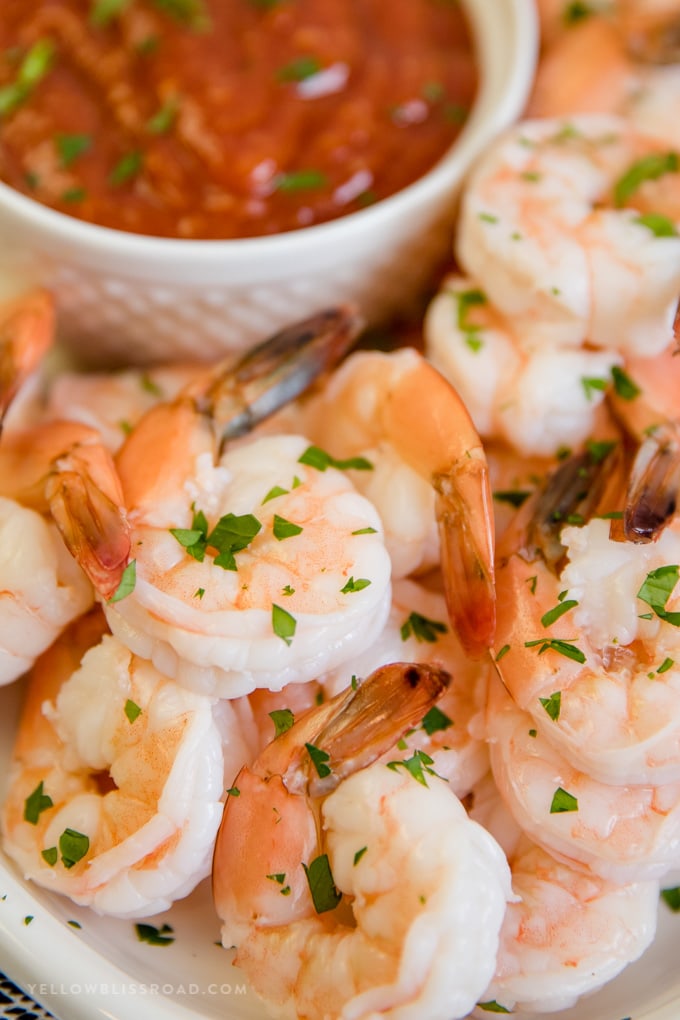 Here are some more Shrimp recipes to try:
If you've made this recipe, please come back and leave us a star rating or a comment below. Or, tag us on social media @yellowblissroad or #yellowblissroad for a chance to be featured.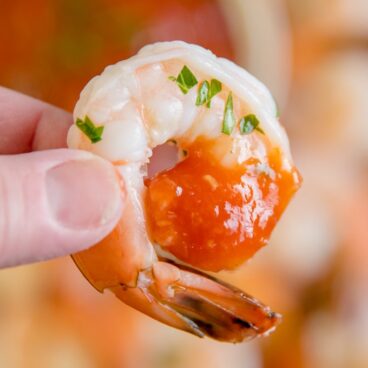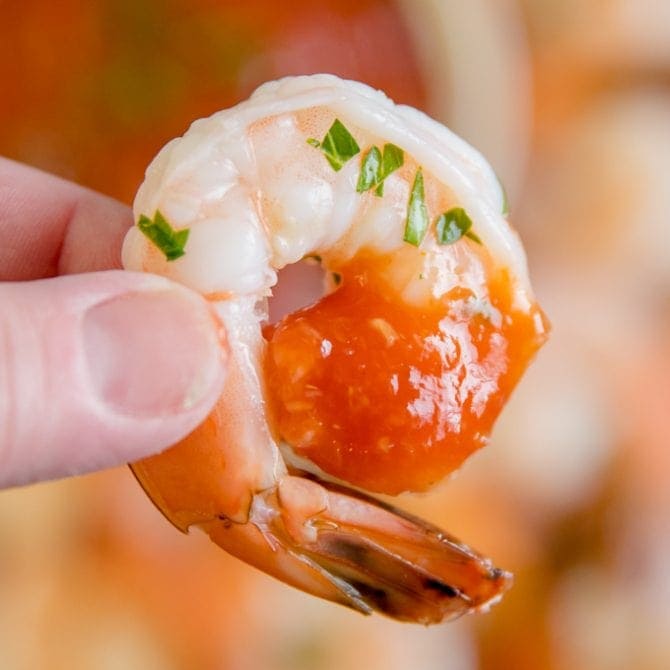 Shrimp Cocktail
One of the most popular appetizers around, shrimp cocktail is incredibly simple to make. Using this method will ensure juicy, flavorful shrimp!
Ingredients
2

pounds

raw, tail on large shrimp

16-20 per pound, peeled and deveined

3

lemons

1

small onion

quartered

4

cloves

garlic

peeled

2

bay leaves

4

springs

fresh thyme

several sprigs of fresh flat-leaf parsley

about ⅓ of a bunch

1

teaspoon

salt

frech minced parsley

for garnish, if desired
Cocktail Sauce
1

cup

ketchup

1/4

cup

prepared horseradish

1

teaspoon

Worcestershire Sauce

1

tablespoon

lemon juice

pinch of kosher salt

or more to taste
Instructions
Bring 8 cups of water to boil in a large pot. Cut one lemon in half and squeeze the juice into the water, then toss both halves in. Add onion, whole garlic cloves, bay leaves, thyme, parsley and salt to the boiling water; boil uncovered for 10 minutes.

Meanwhile, prepare a large bowl with ice water.

Turn off heat and add raw shrimp to the water. Stir and cook for several minutes; just until shrimp turn pink and begin to curl. Transfer cooked shrimp to the ice bath and chill 10 minutes. Drain. Store, covered, in the refrigerator until ready to serve.

Serve chilled with homemade cocktail sauce and lemon wedges. Garnish with fresh minced parsley if desired.
Cocktail Sauce
Stir together ingredients in a small bowl. Taste and adjust seasonings to your liking. Cover and refrigerate until ready to serve.
Nutrition
Calories:
113
kcal
Protein:
23
g
Fat:
1
g
Cholesterol:
285
mg
Sodium:
881
mg
Potassium:
90
mg
Vitamin C:
4.6
mg
Calcium:
164
mg
Iron:
2.4
mg