The best tuna salad recipe is a simple, no frills, nostalgic favorite. Tuna is mixed with fresh ingredients, like lemon juice, celery and onion for an easy to make lunch that you'll never get tired of.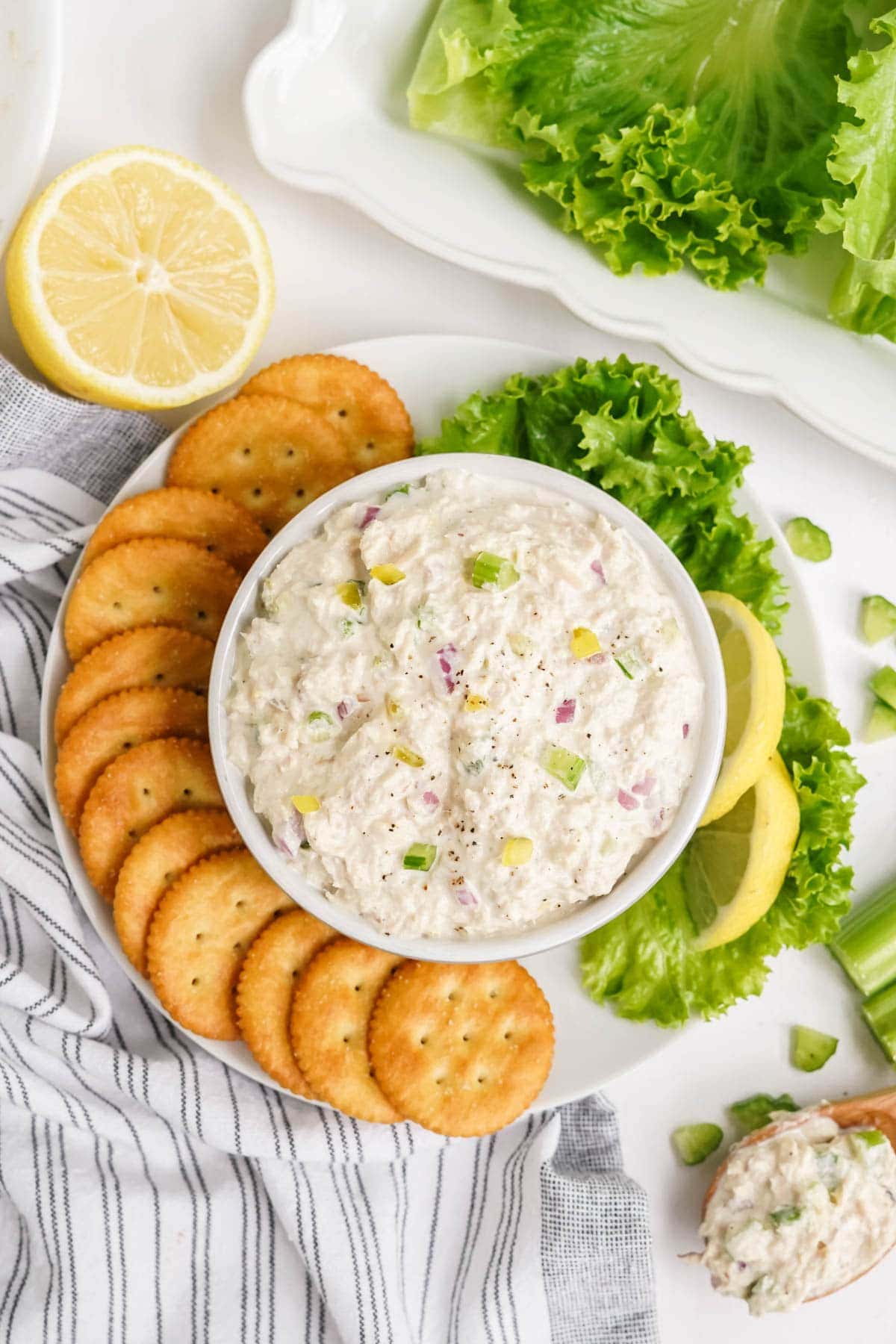 This tuna salad is a game changer! With a winning combination of pantry ingredients and fresh veggies, you can make a classic tuna salad sandwich, serve it with cracker or in lettuce wraps. Or, make a classic grilled Tuna Melt!
Tuna is loaded with protein, vitamins and healthy Omega-3s. Even the canned variety is packed with nutrients. Just make sure you buy the water packed variety and not the ones packed in oil for the best nutritional value.
Classic Tuna Salad Ingredients
All of the ingredients are easily accessible – nothing weird or complicated about it! It's got great texture and flavor, from the creamy mayo to the crunchy celery and onion.
Canned white chunk albacore tuna – I love the light flavor of this variety, plus it's packed in water instead of oil.
Mayonnaise – the base of any good tuna salad recipe.
Celery – The celery adds a necessary crunch to contrast the creaminess of the salad.
Red onion – the onion adds both crunch and a bit of heat. For a milder flavor, try green onions.
Pickle relish – the brightness of the pickle is a perfect match for the mild flavor of the tuna. You could also finely chop up some dill pickles. Sweet pickle relish can also be used but will add more sweetness than brine.
Lemon juice – For a burst of freshness.
Salt and black pepper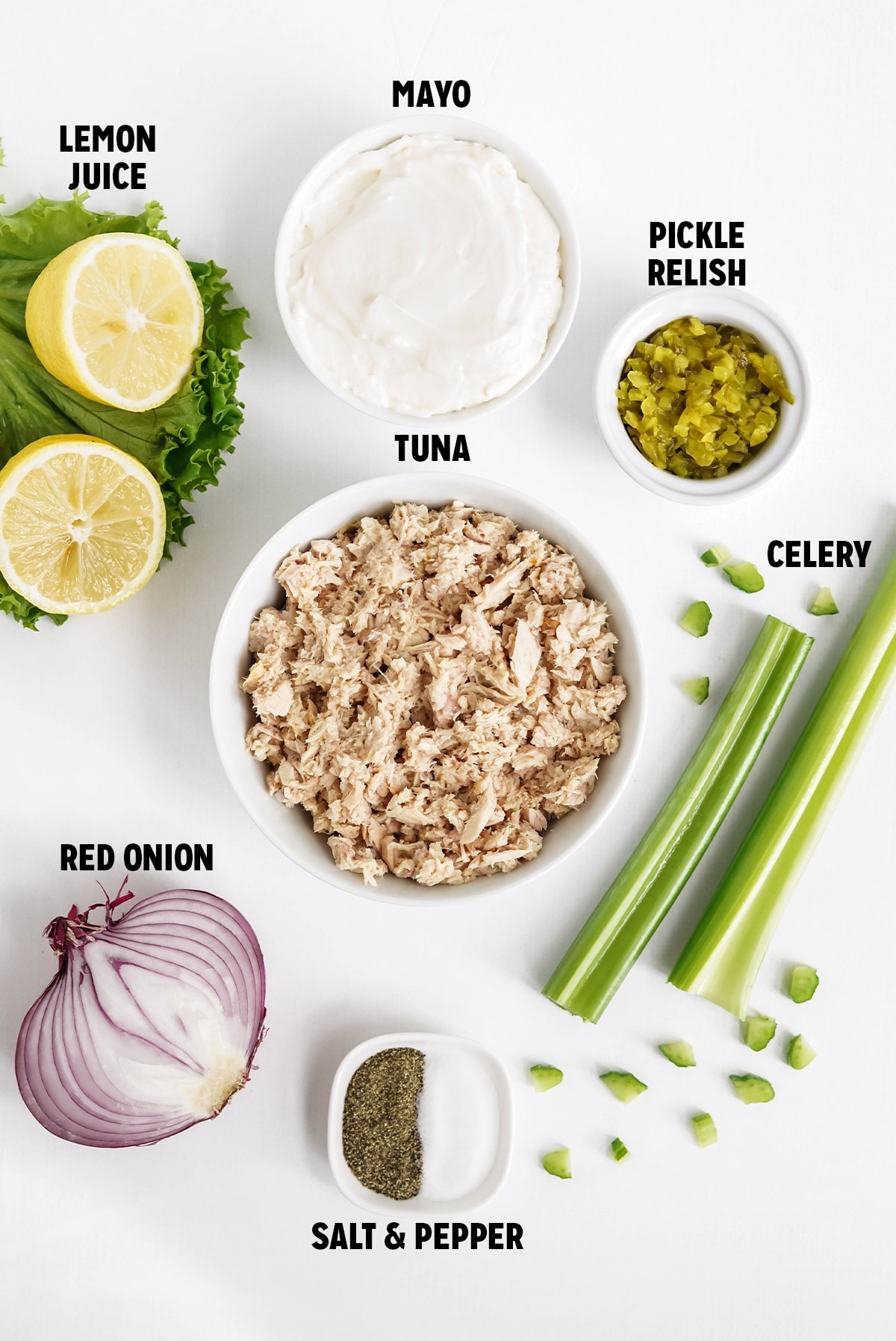 How to Make Tuna Salad
This is one of those recipes that's all about personal taste. It's a great base for you to adjust any way you like it.
Combine the ingredients together in a bowl, breaking the tuna apart with a fork as you go.
Taste and adjust the seasonings as desired, adding more salt and pepper, lemon or pickle.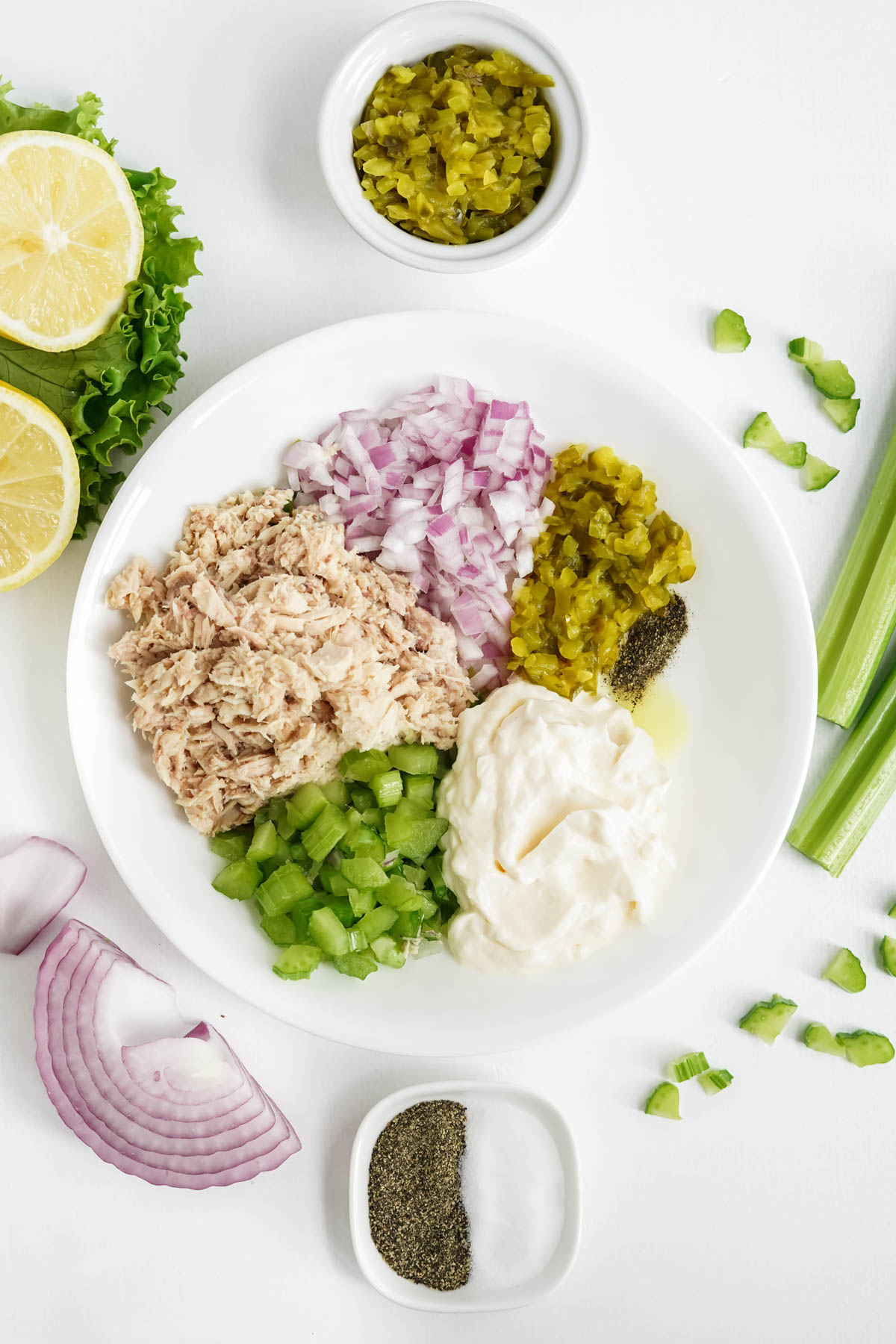 Recipe Variations
Add more depth of flavor and variety with these simple variations.
Add a hint of sweetness with some chopped apples, raisins or cranberries.
Replace the mayo with sour cream, Greek yogurt or mashed avocado. Or, try adding just a little olive oil instead.
Bulk it up by adding things like peas, bell peppers or Hard Boiled Eggs.
Mix in some pasta for a heartier meal salad.
Add flavor with fresh herbs, like parsley or dill, or a little dijon mustard.
Serving Suggestions
Looking for something more exciting than crackers or wondering what goes best with tuna salad? Try these creative serving options!
Stuffed tomatoes: hollow out large tomatoes and fill with tuna salad.
Stuffed avocados: Slice in half, remove the pit and fill 'em up!
Dippers: Serve as a protein packed dip with crackers, crostini, or cut up veggies.
Pita pockets: Stuff inside pita bread and top with bean sprouts and tomatoes.
Tortilla wrap: Spoon onto a tortillas and top with fresh lettuce and tomato. Wrap it up like a burrito and cut in half.
Lettuce wraps: Spoon into large lettuce leaves for a low-carb lunch.
Go fresh: Try fresh tuna for a delicious upgrade. Cook the fish all the way through, let it cool, then flake it up for your salad. It's a great way to use leftovers.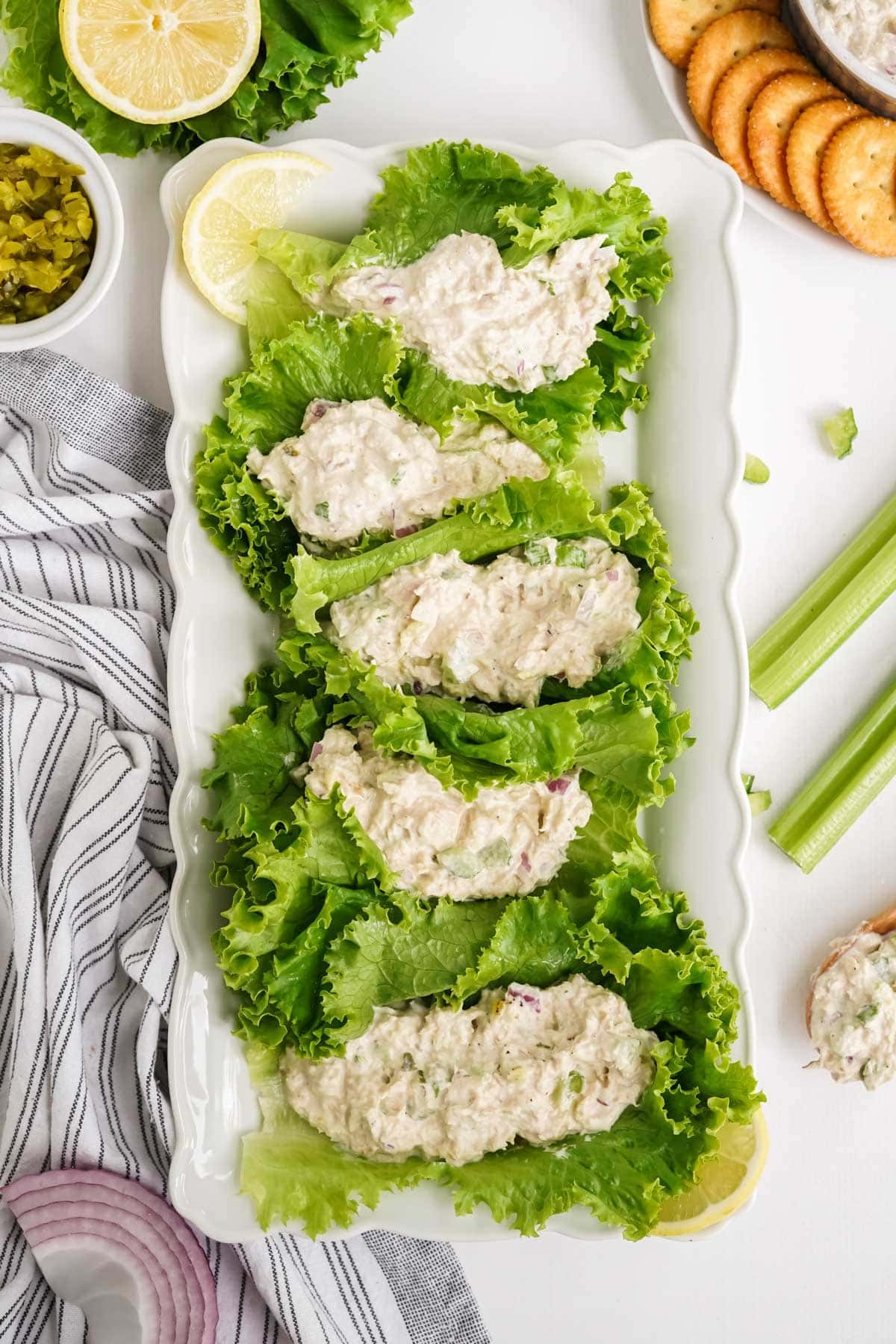 Frequently Asked Questions
How long does Tuna Salad last?
Tuna salad is best served fresh, and should be eaten within a few days. Store leftovers in an airtight container in the fridge.

Do I need to drain tuna cans?
Yes – tuna is packed in water or oil. Make sure to drain the canned tuna really well or risk watering down your salad.

Can you freeze tuna salad?
Yes! Pour the salad into a freezer bag and press out as much air as possible. Then freeze for up to 2 months. Thaw fully in the fridge and drain out any excess liquid. Give it a good stir and you're good to go!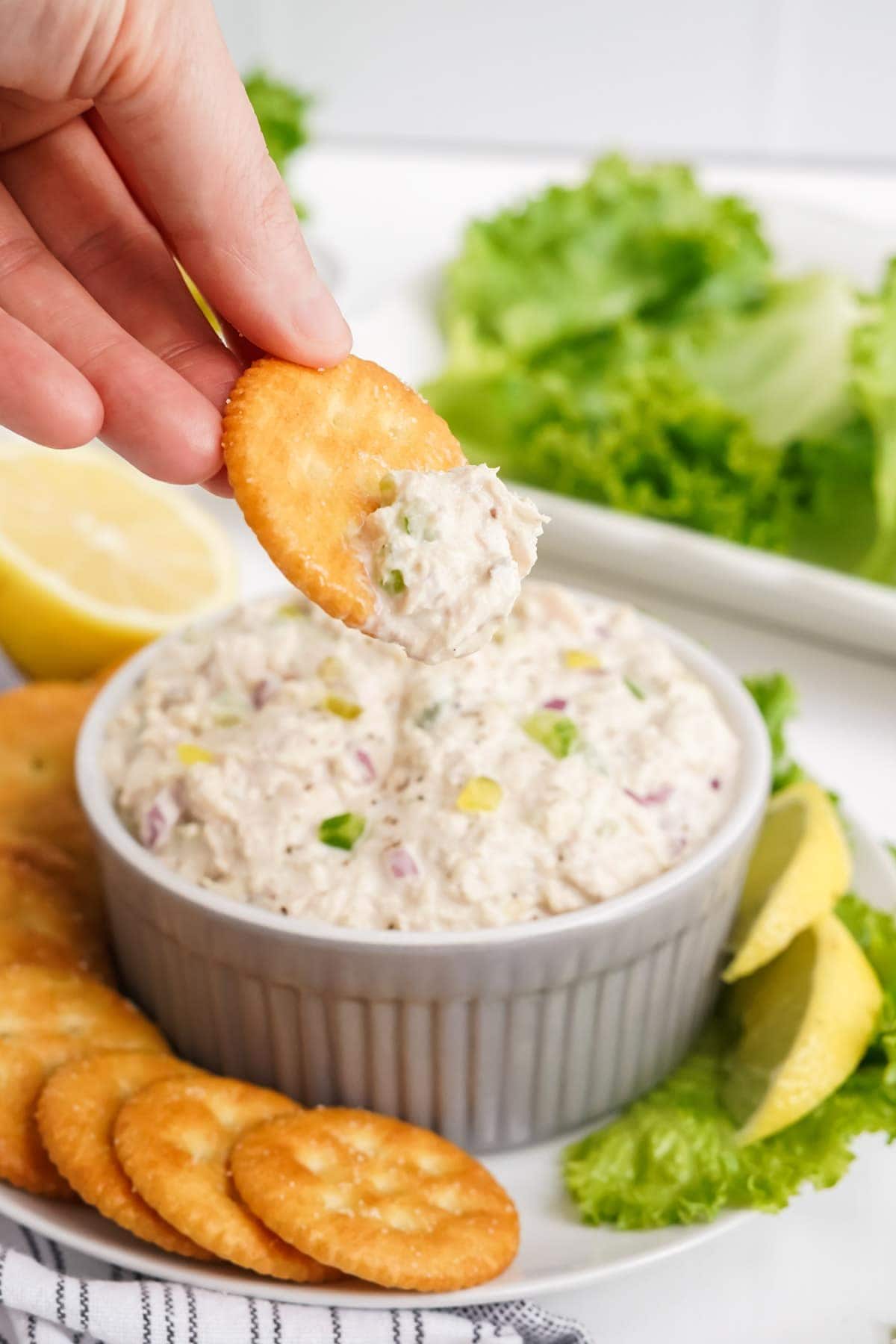 More Easy Salad Recipes You'll Love
Recipe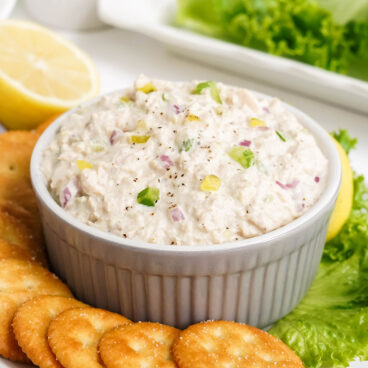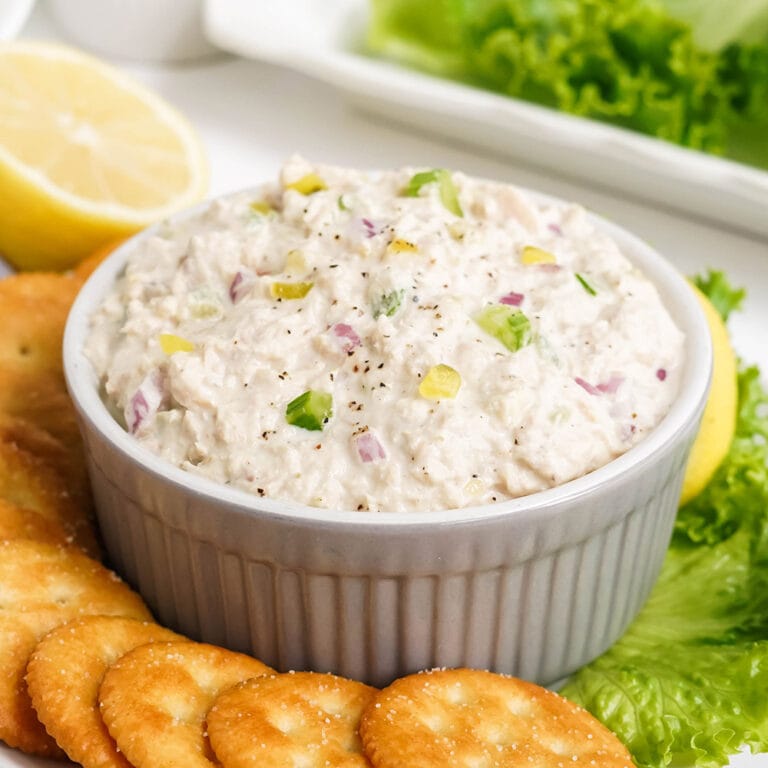 The Best Tuna Salad
The best tuna salad recipe is a classic! It whips up quick for a light and fresh lunch served with crackers, in lettuce cups or on toast.
Ingredients
5

ounces

canned white chunk albacore tuna

1 regular sized can, any variety

½

cup

mayonnaise

¼

cup

celery

finely chopped

¼

cup

red onion

finely chopped

2

tablespoons

relish

2

teaspoons

lemon juice

¼

teaspoon

salt

¼

teaspoon

black pepper
Instructions
In a medium sized bowl, combine all ingredients and mix until well combined.

You can add more or less mayonnaise to taste.

Serve with crackers, on lettuce cups or as a sandwich.
Notes
Tuna salad is best served fresh, and should be eaten within a few days. Store leftovers in an airtight container in the fridge.
Nutrition
Calories:
248
kcal
Carbohydrates:
3
g
Protein:
9
g
Fat:
22
g
Saturated Fat:
4
g
Polyunsaturated Fat:
13
g
Monounsaturated Fat:
5
g
Trans Fat:
1
g
Cholesterol:
27
mg
Sodium:
544
mg
Potassium:
131
mg
Fiber:
1
g
Sugar:
1
g
Vitamin A:
67
IU
Vitamin C:
2
mg
Calcium:
13
mg
Iron:
1
mg