Cheesy Baked Shrimp Dip is a delicious appetizer made with creamy cheeses, chunks of shrimp and flavorful spices that will be the hit of your party.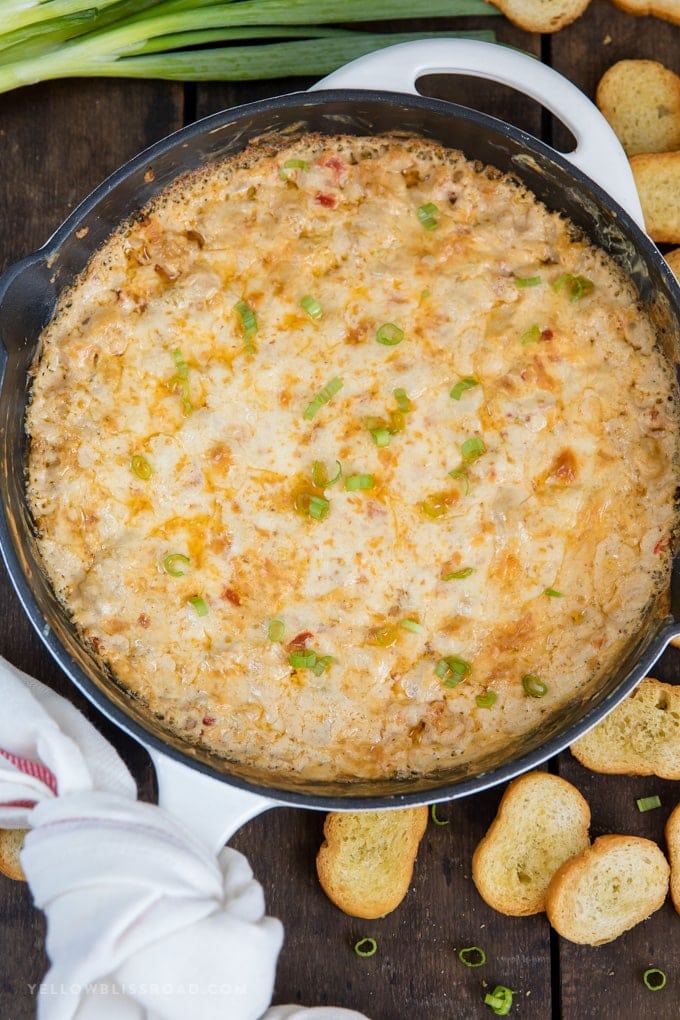 Hot baked dips are a favorite at parties for their comforting flavors and warmth. There are so many ways to make hot dips, with so many different flavors and proteins that it may be hard to decide which ones to serve. All I can say is that from now on, this Creamy Baked Shrimp Dip will be gracing all of my party tables!
HOW TO MAKE CHEESY SHRIMP DIP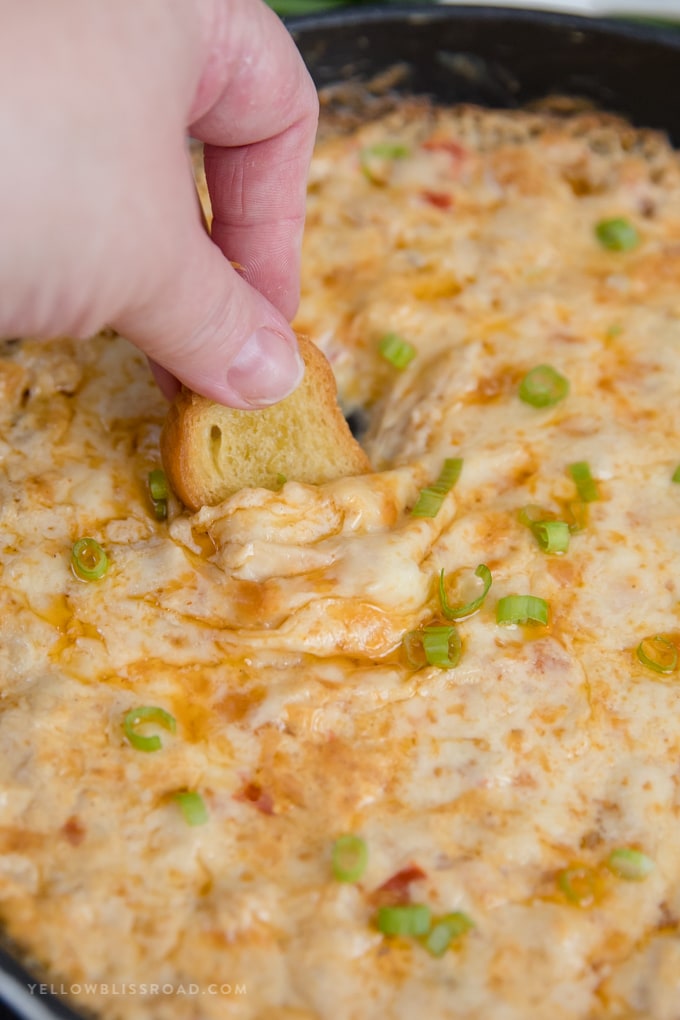 Another reason I love serving dips at parties is their simplicity; since they usually only have a handful of ingredients and seasonings, they are easy to make. Plus they don't require much more than a little garnish and some chips for serving.
To make this creamy, cheesy Shrimp Dip, you'll need to gather a few simple ingredients:
onion & garlic
red bell pepper
shrimp
Cajun seasoning
lemon juice
Worcestershire sauce
Cheese (cream cheese, mozzarella and parmesan)
Mix up the ingredients and bake them up until nice and bubbly. You can also include some green onions or fresh parsley for garnish because a little extra color is always a good thing.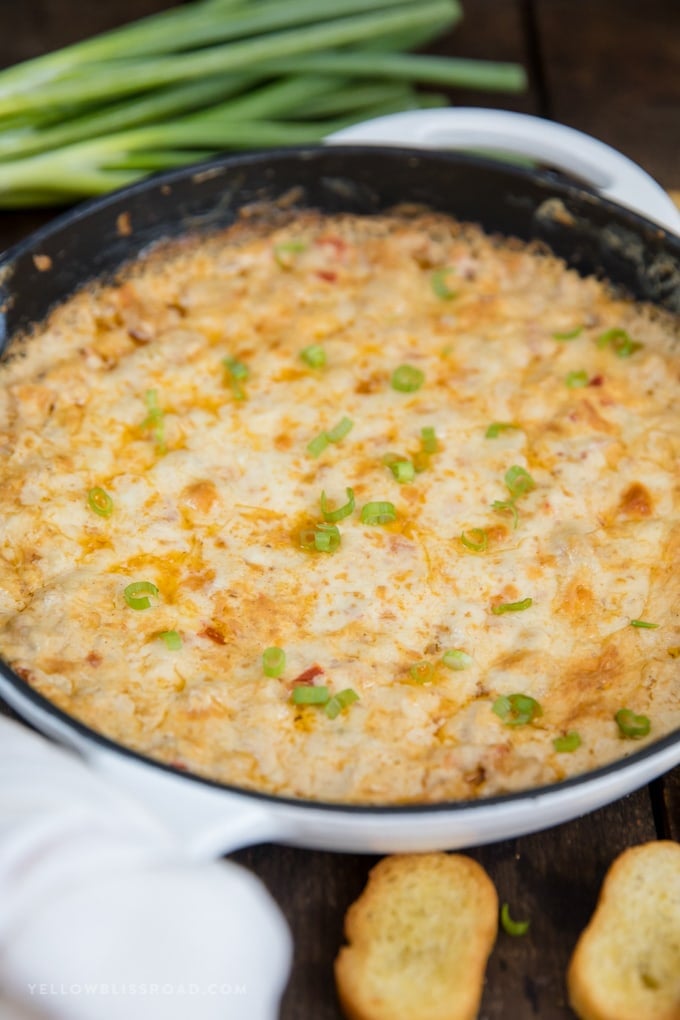 CAN YOU BAKE THIS SHRIMP DIP AHEAD OF TIME?
I recommend baking this dip right before you are prepared to serve it, but you could prep it and have it ready to go in the pan up to a day ahead of time (tightly covered in the fridge). It's best enjoyed right away.
WHAT SHOULD I SERVE WITH THIS SHRIMP DIP?
Since this is a hearty dip, you'll want a dipper that can stand up to the weight. I recommend crostini (toasted bread) or some good, thick tortilla chips or pita chips.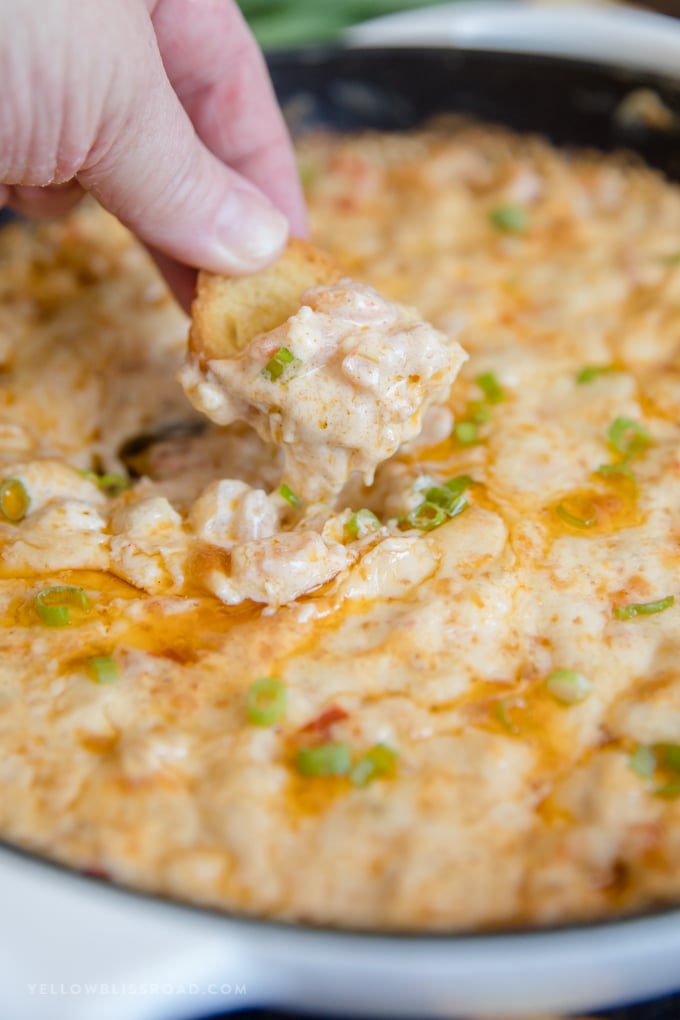 How about some more amazing shrimp recipes?
Here are some more hot baked dips to try:
Tools used in this Shrimp Dip recipe:
10-inch Cast Iron Skillet: Perfect for cooking and baking, this pan goes from stovetop to oven to table easily. Cast Iron is also quite easy to care for.
Box grater – I love the large handle, and the different grate sizes.
Cut resistant glove – I use one of these glove every single time I use my grater or mandolin. Keeps your knuckles safe for harm!
Wooden spatula – This versatile piece is another essential. It's works great at stirring food in a skillet, and it perfect for scraping up all those little bits of flavor that often get left behind.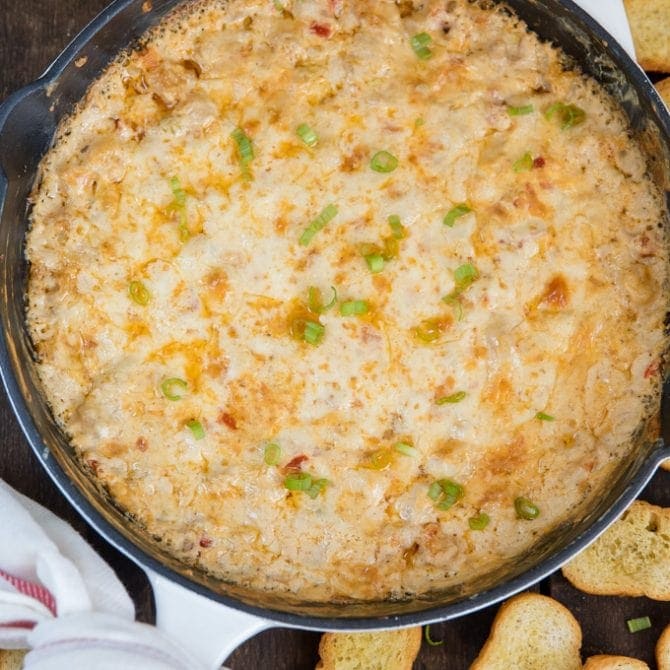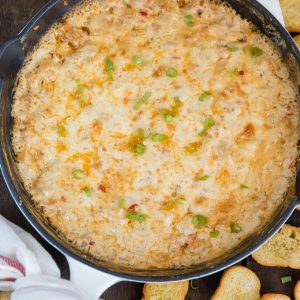 Cheesy Baked Shrimp Dip
Ingredients
1 tablespoon olive oil
¼ cup fresh minced onion
1 small red bell pepper chopped
1 pound small-medium shrimp chopped into 1/2" pieces
2 garlic cloves minced (1 teaspoon)
1 teaspoon Cajun seasoning
2 tablespoons lemon juice
1 teaspoon Worcestershire sauce
8 ounces cream cheese softened
1 cup shredded mozzarella divided
1/2 cup freshly shredded Parmesan
1/4 cup sliced green onions plus more for garnish
Instructions
Preheat oven to 350 degrees F. In a medium skillet over medium heat, melt olive oil. Add onion and bell pepper and cook until onion is translucent, about 5 minutes. Season with a pinch of salt.

Push onions and peppers to the side and add shrimp and minced garlic to the skillet. Cook until shrimp is pink and garlic is fragrant; 1-2 minutes. Mix with the onions and peppers during the last 30 seconds.

Stir in cajun seasoning, lemon juice, and Worcestershire sauce and heat to a simmer.

Remove pan from heat and stir in cream cheese, 1/2 cup of mozzarella cheese, Parmesan, and green onions.

Stir until all cheese is melted and all ingredients are evenly distributed. Sprinkle with remaining cheese.

Bake in the preheated oven for 15-20 minutes or until golden and bubbly. If you want a more golden top, add a few minutes under the broiler.

Garnish with remaining green onions and serve with crackers or toasted bread.