Boost your dip game with this incredible spicy and creamy Jalapeno Popper Dip! Get all the flavors of the popular appetizer in a quick and easy dip!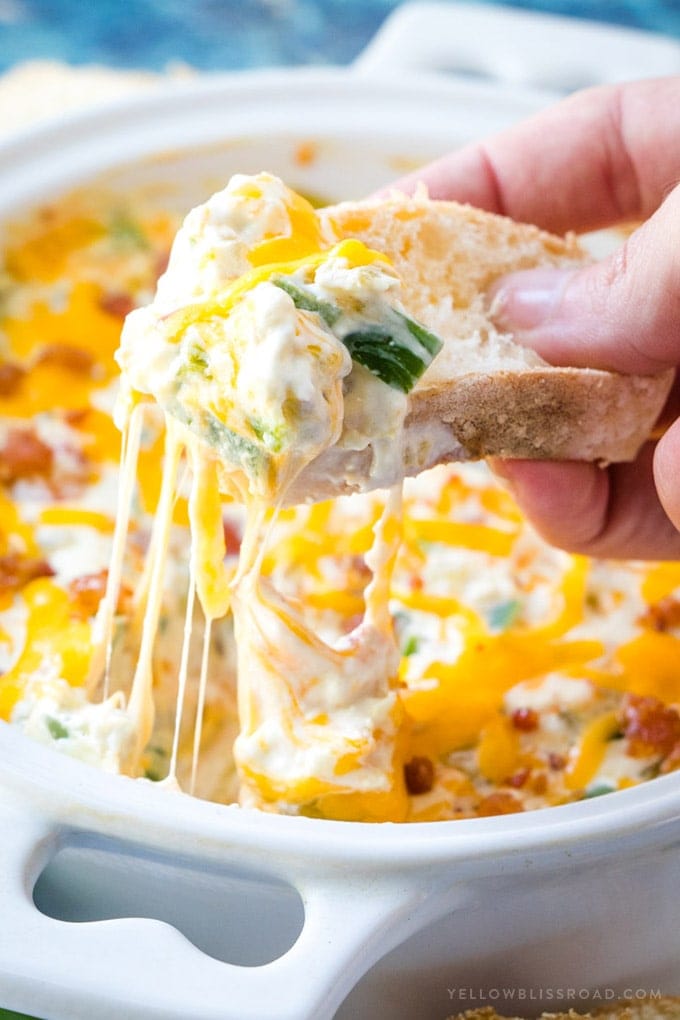 Hi everyone! I'm so excited that this is my first guest post on Yellow Bliss Road! My name is Sam from the blog The Culinary Compass where I create recipes inspired by dishes and flavors from around the world.
LET'S MAKE MY JALAPENO POPPERS DIP!
This Jalapeño Popper Dip is probably my all time favorite dip. It's got all of the flavors of Jalapeño Poppers without the hard work of assembling each individual one. If that wasn't good enough, it has extra cheese AND bacon in it and who doesn't like that!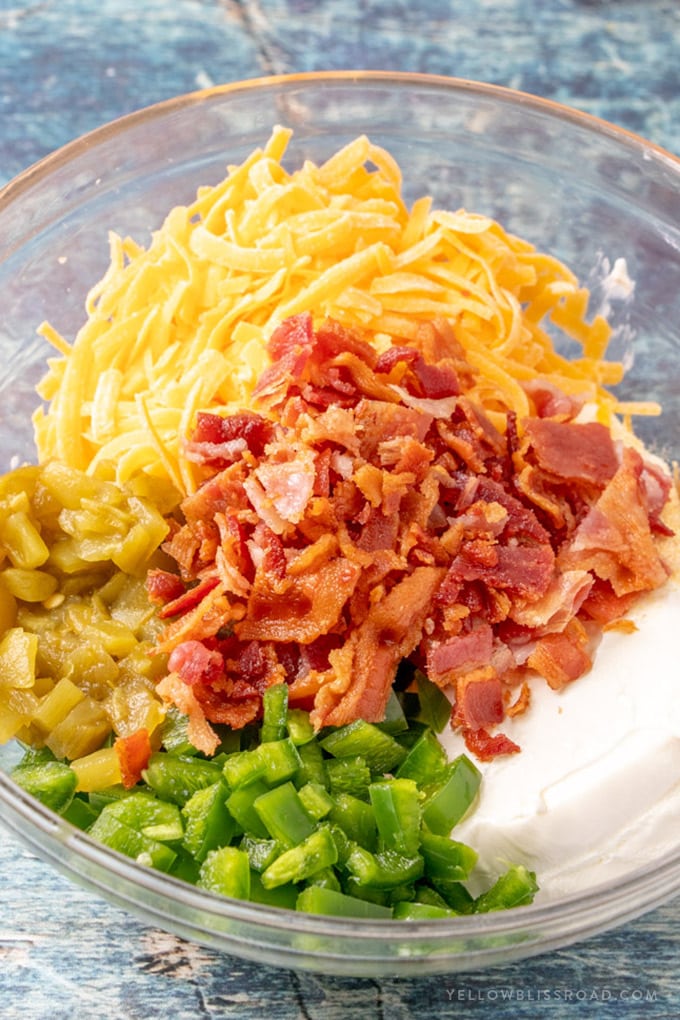 One of my friends introduced this dip to me and she said it's always the most popular thing she brought to work functions and potlucks. What's even better is that it's super quick to make with barely any cleanup. I brought it to a tailgate party recently and it disappeared just about as quickly as I put it on the table.
HOW TO MAKE JALAPENO POPPER DIP
This dip is so easy to make, you'll never want to waste your time making those individual jalapeno poppers again. Instead of slicing and filling each jalapeno half with the filling, you just mix all of the ingredients together in a bowl and bake it! Here are the ingredients you'll need for Jalapeno Popper Dip:
jalapeños
green chilies
cream cheese
cheddar cheese
slices bacon
seasoning
Six ingredients = a super easy appetizer! It is very easy to just throw the ingredients together in an oven safe dish and add some extra cheddar and jalapeños on top to serve with some baguette slices or crackers. I have also poured the warm dip into a ready to eat bread bowl just to shake it up a little bit.
Tips for making Jalapeno Popper Dip
Use canned jalapenos to cut down on time,  but I do personally like the roasted jalapeno flavor.
Play with the ratio of jalapenos to green chilies to find a spice level you like. This recipe gives you the flavors of the peppers without the heat so be sure to add more if you're looking for the spice! Try leaving some of the jalapeno seeds in too if you like spicy.
Customize – Add more or less bacon or cheddar if that's your thing.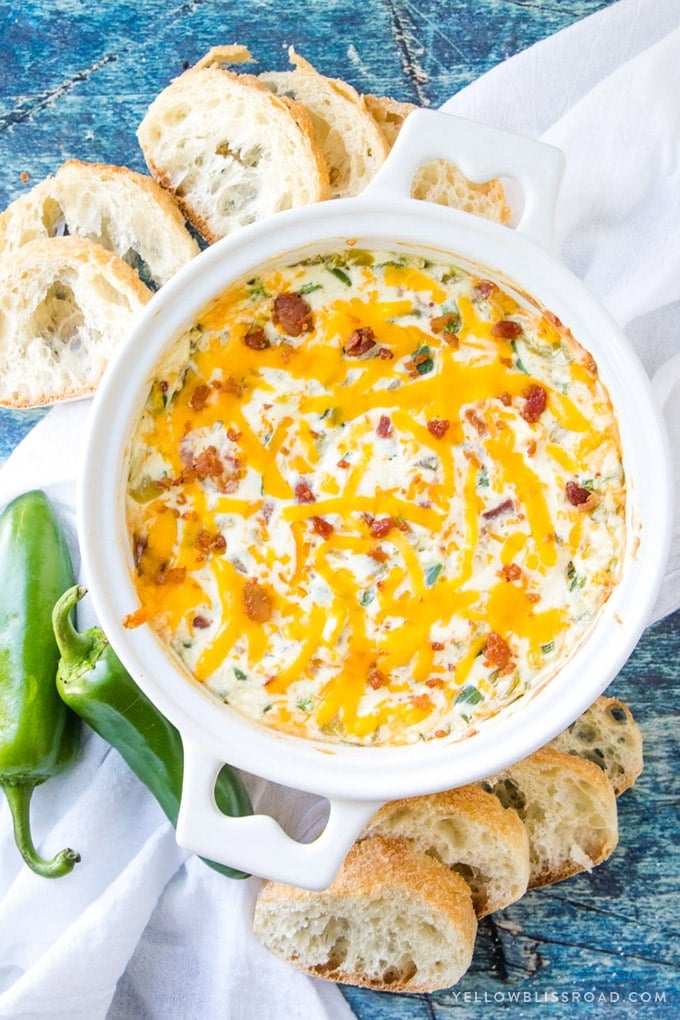 If you like this Jalapeños Popper Dip, check out these individual Roasted Jalapeño Popper Bites! To make them just mix together these ingredients of the dip, roll out a can of crescent rolls and cut each triangle in half, put some dip in the middle and roll them up. Pop them in the oven and you have another great appetizer to bring to a tailgate or potluck! 
Here are some more quick and easy dips to try: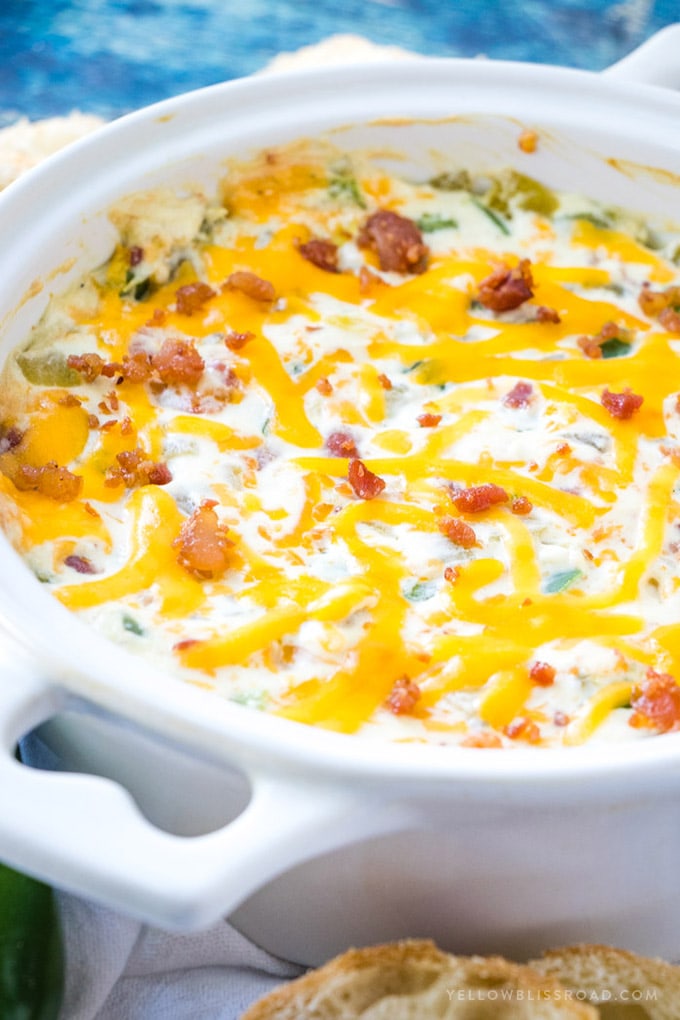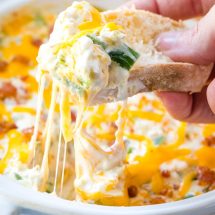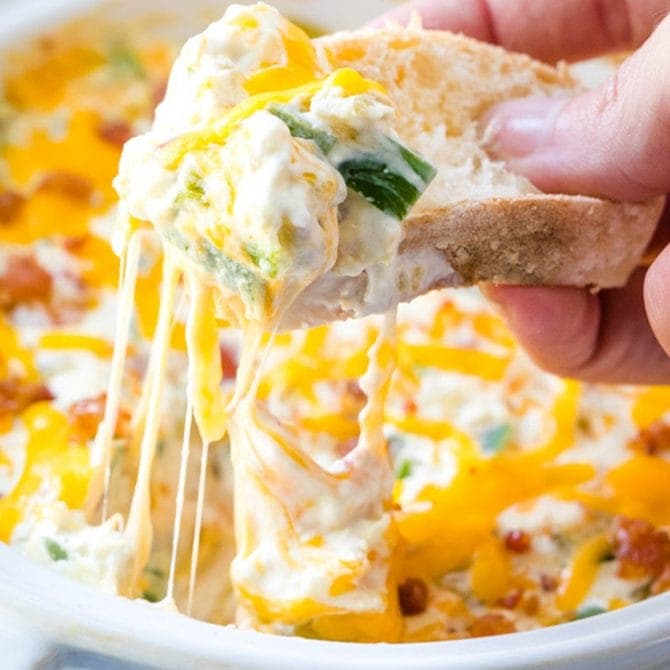 Jalapeno Popper Dip
This Jalapeño Popper Dip is a quick way to enjoy the flavors of your favorite appetizer!
Print
Pin
Rate
Prep Time: 5 minutes
Cook Time: 15 minutes
Total Time: 20 minutes
Servings: 8 servings
Calories: 0
Ingredients
4 jalapeños seeded and diced
1 can green chilies
1 8-ounce package cream cheese, softened
1 1/2 cups shredded cheddar cheese divided
6 slices bacon cooked well done and crumbled
1/2 tsp onion powder
1/4 tsp garlic powder
Baguette slices or crackers for dipping
Instructions
Preheat oven to 375 degrees F. Spray an 8x8 baking dish with nonstick cooking spray and set aside.

Stir together jalapeños, green chilies, cream cheese, 1 cup shredded cheddar, bacon (reserve some for topping if desired), onion powder, and garlic powder in a large bowl until well combined.

Pour into the prepared baking dish, spread evenly and top with 1/2 cup cheddar cheese.

Bake for 15-20 minutes until melted and bubbly.

If serving in a bread bowl: Melt ingredients together in a small pot over medium heat for 15 minutes until cream cheese melts. Hollow out a large bread bowl and pour dip into it.

Serve with toasted baguette slices or crackers.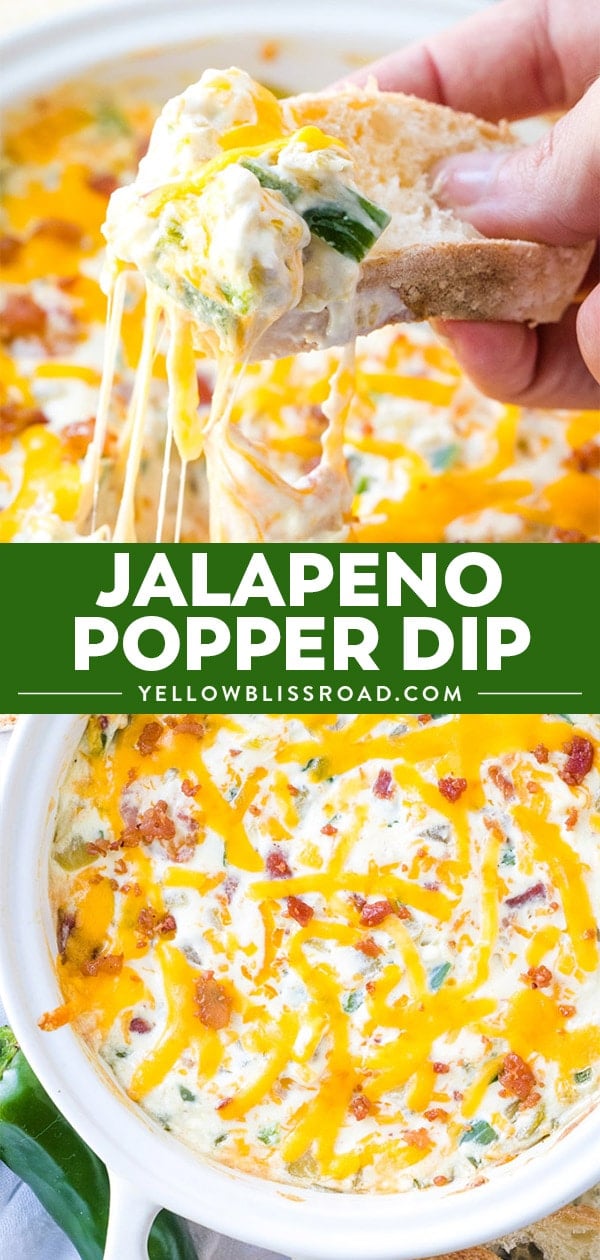 This post was updated in 2018.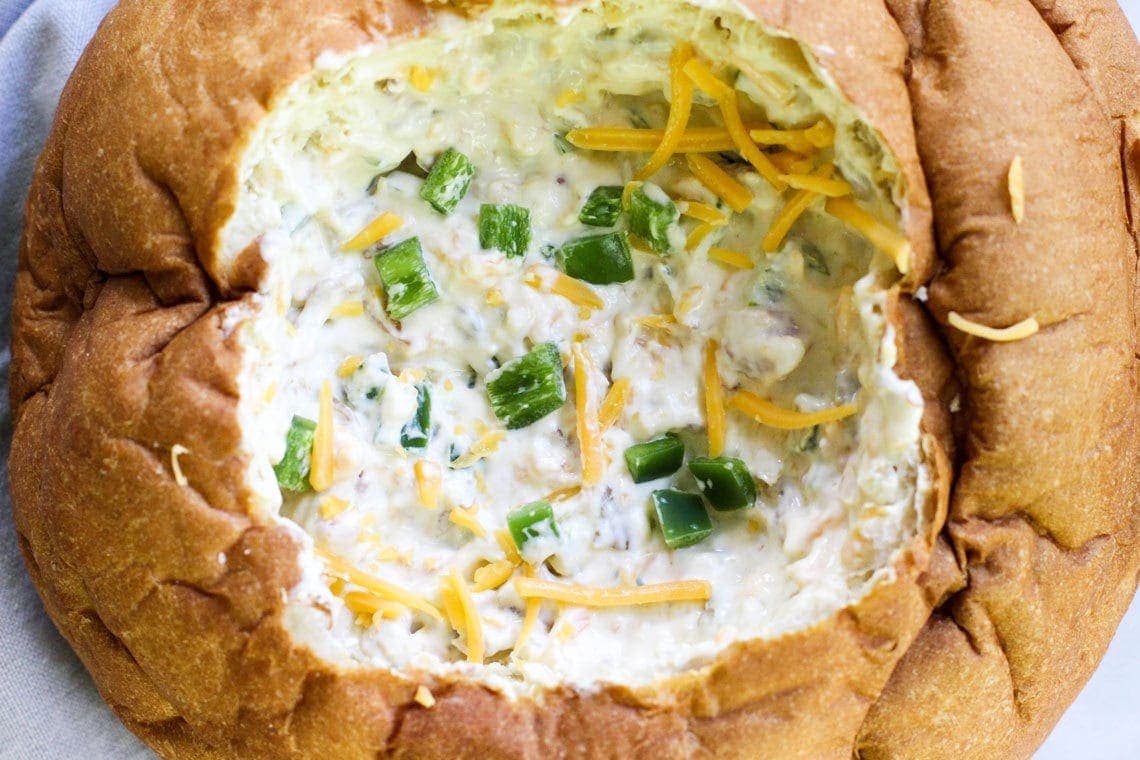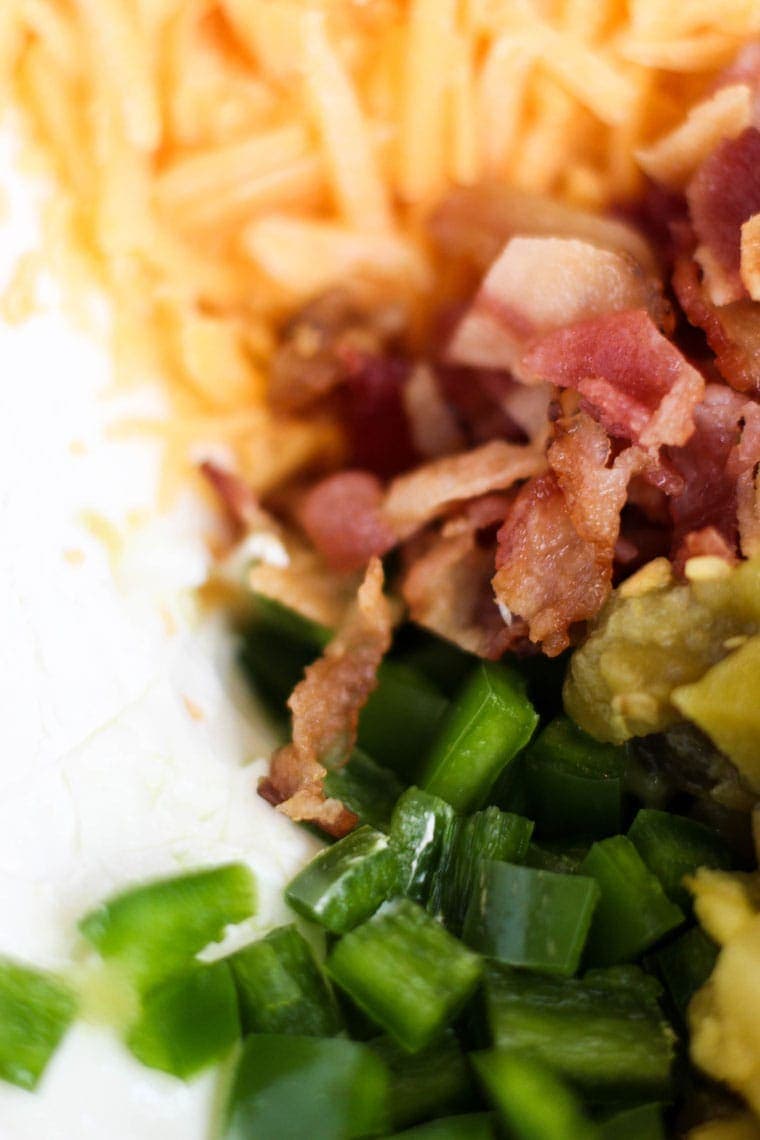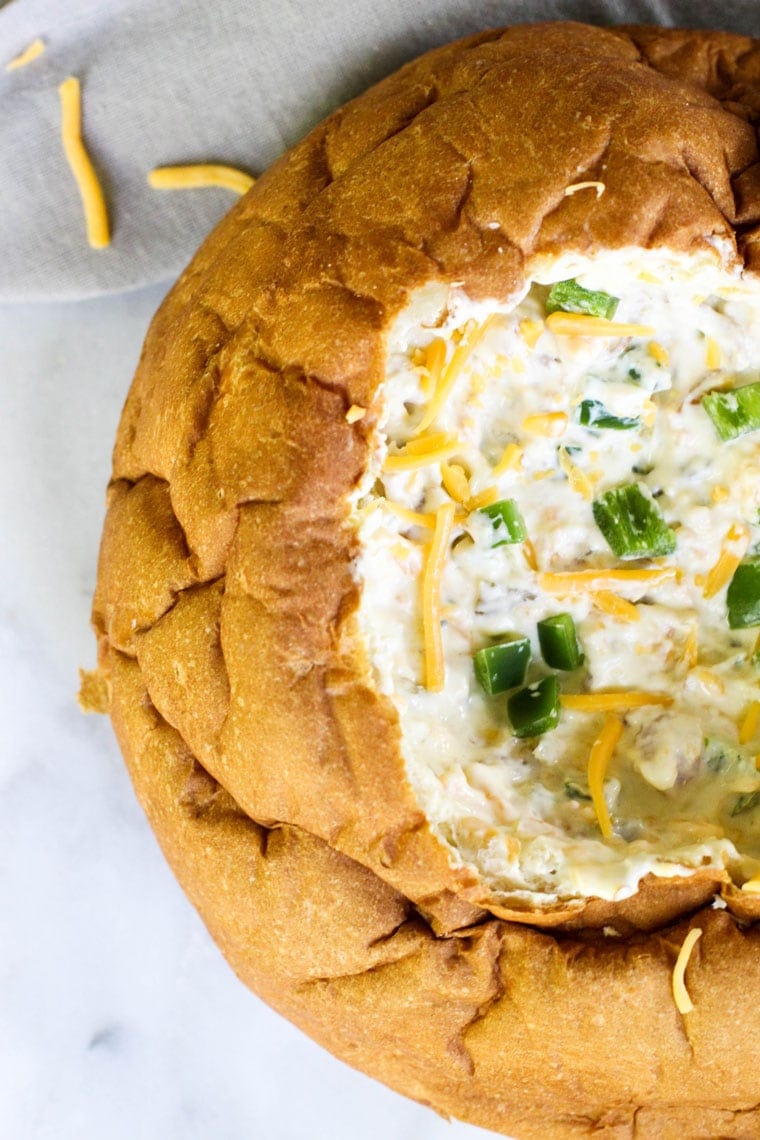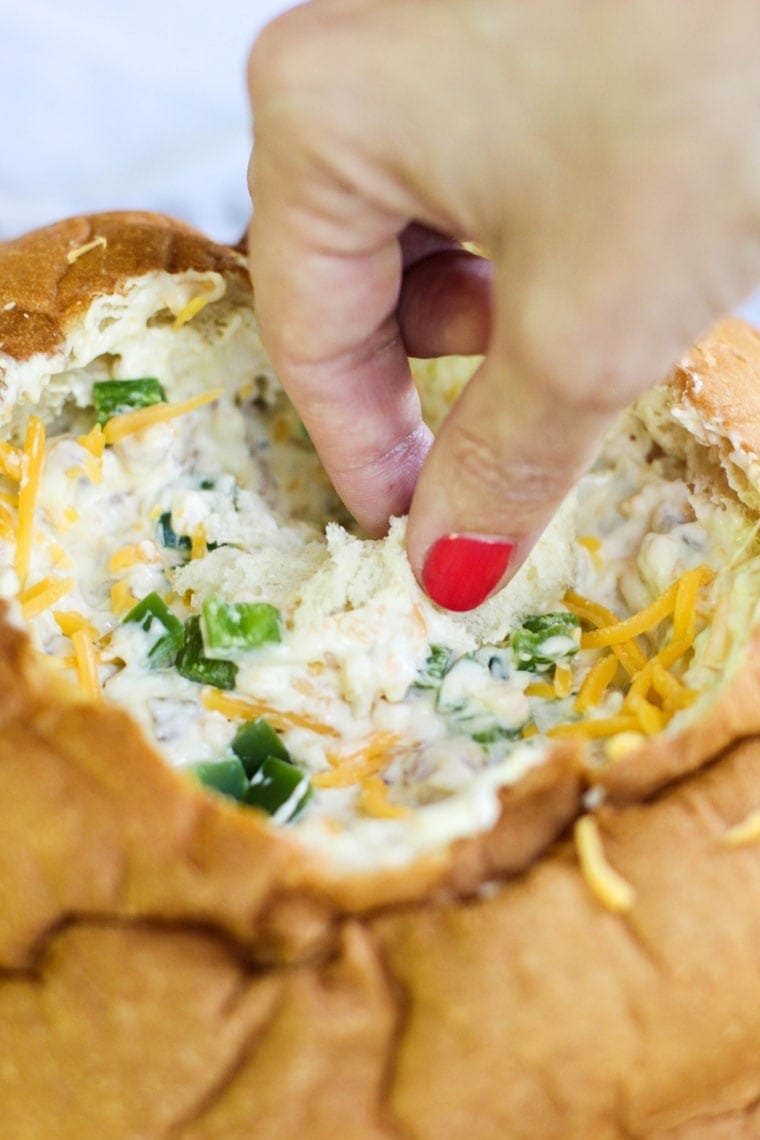 Sam is the blogger behind The Culinary Compass where she loves to try new dishes and ingredients from around the world. She hopes to bring experiences of new cultures to her readers without having to leave their home!