This amazing Jalapeno, Bacon and Corn Cheese dip has it all – creamy, cheesy, spicy, sweet – it's a guaranteed crowd pleaser!
Hello my name is Kristin and I'm a dip addict.
I admit it, I love dip. I love chips and dip; crackers and dip, bread and dip, veggies and dip, fruit and dip…you get the idea. I've been toying with the idea for this dip ever since I saw this one by Trisha Yearwood on Food Network.Have you ever watched her show? We watch it on Saturday morning and my kids love it. It's all homemade Southern food, typically rich and heavy and not something you'd want to eat all the time. But there's nothing wrong with a little indulgence every once in a while, right? And this is definitely indulgent.
Anyway, back to Trisha's cheese dip. I was thinking how I could amp up the flavors because it really seemed like a lot of cheese, and I'm not a fan of mayo. So I came up with this amazing deliciousness the other day while rummaging through my cupboards waiting for inspiration to strike.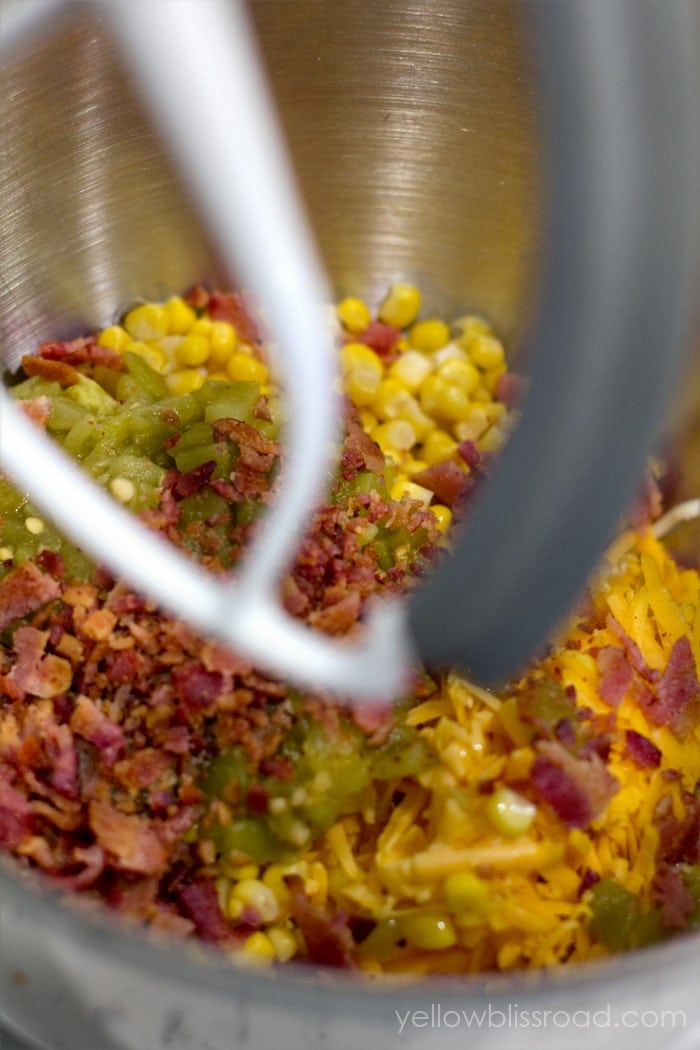 It"s got cream cheese, cheddar cheese, jack cheese, bacon, corn and jalapenos. I decided to stir everything together in my KitchenAid stand mixer, which makes it so much easier!
Pour it all into a greased baking dish and bake for 20 minutes and you've got a deliciously creamy, cheesy, spicy and sweet dip that your family and friends will go nuts over! I served it with Tortilla Chips (Mission brand trianles are my favorite for hearty dips because they really hold up well). You could also serve with crackers or baguette slices.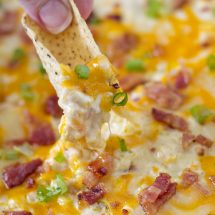 Ingredients
4 oz. cream cheese room temperature
1 cup grated Medium Cheddar Cheese +2 tablespoons reserved for topping
1 cup grated Monterey Jack Cheese +2 tablespoons reserved for topping
1-4 oz. can diced Jalapenos
1-15 oz. can of corn drained
1/2 teaspoon garlic powder
1/4 teaspoon black pepper
1/2 lb bacon cooked and crumbled (1 tablespoon reserved for topping)
1 green onion chopped, for garnish if desired
Chips crackers or bread for dipping
Instructions
Preheat oven to 350 degrees. Spray cooking spray in an 8x8 baking dish or 8-9" pie plate.

In a larger mixing bowl (or stand mixer with paddle attachment) combine cheeses, chiles, jalapenos, corn, garlic powder, black pepper and bacon.

Pour mixture into the prepared baking dish and sprinkle with 2 tablespoons each of Cheddar and Jack cheeses.

Bake at 350 degrees for 20 minutes.

Serve immediately with chips, crackers or bread for dipping.
For more great dips, be sure to try these:
For all appetizers, go HERE, and for a complete list of recipes, go HERE.
Hi! I'm Kristin, the creative mind behind Yellow Bliss Road where you will be inspired by tons of easy to follow recipes, lots of free printables, and a little sprinkling of life thrown in for good measure.