This Easy Chili Cheese Dip in a Bread Bowl requires just a few ingredients and minimal time for a maximum "WOW" factor appetizer that will impress your game day party guests!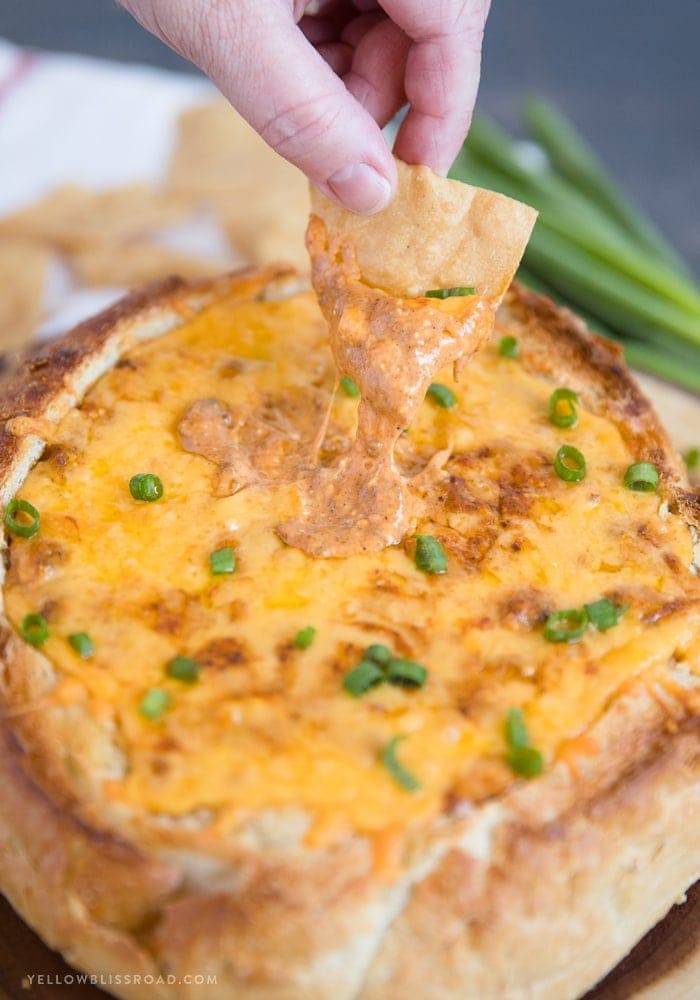 When I was single, no kids and lived on my own, one of my best friends lived right across from me in the same complex. She was (and still is) a bit picky about the food she would eat. These were the days of early Grey's Anatomy, Desperate Housewives and Friends reruns and we spent many an evening watching our favorite shows (live, with commercials!!) and snacking on our favorite junk food.
If we weren't stuffing our faces with chocolate chip cookies from McDonalds, we were gorging ourselves on this amazing chili cheese dip.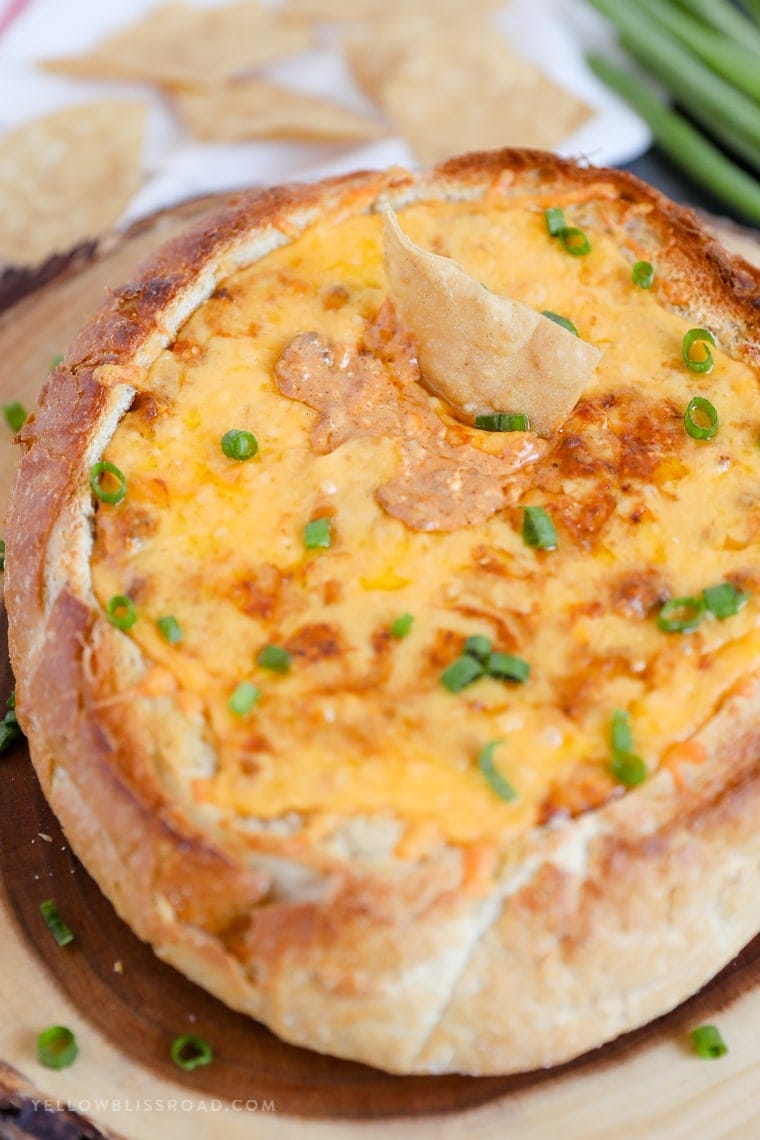 It's got literally three ingredients – chili, cream cheese and cheddar cheese. A cut up loaf of french bread or a bag of crispy tortilla chips and we were set.
Now of course I didn't serve this chili cheese dip in a bread bowl back in those days. No, we were super classy and ate it straight out of the pan. But that just isn't as pretty so if you really want to impress serve it up in a hollowed out shepherder's or sourdough loaf like this.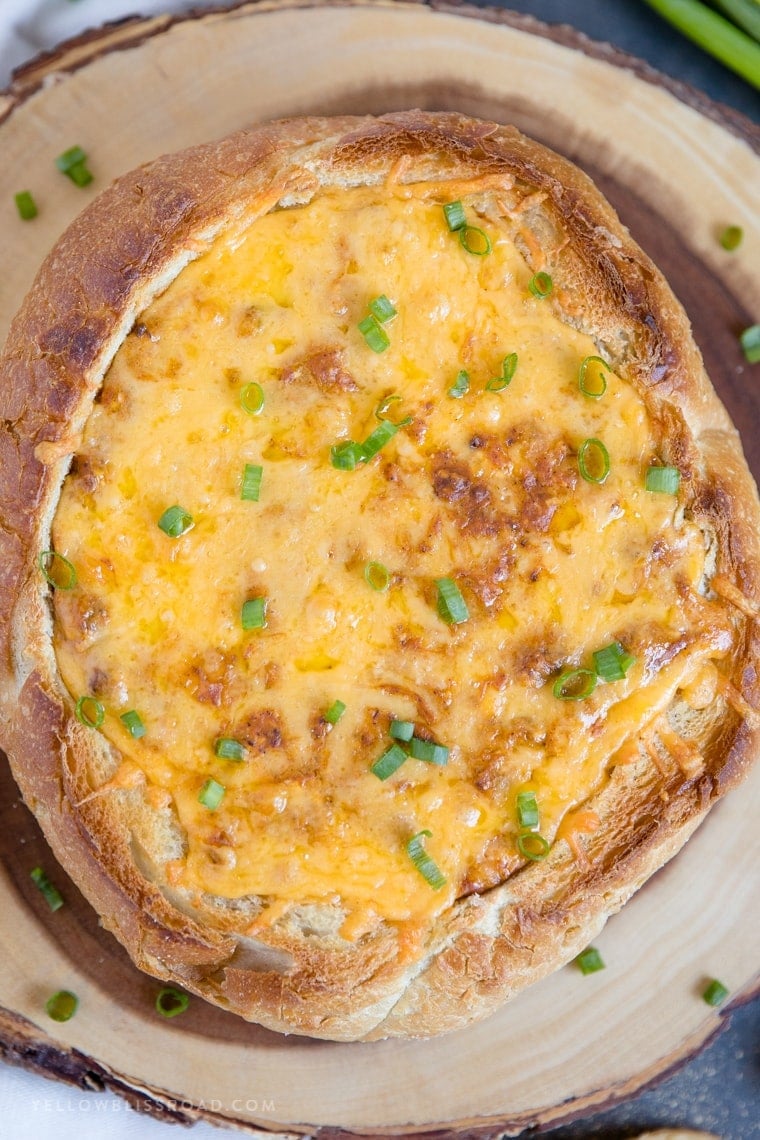 Seriously, I made this for my boyfriend the other day and it was like the heavens had parted and God himself had handed him this giant bowl of cheesy goodness down from the sky. It's that good. And simple, but no one else needs to know that.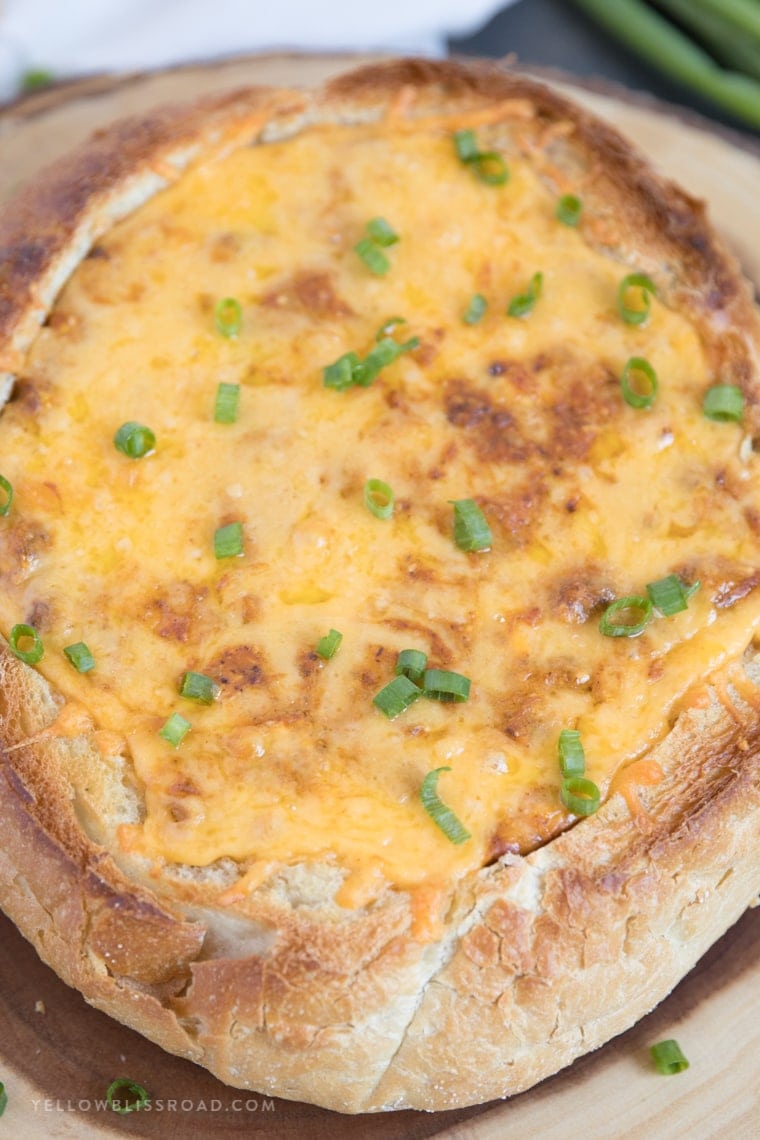 Easy Chili Cheese Dip recipe: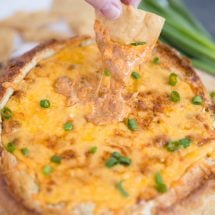 Easy Chili Cheese Dip
This Easy Chili Cheese Dip in a Bread requires just a few ingredients and minimal time for a maximum "WOW" factor appetizer that will impress your game day party guests!
Print
Pin
Rate
Prep Time: 5 minutes
Cook Time: 20 minutes
Total Time: 25 minutes
Servings: 6 servings
Ingredients
1 15- ounce can Hormel chili No Beans
8 ounces cream cheese softened
2 cups freshly shredded sharp cheddar cheese divided
1 large round loaf of bread like shepherder's or sourdough
2 teaspoons scallions for garnish optional
Tortilla chips or extra bread for dipping
Instructions
Preheat oven to 350 degrees.

Hollow out the loaf of bread leaving a deep well in the center. (Use a bread knife to cut the center circle then pull the bread out gently with your hands).

In a large bowl, combine chili, cream cheese and 1 1/2 cups of shredded cheddar. 

Pour dip into the bread bowl and smooth the top. Sprinkle remaining cheddar evenly over the top. (I used a spoon to swirl a little of the chili dip to the top so it was visible after the cheese melted).

Place the bread bowl on a baking sheet and bake in the preheated oven for about 20 minutes or until heated through and bubbly and cheese is melted. For extra browning, place under the broiler for a couple of minutes, watching closely to avoid burning.

Let cool a few minutes before serving. Garnish with sliced scallions and serve with chips or bread cubes for dipping. 
Here's another easy hot appetizer dip that we love: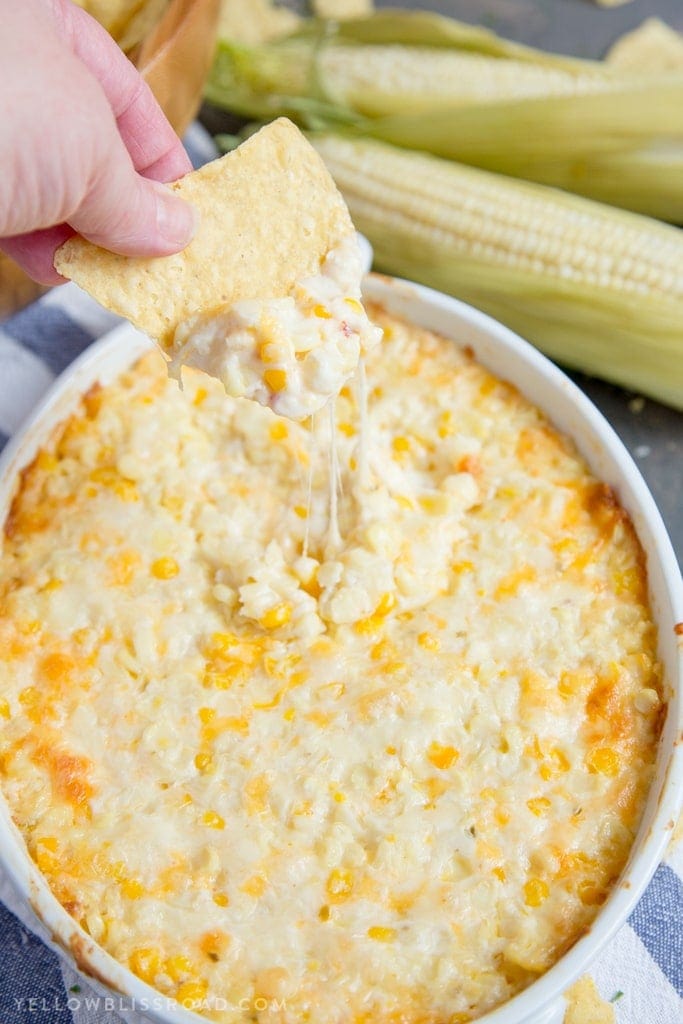 And for even more great game day appetizers, try these: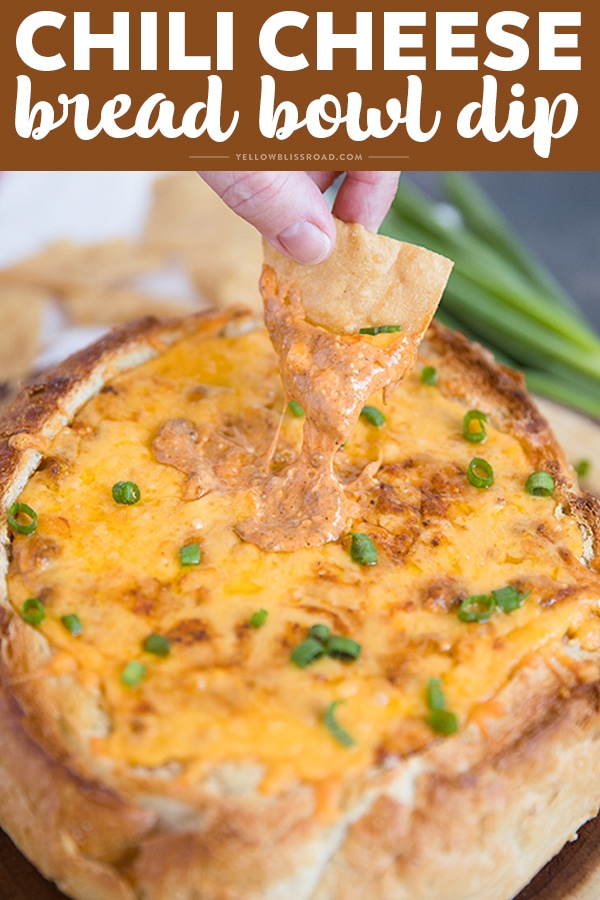 Hi! I'm Kristin, the creative mind behind Yellow Bliss Road where you will be inspired by tons of easy to follow recipes, lots of free printables, and a little sprinkling of life thrown in for good measure.