This Loaded Cream Cheese Dip has southwest and ranch flavors, and is jam packed with black beans, corn, salsa, lime and plenty of seasonings. Served with chips or veggies, this flavor packed appetizer is completely addicting!
Dips are necessary for a great party. Add this one to the spread alongside other favorites like BLT Dip, Chicken Crack Dip and Spicy Italian Sausage Dip.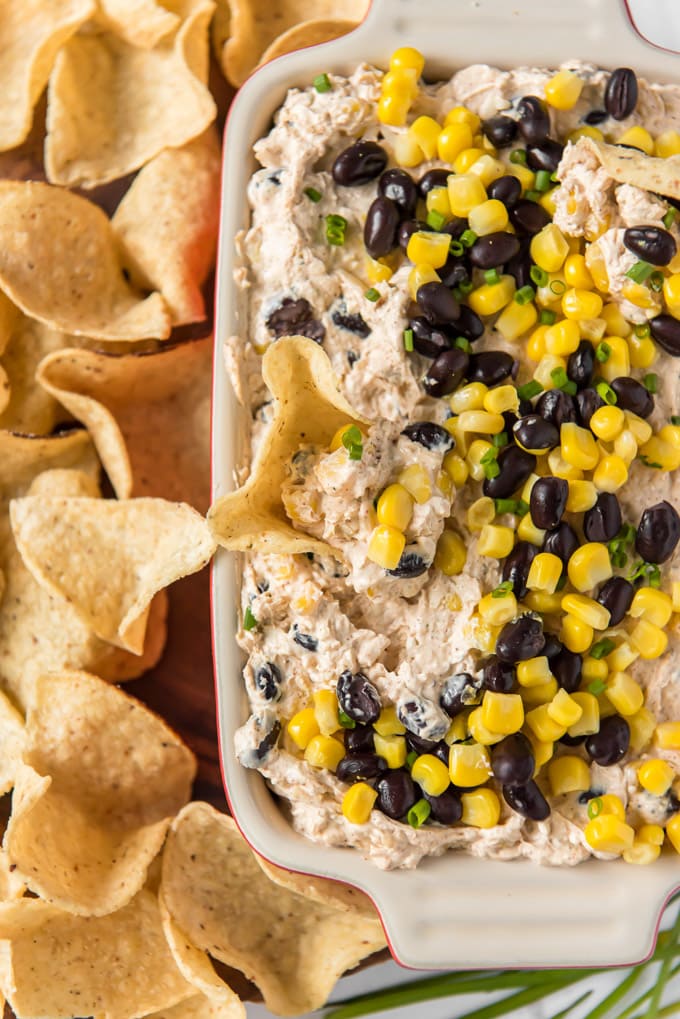 Loaded Cream Cheese Dip Recipe
Party appetizers are my favorite thing to make, whether for game day, holiday parties, birthdays or just a regular Tuesday night. Dips are super simple, require minimal effort and give you a really good reason to eat raw veggies, or an excuse to binge on tortilla chips!
This Loaded Cream Cheese really is LOADED. The base is softened cream cheese mixed with sour cream to make it really smooth yet easily dippable. Then salsa, black beans, corn and spices add a southwest flair while a squeeze of fresh lime juice adds a burst of freshness. Finished off with spicy pepper jack cheese this cream cheese dip is simply irresistable!
I like to serve my dips with some hearty tortilla chips or veggie sticks (carrots, celery). The chips you use must be strong to hold up to the thickness of this dip. Wimpy chips need not apply! I usually go with Mission brand tortilla triangles; they seem to hold up the best.
For your sweet tooth, try our Cream Cheese Fruit Dip with your favorite fruits!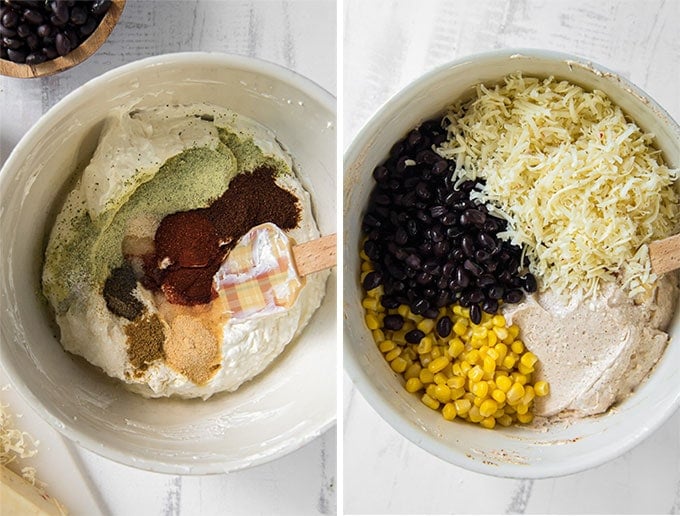 How to Make Loaded Cream Cheese Dip
Beat cream cheese in a large bowl. I use full fat cream cheese because it's creamy and rich, which is what you want in a good dip. You can use a wood spoon for stirring, but I really recommend using a hand mixer to get it nice and fluffy. Then add the sour cream and mix until it's nice and smooth. Finally stir in the salsa.
Stir in all of the spices – ranch seasoning mix (leave it out if you're not a fan; no need to replace), chili powder, cumin, paprika, garlic powder, onion powder, salt and pepper. The spice blend is similar to taco seasoning, so if you happen to have that on hand you could swap 2 tablespoons for the spices. You may need to adjust the salt level though.
Now we'll add some bulk to this dip with black beans, corn and Pepper Jack cheese. I used the full cans of the beans and corn, but you can judge foryourself how much of it you want to add and feel free to add less. Don't skimp on the cheese though – it's so good!
That's it! Time to pour it in a serving dish and serve it to your people. You can serve Loaded Cream Cheese dip with tortilla chips, crackers (wheat thins work really nicely) or veggies sticks like carrots and celery. I always sprinkle some chives on top for color, sometimes I'll mix them in as well.
Tips for Success
To make this cream cheese dip a little lighter, use low fat cream cheese (Neufchatel) and lowfat sour cream or plain Greek yogurt.
You can serve this dip right away, or make it up to 24 hours in advance. My preference is to chill it for at least 30 minutes so the flavors have time to blend together. If making more than a couple of hours in advance, you will need to stir it up before serving, then garnish with the chives.
Let your cream cheese soften before blending. Open up the package and place it in the bowl about an hour before you plan to make the dip.
Don't have time to soften your cream cheese? Here's a tip! Cut cream cheese into chunks and place in a microwave safe bowl. Microwave at 50% power in 15 second intervals just until soft enough to stir. You don't want to let it get warm. Another way to soften cream cheese quickly is to beat it with a hand or stand mixer for a couple of minutes until smooth.
If you have leftover cream cheese dip, cover tightly and store in the fridge for up to 3-4 days. Stir before serving again.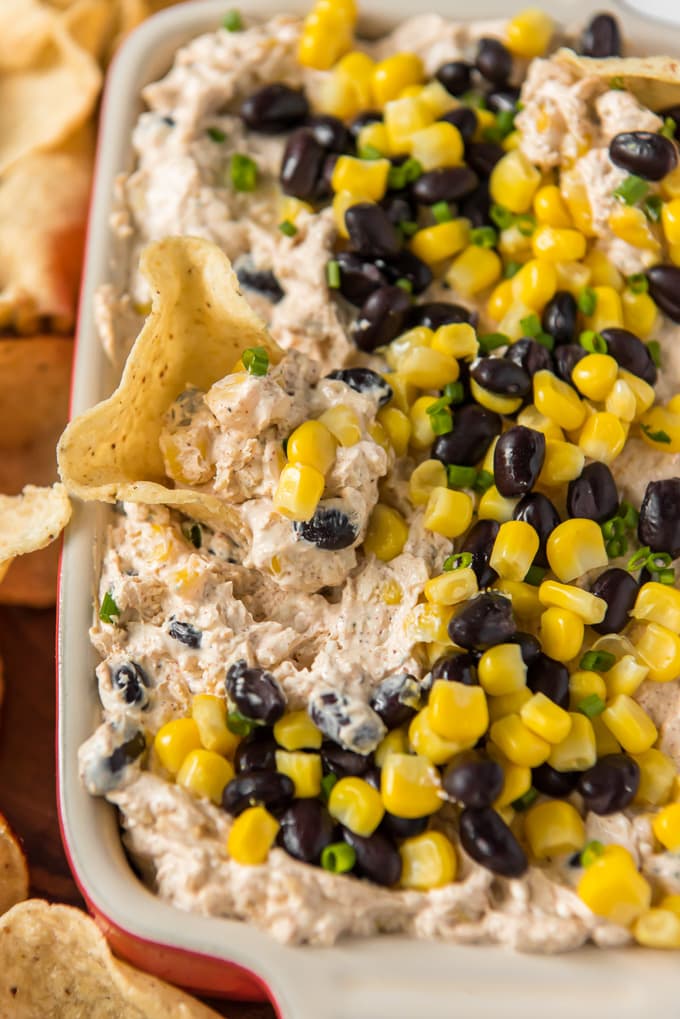 More dips you'll love: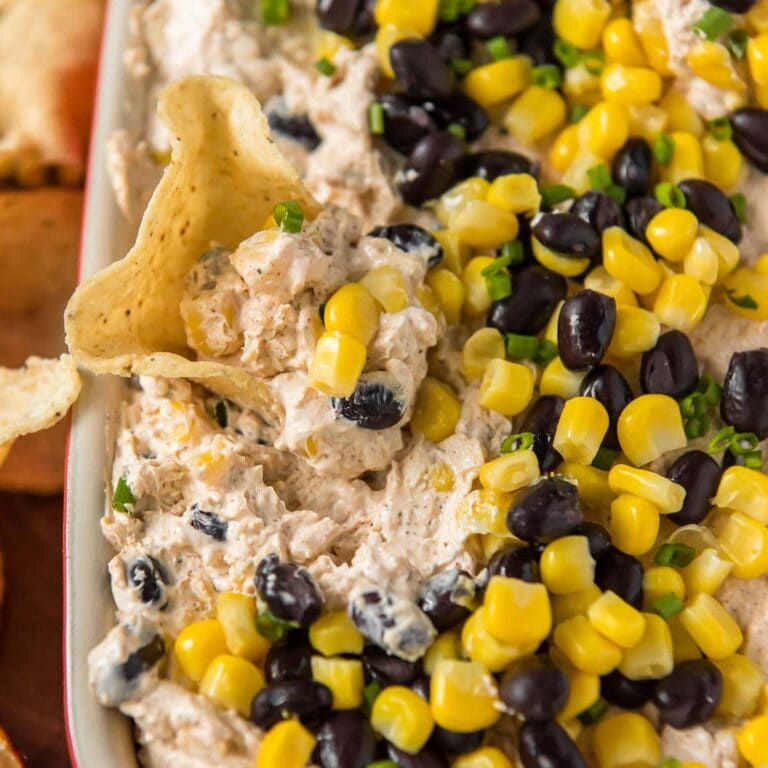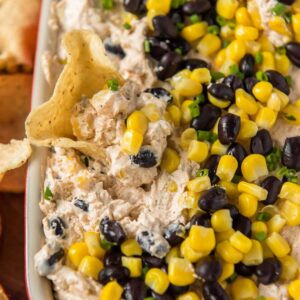 Southwest Ranch Cream Cheese Dip
Loaded Cream Cheese Dip is full of southwest flavor with black beans, corn, salsa, lime and plenty of seasonings. Serve with chips, crackers or veggies.
Ingredients
8 ounces cream cheese brick, softened to room temperature
8 ounces sour cream
½ cup salsa
1 tablespoon lime juice
2 ounce packet of Ranch dip seasoning mix or 2 tablespoons
1 teaspoon chili powder
1 teaspoon paprika
1 teaspoon garlic powder
½ teaspoon onion powder
½ teaspoon kosher salt
¼ teaspoon cumin
¼ teaspoon black pepper
1 ½ cups freshly grated Pepper-Jack cheese
15 ounces black beans drained and rinsed
15 ounces corn drained
Fresh chives minced, for garnish
Chips, pretzels, crackers or veggies for dipping
Instructions
In a medium sized bowl, mix together softened cream cheese and sour cream until combined and smooth. You can do this by hand or use an electric mixer. Stir in salsa and lime juice.

Stir in Ranch mix and other seasonings until well blended. (in place of individual seasonings, you can use 2 tablespoons of taco seasoning).

Stir in Pepper-Jack cheese, black beans and corn. If desired, reserve 1/4 cup of each the beans and corn for garnishing the top of the dip.

Spread dip into serving dish and garnish with fresh minced chives (and beans and corn if you choose). Serve with Chips, pretzels, crackers or veggies for dipping.

Chill for 30 minutes or so to thicken and set. Serve with tortilla chips, crackers, pretzels or veggies for dipping.
Notes
Servings are approximate. This dip will serve anywhere from 6-10 people, depending on how hungry they are. 
Nutrition
Calories: 380kcalCarbohydrates: 32gProtein: 14gFat: 23gSaturated Fat: 13gCholesterol: 65mgSodium: 1025mgPotassium: 462mgFiber: 6gSugar: 5gVitamin A: 1135IUVitamin C: 4mgCalcium: 238mgIron: 2mg