Bacon Wrapped Shrimp is an easy appetizer for holidays or game day, or a simple dinner any night of the week. Use my no-fail trick to get the bacon perfectly crispy while the shrimp is succulent and juicy. This BBQ Bacon Wrapped Shrimp recipe is a real crowd-pleaser that can be made on the grill or in the oven, and they're ready in about 20 minutes!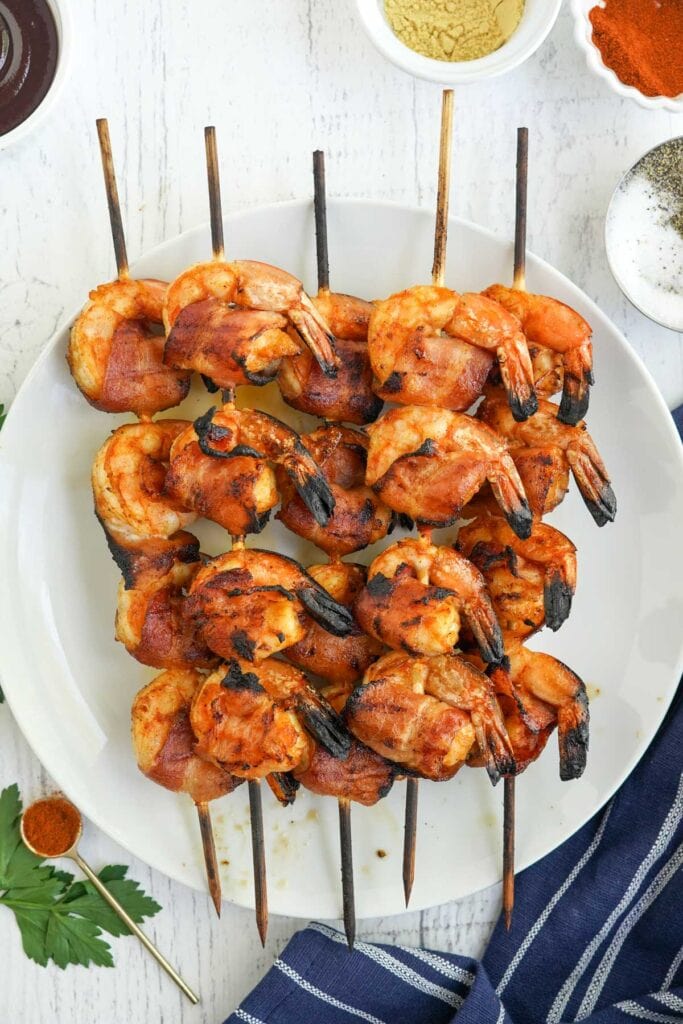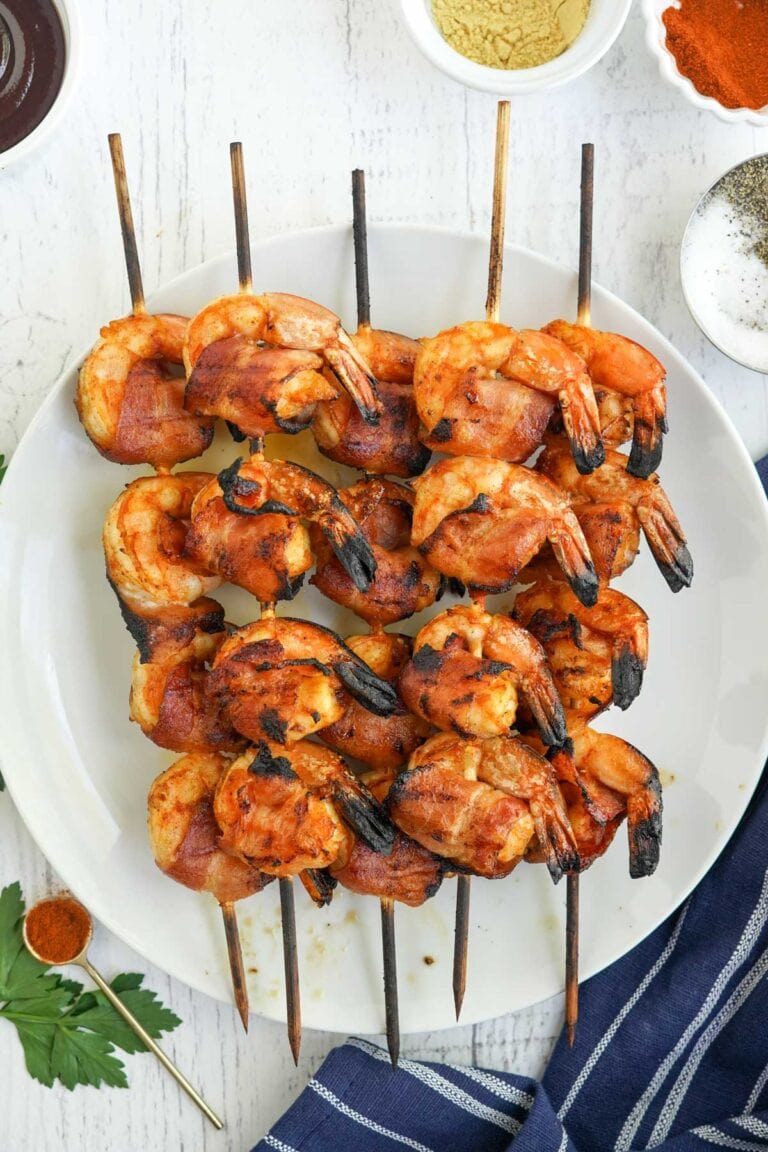 You loved our Bacon Wrapped Chicken Bites, now try our grilled Bacon Wrapped Shrimp! These are the perfect appetizer, or you can make a whole meal on the grill. Try serving with our Grilled Potatoes and Grilled Zucchini, and some Grilled Peaches with ice cream for dessert.
Who doesn't love shrimp wrapped in bacon? It's crispy and savory on the outside and succulent and juicy on the inside. It's a simple recipe with just a few ingredients. What's not to love about bacon wrapped shrimp?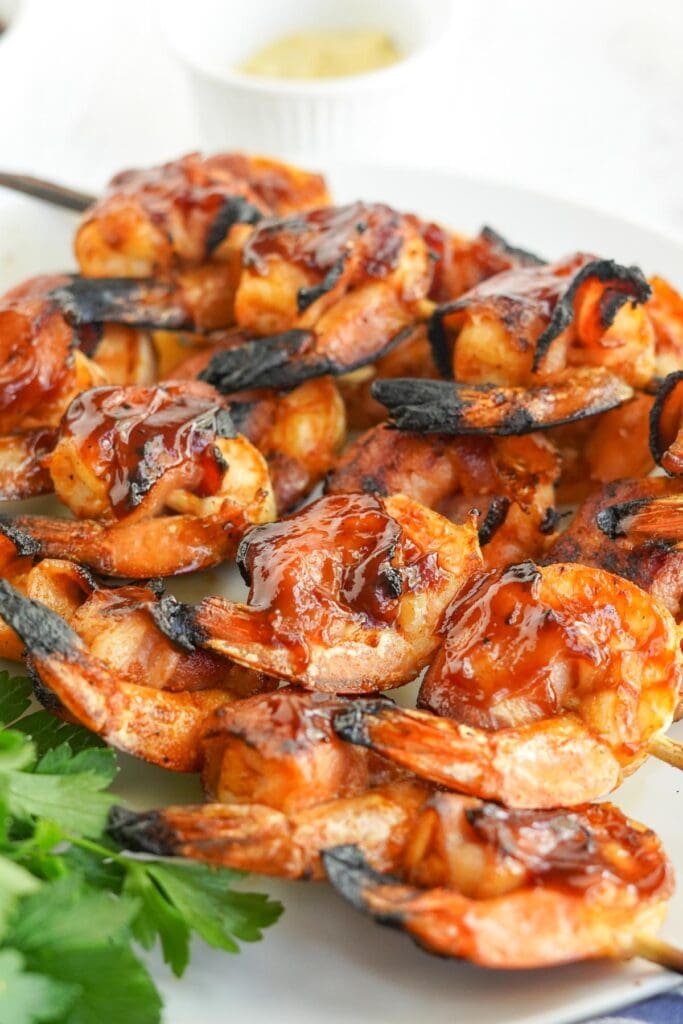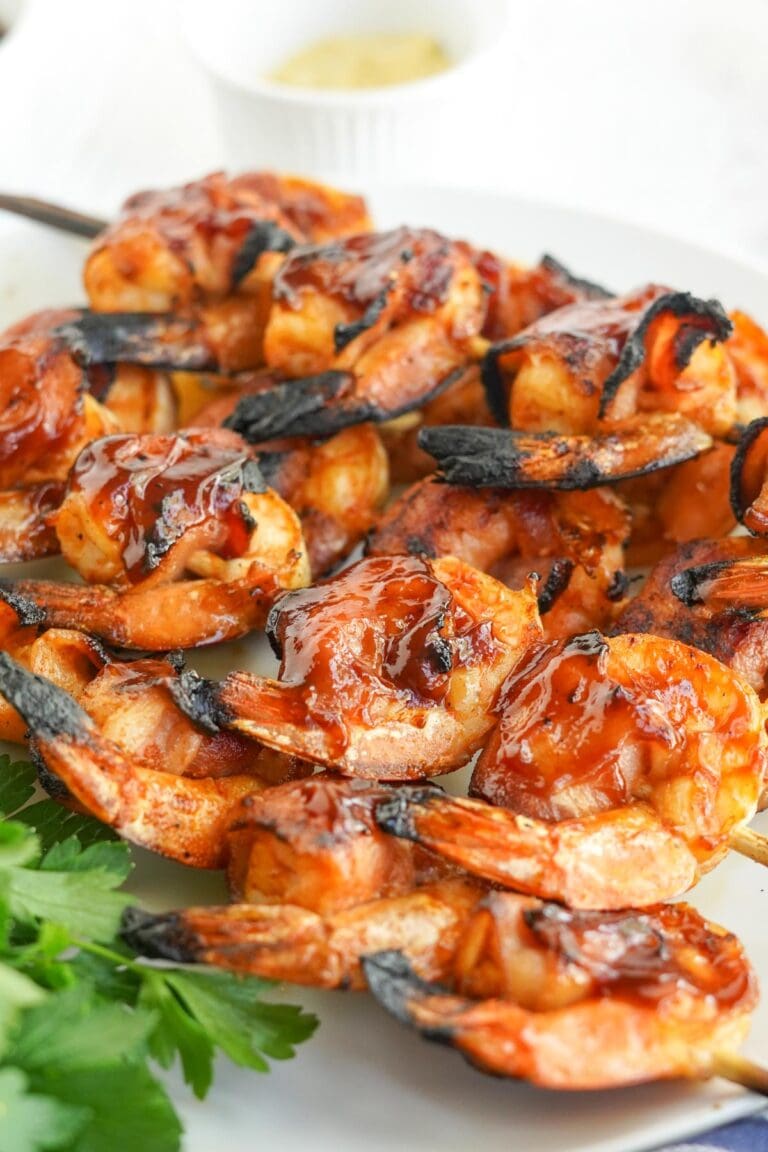 Selecting the Best Shrimp
When selecting shrimp, it's perfectly fine to go to the freezer aisle instead of the butcher counter. The ones in the case have been frozen and thawed anyway.
Size is important! You want your shrimp large enough to wrap the bacon around without overpowering them and not so small they will overcook and become rubbery.
Look on the bag for the size count – you want somewhere in the 16/20 range. This means that there are 16-20 shrimp per pound, which is a nice size for our bacon wrapped shrimp recipe. They are about 3-inches in length; not so large you need a fork and knife to cut them, and easily threaded on the skewers.
Ingredients and Substitutions
Shrimp – I prefer to use tail-on shrimp for bacon wrapped shrimp because I love the presentation. Depending on how you're serving them, like a finger food, you might want the tails off, but definitely buy them already peeled and deveined.
Bacon – Regular cut bacon, not maple, not thick cut, is all you need. thinner pieces will wrap better and cook faster.
BBQ Rub – I used an amazing sweet and spicy combo of brown sugar, paprika, garlic powder, ground mustard, salt, pepper, and cayenne. You are free to use a prepared BBQ rub or whip up your own flavors.
Skewers – While not an actual ingredient I have found that using skewers does a few things to make this recipe foolproof. It helps to hold the bacon in place and makes it easy to flip them over. Plus it's so much easier to flip 4 shrimp at a time versus one. Feel free to make them individual with toothpicks.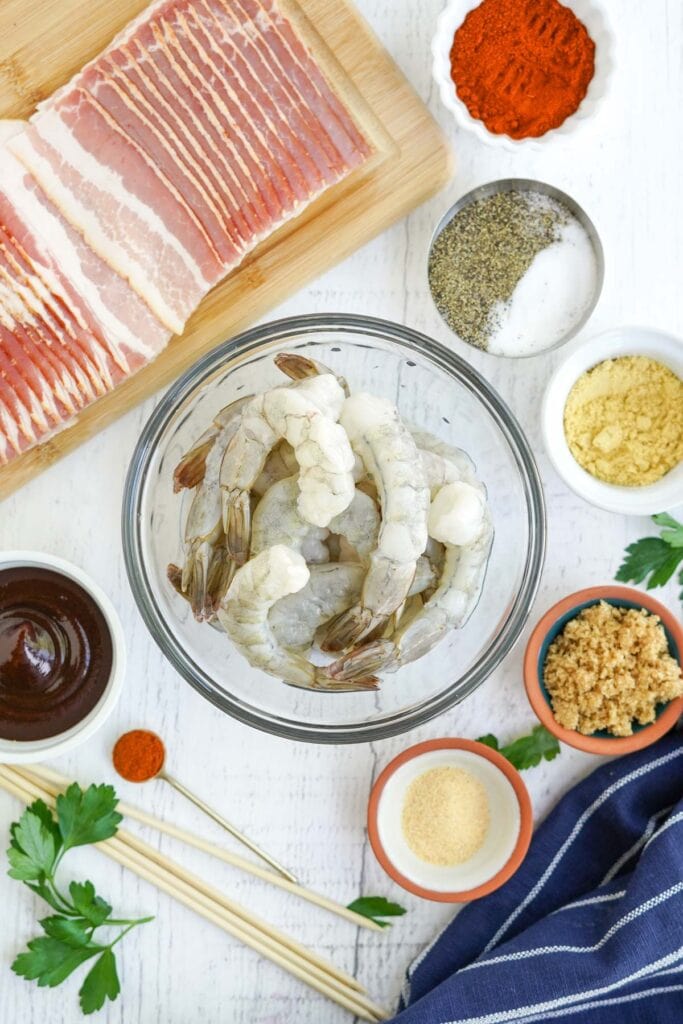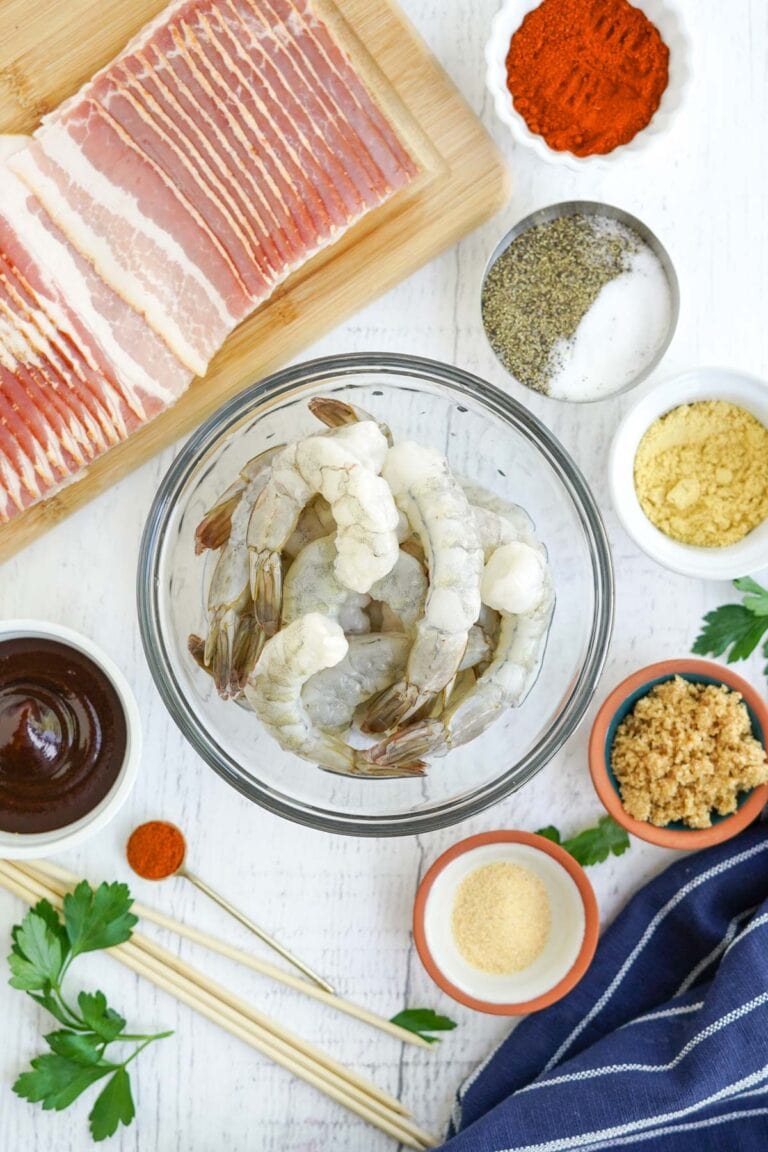 The Trick to Crispy Bacon Wrapped Shrimp
My simple trick to getting extra crispy bacon without overcooking the shrimp? Cook the bacon first. It takes longer to cook bacon fully, especially when you want it nice and crispy, so this is a great method to get the best of both worlds.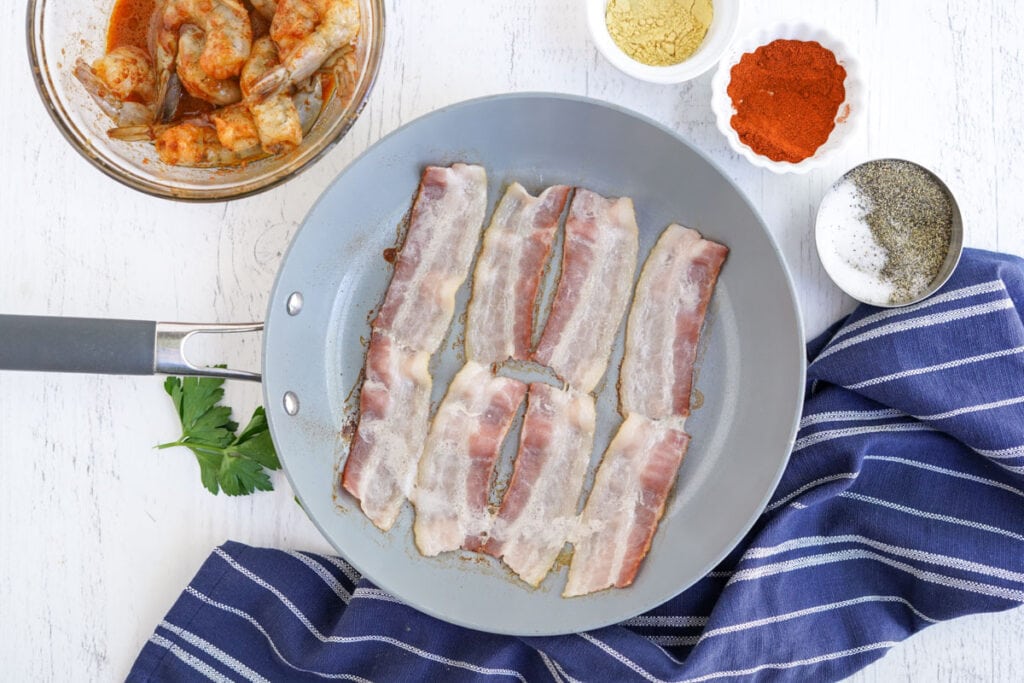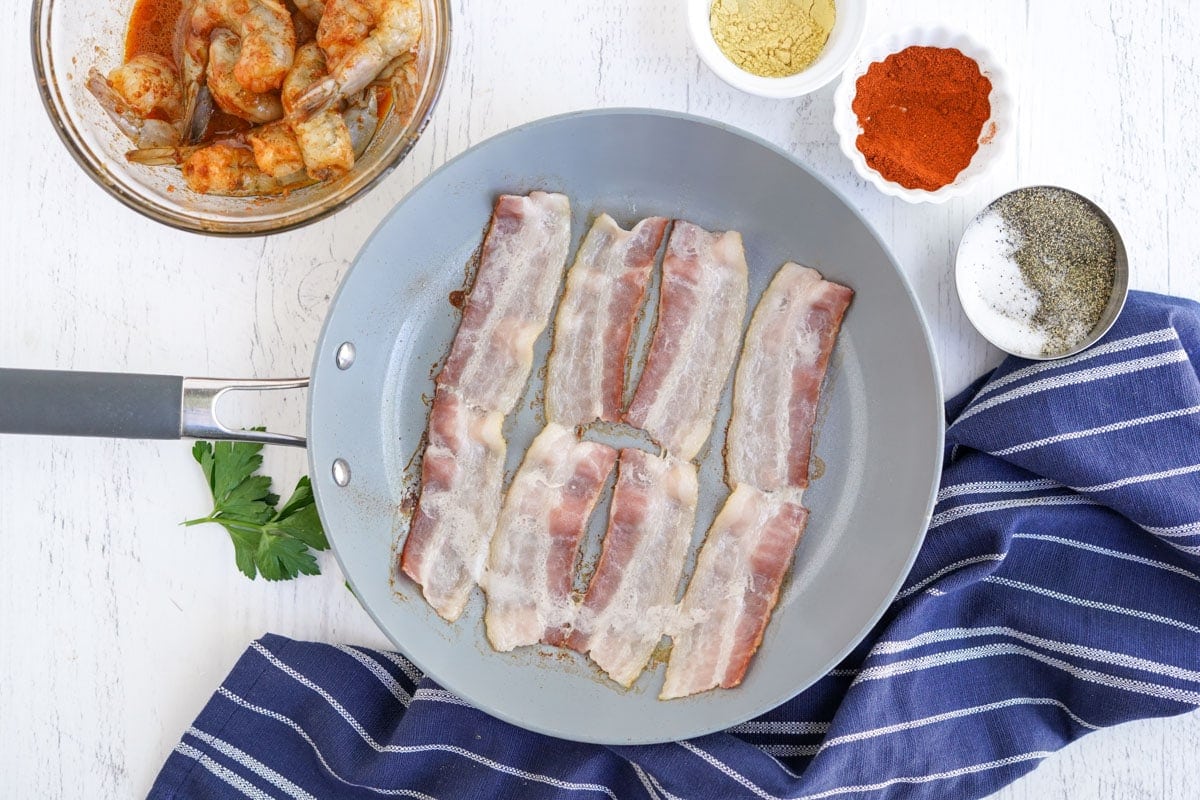 Grab a skillet and cook the bacon for a few minutes. This will render some of the fat which will help keep flare ups to a minimum when grilling.
The bacon will get crispy while still flavoring the shrimp, and the shrimp will cook up perfectly succulent and juicy.
Step by Step Instructions
* Be sure to see the recipe card below for the
complete list of ingredients and full instructions *
Preheat and Prep: Set your grill to medium heat with the lid on/closed; about 350 degrees. Mix the BBQ dry rub in a small bowl and sprinkle it all over the shrimp. Toss with a spoon to coat the shrimp completely.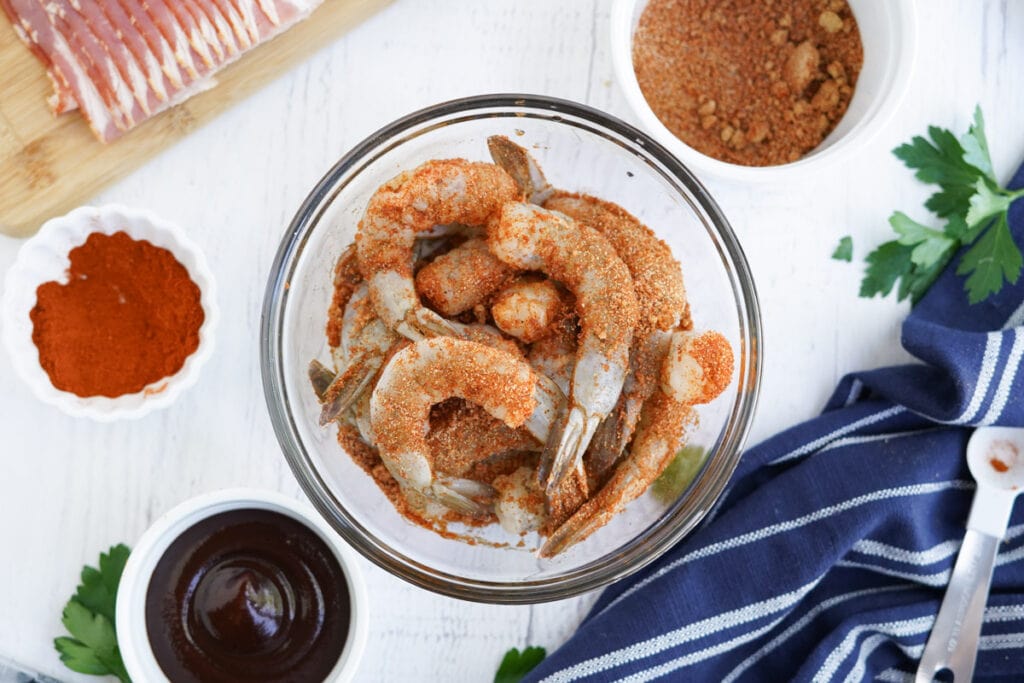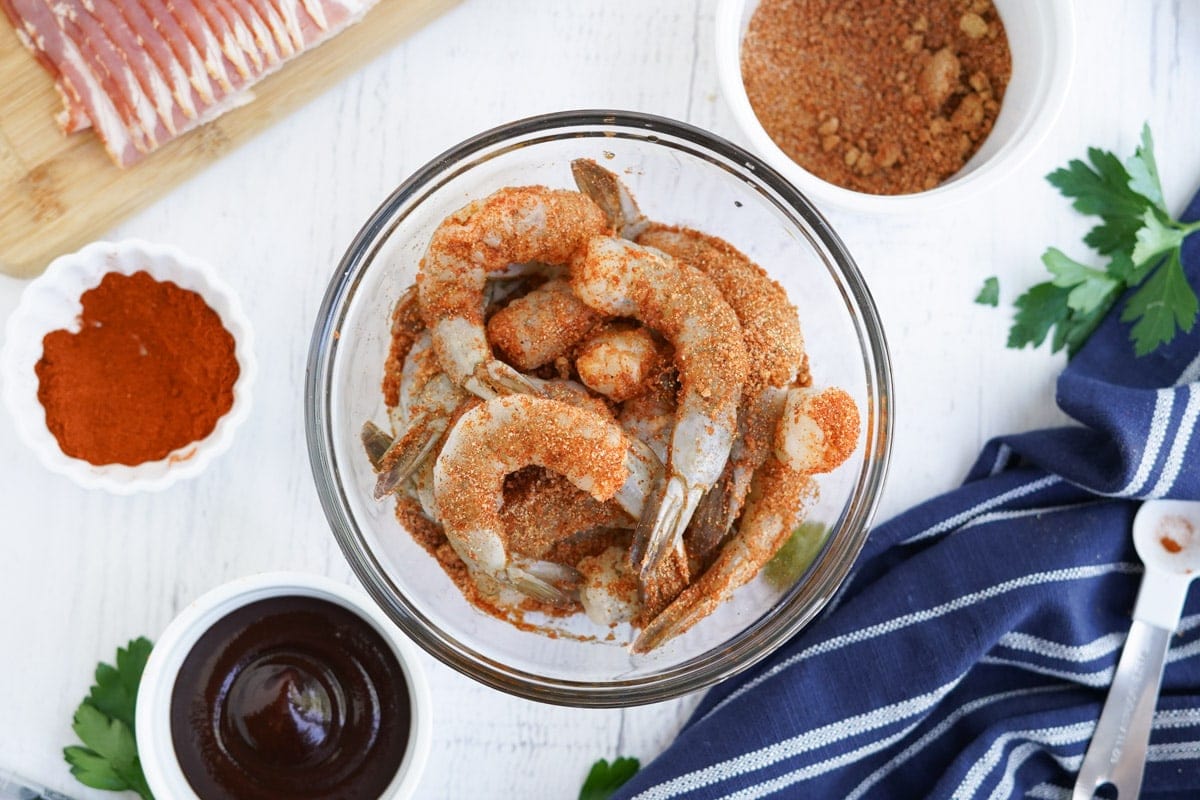 While the grill is heating, par-cook the bacon. Cut the slices in half and cook them for a few minutes in a skillet or in the oven. You need them to still be soft enough to wrap around the shrimp, so just a few minutes is enough.
Wrap and skewer: Wrap a cooled slice of bacon around each piece of shrimp and thread onto a skewer. I got about 4 shrimp on each skewer. Piercing once through the tail and once through the other side will keep them secure through cooking.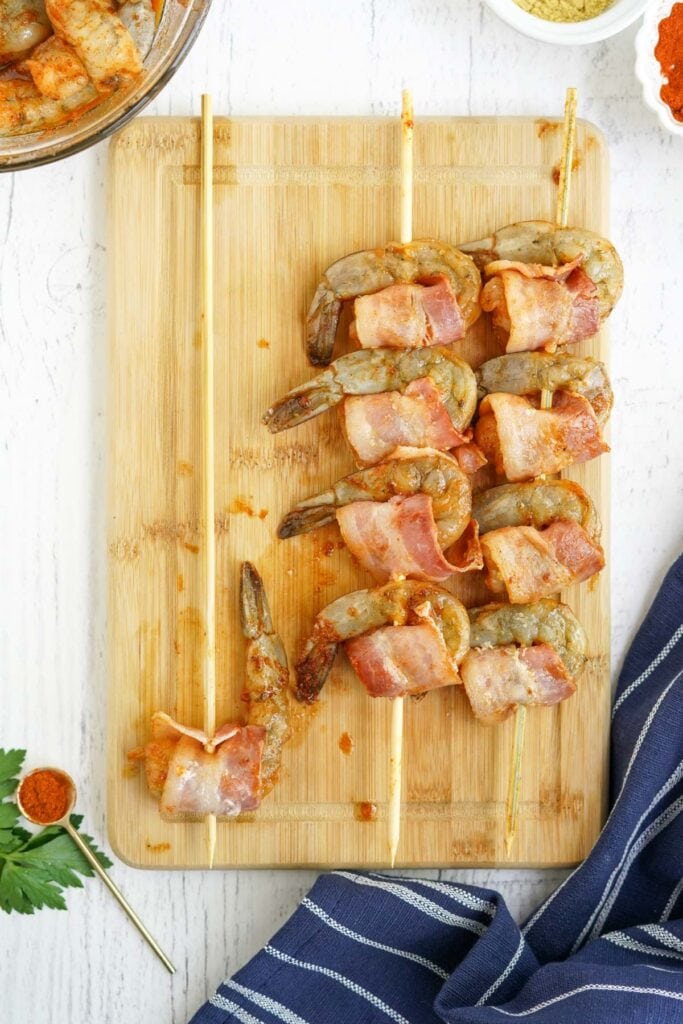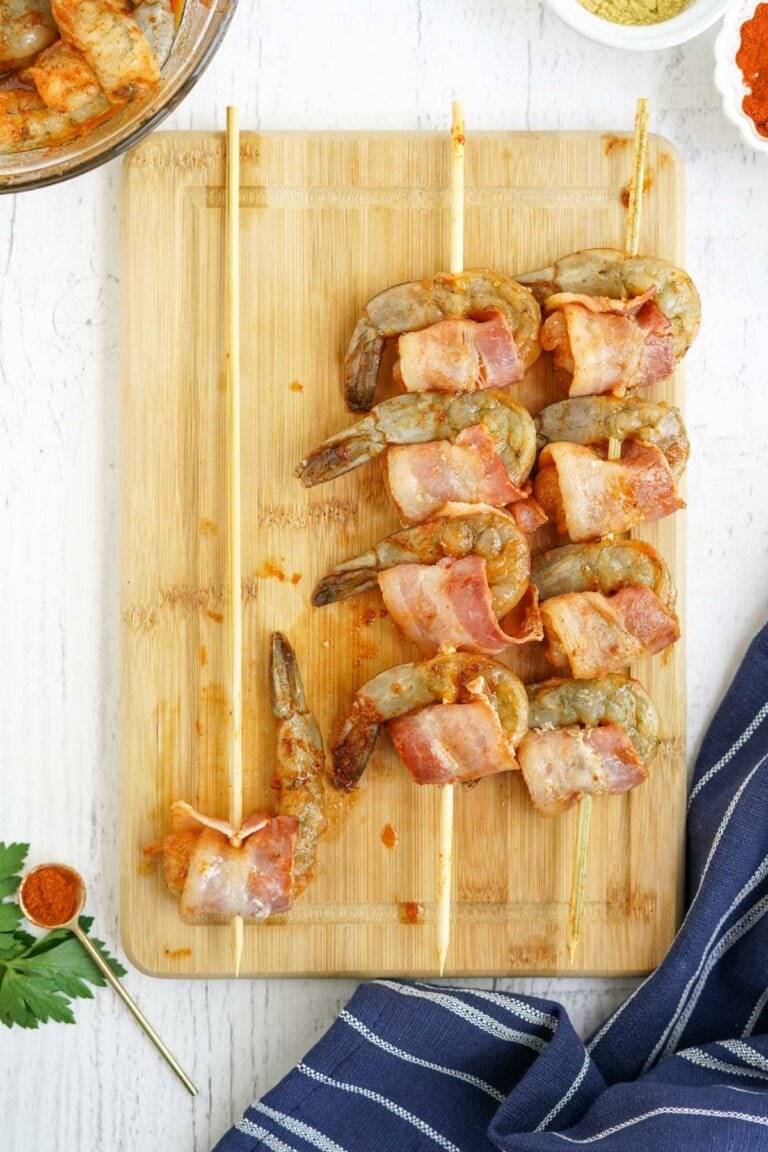 Brush the grill with a little oil and grill the shrimp skewers for 4-5 minutes. Flip and cook another 2 minutes, then remove and brush with BBQ sauce if desired.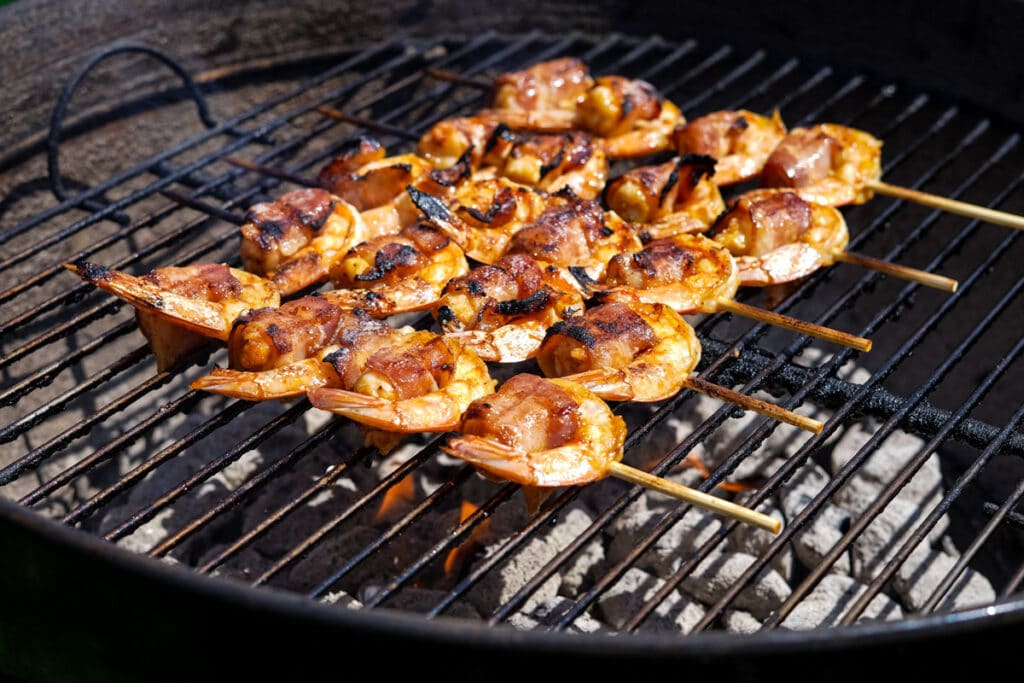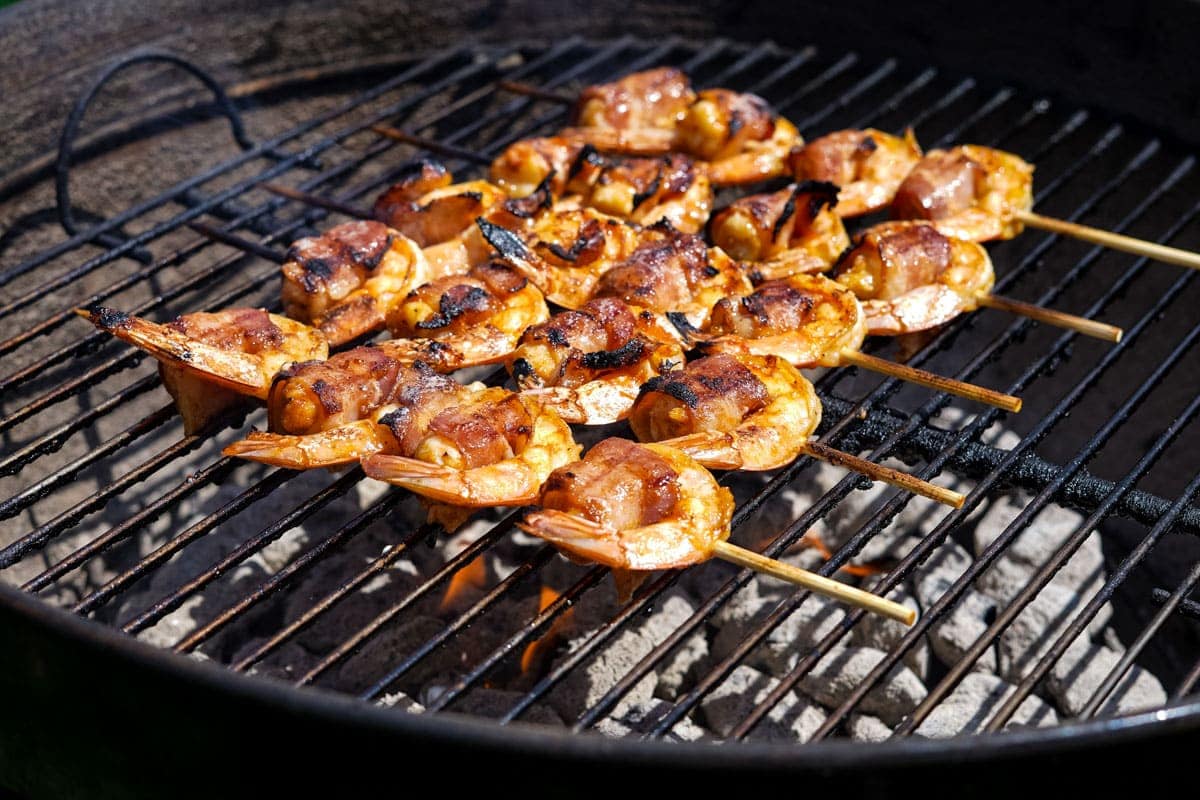 Expert Tips
Feel free to use whatever seasoning you like in place of the BBQ. Cajun seasoning or all purpose chicken seasoning are both great choices.
Add veggies! Thread zucchini, peppers, or mushrooms onto the skewers between the shrimp wrapped in bacon, or make our Balsamic Grilled Vegetables as a side.
These bacon shrimp kabobs are delectably sweet and spicy with the dry rub, but for another layer of flavor brush on some Homemade BBQ Sauce when they come off the grill. Depending on the seasoning you used, you could also brush with sweet teriyaki sauce or spicy buffalo sauce for an extra kick of heat.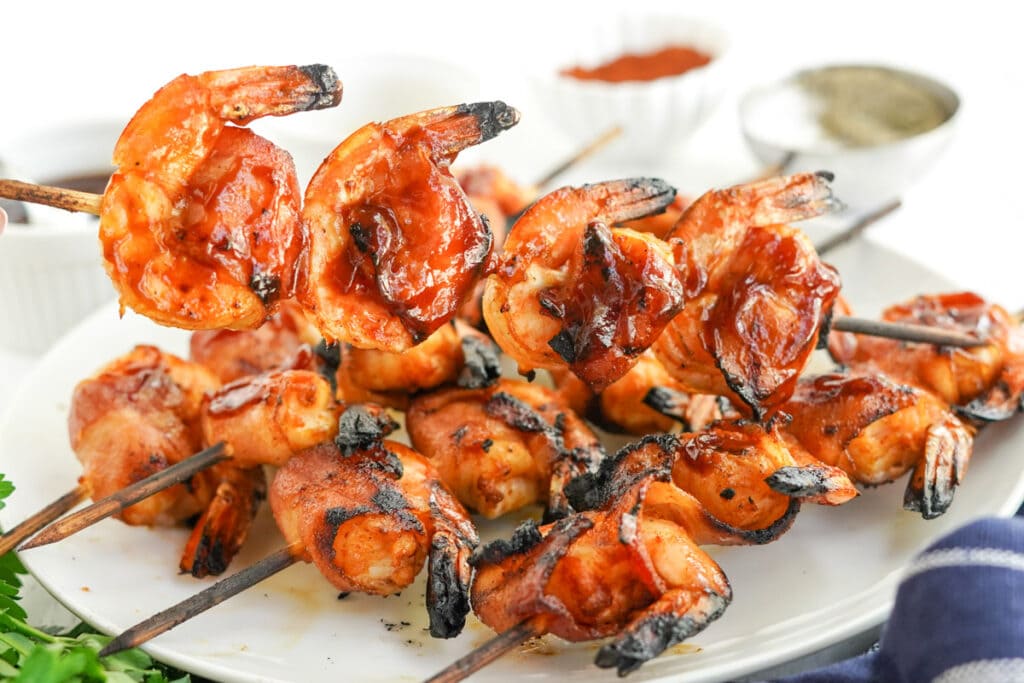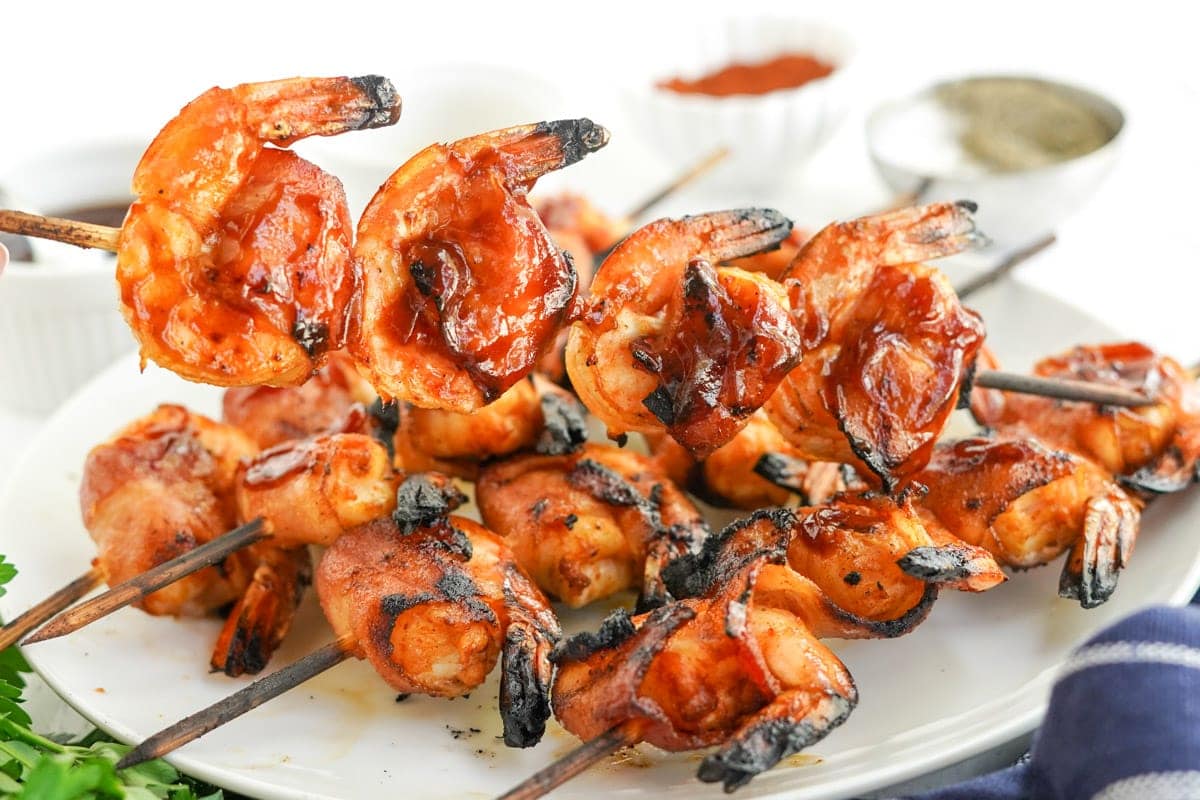 Before using, soak wooden skewers in water for 30 minutes to prevent burning.
Storing leftovers: Remove skewers and place leftovers in an airtight container or resealable plastic bag. Refrigerate for up to 2-3 days or freeze for up to 3 months. Reheat in the oven under the broiler on a foil wrapped baking sheet for 1-2 minutes per side. If frozen, thaw overnight before reheating.
FAQs
How do you grill shrimp without drying it out?
Watching the temperature and not overcooking the shrimp will ensure they are tender and juicy instead of rubbery. The bacon also helps to lock in the juices.
How long do they take to cook on the grill?
Grill the shrimp skewers for 3-4 minutes per side. Shrimp cooks very quickly so watch closely for flare-ups.
Can you cook them in the oven?
Use a baking sheet with a wire rack on top and line the sheet with foil. Spray the rack with nonstick cooking spray. Arrange shrimp wrapped in bacon on the wire rack and bake at 400 degrees for about 15 minutes. Then broil for a few minutes to get the tops crispy and browned.
How do you thaw frozen shrimp?
Thaw in a bowl of cold water in the refrigerator for about 15 minutes. Never re-freeze thawed shrimp unless it's been cooked.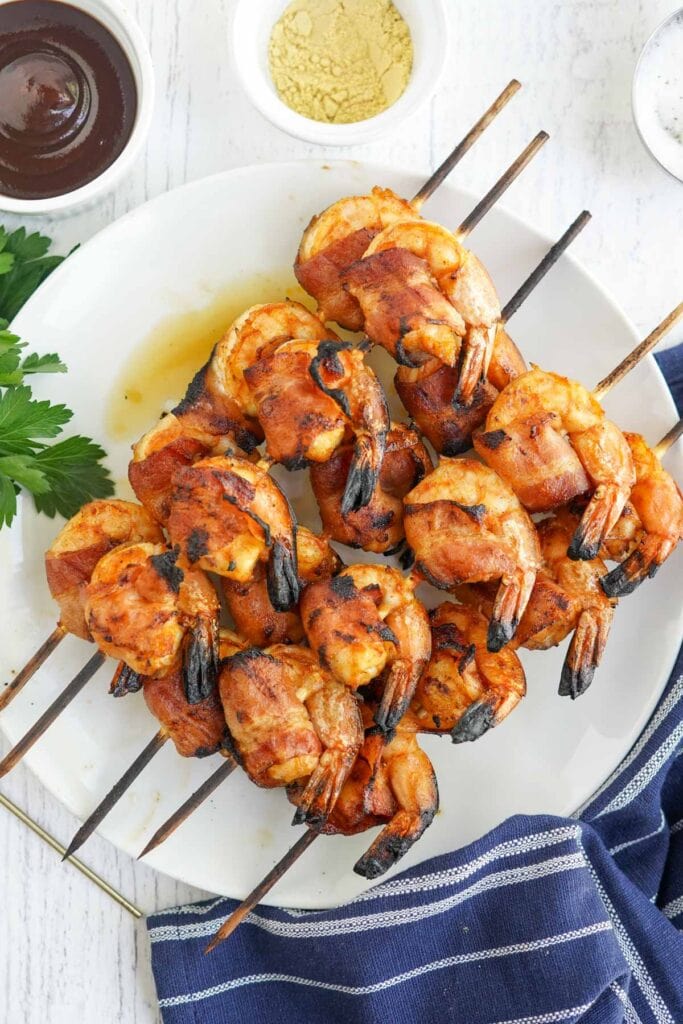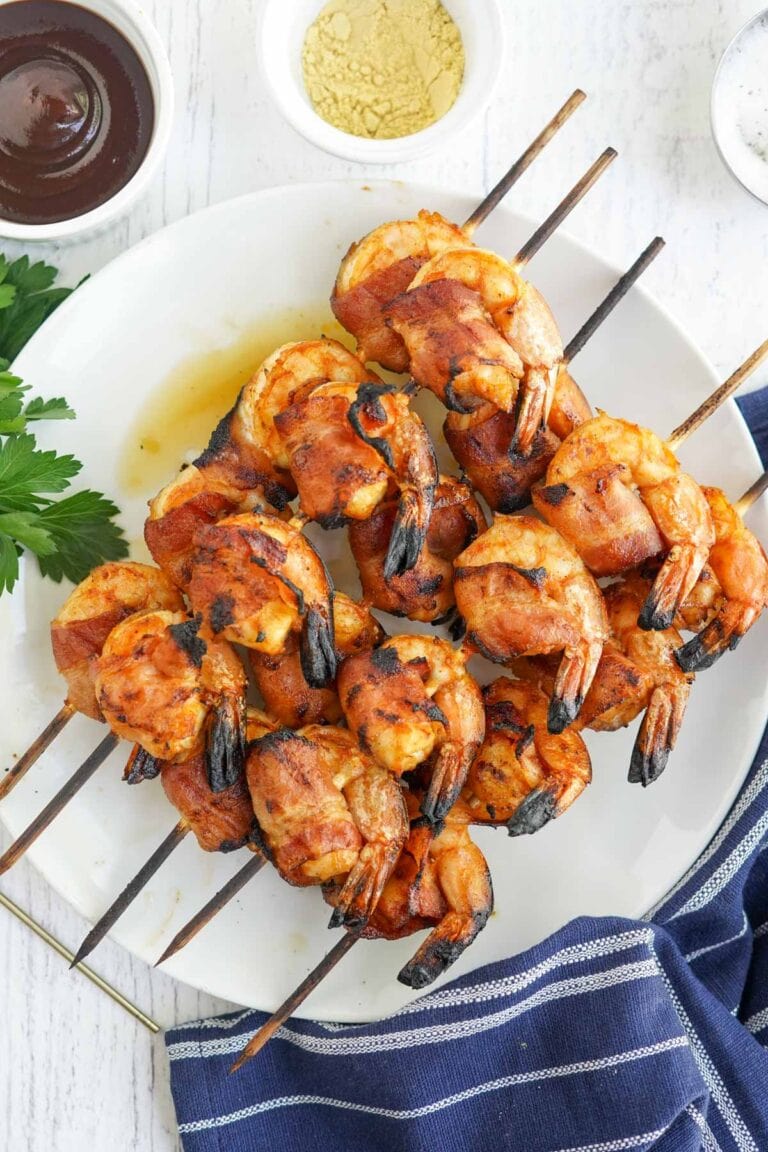 More Shrimp Recipes You'll Love
If you've made this recipe, please come back and leave us a star rating or a comment below. Or, tag us on social media @yellowblissroad or #yellowblissroad for a chance to be featured.
Recipe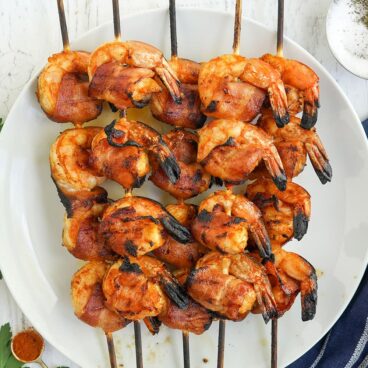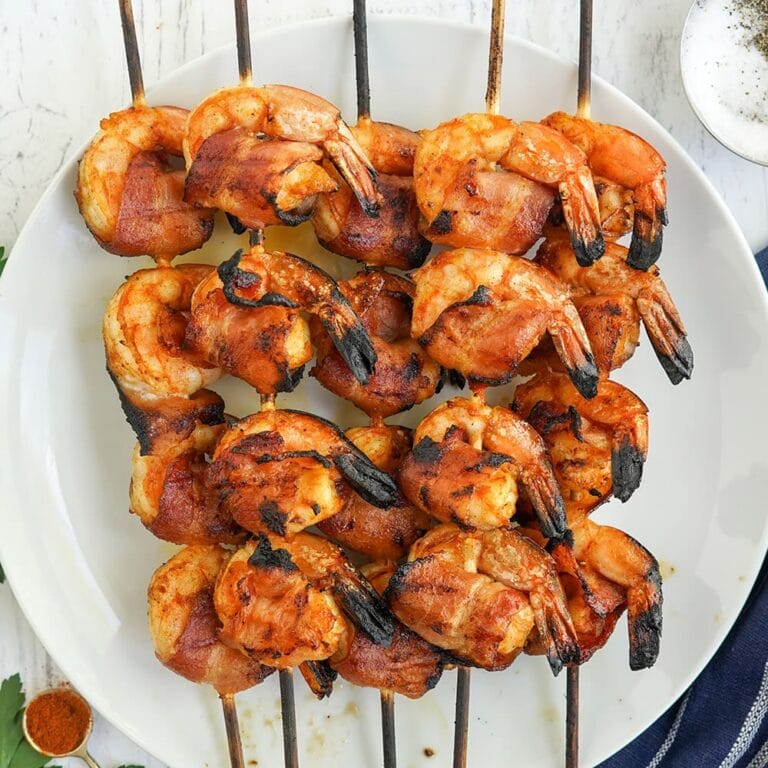 BBQ Bacon Wrapped Shrimp
Bacon Wrapped Shrimp is an easy appetizer or dinner. Grilled shrimp wrapped in bacon is the perfect crowd pleaser that's ready in 20 minutes.
Ingredients
1

pound

bacon

cut in half

1 ½ – 2

pounds

shrimp

raw, thawed, deveined, tail-on
Rub
3

tablespoons

brown sugar

2

teaspoons

paprika

1

teaspoon

garlic powder

1

teaspoon

dried mustard

½

teaspoon

salt

¼

teaspoon

pepper

¼

teaspoon

cayenne pepper

Optional: ¼ cup BBQ sauce
Instructions
Prepare the grill for cooking over medium direct heat.

Cook the bacon in a large skillet over medium low heat until it is about halfway cooked, but still soft enough to wrap around shrimp. About 3 minutes.

In a small bowl, mix together the brown sugar, paprika, garlic powder, dried mustard, salt, pepper and cayenne pepper.

Place the shrimp in a large bowl and sprinkle the dry rub over the shrimp. Toss until thoroughly combined.

Carefully wrap each shrimp with bacon and thread onto a skewer, piercing through the bacon. Piercing once through the tail and once through the other side will keep them secure through cooking.

Brush the grill with oil and grill the shrimp five inches from the coals for five minutes. Turn over and cook for an additional two minutes on the other side.

Serve with dry rub or brush with BBQ sauce.
Notes
Nutritional information and serving size is approximate and will vary depending on the size of your shrimp. 
Nutrition
Calories:
495
kcal
Carbohydrates:
8
g
Protein:
41
g
Fat:
32
g
Saturated Fat:
10
g
Trans Fat:
1
g
Cholesterol:
431
mg
Sodium:
1872
mg
Potassium:
305
mg
Fiber:
1
g
Sugar:
6
g
Vitamin A:
392
IU
Vitamin C:
6
mg
Calcium:
231
mg
Iron:
4
mg