Creamy Shrimp Alfredo Pasta
Shrimp Alfredo is a delicious pasta dish that's super simple to make any night of the week. Al dente pasta is coated in a rich and creamy homemade Parmesan cheese sauce then topped with succulent, flavorful shrimp.
If you love pasta as much as our family does, you have to try this Shrimp Fettuccine Alfredo! It pairs perfectly with our Olive Garden Salad Copycat and a crispy loaf of How to Make Garlic Bread.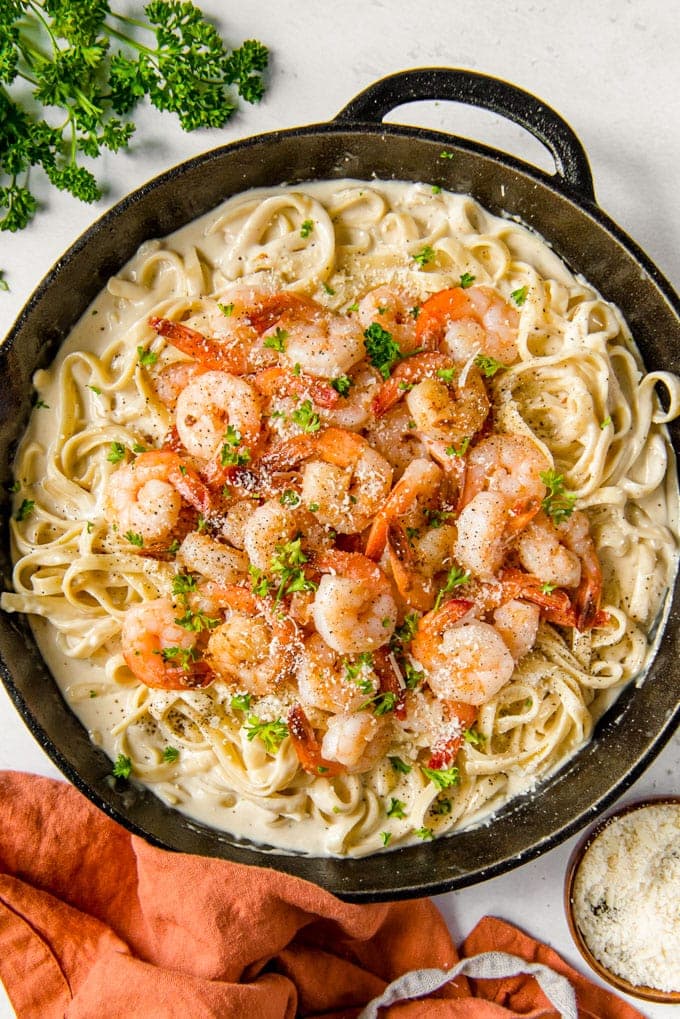 Making Shrimp Alfredo
Shrimp Alfredo takes two of my favorite things, succulent, caramelized shrimp and creamy fettuccine alfredo and marries them together in a beautiful ceremony of culinary love.
I know, it's a little corny but it's true, right? Usually I say that cheese doesn't go with seafood but in shrimp's case it's a perfect match for the nutty, salty Parmesan cheese.
If you haven't made homemade Alfredo before, you definitely need to give it a try. It so easy, with three main ingredients:
Butter
Cream
Parmesan cheese
You can make the sauce even creamier by adding a little bit of cream cheese, or melting in some Mozzarella. For this simple recipe I cook the shrimp on the stovetop, but you can bake it in the oven, poach it (boil) or even grill it up.
How to Make Homemade Shrimp Alfredo Pasta
This shrimp alfredo recipe is basically two parts. The sauce, and the shrimp.
There are two ways you could make a homemade Alfredo Sauce. The traditional way involves a few simple ingredients and basically heating them on the stove and melting the cheese, and the non-traditional method involves creating a roux.
I think both methods are delicious, and the roux method is definitely a "skinnier" recipe since it uses a lot less butter and a cream. However if I had to choose, it's going to be traditional Alfredo every time. It's rich, it's creamy and pure decadence.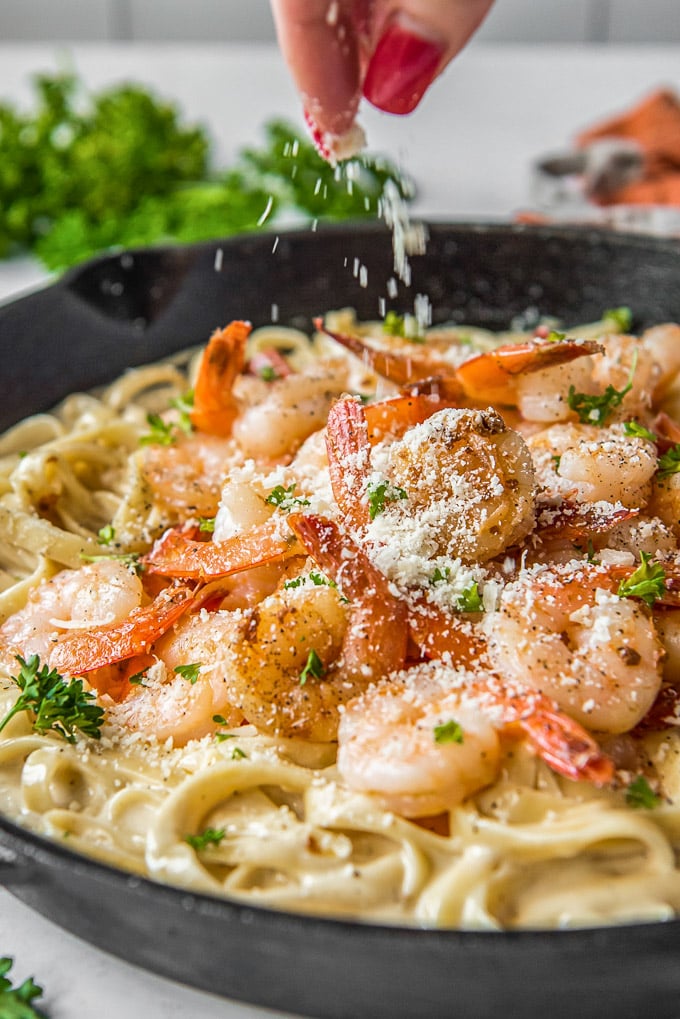 Can I use milk instead of heavy cream in the alfredo sauce?
A traditional Alfredo has butter, cream and cheese. If you are simply out of heavy cream, or want to cut back the calories and use milk instead, you'll need to make a roux based bechamel sauce and add Parmesan cheese to it. You can see instructions for this lighter sauce in my Chicken Alfredo Baked Ziti recipe.
What does Alfredo Sauce taste like?
This Alfredo sauce is thick and creamy and so delicious. It's got a nuttiness from the parmesan cheese and if the garlic adds a whole other level of flavor.
Alfredo Sauce Making Tips
The cheese is important! You will want to buy only fresh Parmesan cheese when you make your homemade sauce. The grated stuff in the can doesn't melt and can end up tasting grainy, and the pre-packaged shredded Parmesan won't melt as well either because of the coating they add to it to keep it from sticking together in the bag. Use freshly grated Parmesan for the very best results.
How to thicken a thin Alfredo sauce: Sauce not thick enough for you? Add a couple ounces of softened cream cheese to your sauce and it will give it a creamier texture and will help it thicken up a bit. You could also add a rou to the mixture. To do this, melt a couple of teaspoons of butter in a small saucepan, and add a couple teaspoons of flour. Cook until golden, then add to your simmering sauce and stir until it's completely incorporated.
Let it simmer. Be sure to turn the heat down when you add the Parmesan cheese. You don't want to boil this sauce at all, just a simmer (a few small bubbles coming to the top) will do fine. Boiling can result in a broken sauce, and nobody likes that.
What else could I add to my alfredo pasta?
Shrimp Alfredo Pasta is a classic, but they are a few things you can do to dress it up and make it even better.
Add veggies like steamed or sauteed broccoli, asparagus, red bell pepper or sundried tomatoes to your pasta.
Spice it up with the addition of cajun seasoning.
Add sauteed scallops or salmon for a seafood alfredo.
Swap the shrimp for chicken or smoked sausage, or add all three!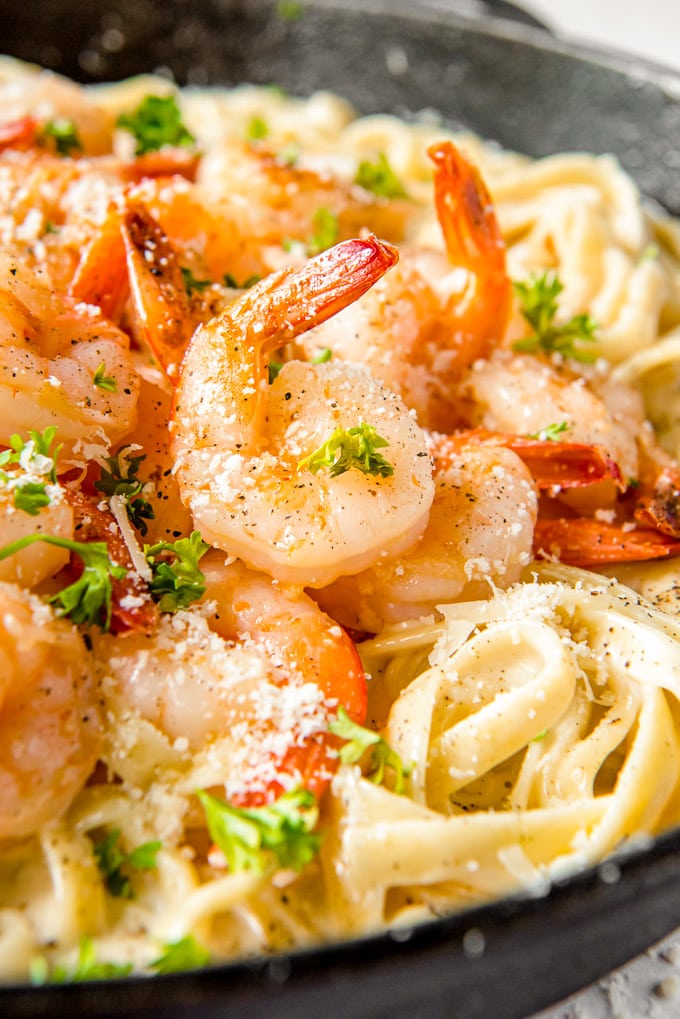 What to do with leftovers
Yes, this sauce can be frozen for up to 6 months if properly stored in an airtight container or freezer bag. To reheat, thaw in the fridge overnight, then place the sauce in a saucepan on the stove over medium-low heat. Stir constantly until heated through to avoid breaking the sauce (when the cream and butter separate and your lovely sauce becomes a greasy mess). I recommend cooking the pasta from scratch though, it can get mushy if frozen in the sauce.
Freeze cook shrimp separately in a sealed freezer bag for up to 4 months. I definitely recommend cooking shrimp fresh – it doesn't take much longer than reheating from frozen, and the taste is so much better.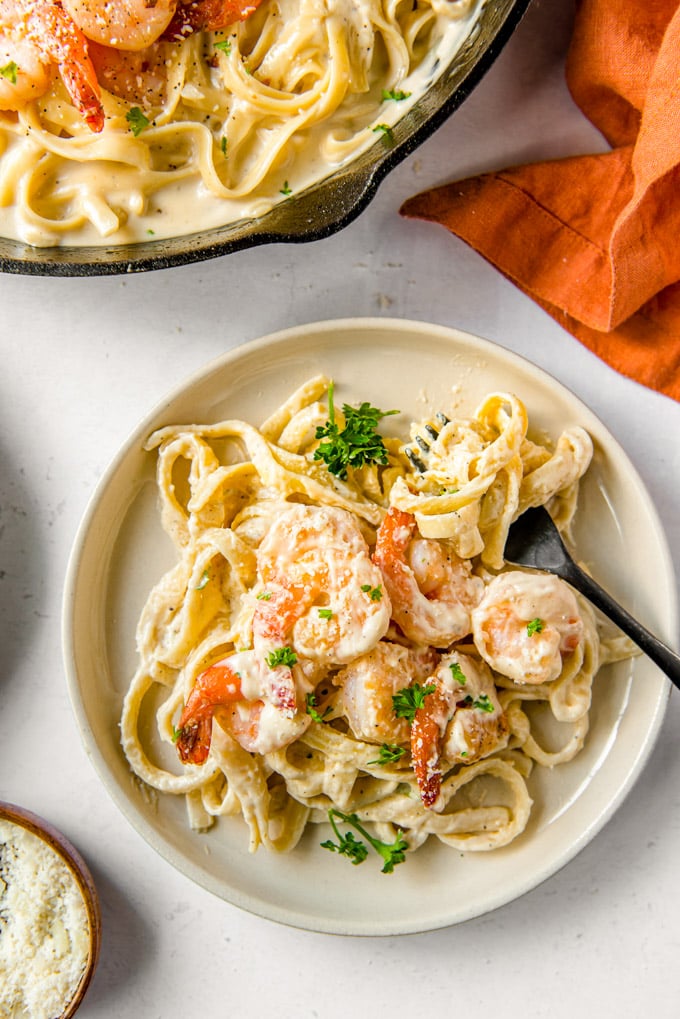 More shrimp recipes you'll love:
More pasta recipes to try:
If you've made this recipe, please come back and leave us a star rating or a comment below. Or, tag us on social media @yellowblissroad or #yellowblissroad for a chance to be featured.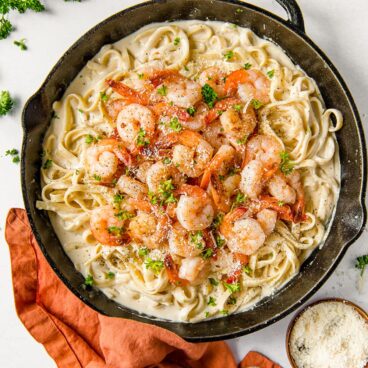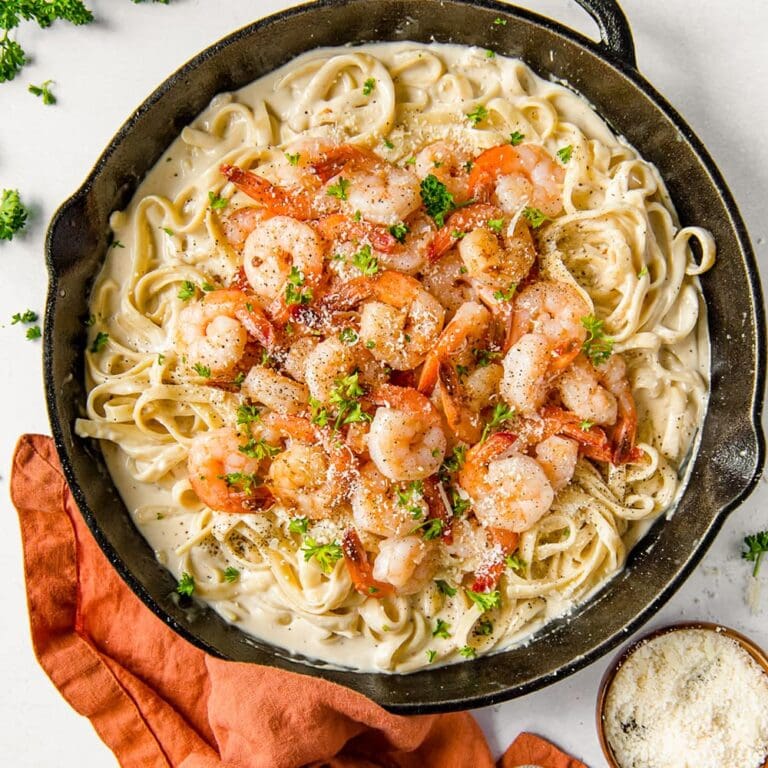 Shrimp Alfredo
Shrimp Alfredo Pasta is a simple dinner any night of the week, with a creamy homemade Parmesan sauce topped with succulent, flavorful shrimp.
Ingredients
12

ounces

Fettuccine

1/2

cup

butter

2

garlic cloves

minced

2 1/2

cups

heavy cream

2

cups

Parmesan cheese

freshly grated

Fresh cracked black pepper

2

pounds

large shrimp

peeled and deveined
Instructions
Boil a large pot of salted water and cook fettuccine according to package directions.

In a large skillet, melt the butter over medium-low heat. Add garlic and cook, stirring often, for 1-2 minutes or until fragrant. Be careful not to burn.

Whisk in heavy cream and allow to bubble up to a simmer, then simmer for 2-3 minutes.

Whisk in the parmesan and bring to a gentle simmer - do not boil - for about 3-4 minutes or until sauce has thickened slightly. Add salt and pepper to taste and remove from heat.

In another skillet over medium heat, melt 2 tablespoons of butter. Add shrimp to the pan and season with salt and pepper. Cook for about 2 minutes per side or until bright pink in color.

Toss the fresh, hot pasta with the sauce and serve with shrimp on top. Garnish with fresh minced parsley.
Nutrition
Calories:
978.84
kcal
Carbohydrates:
44.59
g
Protein:
53.08
g
Fat:
65.22
g
Saturated Fat:
38.98
g
Cholesterol:
627.84
mg
Sodium:
1893.63
mg
Potassium:
364.35
mg
Fiber:
1.87
g
Sugar:
1.46
g
Vitamin A:
2225.97
IU
Vitamin C:
7.1
mg
Calcium:
704.56
mg
Iron:
4.57
mg