A Sheet Pan Shrimp Boil is a rustic summer meal of juicy shrimp, spicy sausage, tender potatoes and crisp corn that is baked on a big sheet pan in the oven. It's perfect for feeding a crowd and take about 30 minutes to make!
Throwing a party this summer? This Sheet Pan Shrimp Boil makes the perfect meal. Serve with some yummy garlic bread and a Copycat Olive Garden Salad and you've got a complete, crowd-pleasing meal!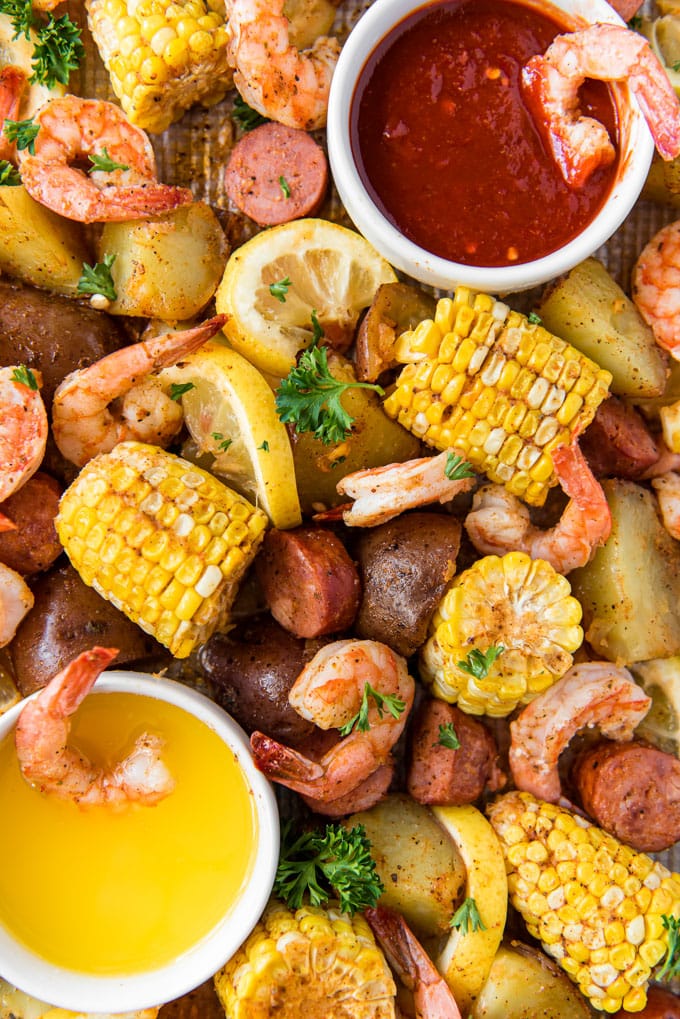 Pin this recipe for later!
Shrimp Boil Dinner on a Sheet Pan
I love love making this recipe for summertime parties. This shrimp boil on a sheet pan is so incredibly easy. Just roughly chop the ingredients, toss them in some flavorful seasoning and throw it all on a big baking sheet pan.
This recipe will feed a crowd or just your family; you can adjust the amounts to feed as many as you need.
A traditional seafood boil is cooked like the name suggests, cooked in a big pot of boiling water. Making it on a sheet pan is so much easier than messing with a big pot, and you get that amazing caramelization that you can't get from a pot of water. The flavors are so much richer, and each item can stand on its own.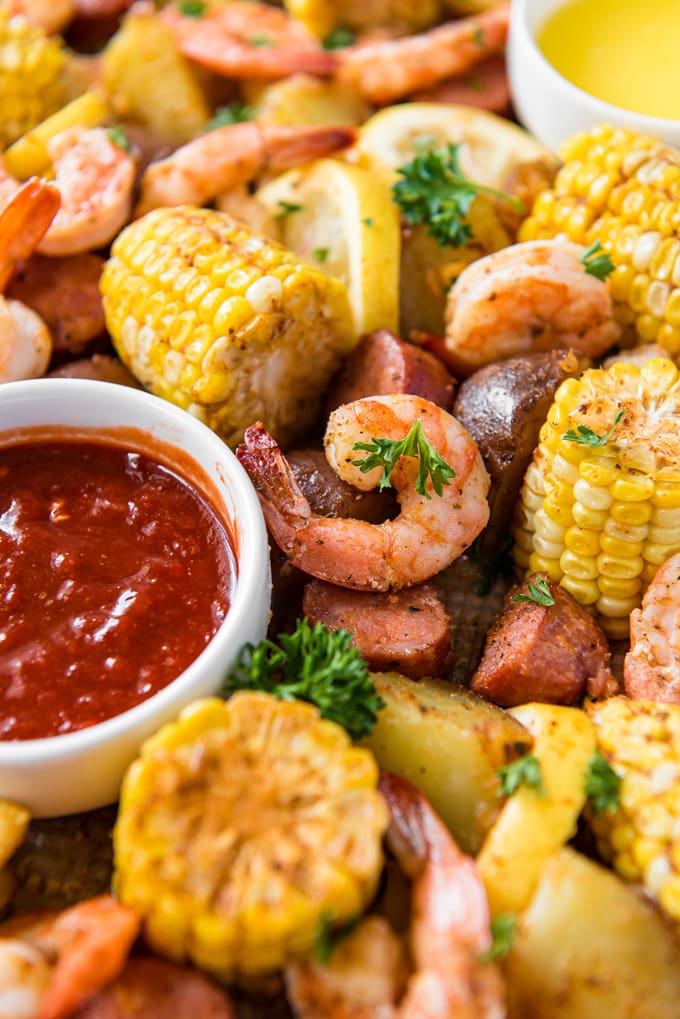 Ingredients You'll Need
The ingredients for a sheet pan shrimp boil are pretty simple and rustic – nothing fancy here. For the shrimp you can leave the tails on because they look pretty, or remove them for easy eating.
Shrimp – Medium-sized shrimp are a good size or you could use large shrimp.
Potatoes – Red potatoes are great because they hold their shape really well and blend in with the other colors on the sheet.
Smoked Sausage – Since it's already fully cooked, you don't have to worry about minimum temperatures. Just slice it into thick pieces on the diagonal (angled) for a prettier cut.
Corn on the Cob – Use fresh corn, or you can even grab these from the freezer section.
Lemons – Fresh lemons are so good. Just give the lemons a firm roll on the counter with the palm of your hand to really get that juices flowing.
Old Bay Seasoning – Find this in the seasoning aisle with the blended seasonings.
Garlic powder
Butter – Salted or unsalted is fine.
How To Make a Sheet Pan Shrimp Boil
Preheat your oven to 425 degrees F. This recipe will cook pretty quickly at a high temperature, especially the shrimp, which is what we want.
Boil a pot of water on the stove to cook the potatoes until they are just tender. Pierce them with a sharp paring knife. It's ok if there is a slight resistance because they will cook a bit more in the oven.
Toss all of the ingredients together in a large bowl then arrange them on a sheet pan. I recommend using foil or parchment paper for easy clean up.
Bake for about 12-13 minutes or until the shrimp is cooked through.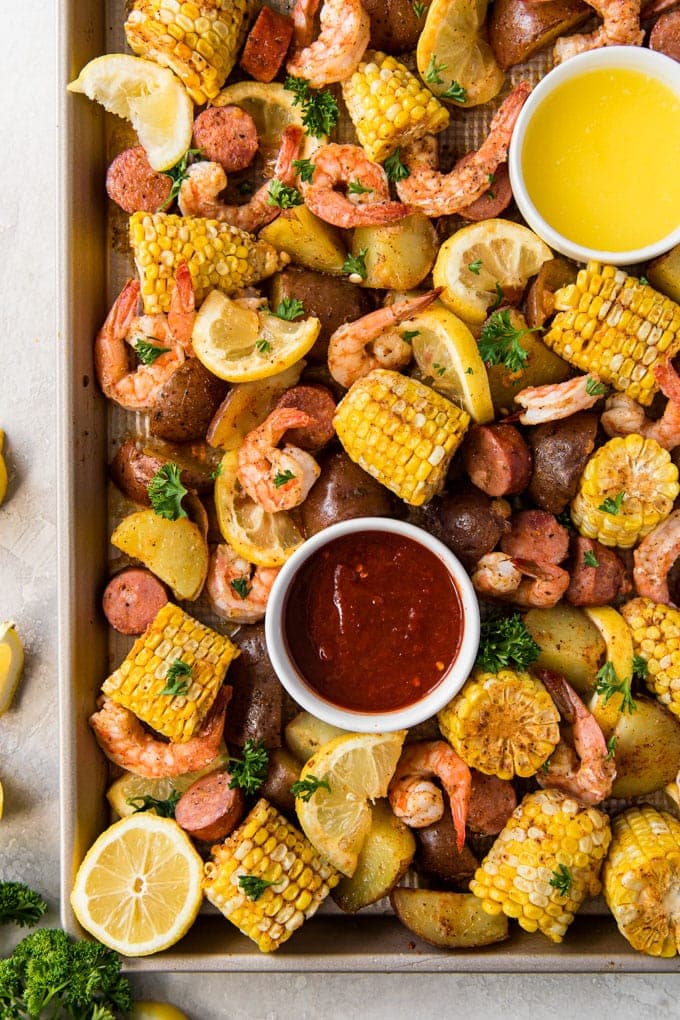 FAQs
What is a Shrimp Boil?
A Shrimp Boil is literally boiling shrimp in a pot…with sausage, potatoes and corn. It usually revolves around a large gathering where everyone eats with their hands.
What is Old Bay Seasoning?
Old Bay is a savory blend of 18 herbs and spices like celery salt, paprika, and black pepper, that are delicious on all sorts of fish recipes. It's also versatile and can be used on chicken or pork.
Can I swap out the ingredients?
Absolutely! You can swap out the veggies or add more, like carrots, broccoli, brussels sprouts, asparagus, cherry tomatoes or green beans. Salmon pieces would a great addition to the shrimp.
Can I use frozen shrimp?
Frozen shrimp are a great option if fresh isn't available it is just too pricey. Make sure to fully defrost the shrimp first by either placing in a covered bowl in the fridge overnight, or submerging in cold running water for 10-15 minutes.
How do I prep the shrimp?
First, you want to peel and devein them…this step is eliminated if you can find already peeled and deveined shrimp. I like to leave the tails on so they are easier to eat. Also make sure to rinse them really well.
How do you know when shrimp is cooked?
Shimp cook very quickly. They turn from an opaque gray to a bright pink in a matter of minutes. You'll want to watch that the tails don't start to curl because that means they are beginning to overcook.
Serving Suggestions
You can serve these sheet pan shrimp boil just as is. It really is a complete meal on a pan. I like to garnish with fresh herbs like minced parsley because it gives a little color. Add some a loaf of bread and a salad and you're good to go!
Make sure to offer some sauce options for dipping, like Cocktail Sauce, Tartar Sauce or simple melted butter.
What To Do With Leftovers
If you happen to have leftovers from your sheet pan shrimp boil, wrap them up and place in an airtight container. Reheat on a sheet pan in the oven, taking care not to overcook the shrimp. For microwave reheating, I recommend heating the shrimp separately.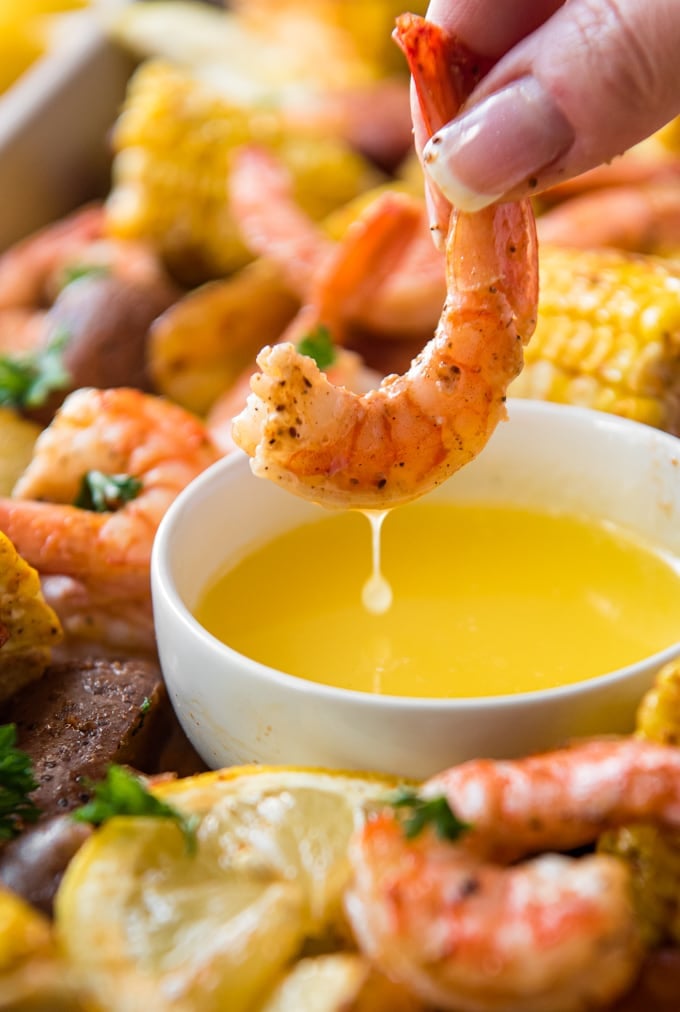 Expert Tips
Use the largest baking sheet you have, or plan to use two and just swap them halfway through.
Use heavy duty foil. Not only will it help with clean up, but it will save you from tears that end up spilling the juices anyway.
Purchas shrimp that is already peeled and deveined.
The beauty of this recipe is that you can make it year round and not just reserve it for the summertime. Use fresh corn when you can, but if you can't grab some from the freezer section.
To skip the heat, use regular smoked sausage. Andouille is delicious but the heat may be too much for some palettes.
More Sheet Pan Dinners
Recipe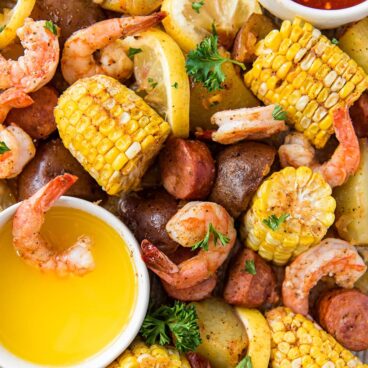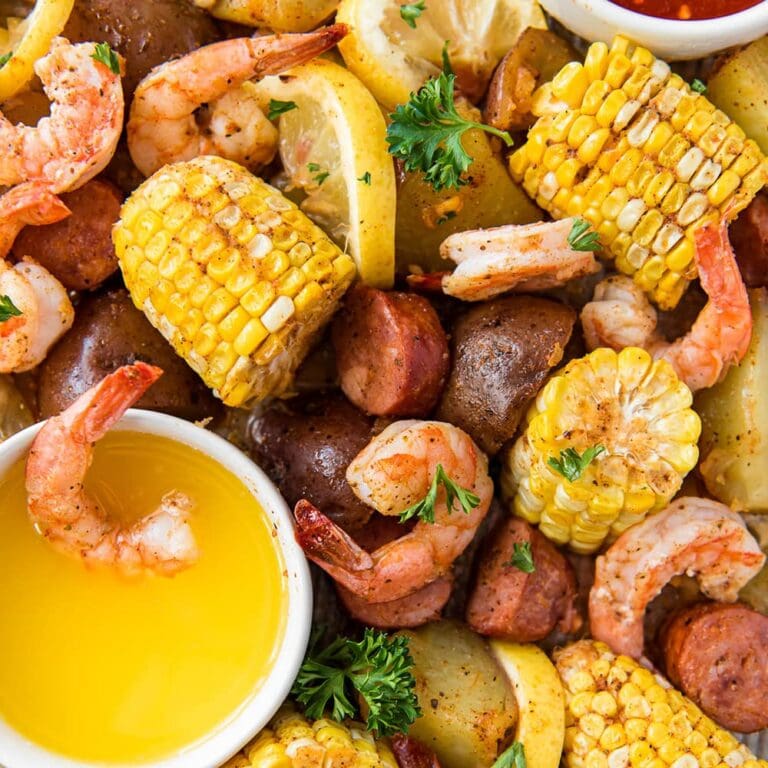 Shrimp Boil Sheet Pan Dinner
A Sheet Pan Shrimp Boil is a rustic summer meal of juicy shrimp, spicy sausage, tender potatoes and crisp corn baked on a big sheet pan.
Ingredients
1

pound

baby red potatoes

quartered

1

pound

raw medium shrimp

peeled and deveined (tails on)

3

ears of corn

cut crosswise into 4 pieces each

2

links smoked andouille sausage

cut into ½ -inch slices

2

lemons

sliced

1

teaspoon

garlic powder

1

tablespoon

Old Bay seasoning

¼

cup

melted butter

¼

teaspoon

salt

¼

teaspoon

freshly ground black pepper

2

tablespoons

freshly chopped parsley

for garnish
Instructions
Preheat oven to 425 degrees F. Lightly oil a baking sheet or spray with nonstick cooking spray.

In a large pot of salted boiling water, cook potatoes until just tender, about 10 minutes. Drain.

In a large bowl, combine cooked potatoes, shrimp, corn, sausage, lemons, garlic powder, Old Bay, melted butter, salt and pepper. Toss until combined, then arrange on a large baking sheet.

Bake until shrimp is cooked through and corn is tender, 13 to 15 minutes.
Nutrition
Calories:
486
kcal
Carbohydrates:
37
g
Protein:
35
g
Fat:
24
g
Saturated Fat:
11
g
Cholesterol:
344
mg
Sodium:
1455
mg
Potassium:
969
mg
Fiber:
5
g
Sugar:
7
g
Vitamin A:
520
IU
Vitamin C:
47.9
mg
Calcium:
207
mg
Iron:
4.7
mg