This Lemon Herb Chicken & Asparagus Sheet Pan Dinner will be your new go-to for those busy weeknights when you just want to get dinner on the table in a hurry. It's a delicious and healthy one pan meal that's quick to prepare, cook and clean-up!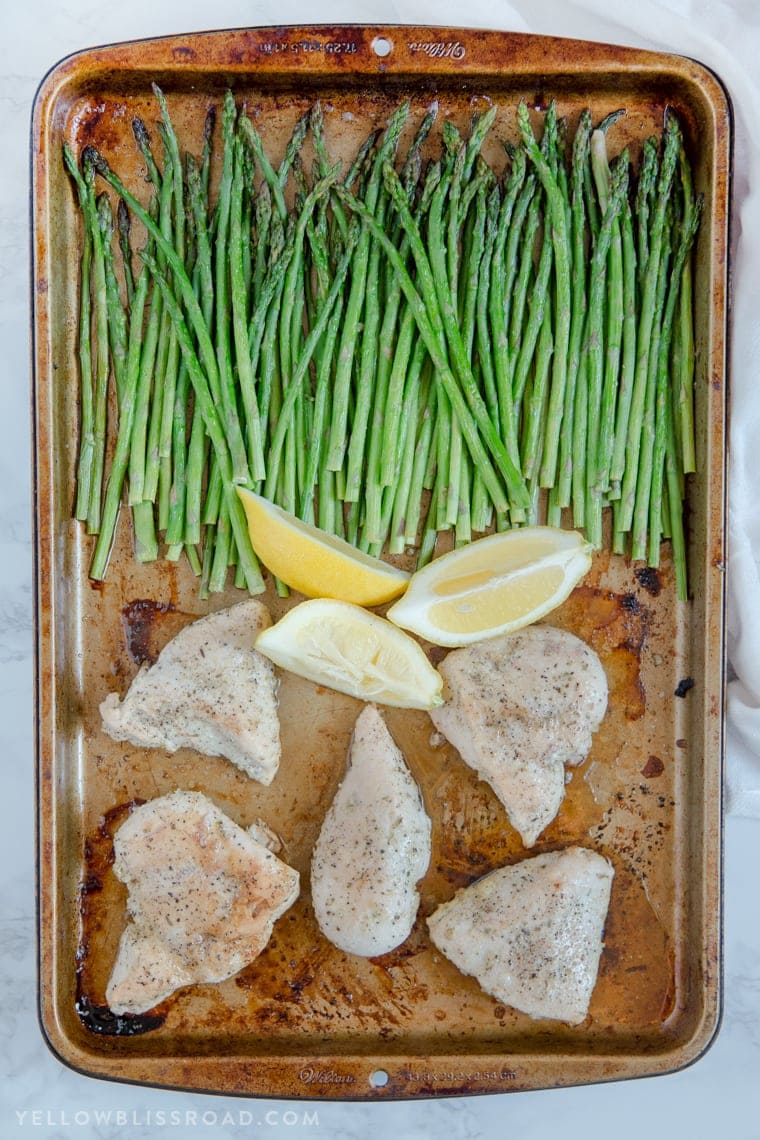 If there's one thing a busy parent needs in their arsenal it's the one pan meal. They are quick and easy, and often a full course meal in just one pan. They don't require a ton of babysitting and they come together pretty quickly. The Sheet Pan Dinner is the new one pan! All you need is a rimmed baking sheet like these.
You can line the pan with parchment paper or foil if you like for even easier clean-up, but I usually skip that step. Because I use olive oil on the chicken and veggies the sticking is minimal, if at all.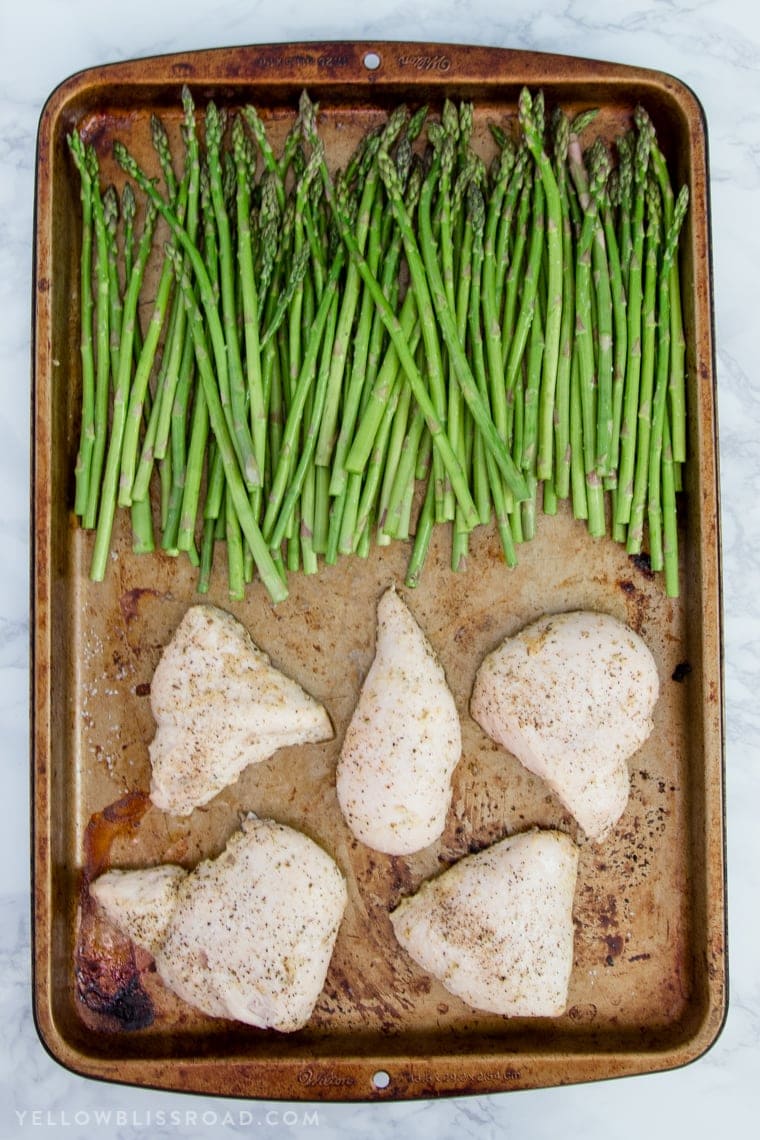 You don't need a ton ingredients to make this Lemon Herb Chicken & Asparagus Sheet Pan Dinner, I'm guessing you already have most of them on hand. Chicken, asparagus (the super thin pencil kind), olive oil, lemon and Italian seasoning. This has become my go-to seasoning combo for chicken – I love it!
I marinated the chicken in the olive oil, lemon juice and seasonings for about half an hour, but you could skip that step in a hurry. The chicken takes longer to cook than the asparagus so that goes in first for about 15 minutes, then the asparagus is added to the sheet pan and drizzled with olive oil, a squeeze of lemon and pinch of salt. Bake for an additional 12 minutes. Keep in mind that I do cut my chicken into smaller pieces and I do pound the thicker pieces out. If you don't do that, you may end up with some pieces that are over-cooked and some that are under.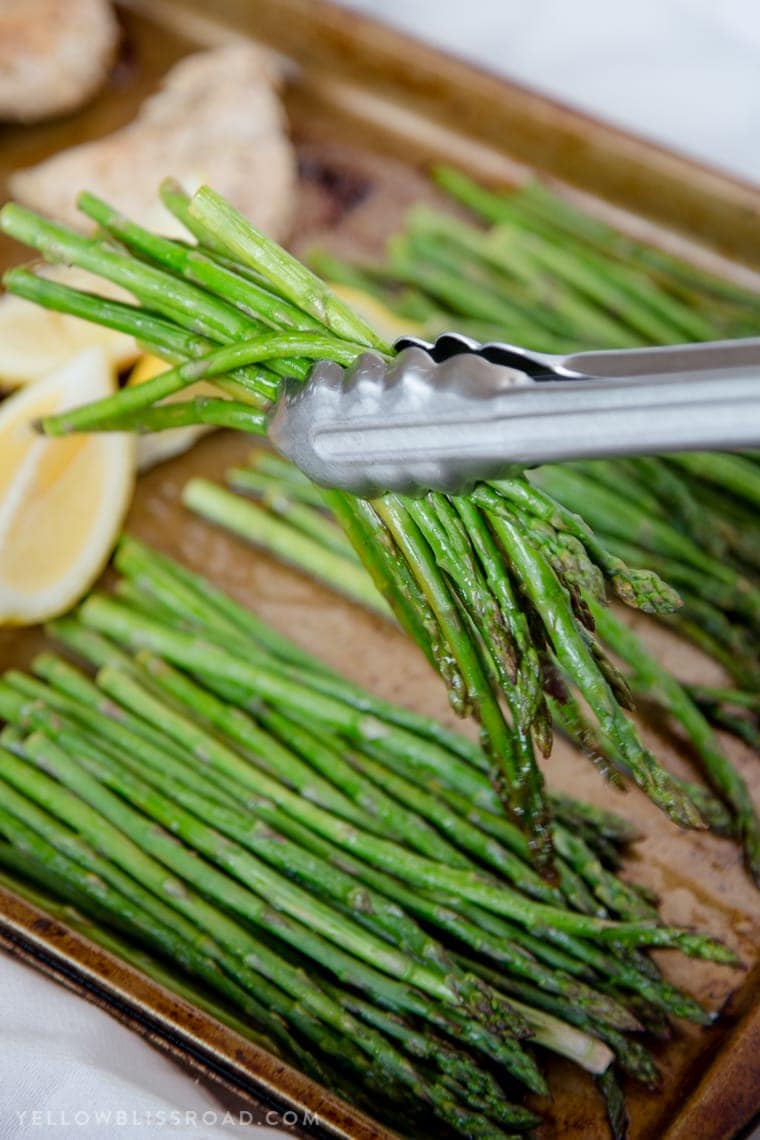 I knew after the way my family scarfed this meal down that it was going to be a new favorite I'd be making over and over again. I am already thinking about the next time!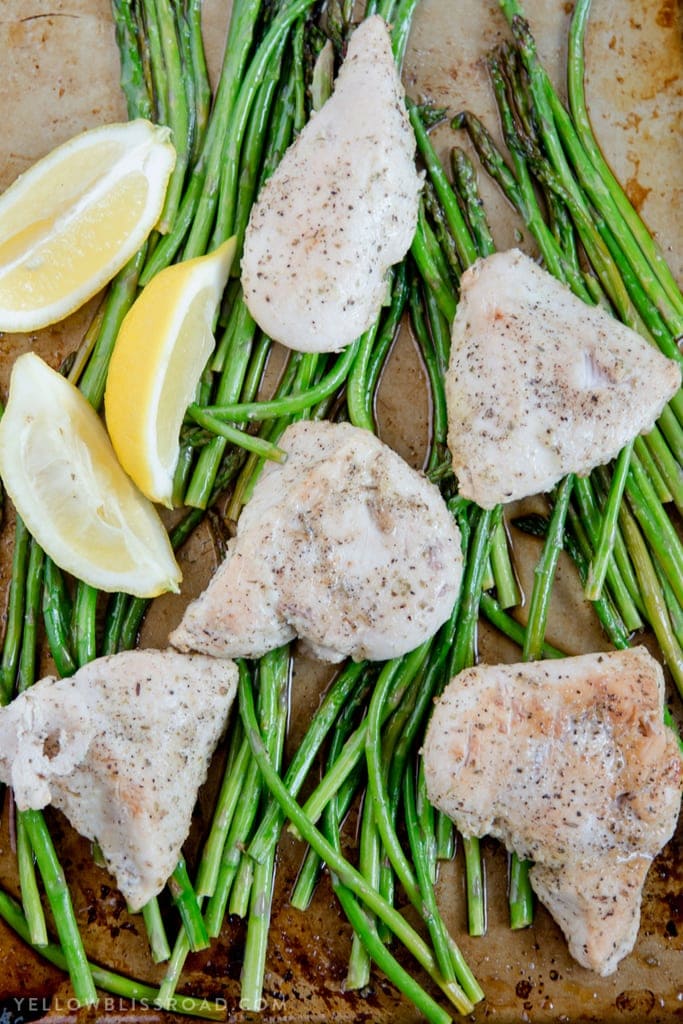 Lemon Herb Chicken & Asparagus Sheet Pan Dinner
Yield 4 servings
Ingredients
1 1/2 pounds boneless skinless chicken breasts (about 2 large)
1 bunch pencil thin asparagus , ends trimmed
2 lemons
3 tablespoons olive oil
1 teaspoon Italian seasoning
1/2 teaspoon kosher salt
1/4 teaspoon fresh ground black pepper
Olive oil for drizzling
Salt to taste
Instructions
In a zip-top bag, pound chicken breasts to even thickness. Cut in half if desired.
In a small bowl combine olive oil, Italian seasoning and juice from one lemon. Pour into bag with the chicken and massage to coat. Marinate in the refrigerator for 30 minutes to an hour. *Can skip the marinating time if in a hurry.
Preheat oven to 400 degrees F. Arrange chicken in the center of a large sheet pan and sprinkle with salt and pepper on both sides. Bake for 15 minutes.
Take pan out of the oven. Slide chicken to one side of the sheet pan and arrange asparagus on the other side. Drizzle asparagus with olive oil (about a tablespoon or so) and squeeze juice from half a lemon over the asparagus. Sprinkle with salt, then using tongs or your hands, toss gently to coat.
Bake for another 10-12 minutes or until chicken is cooked through and asparagus is crisp-tender (soft, but still has a bite to it). Remove from the oven and cover with foil. Let chicken rest, covered, for 5 minutes before serving.
For more easy weeknight meals, try these:
Italian Chicken & Veggies Sheet Pan Dinner
Shredded Chicken Parmesan Sandwich
 For all main dish recipes go HERE and for the Recipe Index go HERE.