This Four Cheese Spaghetti is ultra creamy and garlicky. It comes together in under 20 minutes, making it a perfect weeknight meal.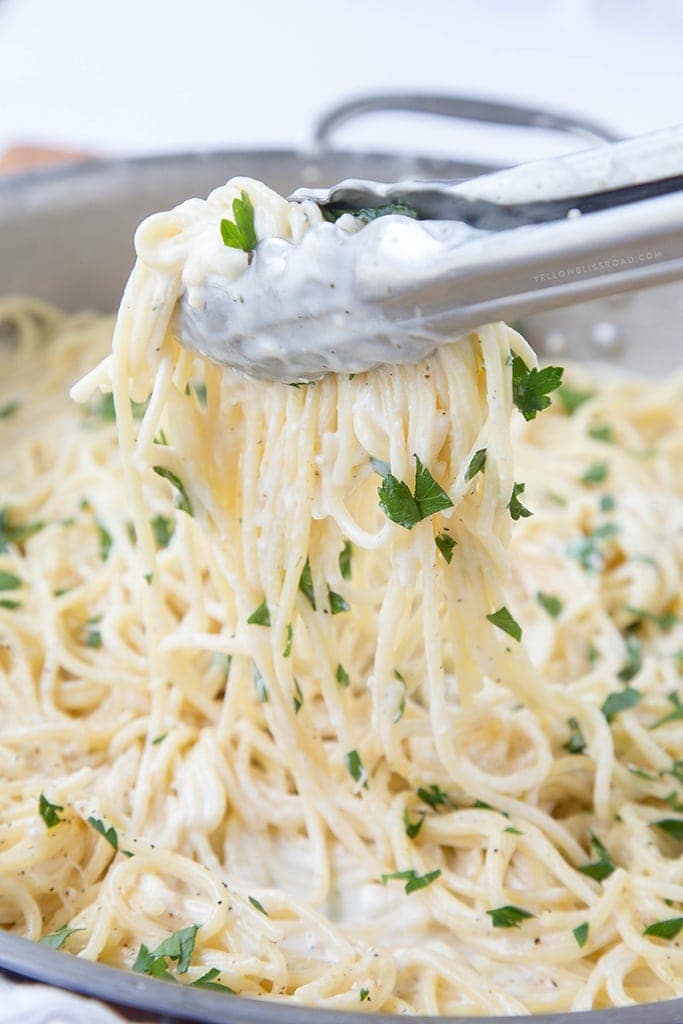 I've been wanting to make a variation of this recipe for months now, and I finally set out to create my version this week. I have seen pre-shredded packs of the 4-Cheese Italian blend before, in fact I used it in these Italian Chicken Quesadillas. But twice I searched my local grocery store for this blend and came up empty handed.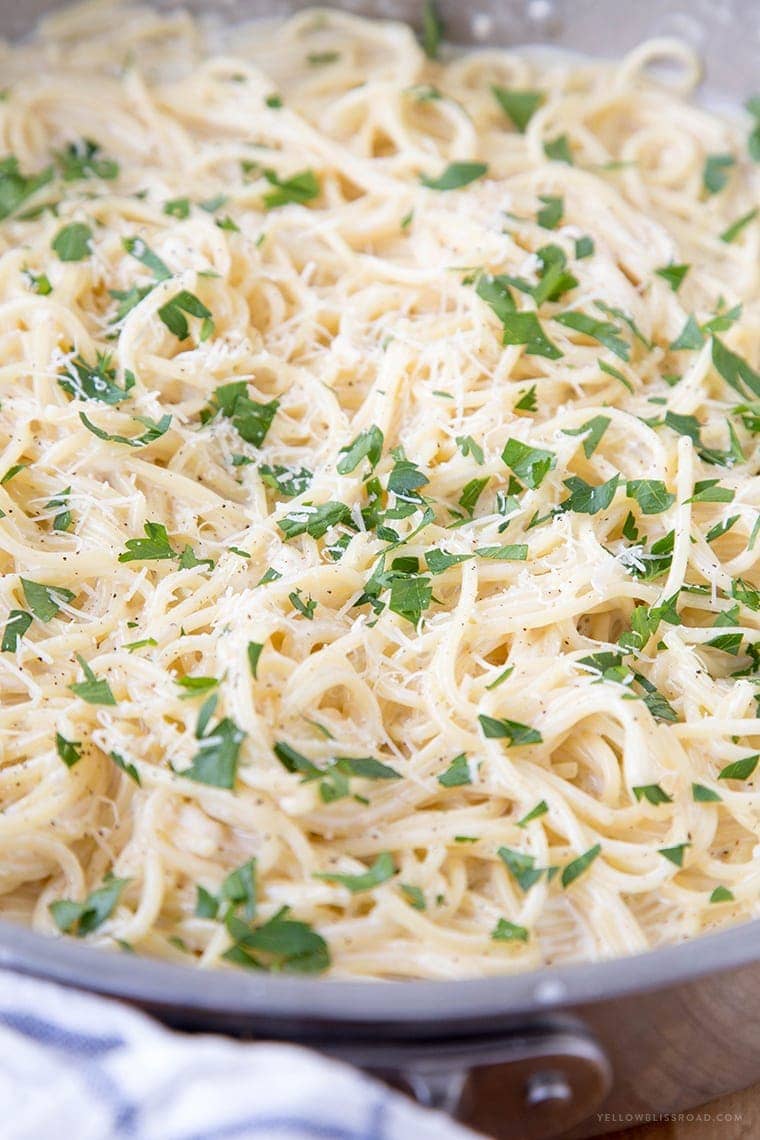 So the other day I was craving this creamy four cheese spaghetti and decided I was going to pull it together with whatever was in my fridge. Which happened to be Romano, Parmesan, Mozzarella and cream cheese. Close enough for me!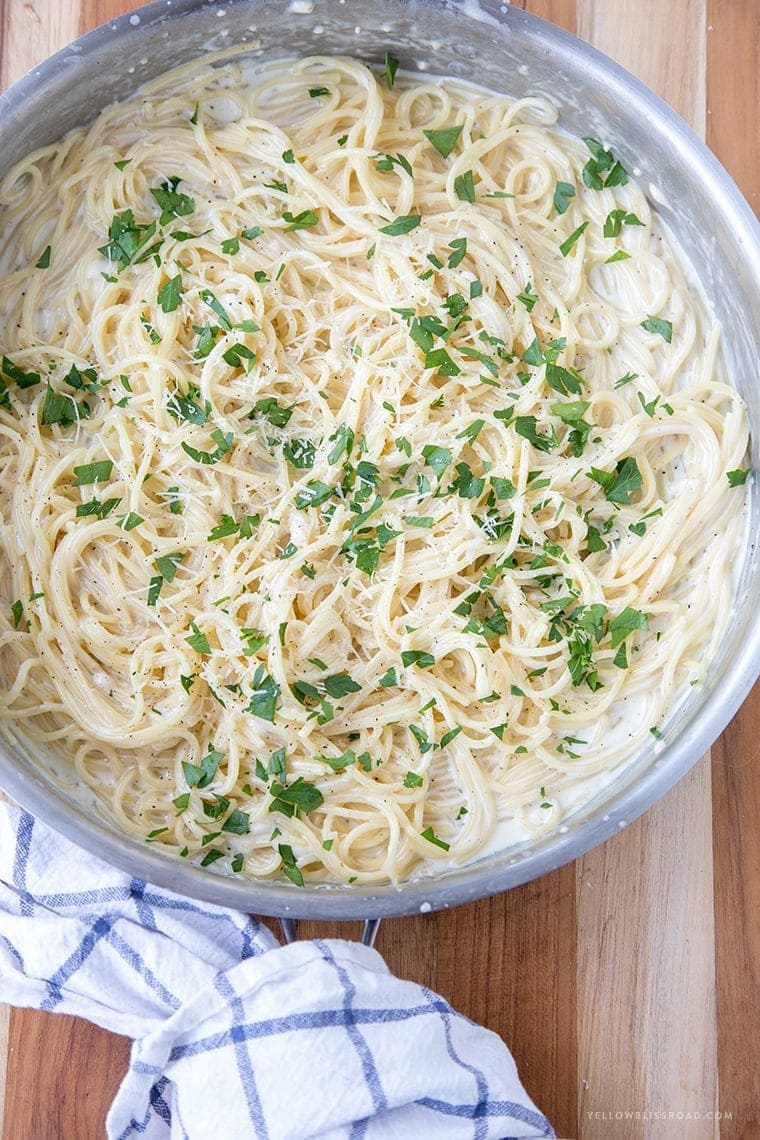 The cream sauce for this recipe comes together quickly, so it's best to start it when the spaghetti is about halfway finished. Melt some butter and olive oil together then add a whole lot of garlic, because, well, garlic.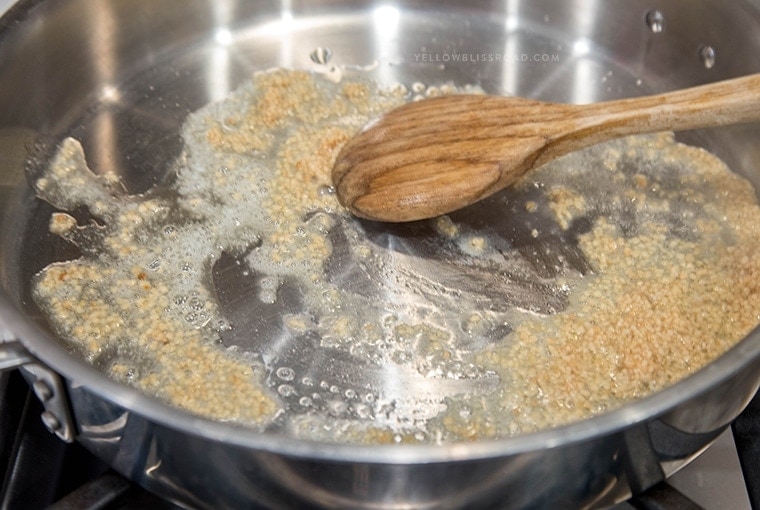 That will take a few minutes and by the time the garlic is smelling awesome that pasta should be finished and ready to add to the garlic and butter. Add some of the starchy pasta water too, and heavy cream and cream cheese. Let it bubble and add the other cheeses.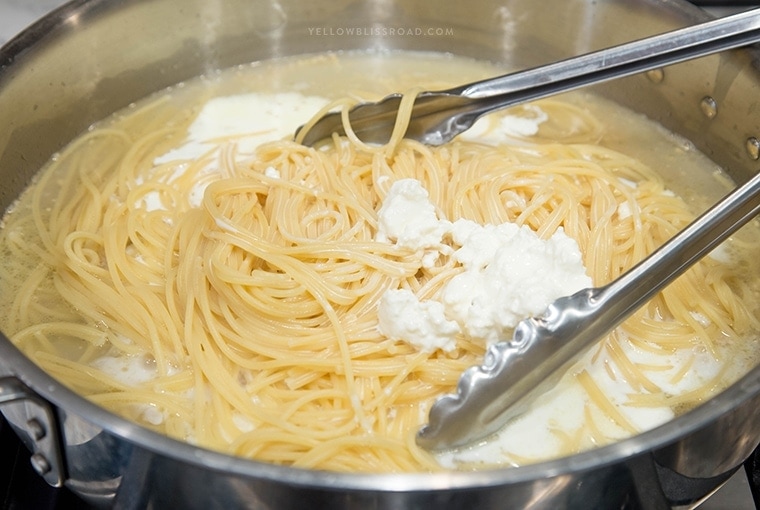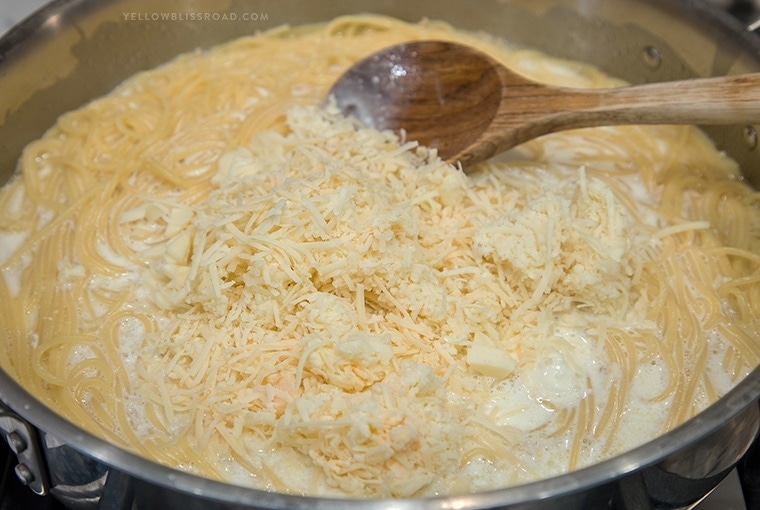 Keep cooking and stirring and stirring and cooking until that sauce is thick and smooth and creamy and coats the pasta.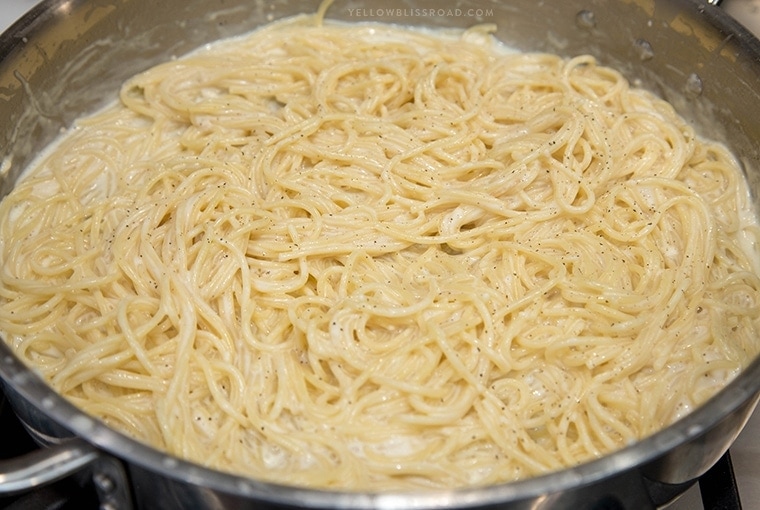 The whole process takes about 20 minutes from start to finish, and then you have this delicious pan of yummy, creamy, cheesy goodness…are you drooling yet? It makes about 2-3 servings, or 4 if you add chicken.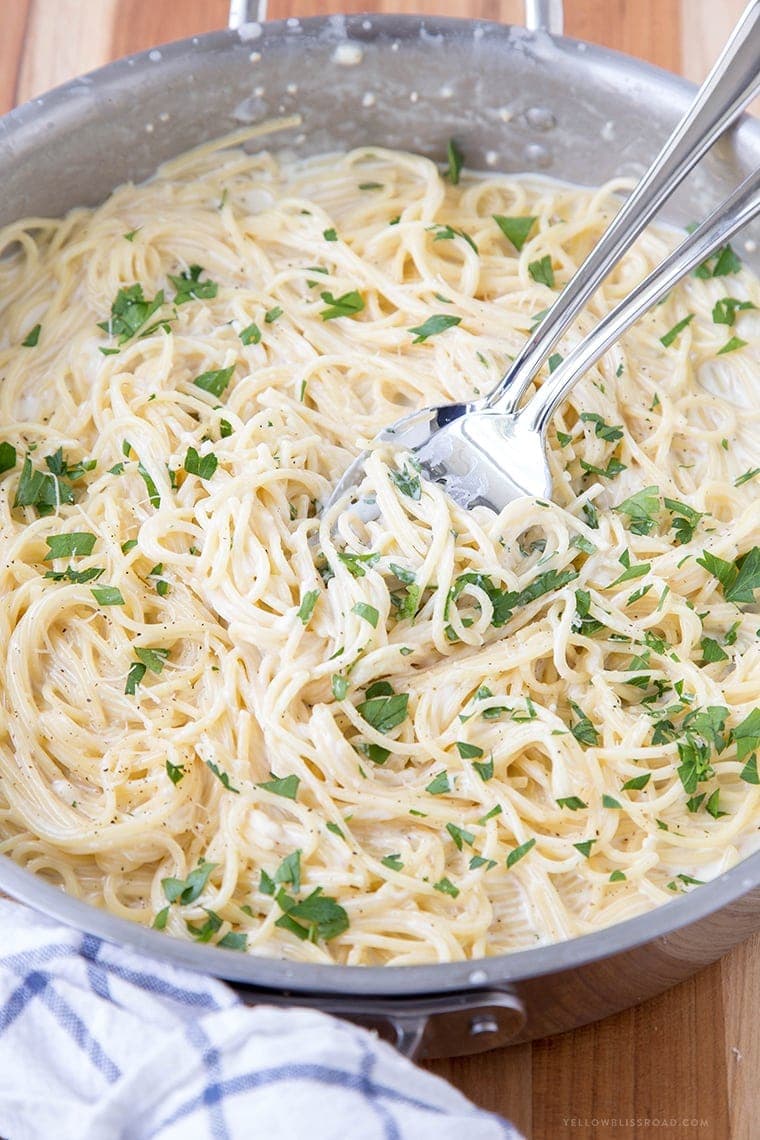 Tender pasta, salty cheeses and a luxuriously creamy sauce – it doesn't get better than that!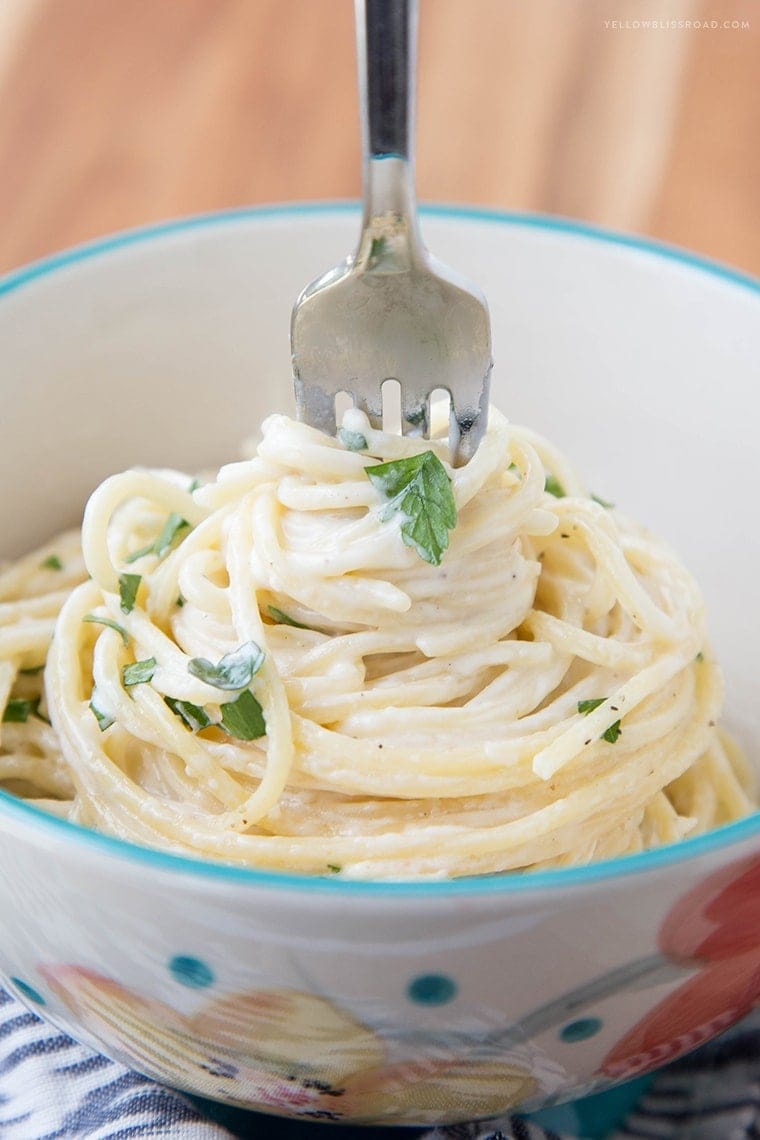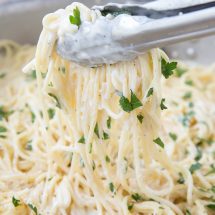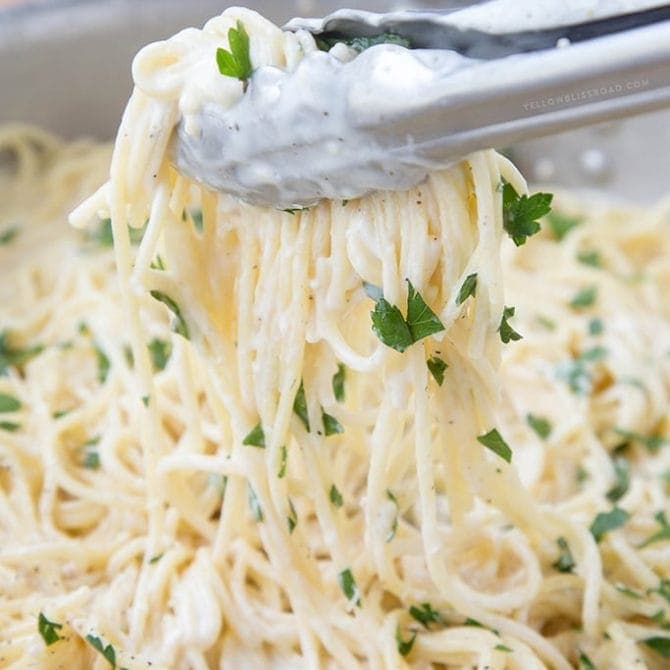 Creamy, Four-Cheese & Garlic Spaghetti
Print
Pin
Rate
Prep Time: 5 minutes
Cook Time: 14 minutes
Total Time: 19 minutes
Servings: 3 -4 servings
Ingredients
8 ounces spaghetti uncooked
1 tablespoon butter
1 tablespoon olive oil
1 1/2 tablespoons minced garlic
1/2 cup freshly shredded Mozzarella
1/2 cup freshly shredded Parmesan Cheese
1/2 cup freshly shredded Romano Cheese
2 tablespoons whipped cream cheese
2/3 cup heavy cream
Salt and pepper to taste
2 tablespoons fresh chopped flat-leaf parsley
Instructions
Boil salted water in a 3-quart pot. Add spaghetti and cook for about 7-8 minutes, until al dente. Drain, reserving 1 cup of pasta water.

In a 10-12 inch saute pan, melt butter and olive oil over medium heat. Add garlic and stir, cooking for about a minute.

Add spaghetti, 1 cup of pasta water, cream cheese and heavy cream to the skillet. Bring to a boil and add shredded cheeses. Stir constantly until cheeses are melted and pasta is completely coated; about a minute. Reduce heat and continue to cook and stir until sauce is thickened and reduced; about 1-2 minutes.

Remove from heat and stir in parsley. Taste and add salt and pepper as desired.

Serve hot, and garnish with more fresh parsley and some fresh grated Parmesan, if desired.
For more pasta dishes you'll love, try these: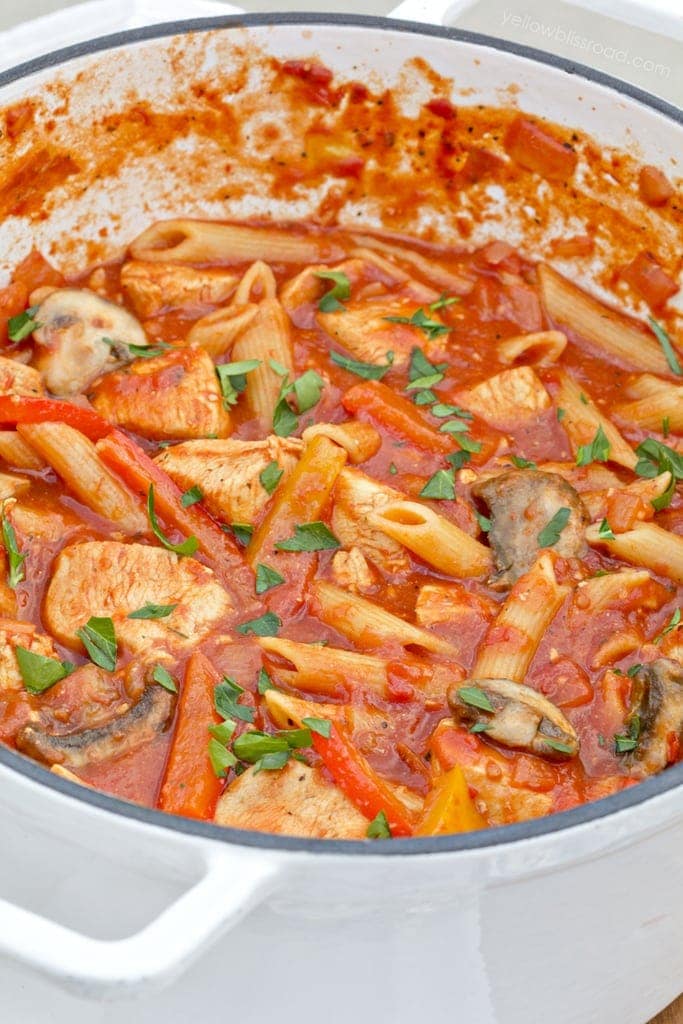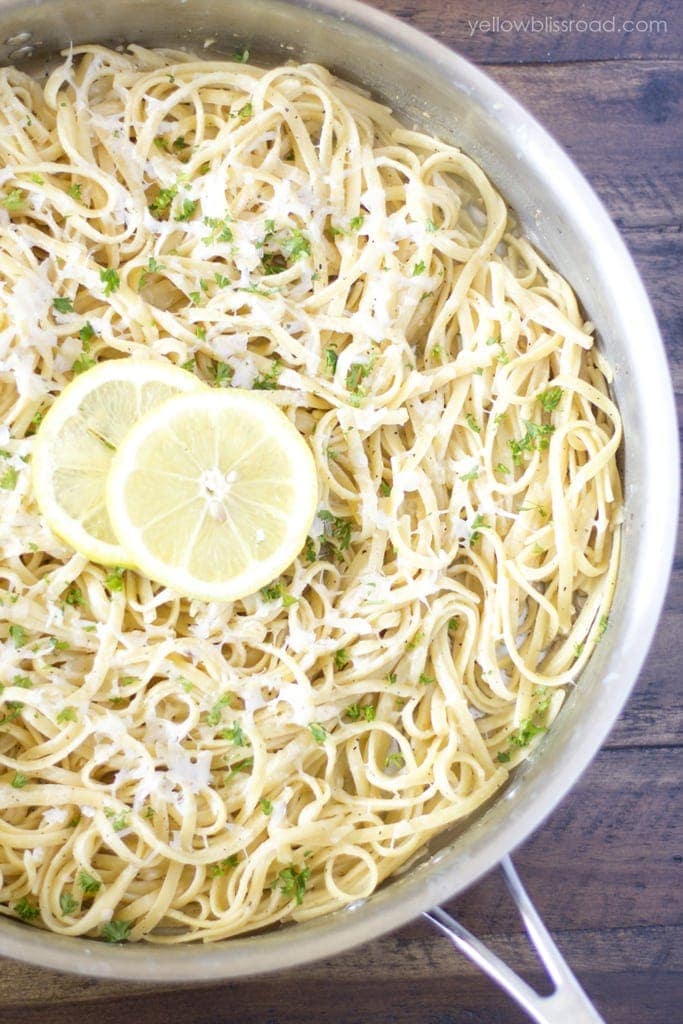 Spicy Lemon, Asparagus & Tomato Pasta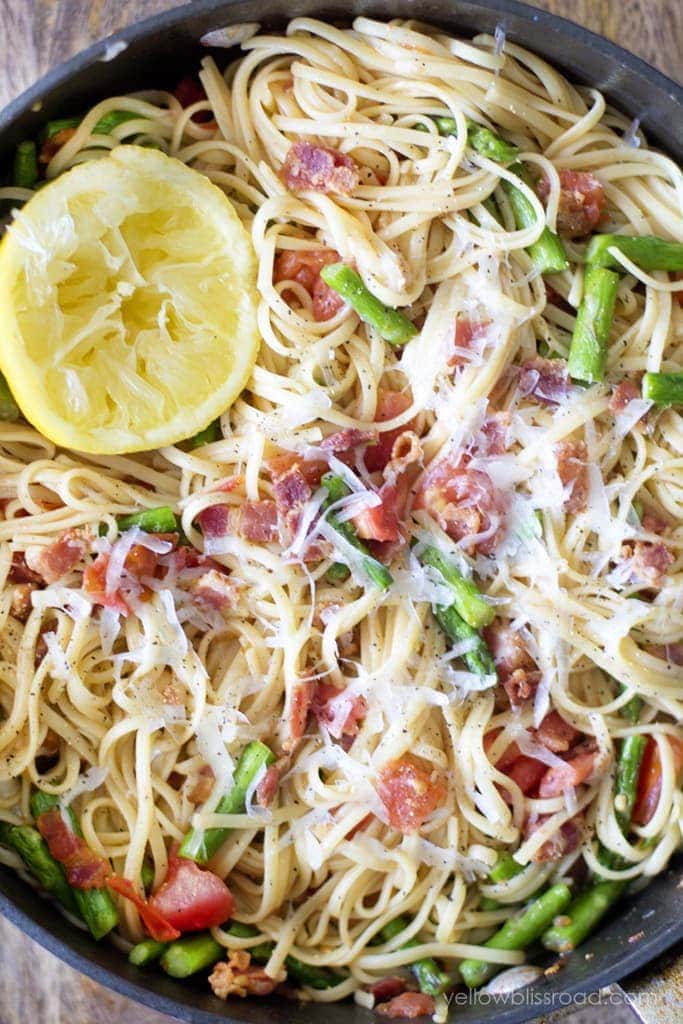 One Pan Cheesy Chicken Apple Sausage Pasta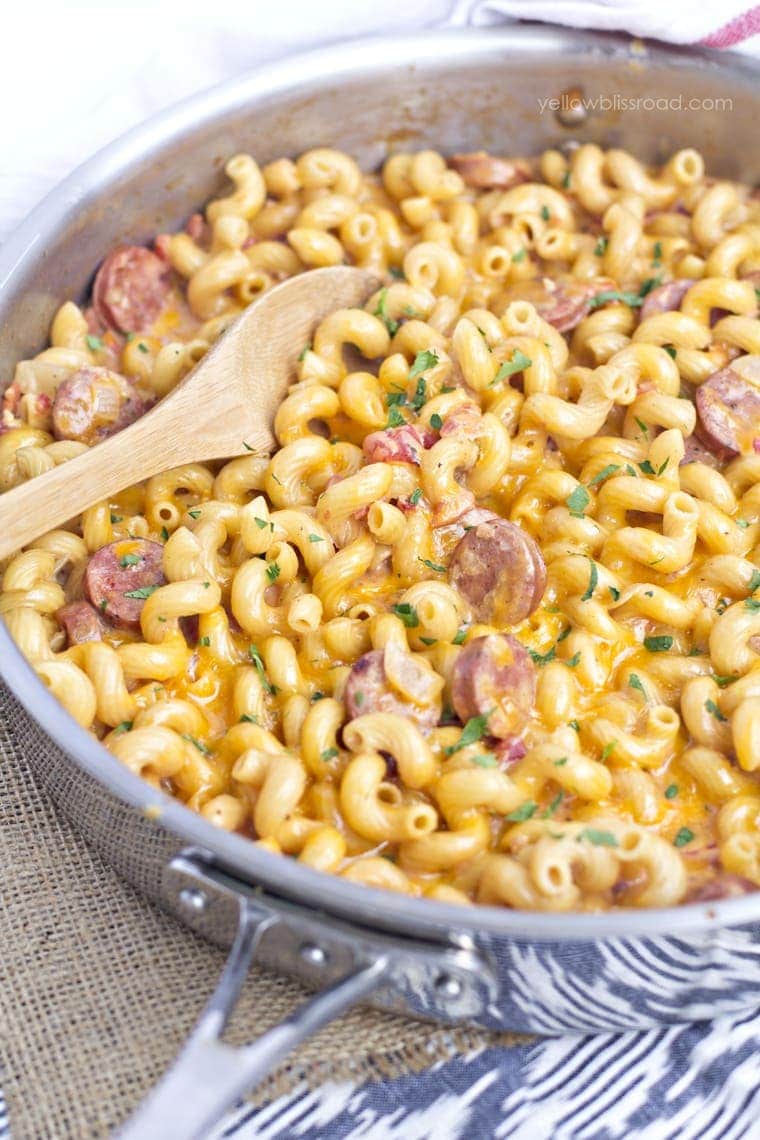 For all pasta recipes go HERE.
For all dinner recipes go HERE.
For our Recipe Index, go HERE.
Hi! I'm Kristin, the creative mind behind Yellow Bliss Road where you will be inspired by tons of easy to follow recipes, lots of free printables, and a little sprinkling of life thrown in for good measure.