Indulge in the ultimate comfort food that is the perfect Cheese Spaghetti. Velvety smooth and undeniably rich, this cheesy spaghetti recipe comes together in under 20 minutes, making it a perfect weeknight meal.
This simple pasta dish is as delicious as an indulgent meal (hello comfort food!) as it is as a side dish for other favorites like Grilled Steaks or Baked Chicken Breasts.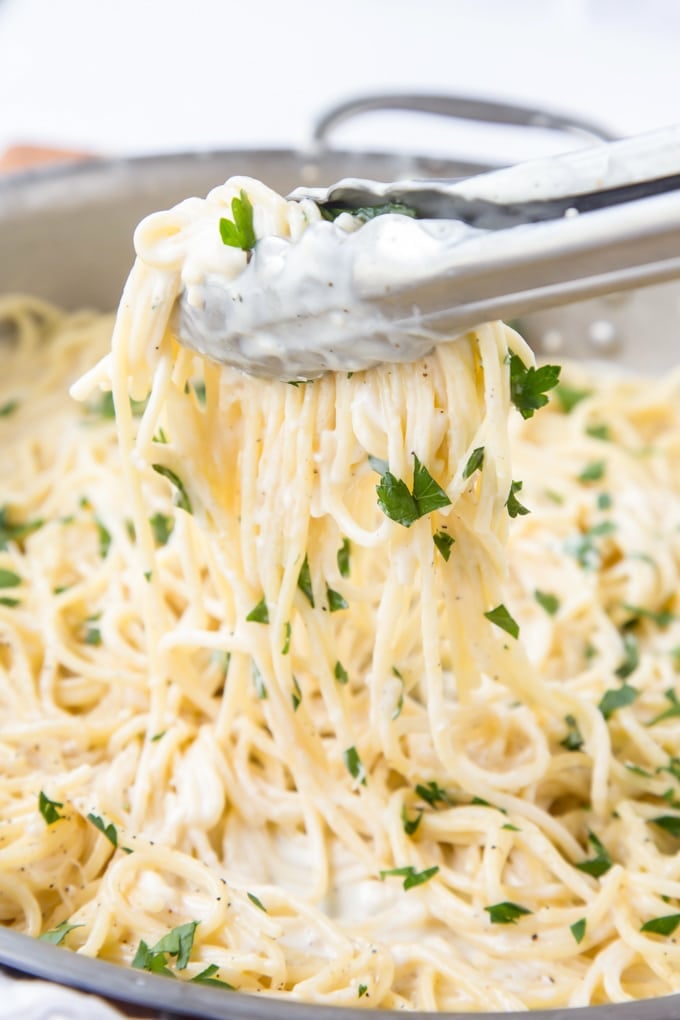 Pin this recipe for later!
Four Cheese Spaghetti Recipe
This Cheesy Spaghetti combines the beloved flavors of pasta and cheese into a creamy, satisfying meal. Always on the hunt for quick and easy dinner ideas? This definitely fits the bill!
Imagine perfectly cooked spaghetti strands coated in a luscious cheese sauce, each bite oozing with rich, melty goodness. Whether you prefer classic recipes or creative variations, this spaghetti with cheese sauce offers a world of possibilities to tantalize your taste buds.
I pulled this creamy spaghetti dish together with whatever was in my fridge one day when I was craving something ultra comforting and heavy in the cheese and pasta categories. I had Romano, Parmesan, Mozzarella and cream cheese which ended up being just right for this cheesy spaghetti.
Key Ingredients
Spaghetti – While you certainly can use other types of pasta, like linguine, fettuccine or rotini, spaghetti is the best for this recipe. The cheese clings to each strand of pasta for creamy cheesiness in each and every bite.
Butter and Olive Oil – When I saute garlic, I prefer using a combination of the two. Butter adds richness and flavor while olive oil keeps the butter from burning.
Garlic – I added a decent amount but you could use less or more to your preference.
Cheese – Don't skimp here. Use good quality cheese, and grate directly from the block when possible. I used Mozzarella, Parmesan, Romano and cream cheese.
Heavy Cream – The base of the sauce, combined with the cheese. You will also want to save about a cup of pasta water to mix in as well.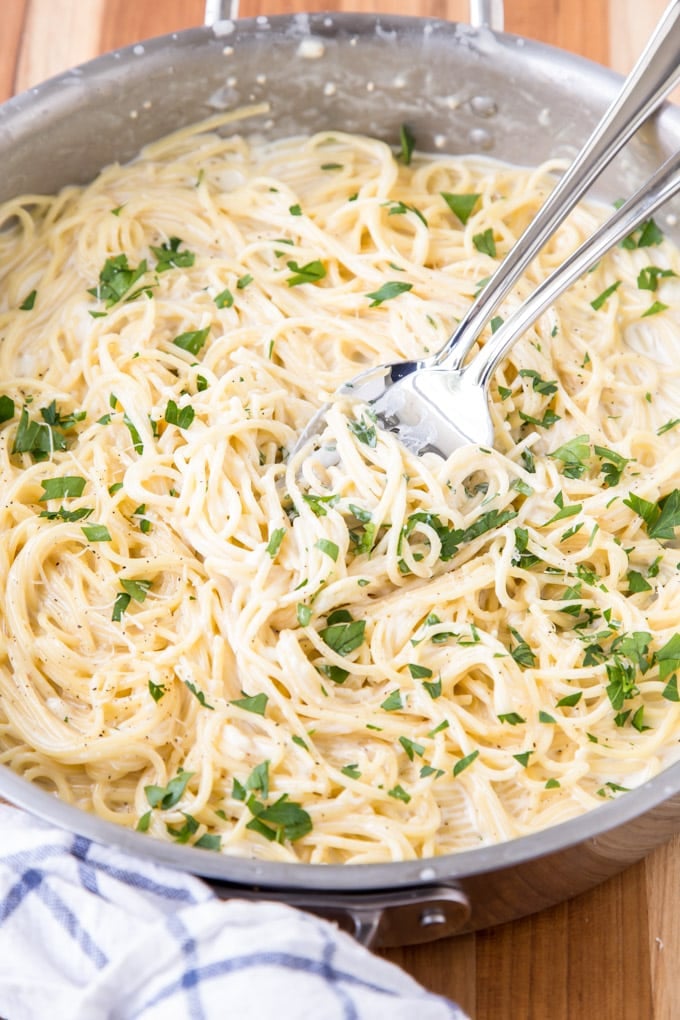 How to Make Cheese Spaghetti
Cook the Spaghetti. Start by boiling some spaghetti in a large pot of salted water until it's al dente. Or if you're my kids, throw it against the wall and if it sticks, it's done.
Saute the Garlic. The sauce comes together quickly, so it's best to start it when the spaghetti is about halfway finished. Melt some butter and olive oil together in a large pot or skillet, then add some minced garlic. You can smash your garlic yourself or you can take the easy route and use jarred minced garlic.
Make the Sauce. That will take a few minutes and by the time the garlic is smelling awesome, the pasta should be finished and ready to add to the garlic and butter. Add some of starchy pasta water too, and heavy cream and cream cheese. Let it bubble then add the other cheeses.
Melt the Cheeses. Keep cooking and stirring and stirring and cooking until that sauce is thick and smooth and creamy and coats the pasta.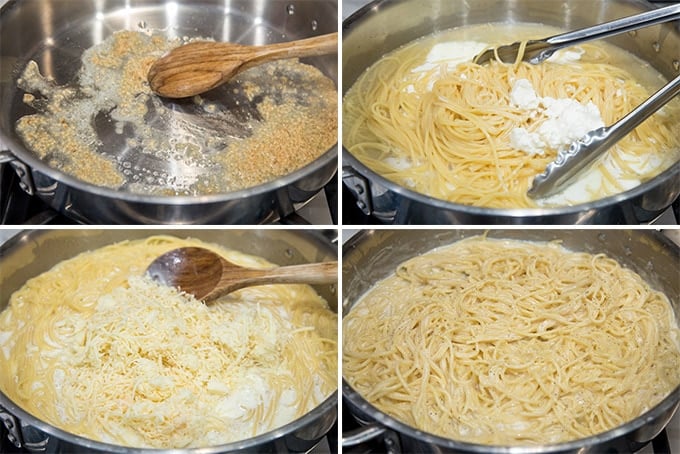 The whole process takes about 20 minutes from start to finish, and then you have this delicious pan of yummy, creamy, cheesy pasta goodness.
It makes about 2-3 servings as a meal, or 4-5 if you add a protein like chicken or shrimp or serve it as a side dish.
FAQs
What kind of cheese do you put on spaghetti?
There are several different cheeses that pair well with spaghetti. Parmesan is the first that comes to mind of course, but also Romano, Mozzarella, Fontina or Ricotta are some favorites.
What is cheese spaghetti, and how is it different from regular spaghetti?
Traditional spaghetti incorporates a red sauce where cheese is merely a garnish. In this creamy spaghetti with cheese recipe, it's the star!
What types of cheese work best for this recipe?
Cheeses like Parmesan, Mozzarella, Cheddar, Gruyere, and Fontina are commonly used in cheese spaghetti recipes for their melting properties and flavor.
What are some creative add-ins or mix-ins for cheese spaghetti?
Popular add-ins for cheese spaghetti include cooked bacon, sautéed mushrooms, roasted vegetables, diced tomatoes, and fresh herbs for added flavor and texture. You could also top with grilled chicken or
Blackened Shrimp.
How do I cook spaghetti to achieve the perfect al dente texture?
Follow the package instructions for cooking time, but start checking the spaghetti a minute or two before the recommended time. It should be cooked until firm but not mushy.
Serving Suggestions
Toppings like fresh basil, chopped parsley, grated Parmesan cheese, red pepper flakes, or a drizzle of olive oil can enhance the flavors and presentation of cheese spaghetti.
As a side dish, this cheesy pasta recipe pairs well with these main dishes: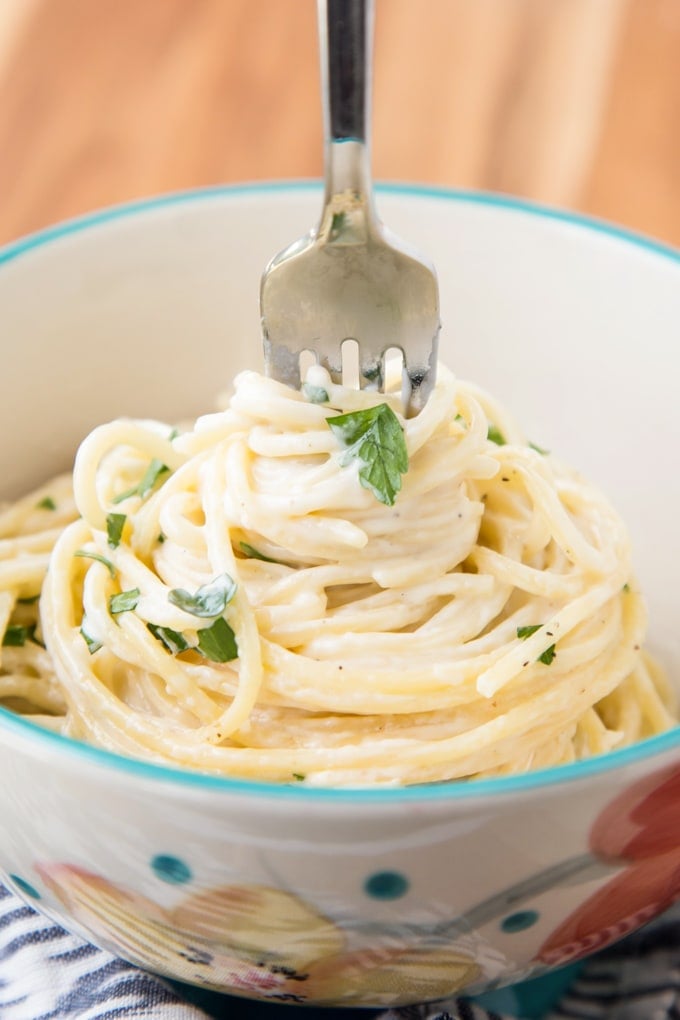 Helpful Tips and Take-Aways
Use high-quality cheese: Opt for real cheese and avoid processed cheese products for a richer and more flavorful result.
Experiment with cheese combinations: Mix different cheeses like Parmesan, Mozzarella, and Gruyere to create a unique and complex flavor profile.
Grate the cheese yourself: Freshly grated cheese melts better and has a superior texture compared to pre-packaged shredded cheese.
Add cheese gradually: Incorporate the cheese into the spaghetti gradually, allowing it to melt and coat the pasta evenly.
Reserve pasta water: Before draining the cooked spaghetti, save some of the starchy pasta water. It is used to adjust the consistency of the cheese sauce if needed.
Stir constantly: When combining the cheese with the spaghetti, stir continuously to prevent clumping and ensure a smooth and velvety sauce.
Season thoughtfully: Taste the cheese sauce before adding additional salt or seasonings since some cheeses can be naturally salty.
Customize with mix-ins: Enhance your cheesy pasta by adding cooked vegetables, herbs, or protein like grilled chicken or shrimp to add extra flavor and texture.
Consider breadcrumb toppings: For a crispy and crunchy texture, top your the spaghetti with toasted breadcrumbs and broil for a moment before serving.
Serve immediately: This dish is best enjoyed right after cooking to savor the gooey and melty cheese goodness. Reheating may result in a less desirable texture.
More Pasta Recipes
Recipe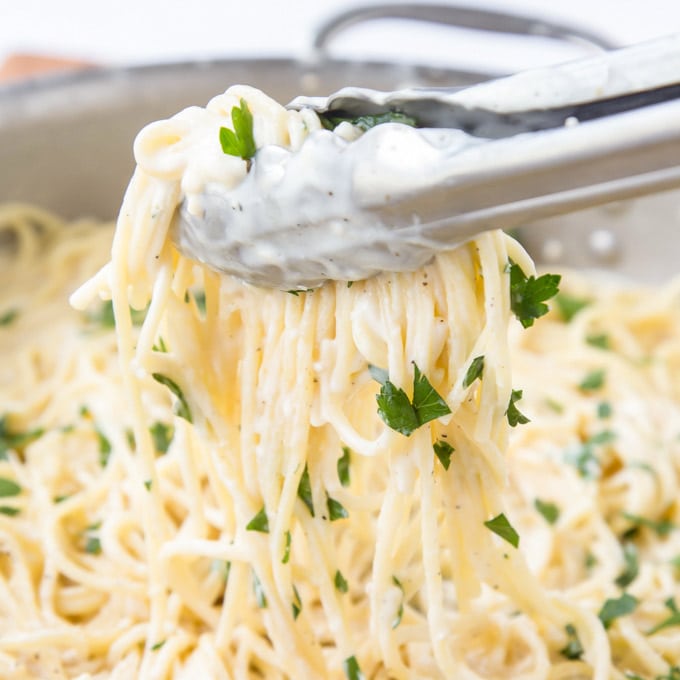 Cheese Spaghetti Recipe
Cheese Spaghetti is the ultimate comfort food. Velvety smooth and undeniably rich, this cheesy spaghetti recipe is ready in under 20 minutes!
Ingredients
8

ounces

spaghetti

uncooked

1

tablespoon

butter

1

tablespoon

olive oil

1 1/2

tablespoons

minced garlic

1/2

cup

freshly shredded Mozzarella

1/2

cup

freshly shredded Parmesan Cheese

1/2

cup

freshly shredded Romano Cheese

2

tablespoons

whipped cream cheese

2/3

cup

heavy cream

Salt and pepper to taste

2

tablespoons

fresh

chopped flat-leaf parsley
Instructions
Boil salted water in a 3-quart pot. Add spaghetti and cook for about 7-8 minutes, until al dente. Drain, reserving 1 cup of pasta water.

In a 10-12 inch saute pan, melt butter and olive oil over medium heat. Add garlic and stir, cooking for about a minute.

Add spaghetti, 1 cup of pasta water, cream cheese and heavy cream to the skillet. Bring to a boil and add shredded cheeses. Stir constantly until cheeses are melted and pasta is completely coated; about a minute. Reduce heat and continue to cook and stir until sauce is thickened and reduced; about 1-2 minutes.

Remove from heat and stir in parsley. Taste and add salt and pepper as desired.

Serve hot, and garnish with more fresh parsley and some fresh grated Parmesan, if desired.
Notes
Easily double the recipe to serve as the main course, or make it as is to serve as a side dish.
I always love the classic pairing of garlic bread and a green salad with any type of pasta.
Nutrition
Calories:
763
kcal
Carbohydrates:
62
g
Protein:
28
g
Fat:
45
g
Saturated Fat:
25
g
Polyunsaturated Fat:
2
g
Monounsaturated Fat:
14
g
Trans Fat:
1
g
Cholesterol:
123
mg
Sodium:
665
mg
Potassium:
312
mg
Fiber:
3
g
Sugar:
4
g
Vitamin A:
1491
IU
Vitamin C:
3
mg
Calcium:
546
mg
Iron:
2
mg