An easy to whip up pasta dish that is light and full of flavor, this Lemon, Bacon and Asparagus Pasta is sure to be a new favorite!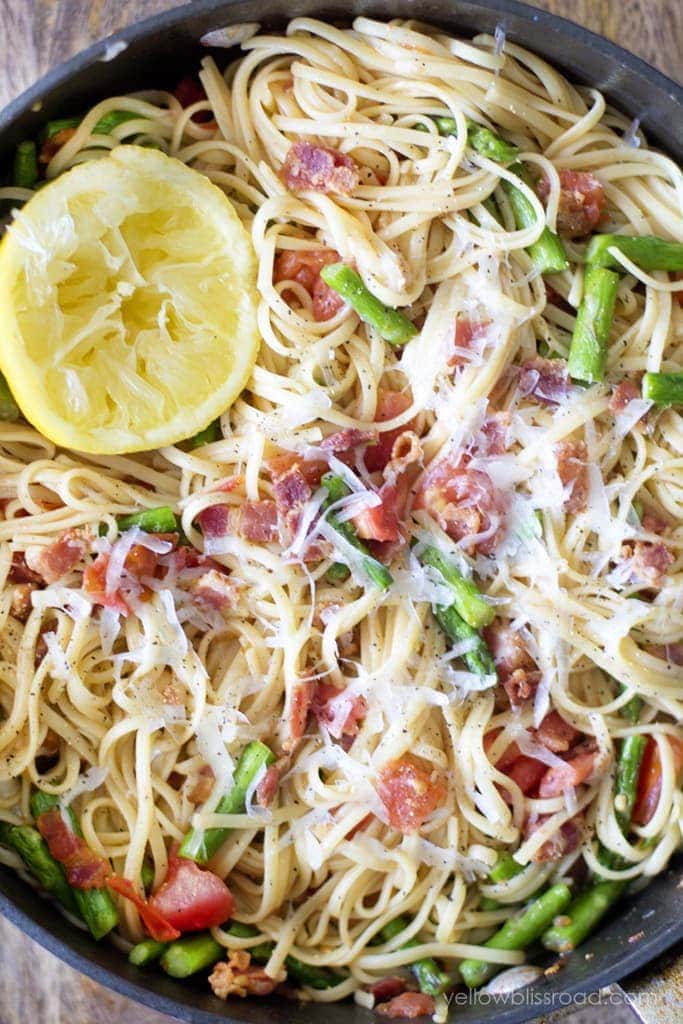 A few weeks ago I was supposed to be heading to a blog conference with some blogging peeps to Phoenix, but the night before we were supposed to leave I came down with a wicked nasty stomach virus. I was so disappointed that I wasn't able to go! Since my mom had planned to watch the kids anyway, she still kept them for the weekend and I got such much needed recovery time and rest. By Saturday though, I was feeling back to normal and decided to take the opportunity to try out some new recipes.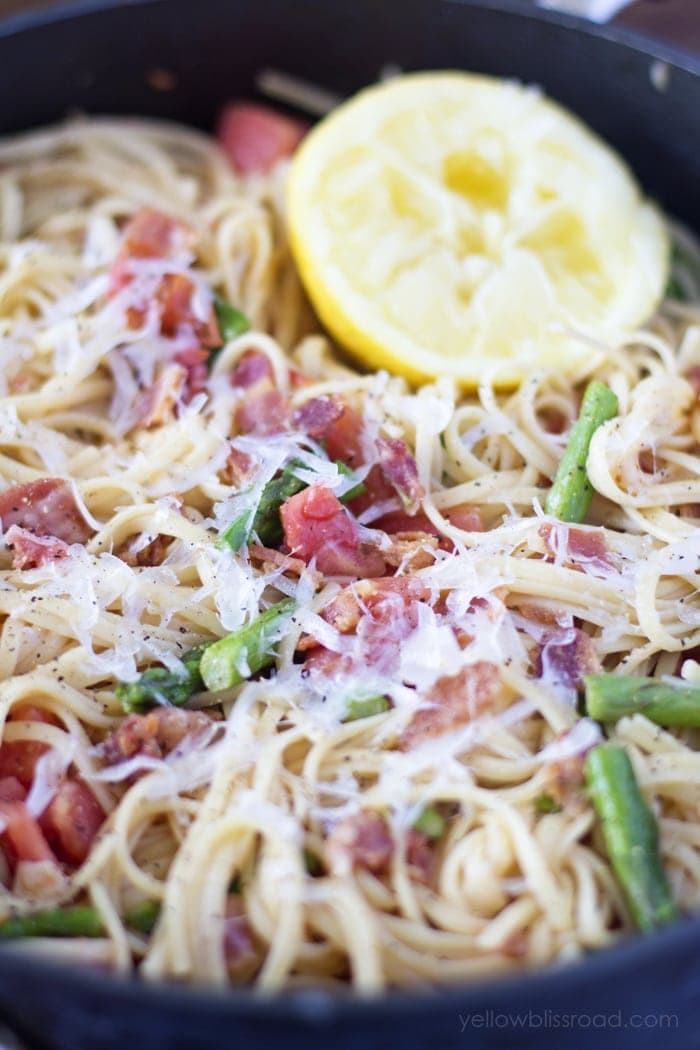 This particular one has been on my mind for quite a while. It's sort of a combination of my One Pan Spicy Lemon Tomato Pasta and this Bacon Asparagus Pasta from Gimme Some Oven. Her pasta recipe reminds me of something my roommate and I would whip up late at night years (or is it early in the morning) ago when we lived in a tiny apartment and would stay out waaay past our bedtimes.
The bacon and the asparagus were calling my name on this particular day so I decided to whip this up. I had some juicy Roma tomatoes and of course tons of lemons (thank you lemon tree!). After making this dish the first time, I thought it needed just one more dimension of flavor so I added some red pepper flakes to help kick it up a notch.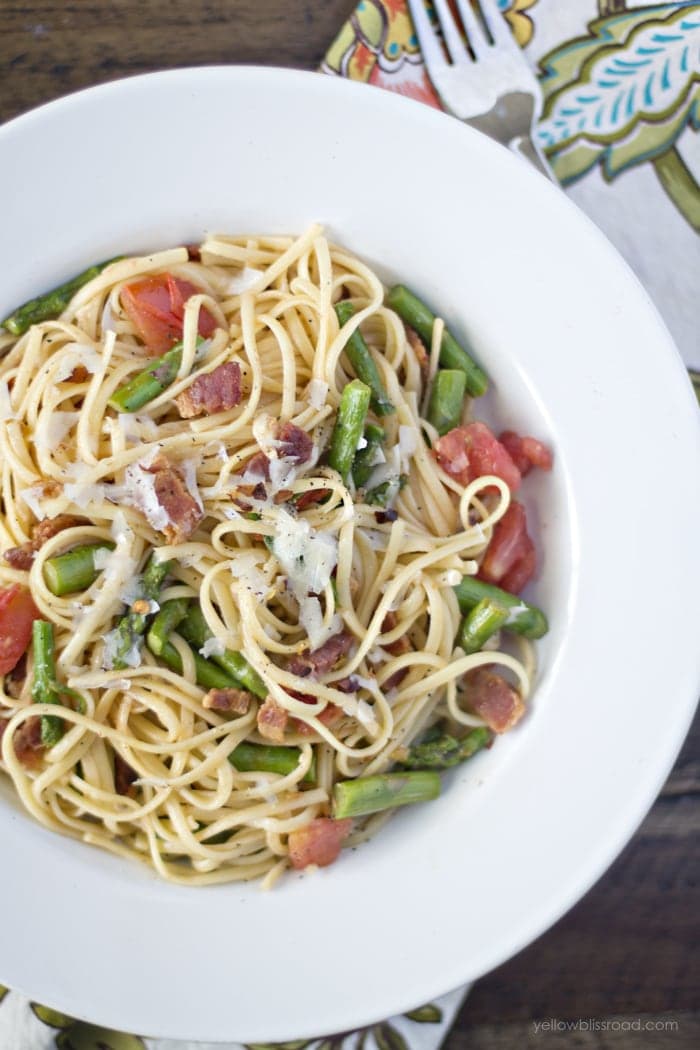 Just a pinch of black pepper at the end finished it off. And then I finished off the whole plate. Unlike my typical one pan meals, the pasta is cooked separately, however I think you could totally make it a one pan by just increasing the amount of chicken stock (similar to the Spicy Lemon Pasta I mentioned earlier).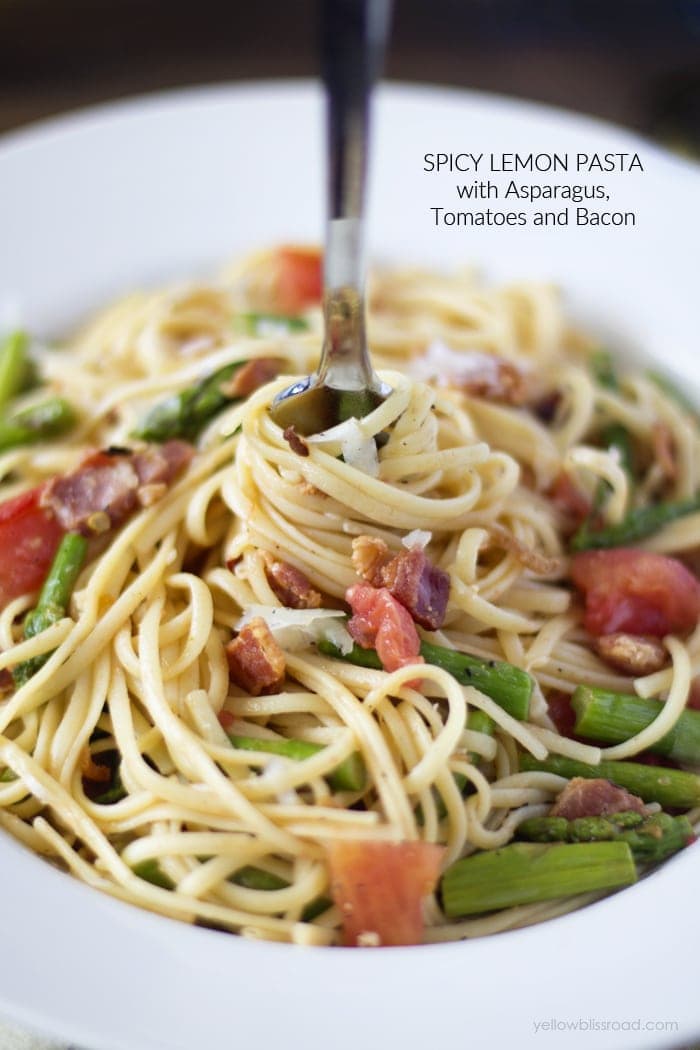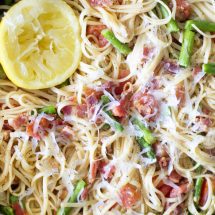 Spicy Lemon, Asparagus & Bacon Pasta
Print
Pin
Rate
Prep Time: 10 minutes
Cook Time: 15 minutes
Total Time: 25 minutes
Servings: 4 servings
Ingredients
1 lb linguine pasta uncooked
1/2 lb uncooked bacon diced
1/2 lb asparagus woody ends trimmed and cut into two inch pieces
2 Roma tomatoes diced
2 lemons
1/2 cup chicken stock
1/2 teaspoon red pepper flakes
2 teaspoons minced garlic
1/2 cup fresh grated Parmesan
Fresh black pepper to taste
Instructions
Cook the linguine according to package directions.

While the pasta is cooking, heat a large saute pan over medium heat. Add bacon and cook until crisp. Remove with a slotted spoon to a paper towel lined plate to drain. Swipe some of the bacon grease out of the pan if necessary, leaving about 2 tablespoons.

Add asparagus to the pan and saute in the bacon grease for a few minutes, until bright green and still crisp (about 3 minutes). Remove with a slotted spoon and set aside.

Add chicken stock, red pepper flakes, garlic and juice from one lemon to the pan. Bring it to a gentle boil and scrape the bottom of the pan to deglaze. Cook for about 5 minutes or until the stock is reduced by about half.

Add the tomatoes to the pan and cook for one minute, just until heated through. Add the pasta, bacon and asparagus to the pan and gently toss it together with the Parmesan.

Divide into bowls and serve hot. Top with freshly cracked black pepper if desired.

  For more quick and easy pasta dishes, be sure to try these: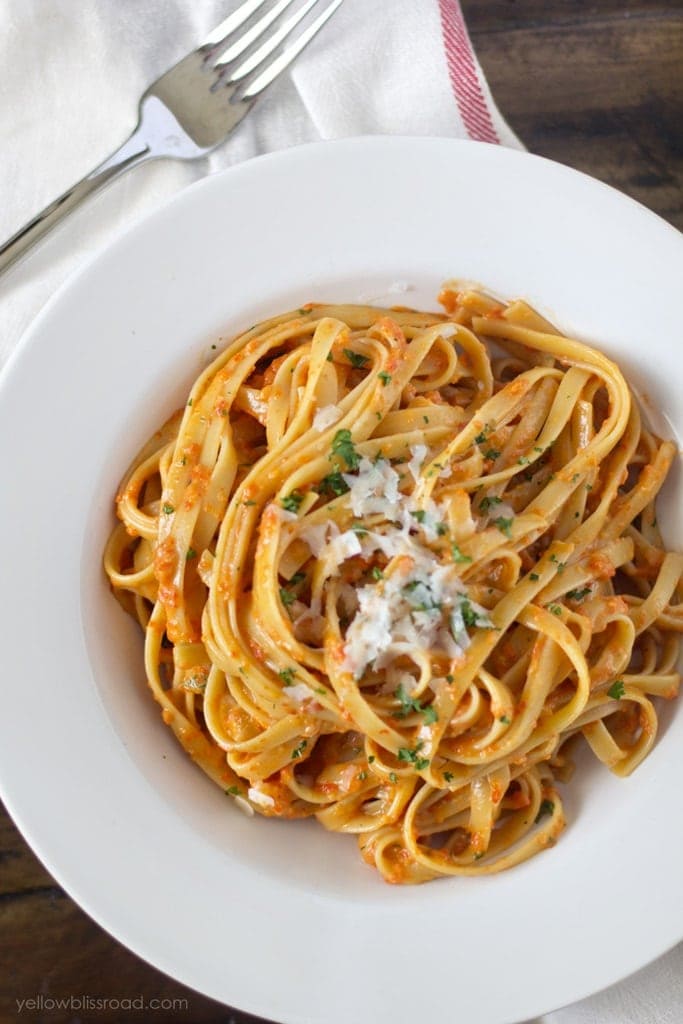 Roasted Red Pepper Fettuccine Alfredo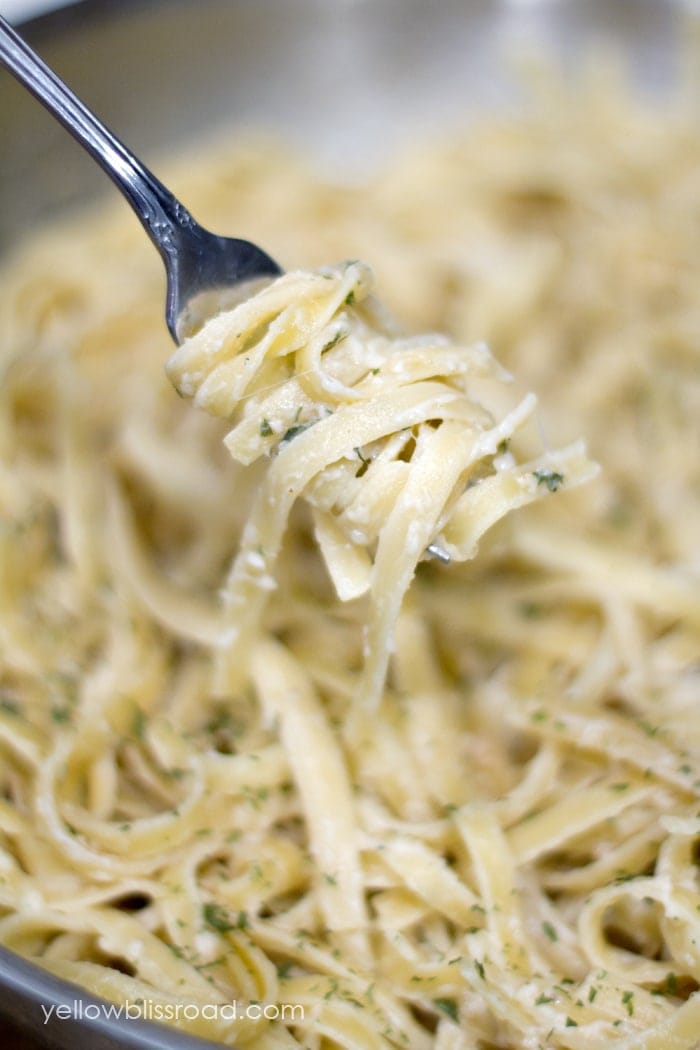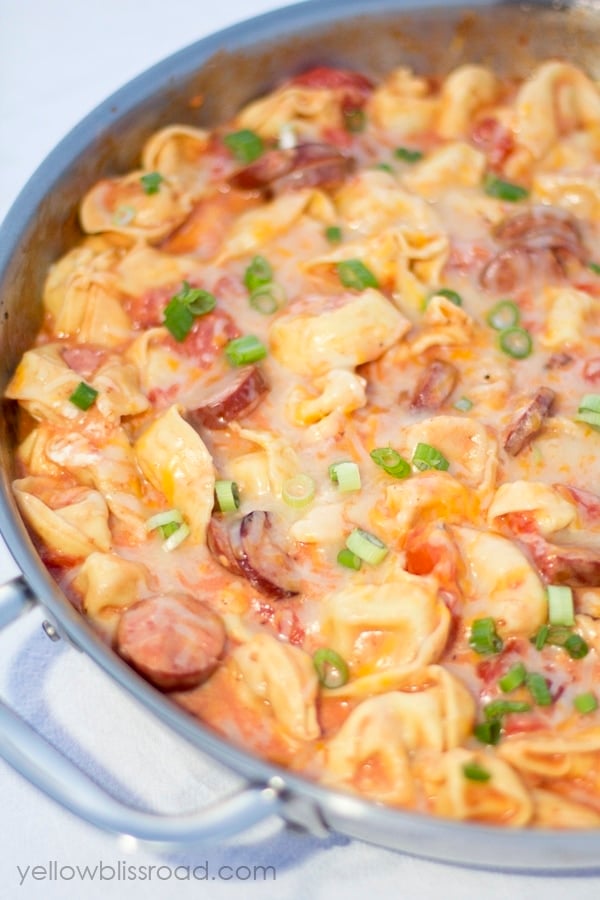 One Pan Creamy Smoked Sausage and Tortellini
For all main dish recipes, go HERE and for all recipes, go HERE.