An incredibly rich and creamy sauce made with roasted garlic, roasted red peppers and fresh grated Parmesan that makes for a tasty and elegant meal!
I've always loved the roasted flavor of red peppers. I recently came across a couple of different recipes for Red Pepper Alfredo Sauce and thought it would be the perfect combination of the sweet pepper flavor with the saltiness of the Parmesan cheese. The only thing was they all used jarred roasted red peppers. Now, there's absolutely nothing wrong with taking a shortcut like that – I do it all the time. But for this, I really wanted to capture that fresh, oven roasted taste so I decided to roast them myself.
The process is super easy, and is just quartering and gutting the peppers, roasting them under the broiler and finally steaming them in a plastic (or paper) bag before peeling.

MY LATEST VIDEOS
See how black the skins get? They peel right off after they've steamed!
Since garlic is my all time favorite flavor, I decided to roast some garlic for the sauce too. The method is super easy but does take about an hour. Click here for how to roast garlic in the oven. You could leave this step out if you're not a fan of garlic, or if you want a heavier garlic flavor, use a tablespoon of fresh minced instead. The roasting though brings out the sweetness which is so divine.
Once the peppers and garlic are roasted and chopped into fine pieces, blend them together with some sauteed onion.
I use my Ninja Blender, but you could also use a food processor. This will mostly puree the vegetables and will leave you with a slight texture that I love.
Next add some chicken or vegetable broth, heavy cream and nonfat milk along with salt, pepper and fresh herbs like parsley or basil. Be sure to taste and adjust the seasonings at this point. For the final touch, remove from the heat and stir in some freshly grated Parmesan cheese. Toss in some cooked fettuccine and garnish with fresh Parmesan and chopped parsley.
Roasted Garlic and Red Pepper Fettucine Alfredo
Ingredients
6 large Red Bell Peppers, cut into quarters with seeds and membranes removed
2 heads of garlic, roasted and mashed (about 2 tablespoons) (directions here)
16 ounces Fettuccine
1 tablespoon olive oil
1/2 medium onion, diced (about 3/4 cup)
2 tablespoons butter
1 cup vegetable or chicken broth
1/4 cup heavy cream
1/4 cup nonfat milk
1/2 cup freshly grated Parmesan cheese
1 tablespoon fresh chopped parsley
salt and pepper to taste
Instructions
Roast garlic according to instructions here. (*note - this step takes about an hour. If you prefer, just use about 6 cloves of garlic minced and saute with the onions in step 4). Set aside.
Set oven to broil. Place red bell pepper quarters skin side up on a foil lined baking sheet. Place under the broiler for about 10-15 minutes or until skins are blackened all around. Remove from the oven and place peppers in a sealed ziploc bag for 10 minutes. Remove the skins with your fingers (they should slip right off). Roughly chop the softened peppers. Set aside.
Cook pasta in heavily salted water to al dente, according to package directions. Drain and set aside.
Meanwhile, in a 5 quart pot, heat olive oil over medium heat and cook onions until soft; about 5 minutes. (If using raw garlic, add it during the last minute of cooking time).
Carefully transfer roasted peppers, garlic and onions to a blender or food processor and puree.
Add butter to the pot and melt over medium heat. Pour the red pepper puree into the pot. Add broth, heavy cream, nonfat milk (or any combination of cream and milk) and a pinch of salt and pepper. Stir to combine, taste and add a pinch of salt and pepper as desired.
Remove pan from heat and stir in Parmesan cheese and parsley. Add half of the pasta and gently toss to coat. Add remaining pasta and toss.
Garnish with grated Parmesan and chopped parsley and serve immediately.
Adapted from The Pioneer Woman.
For more amazing pasta recipes, be sure to check these out: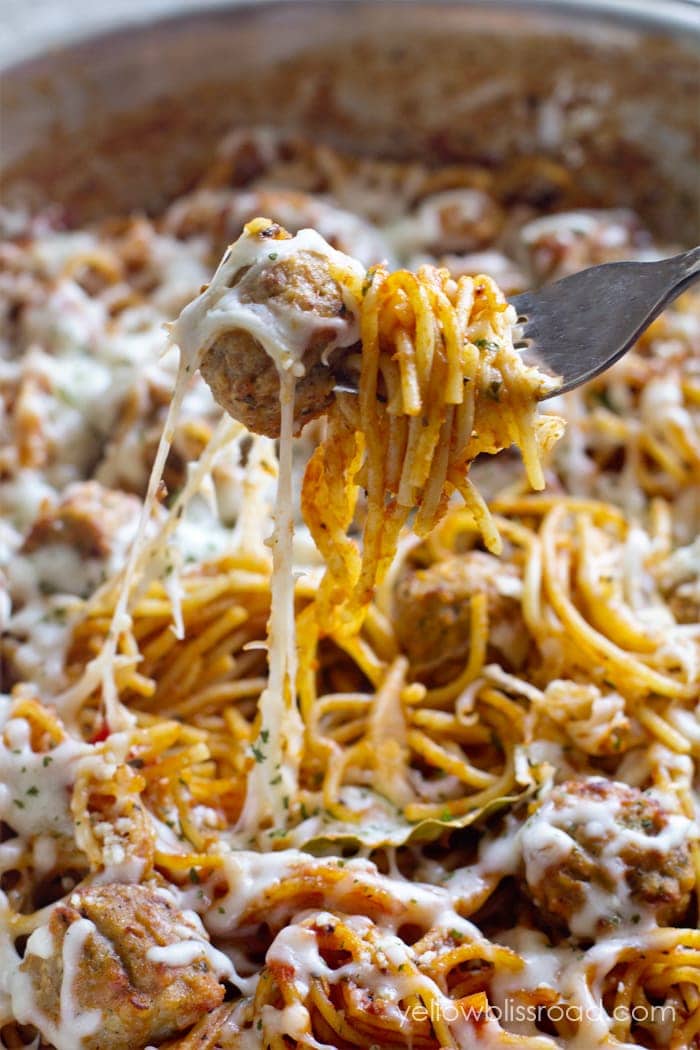 One Pan Spaghetti and Meatballs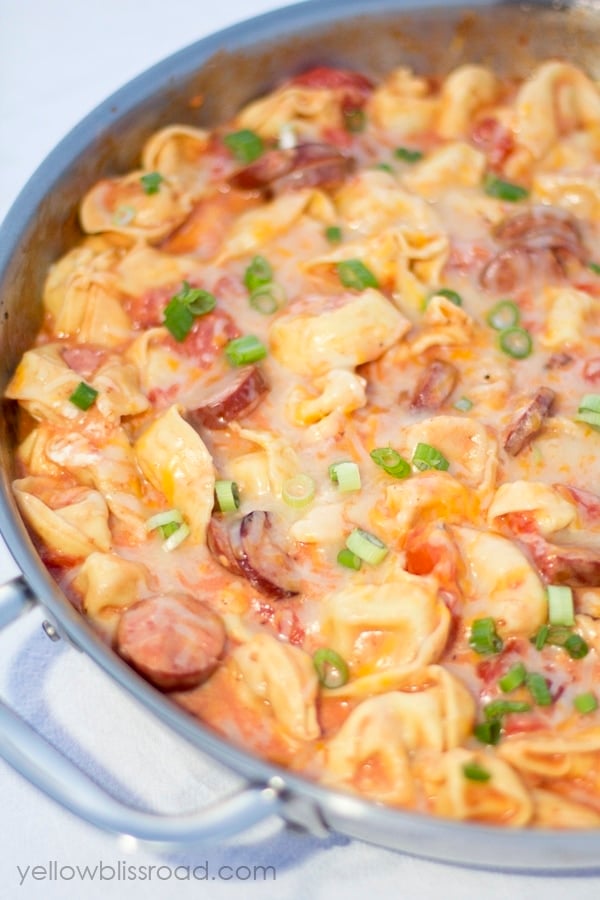 One Pan Creamy Sausage and Tortellini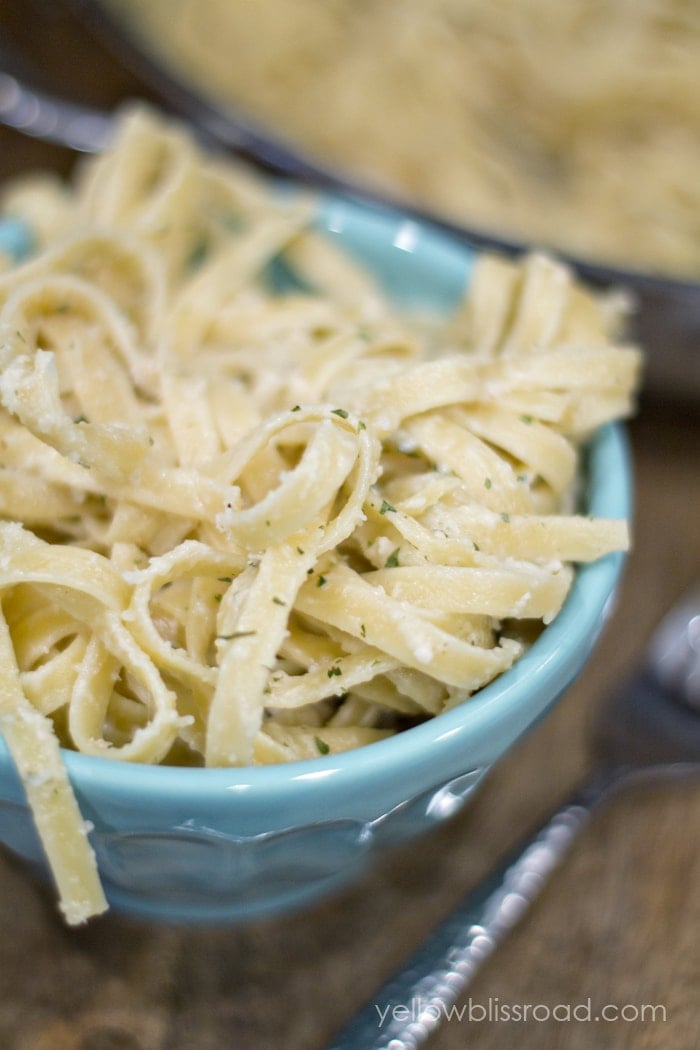 One Pan Garlic and Parmesan Pasta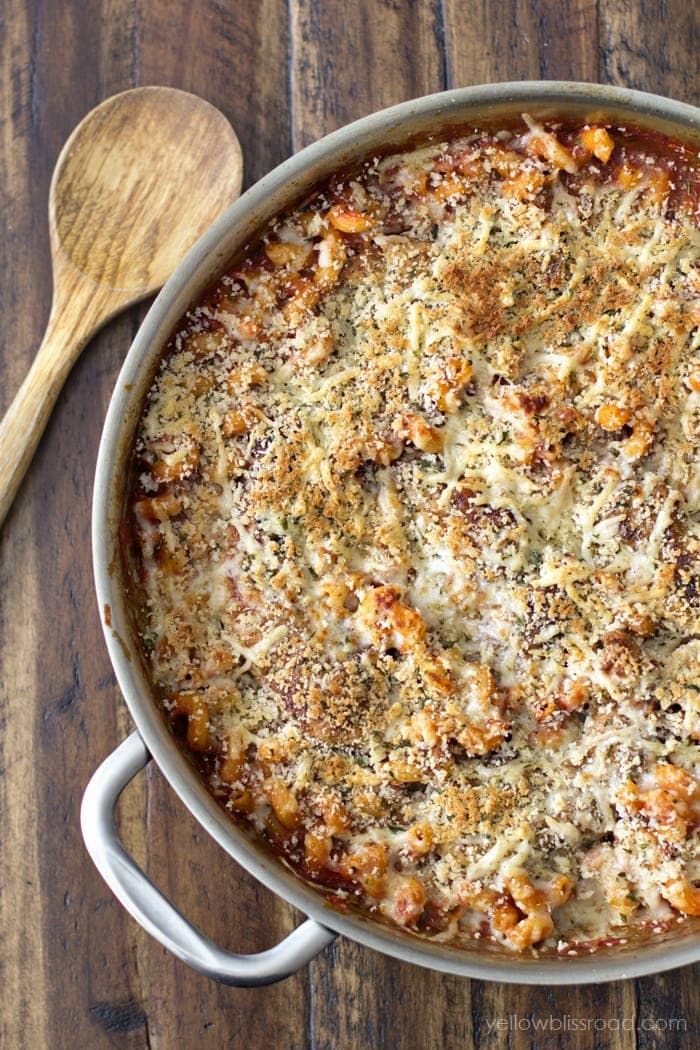 For all dinner recipes go HERE and for all recipes go HERE.
Hi! I'm Kristin, the creative mind behind Yellow Bliss Road where you will be inspired by tons of easy to follow recipes, lots of free printables, and a little sprinkling of life thrown in for good measure.