Roasting garlic is a great way to add mellow garlic flavor to all your favorite dishes. Learn how to roast garlic in the oven in just a few simple steps!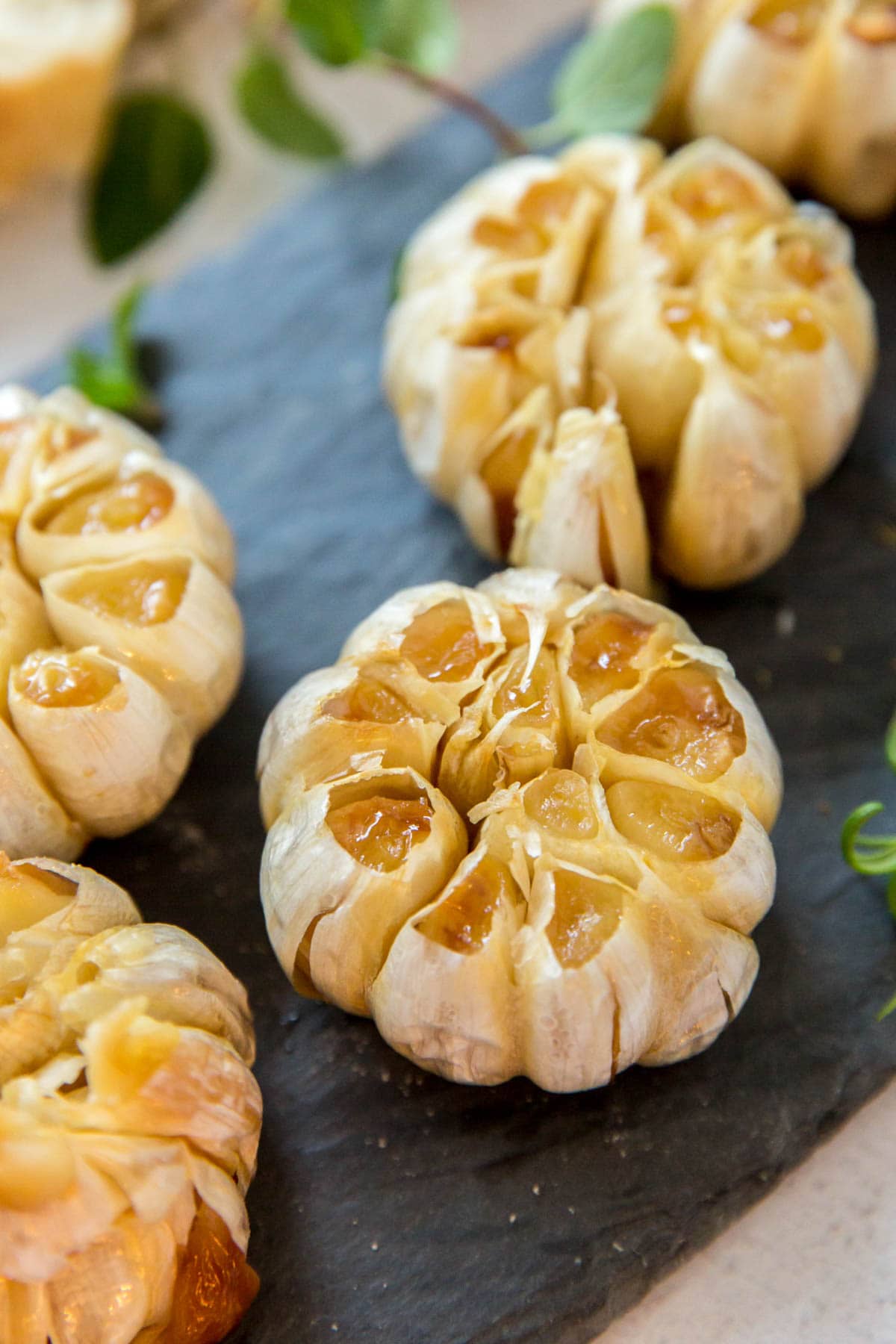 Pin this recipe for later!
Why I Love Roasting Garlic
Roasting garlic transforms the pungent, sharp flavor of raw garlic into something much more mellow and sweet.
Roasted garlic takes on a creamy texture and a rich, caramelized flavor that can elevate many dishes. It can be spread on bread, used in Garlic Butter Pasta or for making Garlic Butter, added to soups, dips, and sauces, or used as a simple but luxurious topping for steaks and other meats.
Plus, roasting is a relatively simple process that requires minimal equipment (just foil and a sheet pan!) and ingredients (garlic and olive oil!), making it easy for anyone to execute.
Roasting Garlic in the Oven
Preheat your oven to 425℉.
Slice the "hairy" end of the head of garlic.
Set in the center of a piece of foil. Drizzle olive oil on top and sprinkle with salt.
Wrap up in the foil.
Roast for 50 minutes.
Cool, then squeeze out the roasted garlic.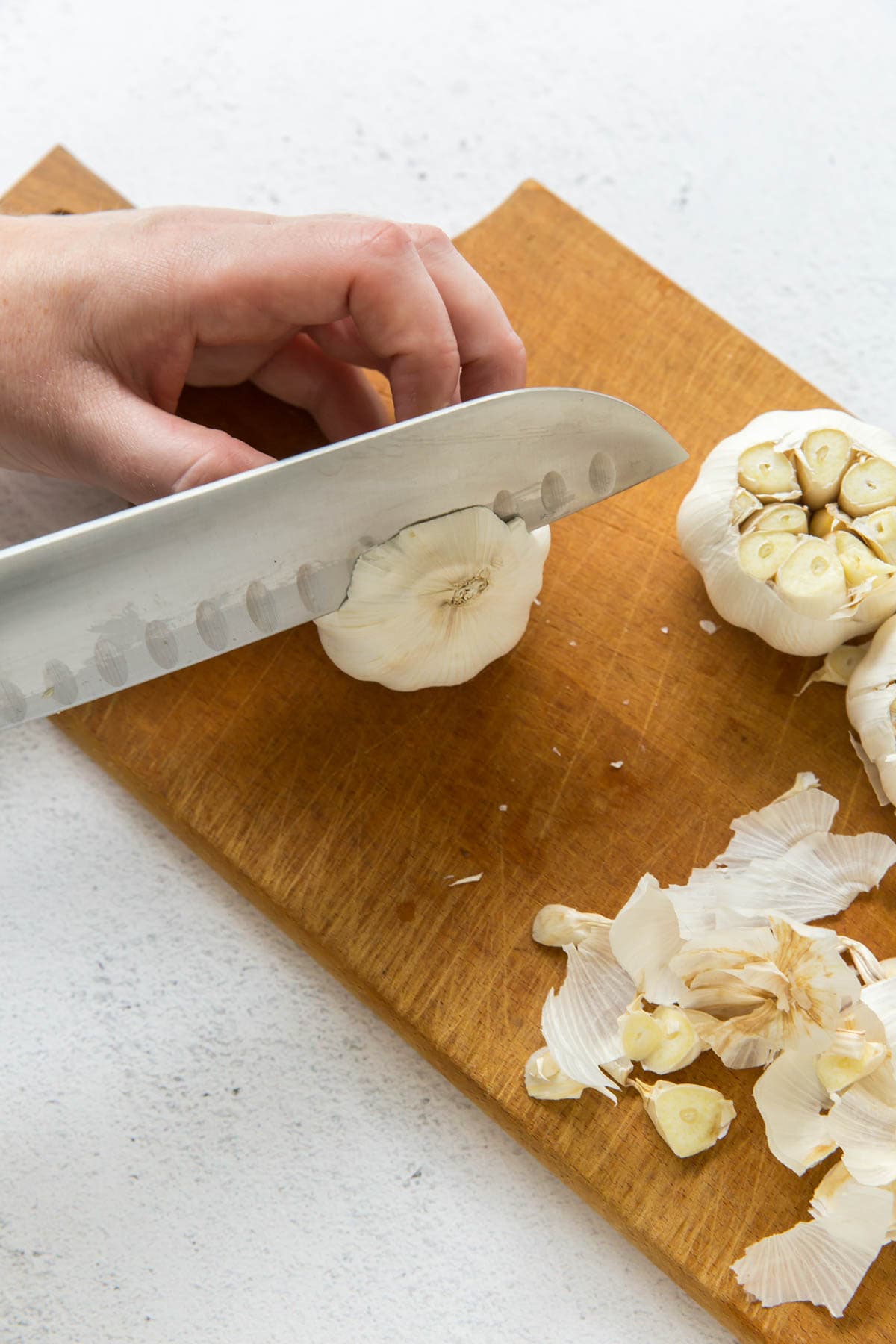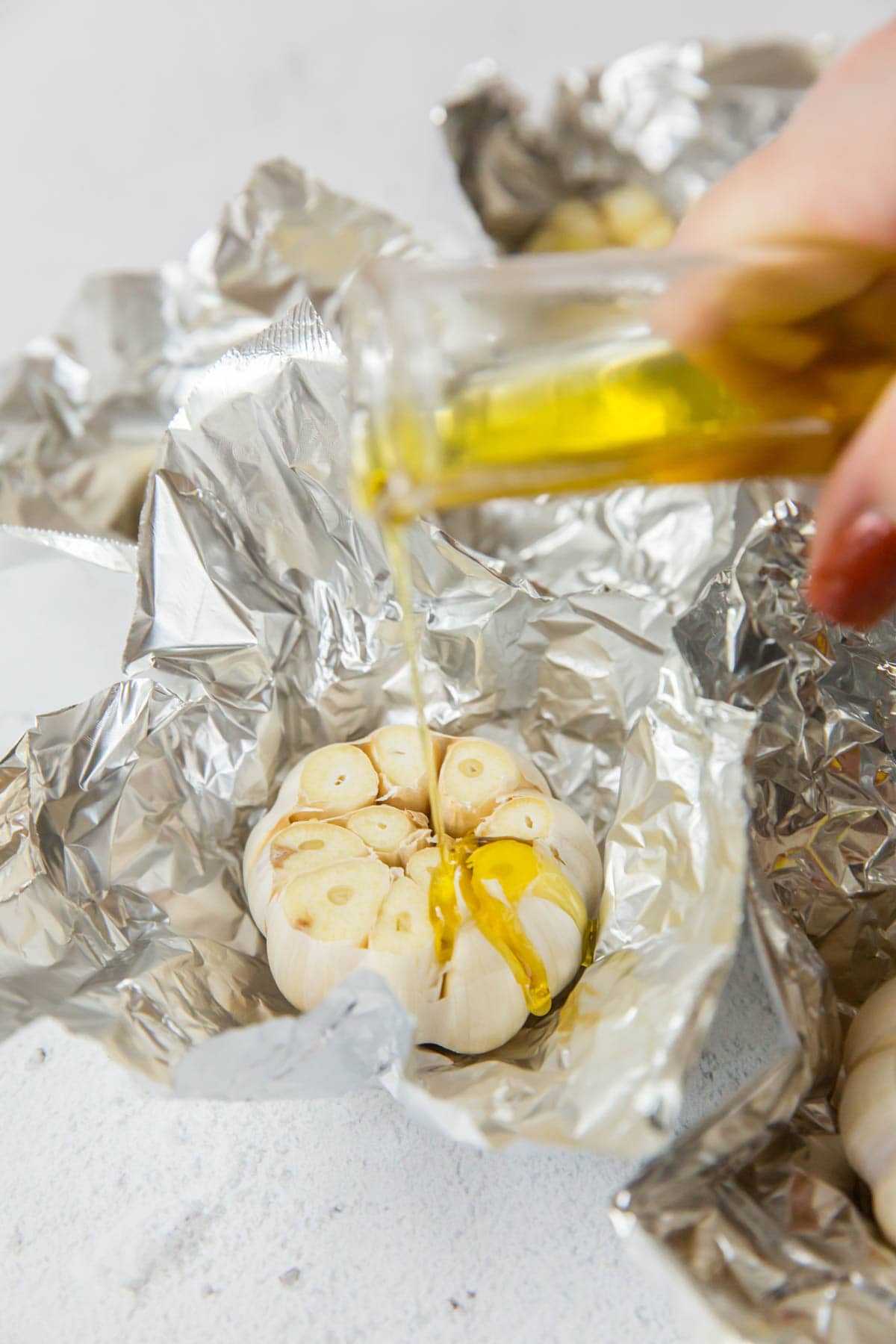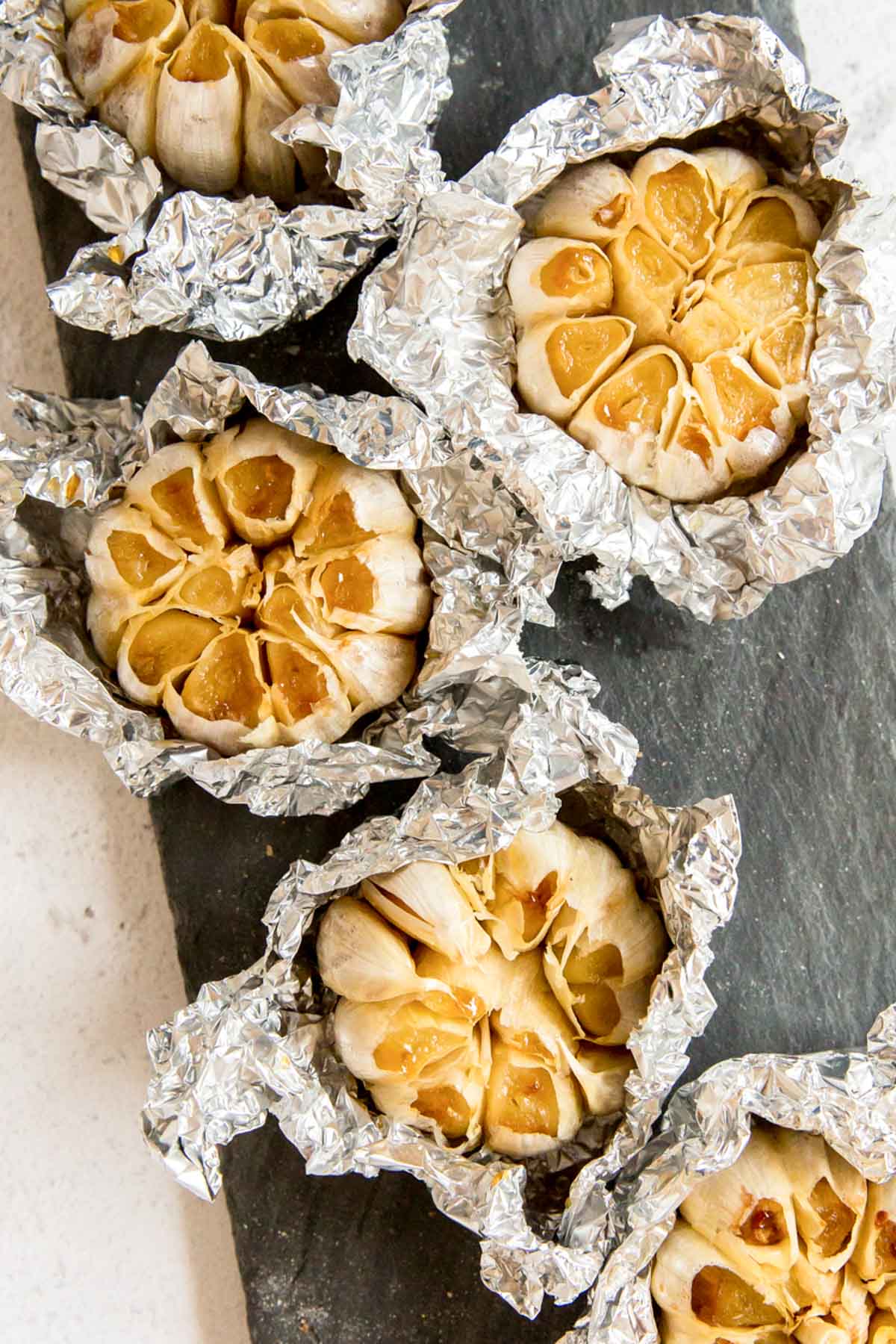 FAQs
What temperature do you roast garlic at?
Preheat the oven to 425℉. Then roast the garlic heads for about 50 minutes.
What are common mistakes to avoid when roasting garlic?
Not peeling enough of the papery outer layers, cutting too much off the top, or not using enough oil.

Overcooking can make the garlic bitter and unpalatable. Always keep an eye on your garlic, especially as it nears the end of its roasting time.
How do I know when the garlic is fully roasted?
The garlic is fully roasted when the cloves are golden or slightly browned in color and soft to the touch. Test by poking a toothpick in one of the cloves; it should be tender and easily pierced.
What To Do With Roast Garlic
Now comes the fun part. Grab a fork, and mash that roast garlic all up. Add some salt or fresh herbs if you'd like, and spread it on French bread for a uniquely flavored garlic bread.
It's also one-half of a delicious sauce in my Roasted Garlic and Red Pepper Fettuccine Alfredo. Add whole roasted garlic cloves to pasta, vegetables, or garlic mashed potatoes.
Some more of our favorite garlic recipes that would be great with roast garlic include:
Storing Roasted Garlic
Refrigerate: Leftover roasted garlic can be stored in an airtight container in the refrigerator for up to two weeks.
In Olive Oil: Place whole cloves of roast garlic in a jar and cover with olive oil. Store in the fridge for up to two weeks. The mildly flavored olive oil is great for cooking or as a Bread Dip.
Freeze: You can also freeze roasted garlic by wrapping individual cloves in plastic wrap and storing them in a freezer-safe bag. Frozen roasted garlic can last up to three months.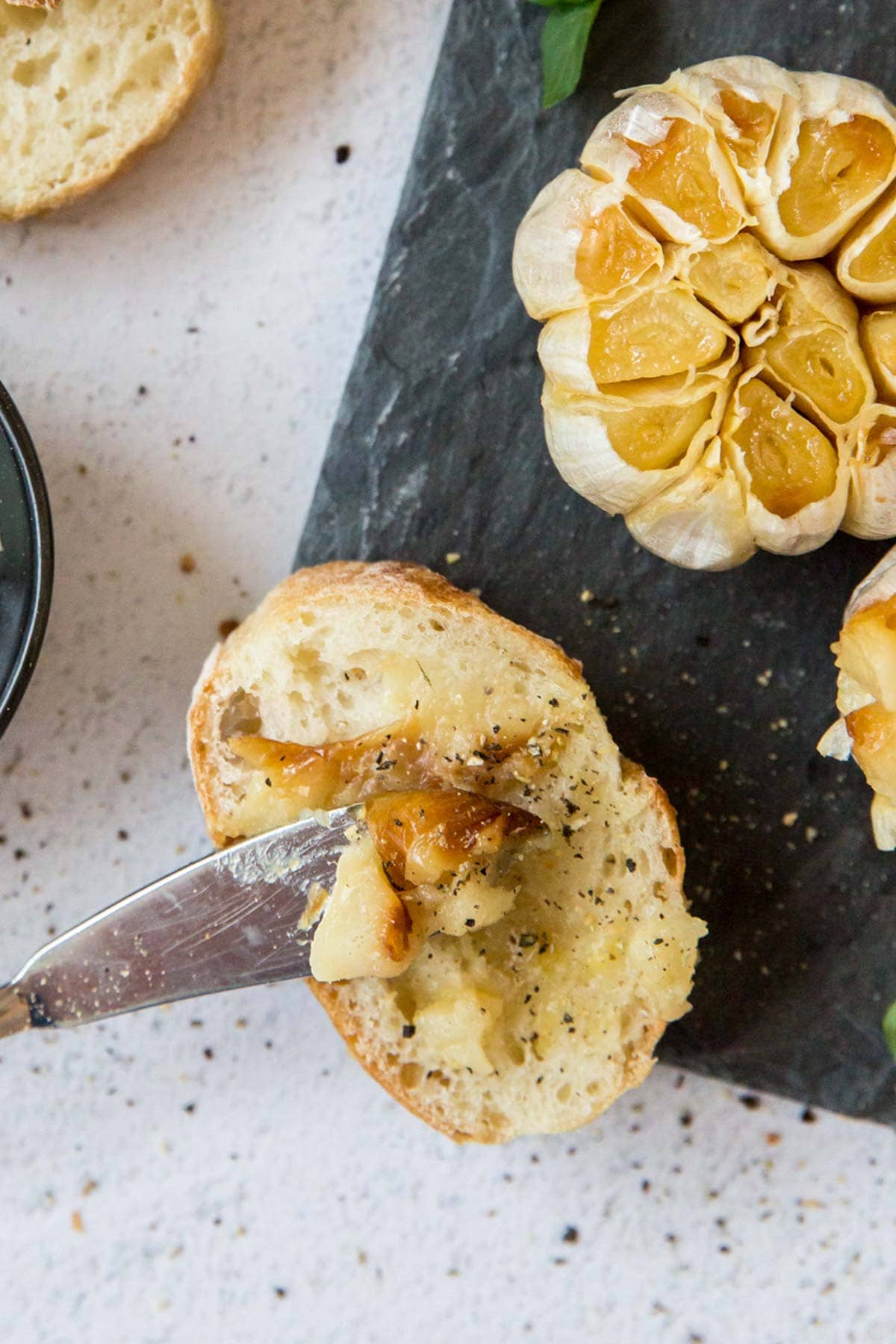 Expert Tips
If you see any green sprouts inside, that's ok, just dig them out with a knife if you can. They won't really affect the flavor – if you were using raw garlic however, I'd make sure to get them out as they can give a bitter taste.
The fresher the garlic, the better the taste. If it's been sitting in your pantry for a while you could get a bitter taste.
Check on your garlic about halfway through to make sure it doesn't get too dark. If you know that your oven runs hot, try turning down the temp to about 400.
Recipe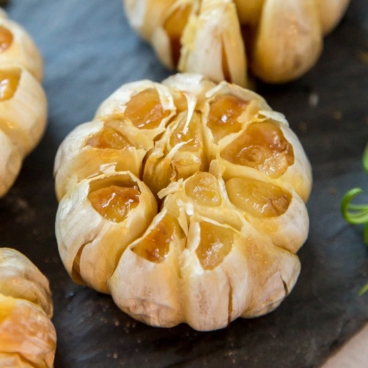 How to Roast Garlic in the Oven
Learn how to roast garlic in just a few simple steps! Roasting garlic is a great way to add mellow garlic flavor to all your favorite dishes.
Ingredients
1

Full sized head of Garlic

Olive Oil for drizzling

Kosher salt
Instructions
Preheat your oven to 425℉.

Using a sharp knife, cut off the tops of the garlic (where the paper comes to a point), then peel as much of the paper off as you can without the cloves falling off. Using your fingers in a rubbing motion works well.

Place each head of garlic on a small piece of foil, enough to completely wrap the garlic in.

Drizzle with a teaspoon of olive oil and wrap the foil around each head and place in an oven safe dish, on a sheet pan, or in individual muffin cups.

Roast the garlic in the oven for about 50 minutes. They will be a nice golden caramel color.

Let them cool for at least half hour, unwrapped, before gently squeezing the garlic out.

Using a fork or the back of a spoon, mash the garlic and spread on toasted bread, stir into mashed potatoes and use mix into veggies or pasta.