Garlic & Herb Olive Oil Bread Dip
Serve this spicy Garlic & Herb Olive Oil Bread Dip with a crusty french baguette or crostini and you will be the talk of the dinner table.
Sometimes it's fun to have a light appetizer on the table to enjoy before dinner whether it's just a family dinner or a classy dinner party. This bread dip is a great option, served alongside other favorites like Fresh Homemade Salsa or a simple Roasted Garlic spread.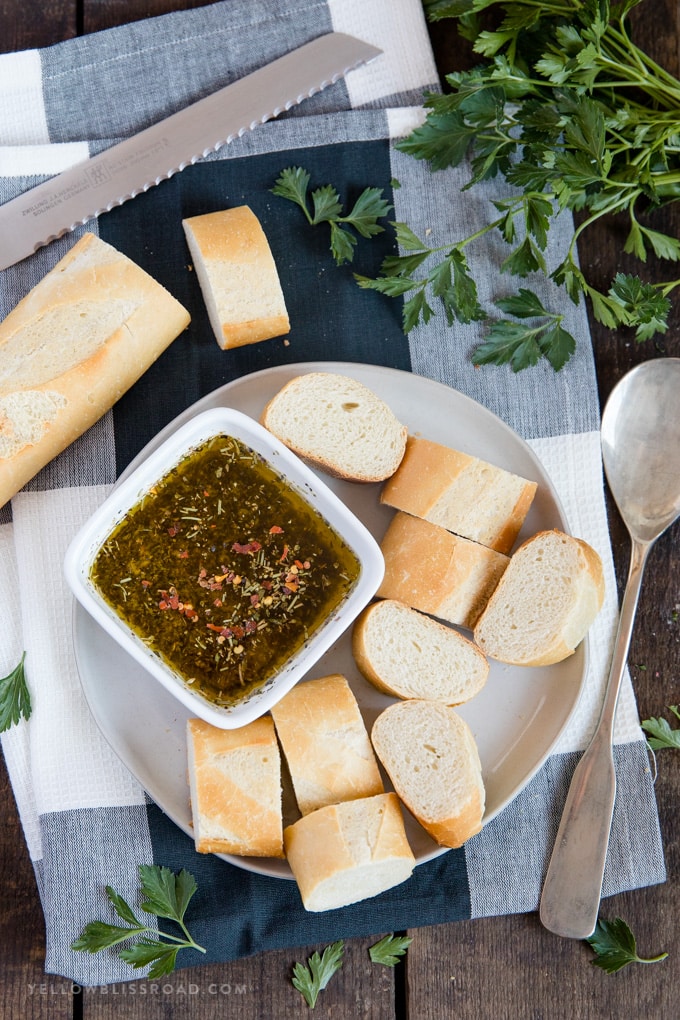 Olive Oil Bread Dip Recipe
There's just something about bread that makes me feel all cozy, warm and fuzzy, I-love-you kinds of feeling. Probably because I seriously love bread. Like love it, want to marry it, elementary school kind of love.
One of my kids' favorite places to eat is California Pizza Kitchen. Not because of their fabulous pizza and salads, but because of their amazingly delicious bread dip. Yes, my kids love the olive oil bread dip at CPK so much that they each ask for their own bowls of the stuff. I swear they'd lap it up with a spoon if I'd let them.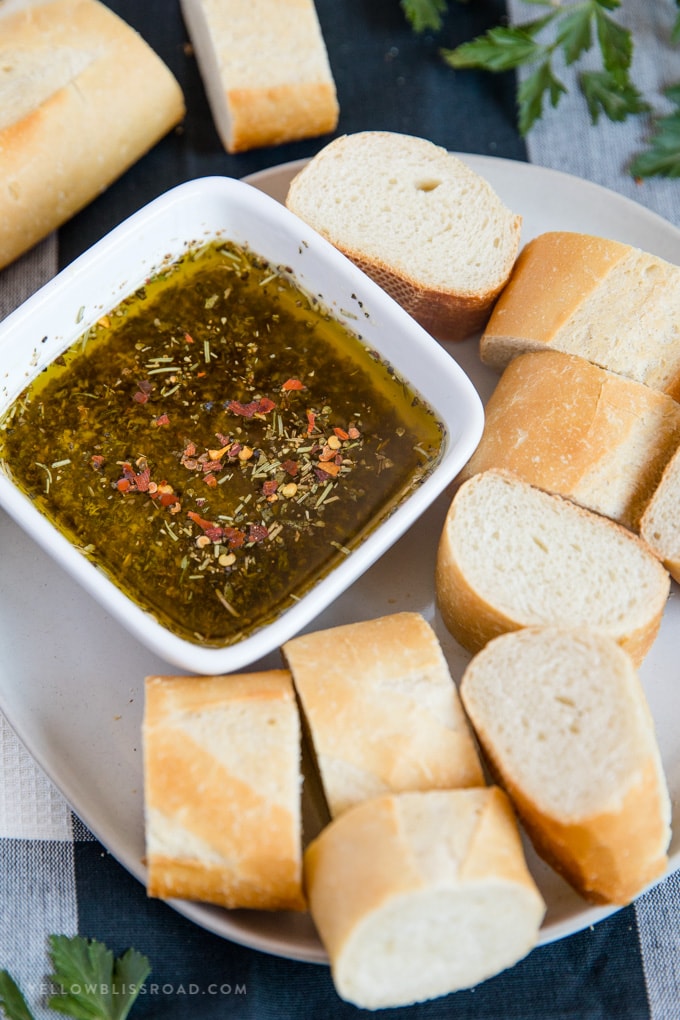 Tips for Making Olive Oil Bread Dip
There are a lot of spices and ingredients in this olive oil bread dip, but don't let that deter you because it really is super simple to make. I like to use a mason jar because I can combine everything in the jar, shake it up, and leave it in their for future uses…if we actually have any leftover.
Some people like to infuse the olive oil with garlic. This is definitely an option if you want a more garlicky flavor. Just use a 4 or 5 additional cloves of garlic, mince them up and cook them in a small saucepan on the stove over low heat for about 10 minutes.
What kind of olive oil do I use for dipping bread?
Extra Virgin Olive Oil (or EVOO if you're Rachael Ray) is the purest and most delicate olive oil, making it great for dipping and drizzling. Not all olive oils are created equal, so be sure to read the back of the bottle.
Check for the harvest date (this is different from the "sell by" or "best by" date). The more recent the date, the fresher the oil and the longer it will last. Olive oil has a shelf life of 2 years.
Check for a seal of approval from an olive oil organization. This guarantees quality.
Look for low amounts of free fatty acids and a high polyphenol content. If an oil doesn't list fatty acids on its ingredients label, put it back on the shelf. The level of fatty acids is an indication of the quality of the fruit used (the lower the better). A high polyphenol content contributes to the amount of heart-healthy antioxidants in olive oil.
How long with olive oil dip last?
Because of the cheese and liquid in this olive oil bread dip, it needs to be stored in the fridge. Store in an airtight jar or container for up to 1 week in the fridge. Let the oil come to room temperature and shake it up before serving.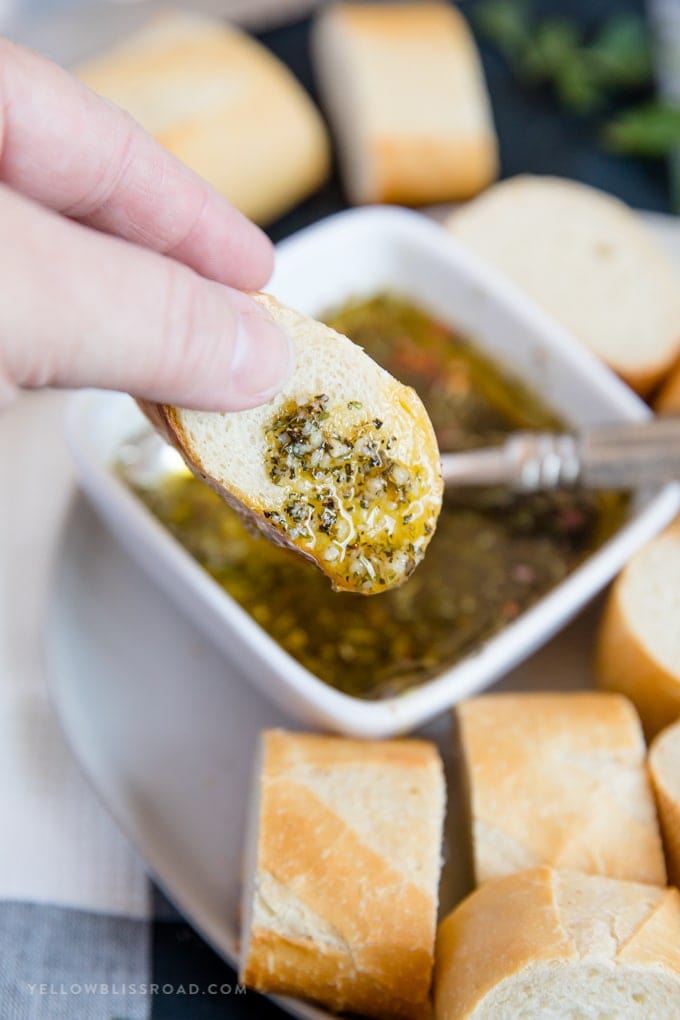 Have this Bread Dip on hand for a quick pre-dinner snack whether you're hosting 20 of your closest friends or simply your family of 4. It will be an elegant way to start any meal, and a great way to tide your guests over until the main course is served.
Or if you're like me, pour some in a bowl and slice up some bread and pound it for breakfast. No judgment here.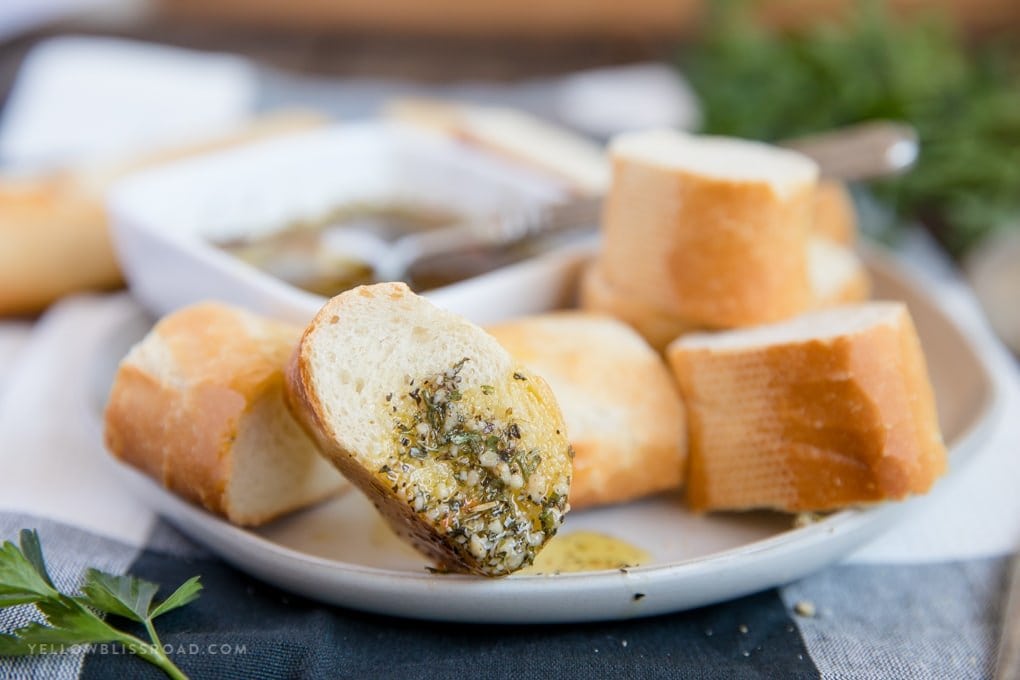 Here are some more delicious bread dips to check out:
If you've made this recipe, please come back and leave us a star rating or a comment below. Or, tag us on social media @yellowblissroad or #yellowblissroad for a chance to be featured.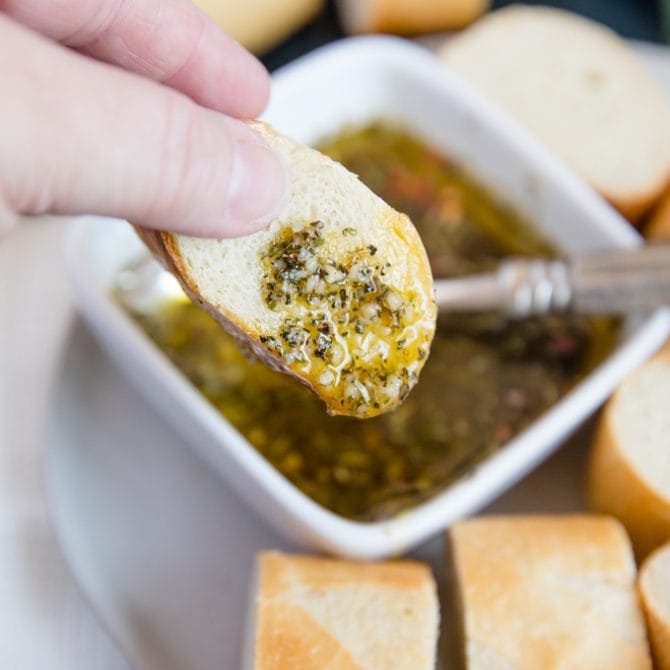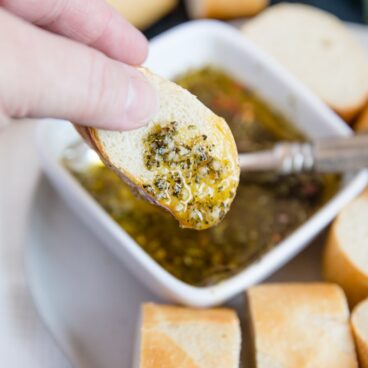 Olive Oil Bread Dip
Serve this spicy Italian Olive Oil Bread Dip with a crusty french baguette or crostini and you will be the talk of the dinner table.
Ingredients
2

cups

olive oil

2

tbsp

grated Parmesan cheese

1

tbsp

basil

dried

1

tbsp

parsley

dried

1

tbsp

garlic

minced

1

tsp

black pepper

1

tsp

dried oregano

1

tsp

dried thyme

½

tsp

red pepper

crushed

½

tsp

rosemary

crushed

½

tsp

lemon juice

½

tsp

salt
Instructions
Place ingredients together in an airtight jar or plastic container (like a mason jar) and shake until well combined. 

Pour into a small dipping bowl, using a spoon to get some of the herbs and other goodness with the oil. 

Serve with slices of crusty bread for dipping. 

Store for several weeks in an airtight container in the fridge. To re-use, just let sit on the counter for 10 minutes, then shake it up and serve.