This delightful Bibb Lettuce Salad recipe combines freshness and flavor in every bite. With crisp lettuce, crunchy walnuts, tangy blue cheese, savory bacon, and zesty pickled onions, and french fried onion straws – this salad is not just a salad, it's an experience.
This Macaroni Grill copycat tastes just like the real thing!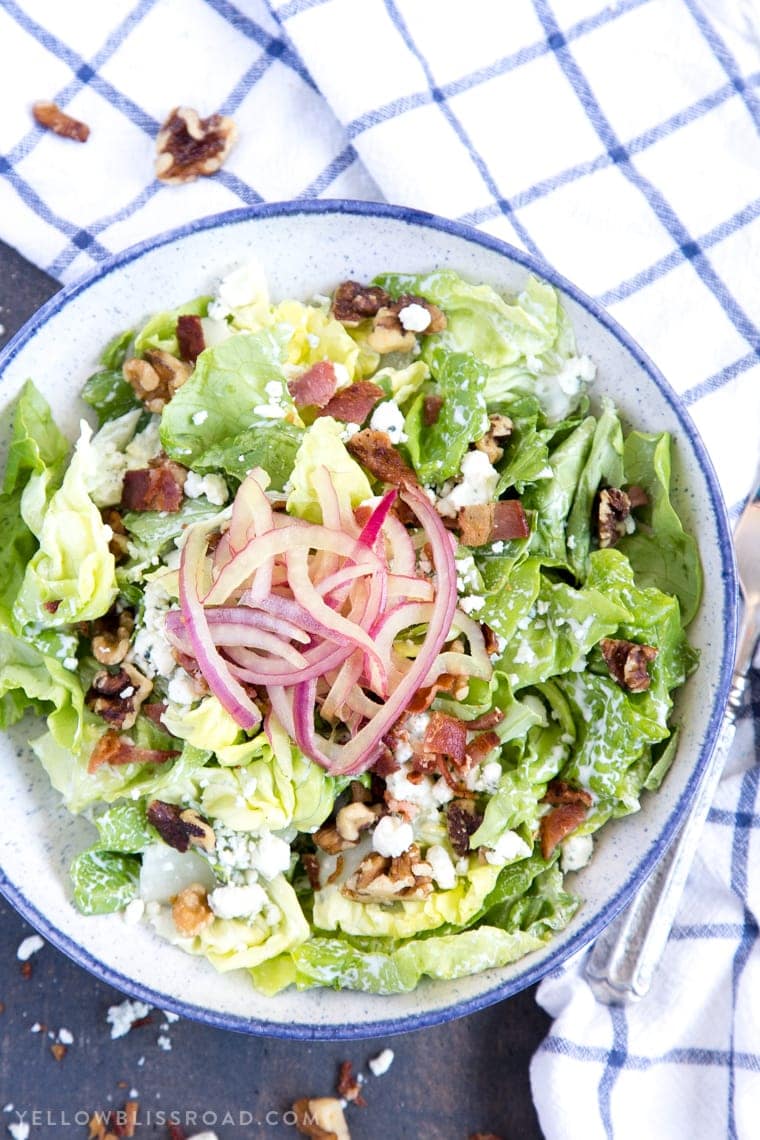 Pin this recipe for later!
About the Recipe
I created this homage to Macaroni Grill's Bibb and Blue Salad years ago. They have since closed locations near us so I have taken to making it at home quite often.
It's great because it can easily be customized based on personal preference and you can make the ranch dressing yourself or use your favorite brand. Or try with blue cheese or Caesar dressing, or even and Oil and Vinegar Dressing.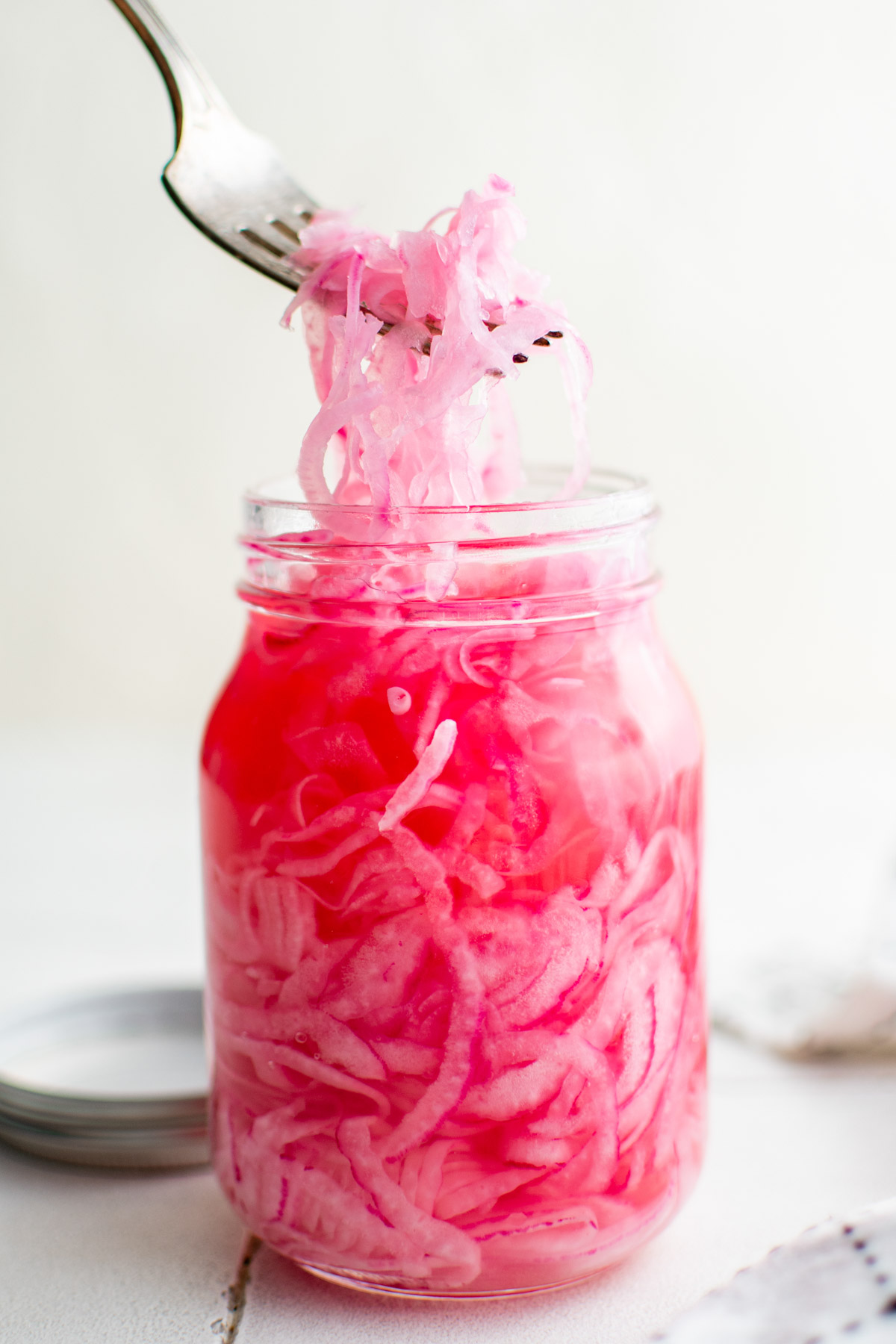 I'll admit I was skeptical at first but it's the pickled red onions that really take this salad from great to spectacular. They are tangy and slightly sweet and really pair well with the other salty and savory ingredients.
You can make this salad as a meal by add pan seared shrimp, grilled chicken or steak. Or serve it as a light and refreshing main dish for lunch or as an appetizer for a fancy dinner.
It definitely is not your typical Steakhouse Chopped Salad or sweet Raspberry Salad. This salad has hearty walnuts and tangy cheese and creamy dressing. And it's the best salad you'll ever have.
How to Make a Bibb Lettuce Salad
Get a detailed list of ingredients & instructions in the recipe card below.
Toss Bibb lettuce and Romaine lettuce in a large bowl. Toss with some Ranch dressing – Start with a little, you can always add more.
Divide into deep salad plates and add the toppings – toasted walnuts, bacon, blue cheese and pickled onions. No croutons needed!
Or, let each person create their own perfect salad by choosing the toppings that resonate with them.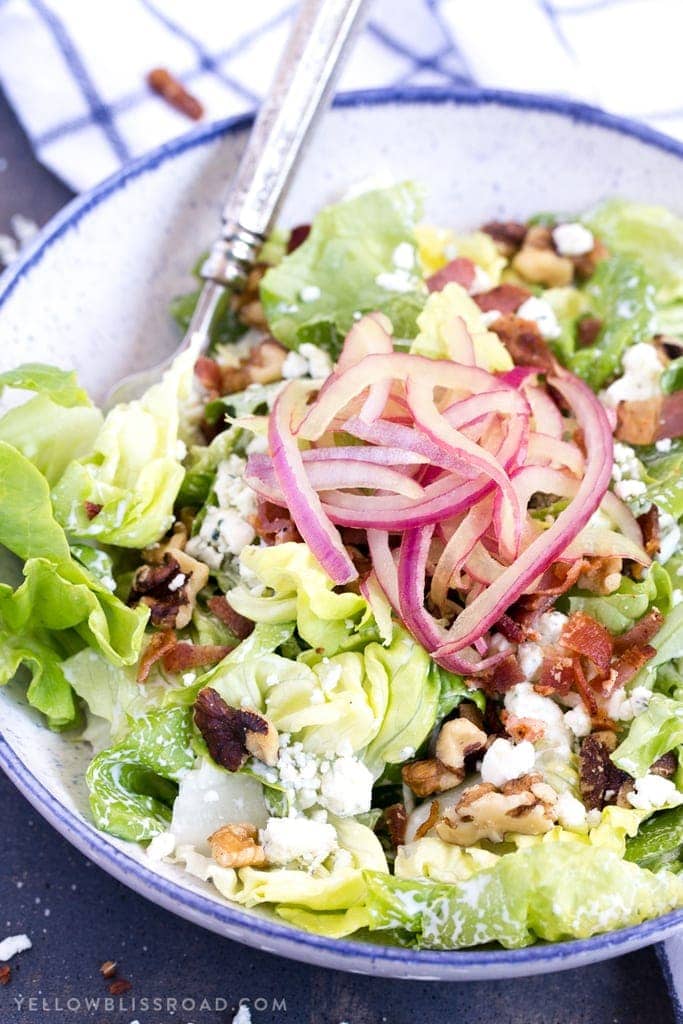 FAQs
Are there health benefits of Bibb Lettuce?
It is low in calories and high in nutrients, including vitamins A and K. Vitamin A promotes healthy vision and supports the immune system, while vitamin K plays a role in blood clotting and bone health. Bibb lettuce also contains fiber, which aids in digestion, and antioxidants that help protect against cell damage.
Can I customize my this salad?
Absolutely! One of the wonderful aspects of Bibb Lettuce Salad is its versatility. You can customize it according to your preferences and dietary needs. Feel free to experiment with different ingredients, such as adding your favorite vegetables, fruits, proteins, or even swapping out certain ingredients to suit your taste.
How should I store lettuce to maintain its freshness?
To maintain the freshness of all types of lettuce, store it properly. Start by removing any damaged leaves and washing the lettuce under cold water. After washing, gently pat the leaves dry or use a salad spinner to remove excess moisture. Then, wrap the lettuce loosely in paper towels and place it in a perforated plastic bag or an airtight container. Store it in the refrigerator's crisper drawer, and it should stay fresh for up to a week.


Can I prepare the salad in advance?
It's best to prepare just before serving to maintain it's crispness, but the components of the salad can all be prepped ahead of time. Just refrain from dressing the salad or adding any soggy ingredients until ready to serve.
Storage
Store an undressed salad in an airtight container in the fridge for up to 3-4 days.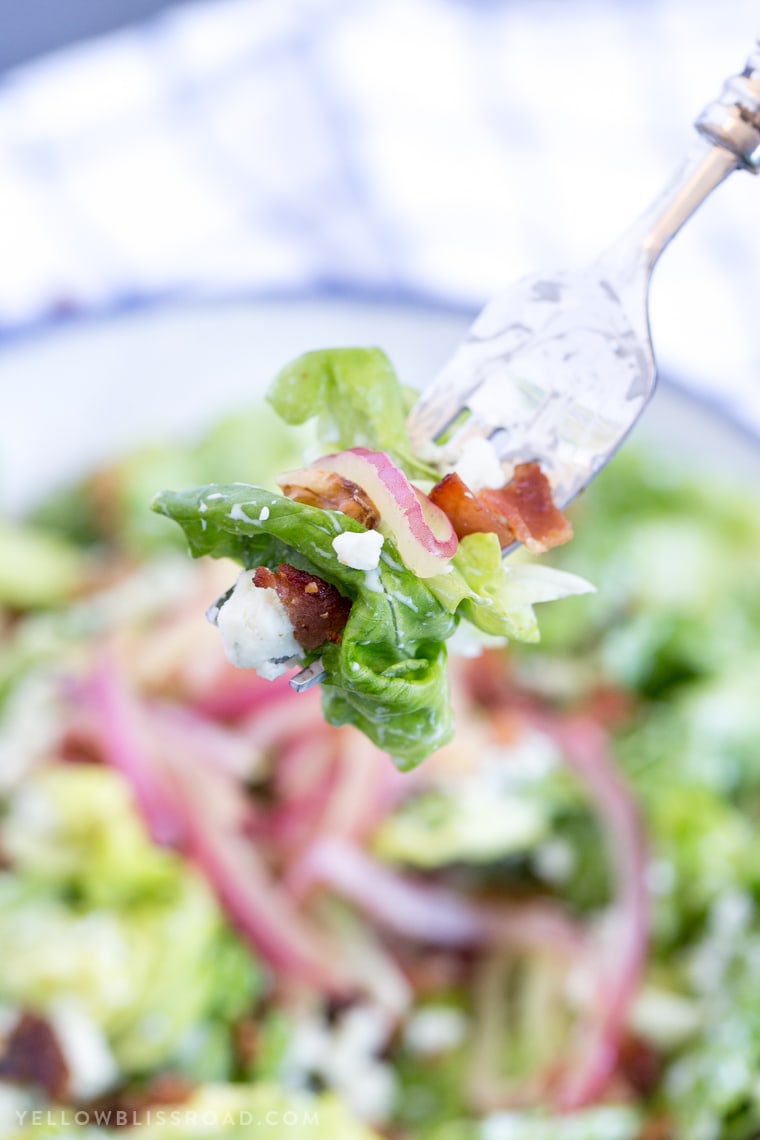 Helpful Tips
Experiment with different dressings, such as balsamic vinaigrette, creamy ranch, or tangy citrus-based dressings.
Season your salad with herbs, spices, or flavored salts to add depth of flavor.
Incorporate ingredients with contrasting tastes, like adding a hint of sweetness with dried cranberries or a tangy kick with pickled onions.
Marinate proteins before adding them to the salad to infuse them with flavor.
More Salad Recipes
Recipe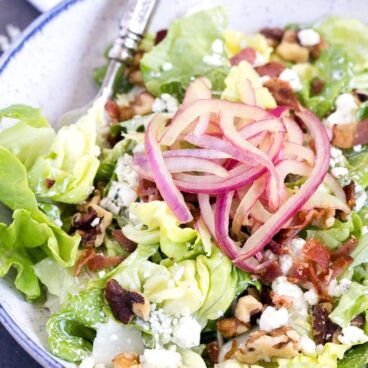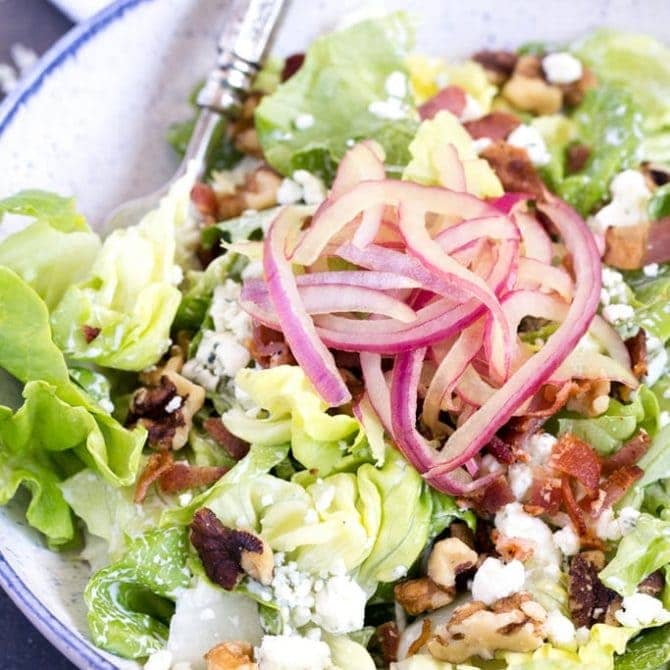 Bibb & Blue Salad with Pickled Red Onions (Macaroni Grill Copycat)
This Bibb Lettuce Salad combines freshness and flavor in every bite, with crisp lettuce, walnuts, blue cheese, bacon and pickled onions.
Ingredients
Salad
1

head

Bibb lettuce

washed and torn into bite sized pieces

2

cups

romaine lettuce

washed and torn into bite sized pieces

¼

cup

pickled red onions

recipe below

½

cup

Walnuts

½

cup

Crumbled Blue Cheese

¼

cup

Crispy thin onion straws (French fried onions

2

slices

Bacon

cooked crisp and crumbled (or bacon bits)

Ranch dressing
Pickled Red Onions
1

red onion

sliced into thin strips

½

cup

red wine vinegar

3

tablespoons

distilled white vinegar

1

tablespoon

granulated sugar

1 ½

teaspoons

kosher salt
Instructions
To make the pickled red onions:
Place ingredients in a small saucepan over medium-high heat and bring to a boil. Remove from heat and steep onions in the hot liquid for about 20 minutes.

Cool completely before serving, and store in a tightly sealed container in the fridge for up to 2 weeks.
To make the salad:
Combine lettuces in a large bowl and toss with desired amount of ranch dressing.

Divide onto salad plates and divide toppings (walnuts, bacon, blue cheese and pickled red onions) evenly among the plates using desired amounts of each.
Notes
For the pickled red onions you can use this recipe (it's super easy and delicious), but if you're short on time here's a little tip – use actual pickle juice, straight from a big jar of pickles! Place the onions covered with pickle juice in a sealed jar and leave it on the counter for an hour – works like a charm!
Nutrition
Calories:
209
kcal
Carbohydrates:
7
g
Protein:
8
g
Fat:
18
g
Saturated Fat:
5
g
Polyunsaturated Fat:
7
g
Monounsaturated Fat:
3
g
Trans Fat:
1
g
Cholesterol:
17
mg
Sodium:
295
mg
Potassium:
297
mg
Fiber:
2
g
Sugar:
2
g
Vitamin A:
3530
IU
Vitamin C:
3
mg
Calcium:
128
mg
Iron:
1
mg