This Crispy Chicken Salad is a combination of crispy, succulent fried chicken strips and a refreshing medley of salad ingredients tossed with a creamy BBQ Ranch Dressing. This fusion of textures and flavors creates a balanced dish that is both satisfying and wholesome.
I love that this crispy chicken salad recipe is a meal in itself! For more filling salad favorites try my Bacon Avocado Chicken Salad, Cobb Salad, and Shrimp Avocado Salad.
Pin this recipe for later!
Why We Love This Recipe
Whether you're looking for a quick and easy weeknight dinner, a refreshing lunch option, or a crowd-pleasing salad for gatherings and picnics, this Crispy Chicken Salad recipe fits the bill.
The contrast of the golden-brown, succulent chicken with the crisp lettuce, vibrant vegetables, and tangy dressing is a crowd-pleaser for sure. You can fry the chicken tenders for a perfectly juicy interior and a crunchy exterior, or bake them, air fry them, or purchase them already breaded and fried.
The salad portion is where you get to really play around with vibrant colors and textures, and create the perfect-for-you salad. Add your favorite toppings or make a salad bar and let everyone make their own salad that's perfect for them.
This is a salad that can be the entire meal and fill you up, or it can be a main course that's served with a sandwich, quesadillas, or garlic knots.
Essential Ingredients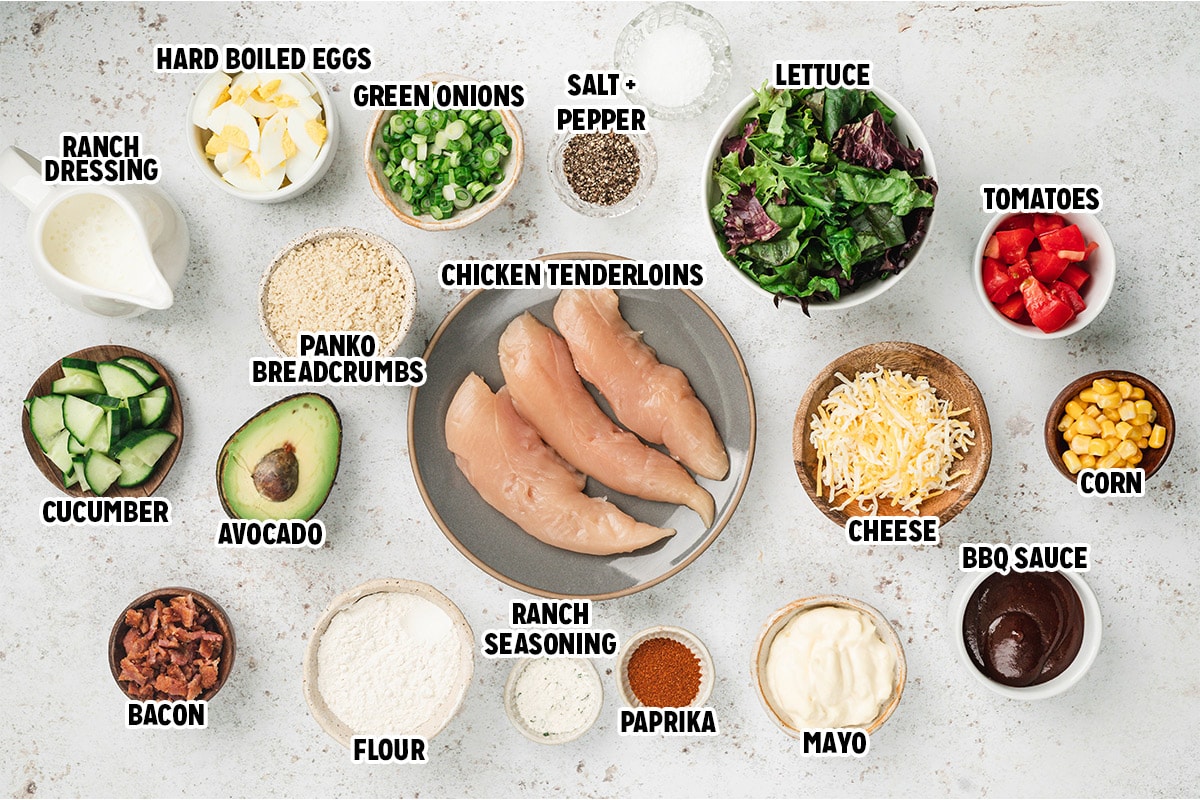 Chicken Tenders or Breasts – Boneless, skinless chicken breasts can be used but will take longer to fry. Or, if you don't want to break out the skillet for frying, pick up some breaded frozen chicken strips and bake or air fry them, or grab a few at your grocery store's deli section.
Buttermilk – To marinate the chicken tenders and make them nice and juicy.
Seasonings – Dry ranch dressing mix, paprika, salt, pepper
Flour – for dredging the chicken.
Panko Breadcrumbs – Regular breadcrumbs can also be used, but won't have the same extra crispy result.
Oil for frying – Canola, peanut, and vegetable oil are the best for frying the chicken, as they have a high smoke point and won't burn before the chicken is cooked.
Fresh Mixed Greens or Chopped Lettuce – I like Romaine lettuce because it's nice and crisp, with is perfect for this dish.
Toppings – You can really go with anything you like, but a crispy chicken salad usually has things like hard boiled eggs, crispy bacon, shredded cheese, cucumber, and tomatoes. I like to also include corn and avocado.
BBQ Ranch Dressing – Mayo, Buttermilk, BBQ Sauce, and Dry Ranch seasoning.
How To Make This Fried Chicken Salad Recipe
Get a detailed list of ingredients & instructions in the recipe card below.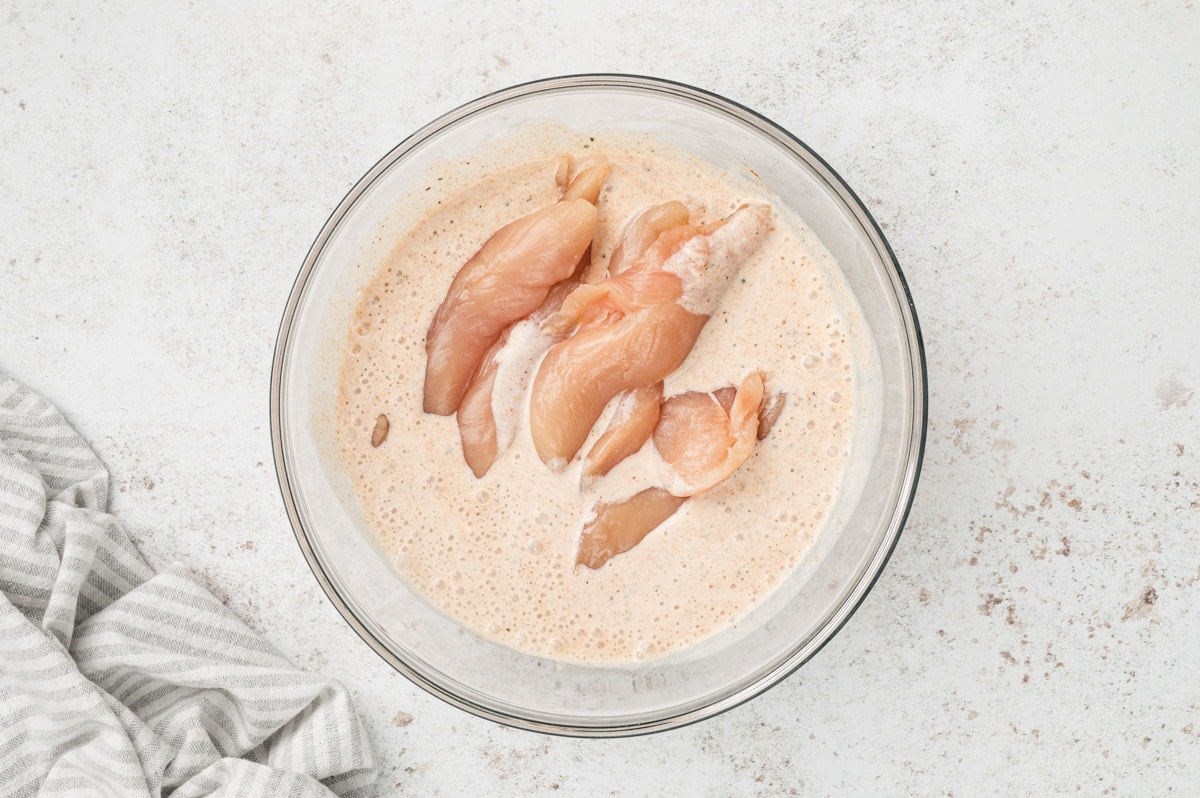 Make the buttermilk marinade – Combine buttermilk and seasonings in a resealable plastic bag. Add the chicken and marinate for at least 2 hours.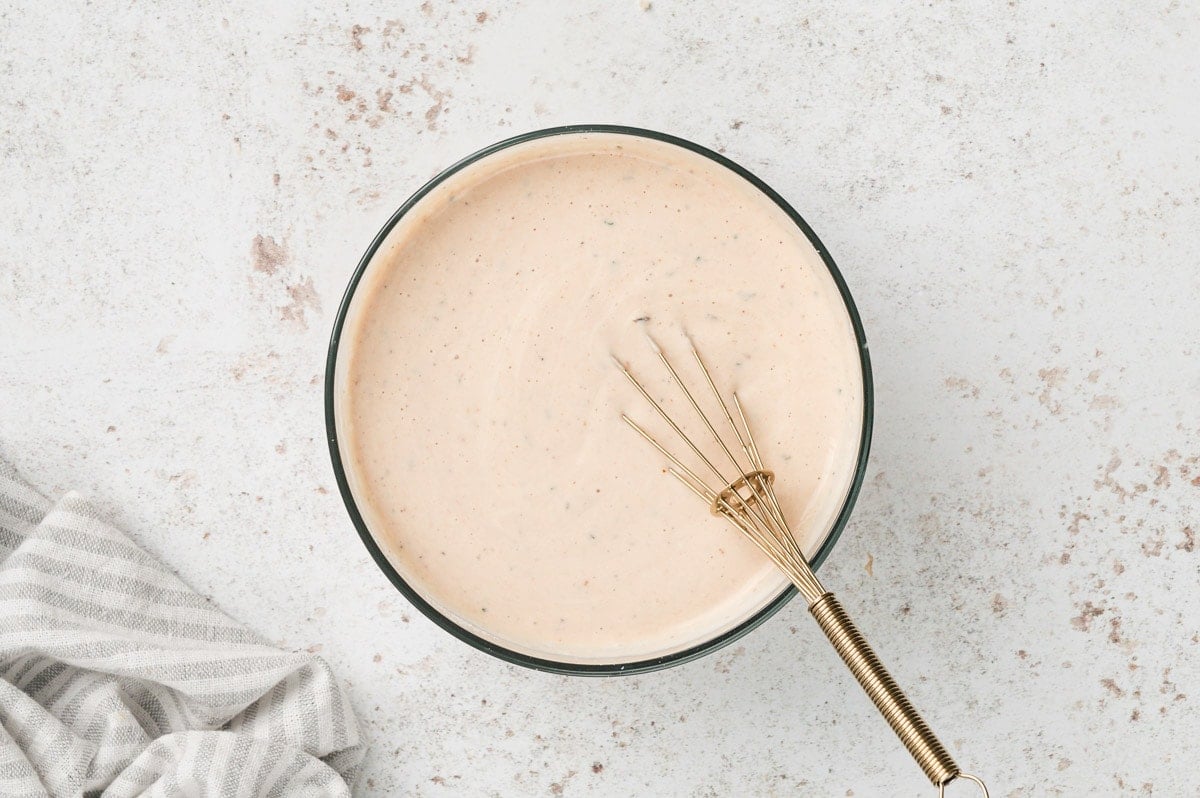 Make the Dressing – In a medium bowl whisk together the ranch seasoning, mayo, buttermilk, and BBQ sauce. Keep sealed and refrigerated until ready to use.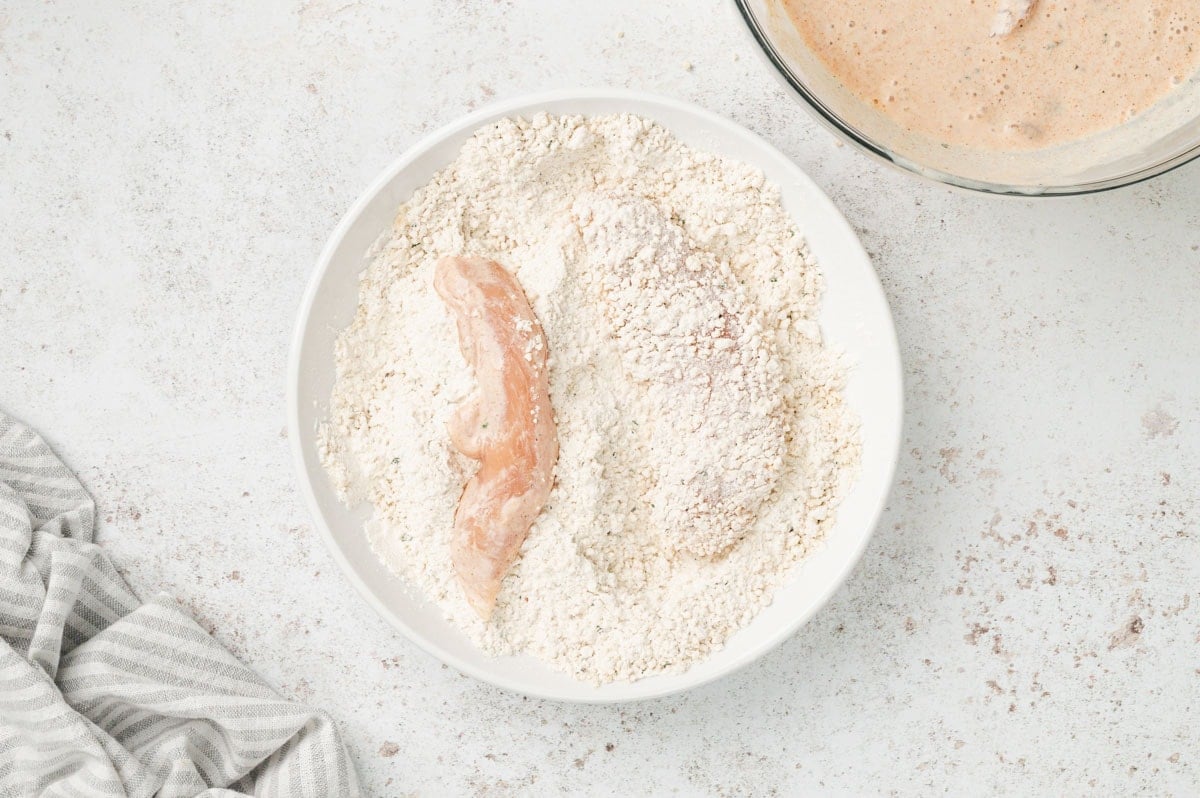 Bread the Chicken – Mix flour, panko, and seasonings in shallow dish. Remove chicken from the buttermilk and coat in the panko.
Fry the Chicken – Heat oil to 350℉. Fry chicken pieces until golden brown with an internal temperature of 165℉. Drain on paper towels and rest for 5-10 minutes before slicing.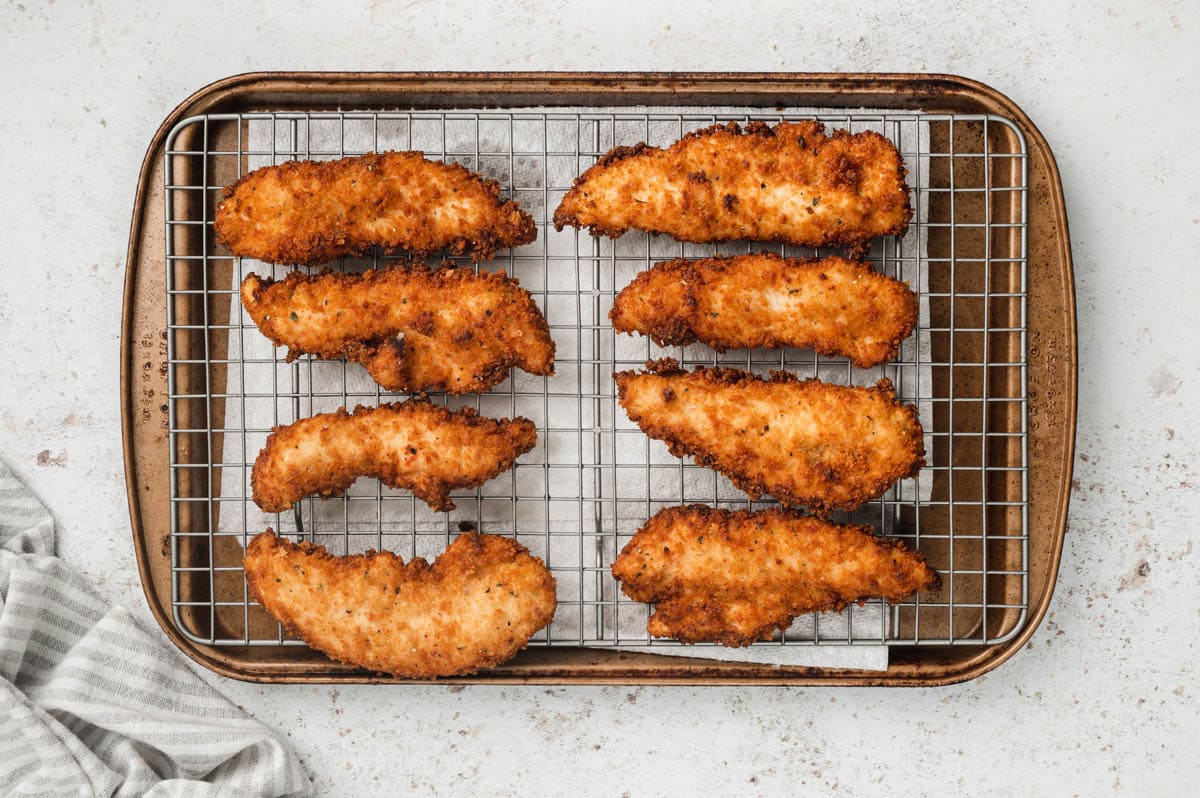 Assemble the Salad – Arrange lettuce onto a large serving platter, then pile on the other salad toppings. Top with sliced fried chicken. Dress the salad right before serving.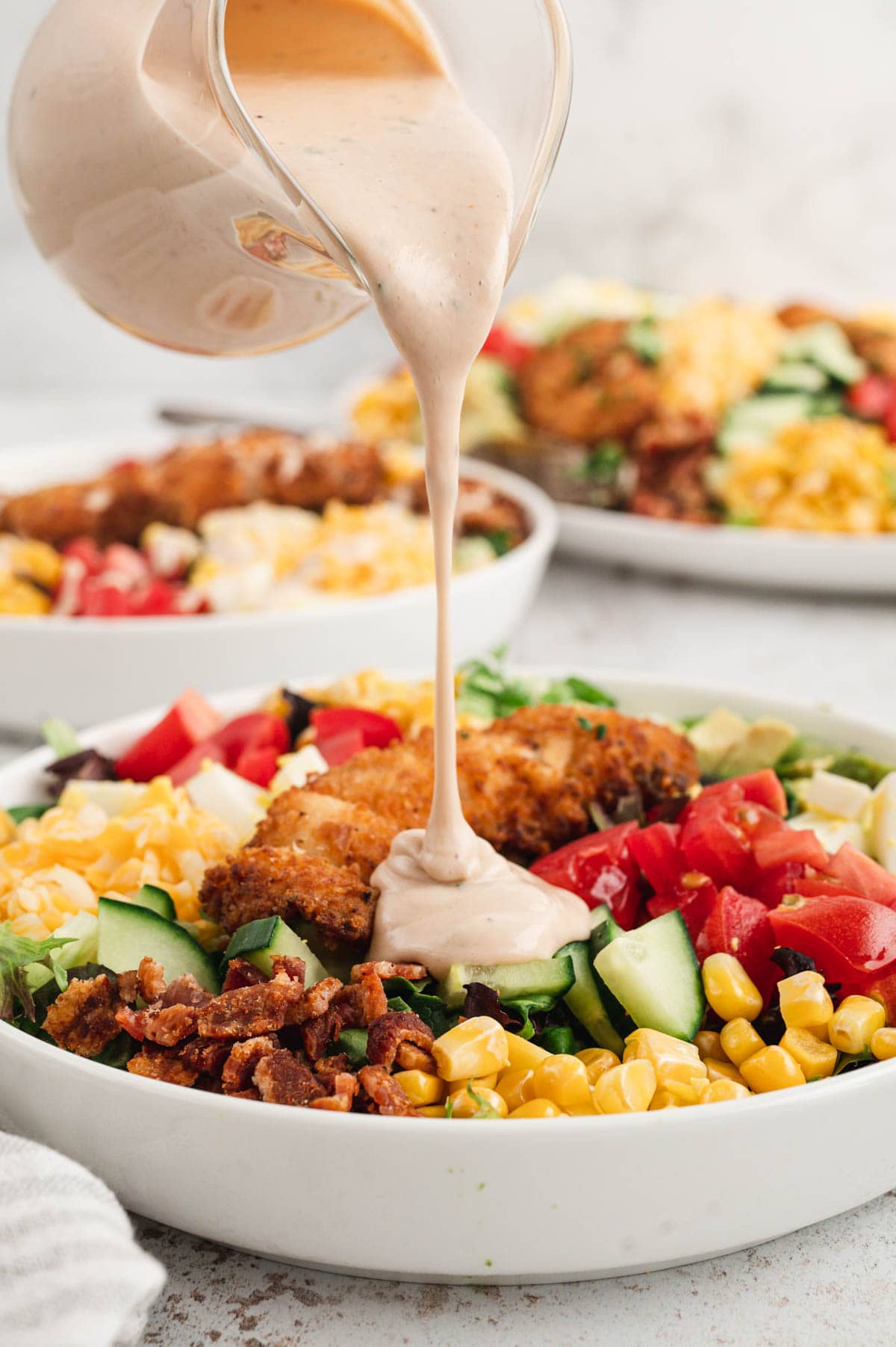 Recipe FAQs
What is the secret to good fried chicken?
The key to good fried chicken is first marinating your chicken. Buttermilk adds both flavor and moisture, making the chicken extra tender and moist. It's also important to have the oil at the right temperature so the chicken can fully cook without getting burnt on the outside.
What does soaking chicken in buttermilk do?
Soaking chicken in buttermilk helps tenderize the meat by breaking down the proteins, giving it a more tender and juicy texture. It also adds moisture, enhances flavor and improves browning and crispiness.
What is the best oil to fry chicken in?
It's important to use an oil that has a high smoke point when frying chicken. Vegetable oil, canola oil, or peanut oil are good oils for frying. Do not use olive oil as it has a lower smoke point.
Can I use pre-cooked or leftover chicken in the recipe?
Absolutely! Save yourself the time and effort of frying and pick up some already cooked chicken tenders from the grocery store deli, or bake up some frozen chicken tenders. You can also use grilled or baked chicken as an alternative to fried.
Can I make the salad in advance?
The salad, veggies, and dressing can be prepped in advance, but wait to toss everything together until you are ready to serve. The fried chicken is best when served fresh but can also be made up to a day in advance and heated in the oven or air fryer.
Variations
Lighter Version – You could also use a more simple grilled or stovetop chicken for this recipe if you are trying to save calories.
Store Bought Shortcuts – To really make this a fast salad, you can use store bought chicken tenders, prepared according to package directions.
Other Dressings – Honey mustard, blue cheese, or a buttermilk ranch dressing would also be good with this salad.
Storage
For best results, remove the chicken from the salad and store separately. You can store the leftover, undressed salad in the fridge for up to 3 days and the chicken for up to 4 days. To re-crisp the chicken, put it into a 375℉ oven for 10-12 minutes, or until heated through and crispy.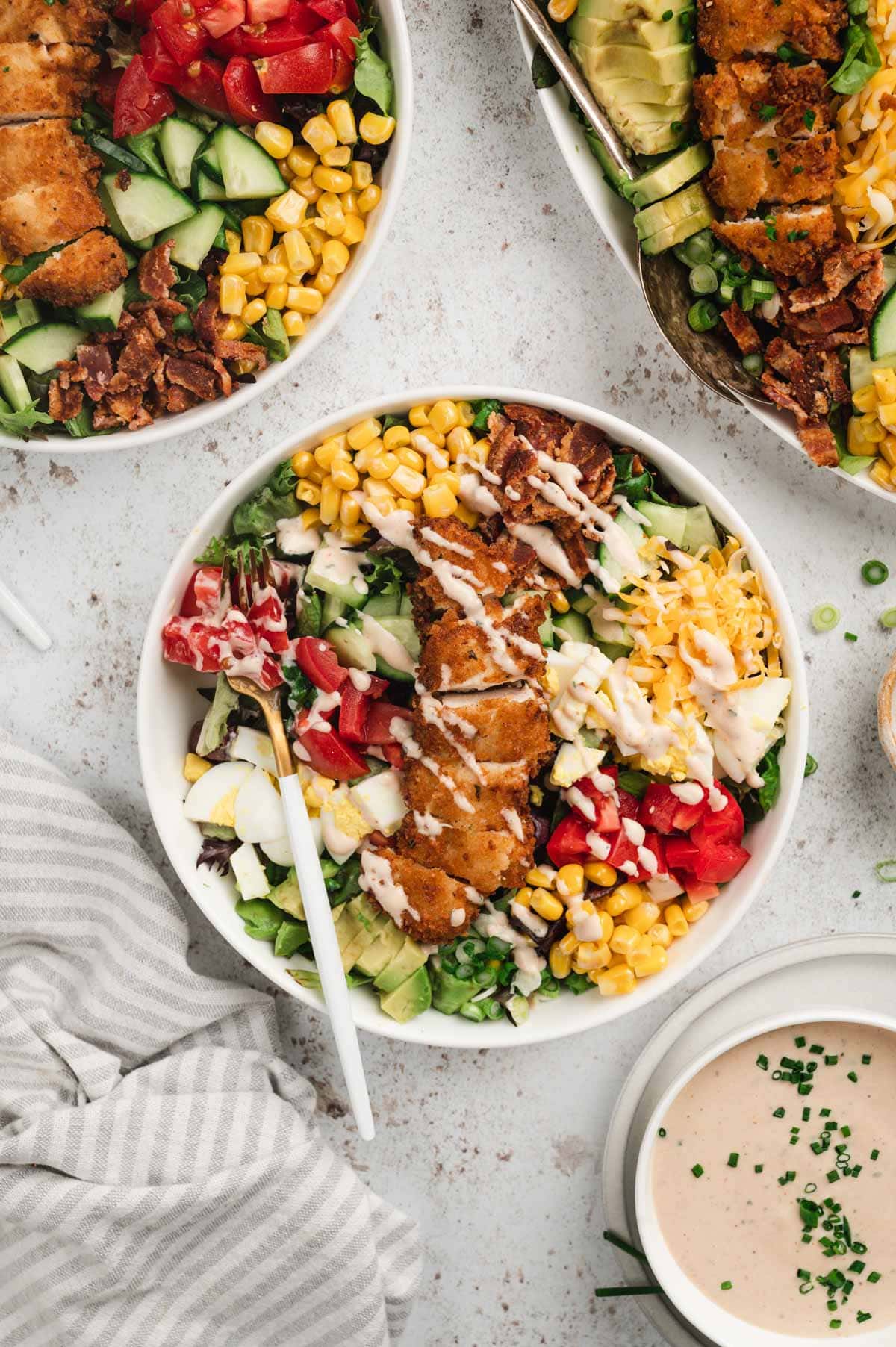 Helpful Tips
Thin Sliced Chicken – Make sure to use thinly sliced chicken (like chicken cutlets) or chicken tenderloins as they will cook fast and more evenly than a regular chicken breast. If you can't get chicken cutlets, you can slice them in half horizontally or pound them out with a mallet.
Chicken browning too fast? If your chicken is getting too brown on the outside, but isn't cooked all the way on the inside you can finish it off in a 375℉ oven until it reaches 165℉.
Work in batches – When frying the chicken, fry a few at a time so you don't crowd the pan.
Properly Heated Oil – Ensure the oil is hot enough before adding the chicken to achieve a crispy exterior.
Add the Dressing Last – Toss the salad with the dressing just before serving to prevent it from becoming soggy.
More Salad Recipes
Recipe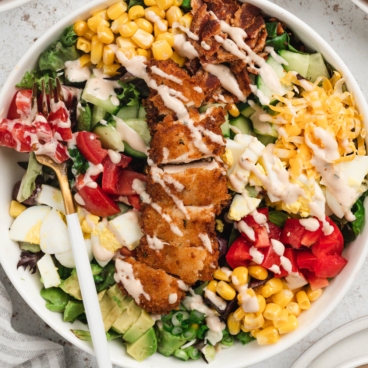 Crispy Chicken Salad Recipe
This Fried Chicken Salad is a combination of crispy fried chicken strips and salad ingredients tossed with a creamy BBQ Ranch Dressing.
Ingredients
For the chicken
1

pound

chicken tenderloins

1/2

cup

buttermilk

2

tablespoons

dry ranch dressing mix

divided

1

teaspoon

paprika

1

cup

flour

1

cup

panko breadcrumbs

1

teaspoon

salt

divided

1

teaspoon

pepper

divided

Canola oil for frying
For the salad
4

cups

fresh mixed greens or chopped lettuce

2

hard boiled eggs

chopped

6

ounces

bacon

cooked and chopped

1/2

cup

shredded cheddar jack cheese

1/2

medium english cucumber

diced

5

green onions

sliced

1

avocado

diced

1/2

cups

fresh or frozen corn kernels

thawed

2

roma tomatoes

diced
Dressing
1

tablespoon

packet dry ranch seasoning packet

1/2

cup

mayonnaise

1/2

cup

buttermilk

2

tablespoons

BBQ sauce
Instructions
In a large bowl or gallon size ziplock bag combine the buttermilk, 1 tablespoon ranch dressing mix, paprika, ½ teaspoon salt, ½ teaspoon pepper.

Place the chicken tenders into the buttermilk mixture and let marinate for 2 hours or up to overnight.

In a medium bowl whisk together the ranch seasoning, mayo, buttermilk, and BBQ sauce. Cover tightly and refrigerate until ready to use; up to one week.

In a shallow dish combine the flour, panko, remaining ½ teaspoon of salt, pepper and 1 tablespoon of the ranch seasoning.

Once marinated, remove tenders a few at a time and coat them in the flour and breadcrumb mixture. Making sure to coat them evenly and well. Set coated tenders on a plate until ready to fry.

Add 1-inch of canola oil to a cast iron skillet or deep pan. Heat on medium high to reach an oil temperature of about 350℉.

Add the chicken pieces to the pan and fry until golden brown, about 3-4 minutes per side or unti l the internal temperature reaches 165℉. Work in batches and don't crowd the pan. If chicken browns too quickly, reduce heat or add a splash of oil to reduce the oil temp. Remove chicken to drain on a paper towel lined plate and rest for 5-10 minutes.

To assemble: On a large platter place down the mixed greens and then you can pile or stripe the other salad ingredients onto the greens. Top with sliced fried chicken. Dress the salad right before serving.
Notes
There are roughly 8-10 tenders in a pound. Plan for 2 per person.
The amounts listed for most of the ingredients are just guidelines. You can personalize each salad for the person eating it. The dressing makes a lot, so feel free to adjust the amount. Leftovers can be saved in an airtight container in the fridge for up to a week.
Nutrition
Calories:
1175
kcal
Carbohydrates:
66
g
Protein:
57
g
Fat:
75
g
Saturated Fat:
18
g
Polyunsaturated Fat:
30
g
Monounsaturated Fat:
23
g
Trans Fat:
0.2
g
Cholesterol:
254
mg
Sodium:
2947
mg
Potassium:
1347
mg
Fiber:
6
g
Sugar:
17
g
Vitamin A:
3976
IU
Vitamin C:
17
mg
Calcium:
316
mg
Iron:
5
mg