This easy to make Classic Cobb Salad is loaded with all the best salad toppings, like chicken, hard boiled eggs, diced tomatoes, bacon and blue cheese. Just add your dressing of choice and you have a fantastic lunch or lighter dinner option!
We love easy salads for dinner, and this Cobb Salad is a classic. Some of our other favorites include our Panzanella Salad, Bacon Avocado Chicken Salad and Chicken Taco Salad.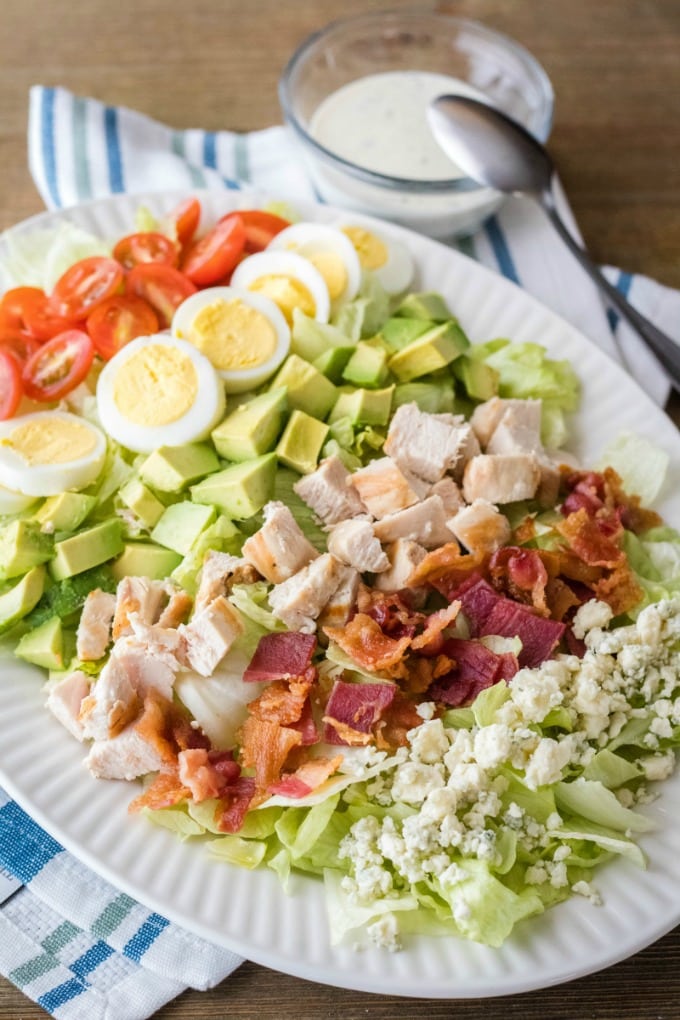 Pin this recipe for later!
Why You'll Love this Recipe
I love a great meal salad and the Cobb Salad has been at the top of my list for years! Just about every restaurant has one on the menu and it's a full meal. The ratio of lettuce to toppings is perfect and you can add your favorite dressing to taste. What's not to love about that?!
Healthy, fresh ingredients, like diced baked chicken, avocado and tomato add protein and vitamins to your meal.
Finally, this sharable salad can be made as a meal starter or enjoyed as a full meal and the ingredients can be swapped out for preference. It's super versatile!
Cobb Salad Ingredients
The original Cobb salad is made with:
A mix of greens (iceberg lettuce, watercress, endives, and romaine lettuce). Pro tip – pat with paper towels after you wash it. No one likes a soggy salad.
Diced tomatoes
Bacon (try cooking your bacon in the oven for less mess!)
Chicken (our grilled chicken or baked chicken are great, flavorful options. While it's not customary, sometimes you'll even see some chopped up fried chicken tenders mixed in there.
Avocados – Look for ripe ones, firm to the touch but have a gentle give when lightly pressed.
Chives – Fresh chives, or the green scallions from green onions will work.
Roquefort (bleu) cheese
Cobb Salad Dressing: Red Wine Vinaigrette, French Dressing, Blue Cheese or Ranch have been used.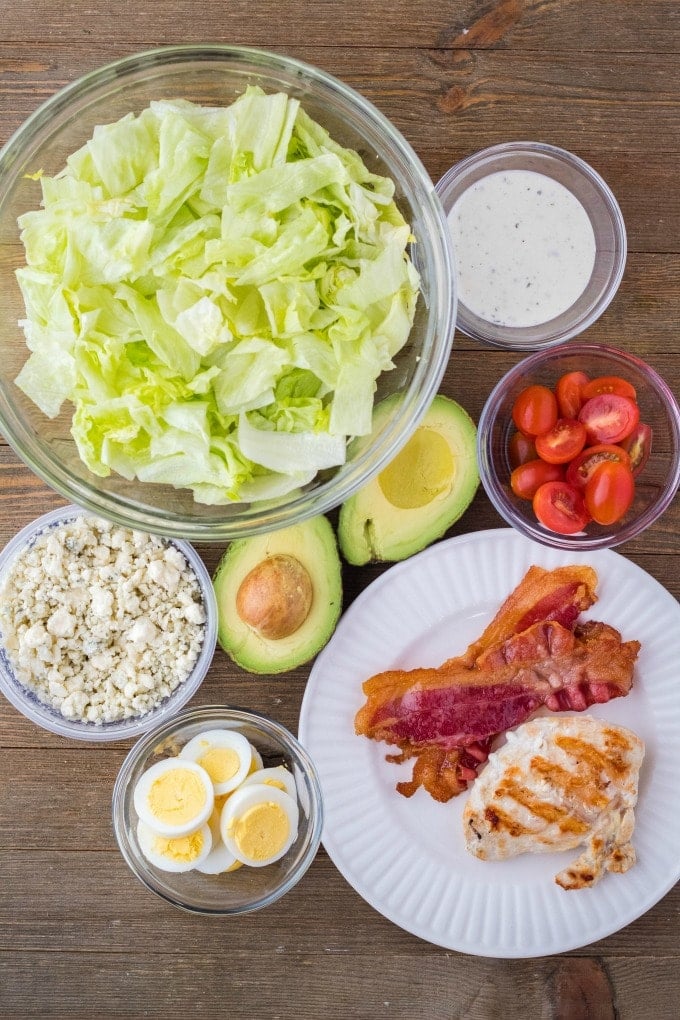 Obviously, I've mixed things up a bit here and made it my own. You can absolutely make this salad to your tastes.
I've seen Cobb salads with red onion and cucumber, Southwestern Cobb salads with corn and black beans, and even deli ham and turkey, shrimp, or crab in place of the grilled chicken (although that's more like a chef's salad). Add some fresh herbs, like chopped chives or parsley. Don't be afraid to mix things up a bit.
Who Created the Cobb Salad?
The origins of the traditional Cobb Salad come from the Brown Derby Restaurant in Hollywood, CA in 1937 and was named for the restaurant's owner, Robert Howard Cobb, after he threw a bunch of leftover ingredients together late at night. He tossed the salad in French dressing and the Cobb salad was born. Personally, I don't care how this salad happened…I'm just happy it did!
In recent years the salad has gotten some upgrades and seen a few different dressings, but the final result is till very similar to Mr. Cobb's original masterpiece.
How To Put Together A Cobb Salad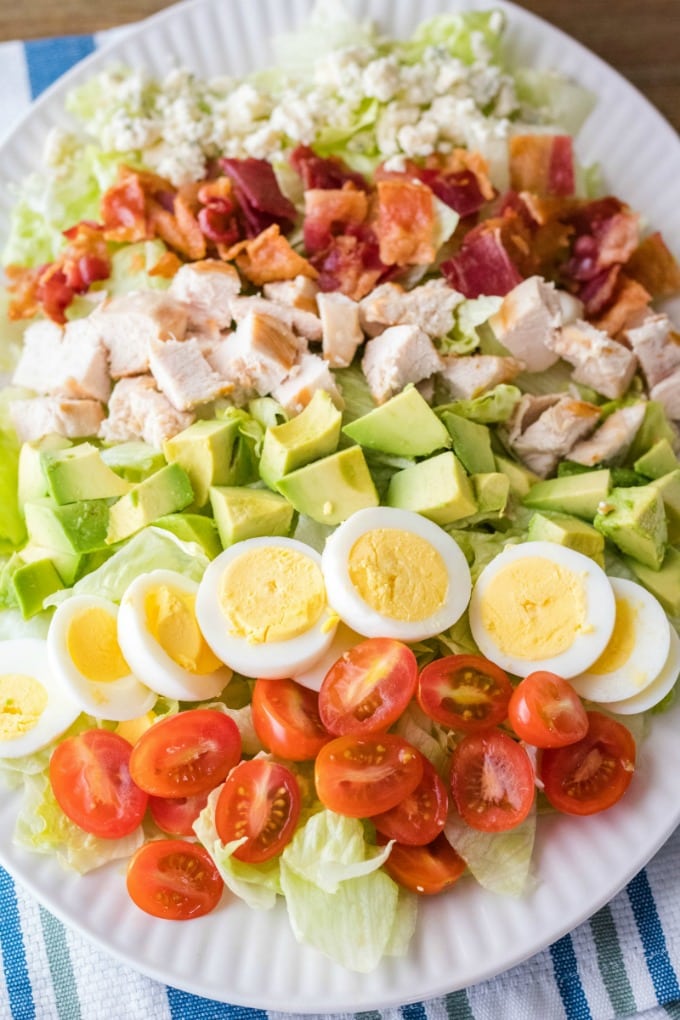 Cook the chicken. Use your favorite method and cook a couple of chicken breasts. I prefer to grill them or prepare them on the stove top for the best flavor and juiciest chicken.
Hard boiled eggs. You can cook these in one of three ways. Boil on the stove, Air fryer Hard Boiled Eggs or make Instant Pot Hard Boiled Eggs.
Make the bacon. Heat a skillet on the stovetop and cook the bacon until the fat is rendered and the bacon is nice and crispy, then drain it on paper towels. You could also try cooking bacon in the oven.
Make the dressing. Homemade dressing are by far better than bottled and they are pretty simple to make, too. Make your own homemade Ranch Dressing or use a bottle dressing of your choice.
Chop the salad ingredients. Wash and prep the fresh veggies for the salad. Wash and chop the lettuce, using a salad spinner to dry the leave (This Salad Spinner is the one I use and absolutely love). Dice the tomatoes, slice the eggs and chop the bacon and chicken.
Layer the salad. On a large platter or in a shallow bowl, layer big handfuls of lettuce, then line up the chicken, tomatoes, avocado, blue cheese and sliced egg.
FAQs
Can I make this salad ahead of time?
The key to making the salad in advance is the layers. As long as the salad stays dry, you can easily pre enough for lunches or quick dinners. Leave off the dressing and save the avocado to add just before serving.
How do you store leftovers?
If you think you might have leftovers, just portion the salad you think you're going to eat and serve it undressed. A dressed salad will wilt within a few hours in the fridge.
Do I have to use blue cheese?
You are free to adjust any of these ingredients to your liking. Try feta cheese, or shredded cheddar instead.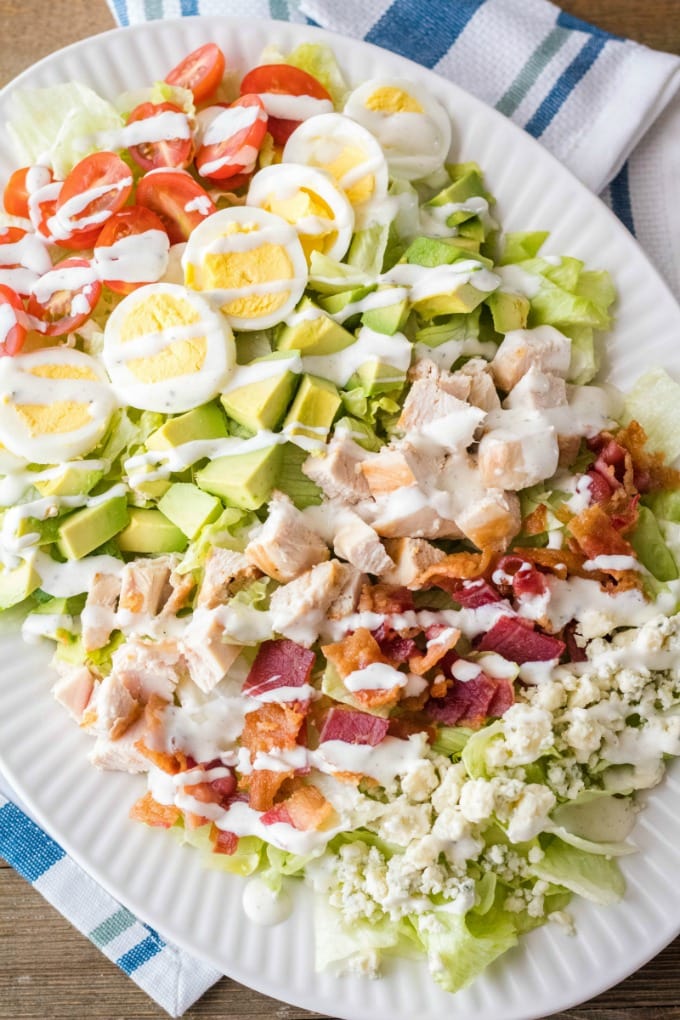 Recipe Tips and Tricks
If you want to get a head start on your prep for this recipe, make some extra chicken the night before and cook your bacon ahead of time. That way you can grab everything you need from the fridge and whip up this salad whenever a craving hits!
This salad will taste great with a variety of dressings, from blue cheese or homemade ranch to vinaigrettes. Just be sure to wait until serving to add the dressing or the lettuce will wilt and become mushy.
Don't forget to make some hard boiled eggs ahead of time so you can add them to your salad. Cook a few extra so you can whip up some egg salad for lunch the next day.
Season with kosher salt and black pepper. This is one of those things that everyone forgets to do but can make a huge taste difference.
Keep all of the ingredients bite sized. You can finely chop your lettuce, but you want everything to be about the same size for the perfect bite.
Salad for Lunch, Salad for Dinner
If you're loving this cobb salad, try some of my other favorite salads and homemade dressings too!
Recipe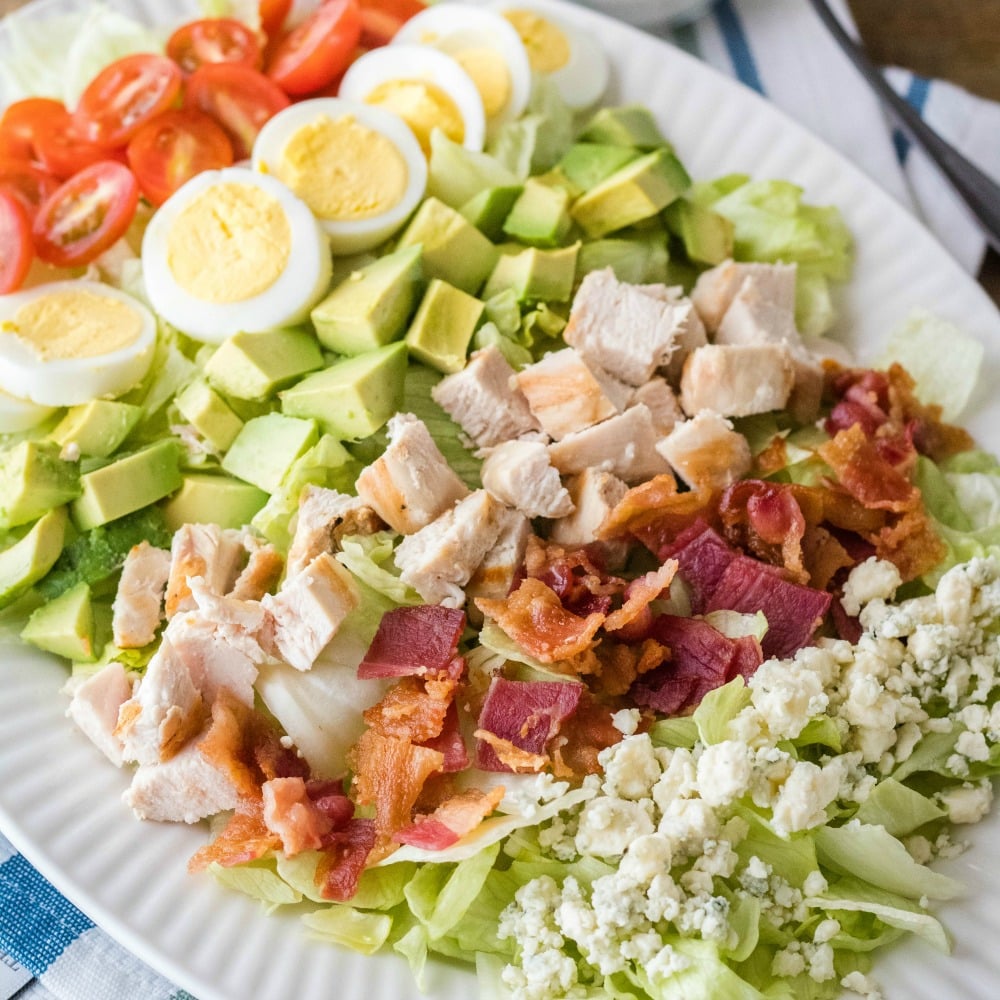 Classic Cobb Salad
This easy to make Classic Cobb Salad is loaded with all the best salad toppings. Add your dressing of choice and you have a fantastic lunch!
Ingredients
3

strips

bacon

1

boneless, skinless chicken breast

3/4

head

iceberg lettuce

(or salad greens blend)

8

grape tomatoes

1/2

avocado

2

hard-boiled eggs

1 1/2

ounces

blue cheese

crumbled

3

ounces

ranch dressing

(or blue cheese dressing)
Instructions
Preheat oven to 425 degrees F. Lay out bacon strips on a foil-lined baking sheet. Cook for 10-12 minutes or until bacon is crispy. Removed from oven and transfer bacon to a paper towel-lined plate to drain.

Heat grill or a skillet over medium-high heat). Cook chicken, flipping once, for about 3-4 minute per side. Make sure chicken reaches 165 degrees F internal temp and is no longer pink. Remove to a plate to rest.

Rinse and dry lettuce, then remove outer leaves and core. Cut into bite-sized pieces and place on a platter or shallow serving bowl.

Rinse and halve tomatoes. Place on top of the lettuce to one side of the bowl. Slice eggs and place next to the tomatoes in a line. Cut avocado in half, remove from skin and then chop or slice. Add next to eggs.

Slice or dice chicken and place on salad next to avocado. Crumble bacon and place next to the chicken. Crumble blue cheese and place next to bacon.

Serve with blue cheese or ranch dressing on the side.

Notes
You can prep all the ingredients in advance and just layer them when you're ready to serve.
Great for lunch prep!
Store salad undressed. A dressed salad will become soddy within a few hours.
Nutrition
Calories:
1176
kcal
Carbohydrates:
31
g
Protein:
65
g
Fat:
88
g
Saturated Fat:
23
g
Cholesterol:
534
mg
Sodium:
2292
mg
Potassium:
2119
mg
Fiber:
11
g
Sugar:
17
g
Vitamin A:
4180
IU
Vitamin C:
39.5
mg
Calcium:
391
mg
Iron:
4.6
mg
Follow Yellow Bliss Road on Pinterest
Join the more than 283k others already following Yellow Bliss Road for tons of delicious, family friendly recipes, free printables, tips and more!