Pan seared shrimp is a super fast way to cook shrimp that is still flavorful, tender, and very versatile! Serve on its own with sides or add to a main like pasta alfredo!
You can serve this pan seared shrimp recipe with so many different sides or as a component in the main dish! It's great paired with seasoned garlic rice, oven roasted vegetables, or roasted broccoli. Or add it to Fettucine with Alfredo Sauce.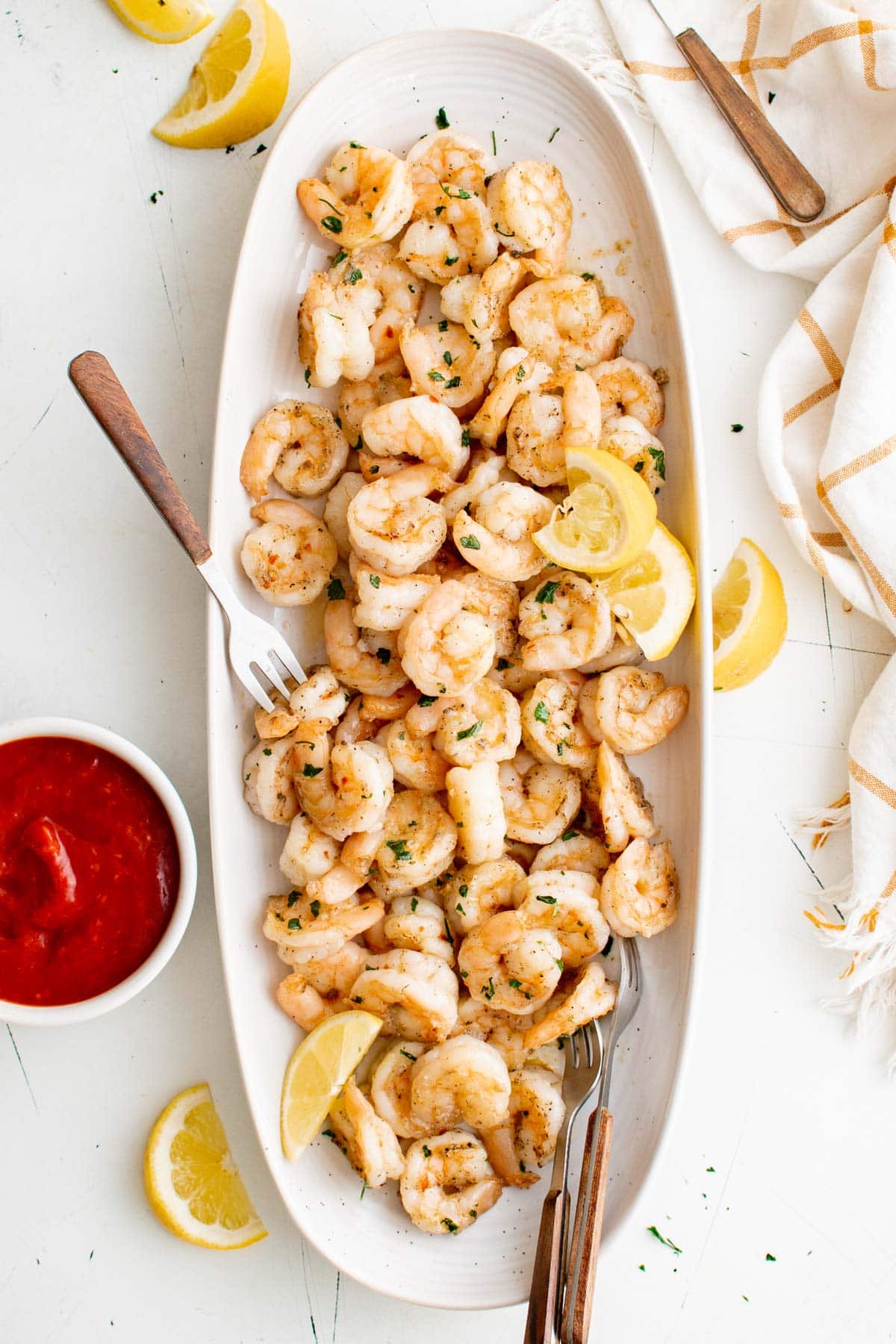 Pin this recipe for later!
Why We Love This Recipe
Cooks in Less than 5 Minutes – Pan seared shrimp cook FAST.
Simple Ingredients – Pick up some shrimp and some pantry staples for this easy recipe.
Versatile – There are endless ways to serve these simple, tender shrimp.
Ingredients
All you need are shrimp, oil, and some simple spices!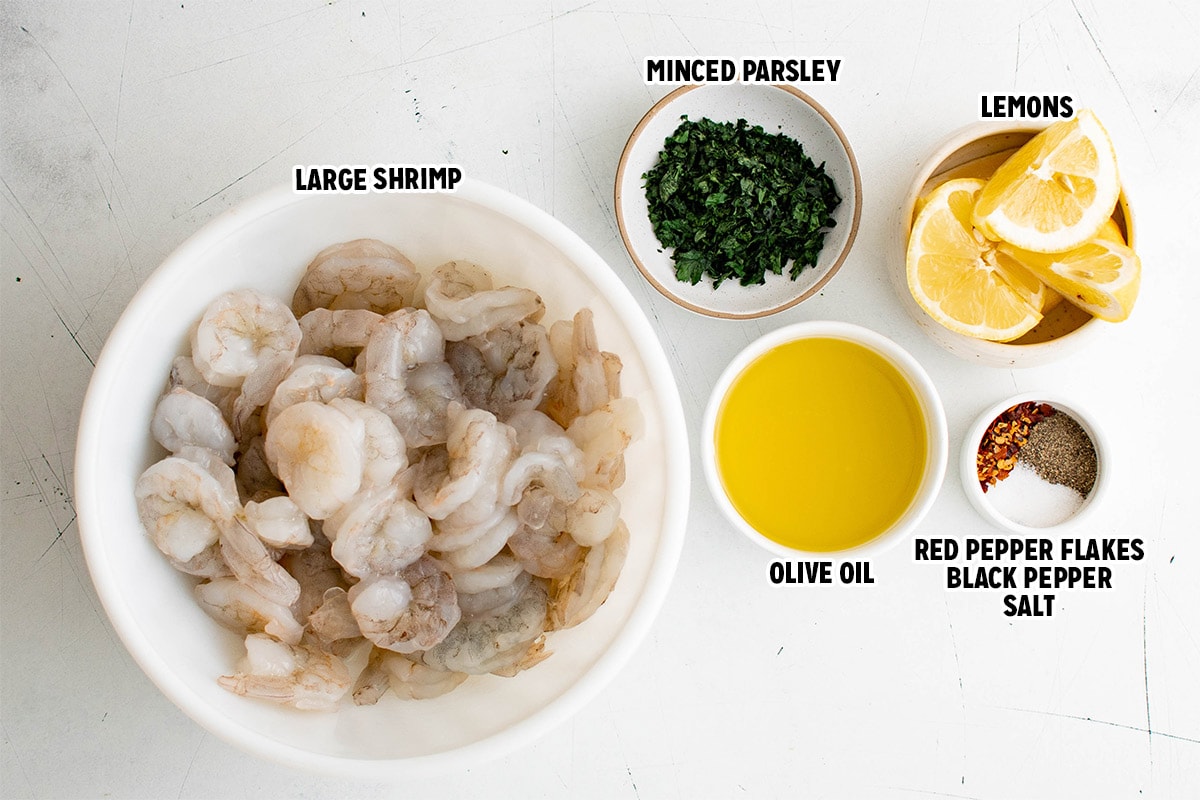 Large Shrimp – Deveined, peeled, and with tails removed
Olive Oil – You can use another cooking oil like canola oil or avocado oil
Spices – Kosher Salt, Black Pepper, Red Pepper Flakes
Lemon Wedges and Fresh Parsley – For serving
How To Make Sauteed Shrimp
Get a detailed list of ingredients & instructions in the recipe card below.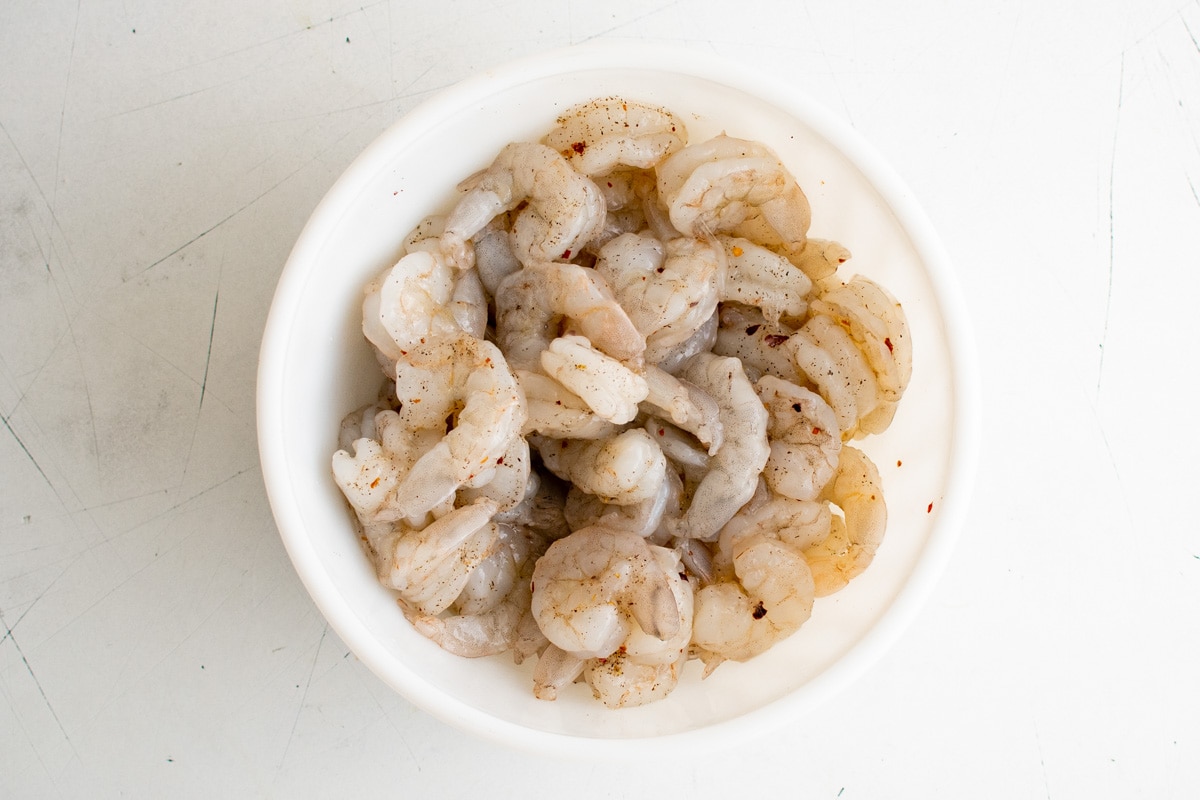 Prep and Season Shrimp – Prepare the shrimp by washing and deveining (pulling out the black vein on the back) if needed. Pat them dry and toss the shrimp in the spices.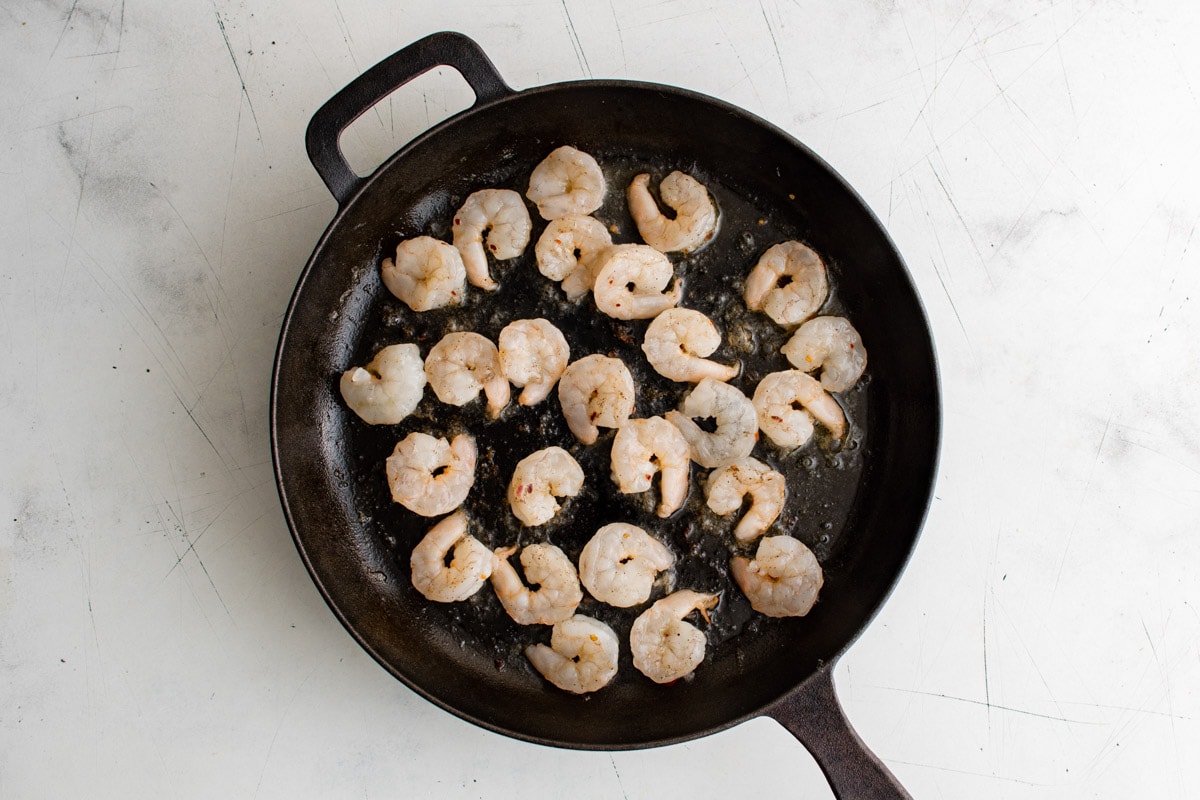 Cook Shrimp – Heat a large skillet over medium-high heat and add the olive oil until it shimmers (not smoking). Add the shrimp to the hot oil so they sit flat and are not touching. Cook for 1-2 minutes then flip over and cook for another quick 30 seconds. Remove to a plate. You may need to cook in batches.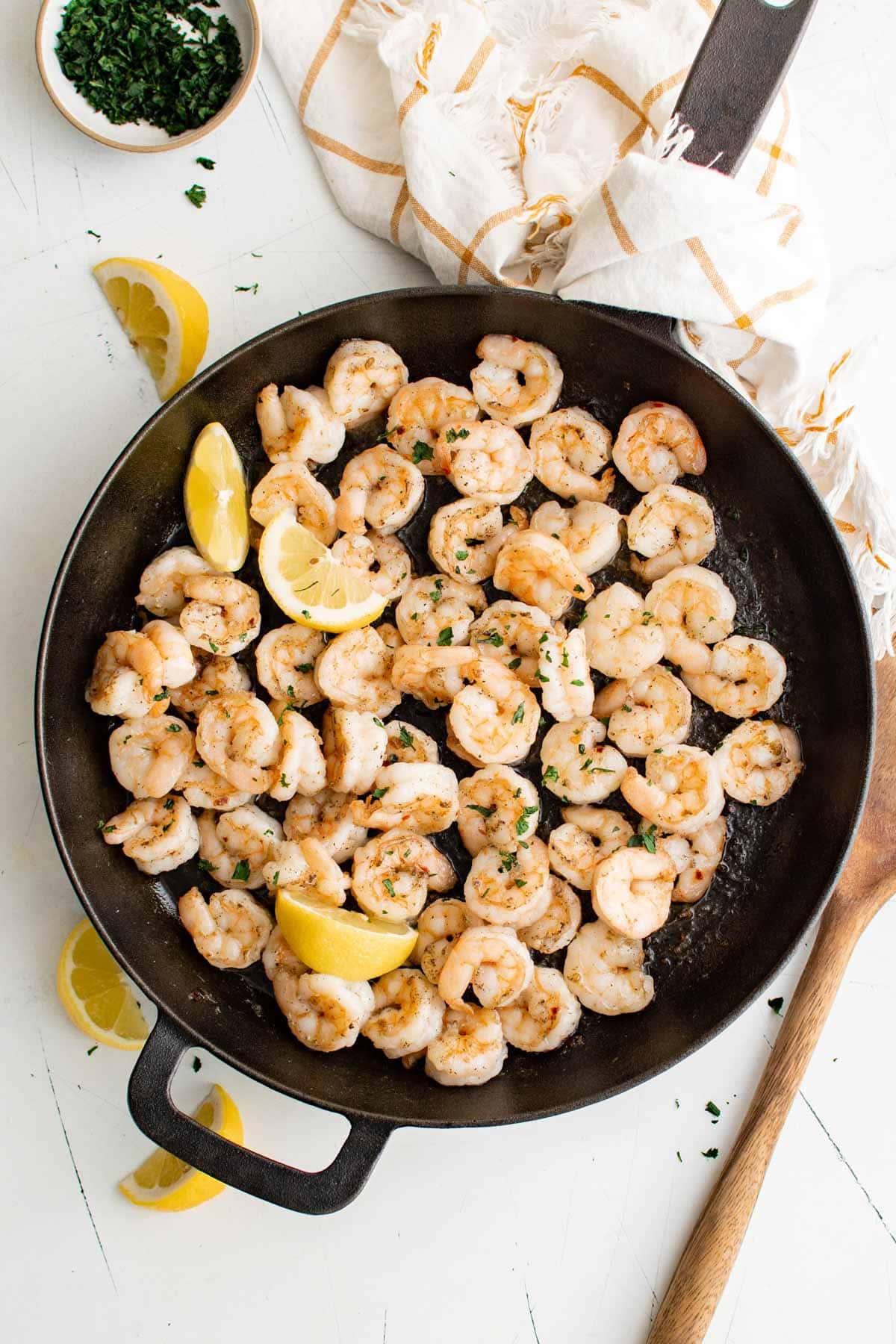 Serve – Serve them immediately with fresh lemon wedges and sprinkled with fresh parsley.
FAQs
How long do you cook shrimp in a pan?
Shrimp only takes 2-3 minutes to cook in a pan. Depending on how many you're cooking and the size of your pan, you may need to cook in batches.
How do you sear shrimp without overcooking?
The key to searing shrimp without overcooking them is to remember that they cook FAST. Remove from the pan and heat as soon as they are opaque and before they start to curl.
How do you know when shrimp is cooked?
Shrimp are cooked when they are pink and opaque – while raw shrimp will be raw and translucent. If the shrimp tails start to curl up, you want to remove from the heat so you don't overcook. Overcooked shrimp can be tough.
What should you season shrimp with?
Shrimp is versatile with many seasonings. Some favorites are citrus like lemon and lime, garlic, herbs, and paprika. It's also great seasoned simply with salt and pepper.
Variations
Oven Baked – Instead of on the stove, you can quickly bake shrimp in the oven using this sheet pan recipe.
Air Fried – You can also quickly cook shrimp in an air fryer using this recipe.
Tails On – For a prettier presentation, you can leave the tails on.
Storage and Reheating
Storage – Leftovers can be stored in the fridge for up to 3 days.
Reheating – Leftover shrimp is great eaten cold or you can reheat quickly in the air fryer or oven at 350 degrees F, or in a pan for just a minute or two until warmed. Be careful not to reheat for too long or they can get tough and chewy.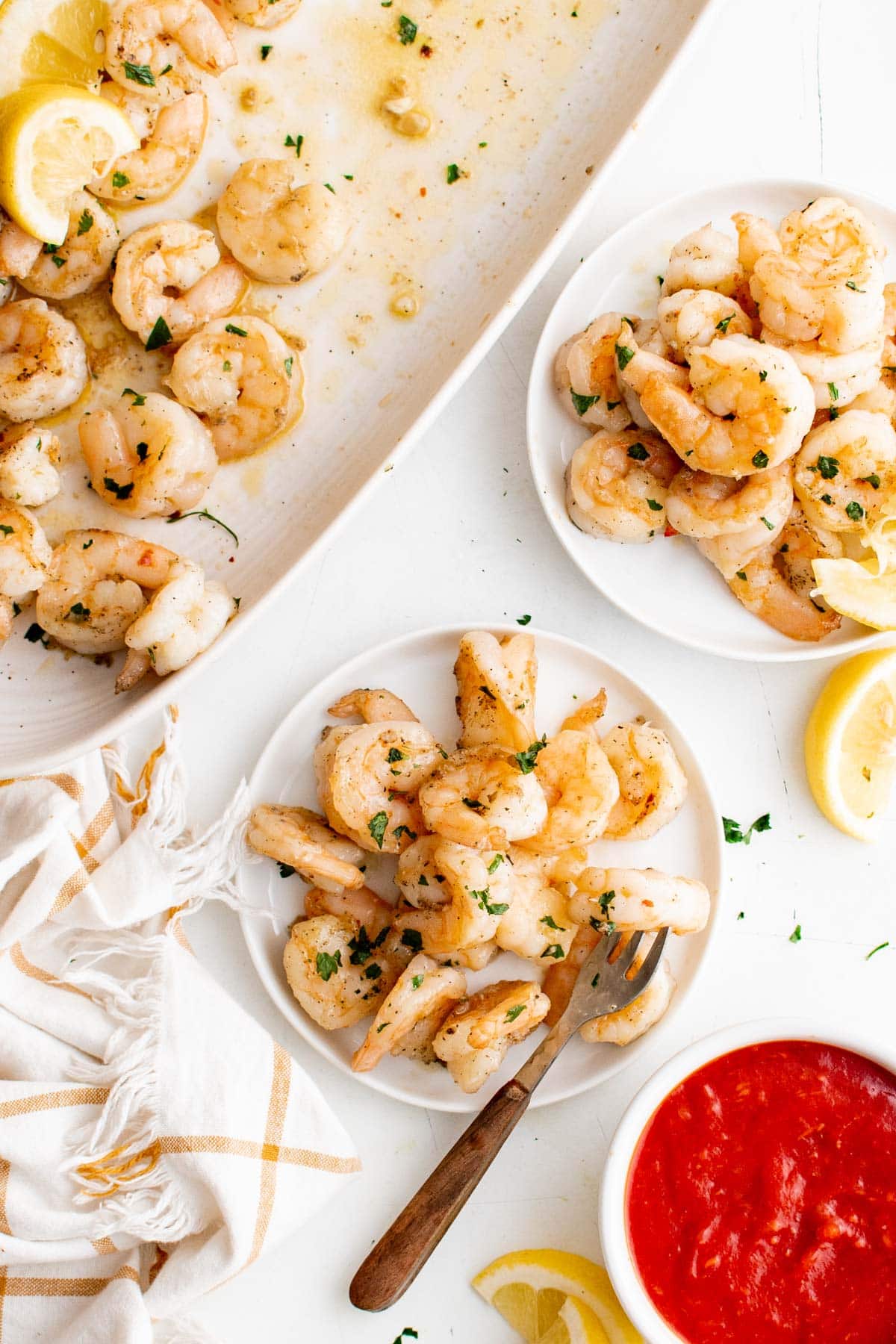 Pro Tips
Buy Peeled and Deveined Shrimp – This is the best time-saving tip! Buying shrimp (fresh or frozen) that are already peeled and deveined will save you many minutes of prep time.
Quickly Thaw Frozen Shrimp – You can use frozen shrimp for this recipe, but they need to be thawed first. Luckily, frozen shrimp thaw quickly if you run them under cold water or add to a bowl with cold water.
More Shrimp Recipes
Recipe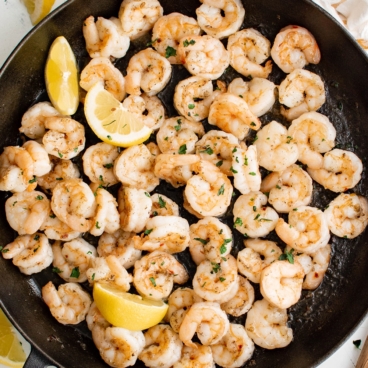 Pan Seared Shrimp
Pan seared shrimp is super fast, flavorful, tender, and versatile! Serve on its own with sides or add to a main like pasta alfredo!
Ingredients
2

pounds

large shrimp

deveined, tails removed.

2

tablespoons

olive oil

¼

teaspoons

Kosher salt

¼

teaspoon

black pepper

¼

teaspoon

red pepper flakes

Lemon wedges

Fresh minced parsley
Instructions
Heat a large, 12-inch skillet over medium-high heat. Add the olive oil and heat until it shimmers.

In a medium bowl toss the shrimp with the salt, pepper and red peper flakes.

Add to the skillet. Each piece should sit flat in the skillet, not touching, and untouched for 1-2 minutes.

Flip over using tongs. Let sit another 30 seconds to a minute before transferring to a plate. Shrimp is fully cooked when it is pink in color and no longer grey or opaque. You may need to do this in batches depending on how many shrimp you have. Once the tails start to curl, get them off the heat quickly.

Serve immediately with fresh lemon wedges, fresh parsley garnish and cocktail sauce for dipping.
Notes
A serving of shrimp is about ½ pound, or about 7-8 per person. If served as part of a main dish, such as with pasta alfredo, you'd probably want 5-6 per person and could get 5-6 servings.
Nutrition
Calories:
224
kcal
Carbohydrates:
2
g
Protein:
31
g
Fat:
9
g
Saturated Fat:
1
g
Polyunsaturated Fat:
1
g
Monounsaturated Fat:
5
g
Trans Fat:
0.02
g
Cholesterol:
286
mg
Sodium:
1431
mg
Potassium:
260
mg
Fiber:
0.1
g
Sugar:
0.01
g
Vitamin A:
446
IU
Calcium:
124
mg
Iron:
1
mg