Oven Roasted Vegetables are so delicious and tender with crisp, golden edges. With a perfect blend of fresh herbs, garlic and lemon these veggies are packed with flavor, plus I've got tips for how to roast vegetables perfectly every time!
These veggies are a nice, light side dish that compliments a variety of entrees, like Baked Chicken Breasts, Pork Chops, or Grilled Steak.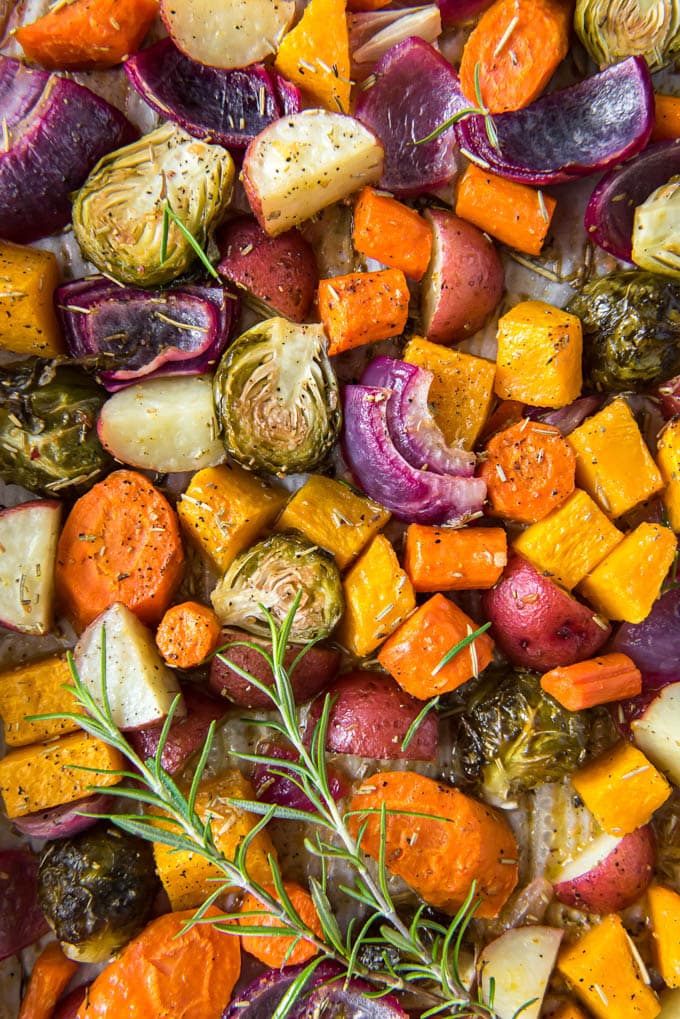 Pin this recipe for later!
Great for Meal Prep!
If you like to meal prep on the weekend for the week ahead, these roasted vegetables are the perfect choice. They reheat nicely and are also great cold. Served with your favorite protein, they make a fantastic healthy lunch option.
Ingredients for Oven Roasted Vegetables
Vegetables – Red potatoes, carrots, red onion, butternut squash, brussels sprouts. You can choose any vegetables you want, as long as they have roughly the same cooking time. Sometimes I like to add bell pepper or green beans, too, but add them about halfway through because they don't take as long.
Lemons – both zested and juiced.
Seasoning – Fresh rosemary, garlic, kosher salt, and black pepper. Feel free to throw more fresh herbs in there, like thyme, oregano, or parsley. Dried herbs are perfectly fine, too, like an Italian seasoning blend or spice it up with some crushed red pepper flakes. Just use about half of the fresh amount.
How to Roast Vegetables
Preheat your oven to 425°F and line a big baking sheet with foil or parchment paper.
Wash and chop all the veggies so they are about the same size. Place them in a large bowl.
Whisk together marinade and toss with the veggies.
Roast on the sheet pan for about 40 minutes, stirring once, or until vegetables are tender. Actual cooking times may vary.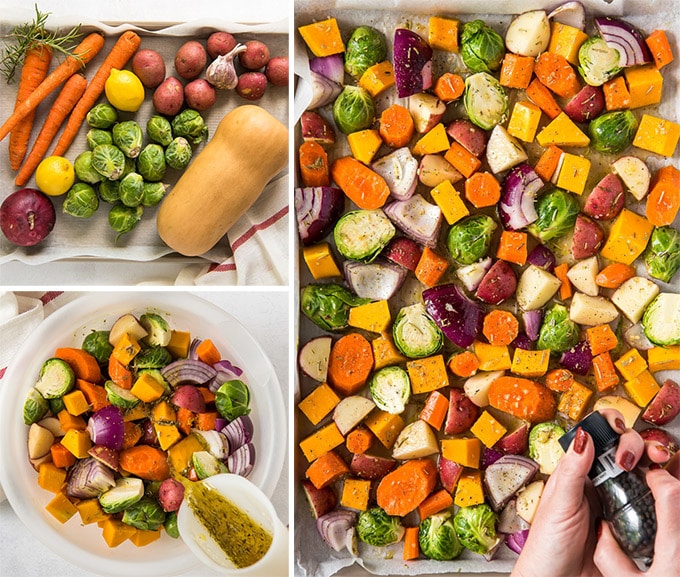 FAQs
How do you roast vegetables so they don't get soggy?
Vegetables can get soft and mushy when they're steamed. Make sure there is space between each piece for the hot air to circulate and roast uncovered. Roasting at a high temperature also helps.
What temperature should I roast veggies at?
Roast vegetables at a high temperature for even cooking and crisping. I always roast at 425℉. This is great for root vegetables because they get a golden crust on the outside and nice and tender on the inside.
Do you roast vegetables covered or uncovered?
Roast your veggies uncovered. Otherwise they will steam and become mushy.
Is it safe to roast vegetables with olive oil?
Absolutely! I have been using olive oil for roasting for many years and have never had a problem. If you are concerned about the smoke point of olive oil, you can always use canola oil, or turn your oven down to 400℉ and cook them for a little longer.
What's the healthiest way to roast vegetables?
Steaming is one of the healthiest methods, because you don't have to add any fats like oil or butter. But you also miss out on a lot of flavor. If you keep the oil to a minimum and use healthy fats, like extra virgin olive oil or avocado oil, oven roasting is a great healthy way for cooking your vegetables.
Tips for Success
Do not cover vegetables when roasting – you will end up steaming them rather than roasting them. Steamed veggies are fine, but we are going for that golden caramelization here, which adds so much flavor.
Oven temperature – Roasting is typically used for solid foods, like meat and veggies. I roast my vegetables at 425 degrees, but you could go lower to 400 if you like. It will take longer though. If you want to roast the quicker you could go as high as 450 degrees, but watch closely so they don't scorch.
Cooking oil – I always recommend olive oil when roasting veggies. Not only does it aid in getting that crispy outer edge, but it adds a subtle flavor too that you just can't get from vegetable or canola oils. However, if you have a favorite cooking oil, go ahead and use it.
Prep ahead to save time – To save a little time, prep your veggies ahead of time, toss them in the seasoning and oil, and arrange them on the baking sheet. Keep in the fridge until you're ready to roast.
Types of Vegetables to Roast – It's really important to choose your vegetable carefully. I used root vegetables for this recipe, but broccoli, zucchini and cauliflower are also super delicious roasted. Keep in mind that those won't take as long to cook, so you want to add to the pan accordingly.
For extra flavor, drizzle with balsamic vinegar.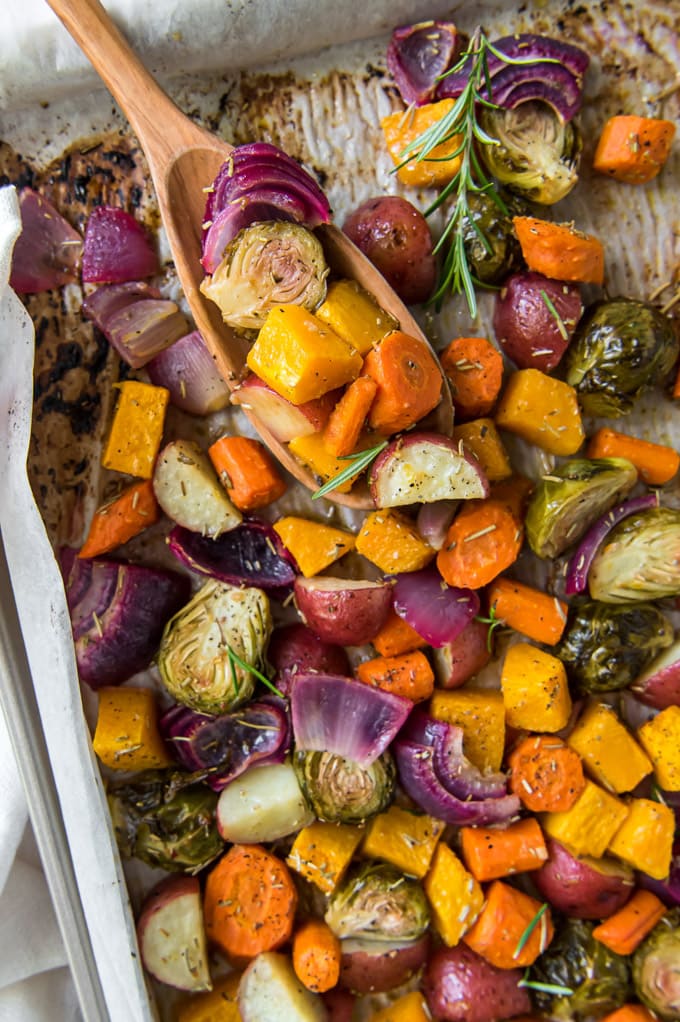 Serving Suggestions
Just about any protein you can think of will be complemented by the right batch of roasted veggies. Go meatless and serve them with some coconut rice and black beans. Or go big with some Slow Cooker Barbecue Ribs and Cheesy Garlic Bread. For meal prep, add them to a plate of brown rice and baked chicken.
What to Do With Leftovers
Refrigerate oven roasted vegetables within 2 hours of cooking. Store in a tightly covered container for 3-4 days. Reheat in the microwave or oven, or enjoy cold. These veggies will not do well in the freezer, as the reheating will cook them more and turn them into a mushy mess.
More Vegetable Recipes
Recipe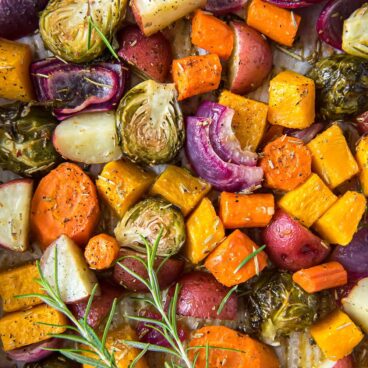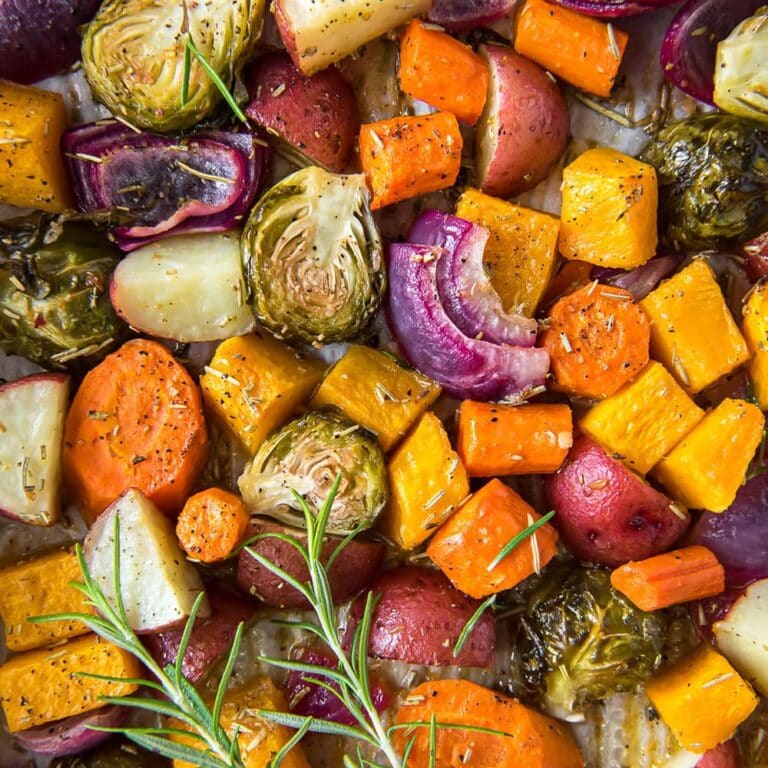 Roasted Vegetables
Oven Roasted Vegetables are deliciously tender and roasted in a crave-worthy seasoning blend. Get tips for perfect roast veggies side dish every time!
Ingredients
5

Red potatoes

scrubbed and cut into small chunks

4-5

Carrots

peeled and cut into chunks

1

Red Onion

chopped

1 1/2

cups

chopped Butternut Squash

10-15

Brussels sprouts

sliced in half

1/4

cup

olive oil

2

lemons zested and juiced

2

tablespoon

chopped fresh rosemary or 1 Tbsp dried

2

cloves

garlic minced

1

tsp

freshly ground black pepper

1

tsp

kosher salt
Instructions
Preheat oven to 425 degrees Line a large rimmed baking sheet with nonstick foil or parchment paper.

Place chopped vegetables into a large bowl.

In a small bowl, whisk together olive oil, lemon juice and zest, rosemary, and garlic and pour over vegetables. Toss to coat well.

Arrange vegetables on prepared sheet pan. Try to keep a little bit of space between the vegetables if possible so they can cook evenly. Use two sheet pans if necessary. Sprinkle evenly with salt and pepper.

Roast for 20 minutes, then stir and roast an additional 15-20 minutes or until veggies are tender. The actual cooking time could vary quite a bit depending on how small you cut your vegetables.

Serve immediately.
Notes
Refrigerate roasted vegetables in a tightly covered container for 3-4 days. Reheat in the microwave or oven, or enjoy cold.
These are perfect for meal prepping! Just add them to a container or rice and your favorite protein for a great lunch all week long.
They will get mushy when defrosted, so freezing is not recommended.
Important – Not all vegetables cook at the same rate. Root veggies will take longer, while others don't take nearly as long. Roast them separately, or add to the pan at different times.
Nutrition
Calories:
203.12
kcal
Carbohydrates:
33.6
g
Protein:
4.4
g
Fat:
7.24
g
Saturated Fat:
1.04
g
Sodium:
344.21
mg
Potassium:
945.44
mg
Fiber:
5.67
g
Sugar:
5.53
g
Vitamin A:
8088.72
IU
Vitamin C:
54.62
mg
Calcium:
59.08
mg
Iron:
1.87
mg