Get a crock pot full of tender, juicy, Mexican pulled pork with this simple Slow Cooker Carnitas recipe!
Slow cooking all day gives you authentic pork carnitas that are so flavorful and juicy, and with my method, you can make them nice and crispy without any frying!
Our favorite authentic Mexican meal is Slow Cooker Carnitas Tacos with Homemade Flour Tortillas, Mexican Rice, and Refried Beans topped with a simple mixture of onion and cilantro, or Pico de Gallo and Guacamole.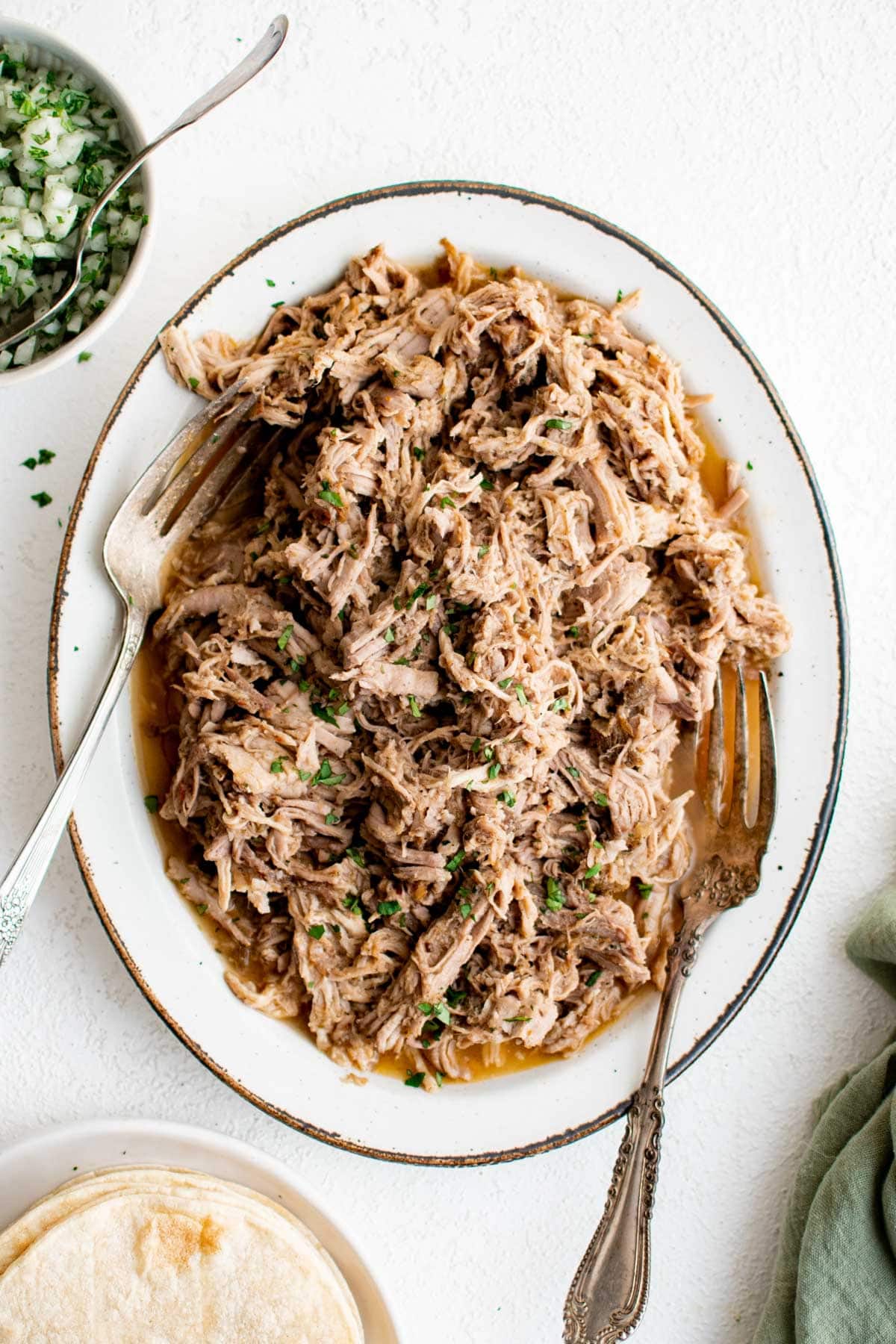 Pin this recipe for later!
How to Make Crispy Slow Cooker Carnitas
This simple pork carnitas recipe starts with a boneless pork butt and lots of citrus and seasonings. As it slowly cooks, the fat melts, and the meat becomes tender, juicy, and melt-in-your-mouth delicious!
The orange, lemon, and lime juices elevate the meat's flavor and help tenderize it so it practically falls apart.
This crock pot carnitas recipe is so easy – just set it, forget it, and let the slow cooker do all the work. After 8-10 hours the meat is shredded, dunked in the juices, and served up however you like.
There is a debate about how carnitas should be cooked – should they be braised or fried? With my recipe, you can have it both ways! Plus, I'll show you my little trick to getting crispy carnitas without frying.
Why I Love This Recipe
Fall Apart Tender – If you want the most melt-in-your-mouth pork carnitas, look no further. The pork roast is marbled with fat throughout, resulting in super tender and juicy meat.
Feeds a Crowd – A 4-pound pork roast will give you a ton of meat! You can feed your family and have enough for company. It's perfect for parties!
Hands-Off Cooking – Mix up the rub, pour in some liquid, and you're good to go. These crock pot carnitas practically make themselves!
Versatile – Use the flavorful shredded pork to make carnitas tacos, burritos, enchiladas, nachos, and more!
Ingredients + Substitutions
Scroll down to find a detailed list of ingredients in the recipe card below.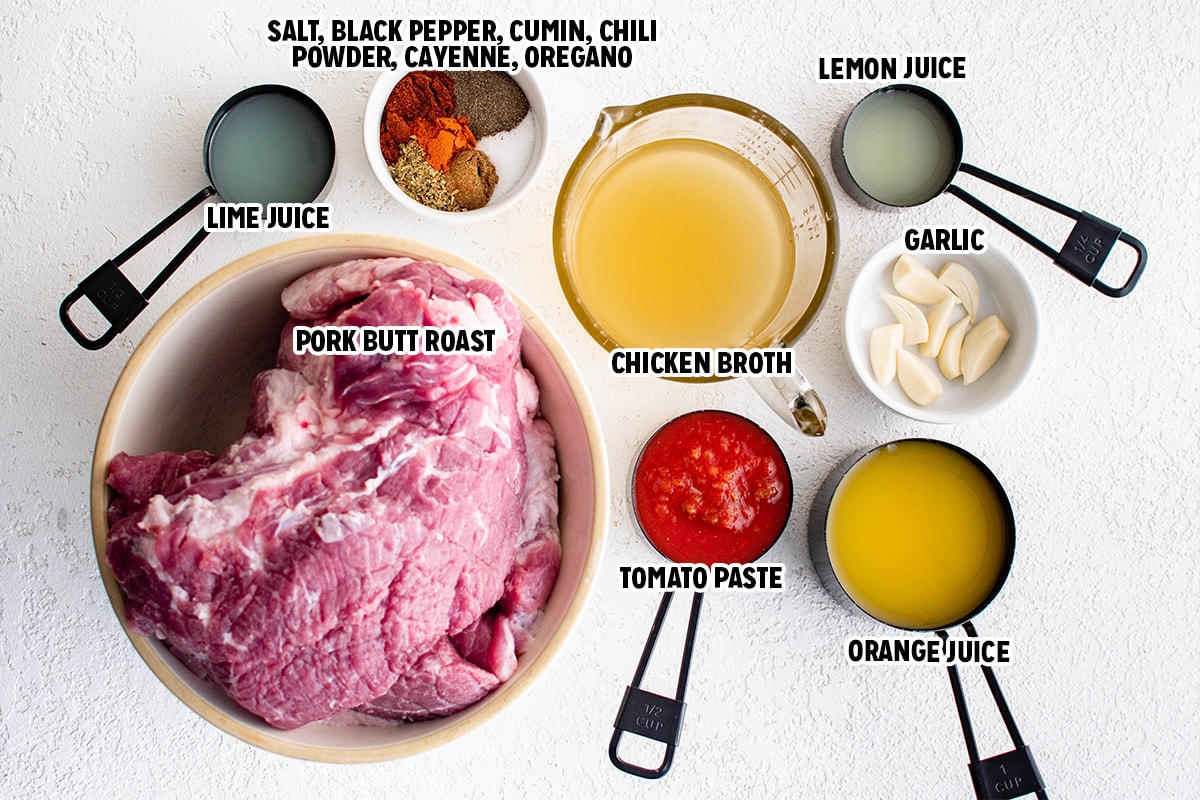 Pork Butt – A pork butt is a well-marbled roast with a lot of fat and connective tissue, perfect for slow cooking. The fat melts and makes the meat so juicy and irresistibly delicious!
Seasonings – Salt, black pepper, chili powder, oregano, cayenne pepper, and cumin. These dried spices add flavor to the meat.
Garlic – Another flavorful addition, and I do prefer fresh.
Salsa – My favorite to use in recipes is Pace Picante sauce. I use it in my Slow Cooker Mexican Beans, too. Just use a brand with a flavor and heat level that you enjoy.
Chicken Broth – Opt for a low-sodium variety.
Orange Juice – You can use fresh squeezed or bottled. I'd recommend a low-sugar variety, or at least 100% juice if bottled. The finished dish won't taste sweet at all either way.
Fresh Lemon and Lime Juice
Step By Step Instructions
See recipe card below for ingredient quantities and full instructions.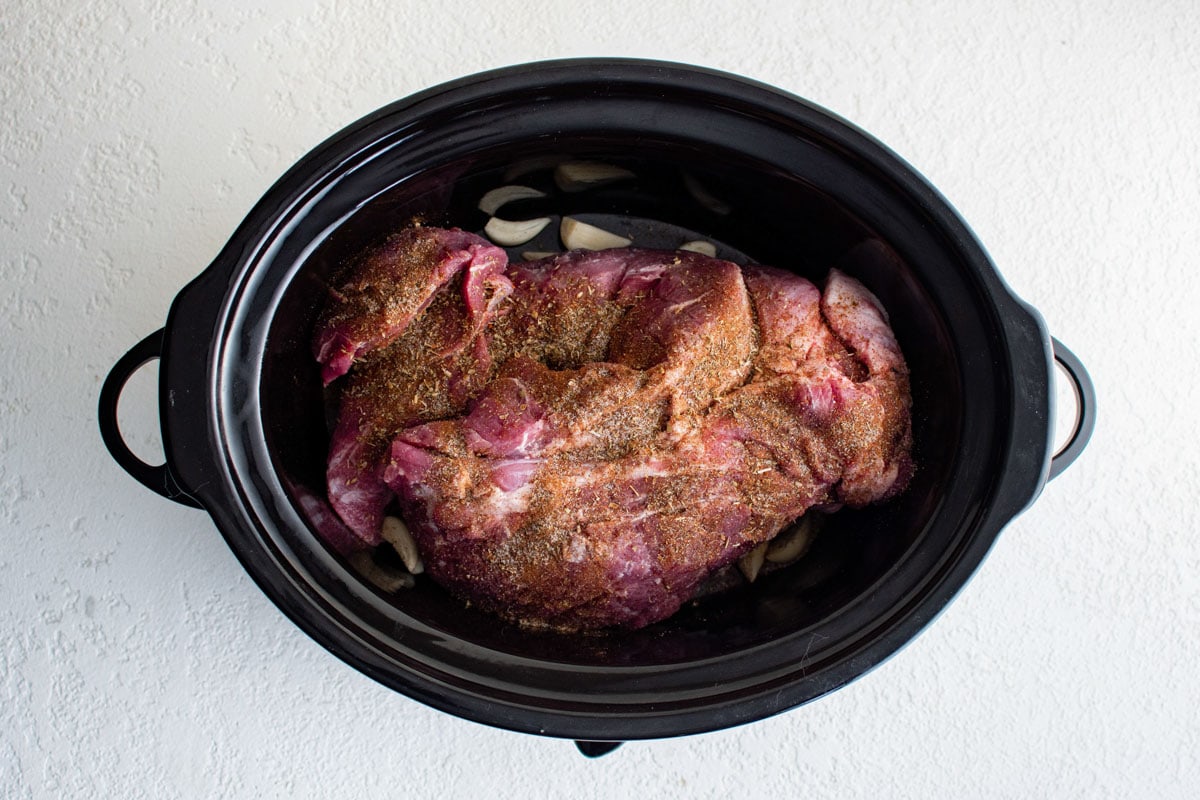 Step One – Place the roast in your slow cooker, then pat it dry with paper towels. Rub the spices all over the meat.
Step Two – Toss in some garlic, and pour salsa, lemon juice, lime juice, orange juice, and chicken stock.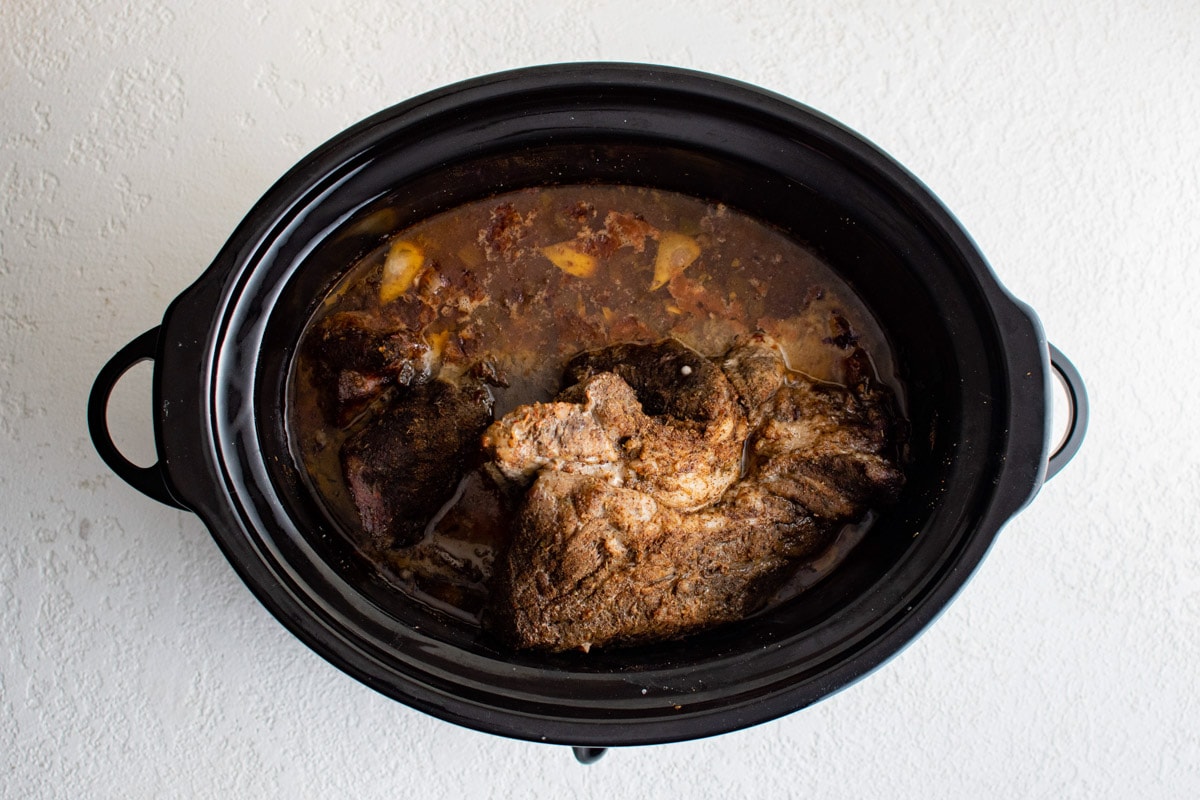 Step Three – Cover, set the slow cooker to low, and let the meat cook for 8-10 hours.
Step Four – When it's finished cooking, transfer the meat to a cutting board and shred, removing large chunks of fat as you go. You could also shred directly in the pot; just be sure to remove any chunks of fat.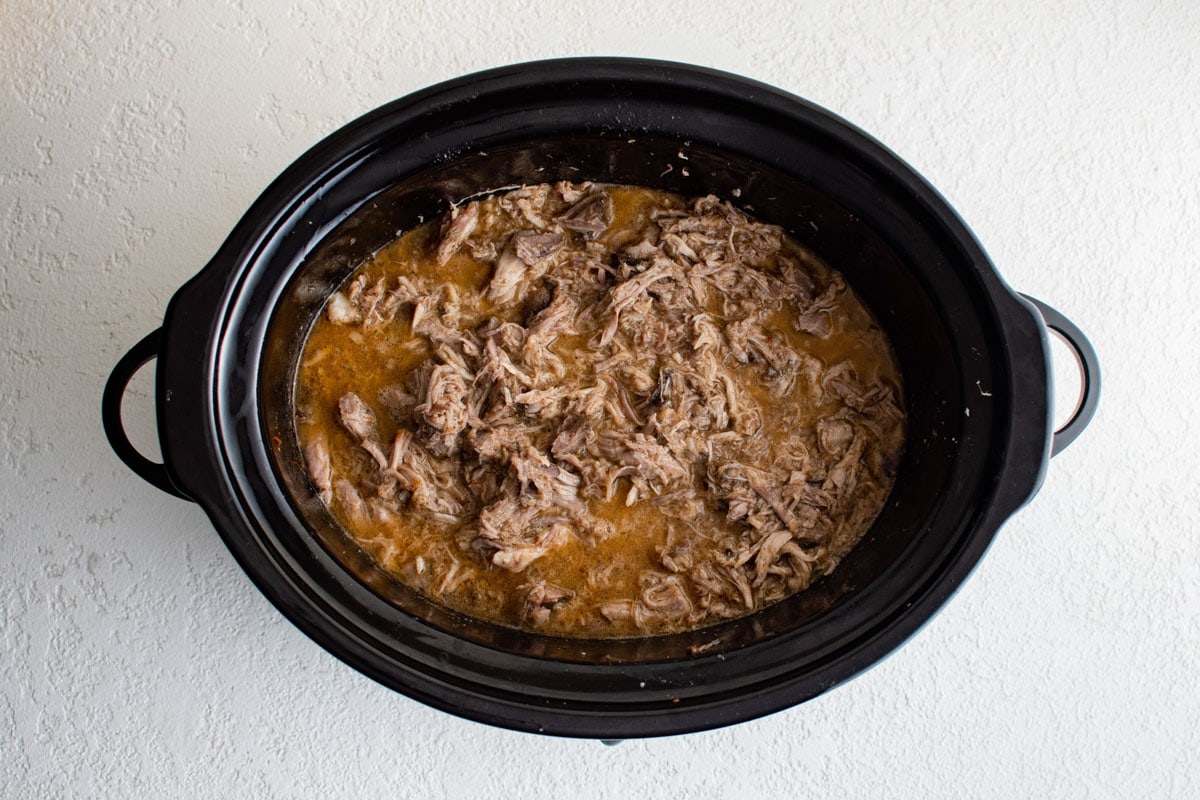 Step Five – Skim off any fat in the crock pot and put the shredded pork in to soak up some juices. At this point, you can broil the meat on a baking sheet if you want to get some crispy edges.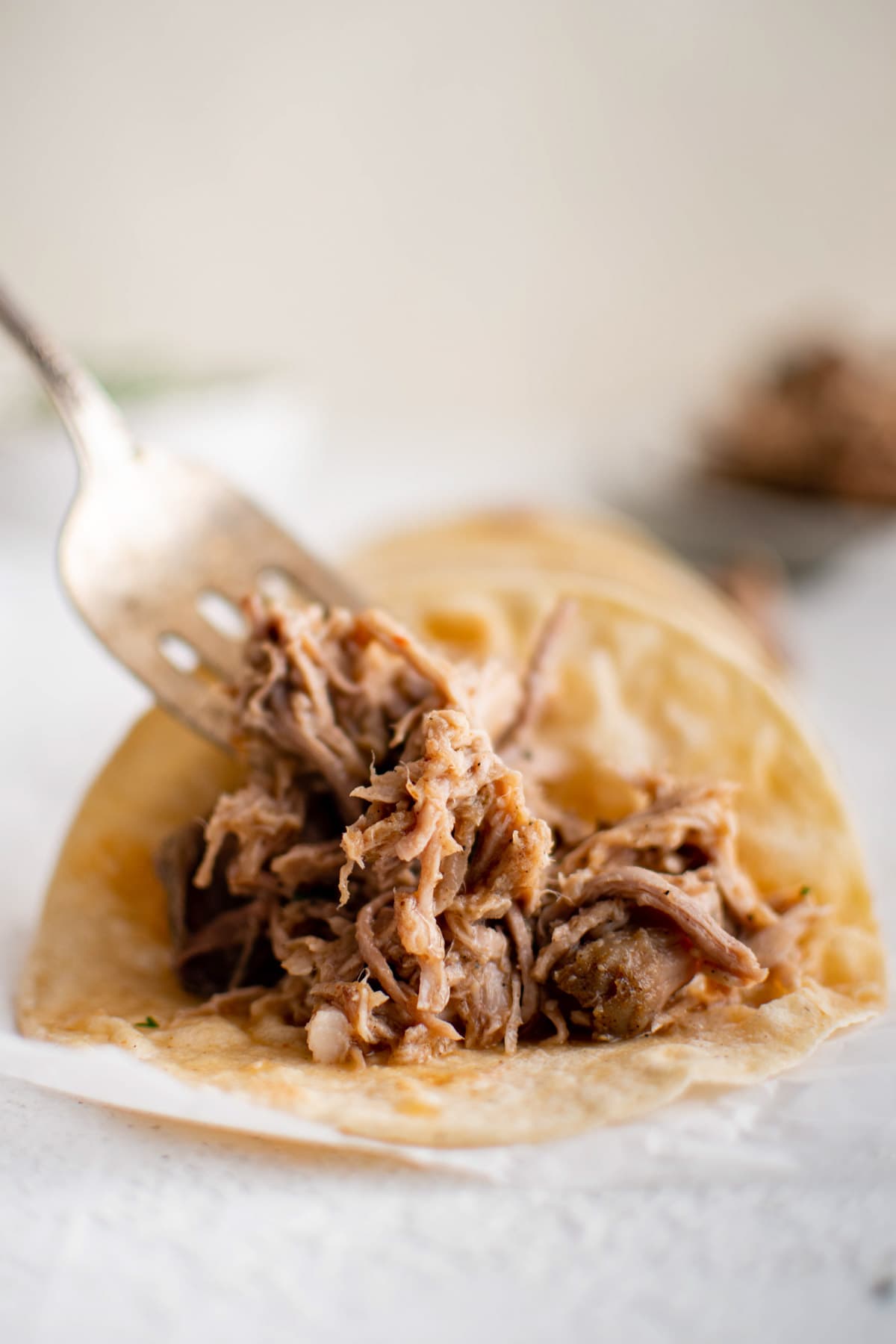 Step Six – Serve! You can serve directly from the slow cooker or use my trick to get some crispy bits in the mix. This will keep the meat hot and juicy.
How To Make Carnitas Crispy Without Frying
Traditional braised? Or traditional crispy? Whichever side you are on you can get it with this recipe. Serve the meat from the slow cooker for tender and juicy carnitas, or go crispy with this simple trick
Using a slotted spoon or tongs to let excess liquid drain off, place the shredded meat on a foil-lined, rimmed baking sheet.
Slide the sheet pan under the broiler for 5-10 minutes, or until the top starts to brown and get delicious crispy bits. You can spray the meat with a little cooking spray before broiling for extra crispiness.
As it crisps, watch closely so it doesn't get too dark. Serve from the sheet pan (do not put the meat back into the slow cooker).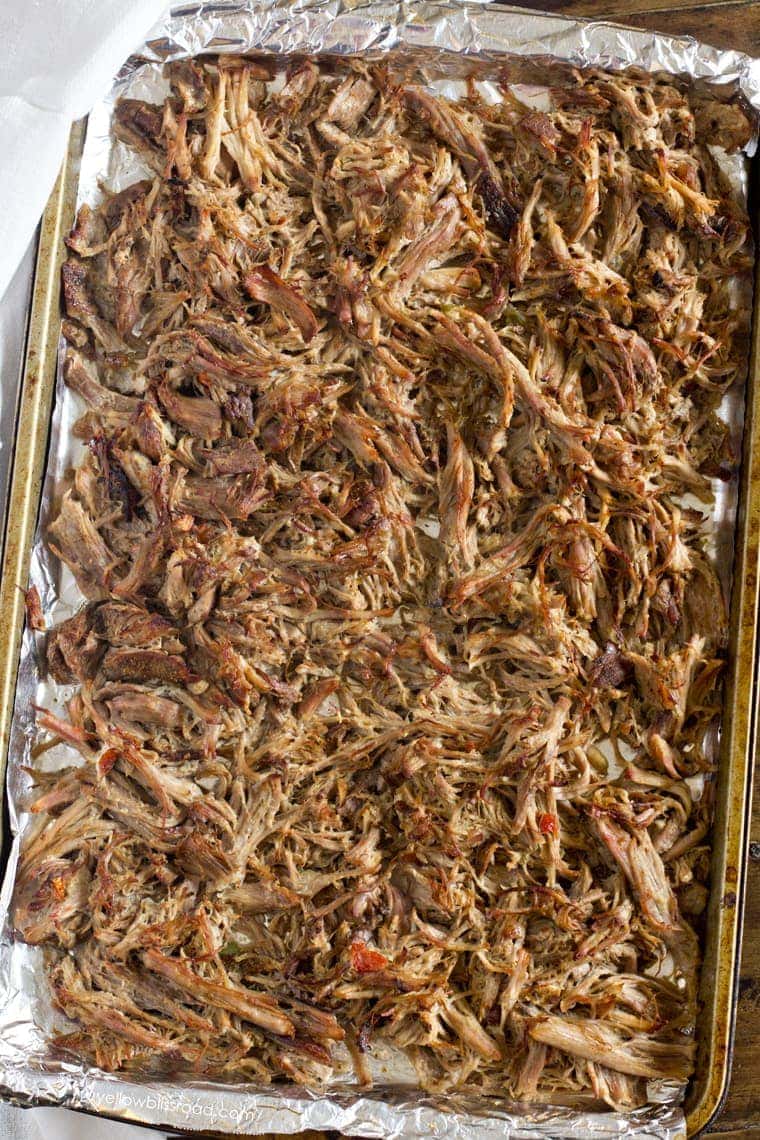 FAQs
Can you overcook carnitas in the slow cooker?
Essentially, you can overcook any meat in the slow cooker, but with the citrus added, it's definitely possible for the meat to become mushy if left for an extended amount of time.
What temperature should carnitas meat be?
While pork is safe to eat at 145℉, carnitas should be cooked up to 170℉ to ensure the meat is tender.
Why is my pork tough and rubbery?
Most likely it's because you didn't let it cook long enough. Pork roast has a lot of fat and connective tissue that needs time to break down and become tender; at least 8-10 hours on LOW in your slow cooker.
What is the best meat to use for carnitas?
Carnitas are the Mexican version of pulled pork. They are traditionally made with a pork roast with a higher fat content, like pork butt or pork shoulder. Fat equals flavor!

However, if you are looking for a lower-fat option, you can use a pork loin. The meat will not be quite as tender but still tasty. In a pinch you could use a pork tenderloin, but it won't need to cook as long and although the flavors will be on point, neither will be as juicy or fall apart tender as the larger roasts.
How do you store leftover carnitas?
If you have leftovers, store in the fridge in an airtight container for about 3-4 days. Reheat in the microwave with a damp towel loosely covering the meat to rehydrate it.

To freeze, cool completely, wrap tightly in plastic, and place into a freezer bag. Freeze for up to 6 months. Thaw overnight in the refrigerator and reheat in the microwave with a damp paper towel, or on the stovetop with a little oil.
What Slow Cooker Should I Buy?
The New York Times has reported for ten years that THIS is the best Slow Cooker on the market, offering the best performance and features of any available slow cooker. I've used it, and I concur!
Variations
Instant Pot Carnitas: Cut the pork into chunks, removing large pieces of fat as you go. Add seasonings, salsa, broth, and juices into the bottom of the instant pot and add the pork, tossing gently to coat. Put the lid on the instant pot and turn to seal. Cook for 35 minutes on high pressure, then do a natural release (about 15 minutes) and finish with a quick release. Once pressure is released, open the lid, transfer the meat to a cutting board or bowl, and shred with two forks.
Oven Carnitas: Cut the pork into chunks, removing large pieces of fat as you go. Place into a large dutch oven and season. Pour broth, juices, and salsa around (not over) the meat. Cook in a 300℉ oven for 2 ½ to 3 hours or until the pork is tender enough to shred. Serve as is or follow the steps for crisping under the broiler.
Stovetop Carnitas: Cut the pork into chunks, removing large pieces of fat as you go. Place into a large dutch oven and season. Pour broth, juices and salsa around (not over) the meat. Bring to a boil, stirring occasionally. Turn the heat to the lowest setting and cook for about 6 hours, stirring only once an hour. The liquids will evaporate and leave you with tender, juicy pork.
Serving Suggestions
Carnitas are delicious on their own served with traditional sides like Mexican Rice, Slow Cooker Beans, or refried beans or wrapped in a tortilla with onions and cilantro, or even on nachos. The nachos are my personal favorite! You can stuff the meat into a tortilla and make tacos or burritos, tostadas, or even enchiladas.
If you're going the carnitas taco route, be sure to keep lots of shredded cheese on hand because that's how I like my carnitas.
This recipe makes a lot, so you'll definitely have enough for two meals. The leftovers would be great in a Cuban Sandwich. Just be sure to serve some lime wedges on the side.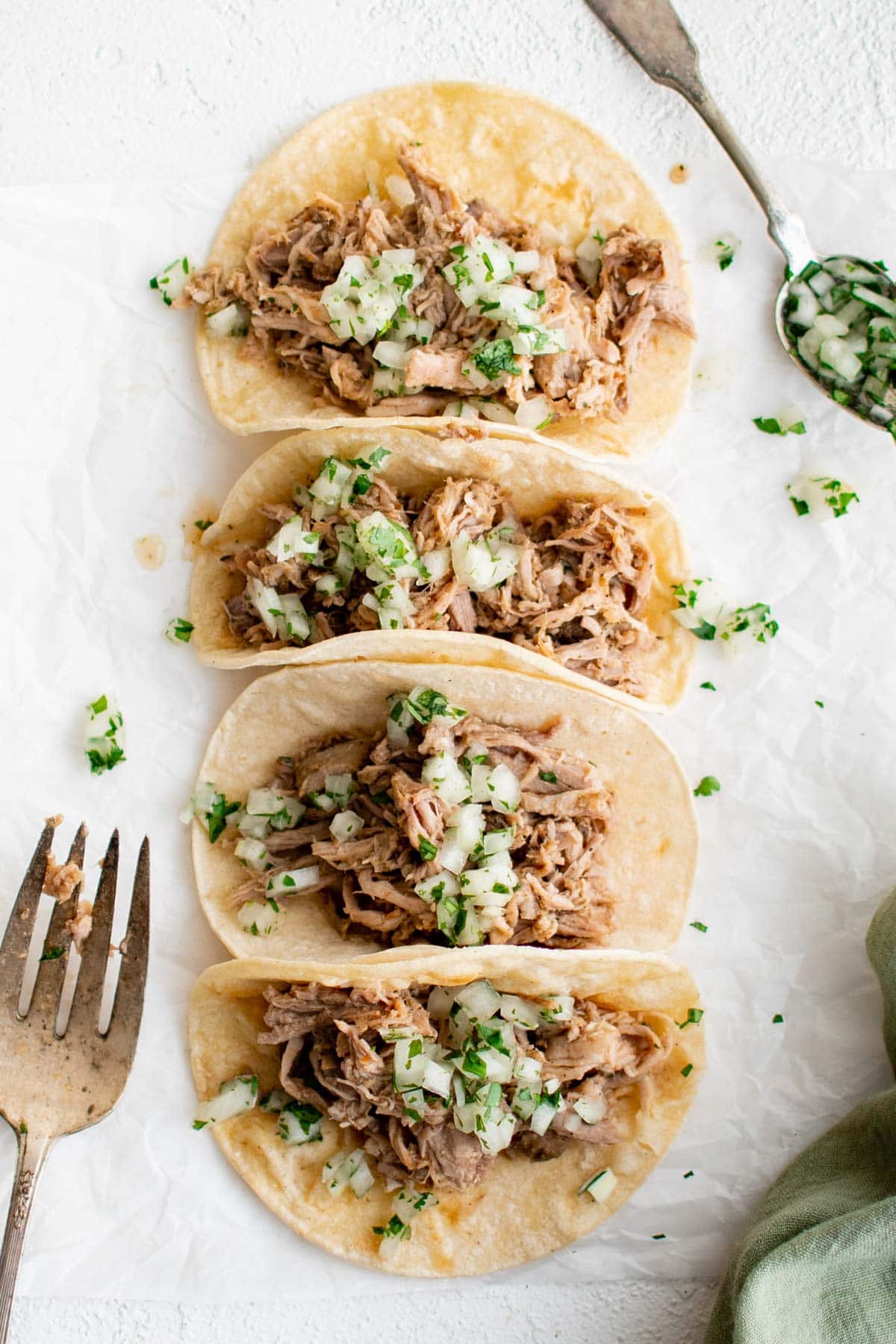 Pro Tips
Prep Ahead – Mix up the spices and rub into the meat the night before. Plop the meat into the crock pot, cover, and refrigerate. Combine the liquids in a separate container and store them in the fridge. Then in the morning all you have to do is pour everything in and turn it on.
Tortillas – Traditionally carnitas are eaten with corn tortillas but I actually prefer them with flour. You do you.
Toppings – You can top the tacos with whatever you like. Traditional street style tacos will consist of meat in a corn tortilla topped with onions and fresh cilantro.
Orange juice – You can use the OJ you have in your fridge right now, or grab one that's lower in sugar. The best option would be using fresh squeezed orange juice. It really is more about the essence of the orange than the deeper flavor.
More Mexican Recipes
Recipe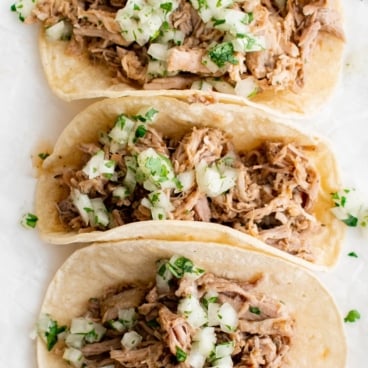 Easy Slow Cooker Carnitas Recipe
These easy Slow Cooker Carnitas are so tender and juicy and full of flavor. Stuff them in tacos and burritos or layer them in salads or on nachos!
Total Time
8

hours
15

minutes
Ingredients
5-6

pound

Pork Shoulder

bone-in preferred – if boneless, 3-4 pounds is good

1

tablespoon

kosher salt

1

teaspoon

black pepper

1

teaspoon

chili powder

1

teaspoon

oregano

1/2

teaspoon

cayenne pepper

1/2

teaspoon

cumin

4

cloves

garlic

1/2

cup

salsa

1

cup

chicken stock

3/4

cup

orange juice

Juice of 1 lemon

Juice of 2 limes
Instructions
Rinse pork roast, pat dry and place in the slow cooker. Slice the garlic cloves in half and add to the slow cooker.

Combine spices and rub all over all sides of the pork.

Combine salsa, lemon juice, lime juice, orange juice and chicken stock. Pour around the pork.

Set the slow cooker to low and cook meat for 8-10 hours.

When meat is finished cooking, remove the roast to a cutting board. Discard the bone and shred the meat with two forks, removing large chunks of fat as you go. Skim the juices left in the slow cooker with a slotted spoon to remove any large chunks of fat or pieces of garlic. Place the shredded meat back in the slow cooker with the juices. (You could also shred the meat directly in the slow cooker if you prefer).

*Optional Step: Preheat the broiler on your oven. Using a slotted spoon to drain excess liquid, place the shredded meat on a foil covered baking sheet with a raised edge. Slide the sheet pan under the broiler for 5-10 minutes, or until the top starts to brown and get delicious crispy bits.

Serve hot with traditional sides, like rice and beans, or in tortillas with onion, cilantro and a lime wedge. Also great in salads and on top of nachos.
Nutrition
Calories:
272
kcal
Carbohydrates:
3
g
Protein:
35
g
Fat:
13
g
Saturated Fat:
4
g
Cholesterol:
116
mg
Sodium:
1087
mg
Potassium:
655
mg
Fiber:
1
g
Sugar:
1
g
Vitamin A:
191
IU
Vitamin C:
6
mg
Calcium:
33
mg
Iron:
2
mg