The whole family will love my Slow Cooker carnitas recipe! Tender pork carnitas that are so juicy and full of flavor, and crispy with no frying! Make some delicious carnitas tacos, stuff them into burritos and layer them in salads or on nachos!
Years ago, there was a little hole in the wall Mexican restaurant that was one of those places where you knew you could always get an true authentic Mexican meal. Some girlfriends and I would often go on the weekends because that was when they had these amazing melt in your mouth Pork Carnitas. They were served with the traditional rice and beans and tortillas, and we would always laugh because they were always garnished with a peach half, straight out of the can.
But oh, their carnitas recipe was phenomenal. Well a few months ago that amazing family-run restaurant closed down. It was sad to see a small business closed, but it also meant no more Sunday carnitas tacos! I haven't made them in my own kitchen for years since they never came close to my favorite meal, but I figured now's as good a time as any to try again.
How to make Slow Cooker Carnitas
This pork carnitas recipe is adapted from one I used to make that was good, but not amazing. It starts with pork shoulder on the bone (you can use boneless but I love the intense flavor the bone adds) and a lot of citrus and seasonings. They all go in the slow cooker and cook on low all day long. After 8-10 hours the meat is shredded, dunked in the juice and then broiled on a baking sheet to give you those crispy bits, a little trick I picked up from Pinch of Yum. And guess what, now they ARE amazing!
I actually used to fry them in some oil in a hot skillet, but that just made them greasy. I love the broiling method so much more. However, if you prefer you can heat some oil in a large (preferably) cast iron skillet and fry the pork until crispy on the edges. Either way you get tender pork carnitas with lots of crispy bits.
Slow Cooker Carnitas are delicious on their own served with traditional sides like rice and beans, wrapped in a tortilla with onions and cilantro, or even on nachos. The recipe makes a lot, so you'll definitely have enough for two meals. The nachos are my personal favorite! Just be sure to serve some lime wedges on the side!
Love this Pork Carnitas Recipe? Here are some more delicious Mexican recipes to try: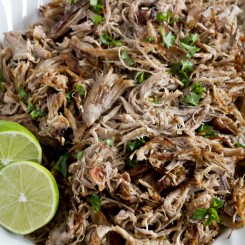 Easy Slow Cooker Carnitas Recipe
These easy Slow Cooker Carnitas are so tender and juicy and full of flavor. Stuff them in tacos and burritos or layer them in salads or on nachos!
Print
Pin
Rate
Prep Time: 15 minutes
Cook Time: 8 hours
Total Time: 8 hours 15 minutes
Servings: 8 servings
Ingredients
5-6 pound Pork Shoulder bone-in preferred - if boneless, 3-4 pounds is good
1 tablespoon kosher salt
1 teaspoon black pepper
1 teaspoon chili powder
1 teaspoon oregano
1/2 teaspoon cayenne pepper
1/2 teaspoon cumin
4 cloves garlic
1/2 cup salsa
1 cup chicken stock
3/4 cup orange juice
Juice of 1 lemon
Juice of 2 limes
Instructions
Rinse pork roast, pat dry and place in the slow cooker. Slice the garlic cloves in half and add to the slow cooker.

Combine spices and rub all over all sides of the pork.

Combine salsa, lemon juice, lime juice, orange juice and chicken stock. Pour around the pork.

Set the slow cooker to low and cook meat for 8-10 hours.

When meat is finished cooking, remove the roast to a cutting board. Discard the bone and shred the meat with two forks, removing large chunks of fat as you go. Skim the juices left in the slow cooker with a slotted spoon to remove any large chunks of fat or pieces of garlic. Place the shredded meat back in the slow cooker with the juices. (You could also shred the meat directly in the slow cooker if you prefer).

*Optional Step: Preheat the broiler on your oven. Using a slotted spoon to drain excess liquid, place the shredded meat on a foil covered baking sheet with a raised edge. Slide the sheet pan under the broiler for 5-10 minutes, or until the top starts to brown and get delicious crispy bits.

Serve hot with traditional sides, like rice and beans, or in tortillas with onion, cilantro and a lime wedge. Also great in salads and on top of nachos.
Hi! I'm Kristin, the creative mind behind Yellow Bliss Road where you will be inspired by tons of easy to follow recipes, lots of free printables, and a little sprinkling of life thrown in for good measure.