This Italian Sausage & Tortellini Skillet is a quick and delicious meal that cooks all in one pan using just five ingredients. It's a weeknight meal meal that you're entire family will be begging you to make over and over again!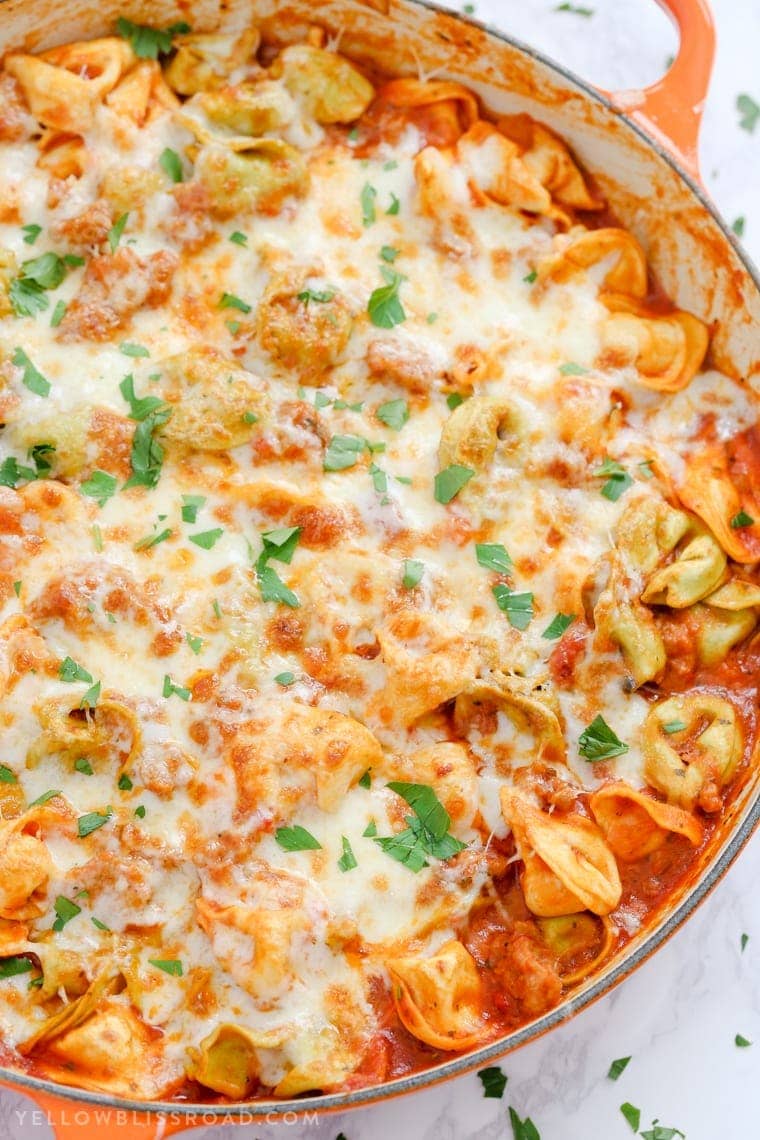 This post and photos have been updated form 2014.
One Pan Meals are the kind of dinners you need in your weeknight recipe arsenal. They are quick, they are easy, and if you're grabbing them from my site, I can guarantee they're delicious! This Italian Sausage & Tortellini Skillet is a family favorite and is something my kids cheer for. It's a blog favorite too, clinching one of the top spots for the past three years with nearly 1 million annual views.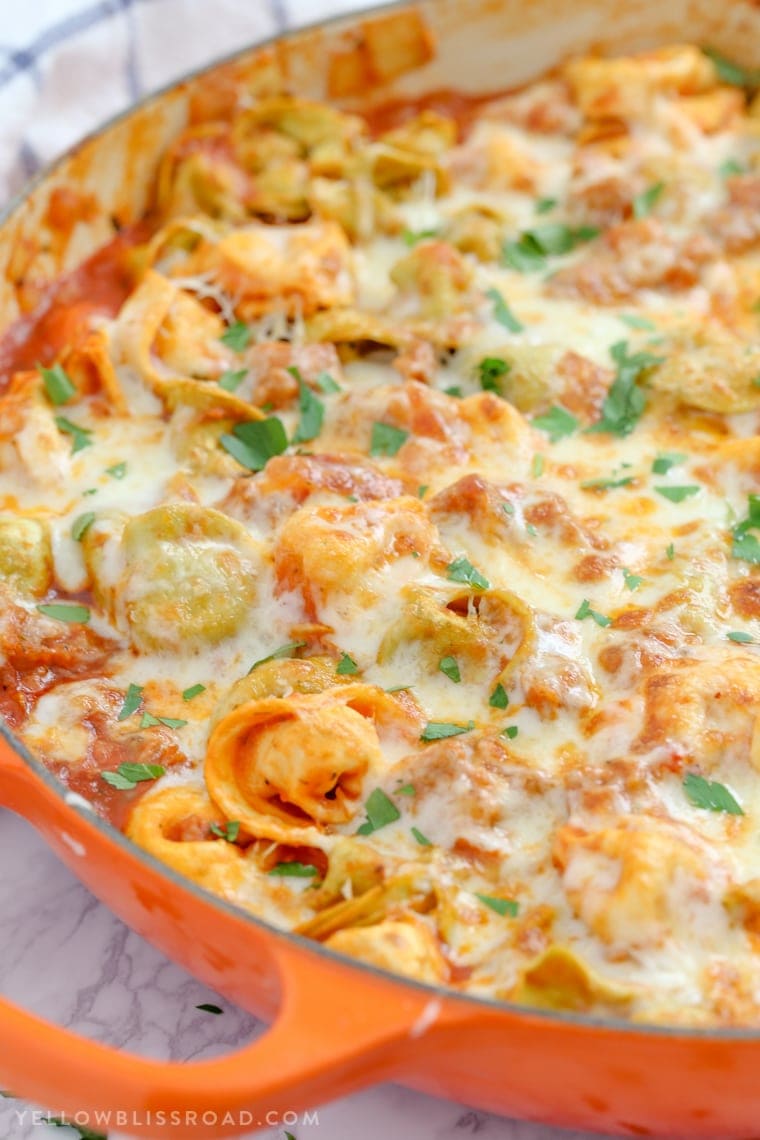 It had been ages since I've made this dish so I decided it was time for a reboot. The recipe calls for 20 ounces of refrigerated tortellini. I typically will pick up the 2-packs at Costco and one of those is the perfect size. Buitoni also makes a refrigerated tortellini in the 20 ounce package which you can see HERE. (affiliate link) If you can't find the 20 ounce package, just substitute two of the 9 ounce packages and you'll be fine.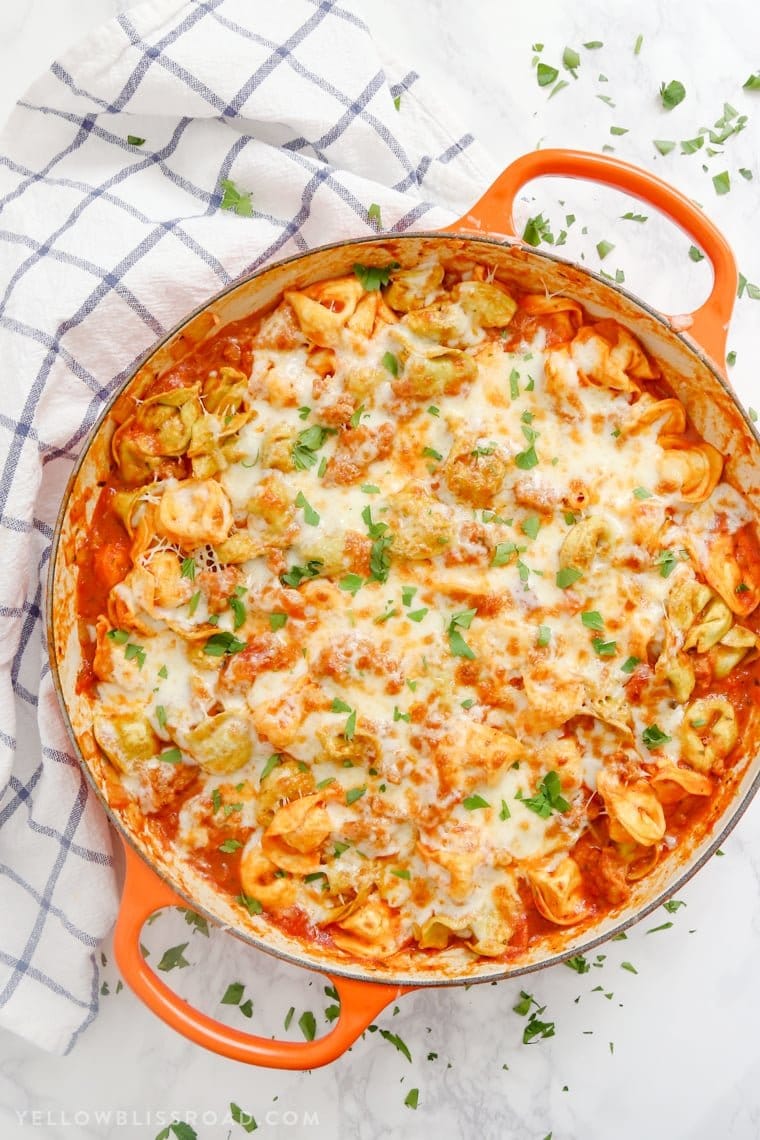 A lot of comments I get ask about the type of tortellini. I have only used refrigerated tortellini with this recipe. However, a lot of readers have shared that they used frozen and it turned out beautifully! You'll just need to adjust the cooking time slightly.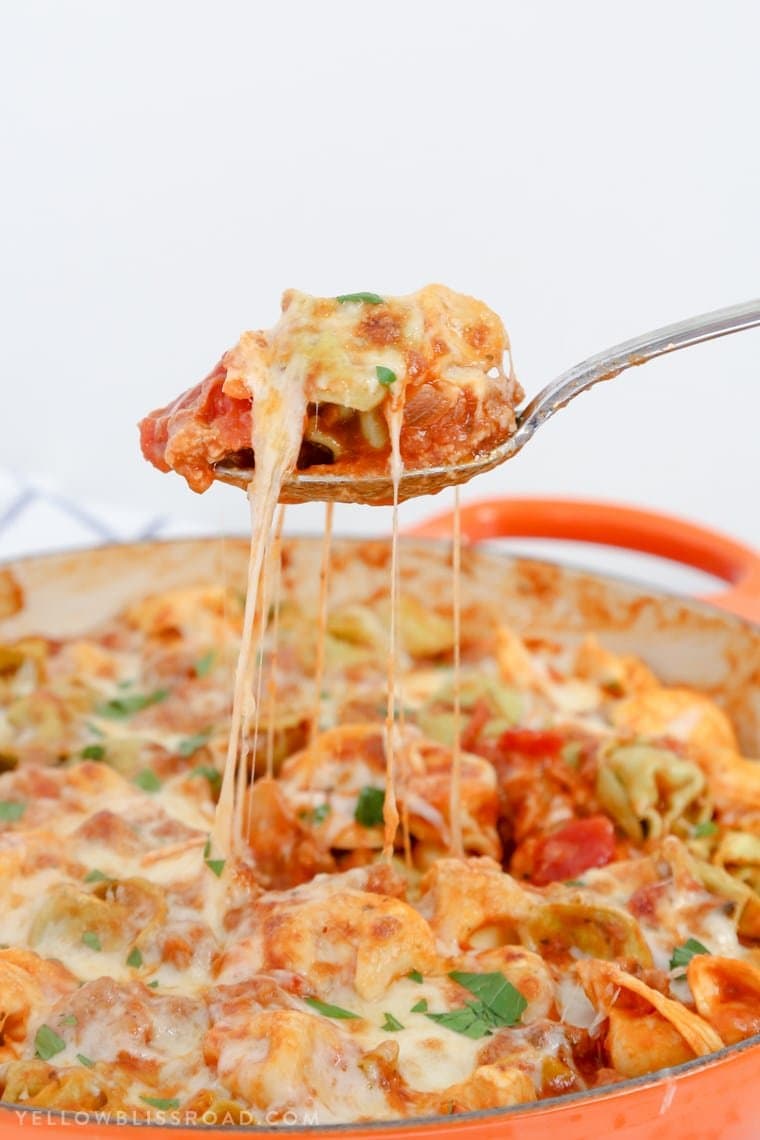 This time around I didn't make many changes, other than to add some onion and garlic, which I think are totally optional. They really do add another depth of flavor but do add about 10 minutes to the prep and cooking time. It's a personal preference – you can easily omit those two ingredients.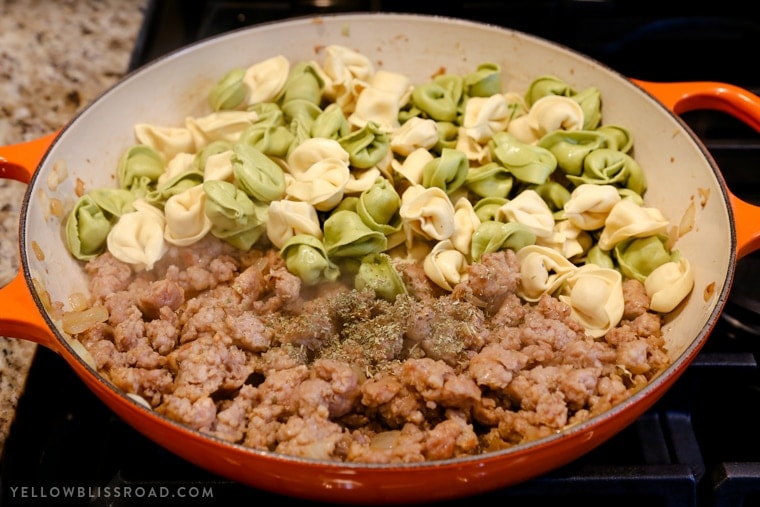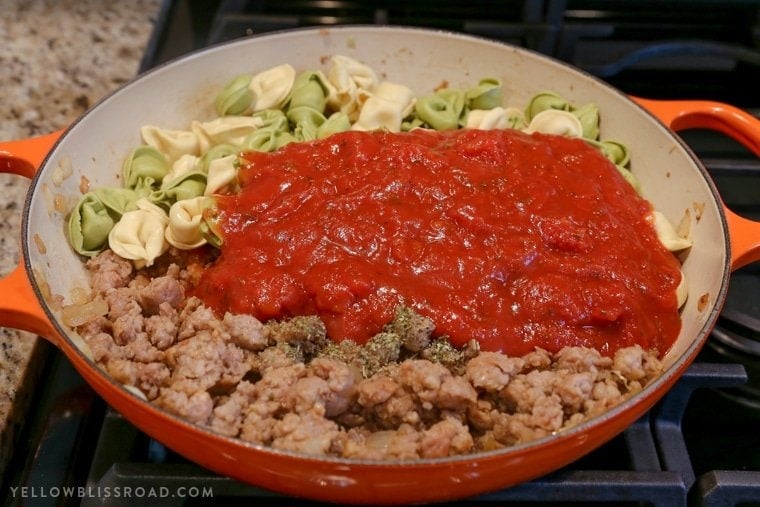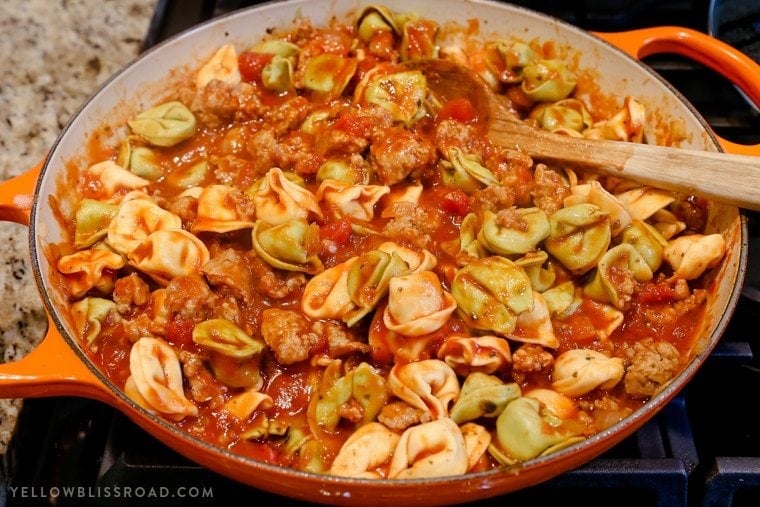 My Italian Sausage and Tortellini Skillet is easy, it's delicious and it's a quick meal to get on the table when you're in a hurry. With a quick prep of just 5-10 minutes, and a cook time of just 15 minutes, you'll have dinner on the table in no time. The tortellini is tender and flavorful, with an extra boost from being cooked right in the sauce. The sausage give a nice savory salty, or even spicy bite that compliments the creamy cheese. There are two methods for melting the cheese, but my favorite is under the broiler where you get those lovely crunchy brown bits as the mozzarella broils. The leftovers are amazing, too!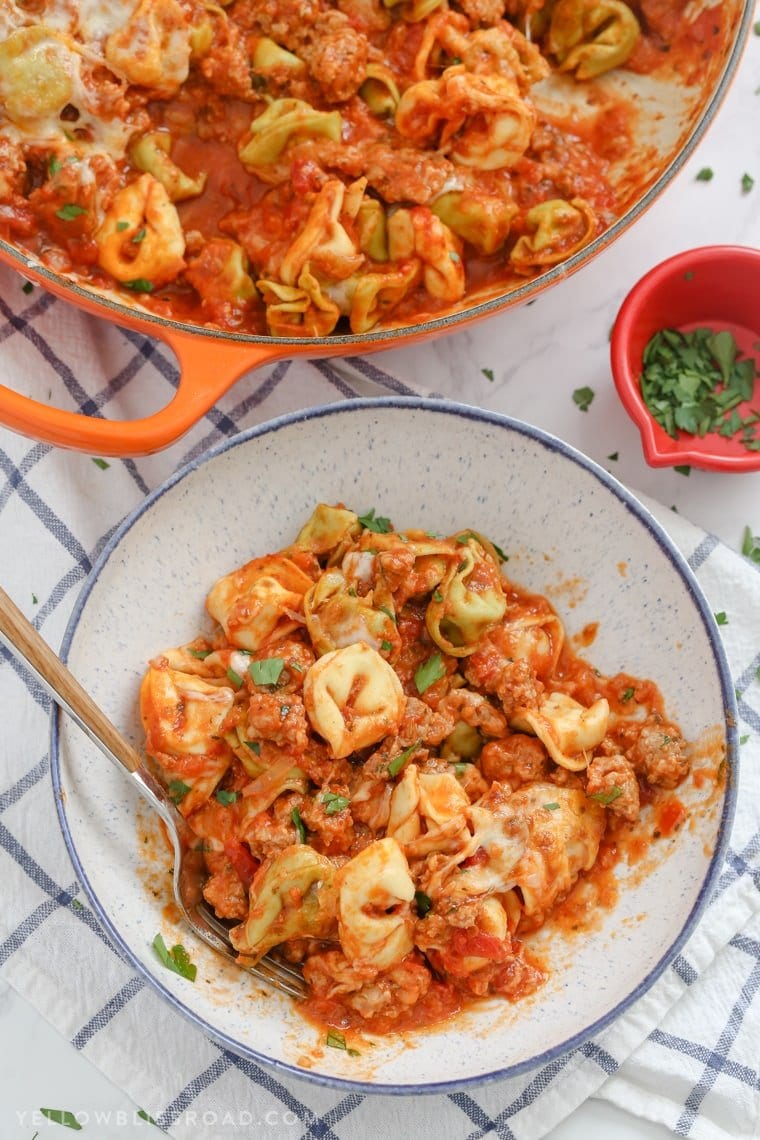 Italian Sausage & Tortellini Skillet: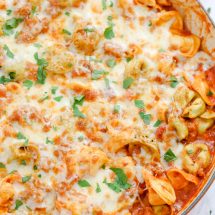 Italian Sausage & Tortellini Skillet
Print
Pin
Rate
Prep Time: 5 minutes
Cook Time: 15 minutes
Total Time: 20 minutes
Servings: 4 servings
Ingredients
1 pound ground Italian Sausage
20 ounce package of fresh cheese Tortellini
3 cups spaghetti sauce 1 24-ounce jar
1/2 cup water
1 teaspoon Italian Seasoning
1 1/2 cups freshly shredded Mozzarella Cheese
1/2 cup freshly shredded Parmesan cheese
Fresh chopped parsley or basil for garnish optional
Instructions
Heat an oven safe skillet over medium-high heat. Crumble in sausage and cook through, until no longer pink. Drain off some of the fat, if necessary.

Stir in spaghetti sauce, water, Italian seasoning water, and tortellini.

Bring mixture to a boil, turn heat down to low, cover and simmer for about 8 minutes or until tortellini is tender. You could also simmer with the lid off, but you'll want to keep stirring it with this method. 

Remove from heat. Sprinkle Mozzarella and Parmesan evenly over tortellini. Cover for about 5 minutes until cheeses are melted. Alternatively, you could place pan under the broiler in your oven on low for 2-3 minutes until cheese is melted and bubbly (preferred method).

Garnish with fresh parsley or basil, if desired.
Notes
Sometimes I like to add some onion and garlic to this dish. Before cooking the sausage, I add about a tablespoon of olive oil to the hot skillet and then about 1 cup of diced onion. Cook it until it starts to soften, then add a couple cloves of minced garlic and the sausage. Continue with the recipe as written.
Love this Italian Sausage & Tortellini Skillet? Here are some more quick and easy one pan meals:
One Pan Cheesy Beef & Tomato Pasta Skillet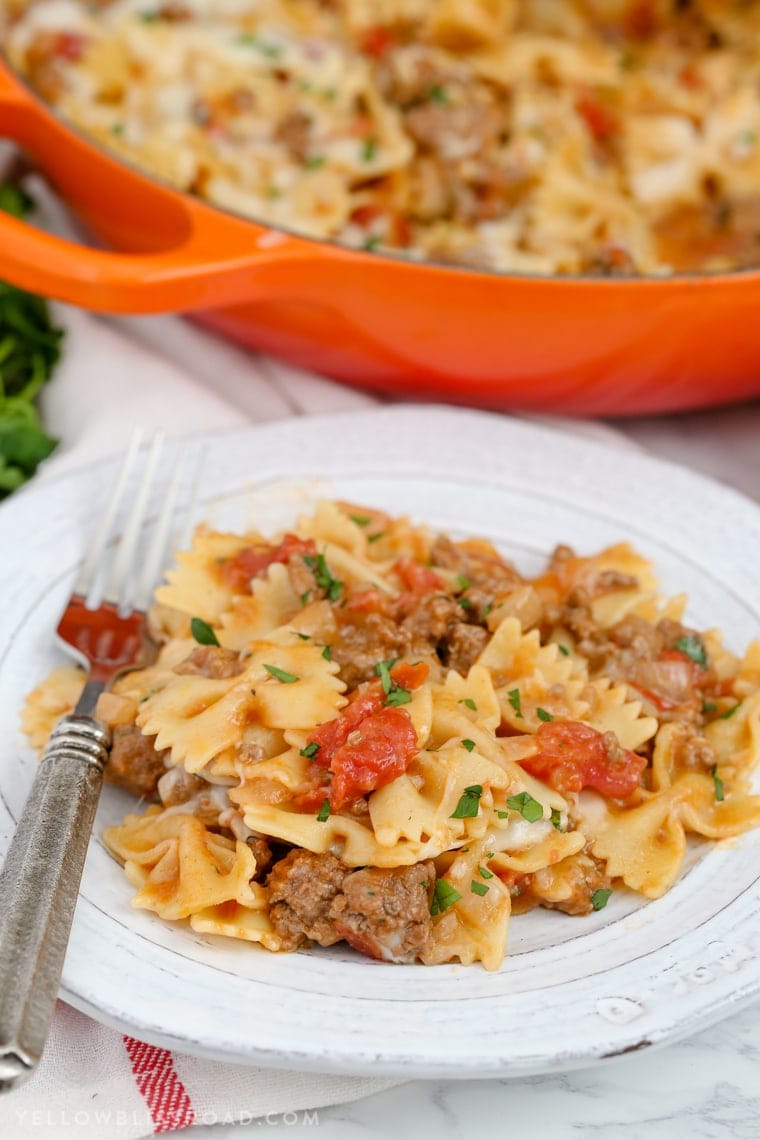 Italian Chicken & Veggies Sheet Pan Dinner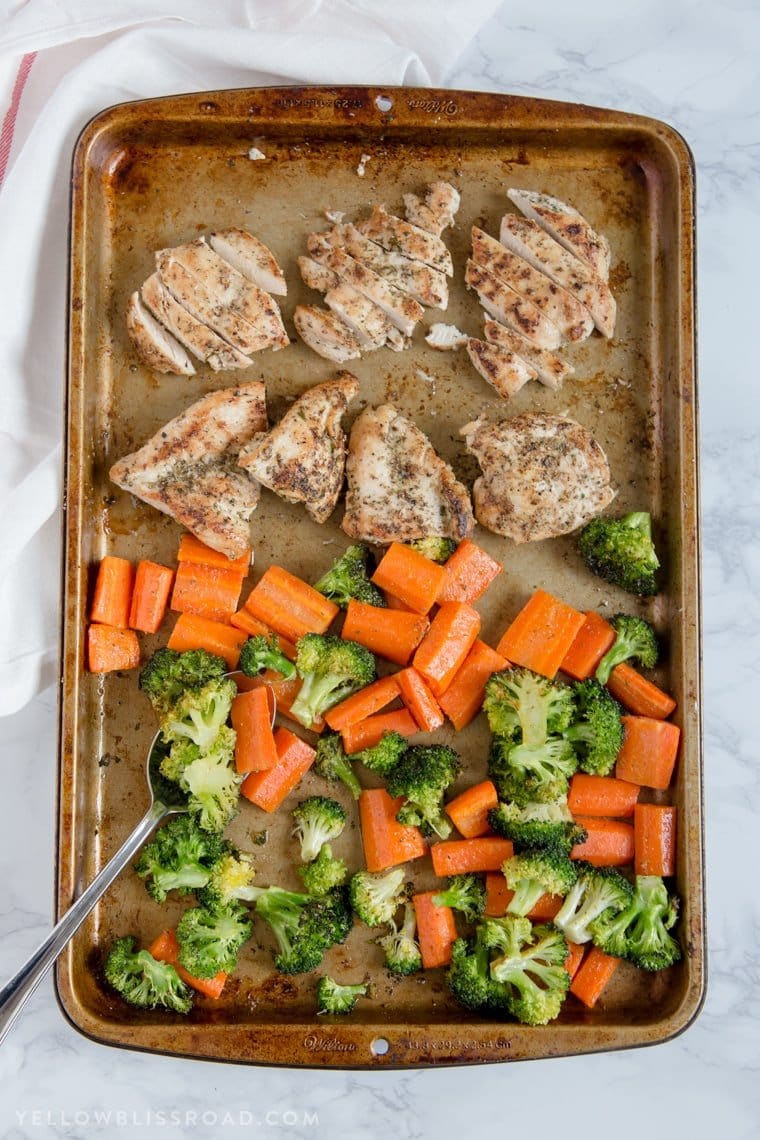 One Pan Ham & Cheese Tortellini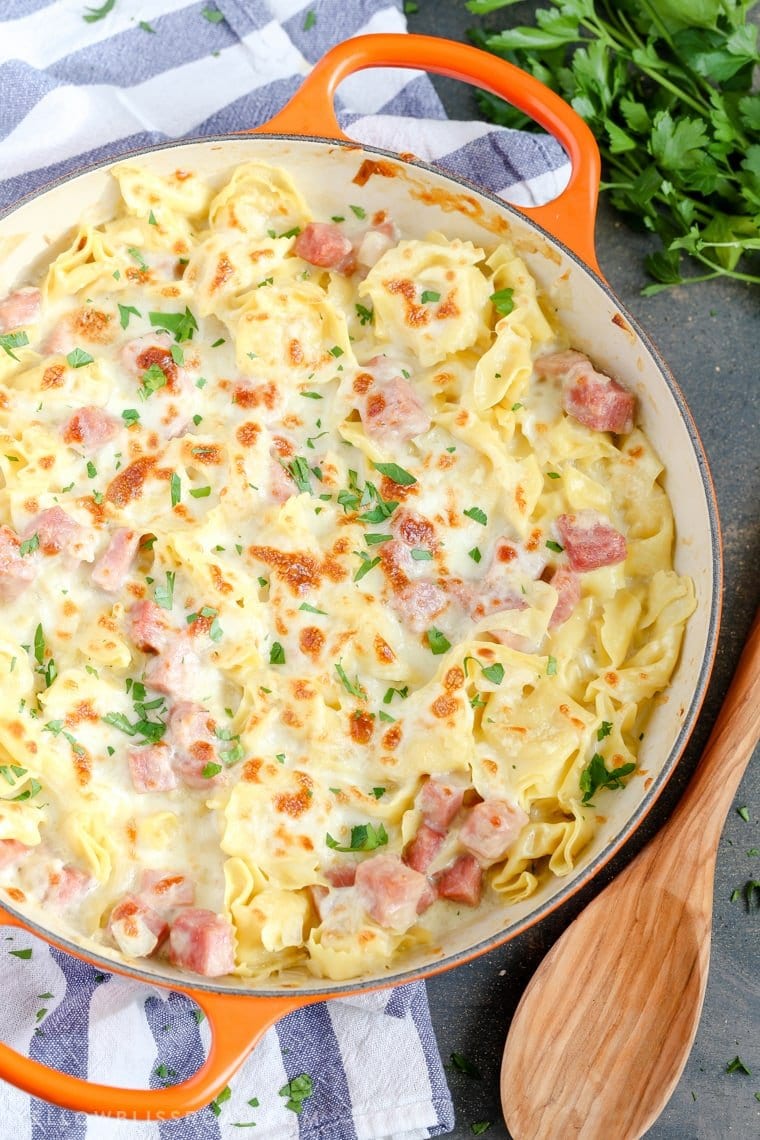 15 Minutes Tortellini & Broccoli Alfredo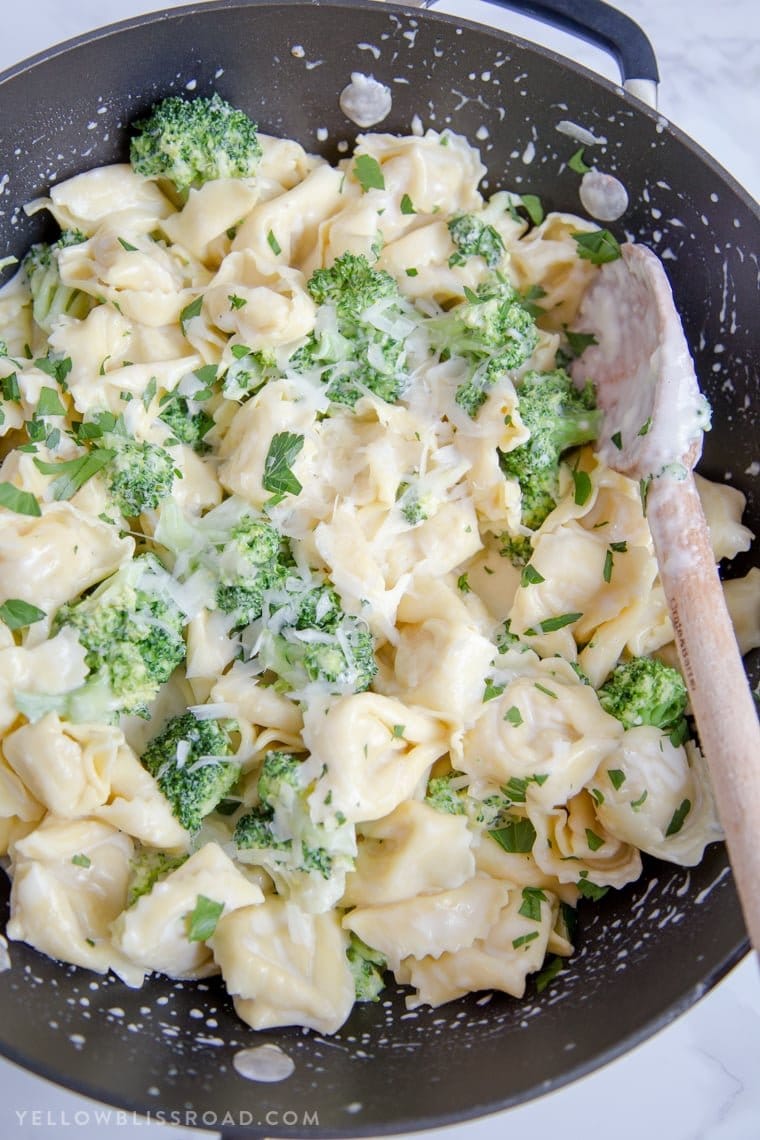 For all One Pan Meals go HERE, for all dinner recipes go HERE and for the Recipe Index go HERE.
Hi! I'm Kristin, the creative mind behind Yellow Bliss Road where you will be inspired by tons of easy to follow recipes, lots of free printables, and a little sprinkling of life thrown in for good measure.