Hi Everyone! It's Jennifer from Town and Country Living with an easy, old fashioned pot roast recipe. When I was growing up, every Sunday was the same at our house. Mom would drag us kids out of bed to get ready for Sunday School and Church. We were at church for almost 3 hours and would get home between 12 and 1 o'clock. That didn't leave much time for my mother to get lunch ready for 7 hungry people. More often than not, she would make my grandmother's old fashioned pot roast.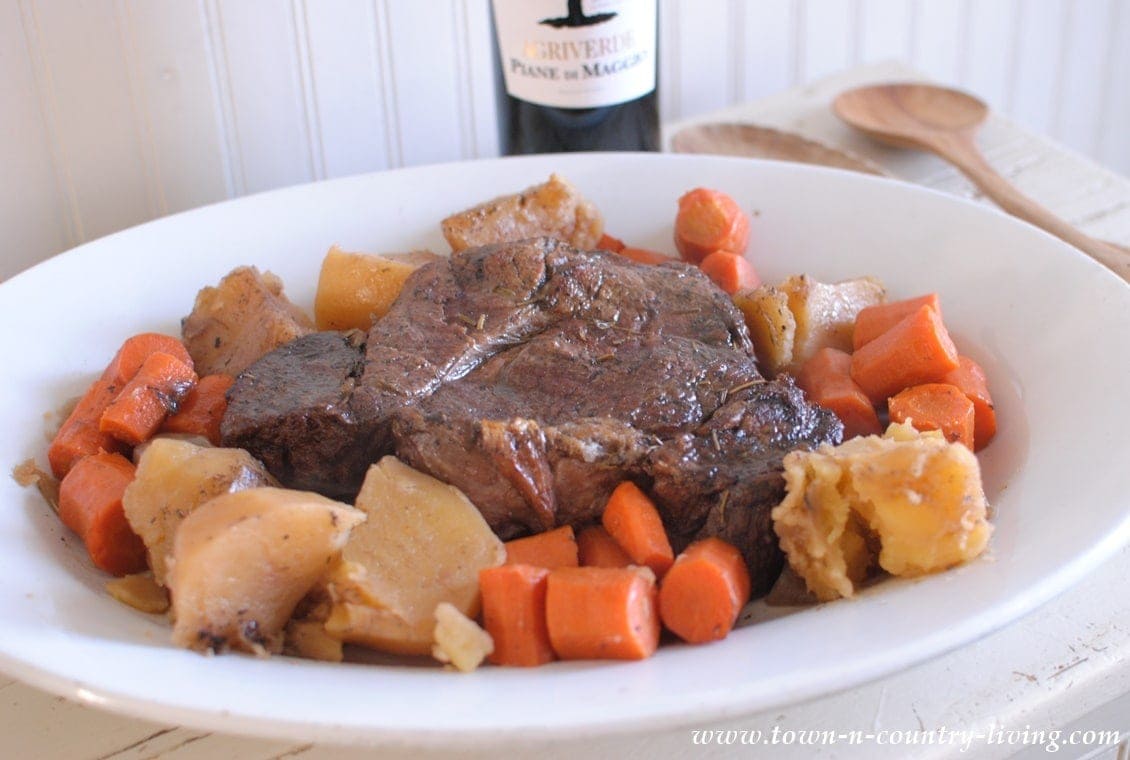 Mom could prepare the pot roast in the morning before church, and then leave it to simmer while we were gone. By the time we got back home, all she'd have to do is take it out of the dutch oven and serve it up.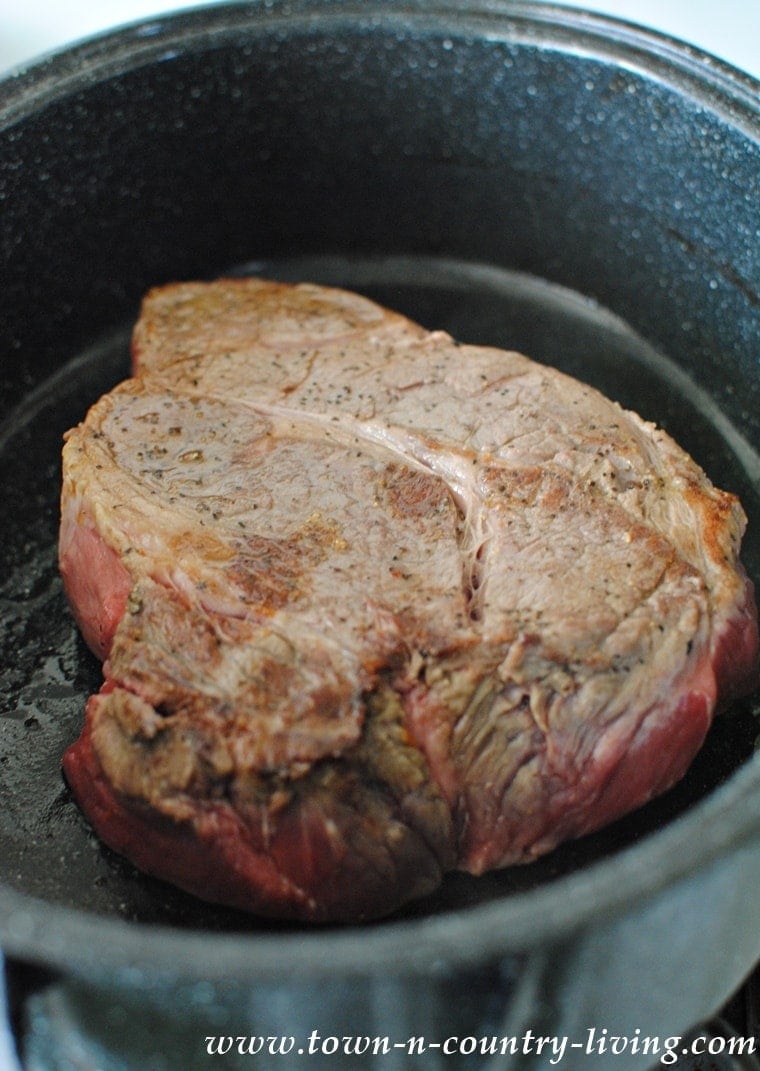 A benefit to this recipe is you only use one pot – a dutch oven. Peel and cut your potatoes, carrots and onions. Over medium high heat, brown the vegetables in a couple tablespoons olive oil. Next, you sear your pot roast on both sides until browned.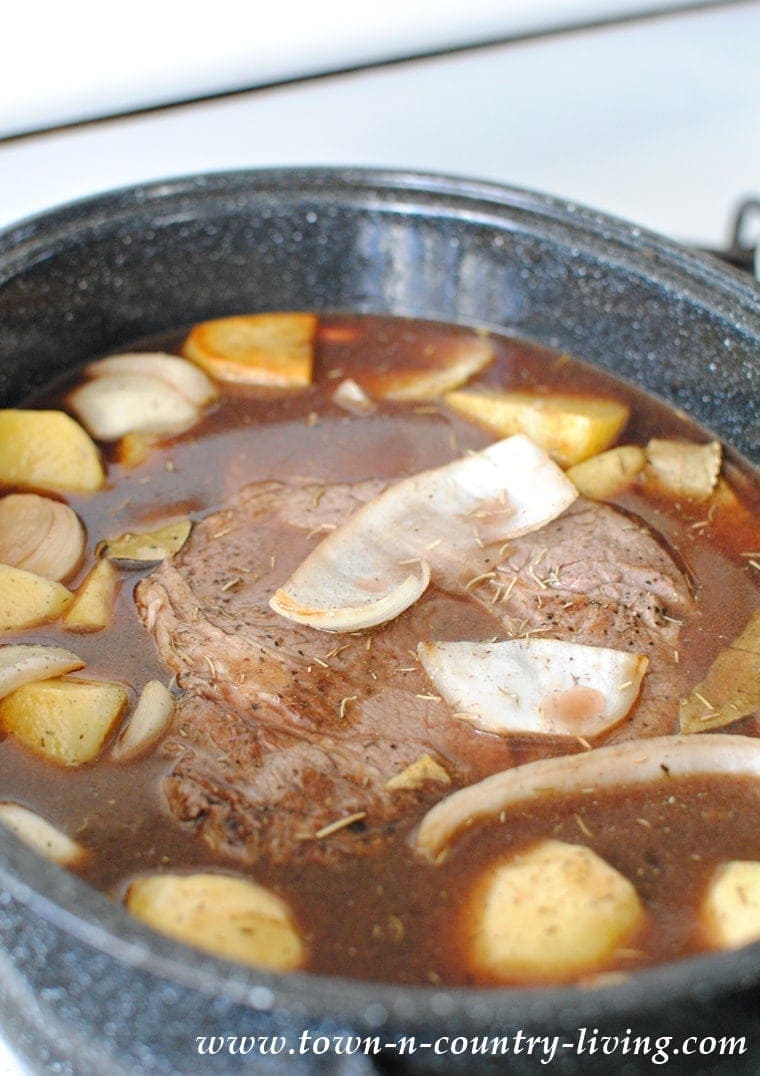 Deglaze the pan with wine or water, and then return the roast to the pan. Add about 4 cups of beef broth, then add the vegetables and spices. Place the lid on the dutch oven and roast in a 275 degree oven for 3 to 4 hours.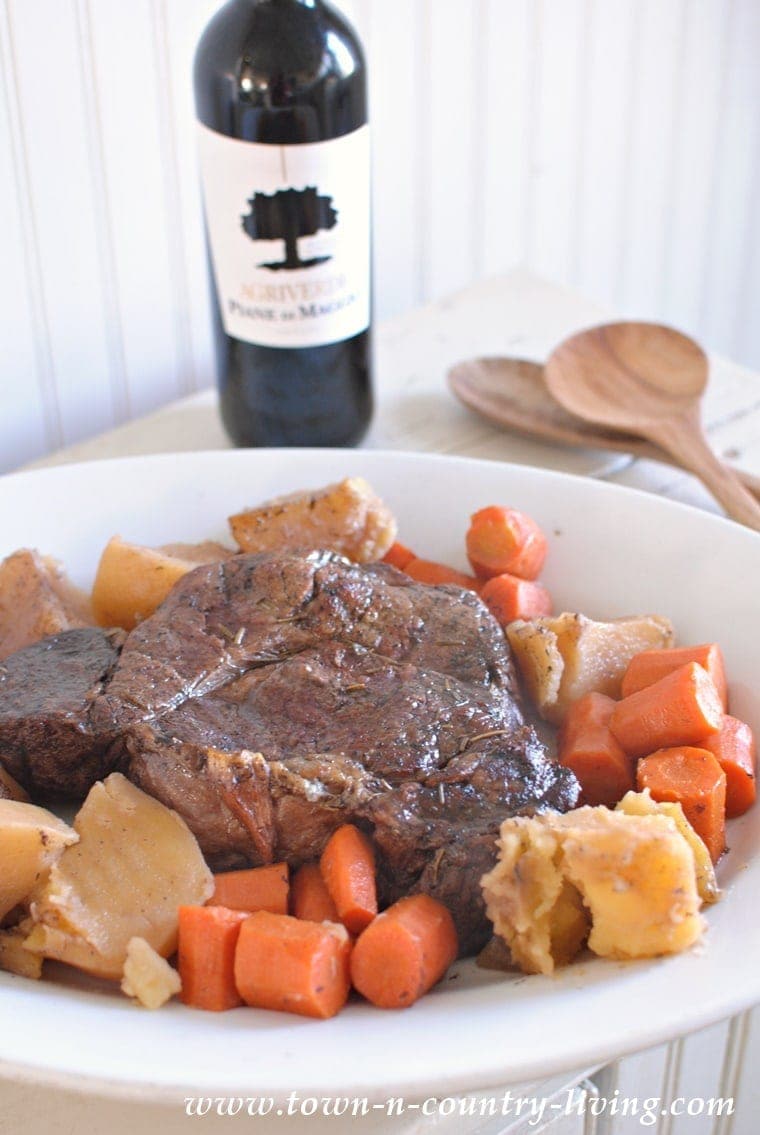 The carrots and potatoes have a wonderful beefy flavor when you take them out of the pan. You can serve the meat au jus or create a gravy from the drippings. As a kid, I preferred au jus over gravy.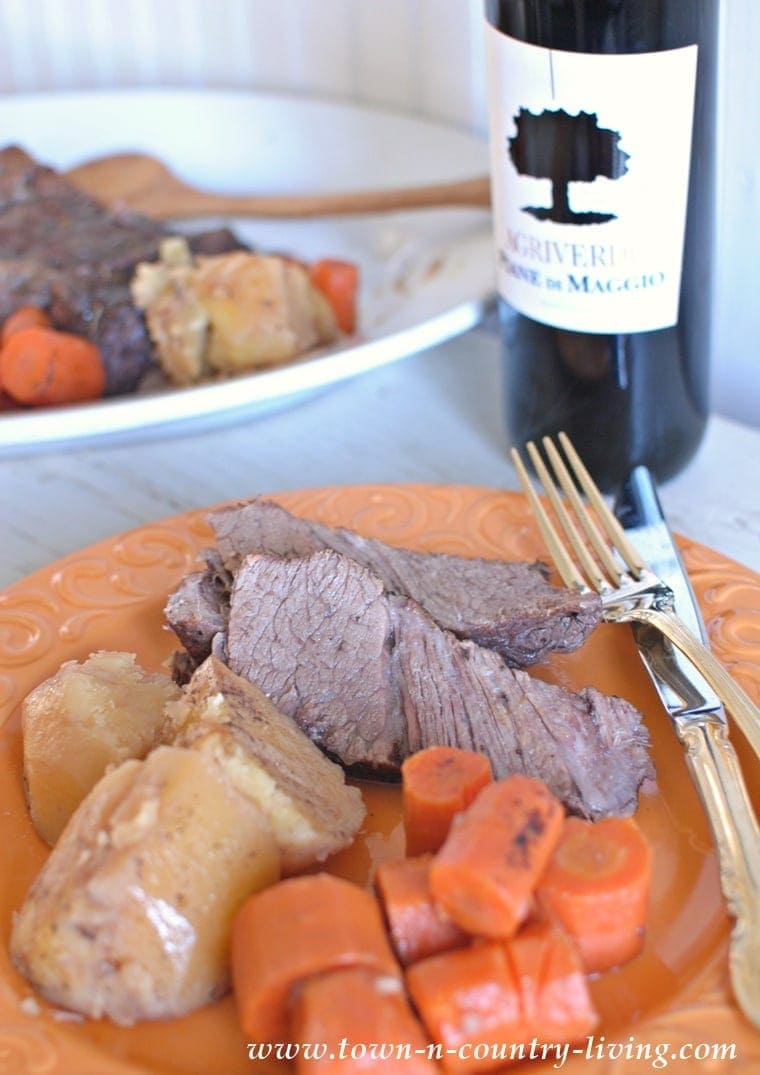 Mom would slice the roast and serve it up. I would pour the juice over both the meat and vegetables. My brother ate his with ketchup. Such a flavorful meal without spending a lot of time in the kitchen. I can see why my mother served this almost every Sunday!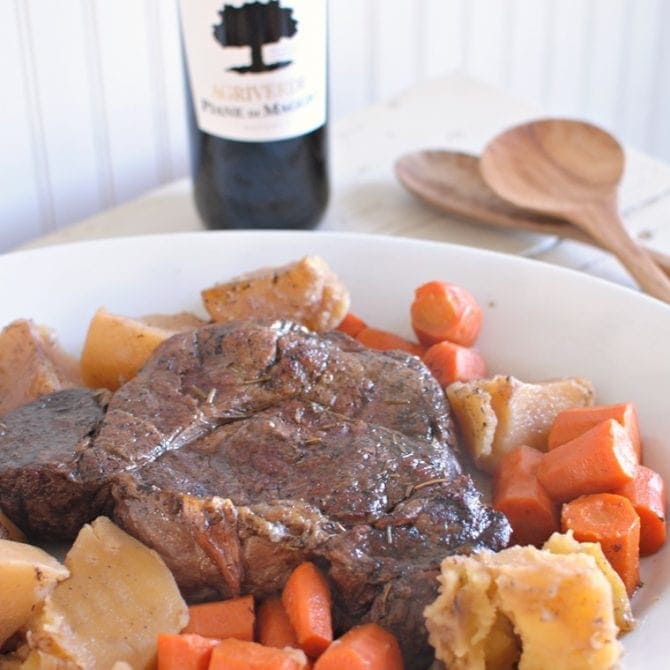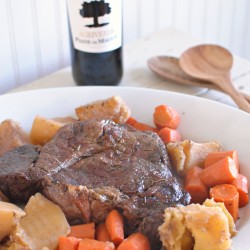 Old Fashioned Pot Roast
Ingredients
3 lb. pot roast
1 large sweet onion peeled and quartered
1 package carrots peeled and cut into 2-inch pieces
5-6 potatoes peeled and quartered
1 cup dry red wine or water
32 oz beef stock
3 bay leaves
1 teaspoon thyme
1 teaspoon rosemary
Instructions
Preheat oven to 275 degrees.

Place dutch oven over medium high heat and add 2 tablespoons olive oil. Brown the onion until soft. Remove from pan and brown the carrots. Remove the carrots and lightly brown the potatoes. Remove the potatoes and add a bit more oil, if necessary. On high heat, sear the pot roast on both sides for a minute or two.

Remove the beef from pan. Slowly add 1 cup dry red wine to deglaze the pan. Add the meat back to the dutch oven and place the vegetables around the edges of the meat. Pour 4 cups of beef broth to the pan so meat is halfway immersed.

Place lid on dutch oven and cook in 275 degree oven for 3 to 4 hours. Remove from oven and let meat set for a few minutes before slicing and serving.
You Might Also Enjoy …
My new blog … Blonde on Wine!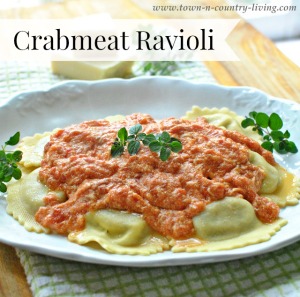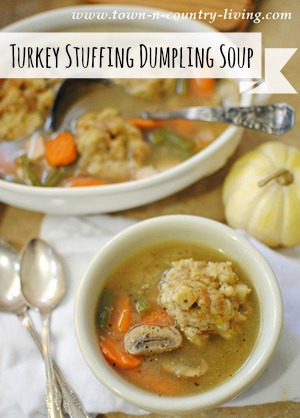 For more easy dinner, try these: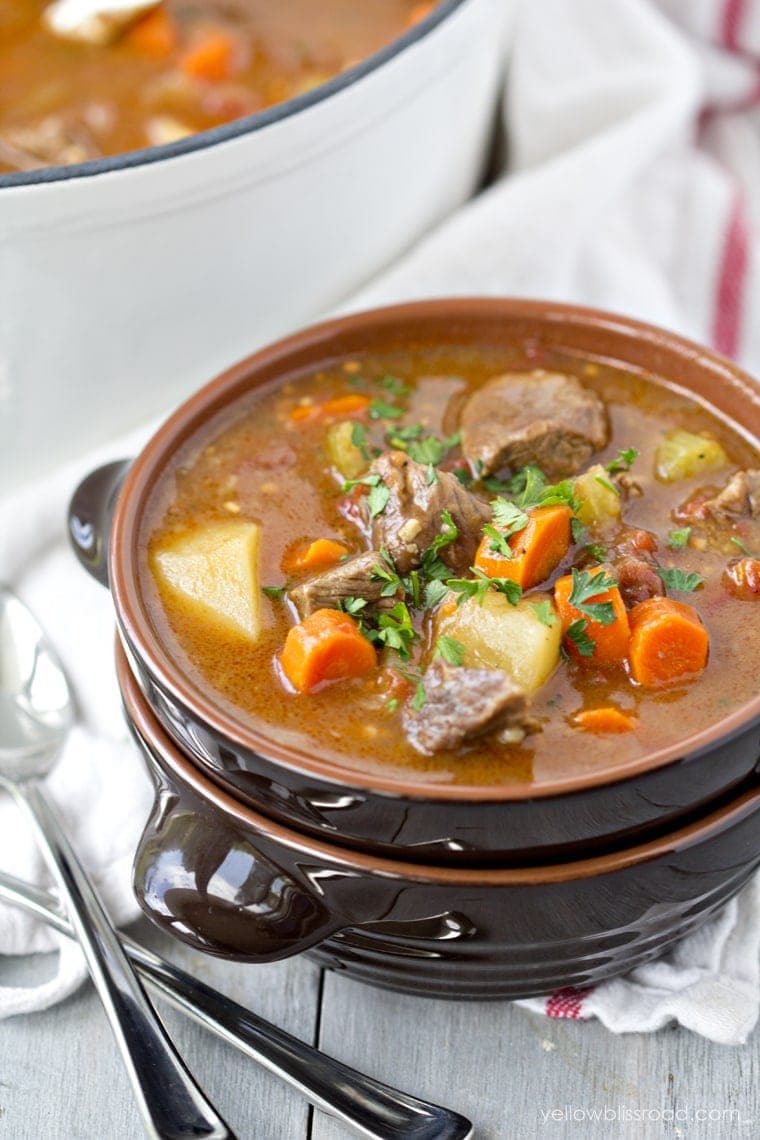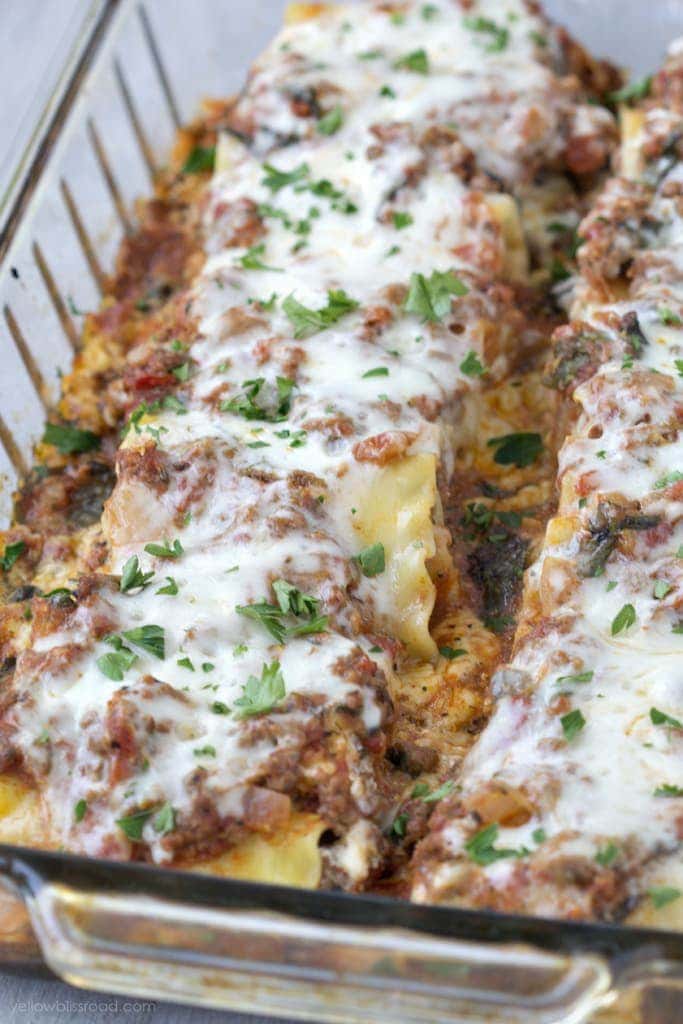 Hidden Veggie Lasagna Roll-Ups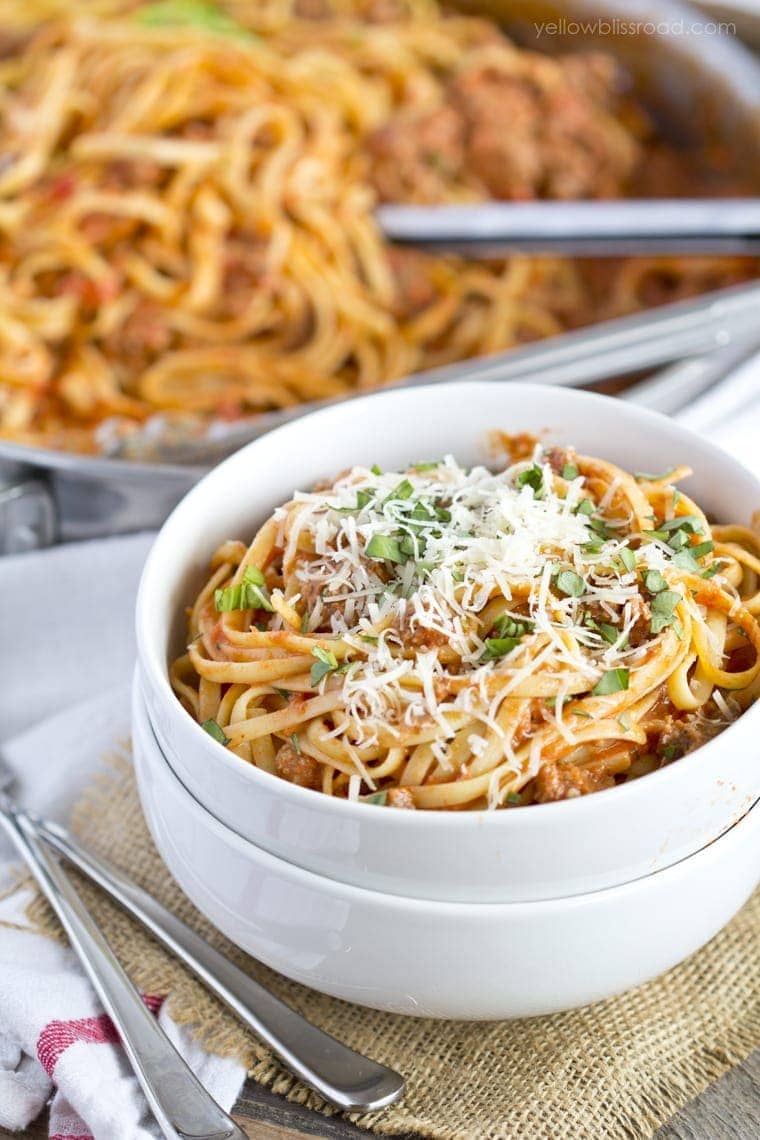 Easy Weeknight Pasta with Meat Sauce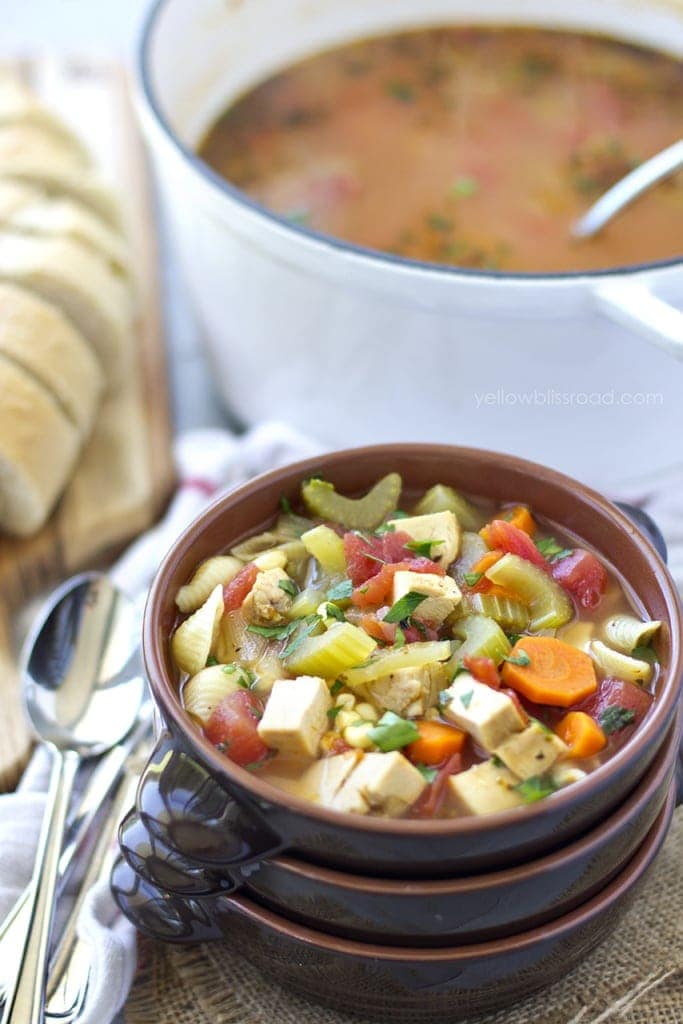 Hearty Chicken & Vegetable Soup
For all main course recipes go HERE and for all recipes go HERE.