Sometimes the easiest things to cook are the tastiest, and these ground beef recipes are all simple, easy and budget friendly!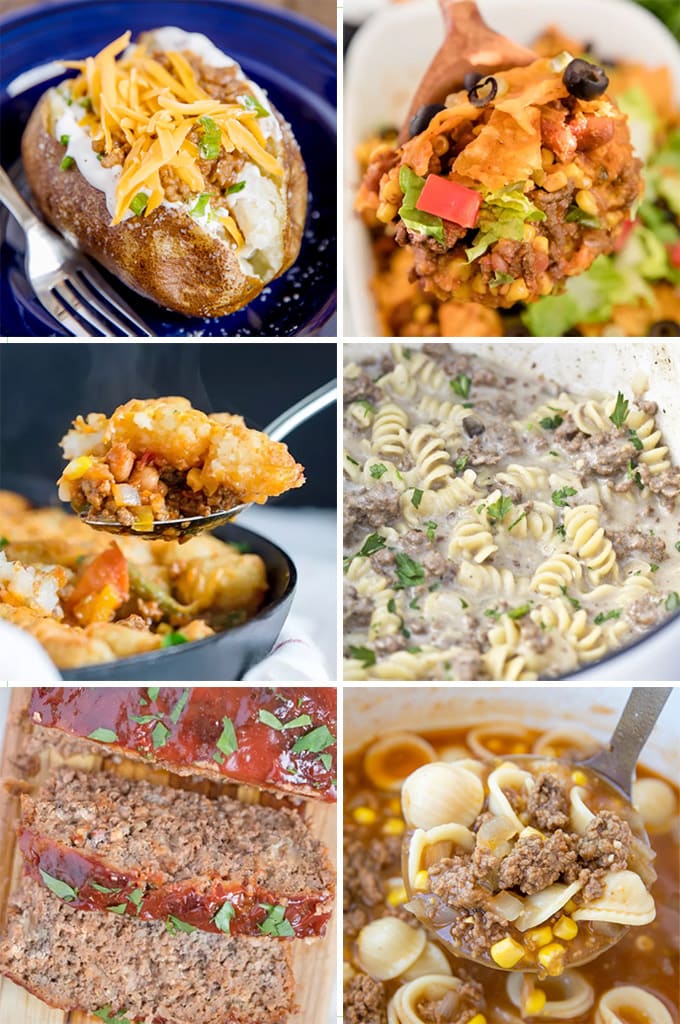 GROUND BEEF RECIPES
Ground beef has a ton of flavor, it's easy to cook and almost impossible to mess up. Plus, it's one of the more affordable proteins you can buy, making it very budget friendly. Ground beef can be used in a ton of different recipes from chili to burgers to meatloaf and pairs well with a variety of flavors.
WHAT IS THE BEST GROUND BEEF?
While recipes usually call for simply "ground beef," a quick trip to the meat department of your local grocery store could leave you feeling completely unsure of what to buy. There are usually 3 different types of ground beef available and they range in fat content from 7 to 30 percent.
I usually use ground chuck because it is always tender and juicy and has great flavor. It runs about 15-20 perfect fat, which can easily be drained off after cooking.
Ground sirloin is the leanest, and ranges from 7 to 10 perfect fat. It is tender and has a good flavor for chilis and spaghetti sauce, but can be a little dry for burgers.
Basic ground beef can have as much as 30 perfect fat, and the flavor suffers for it.
HOW CAN YOU TELL WHEN GROUND BEEF GOES BAD?
Ground beef is usually good for 3-4 days in the fridge before it needs to be cooked or frozen. If it's beginning to spoil, you will notice a gray or brownish color throughout the meat (not just on the top) and a distinct. foul odor.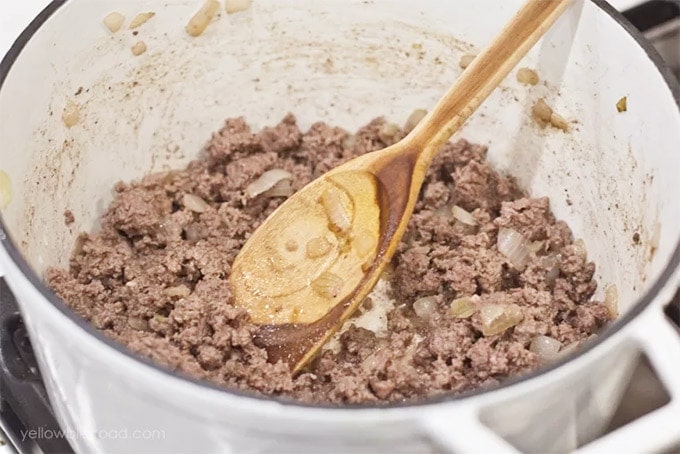 CAN YOU FREEZE COOKED GROUND BEEF?
You absolutely can! In fact, you can buy ground beef in bulk, cook it with some onions and garlic and then freeze it in batches so it's always on hand for making chili, spaghetti, soup and more! In the freezer, ground beef will last about 4 months if properly stored in an airtight container.
Here's a quick recipe for batch cooking ground beef: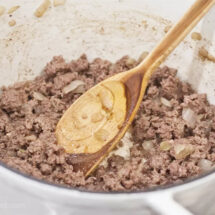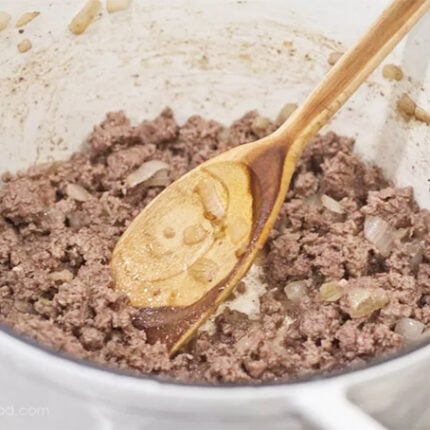 Basic Cooked Ground Beef
Cook ground beef in batches and freeze to always have some on hand for soups, sauces and more.
Print
Pin
Rate
Prep Time: 10 minutes
Cook Time: 10 minutes
Total Time: 20 minutes
Ingredients
3 pounds ground beef
1 small onion
2 cloves garlic minced
salt and pepper to taste
Instructions
Heat a large skillet over medium heat.

Add ground beef, diced onion and minced garlic. Break up ground beef with a spoon.

Cook until the onions are translucent and beef is tender; about 7-10 minutes. Drain any extra grease.

Cool meat completely, then portion into freezer bags. I usually will portion 2 1/4 cups of meat per bag, which equals about a pound. Be sure to label with a date - frozen cooked ground beef will last about 3-4 days in the fridge and up to 4 months in the freezer.

27 GO-TO GROUND BEEF RECIPES
Ready to cook up some delicious ground beef? Here are 27 amazing recipes to get you started:
Don't miss my tips for how to portion and freeze raw ground beef so you can thaw it quickly!
Hi! I'm Kristin, the creative mind behind Yellow Bliss Road where you will be inspired by tons of easy to follow recipes, lots of free printables, and a little sprinkling of life thrown in for good measure.