Sometimes the easiest things to cook are the tastiest, and these ground beef recipes are all simple, easy and budget friendly! It's time to branch out from the basic burger!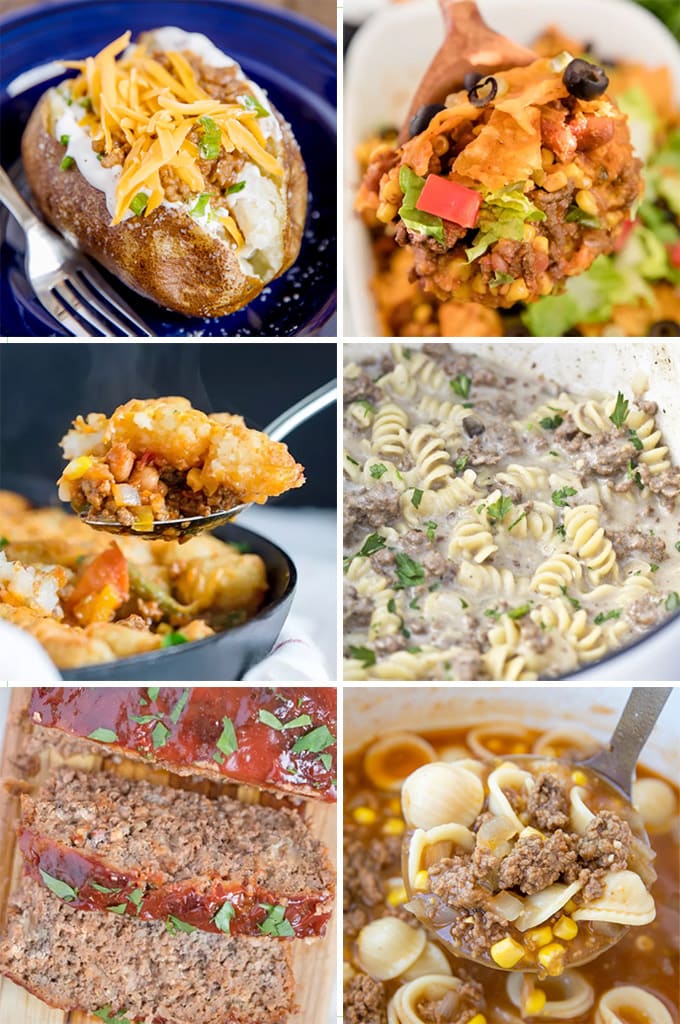 Ground Beef Recipes
Ground beef has a ton of flavor, it's easy to cook and almost impossible to mess up. Plus, it's one of the more affordable proteins you can buy, making it very budget friendly. Ground beef can be used in a ton of different comfort food recipes from chili to burgers to meatloaf and pairs well with a variety of flavors. It also cooks quickly making it a great base for your favorite weeknight meal.
What is the Best Ground Beef?
While recipes usually call for simply "ground beef," a quick trip to the meat department of your local grocery store could leave you feeling completely unsure of what to buy. There are usually 3 different types of ground beef available and they range in fat content from 7 to 30 percent.
I usually use ground chuck because it is always tender and juicy and has great flavor. It runs about 15-20 perfect fat, which can easily be drained off after cooking.
Ground sirloin is the leanest, and ranges from 7 to 10 perfect fat. It is tender and has a good flavor for chilis and spaghetti sauce, but can be a little dry for burgers.
Basic ground beef can have as much as 30 perfect fat, and the flavor suffers for it.
What is the Healthiest Way to Cook Ground Beef?
To remove most of the fat from the meat, try boiling it! I know, it doesn't sound appetizing but it's actually a much healthier alternative to frying because the fat is separated from the meat making it extra lean.
What Can I Add to Ground Beef for Flavor?
Ground beef is known for soaking up whatever flavor you add to it. My go-to is simple onions, garlic, salt and pepper. Adds a ton of flavor and you can use the cooked beef mixture for a variety of recipes, from Italian to Mexican to plain old Sloppy Joes. You can find my easy recipe below.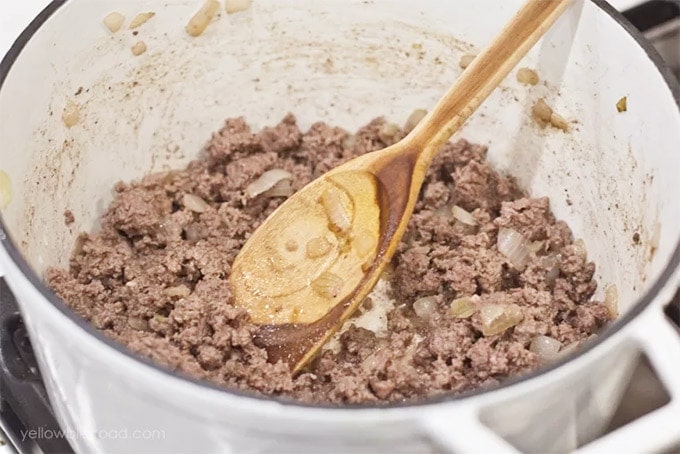 How Can You Tell When Ground Beef Goes Bad?
Ground beef is usually good for 3-4 days in the fridge before it needs to be cooked or frozen. If it's beginning to spoil, you will notice a gray or brownish color throughout the meat (not just on the top) and a distinct. foul odor.
Can You Freeze Cooked Ground Beef?
You absolutely can! In fact, you can buy ground beef in bulk, cook it with some onions and garlic and then freeze it in batches so it's always on hand for making chili, spaghetti, soup and more! In the freezer, ground beef will last about 4 months if properly stored in an airtight container.
Here's a quick recipe for batch cooking ground beef:
Recipe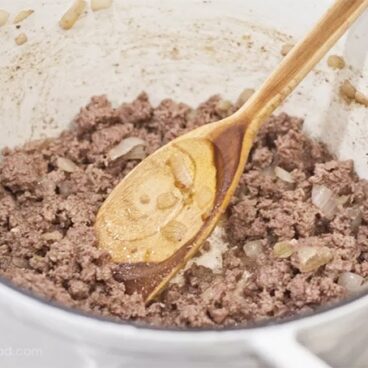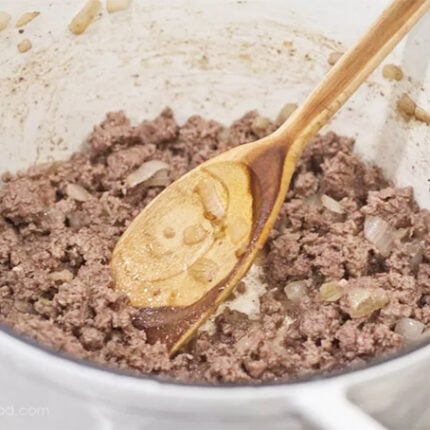 Basic Cooked Ground Beef
Cook ground beef in batches and freeze to always have some on hand for soups, sauces and more.
Ingredients
3

pounds

ground beef

1

small onion

2

cloves garlic

minced

salt and pepper

to taste
Instructions
Heat a large skillet over medium heat.

Add ground beef, diced onion and minced garlic. Break up ground beef with a spoon.

Cook until the onions are translucent and beef is tender; about 7-10 minutes. Drain any extra grease.

Cool meat completely, then portion into freezer bags. I usually will portion 2 ¼ cups of meat per bag, which equals about a pound. Be sure to label with a date - frozen cooked ground beef will last about 3-4 days in the fridge and up to 4 months in the freezer.
Nutrition
Calories:
248
kcal
Carbohydrates:
1
g
Protein:
21
g
Fat:
17
g
Saturated Fat:
7
g
Cholesterol:
77
mg
Sodium:
75
mg
Potassium:
348
mg
Fiber:
1
g
Sugar:
1
g
Vitamin C:
1
mg
Calcium:
20
mg
Iron:
2
mg

27 GO-TO GROUND BEEF RECIPES
Ready to cook up some delicious ground beef? Here are 27 amazing recipes to get you started:
Ground Beef Appetizers
Ground Beef Enchilada Dip – All the flavor of enchiladas without the hassle of rolling. Serve with tortilla chips for a spicy, saucy appetizer.
Easy Beef Sliders – Hamburger patties baked in the oven? Yes, please!
Asian Style Lettuce Wraps – Sweet and spicy seasoned ground beef wrapped in crisp lettuce leaves for a healthy meal option.
Patty Melt Dip – Everything you love about the classic sandwich in dip form.
Beef Queso Dip – Creamy, cheesy party dip that's packed with a punch of flavor.
Loaded Chili Cheese Fries – Take a bag of frozen french fries and pile on the cheese, homemade chili, and toppings of your choice for a quick, 15-minute snack.
Nachos Supreme – Sheet pan nachos that are packed with flavor in every bite.
Ground Beef Soups and Salads
Hamburger Soup Recipe – Just a few ingredients make up this simple, homey soup, and you probably already have them all on hand!
Lasagna Soup – A one pot soup with all the classic Italian flavors of lasagna in a bowl.
Dorito Taco Salad Casserole – There is so much flavor going on in this hearty casserole, it should be illegal!
Taco Salad – My kids beg for this salad at least once a week. Tons of flavor, and a creamy salsa ranch dressing.
Creamy Taco Pasta Salad – Easy ground beef recipes like this one are a must for busy families. This cold pasta salad has all that great taco flavor in one bowl.
Ground Beef Dinner Recipes
Don't miss my tips for how to portion and freeze raw ground beef so you can thaw it quickly!
Want even more ground beef recipes? Check out all that we have on the site HERE.