This is a deliciously creamy and rich one pot take on a classic Beef Stroganoff recipe. Everyone will think you slaved for hours – they'll never know it took around 30 minutes!
When I think of Beef Stroganoff, I think of a creamy rich sauce, soft noodles, and ground beef. I didn't even realize until recently that Stroganoff is traditionally made with chunks of beef, like stew meat. I personally love ground beef – it's so versatile you can use it in just about anything, and it's definitely budget friendly. It also cooks much quicker than large cuts of meat, which makes it perfect for this One Pot Beef Stroganoff.
The recipe begins with sauteeing onions in a small amount of olive oil for a few minutes. Once they start to turn a little translucent, you add the meat. I used my cast iron stock pot, but you can use any large 4-5 quart pot or pan you like.
The next step is to drain the meat. I don't like to have to remove the meat from the pan, so I just scoot the meat to one side and tip the pot so the grease runs to one side, then soak it up with a stack of paper towels. You don't need to eliminate all of the liquid – it's what adds flavor too – but you want to get most of it out. Then you can add the rest of the ingredients – beef broth, cream of mushroom soup, milk, pasta and salt and pepper.
Stir it up and bring it to a boil, then cover and cook for about 18 minutes. Check the pasta after about 15 minutes to make sure it doesn't over-cook. At this point the sauce will be somewhat thin, but it will thicken as it sits. If you want to speed up that process, you can reduce it by turning the heat up slightly and letting it simmer with the lid off, stirring often, until you are happen with the thickness – you want it kind of like a gravy. Finish it off with some tempered sour cream and fresh chopped parsley.
To temper the sour cream, set it out on the counter when you start preparing the meal, so that it can come to almost room temperature. If you forget that step (like I usually do) you can add a small of the hot liquid from the pot to the sour cream and stir it up. This process helps to keep the sour cream from breaking when it hit the hot liquid.
You'll notice I didn't add mushrooms which you would typically see in Stroganoff. That's because I don't like them, can't stand them, won't ever eat them. However, you can add a cup of sliced mushrooms to the pot if you are a fan. I'd recommend cooking them with the onions, then removing them to cook the meat, then adding them back to the pot with the rest of the ingredients.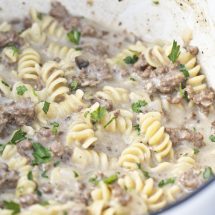 Ingredients
1 tablespoon olive oil
1/2 medium onion chopped (about 1/2 cup)
1 pound lean ground beef
2 teaspoons minced garlic or 1 tsp garlic powder
1-15 oz can beef broth
1-10 oz. can Cream of Mushroom Soup + 1 can nonfat milk about 1 cup
1/2 pound about 2-2/12 cups small, dry pasta
1/2 cup sour cream room temperature
2 tablespoons freshly chopped parsley
Salt and pepper to taste
Instructions
Heat olive oil in a 4-5 quart pot or 12" skillet. Add onions and cook for 3-4 minutes, until they just start to become translucent.

Crumble ground beef into the pan and cook until no long pink; about 5-6 minutes. Soak up most of the grease from the pan with paper towels. Season meat with a little salt and pepper.

To the pot or skillet add beef broth, cream of mushroom soup + one can of nonfat milk, garlic and pasta. Stir to combine and bring to a boil over medium-high heat. Reduce heat to low, cover and cook for 15-20 minutes, or until pasta is tender.

Sauce will be thin, but will thicken as it sits. To speed up the thickening, increase heat to medium-low and bring to a low boil for a few minutes, stirring often, until sauce is thickened to your liking. Stir in sour cream, chopped parsley and season to taste with salt and pepper.

Divide into bowls and serve immediately.
 For more delicious and easy one pot meals, try these: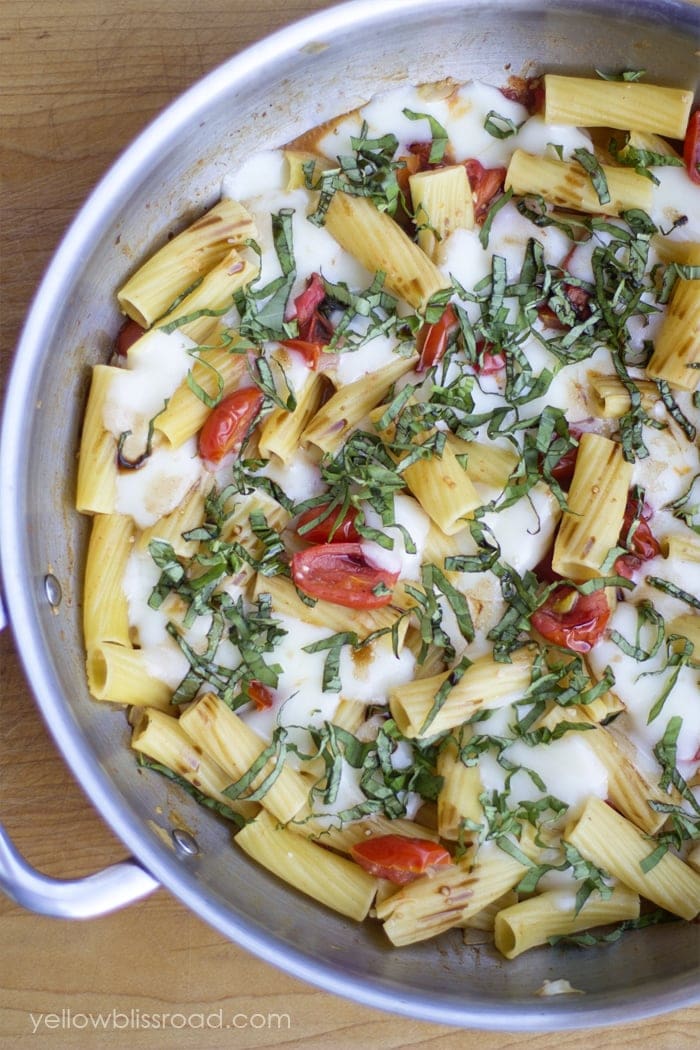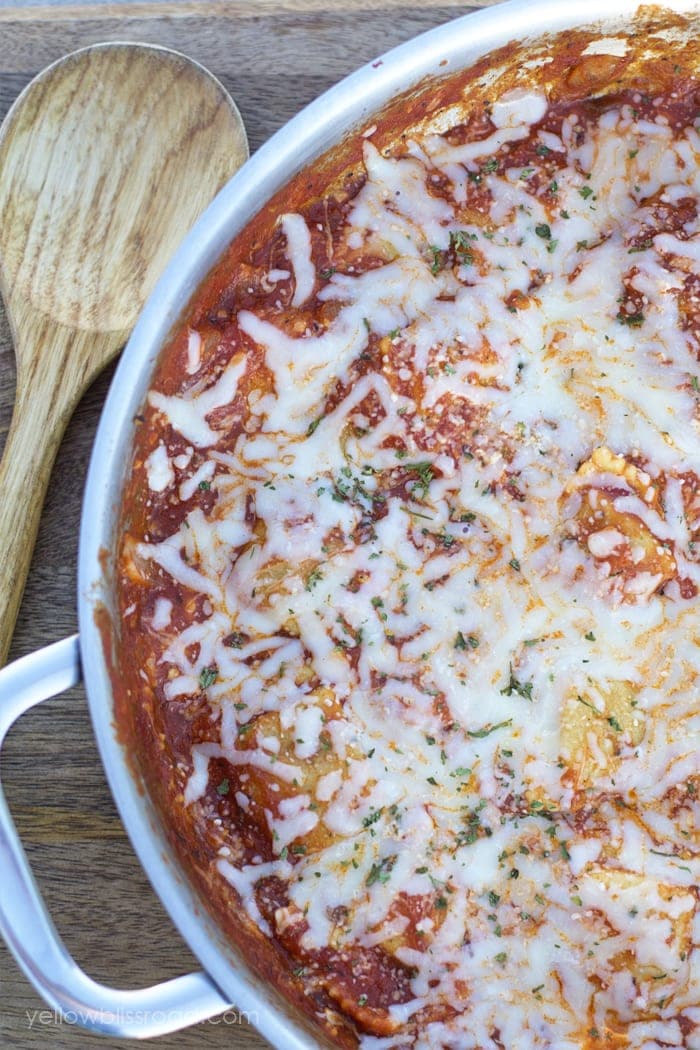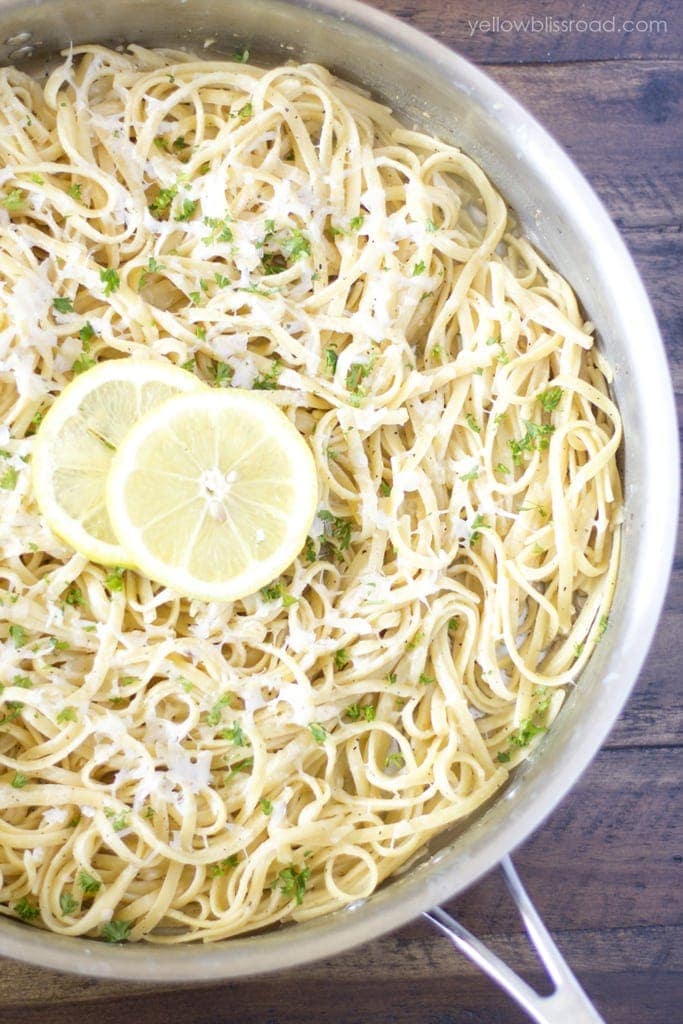 For all One Pan Meals, go HERE and for all Recipes, go HERE.
Hi! I'm Kristin, the creative mind behind Yellow Bliss Road where you will be inspired by tons of easy to follow recipes, lots of free printables, and a little sprinkling of life thrown in for good measure.