One Pot Chicken Spaghetti is a simple, quick and easy dinner idea that will satisfy even the pickiest critics. Creamy, cheesy pasta, tomato sauce and spaghetti all cooked in one pan for easy clean up!
I love to serve this Spaghetti with Chicken recipe with a simple side salad and some Garlic Bread or Homemade Garlic Breadsticks.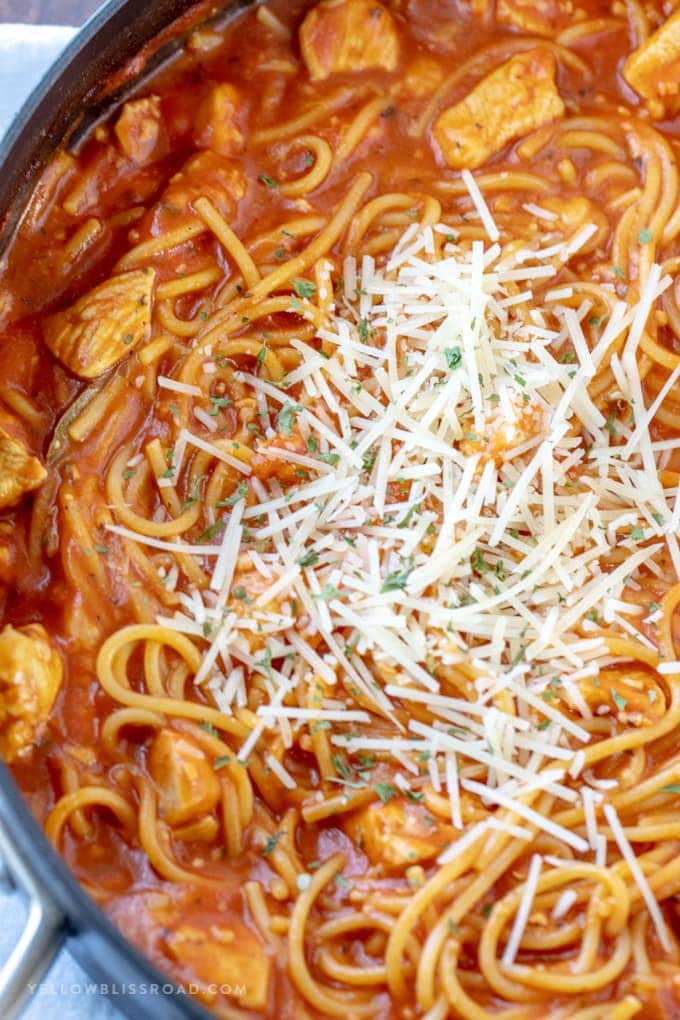 Pin this recipe for later!
Why I Love This Recipe
One Pot Meals are often a go-to for busy weeknight because they are super easy and uncomplicated. My family loves spaghetti – it's one of our favorite comfort foods – but sometimes I want to change it up from the same old spaghetti sauce and meatballs. This One Pot Chicken Spaghetti recipe is perfectly simple and just a little different.
The creamy, cheesy sauce makes this Chicken Spaghetti taste a little like a grown-up version of the classic Spaghettios you can still find on grocery store shelves, but with much better flavor and no icky preservatives. This recipe is a family favorite – kids love it, and grown ups love how easy it is because it cooks up quickly on the stovetop, no need to bake.
Ingredients For Chicken Spaghetti
Chicken – I use about 1 pound (2 large breasts) of boneless, skinless chicken breasts. Cut them up into 1-2 inch chunks.
Garlic and onions – Sauteed with the chicken for added flavor.
Chicken broth – You can also use water, but the broth will give the dish a flavor boost. I always select low sodium.
Spaghetti noodles – Uncooked (about half of a regular box.
Spices and seasonings – Italian seasoning, Bay leaves.
Spaghetti sauce – One regular sized jar of your favorite sauce. You can also use 24 ounces (3 cups) or a homemade marinara or other tomato sauce.
Parmesan cheese – Fresh grated or shredded, off the block for the best taste and texture.
Garnish – Fresh minced parsley or basil.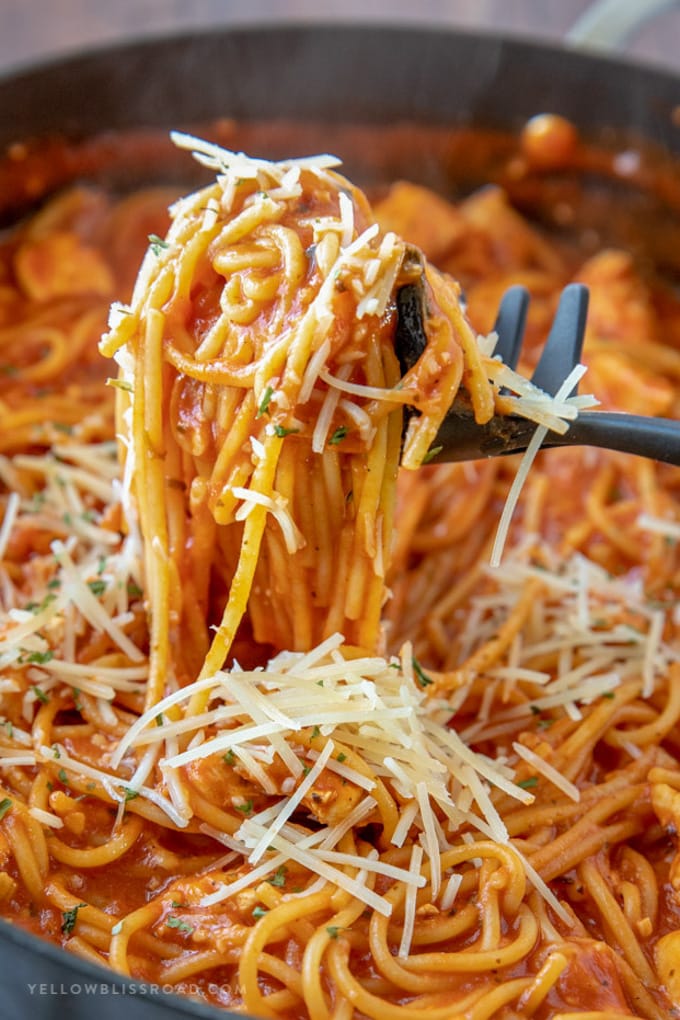 How To Make One Pot Chicken Spaghetti
This is a good base recipe and can be used with a variety of meats and pastas. There are just a few simple steps.
Saute the meat. Start by sauteing some onion in olive oil over medium heat. After a few minutes they will begin to soften and you can add the chicken. Cook just enough to get some color on all sides of the chicken and season with salt and pepper.
Cook. Then add the sauce, broth, dry pasta, and seasonings and bring the mixture to a boil. Turn down the heat to low and simmer for about 17-20 minutes, stirring at least once while the pasta is cooking to ensure that it doesn't stick together or to the bottom of the pan. You don't need to cover it – you want the liquid to reduce so it forms a yummy sauce.
Add the shredded cheese. Once the pasta is fully cooked and al dente (tender), add the Parmesan cheese. The added cheese creates a luscious sauce as it combines with the thickened liquid.
Garnish and serve. For serving, I like to garnish each bowl with some fresh Parmesan cheese and either parsley or basil.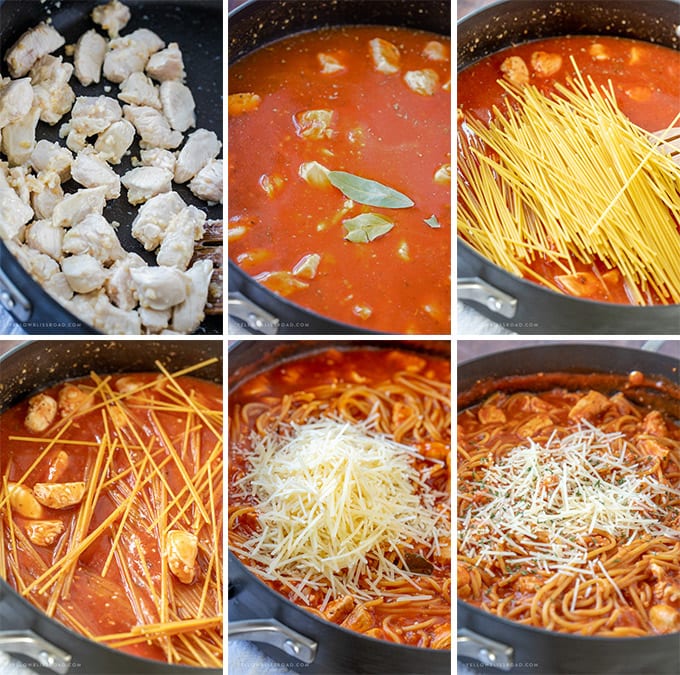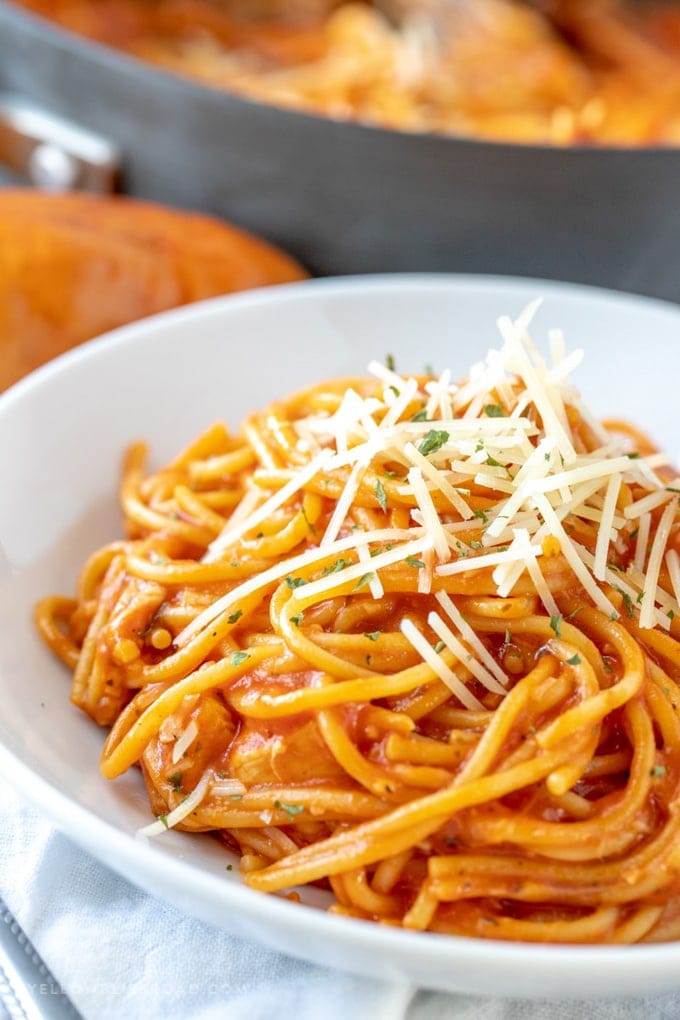 Variations
Add some veggies – Add 2 cups of chopped broccoli or sliced mushrooms with the liquid.
Ground beef – If you prefer to use ground beef or ground chicken or Italian sausage, you can. You'll want to saute the meat so that it is cooked through and no longer pink. Then continue on with the rest of the steps.
Spicy – Add a ½ teaspoon or more of red pepper flakes to the chicken.
Cheese – Get creative with the cheese on top! If you aren't partial to fresh Parmesan, you can stir in the canned grated stuff, or use fresh Mozzarella, Jack, or Cheddar cheese to change things up. For even creamier pasta, add a couple of ounces of softened cream cheese.
Pasta – Instead of spaghetti, you can use penne, rigatoni, or farfalle.
How Long is Spaghetti Good For?
Storage: Place leftovers in an airtight container and store in the refrigerator for up to 3-4 days. Reheat in the microwave or in a small pot on the stove.
Freezing: I don't recommend freezing this finished dish because the pasta gets mushy upon reheating.
Expert Tips
Be sure to stir the pasta while it's cooking. As the starch is released from the pasta, it can cause it to stick together or to the pan. Stirring a couple of times will help avoid this.

Watch your pot. If it starts to seem dry, add more broth or a little bit of water. You can always drain out extra liquid at the end if necessary.

In a pinch you could use rotisseire chicken and just skip the step of cooking the chicken.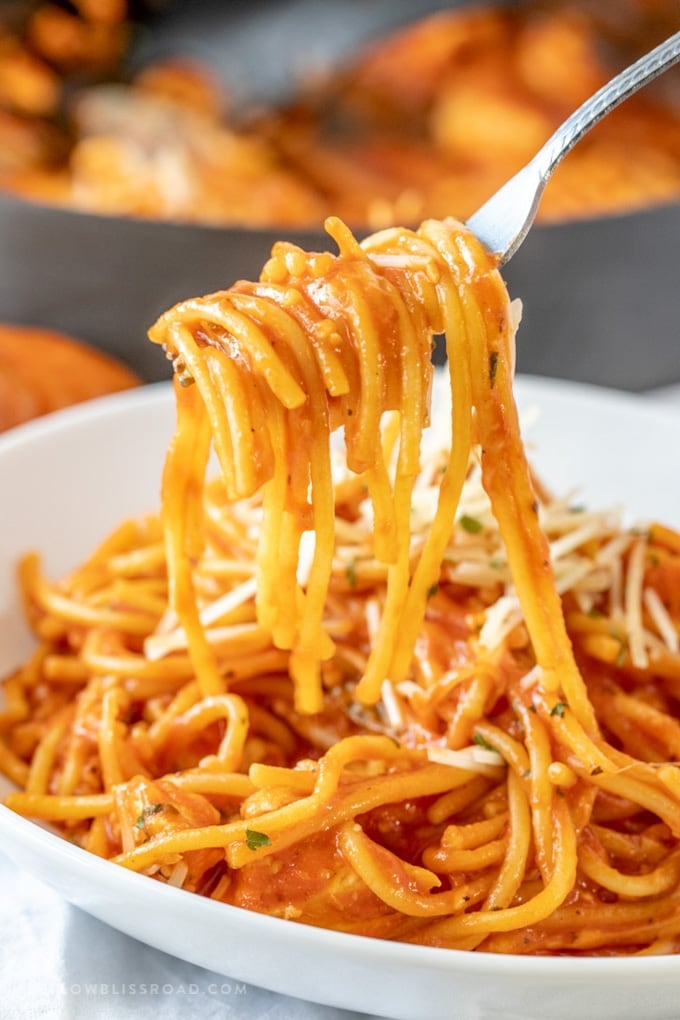 More Easy One Pot Meals
One Pot Meals are fantastic time savers; not only do they require fewer dishes, but they are often completely finished in under 30 minutes!
Recipe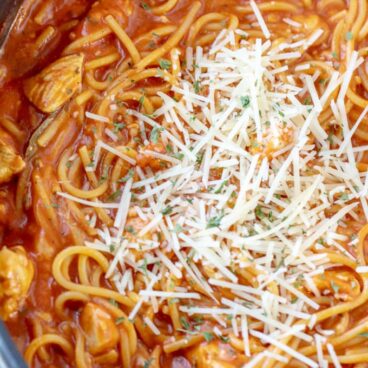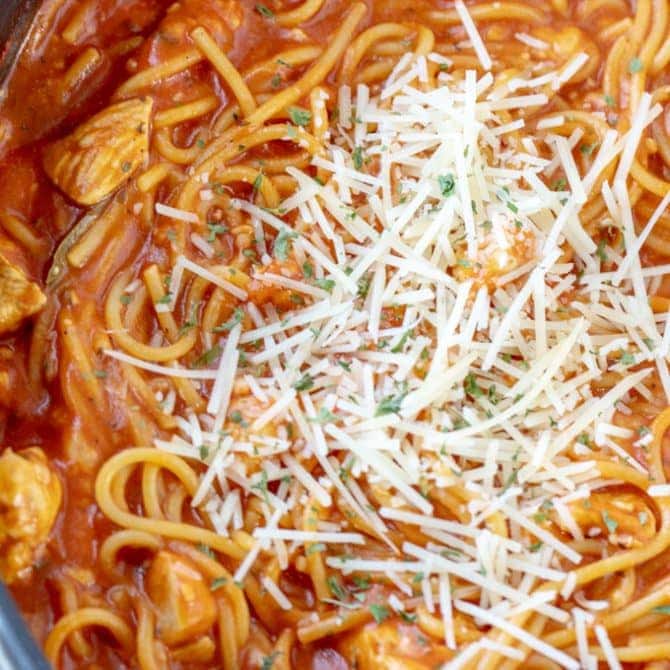 One Pot Chicken Spaghetti
An easy one pot meal with chicken, spaghetti and a creamy tomato sauce.
Ingredients
1

pound

of chicken breasts

about 2 large, cut into one inch chunks

2

tablespoons

minced garlic

1/2

cup

diced onion

1

tablespoon

olive oil

1

cup

low sodium chicken broth

1/2

cup

water

8-10

ounces

uncooked spaghetti

about ½ of a box

1

teaspoon

Italian seasoning

2

bay leaves

1

24-ounce

jar spaghetti sauce

salt and pepper

to taste

1

cup

fresh shredded Parmesan cheese

or more, to taste

fresh minced parsley

for garnish
Instructions
Heat a small amount of olive oil in a 5 quart pot or skillet over medium-high heat and add onion. Stir and cook for a few minutes, until onion becomes translucent. Add garlic and cook for about 30 seconds.

Add chicken and season with salt and pepper. Cook chicken until browned on all sides, but not completely done.

Add spaghetti sauce, chicken broth, water and seasonings and bring to a boil.

Add pasta and a couple pinches of salt; stir. Bring to a boil, cover, and reduce heat to low.

Simmer for about 17-20 minutes, stirring at least once. Add more water or chicken broth if it seems dry.

Remove from heat and stir in shredded Parmesan, reserving about 2 tablespoons for the garnish, if desired.

Divide into bowls, sprinkle with fresh grated Parmesan cheese and minced parsley and serve.
Notes
Instead of spaghetti, try penne or rotini pasta. Use roughly 2-2 ½ cups of dry pasta.
Nutrition
Calories:
394
kcal
Carbohydrates:
37
g
Protein:
33
g
Fat:
11
g
Saturated Fat:
4
g
Cholesterol:
71
mg
Sodium:
446
mg
Potassium:
531
mg
Fiber:
1
g
Sugar:
2
g
Vitamin A:
185
IU
Vitamin C:
3.3
mg
Calcium:
267
mg
Iron:
1.4
mg