Quickly thaw ground beef with this easy method! No microwaving, and ready to cook in about 20 minutes.
We've all been there – it's dinnertime but you forgot to take the meat out of the freezer and your kids are begging for tacos. Never fear – I'm going to show you how to freeze and then quickly thaw ground beef – in under 20 minutes – with no microwaving!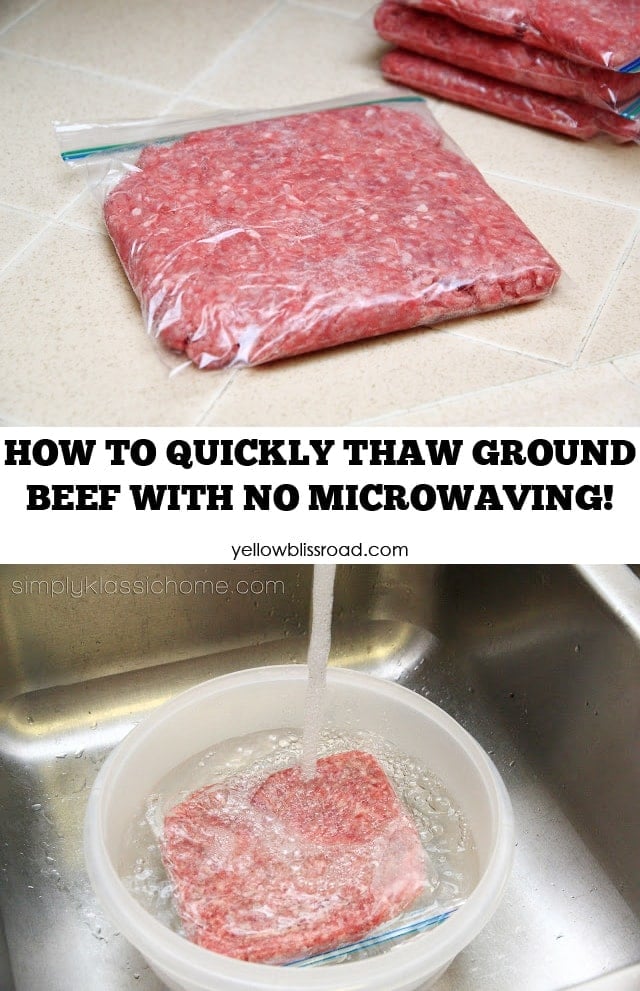 How to Thaw Ground Beef Without Microwaving
One of the easiest and most cost effective proteins to cook with is ground beef. It's budget friendly, freezes well whether it's cooked or uncooked, and it cooks quickly.
Some of my favorite meals are made with ground beef, like Sheet Pan Meatloaf and Potatoes, Ground Beef Enchiladas, Ground Beef Tacos and Tamale Pie. But I don't always plan ahead, as much as I wish I was one of those people.
Read on to learn how to thaw ground beef quickly, no microwave required.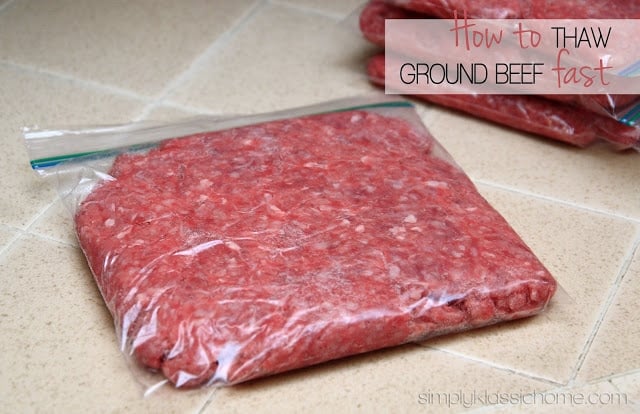 How to Freeze Ground Beef
I like to buy the bulk size packages of ground beef at Costco. For our family of five, we need about 1 1/2-2 pounds of ground beef for a meal.
I used to just cut the package into equal parts and wrap and freeze it in a big chunk. But it would take FOREVER to thaw, and forget it if you just decided on the way home that you were making tacos. There was just no time to thaw the meat and I hate thawing in the microwave.
So I started freezing my ground meat a little differently, and it's made things much easier come dinnertime.
After cutting equal pieces, I placed each portion in a resealable plastic freezer bag, flattened the meat, squeezed out as much air as possible.
Label the individual bag with the weight.
Flattening the meat makes for much less thawing time. In fact, just place the bag in a bowl of tap water and it takes less than 30 minutes to thaw!
What is the best way to thaw ground beef?
The best way to thaw ground beef is to place it in the fridge overnight. Sometimes you just don't have the time, so you need a quicker method. Thawing in a bowl of water or under running water is a great alternative.
Is it safe to refreeze thawed ground beef?
If you thawed your meat in the fridge, you can absolutely refreeze it. It's only considered safe if the internal temperature of the meat stayed below 40℉.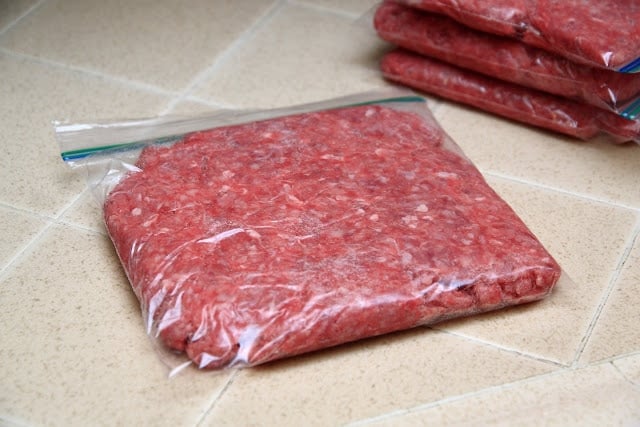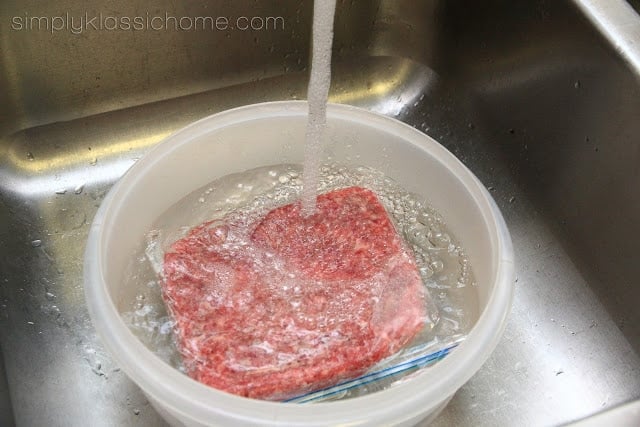 To get even portions, use a kitchen scale.
The water in the bowl will get colder as the meat sits in it. To thaw even quicker, use running water.
This works just as well with ground turkey, pork or chicken.
Ground Beef Recipes
I have lots of ground beef recipes here on the website, but these are some of the most popular:
Recipe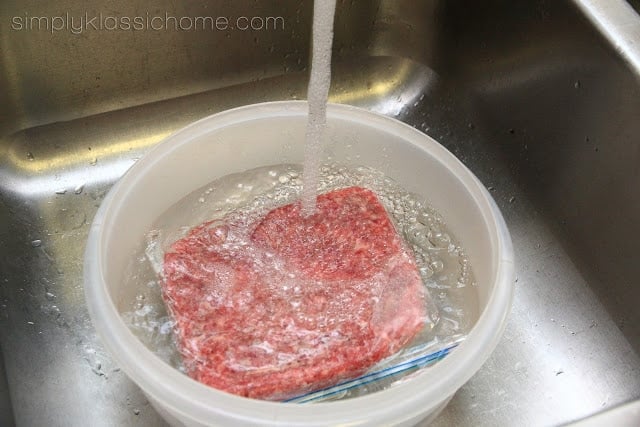 How to Quickly Thaw Ground Beef
Quickly thaw ground beef with this easy method! No microwaving required, and your meat is ready to cook in about 20 minutes.
Instructions
Place 1 pound of ground beef in a plastic freezer bag. Seal, leaving about an inch for air to escape, then press meat into a flat square, the an inch thick (or less).

Freeze until ready to use.

Remove from the freezer and thaw in the refrigerator for 1-2 hours, or to place in a bowl of room temperature (tap) water for about 20 minutes.
Nutrition
Calories:
155
kcal
Protein:
24
g
Fat:
6
g
Saturated Fat:
3
g
Polyunsaturated Fat:
0.3
g
Monounsaturated Fat:
2
g
Trans Fat:
0.4
g
Cholesterol:
70
mg
Sodium:
75
mg
Potassium:
392
mg
Calcium:
10
mg
Iron:
3
mg