How to Cook Steak Perfectly Every Time
There's nothing quite like a delicious, juicy steak. I've got some great tips for how to cook a steak that I've learned over the years that will help you get the PERFECT steak dinner every time.
A steak dinner is the way to my heart in a hurry, paired with a Perfect Baked Potato and a Lemon Kale Caesar Salad. But how do you get that steakhouse quality steak at home? I'm going to show you how!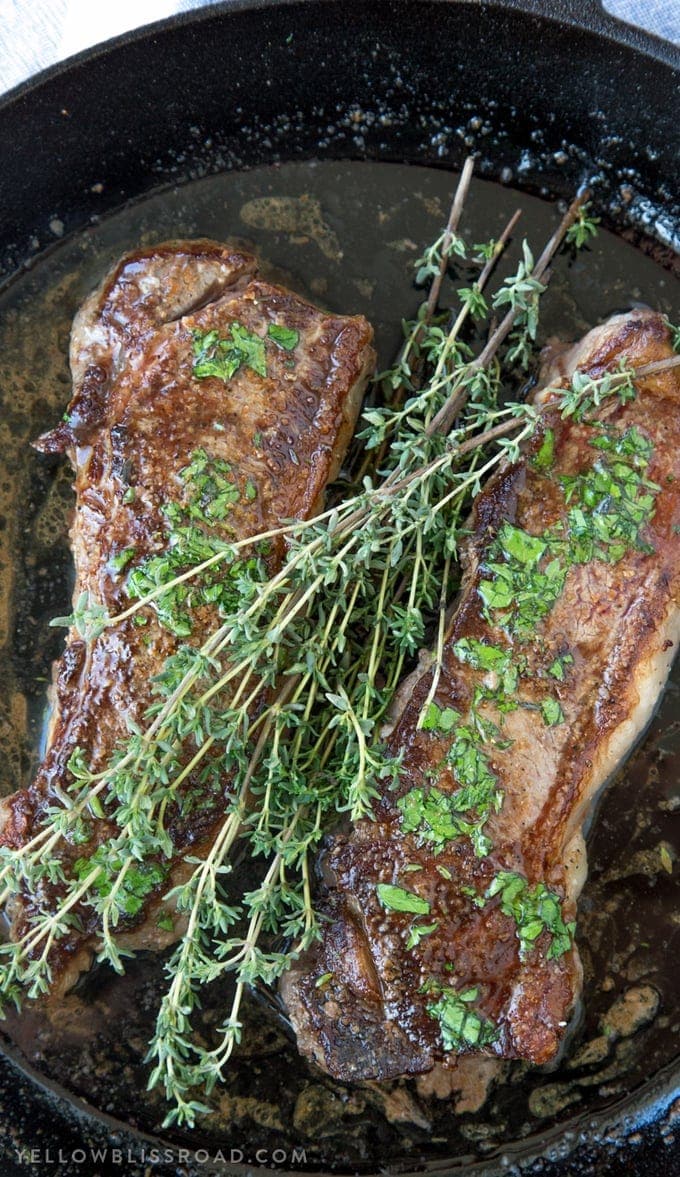 HOW TO COOK STEAK
Many, many, many years ago, I spent a lot of my free time watching cooking shows before they were "in." Sara Moulton was a favorite – she's awesome! And there was this show with Tyler Florence called "How to Boil Water" where he would actually go to someone's home and teach them how to cook! I thought it was the coolest thing and dreamed that one day he would be in my kitchen teaching me. That never quite happened, but he's made it into my living room on numerous occasions.
One of the best tips I ever remember learning from Tyler was how to check the doneness of a steak by measuring it against your fist. First, make a relaxed fist. The fleshy area of your hand between your thumb and forefinger is soft, which is how a rare steak feels. If you slightly clench your fist, it's a little firmer like medium doneness. Clench your fist tightly and the area will feel like well-done. You know you want to try it out so make a fist and I'll wait right here.
Pretty cool right? So that was just one of the tips I've learned along the way for getting the perfect steak.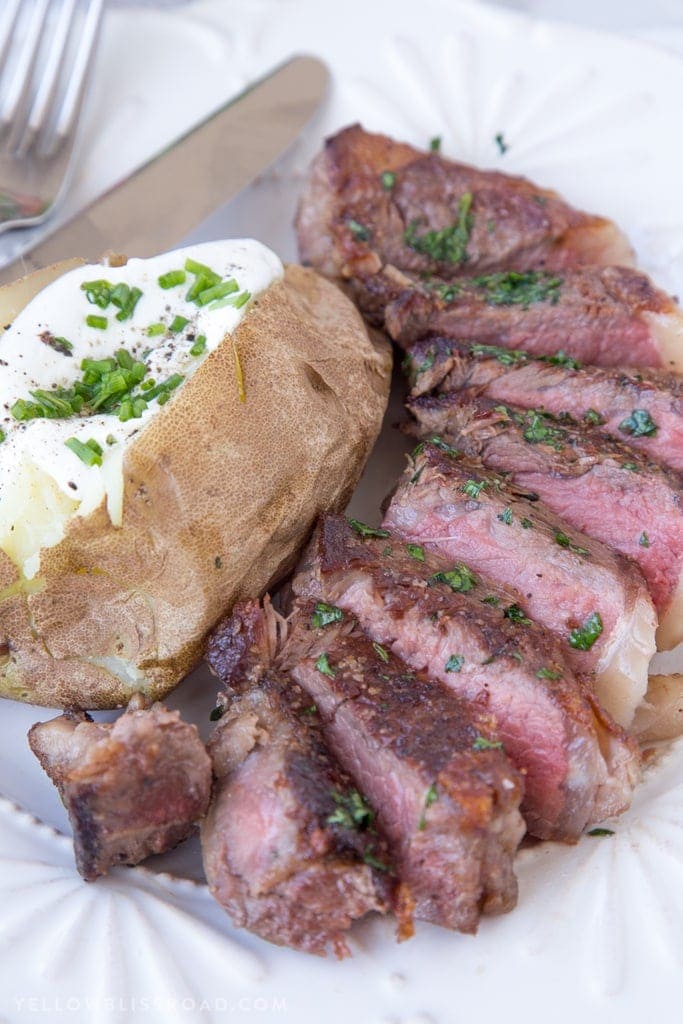 TIPS FOR HOW TO COOK STEAK PERFECTLY EVERY TIME:
Steak is usually one of those decadent meals you get at a restaurant rather than making it at home, but the truth is it couldn't be easier to make! You just need three main ingredients – steak (I like New York Strip or Rib Eye), salt, and butter. I usually throw in a little pepper and some herbs or aromatics as well.
Start with room temperature meat. I know this goes against everything you every learned about meat, but having the meat at room temp brings it closer to the heat of the pan and that's what you want. You'll get a much better sear and nice, even cooking.
Season, season, season! Salt those bad boys up with a nice sprinkle of kosher salt. I like to add a few turns of fresh cracked pepper, too. I will usually salt them about 10 minutes or so before adding them to the pan to to let the salt and the meat get to know each other a little bit.


COOK YOUR STEAK ON THE STOVE

Use a screaming hot pan. Use a cast iron skillet if you have one, or a stainless will do as well and add some olive oil over a medium-high heat. These heavy bottomed skillets will give you that nice seared crust on the bottom of the steak, which is what you want. You can't get that with a Teflon pan.
Let it sit. Once you put the steak in the skillet, don't mess with it. This is the same as when you're cooking on the grill. Let the skillet do it's job and give that meat a nice crust. Cook the steak for about 4-5 minutes on the first side. When it's got that beautiful color all through the bottom you're ready to flip it. Resist the urge to constantly check it or move it around. Do make sure that all of the meat is touch the skillet by pressing it into the skillet slightly so you hear that initial sizzle all around.
Butter, baby! Flip the steaks, turn off the heat and add some butter to the pan. Having a cast iron is really great here because it will stay nice and hot. Let the butter melt and use a spoon to constantly scoop that deliciousness up and baste the meat with it for about a minute. This is going to keep the steak from drying out, and give it that nice, drip down your chin juiciness. This is also a great time to add some fresh herbs and aromatics, like parsley, thyme or rosemary.


FINISH COOKING YOUR STEAK IN THE OVEN

Finish cooking in the oven. Once you've flipped the steaks and given them their butter bath, it's time to pop those babies in a 275 degree oven. Now, depending on the thickness of the steaks, it will take about 5-7 minutes to get a nice medium-medium rare. Use that little fist trick I shared earlier, or get yourself an in expensive instant-read thermometer like this one. (affiliate link)
LET IT REST. I think this is probably the biggest mistake anyone can make when cooking meat – you have got to let it rest! I've talked about it before in my baked chicken recipes, but resting the meat is imperative in getting a tender, juicy steak. Baste the steaks with the butter and juices one more time, then transfer the meat to a cutting board and leave it alone for at least 10-12 minutes. This will allow the juices to redistribute throughout the steak instead of running all over the cutting board. Once rested, cut that baby up (against the grain, of course!) and serve it up with a spoonful of that delicious sauce straight from the pan.
That's it! Simple, right? Use these 7 tricks and I guarantee you won't need to visit a steakhouse again.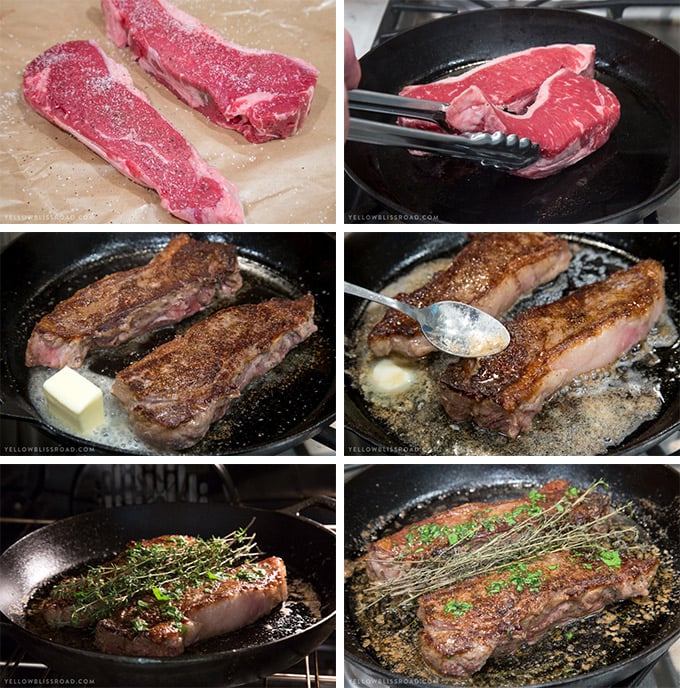 HOW TO COOK STEAK TO MEDIUM RARE
Whether you prefer your steak rare or medium, it should never be cooked to well done as this will result in a tough, chewy piece of meat. Medium rare is often recommended for it's warm pink center and deliciously crusted outside.
For medium rare, a steak should register 120 to 130 degrees on a meat thermometer.
For rare, 110 to 120 degrees.
For medium, 140 to 150 degrees.
Want to know how to perfectly grill your steak? Check out my handy tips and printable guide HERE.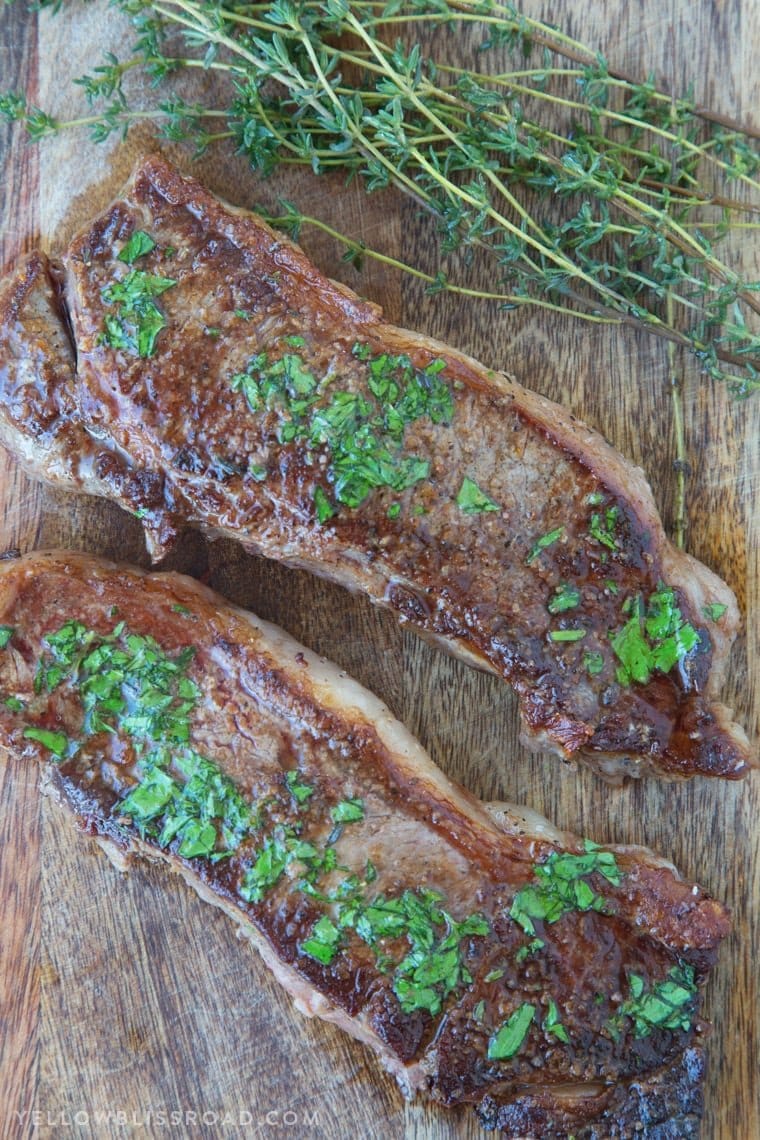 WHAT TO SERVE WITH THE PERFECT STEAK
Serve it up with some baked potatoes and a salad and you've got yourself the perfect steakhouse dinner right at home. But if you're looking for something more than the typical baked potato and salad, these steakhouse side dishes should do the trick.

WHAT ARE THE TASTIEST CUTS OF STEAK?
The steaks with the best flavor are going to have a lot of marbling throughout, because as we all know "fat is flavor!" The second factor is going to be the cut. Here are 5 of our favorite cuts for a tender and flavorful steak are:
Filet Minon – an obvious choice and often the most expensive that you can buy at a regular grocery store. It isn't the most flavorful, but you can easily rectify that with some simple seasonings.
Rib Eye – This cut of beef has a lot of gorgeous marbling throughout, making it one of the most flavorful. It isn't as dense and doesn't require as much cooking time, so keep that in mind.
Tri Tip – This cut is most popular in regions of California is is often referred to as the Santa Maria cut. It has a generous marbling and a great flavor that is best on the grilled. If you have access to this hunk of meat, be sure to try our Grilled Tri Tip recipe.
New York Strip – Considerably one of the most popular steaks on any steakhouse menu, the cut of meat is thick and delicious with a flavorful marbling throughout. It is ideal for grilling or for the sear and oven cook method shown here.
Porterhouse – This epic steak is two favorites in one. It has a New York Strip on one side of its bone, and a filet mignon on the other. It's perfect for cast iron searing but also great on the grill.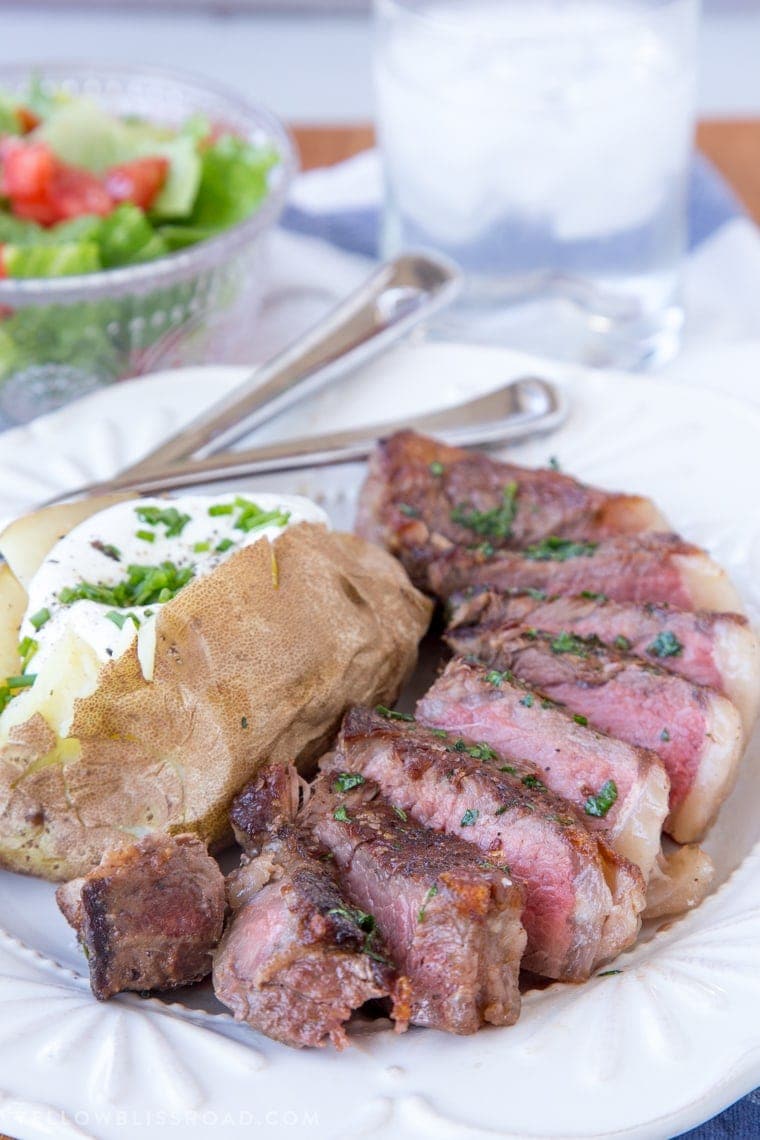 For more easy, restaurant quality dinner ideas, try these:
For all dinner recipes go HERE and for the recipe index go HERE.
If you've made this recipe, please come back and leave us a star rating or a comment below. Or, tag us on social media @yellowblissroad or #yellowblissroad for a chance to be featured.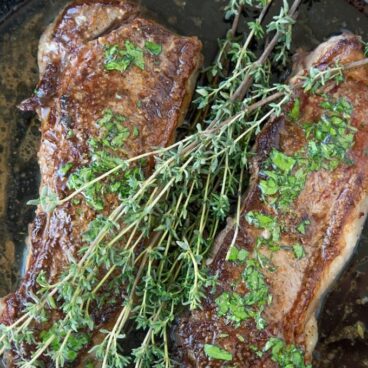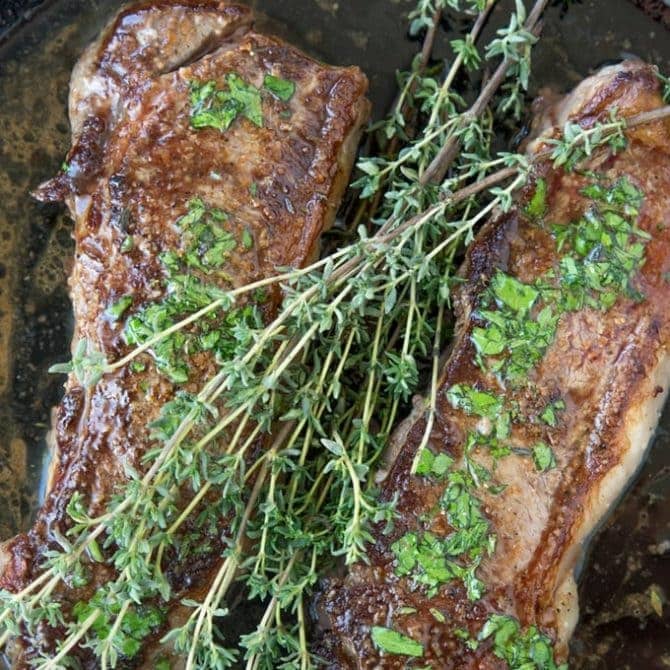 The Easiest, Juiciest Steak EVER
Ingredients
2

New York Strip Steaks

Salt & Pepper

2

tablespoons

butter

2

tablespoons

olive oil

8-10

Thyme sprigs

1

tablespoon

fresh chopped flat-leaf parsley
Instructions
Bring the steaks to room temperature by setting out on the counter for about 30 minutes. Season generously with kosher salt and a little fresh cracked pepper.

Heat the oven to 275 degrees F.

Heat a heavy bottomed skillet (like cast iron) over medium high heat with the olive oil; 1-2 minutes.

Place the steaks a couple of inches apart in the hot pan (press down lightly to ensure that all of the meat is touching the pan. Cook steaks for 4-5 minutes, without moving them. Check for a dark golden sear, then flip the steaks over and turn off the heat.

Add the butter to the skillet, basting the meat with the butter and pan juices with a spoon for about a minute. Sprinkle chopped parsley on top of steaks and set thyme sprigs on top.

Slide the skillet into the 275 degree oven. Cook for about 5-7 minutes for medium. Temperature should be: Rare - 130°F, Medium Rare - 140°F, Medium - 155°F, Well Done - 165°F. (If you don't have a thermometer, use the fist test described in the post).

When steaks are finished cooking, baste again with the pan juices, then transfer to a cutting board to rest for at least 10 minutes.

To serve, slice against the grain and transfer to a plate. Serve with additional pan juices spooned over the top.