Baked potatoes are a super delicious and filling side dish for any meal. Learn how to bake a potato in the oven with this easy recipe!
We are a meat and potatoes family so this side dish is right up our alley. We love baked potatoes with any type of meat, from Filet Mignon to grilled chicken thighs to pork tenderloin! Served with a Steakhouse Salad for the perfect meal!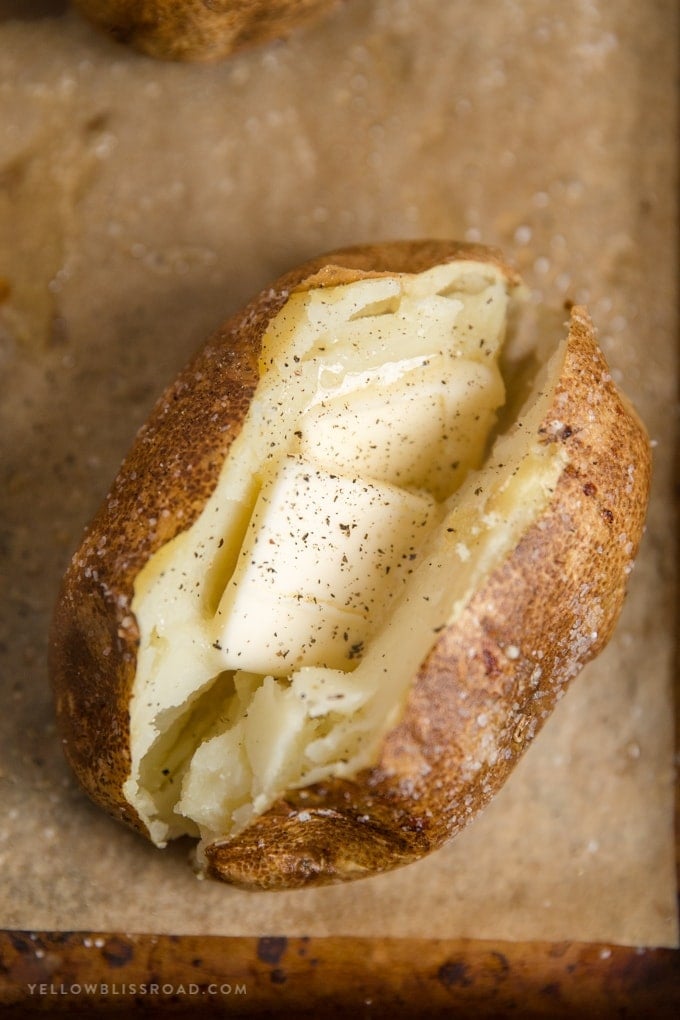 BEST BAKED POTATO RECIPE
Nothing says man-food dinner better than a delicious steak accompanied by a screaming hot baked potato. It's true – this is the answer most men will give you if you ask the "What do you want for dinner?" question. My 10 year old son is no different. We have gone on two separate cruises and each night of both 7-night trips he had a steak and a baked potato. Every. Single. Night. He thought it was seriously the best thing ever. The last trip was months ago but he still reminisces about how he ate the same thing every night.
To further solidify proof of his love of this manly meal, he chose "steak dinner" as his reward for a great week. Not a video game, not a trip to the ice cream store, but a steak dinner. Steak, baked potato and a salad with ranch. That's how we celebrate a job well done in this family.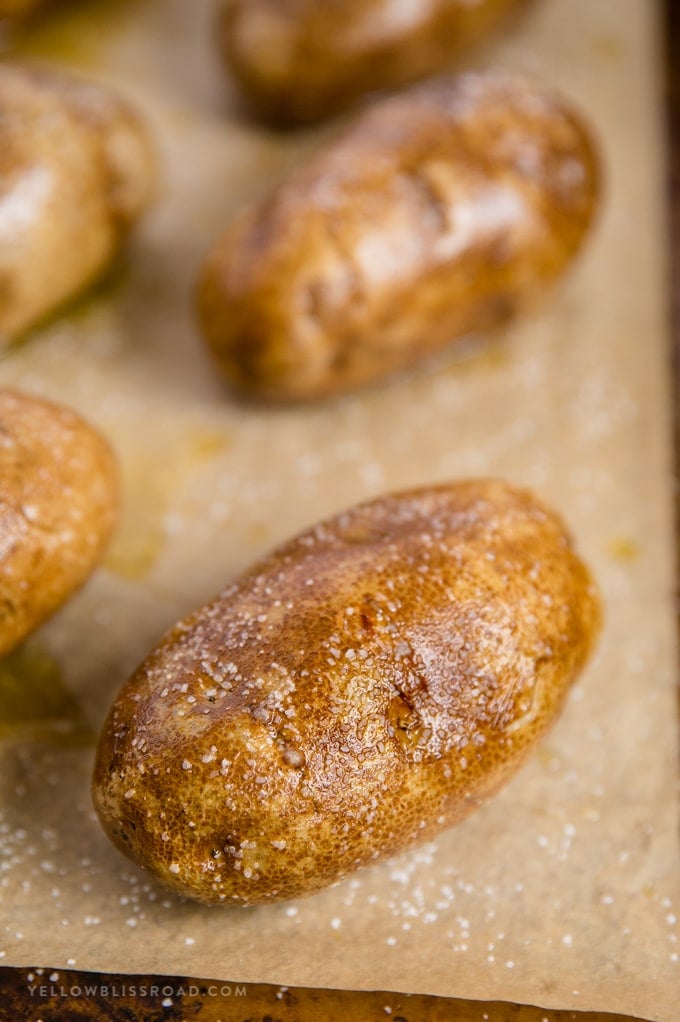 HOW TO BAKE A POTATO IN THE OVEN
If we are getting technical here, we are only talking about oven baked potatoes. You can certainly save a good 45 minutes or more by cooking your potatoes in the microwave, but the flavor and texture is just light years above when you bake them in the oven.
Rub the skins with olive oil and sprinkle with a generous amount of salt.
Arrange the spuds on a baking sheet several inches apart. On a large baking sheet you should be able to fit 6-8 taters.
Bake them for 45-60 minutes at 425 degree temperature, then let them cool until you're able to handle them; at least 10 minutes.
Cut a slit lengthwise along the top of the potato, leaving an inch or two on either side, then pinch the sides to spread the potato open.
Sprinkle with salt and add butter, sour cream, black pepper or any of your favorite toppings.
There you have it! Now that you know how to bake a potato in the oven, you'll never go back to microwaved again! Baked potatoes are total comfort food. There's not much better than a steaming hot baked potato slathered with butter and salt. I'm drooling just looking at it…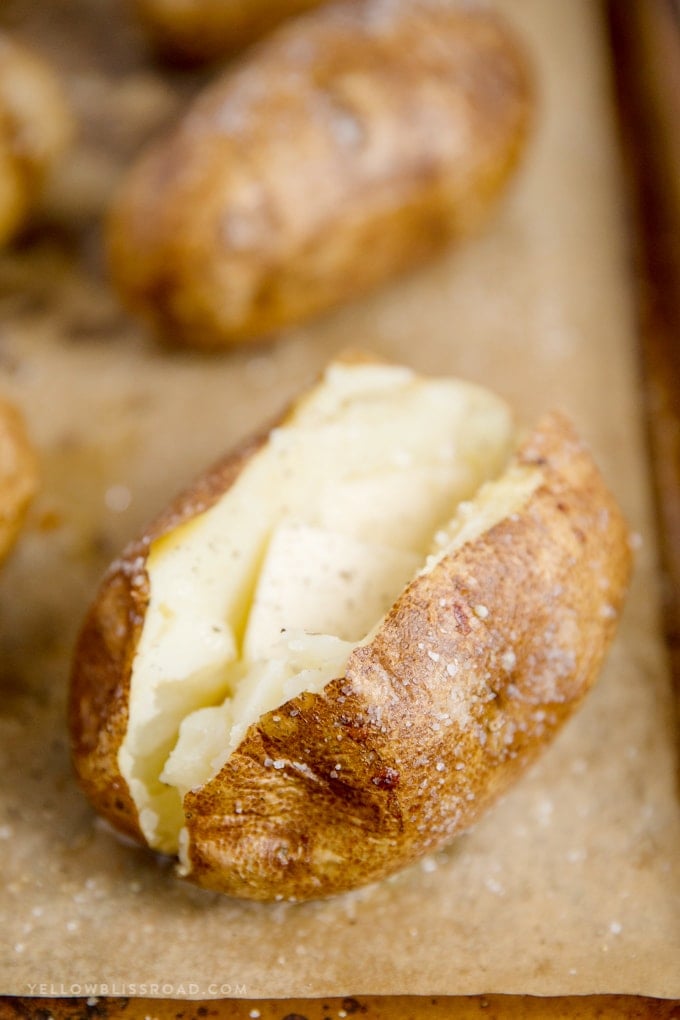 Let's dive in to my favorite tips and tricks.
What kind of potatoes are the best for baking?
Russets are the go-to for a good, steakhouse style baked potato. The smaller, creamier potatoes like golds and reds are delicious when diced and roasted in the oven, but they won't yield the same tender fluffy insides and crispy outside that the mild-flavored and starchy russets do. So when it comes to baked or mashed, stick to russets.
Do I have to poke the potatoes before baking?
Piercing the potatoes before baking allows steam to escape and keeps the potatoes from exploding in the oven. At least that's what "they" say. I came across this fun article from Rachael Ray that explains this theory (and the lack of evidence behind it). I don't know, I think I'll stick to poking for now; that's not a chance I'm willing to take!
How long to bake a potato in the oven?
It will take about an hour, maybe a little more, to bake a potato at 400 degrees F. At 425 degrees, it will take about 45 minutes or up to an hour. The main factor here is the size of your spuds – the larger they are, the longer they will take to cook. I try to make sure the potatoes I buy at the grocery store are about the same size so they will take about the same amount of time to cook. The amount of potatoes you're baking isn't as important – as long as they are spread out and a few inches apart 1 potato will take the same amount of time as 8.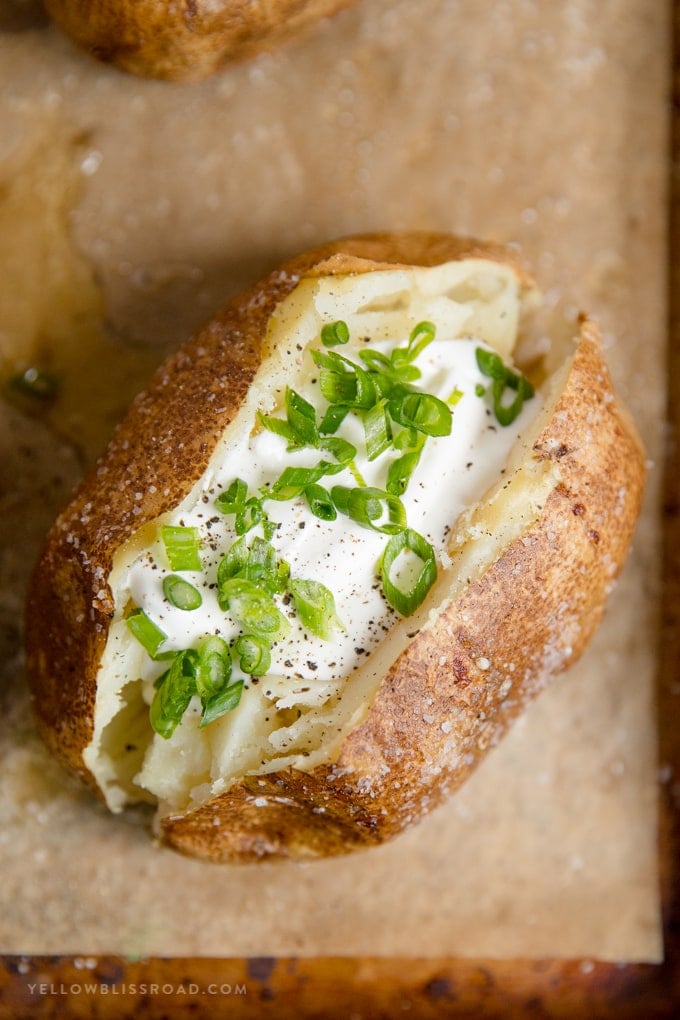 WHAT CAN I DO WITH LEFTOVER BAKED POTATOES?
If you have leftovers, my Taco Stuffed Potatoes are an amazing meal to use up both baked potatoes and leftover taco meat. You really could stuff these bad boys with anything from broccoli and cheese to chili and have a simple, delicious and totally filling meal! In fact, I have been known to make plenty of extra potatoes just for this purpose.
Some of our favorite toppings:
Potatoes have a mild flavor making them the perfect vehicle for tons of different flavors. Listing a few of our favorites here; you can mix and match as you like!
Bacon, shredded cheese, chives and sour cream for a loaded potato
Sour cream and chives
Pesto, parmesan cheese and red pepper flakes
Salsa and cheese
Ranch dressing
Broccoli and cheese sauce
Shredded chicken or beef with salsa and cheese
TRY SOME MORE OF OUR FAVORITE POTATO RECIPES:
Recipe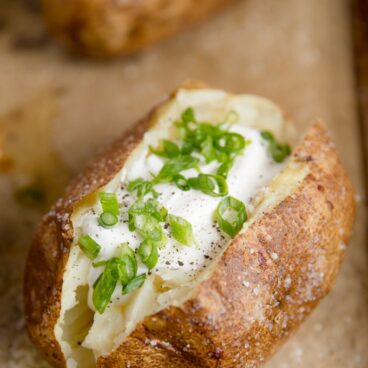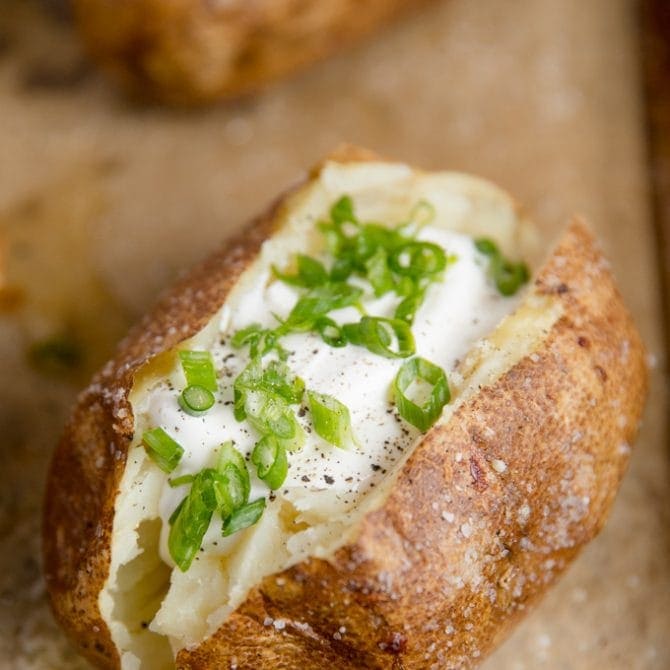 Baked Potatoes
Baked potatoes are a super delicious and filling side dish for any meal. Learn how to bake potatoes in the oven with this easy recipe!
Total Time
1

hour
5

minutes
Ingredients
4

Russet potatoes

Vegetable or olive oil

Kosher salt

Butter

Fresh cracked black pepper

Baked potatoes toppings of your choice

sour cream, chives, cheese, etc.
Instructions
Preheat oven to 425 degrees f. Line a baking sheet with parchment paper.

Brush potatoes with olive oil and sprinkle generously with salt. Place potatoes on the prepared baking sheet and bake for 45-60 minutes.

Cool for 10 minutes. Slice open the tops of the potatoes and pinch the sides to spread open. Top with butter, salt and fresh cracked black pepper.

For loaded baked potatoes, top with sour cream, freshly shredded cheddar cheese, chives and bacon.
Notes
Our favorite toppings:
Bacon, shredded cheese, chives and sour cream for a loaded potato
Sour cream and chives
Pesto, parmesan cheese and red pepper flakes
Salsa and cheese
Ranch dressing
Broccoli and cheese sauce
Shredded chicken or beef with salsa and cheese
Nutrition
Calories:
168
kcal
Carbohydrates:
38
g
Protein:
4
g
Sodium:
10
mg
Potassium:
888
mg
Fiber:
2
g
Sugar:
1
g
Vitamin C:
12.1
mg
Calcium:
28
mg
Iron:
1.8
mg