This Crock Pot Pork Roast recipe is tender and juicy and perfect for busy weeknights. Plus it's super easy to make in your slow cooker with just a few simple ingredients and about 5 minutes of prep.
Serve with some make ahead mashed potatoes, gravy, and green beans for the ultimate comfort food meal. It would make a lovely and simple holiday meal, too.
Want more pork recipes? Try my Pan Seared Pork Chops and Pork Schnitzel.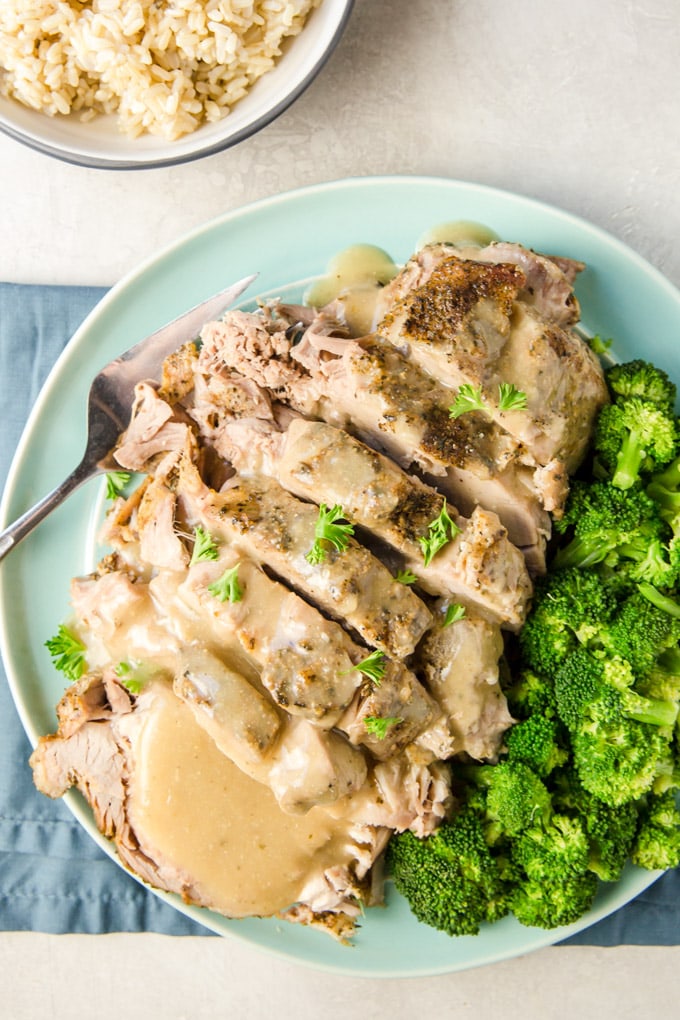 Pin this recipe for later!
The Easiest Crock Pot Pork Roast
You know when you just don't feel like cooking? Or you are going to have company for dinner, but you have no time to make anything fancy? Help is at hand in the form of this delicious slow cooker pork roast recipe. Making this roast is so easy that you could practically do it in your sleep!
You can enjoy this pork just like it is, or add an easy gravy (recipe included) to impart even more homey flavor.
There are only a handful of ingredients needed, and they are easy to find, basic pantry ingredients.
It's so tender and juicy, even if you cook it from frozen!
I buy a 2-3 pound pork loin roast at Costco because it comes in a 4-pack which means I always have some on hand. It has up to 10% of a solution of broth and salt, which adds more flavor, but also means you may want to omit additional salt until after cooking.
Since I buy a lot of meat in bulk, I keep it in the freezer. I just get it out of my freezer when I'm ready to cook and put it into my slow cooker.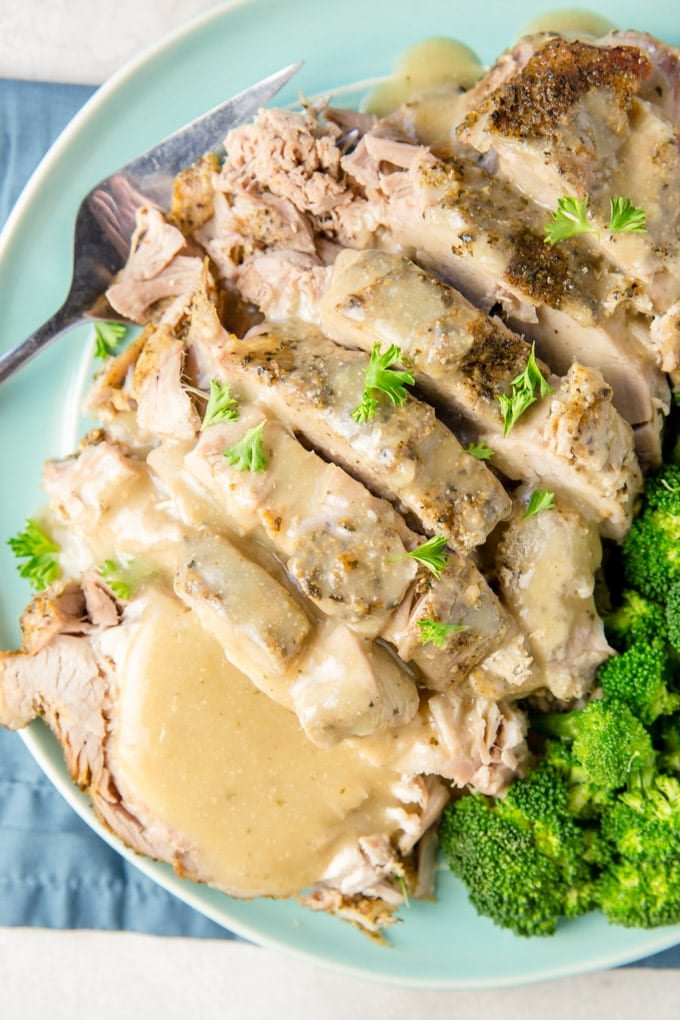 Ingredients
Pork Roast – The best kind of pork roast to use is a pork loin roast. It's large enough to feed at least 6 people, it's still tender and juicy.
Poultry seasoning – I love using this seasoning for pork because it adds so much flavor! It has sage, thyme, marjoram, rosemary, and nutmeg. You could make your own or use a different seasoning if you prefer.
Salt and pepper
Gravy – If you decide to make the gravy (I highly recommend it!) you'll need butter and flour, and 2 cups of the juices from the slow cooker or chicken broth.
How to Make a Crock Pot Pork Roast
Place the pork roast in the crock pot. You can thaw it overnight if you like. It is not necessary to thaw but you will want to add an hour to the cooking time if your pork roast is frozen or not completely thawed.

Sprinkle salt and pepper on it, followed by a generous sprinkling of poultry seasoning. If the roast is fully thawed, add a little water to the bottom of the pot.
Cover and cook on LOW for 8 hours or on HIGH for 5-6 hours.
FAQs
How long does pork take in a slow cooker?
A 3-pound pork roast will take about 8 hours to cook in the slow cooker on LOW, or 4-5 hours on HIGH. My roast always turns out so tender and flavorful.
Do you put water in the crock pot with a pork roast?
When I am cooking this from its frozen state, I don't add any liquid to the bottom of the crock pot because as the roast thaws it will release plenty of liquid. If the meat is fresh or thawed, I add ¼ to ½ cup of water or chicken broth. Likewise, if you get a pork roast that has not had broth and salt added to it, you may want to add more salt.
Can you make this ahead of time?
Sure – you can cook the roast a day or two in advance and store the meat in the refrigerator in an airtight container. Reheat in the microwave to serve.
How do you know when pork is done cooking?
Pork should be cooked to an internal temperature of at least 145℉. It's ok to still be a little pink, or medium rare. Check out my free printable Meat Temperature Chart for information on temperatures for anything you're cooking.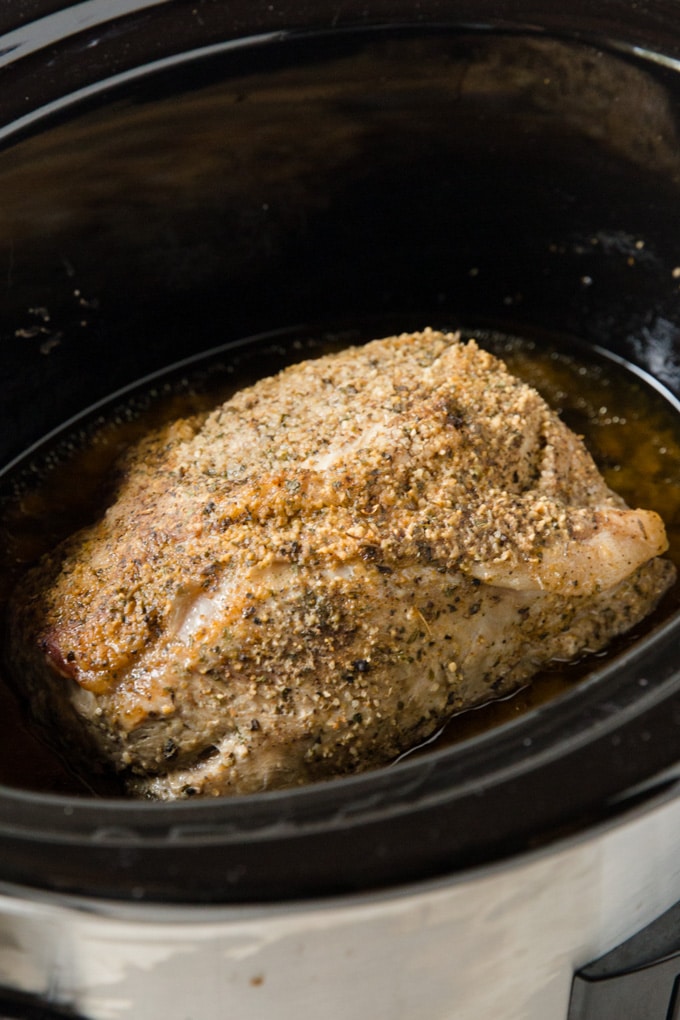 Which Cut of Pork is Best in a Slow Cooker?
I use a pork loin roast for this easy recipe – it's my favorite cut of pork to roast in a slow cooker. It's a generously sized roast so it will feed at least 6 people, and it comes our juicy, flavorful and so tender after several hours.
The long, skinny tenderloin is also a good cut, but I have found that it has more of a risk of getting dry because it is more lean. I prefer Bacon Wrapped Pork Tenderloin or Pan Roasted Pork Tenderloin.
If it's Pulled Pork you're after, you'll need a large pork shoulder, and Crockpot Ribs are always a winner.
How to Make a Pork Gravy with a Roux
Making gravy from a roux is simple and easy and super delicious with this Crock Pot Pork Loin.
Melt 3 tablespoons of butter in a skillet, then whisk in an equal amount of flour. Let it cook until it's golden and all of the flour is completely absorbed. You can also add garlic to the butter for even more flavor.
Add 2 cups of liquid – the juices from the slow cooker and chicken broth to make 2 cups. to the roux and bring the mixture to a simmer. It will take about 5-7 minutes to thicken, then you can season with salt and pepper until the gravy tastes how you like you.
For brown gravy for beef roasts, use beef broth instead of chicken in addition to any cooking juices from the meat.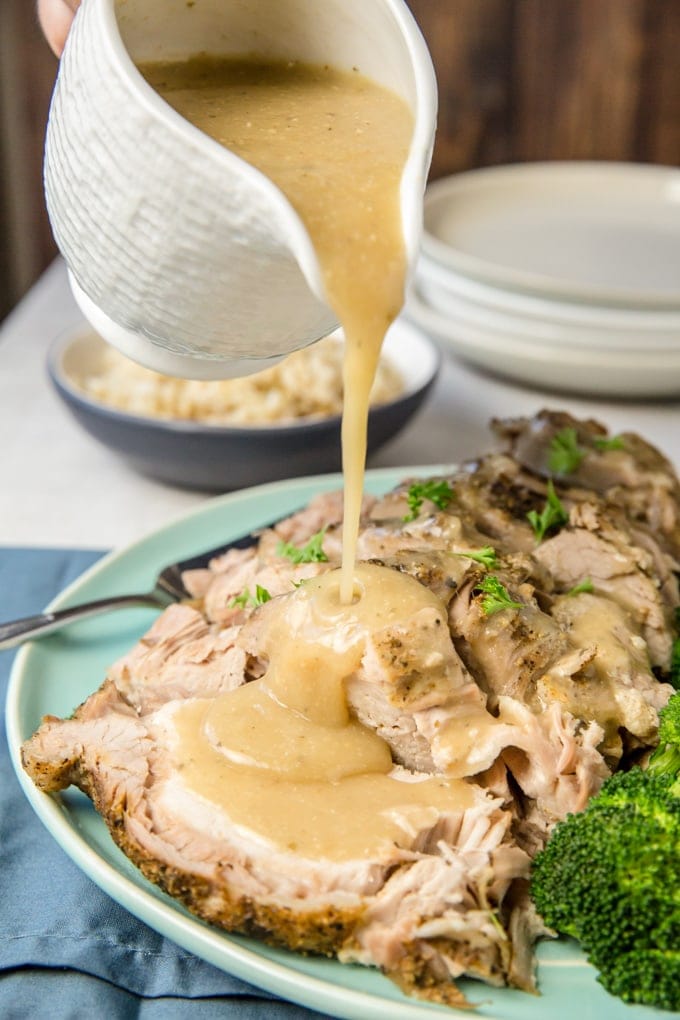 Serving Suggestions
This pork pairs well with my fluffy mashed potatoes, Seasoned Rice, and any kind of vegetable, like Oven Roasted Broccoli, Garlic Green Beans or Honey Roasted Carrots. And if you have leftovers, you can use the meat in enchiladas, taquitos, or sandwiches–the possibilities are endless!
Variations
Soup Mix – Try sprinkling an onion soup mix over the roast for a great flavor.
Add veggies – I didn't use any vegetables in this recipe, but you could add some roughly chopped onions, garlic, carrots, or potatoes. Any veggies you had should be cut into very large pieces so they don't overcook and turn to mush.
Spicy – For my slow cooker Top Round Roast, I added jarred pepperoncini and a little of the juice for a nice spicy roast. You could do the same for this pork roast.
Seasoning – If you don't like the poultry seasoning, or just want to try something different, a cajun seasoning would be delicious, or a little paprika and garlic powder.
Butter the roast – For a richer finish, Add a few pats of butter on top of the roast.
Searing – This is optional, but if you have 10 extra minutes, sear the roast on all sides in a cast iron skillet. This will give you a nice depth of flavor and will help make it easier to slice.
Storing Leftovers
Refrigerate: Store in an airtight container for up to 3-4 days.
Freeze: Store in an airtight, freezer-safe container in the freezer for up to 6 months.
Repurposing: Shredded pork can be repurposed into pulled pork sandwiches, enchiladas, tacos or even as a delicious topping for mac and cheese!
Instant Pot Pork Roast
Using your Instant Pot is a great option if you forgot to set your crock pot in the morning! Make sure to add a cup of water to the bottom of the pot before placing the roast in, and high-pressure cook for about 15 minutes, with a 15-minute natural release.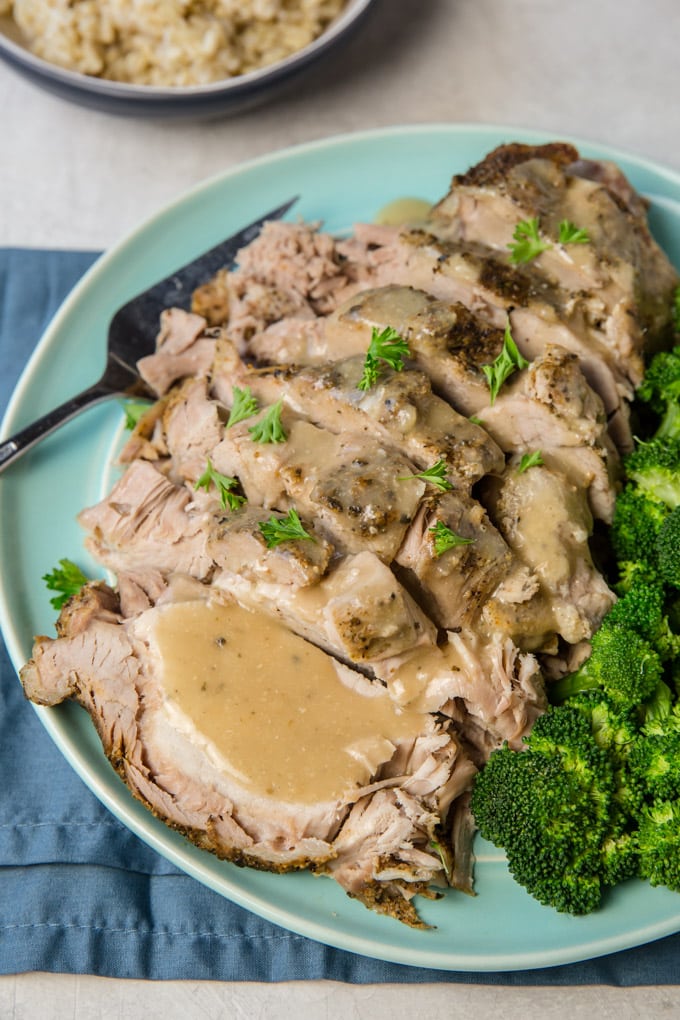 More Pork Recipes to Try
Recipe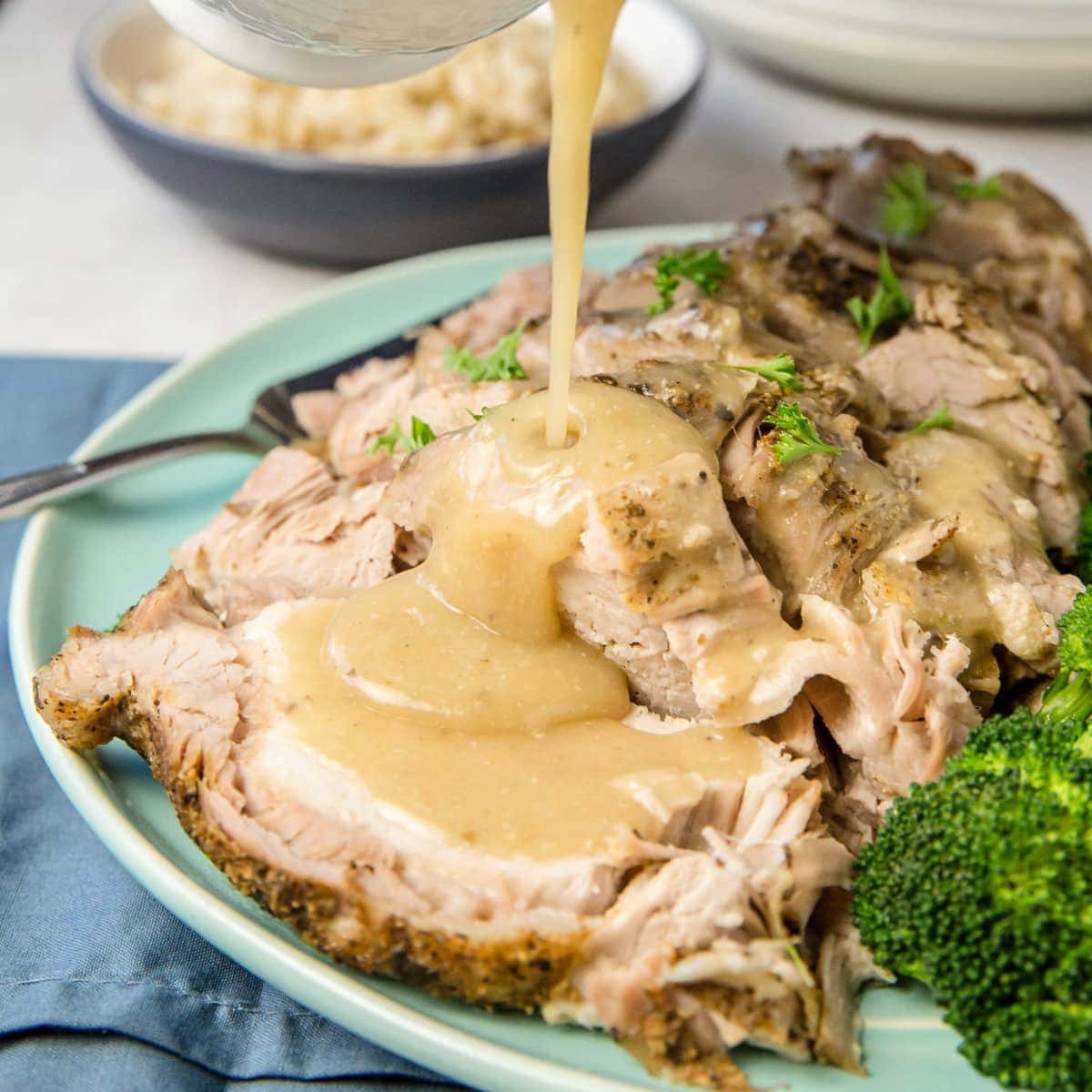 Easy Pork Roast
Delicious pork roast cooked in crock pot.
Total Time
4

hours
5

minutes
Ingredients
2.5

pound

pork loin roast

salt

pepper

1-2

teaspoons

poultry seasoning
For the Gravy (optional)
3

tablespoons

butter

3

tablespoons

all-purpose flour

2

cups

liquid

(juices from the slow cooker and/or chicken broth)
Instructions
Put the fresh or frozen pork roast in the crock pot.

Sprinkle with desired amount of salt and pepper. Try to get some on the sides, then liberally sprinkle with poultry seasoning.

If not using frozen roast, add ¼ to ½ cup of water to the bottom of the crock pot.

Cover and cook on high for 4-5 hours or low for 8-9 hours. If frozen, add 1 hour to cooking time.
To Make the Gravy (optional)
Melt 3 tablespoons of butter in a skillet or saucepan, then whisk in 3 tablespoons of flour. Let the roux cook over medium heat until it's golden and all of the flour is completely absorbed.

Add 2 cups of liquid to the butter/flour roux. I use whatever juices are in the slow cooker and add chicken broth until it equals 2 cups. Bring the mixture to a simmer for about 5-7 minutes or until thickened.

Season the gravy with salt and pepper to your liking and serve with the pork roast.
Notes
Nutritional content is for informational purposes. It does not include the optional gravy because that depends on how much each person uses.
Nutrition
Calories:
250
kcal
Carbohydrates:
1
g
Protein:
42
g
Fat:
8
g
Saturated Fat:
2
g
Cholesterol:
119
mg
Sodium:
93
mg
Potassium:
709
mg
Fiber:
1
g
Sugar:
1
g
Vitamin A:
9
IU
Vitamin C:
1
mg
Calcium:
13
mg
Iron:
1
mg