Pan Seared Pork Chops are tender, juicy, and have a great brown crust. Thick pork chops that are ready to serve in under 15 minutes. Perfect for a busy weeknight dinner that can be served with almost any side dish.
Pork chops are so versatile and a great pairing with lots of side dishes! Some favorites are roasted vegetables, roasted baby potatoes, or a refreshing butter lettuce salad.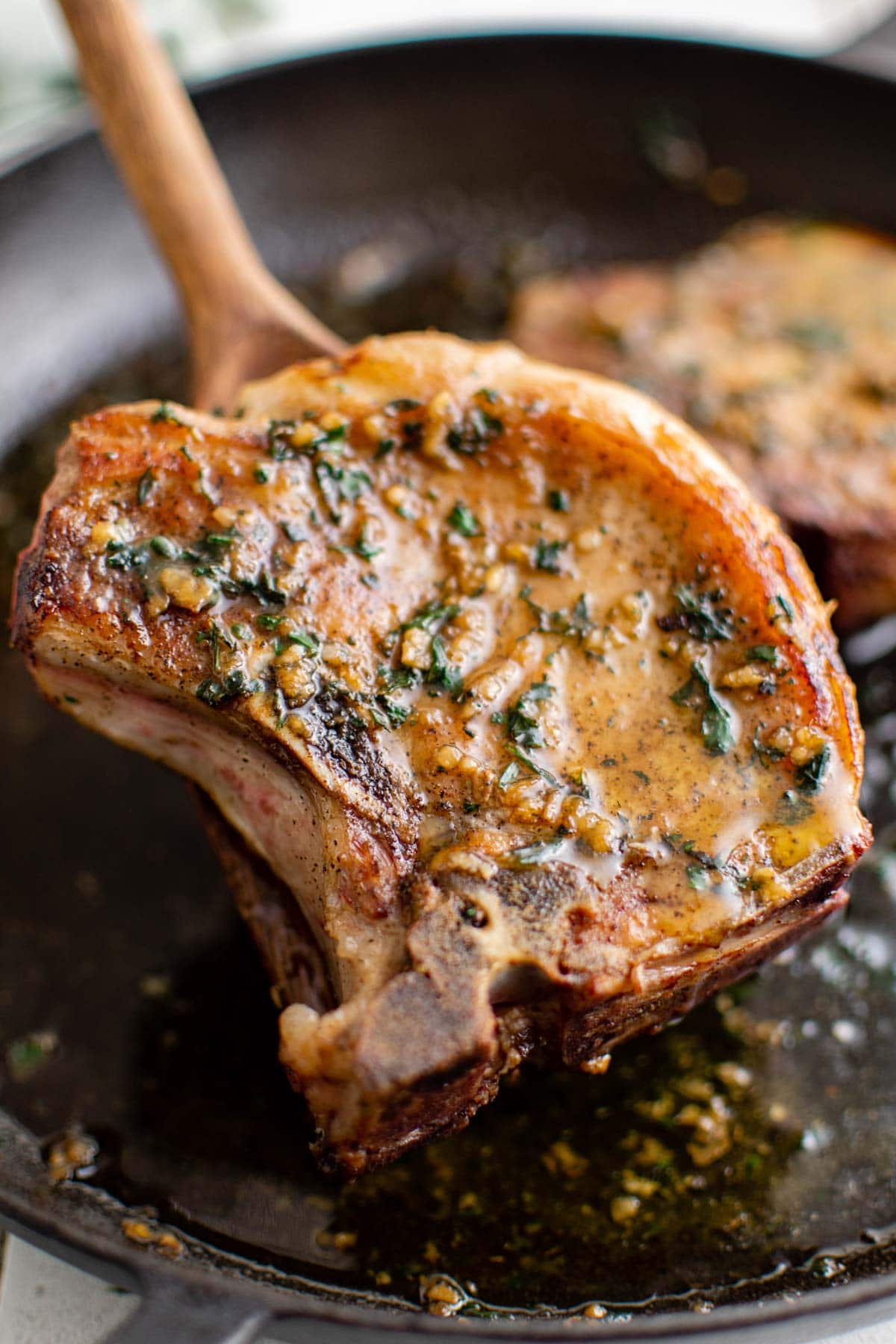 Pin this recipe for later!
Why I Love This Recipe
Perfect Sear – Nothing beats that perfect brown, crispy crust.
Juicy and Tender – No dry or tough pork chops here!
Simple Ingredients – Sometimes simple is best and this recipe proves that.
Ingredients For Pan Seared Pork Chops
Just a few simple ingredients to make super flavorful pork chops!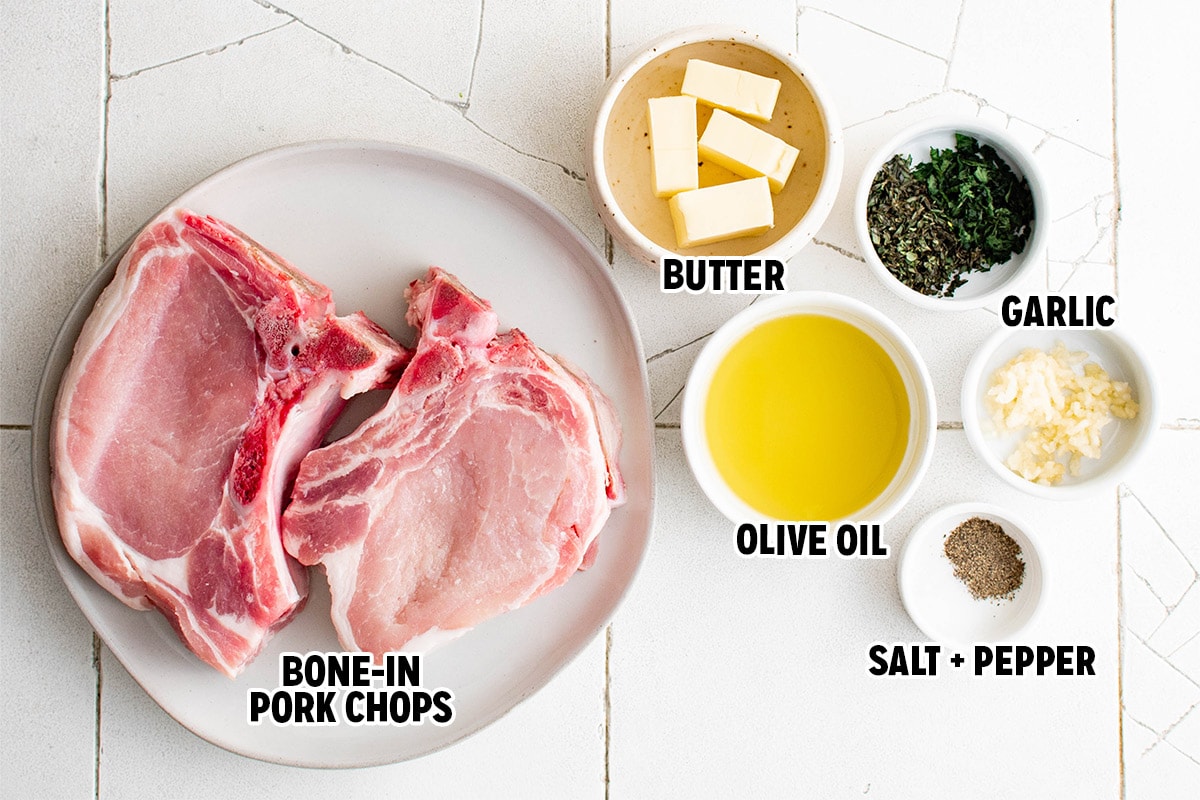 Minced Garlic – Fresh is best, but you can use the minced garlic in a jar
Bone-In Pork Chops – You can swap in boneless pork chops as well and adjust the cook time.
Salt and Pepper
Olive Oil – or other cooking oil like Canola Oil
Butter and Fresh Herbs – Fresh parsley, thyme, and butter make a delicious butter sauce to top your chops.
How To Make Pan Seared Pork Chops
Get a detailed list of ingredients & instructions in the recipe card below.
Perfectly seared, juicy pork chops can be ready in under 15 minutes!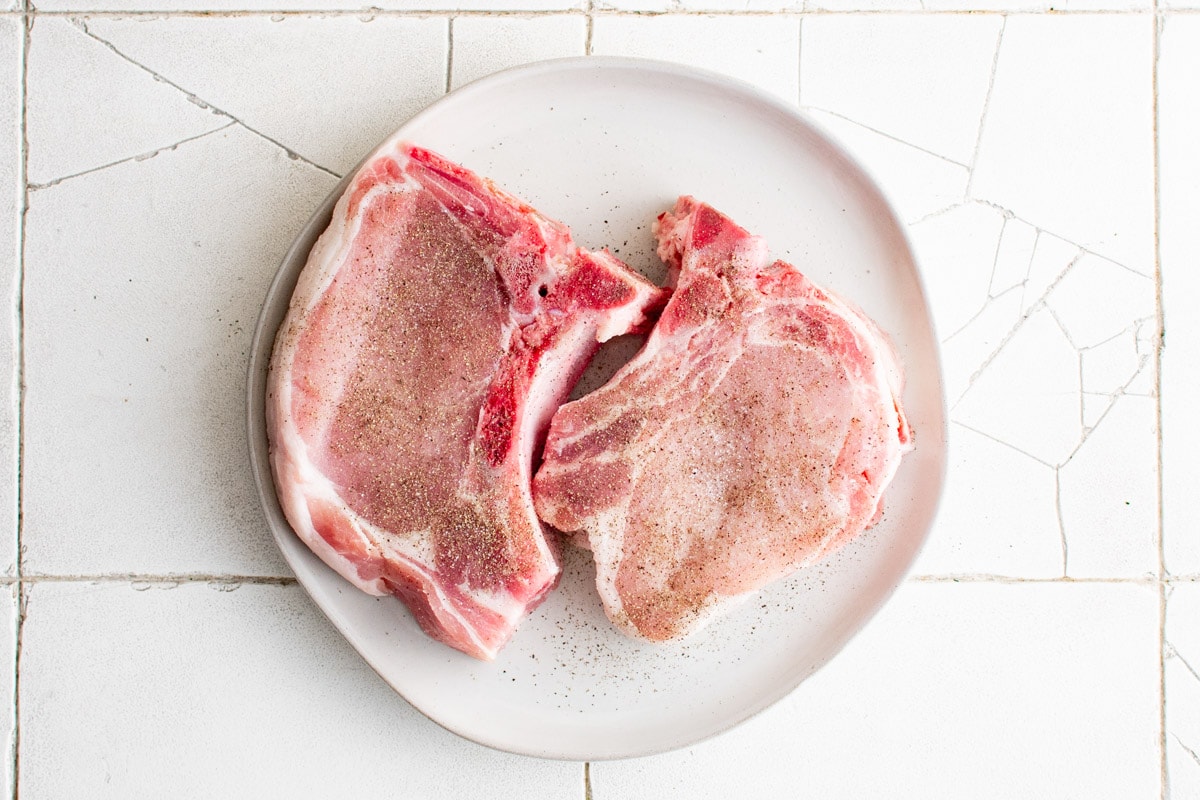 Season Pork Chops – Start by patting the pork chops dry with a paper towel (this helps with the browning) and season both sides with salt and pepper.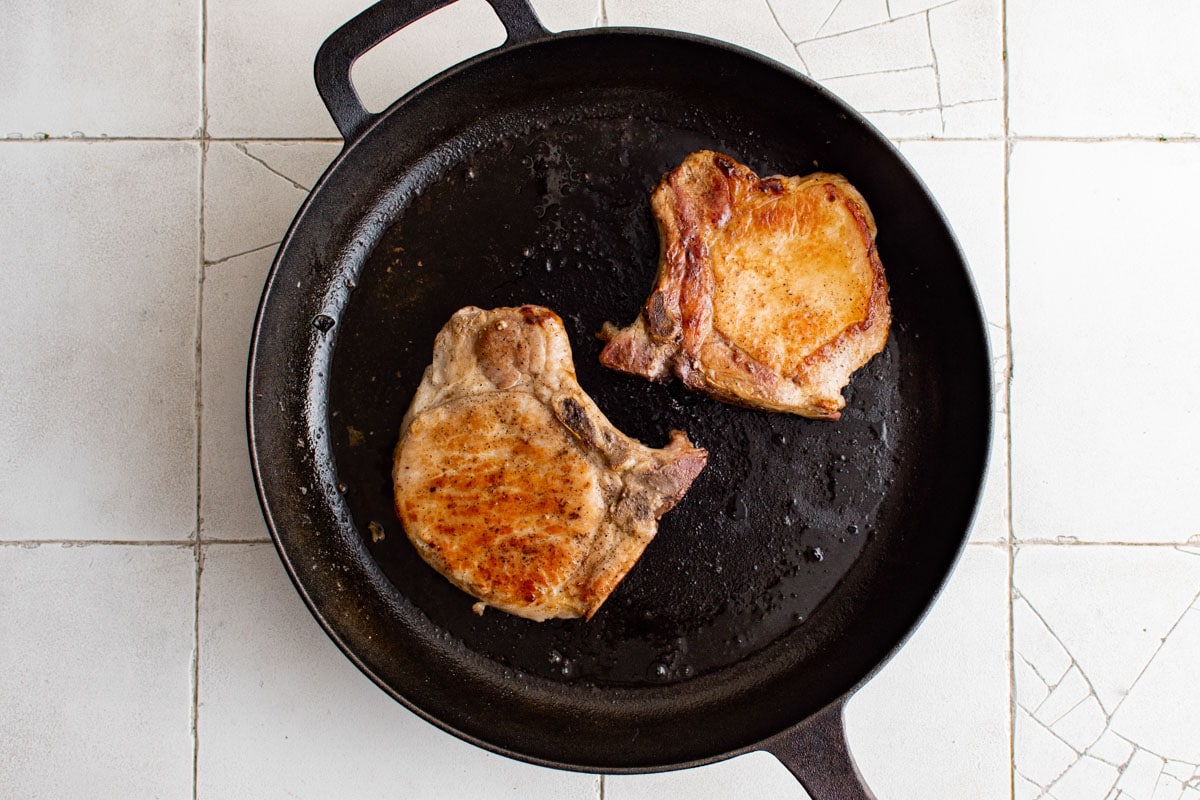 Sear Pork Chops – Heat up the oil in a large cast iron skillet over medium-high heat until it's screaming hot. Sear the chops for about 2 minutes per side. You can press them down so they brown evenly.
Reduce the heat to medium and cook the pork chops for another 6-8 minutes until fully cooked (internal temperature of at least 140 degrees F). I like to flip them every 1-2 minutes so they cook evenly.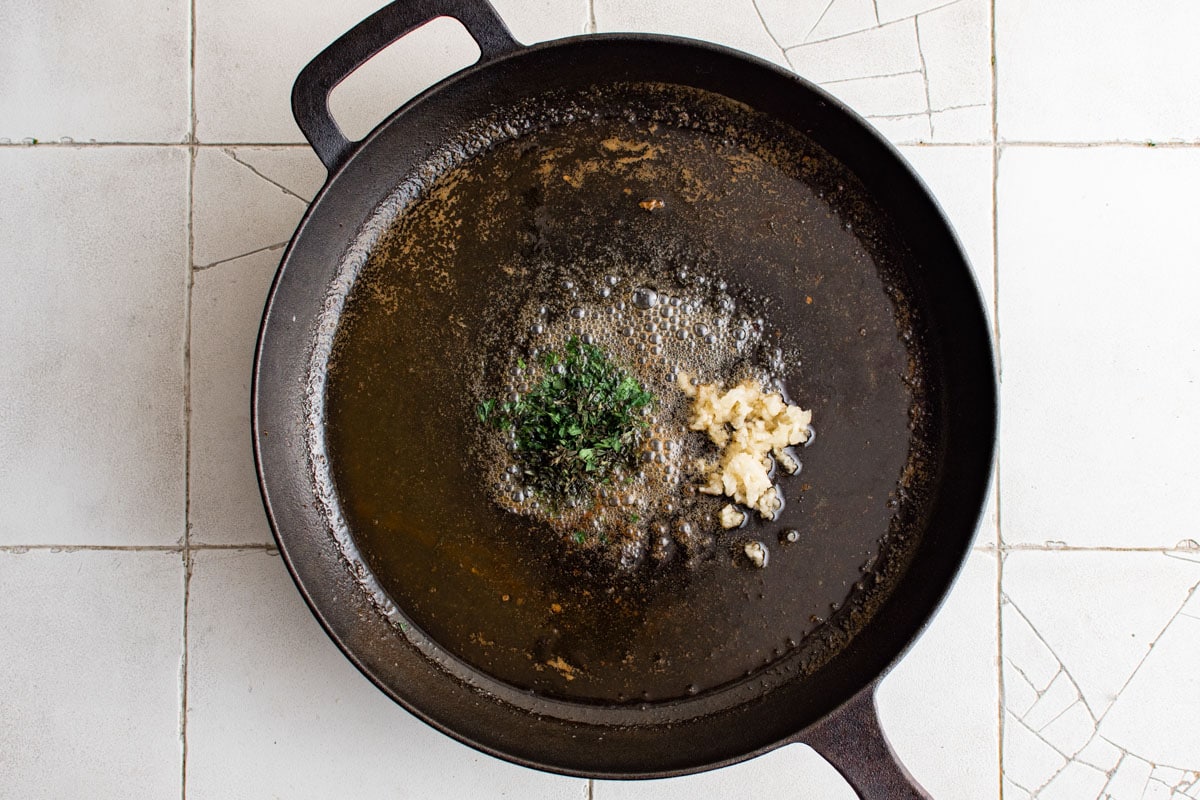 Butter Sauce – Transfer the chops to a plate to rest and add the butter to the hot pan. Scrape up any bits from the bottom and add the herbs and garlic. Stir everything together for about a minute until fragrant.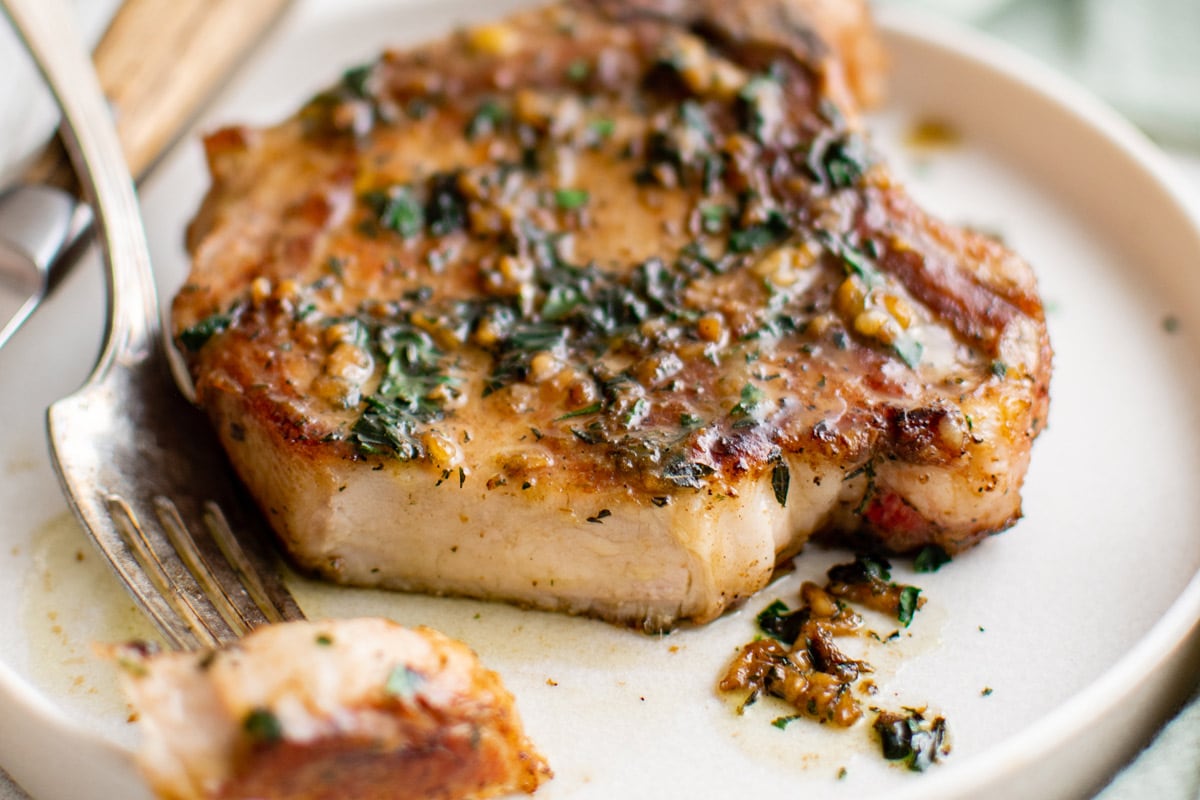 Serve – Spoon the sauce over the pork chops and serve.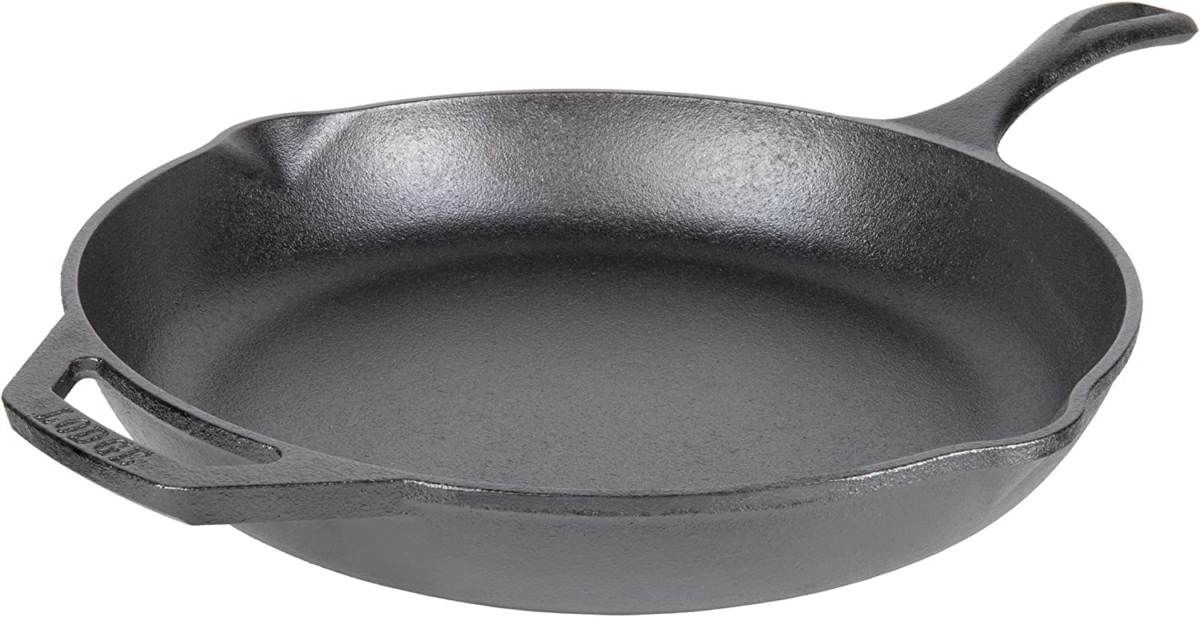 The Best Cast Iron Skillet
Everyone should have a cast iron skillet in their kitchen. It's the best at searing everything from pork chops to pot roast to chicken!
FAQs
How long does it take to pan-fry a pork chop?
The time it takes to pan-fry a pork chop will depend on its thickness and whether it's boneless or bone-in. A bone-in pork chop will take about 10-12 minutes while a boneless chop will take half that time.
What temperature is pork safe to eat?
Unlike chicken, pork is now safe to eat at 145 degrees F – even when it has a little pink in the middle. This results in much juicier and tender pork chops!
Pro Secrets for Tender Pork Chops
Drying the pork chops before seasoning and searing helps the pork chops get a nice crust.

Make sure you preheat the skillet so it is HOT! This will help you get a good sear on the chops.
Use thick, bone-in pork chops instead of thin boneless chops; less chance of overcooking them.
Sear on higher heat before reducing heat to cook thoroughly. This lets you get that nice brown crust without the inside drying out.
Don't overcook! Pork chops should be cooked to 145 degrees F, but I like to pull them off the heat at 140 degrees F as they'll continue to cook while they rest.
Allow to rest. This is super important! Allowing the chops to rest for a few minutes before cutting into them lets the juices redistribute.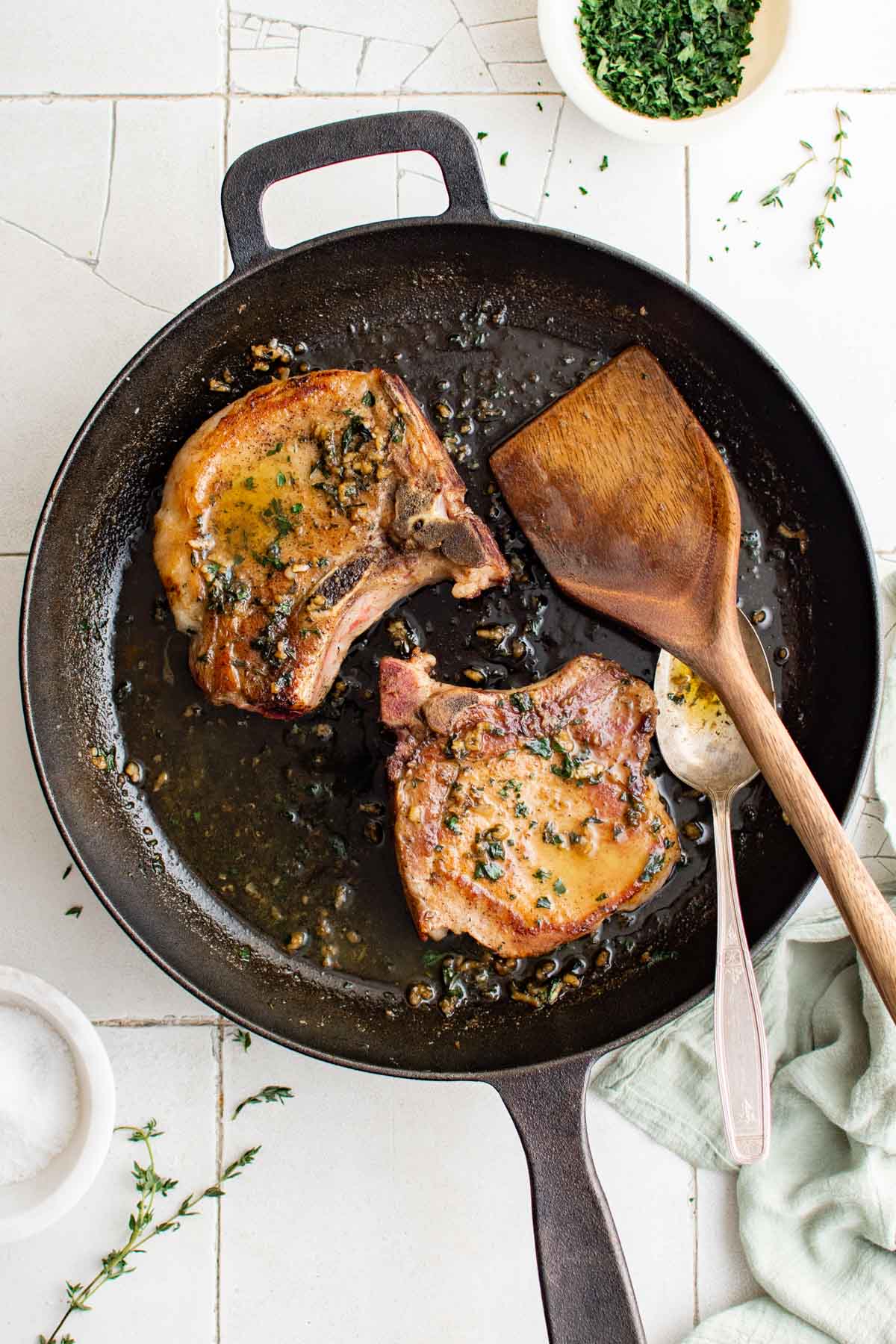 Variations
Boneless Pork Chops – Although I love the extra flavor that bone-in chops have, you can swap in boneless chops as well. They will cook much faster! After searing, cook them for 2-3 minutes per side until the 145 degrees F internal temperature is reached.
Other Seasonings – I love the simplicity of salt and pepper paired with the herby butter sauce, but you can season the chops with other seasonings such as seasoned salt or poultry seasoning.
Storage and Reheating
Storage – Store leftovers in an airtight container in the fridge for up to 3 days. Or they can be frozen for up to 3 months. Thaw in the fridge before reheating.
Reheating – Leftovers can be reheated in a 350 degrees F oven for about 10 minutes – I like to add a splash of water or broth to the pan so they don't dry out. Or they can be reheated in the microwave at 50% power in 30-second intervals.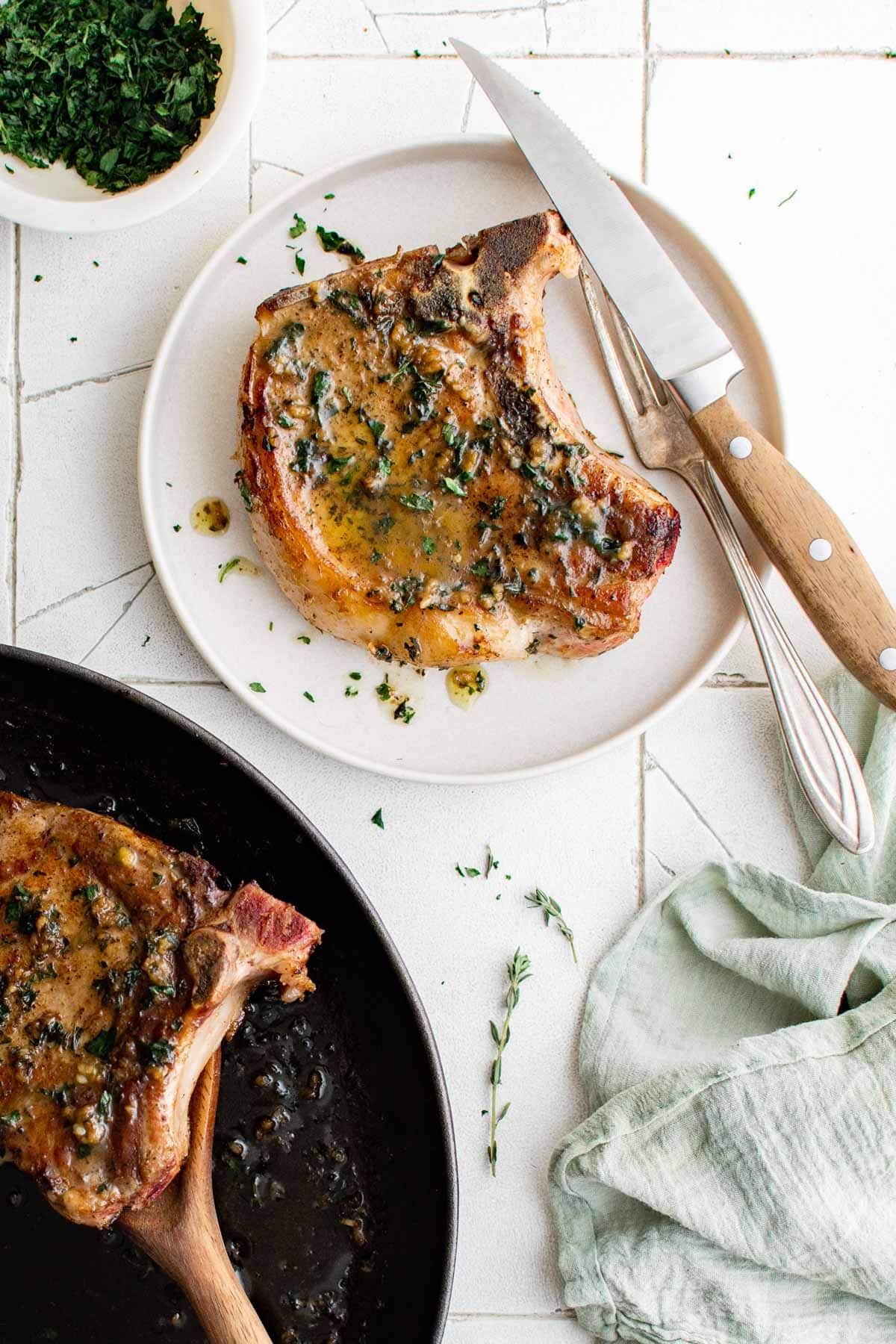 More Pork Recipes
Recipe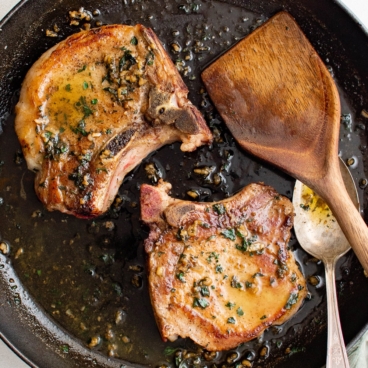 Pan Seared Pork Chops
My Pan Seared Pork Chops are tender, juicy and paired with a dreamy butter and herb sauce. Plus they are ready in about 15 minutes!
Ingredients
2

bone-in pork chops

1 ½ inches thick, about 12 ounces each

Salt and pepper

2

tablespoons

olive oil

4

tablespoons

butter

1

medium garlic clove

minced

1

teaspoon

fresh minced parsley

1

teaspoon

fresh chopped thyme leaves
Instructions
Pat pork chops dry with paper towels and season with salt and pepper.

Heat oil in a large cast iron skillet over medium-high heat. Add pork chops and sear for 2 minutes per side. Press down slightly so they brown evenly.

Reduce heat to medium and continue cooking for another 8-10 minutes or until the pork chops register an internal temperature of 140 F. Flip every 1-2 minutes for even cooking. Transfer to a plate to rest.

Add butter to the hot skillet, using a spatula to scrape up any brown bits on the bottom of the pan. Add fresh herbs and garlic and cook, stirring continuously, for about a minute.

Spoon the butter sauce over the top of the chops and serve immediately.
Notes
Depending on the size of your pork chops, you can get up to 4 servings from this recipe. And depending on the size of your pan, you can fit 2-4 pieces.
The #1 secret for a golden sear is a dry surface – make sure to pat the chops really well with paper towels so they are as dry as possible.
A good meat thermometer is one of the best tools in your kitchen – pork should come off the heat at about 140℉ and rest for 5 minutes.
Leftovers are good for up to 3 days in the fridge or 3 months in the freezer.
Nutrition
Calories:
616
kcal
Carbohydrates:
1
g
Protein:
35
g
Fat:
52
g
Saturated Fat:
21
g
Polyunsaturated Fat:
4
g
Monounsaturated Fat:
22
g
Trans Fat:
1
g
Cholesterol:
177
mg
Sodium:
274
mg
Potassium:
601
mg
Fiber:
0.2
g
Sugar:
0.03
g
Vitamin A:
762
IU
Vitamin C:
2
mg
Calcium:
46
mg
Iron:
1
mg