These Cajun Grilled Pork Chops are tender and flavorful with a spicy kick. With a homemade spice rub and a little olive oil, it's easy to get perfectly juicy pork chops on the grill!
We spend a lot of time grilling outdoors during the warm summer months. Some of our favorites besides these grilled cajun pork chops are Grilled Chicken Thighs, Spice Rubbed Grilled Tri Tip, and Carne Asada.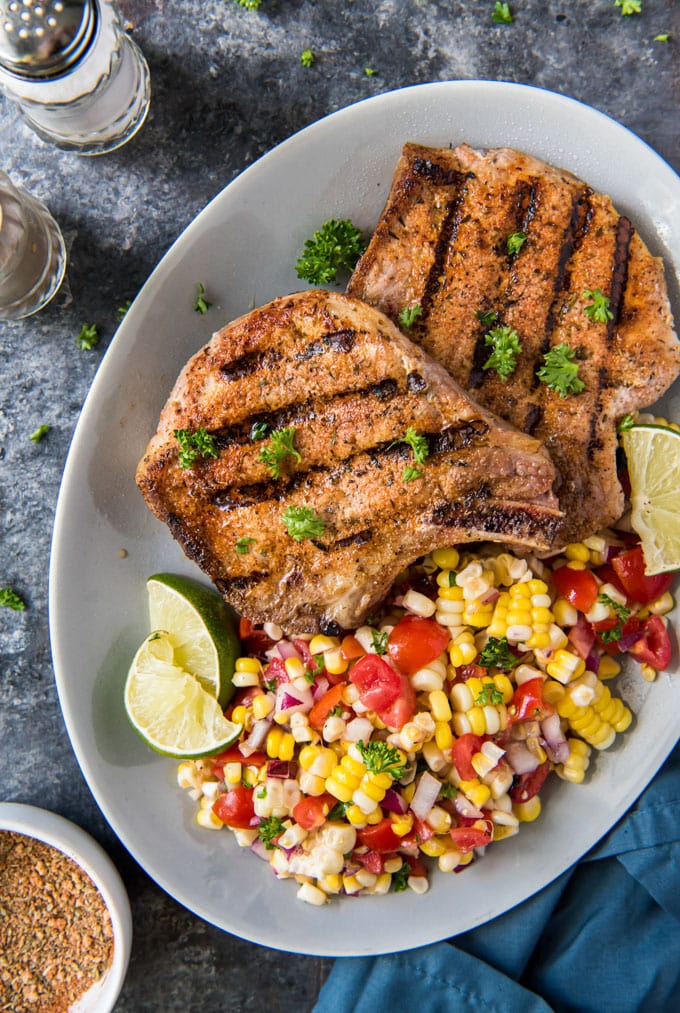 Pin this recipe for later!
About This Recipe
My husband is always hesitant to eat pork. He remembers the days when pork had to be cooked until it was well done, which also meant tough and rubbery. Not anymore! The FDA now recommends pork can be cooked to a nice warm medium rare which is 145℉.
I chose bone-in rib chops for this recipe because they always come out tender and juicy. I chose a spicy cajun seasoning blend to use as a dry rub for a savory, spicy flavor. These cajun pork chops are so flavorful and tender and juicy!
Grilled pork chops take about 10 minutes to cook and then 5 minutes to rest, so you could easily have dinner on the table in less than 30 minutes!
How To Grill Pork Chops
Grilling pork chops is one of the best ways to get a flavorful, juicy chop. They don't need a lot of time to marinate because the olive oil and cajun seasoning blend will provide all the flavor you need.
Cajun seasoning. Mix up the seasoning blend or grab a container of premade if you've got it. I like homemade, because I can control the heat and flavor a little better. You'll need about a tablespoon if you're using a store-bought blend.
Pork chops. Pat the pork chops dry with paper towels (no need to rinse them) and rub them all over with olive oil. Rub the seasoning blend all over the meat, including the sides of the pork chops. Set aside in a baking dish or on a baking sheet that you can carry to the grill and let them sit on the counter while you heat up your grill.
Preheat the grill. Heat up an outdoor grill and let it come to a medium heat which is about 400℉.
Grill pork chops. Using bbq tongs, place the meat directly over the heat. Let the pork chops cook without moving so you'll get those beautiful grill marks. Grill evenly on each side, checking the internal temperature with a digital meat thermometer before removing the chops to rest.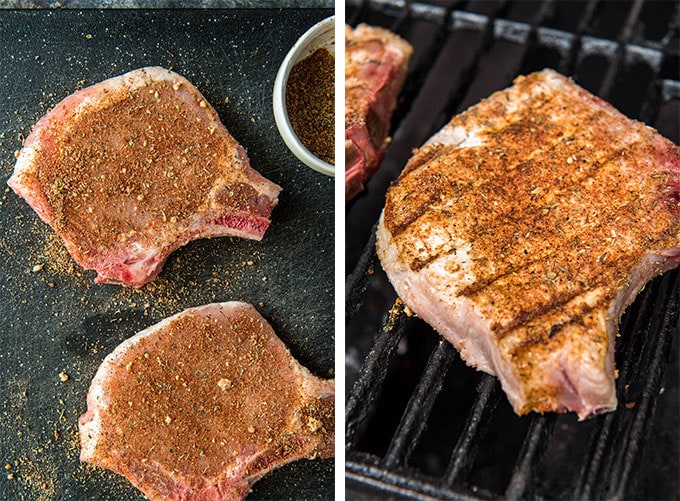 Recommended Grilling Techniques for Pork Chops
Direct grilling: Direct grilling involves placing the pork chops directly over the heat source on the grill. This method is suitable for thinner pork chops or boneless cuts. Preheat the grill to medium-high heat and cook the pork chops for about 4-5 minutes per side, or until they reach the desired level of doneness. Flip the chops once during cooking.
Indirect grilling: Indirect grilling is ideal for thicker pork chops or bone-in cuts. It involves setting up a two-zone fire on the grill, where one side is heated and the other side is left unheated. Start by searing the pork chops over high heat on the direct heat side for a couple of minutes on each side to develop a nice crust. Then move the chops to the indirect heat side and continue grilling with the lid closed. This method allows for more gentle and even cooking, reducing the risk of overcooking or drying out the pork chops.
Reverse sear: The reverse sear method is another great technique for thick-cut pork chops. It involves cooking the chops over indirect heat first to bring them to the desired internal temperature and then finishing them with a quick sear over high heat to develop a caramelized crust. Start by grilling the pork chops over indirect heat until they reach an internal temperature of around 130-135°F. Then move the chops to direct heat to sear them for about 1-2 minutes per side, or until they reach the desired char level and internal temperature (145°F for medium).
Remember to always use an instant-read meat thermometer to ensure the pork chops reach a safe internal temperature of 145°F for medium doneness. Additionally, allowing the pork chops to rest for a few minutes after grilling helps the juices redistribute and keeps the meat moist.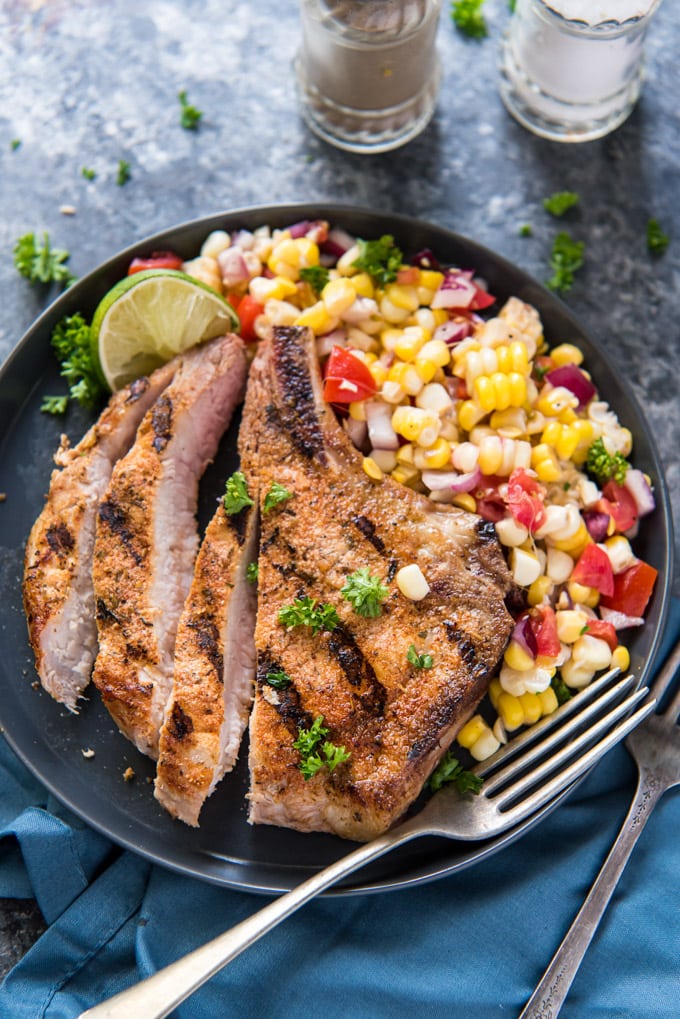 FAQs
How long should I grill pork chops?
Pork should only be consumed at a safe internal temperature of 145 degrees F. The time it takes to be cooked to the proper temperature can vary based on thickness.

A 1-inch boneless or bone-in pork chop will cook in about 8-10 minutes. A thicker, 1 1/2-inch boneless pork chop will take about 14-18 minutes, or up to 20 minutes if it's bone-in.

It's great to use time as a guide, but ultimately it's the internal temperature that will dictate when your pork chops are safe to eat. I recommend investing in a digital meat thermometer for use with a grill like this one.

What temperature should I set my grill to for pork chops?
How do I know when pork chops are done?
Should I use bone-in or boneless pork chops for grilling?
You can really use any cut of chop to make these grilled pork chops. Rib chops are the most desirable cut of pork chops for their incredibly tender meat and juicy flavor. A rib chop is cut from the rib section and has a bone running along the side.

Boneless pork chops are a fine choice too, but because they are the most lean option, they are more likely to dry out and you'd want to watch the internal temperature closely.
What is the recommended internal temperature for pork?
Any cut of pork that you're cooking, from pork tenderloin to baked pork chops, should be cooked to 145℉. Since pork needs time to rest after it cooks, it's safe to pull it off of the heat at 140℉ as long as you tent with foil and let it rest. Tenting with foil and letting it rest for 5-10 minutes will help the pork continue to cook and rise to the proper temperature.
Storing Leftovers
Refrigerate: After cooking, let the pork chops cool to room temperature before refrigerating to avoid bacterial growth. Wrap them individually in plastic wrap or store in airtight containers. Refrigerate promptly and consume within 3-4 days.
Reheat: To reheat leftover pork chops, ensure they reach an internal temperature of 165°F to eliminate bacteria. Use the oven, stovetop, or microwave for reheating, and do so gently to prevent overcooking and drying out the meat.
Freeze: Place in freezer bags or containers. Once individually wrapped, place the wrapped pork chops into a freezer-safe bag or airtight container. Squeeze out as much air as possible before sealing to prevent freezer burn and freeze for up to 3 months. Thaw fully before reheating.
Top Tips
Invest in a digital meat thermometer so you can monitor the internal temperature.
Make your own rub so you can play around with different flavors and heat levels.
Always use tongs or a long handled spatula to turn your meat. Do not stab with a fork or you could lose all that juiciness.
Remove grilled pork chops from the heat as soon as they reach the correct temperature. Seet them aside and tent with foil to rest so the juices can redistribute throughout the meat.
If you have leftovers, store in an airtight container or bag for up to 4 days. My favorite way to use up leftover grilled pork chops is chopping them up and adding them to my Egg Fried Rice.
More Pork Chop Recipes
Recipe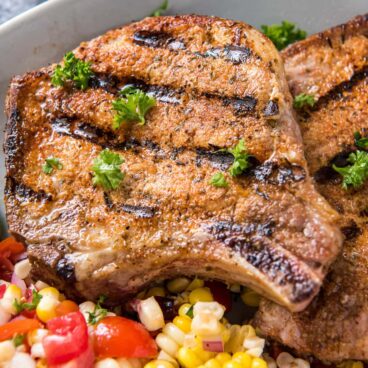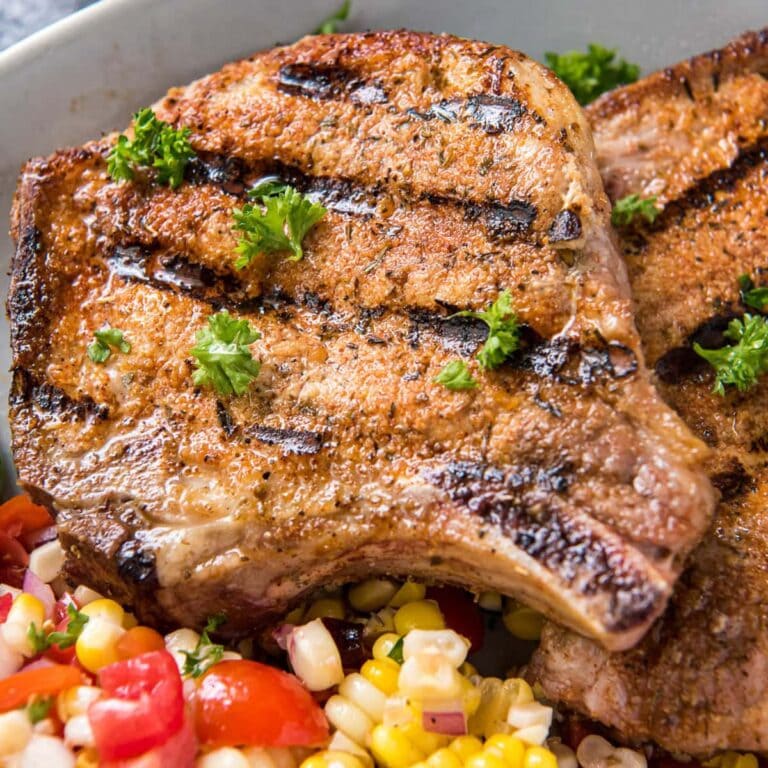 Cajun Grilled Pork Chops Recipe
Get juicy grilled pork chops with a spicy kick using a homemade rub. Simple and flavorful, it's the perfect summer meal!
Ingredients
Pork Chops
4

bone-in pork chops

1-1 ½ inches thick

Olive oil
Cajun Seasoning Blend
1

teaspoon

garlic powder

1

teaspoon

paprika

1/2

teaspoon

onion powder

1/2

teaspoon

dried oregano

1/2

teaspoon

salt

1/4

teaspoon

dried thyme

1/4

teaspoon

cayenne pepper

1/8

teaspoon

black pepper
Instructions
Combine the cajun seasoning blend in a small bowl and set aside. (You can also use about a tablespoon of a store-bought blend; just add salt).

Pat pork chops dry with paper towels, then rub all sides with a little bit of olive oil. Sprinkle all sides with the cajun seasoning blend and rub it in. Set aside while you preheat the grill.

Heat an outdoor grill to medium heat; about 350-400 degrees F.

Grill pork chops for about 4-5 minutes per side. Flip them over when the chops easily release from the grill grates. Actual cooking time will vary depending on the thickness of your chops and the temperature of the grill. Internal temperature of the meat should reach at 140-145 degrees F.

Transfer to a plate and tent with foil. Rest 5-10 minutes before serving. Pork should reach an optimal 145 degrees F as it rests.
Notes
Depending on the size of the chops and the size of your appetite, you could get up to 6 servings from 4 large pork chops.
Nutrition
Calories:
294
kcal
Carbohydrates:
1
g
Protein:
35
g
Fat:
15
g
Saturated Fat:
5
g
Cholesterol:
117
mg
Sodium:
385
mg
Potassium:
602
mg
Fiber:
1
g
Sugar:
1
g
Vitamin A:
298
IU
Calcium:
36
mg
Iron:
1
mg