These Cajun Grilled Pork Chops are tender and flavorful with a spicy kick. With a homemade spice rub and a little olive oil, it's easy to get perfectly juicy pork chops on the grill!
We spend a lot of time grilling outdoors during the warm summer months. Some of our favorite besides these grilled pork chops are Grilled Chicken Thighs, Spice Rubbed Grilled Tri Tip and Carne Asada.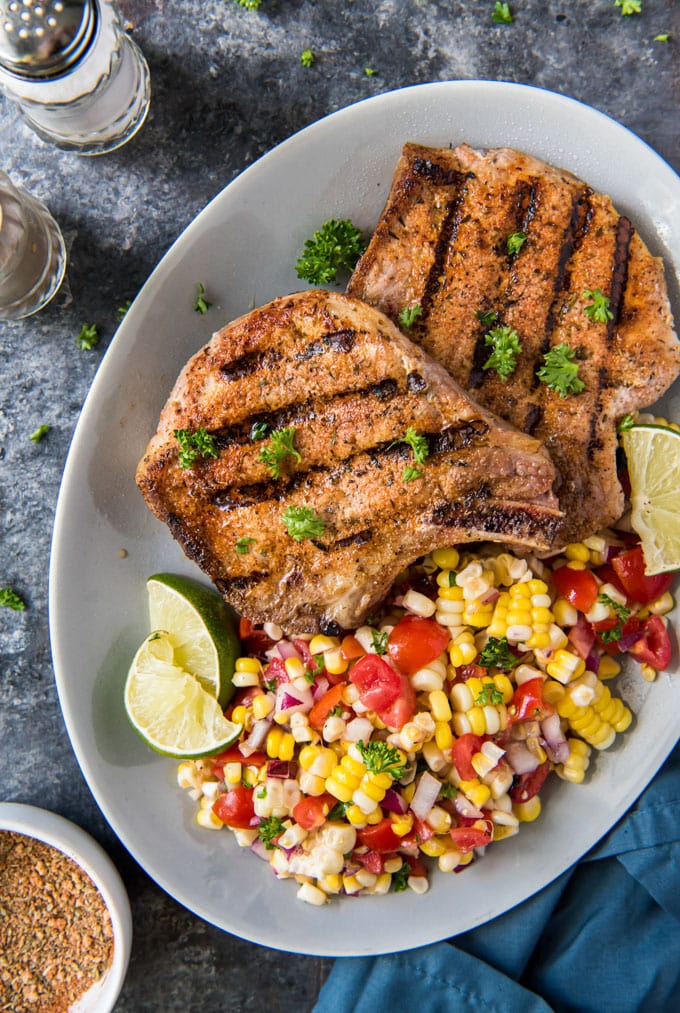 No More Dry Pork Chops
My husband is always hesitant to eat pork. He remembers the days when pork had to be cooked until it was well done, which also meant tough and rubbery. Not anymore! The FDA now recommends pork can be cooked to a nice warm medium rare which is 145 degrees Fahrenheit.
Any cut of pork that you're cooking, from pork tenderloin to baked pork chops, should be cooked to 145 degrees. Since pork needs time to rest after it cooks, it's safe to pull it off of the heat at 140 degrees as long as you tent with foil and let it rest. Tenting with foil and letting it rest for 5-10 minutes will help the pork continue to cook and rise to the proper temperature.
How to Grill Pork Chops
Grilling pork chops is one of the best ways to get a flavorful, juicy chop. They don't need a lot of time to marinate because the olive oil and cajun seasoning blend will provide all the flavor you need.
Cajun seasoning. Mix up the seasoning blend or grab a container of premade if you've got it. I like homemade, because I can control the heat and flavor a little better. If you're using a store-bought blend, you'll need about a tablespoon.
Pork chops. Pat the pork chops dry with paper towels (no need to rinse them) and rub them all over with olive oil. Take the seasoning blend and rub it all over the meat. Set aside in a baking dish or on a baking sheet that you can carry out to the grill and let them sit on the counter while you heat up your grill.
Preheat the grill. Heat up an outdoor grill and let it come to a medium heat which is about 400 degrees F.
Grill Pork Chops. Using bbq tongs, place the meat directly over the heat. Let the pork chops cook without moving them so you'll get those beautiful grill marks. Grill evenly on each side, checking the internal temperature with a digital meat thermometer before removing the chops to rest.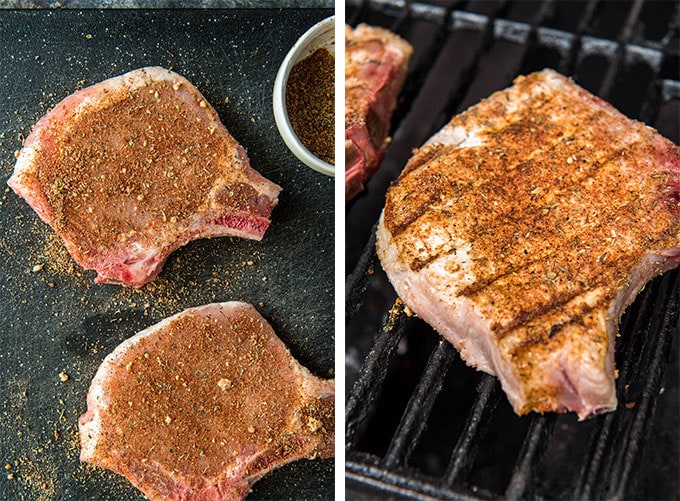 How Long Should You Cook Pork Chops on the Grill?
Pork should only be consumed at a safe internal temperature of 145 degrees F. The time it takes to be cooked to the proper temperature can vary based on thickness:
A 1-inch boneless or bone-in pork chop will cook in about 8-10 minutes.
A thicker, 1 1/2-inch boneless pork chop will take about 14-18 minutes, or up to 20 minutes if it's bone-in.
It's great to use time as a guide, but ultimately it's the internal temperature that will dictate when your pork chops are safe to eat. I recommend investing in a digital meat thermometer for use with a grill like this one.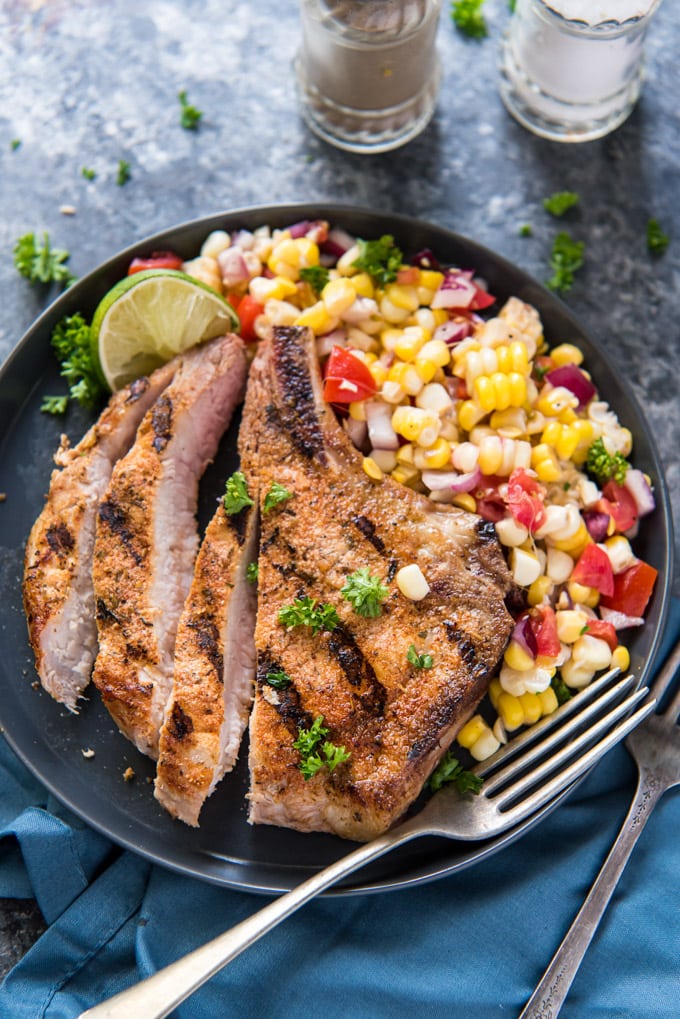 Best Pork Chops for Grilling
You can really use any cut of chop to make these grilled pork chops. Rib chops are the most desireable cut of pork chop for their incredibly tender meat and juicy flavor. A rib chop is cut from the rib section and has a bone running along the side.
Boneless pork chops are a fine choice too, but because they are the most lean option, they are more likely to dry out and you'd want to watch the internal temperature closely.
Top Tips and FAQs for Easy Grilled Pork Chops
Invest in a digital meat thermometer so you can monitor the internal temperature.
Make your own rub so you can play around with different flavors and heat levels.
Always use tongs or a long handled spatula to turn your meat. Do not stab with a fork or you could lose all that juiciness.
Remove grilled pork chops from the heat as soon as they reach the correct temperature. Seet them aside and tent with foil to rest so the juices can redistribute throughout the meat.
If you have leftovers, store in an airtight container or bag for up to 4 days. My favorite way to use up leftover grilled pork chops is chopping them up and adding them to my Egg Fried Rice.
Serving Suggestions
Cajun Grilled Pork Chops have a spicy flair that pairs well with cool sides, like Fresh Corn Salad, Cucumber Salad, Vegetable Pasta Salad and 7 Layer Salad. Sometimes making a whole meal on the grill is the easiest way to prepare dinner, so I'll cook some Grilled Potatoes and Grilled Corn with the chops.
If you want to just keep it simple, add a crisp Wedge Salad and some Best Ever Cheesy Garlic Bread.
If you've made this recipe, please come back and leave us a star rating or a comment below. Or, tag us on social media @yellowblissroad or #yellowblissroad for a chance to be featured.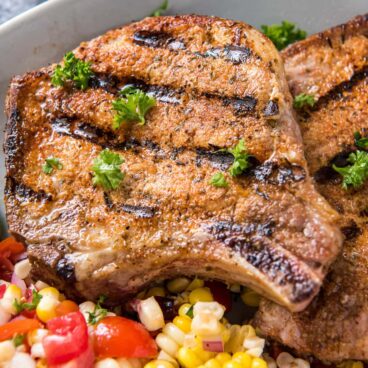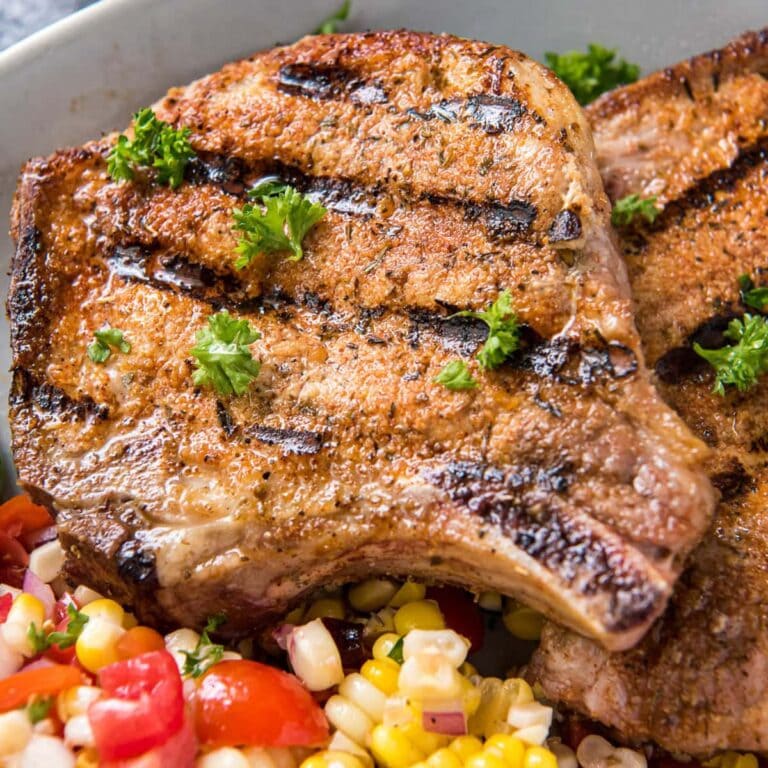 Cajun Grilled Pork Chops
Get juicy grilled pork chops with a spicy kick using a homemade rub. Simple and flavorful, it's the perfect summer meal!
Ingredients
Pork Chops
4

bone-in pork chops

1-1 ½ inches thick

Olive oil
Cajun Seasoning Blend
1

teaspoon

garlic powder

1

teaspoon

paprika

1/2

teaspoon

onion powder

1/2

teaspoon

dried oregano

1/2

teaspoon

salt

1/4

teaspoon

dried thyme

1/4

teaspoon

cayenne pepper

1/8

teaspoon

black pepper
Instructions
Combine the cajun seasoning blend in a small bowl and set aside. (You can also use about a tablespoon of a store-bought blend; just add salt).

Pat pork chops dry with paper towels, then rub all sides with a little bit of olive oil. Sprinkle all sides with the cajun seasoning blend and rub it in. Set aside while you preheat the grill.

Heat an outdoor grill to medium heat; about 350-400 degrees F.

Grill pork chops for about 4-5 minutes per side. Flip them over when the chops easily release from the grill grates. Actual cooking time will vary depending on the thickness of your chops and the temperature of the grill. Internal temperature of the meat should reach at 140-145 degrees F.

Transfer to a plate and tent with foil. Rest 5-10 minutes before serving. Pork should reach an optimal 145 degrees F as it rests.
Notes
Depending on the size of the chops and the size of your appetite, you could get up to 6 servings from 4 large pork chops.
Nutrition
Calories:
294
kcal
Carbohydrates:
1
g
Protein:
35
g
Fat:
15
g
Saturated Fat:
5
g
Cholesterol:
117
mg
Sodium:
385
mg
Potassium:
602
mg
Fiber:
1
g
Sugar:
1
g
Vitamin A:
298
IU
Calcium:
36
mg
Iron:
1
mg