Air Fryer Pork Chops come out tender and juicy in minutes with a beautiful, flavorful crust. No more suffering through tough, dry chops!
Serve these juicy pork chops with Loaded Smashed Potatoes, a crisp copycat Olive Garden Salad and some Garlic Cheese Biscuits for a complete meal.
If you're looking for more air fryer dinner recipes, you have to try our Air Fryer Chicken Thighs. Or check out our extensive list of air fryer recipes, including valuable tips for using your appliance.
Why Air Fry?
My air fryer has quickly become my favorite appliance in the kitchen. I use it to cook dinner, sides (including frozen fries and tater tots) and even for reheating breadsticks and pizza.
The air fryer works by forcing hot air to circulate around the food, cooking it much faster than your large oven. Bonus, it doesn't heat up your kitchen in the summer and usually cooks food in half the time.
For more air fryer recipes, some of our favorites include Air Fryer Broccoli, Air Fryer Steak and Air Fryer Chicken Breast.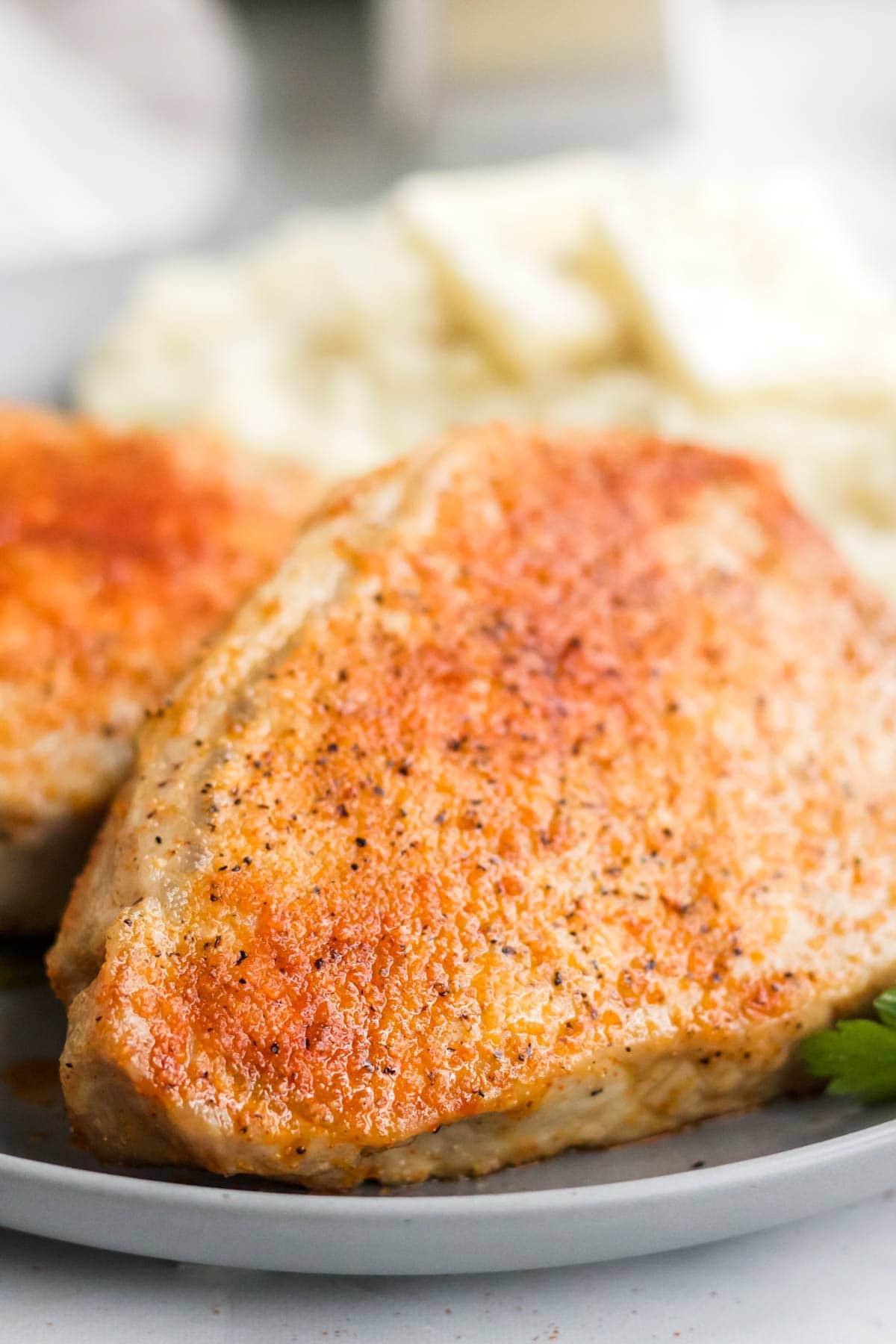 Air Fryer Pork Chops with no Breading
If you've got 15 minutes, you can make these tender and juicy pork chops for dinner tonight! Seasoned with my signature blend of spices, these chops get crispy on the outside without any breading.
The best part about this recipe is you only need a few minutes to season, then 10 minutes to air fry. It's perfect for busy weeknights when you just don't have time or desire to cook.
Of course you don't have to use my seasoning, you can flavor these air fryer pork chops any way you like. Lemon pepper, brown sugar and garlic, or just simple salt and pepper – the choice is yours.
How to Make Air Fryer Pork Chops
Prep your chops. Pat your pork chops dry with a paper towel. Brush on a little olive oil and sprinkle the seasoning blend on both sides. The olive oil helps the seasoning stick to the chops and helps the outside get crispy while keeping the inside tender and juicy.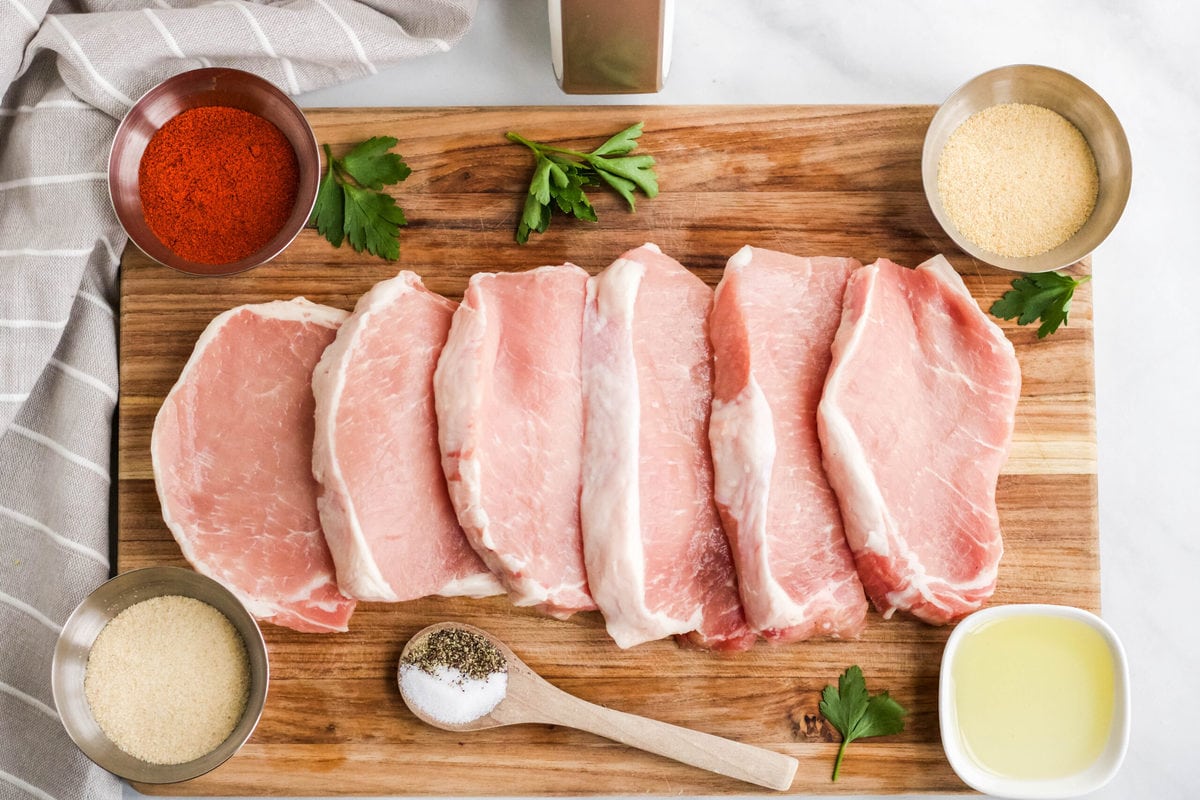 Air Fry: Preheat your air fryer to 400 degrees if needed. Not all air fryers require this so check your manual first. Place the seasoned pork chops in the basket and cook for 5 minutes per side. The internal temperature should reach 145 degrees. Be careful not to overcook.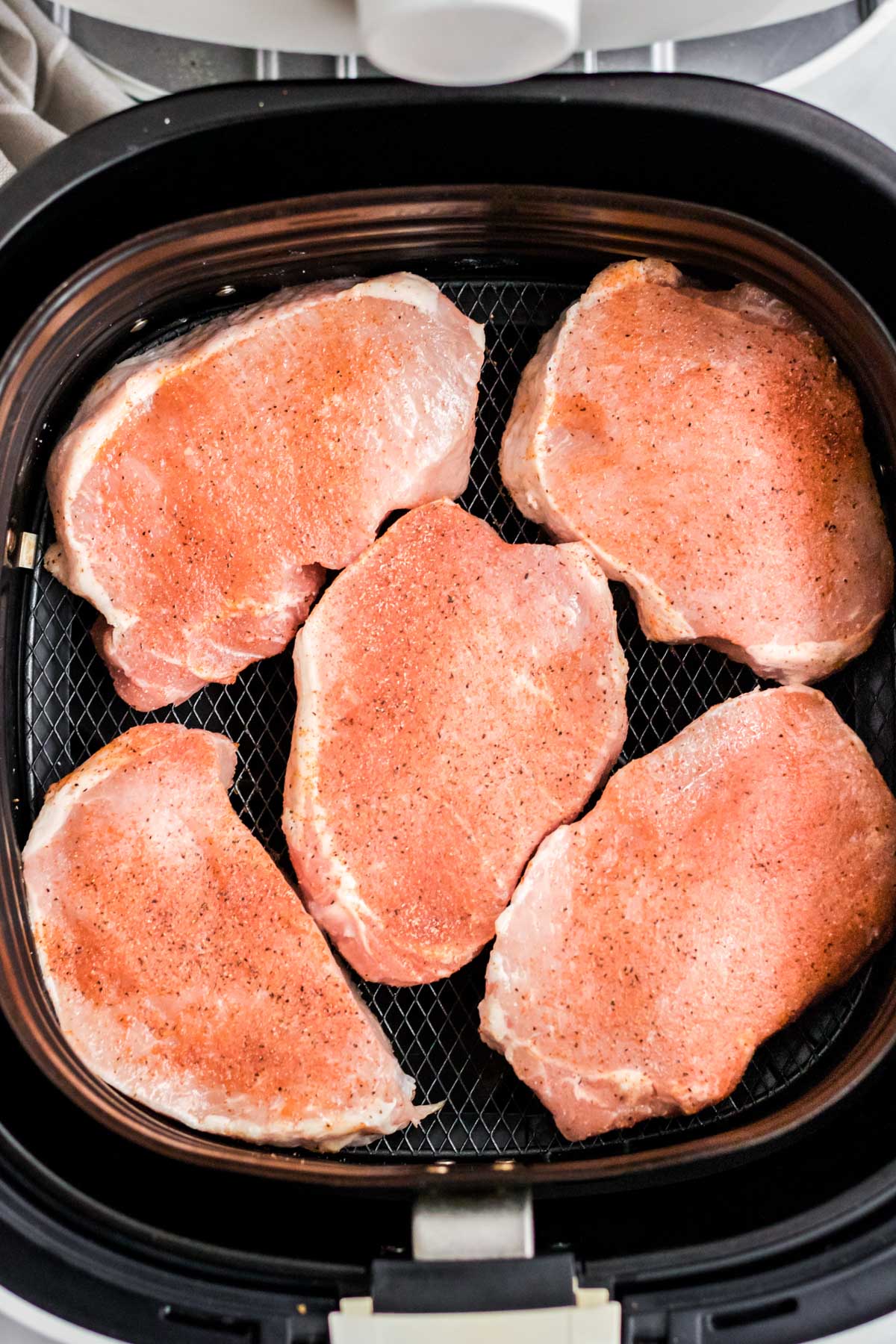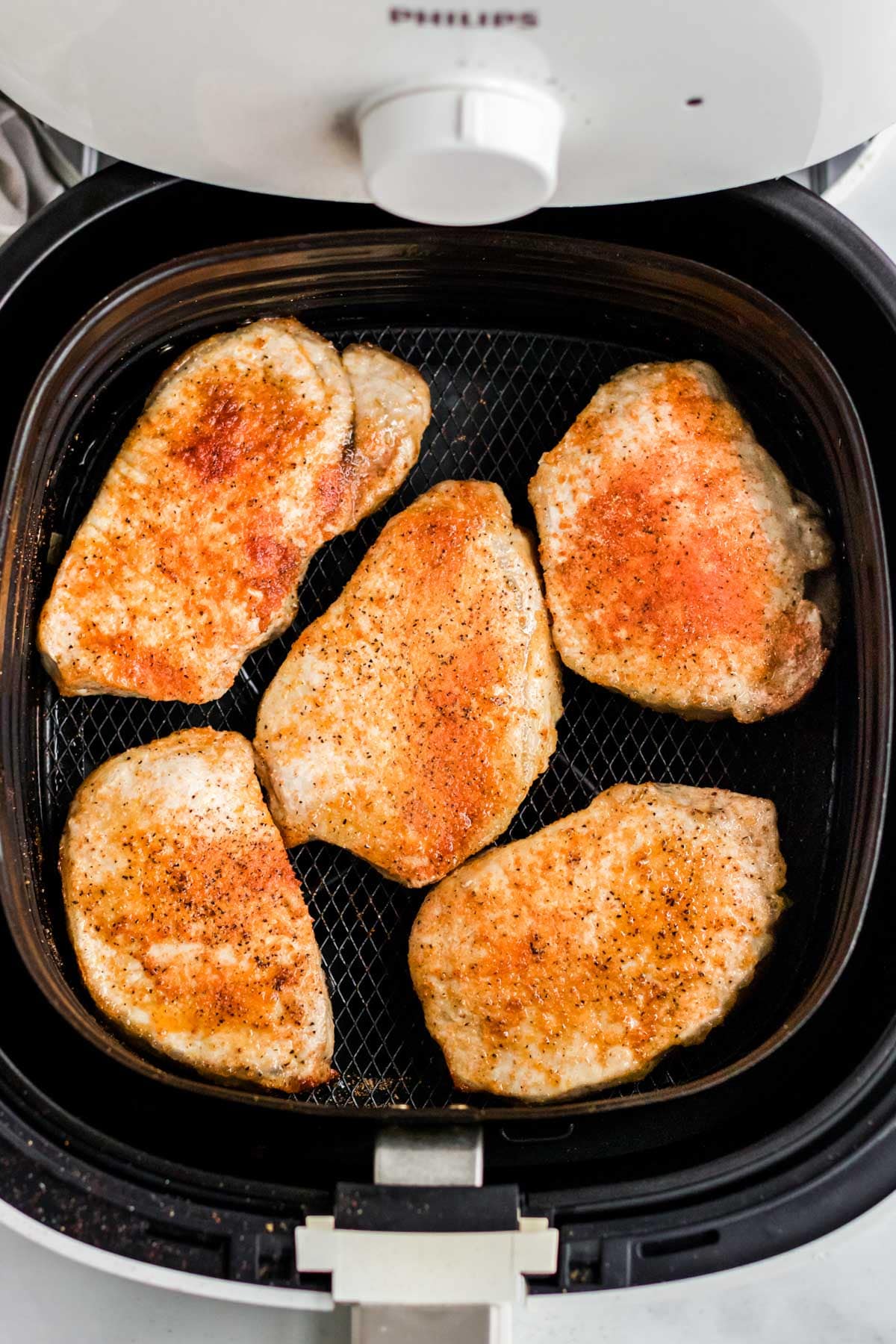 Rest and Serve: Remove the pork chops from the basket and transfer to a cutting board. Give them a few minutes to rest then serve with your favorite side dishes.
Which cut of pork chops are best?
This recipe uses boneless pork chops, which is what I recommend for the air fryer. You can use bone-in chops, but the basket isn't really big enough to fit more than two at a time.
My pork chops are usually about ¾ to 1-inch thick, which is a regular cut. I get mine from Butcher Box, which is a fabulous meat subscription box. I'm obsessed with the quality and if you'd like to give it a try, click my affiliate link and check it out – you'll get $30 off your first box!
Avoid thinly cut chops because they cook so fast it's easy to overcook and dry them out.
How long do you cook pork chops in the air fryer?
The cooking time really depends on the thickness of your chops. The thicker they are, the longer they'll take to cook, and likewise, thinner chops go much quicker.
My pork chops cook in about 10 minutes in the air fryer. I do flip them over once for more even cooking and browning.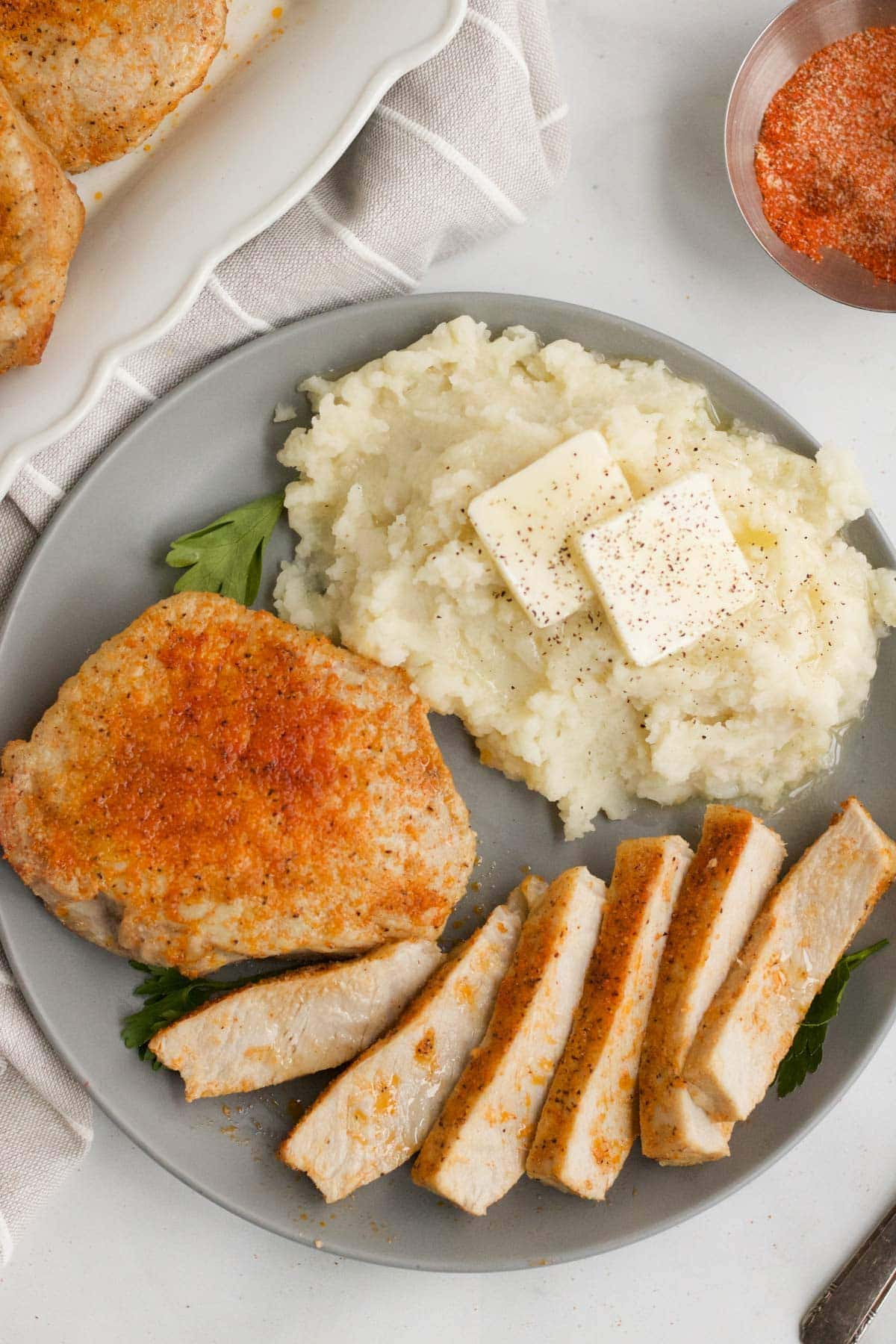 Storage, Freezing and Reheating
Storage: Leftovers pork chops should be stored in an airtight container in the refrigerator. Use within 3-4 days.
Freezer: Cool completely, them wrap tightly and store in a freezer safe container. For best quality use within 6 months.
Reheating: If frozen, thaw completely in the refrigerator. Reheat in the microwave at 50% power in 30 second intervals. Or, melt some butter in a skillet and fry slices on the stovetop.
Air Fryer Pork Chops Recipe Notes and Tips
Use regular cut pork chops; thin cut will easily overcook in the air fryer.
If desired, you can tenderize the meat but the cooking time will decrease slightly.
Every air fryer is different so please consult your user manual for manufacturers recommendation.
Feel free to use your favorite seasoning blend. This recipe just happens to include mine.
Trim any large chunks of fat from the pork chops. With this method, the outside get crispy and caramelized, but the fat doesn't render (melt).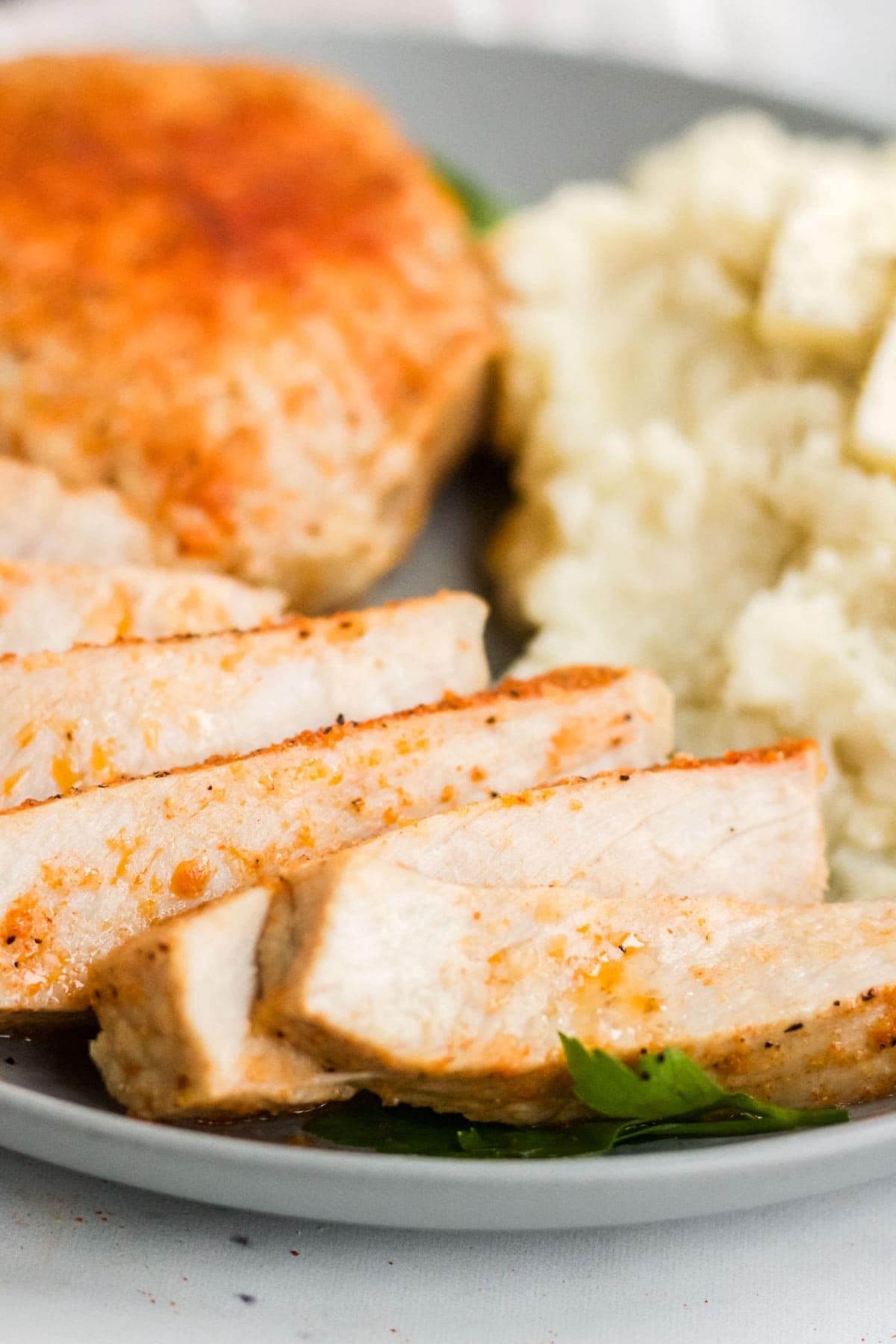 More Pork recipes we love
Pork is a fantastic protein; when cooked properly it's so tender and juicy. Some of our favorite ways to enjoy pork are Skillet Pork Chops with Gravy, Pan Roasted Pork Tenderloin, and Baked Pork Chops.
Recipe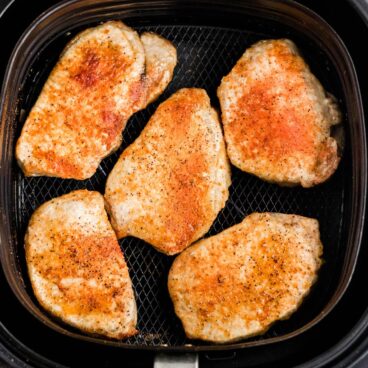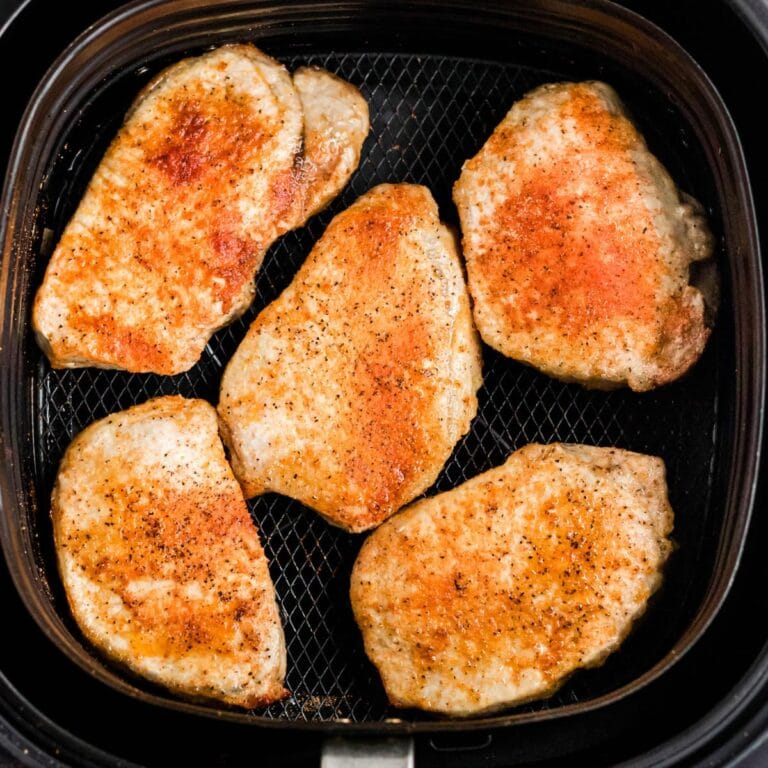 Air Fryer Pork Chops
Air fryer pork chops come out tender and juicy in minutes with a beautiful, flavorful crust. No more suffering through tough, dry chops!
Ingredients
1

teaspoon

salt

½

teaspoon

pepper

½

teaspoon

garlic powder

½

teaspoon

onion powder

½

teaspoon

paprika

2

pounds

boneless pork chops

about an inch thick

2

tablespoons

extra virgin olive oil
Instructions
In a small bowl, combine the salt, pepper, garlic powder, onion powder and paprika until fully combined. Set aside.

Pat pork dry with paper towels, then brush both sides of the pork chops with olive oil. Sprinkle seasoning mix on both sides.

Place in the basket of an air fryer and cook at 400 degrees for 10 minutes, turning over halfway through cooking. Internal temperature should read at least 145 degrees.
Notes
Depending on the size of your pork chops, this recipe will yield 4-6 servings. An average serving is 4-6 ounces.
Nutrition
Calories:
278
kcal
Carbohydrates:
1
g
Protein:
33
g
Fat:
15
g
Saturated Fat:
4
g
Trans Fat:
1
g
Cholesterol:
101
mg
Sodium:
461
mg
Potassium:
575
mg
Fiber:
1
g
Sugar:
1
g
Vitamin A:
89
IU
Vitamin C:
1
mg
Calcium:
13
mg
Iron:
1
mg