We've put together 14 day meal plan including dinners, sides and even a couple of desserts. There's also a shopping list, substitution ideas and other tips to help you stock up with pantry, freezer and shelf stable items.
Preparing for Self Isolation
The craziness that is in everyone's newsfeed and on everyone's mind right now can be paralyzing. These are strange times we are living in. Most of us have never experienced anything like this in our lifetimes and it's scary. We want to do everything we can to limit our own exposure so we don't become sick and to be especially mindful of those the most vulnerable in our communities.
If you're staying at home like us, trying to limit exposure as much as possible, we've got some of our favorite meal ideas that won't leave you eating boxed mac and cheese for 2 weeks. It's important to stock up on essentials, but that doesn't mean hoarding 27 packages of toilet paper. My friend Chelsea has a great article on how to stock up and prepare.
Each of these recipes can be made with staple ingredients that you likely have on hand already, with focus on freezable ingredients like meat and veggies, shelf stable pantry items like pasta and rice, and refrigerated items that last for several weeks like cheese and eggs. We will include options for substitutions or modifications or you can be creative and omit ingredients where necessary.
You may already have some fresh veggies on hand or foods that are about to expire, so be sure to do a quick survey of your fridge and use up those items first for lunches and sides.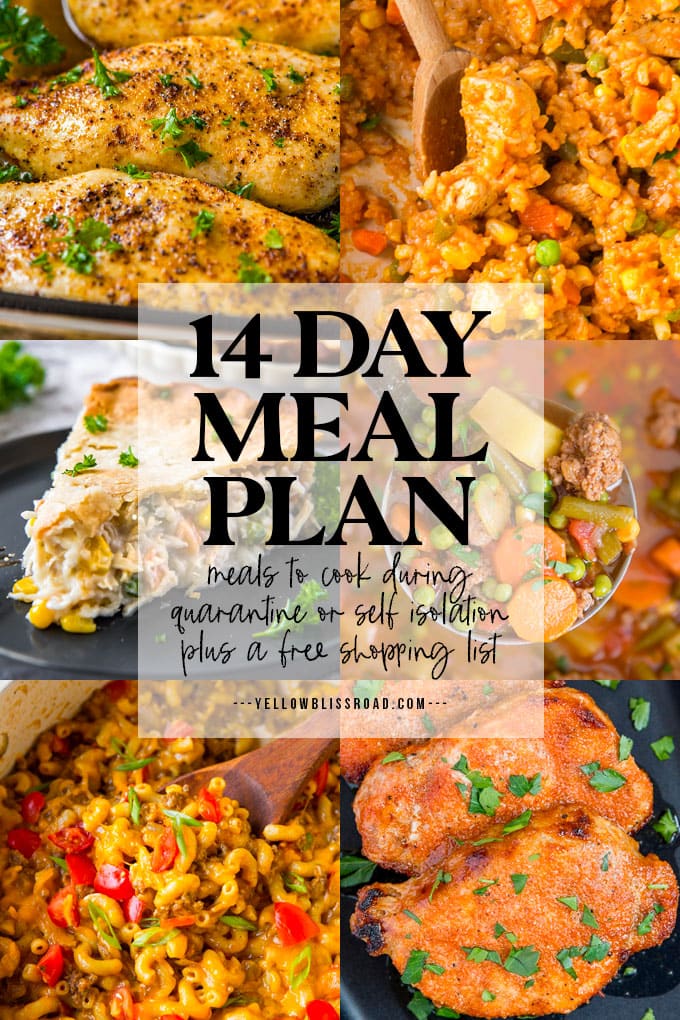 14 Day Meal Plan
Here are 14 days worth of meal ideas to help keep your family from going stir-crazy. If you have older kids, get them in the kitchen to help! We've included several casseroles that don't require a side dish, but to stretch your meals a little further, you can always add some frozen veggies.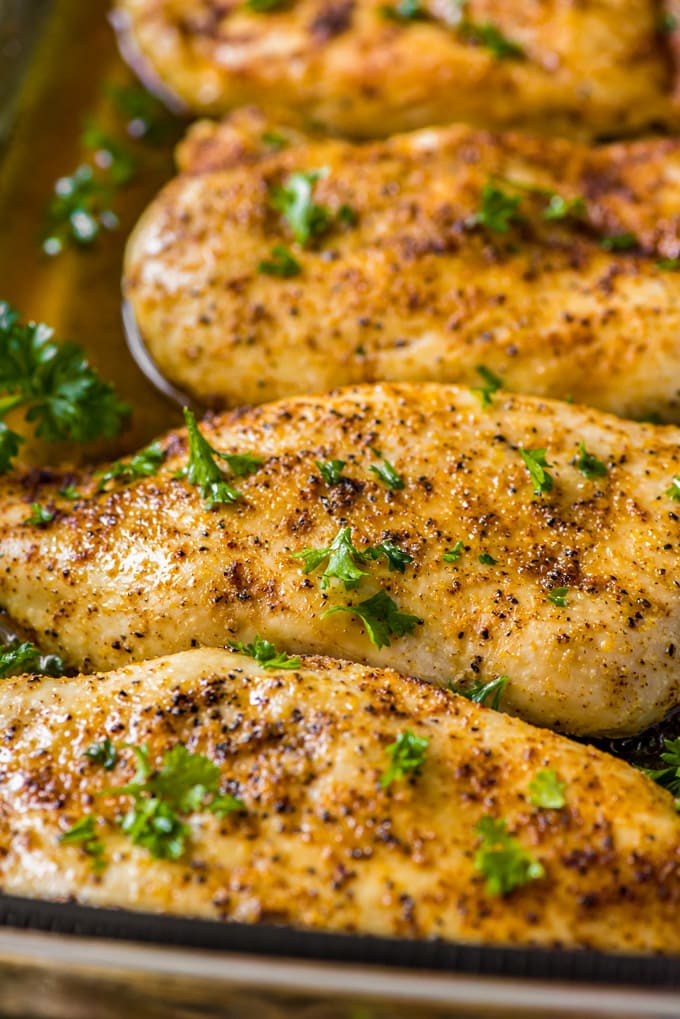 Day 1: Baked Chicken Breast
Our most popular recipe is also a perfect dish when you're craving simplicity. This method is easy and yields the most tender and juicy chicken ever! It only requires a few pantry seasonings and the leftovers are great for shredding and using in sandwiches and wraps for lunches. Make a double batch and save the extras for using in the chicken soup recipe on day 3!
Serve with a side of rice of roasted purple potatoes and a salad or Roasted Broccoli.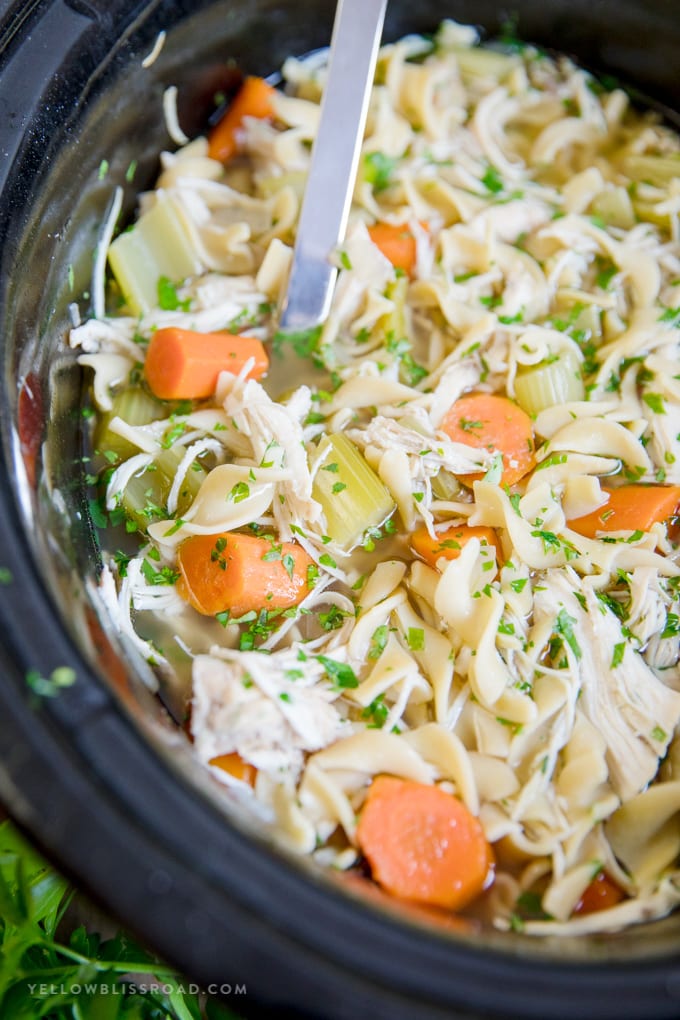 Day 2: Chicken Noodle Soup
What is more comforting that Homemade Chicken Soup? You can use any kind of chicken you have on hand, from boneless chicken breasts to bone in drumsticks. Any cut of chicken will work, or you could use leftover chicken from the baked chicken recipe on day 1. This version is made in the crockpot with fresh vegetables, but frozen veggies can also be used. You can easily modify the recipe for stovetop cooking.
Chicken Soup also freezes well, so make a double batch with those fresh veggies and freeze it for lunches or for another meal later on.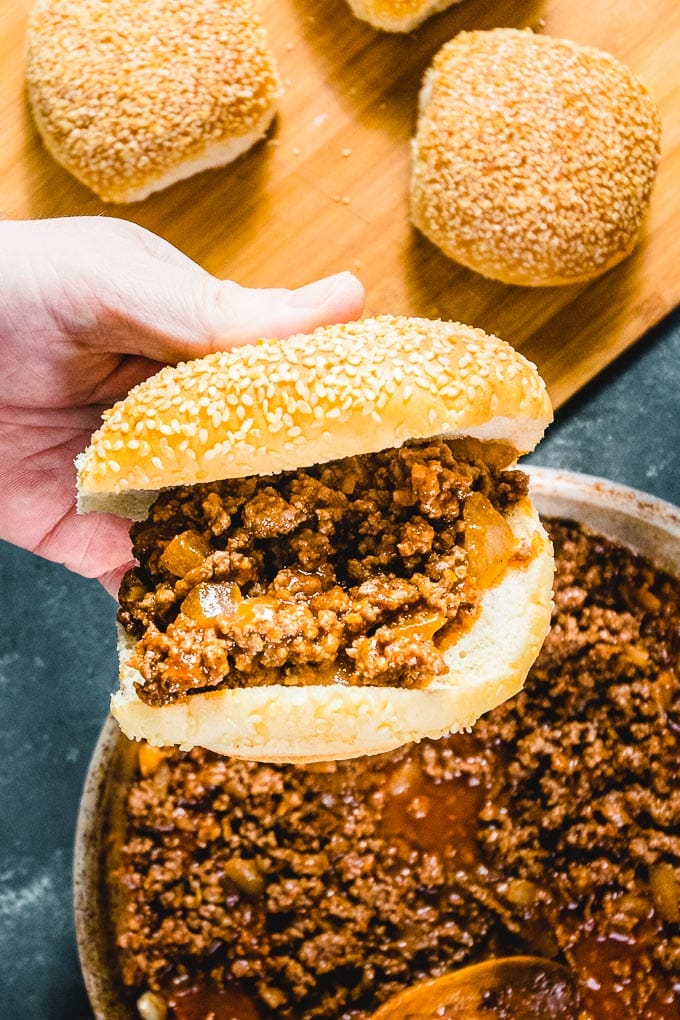 Day 3: Sloppy Joes
The sauce on these sloppy joes is so delicious! Use hamburger buns, sandwich rolls or even hot dog buns. Breads last a long time in the freezer so that's something good to stock up on. (And I'm talking 2 or 3 packages, not 32). Dried minced onion can easily be swapped for fresh, you can often find diced onion in the freezer section. Fresh onions are also shelf stable a month for a month in a dark pantry. Ground beef can be swapped out for ground turkey.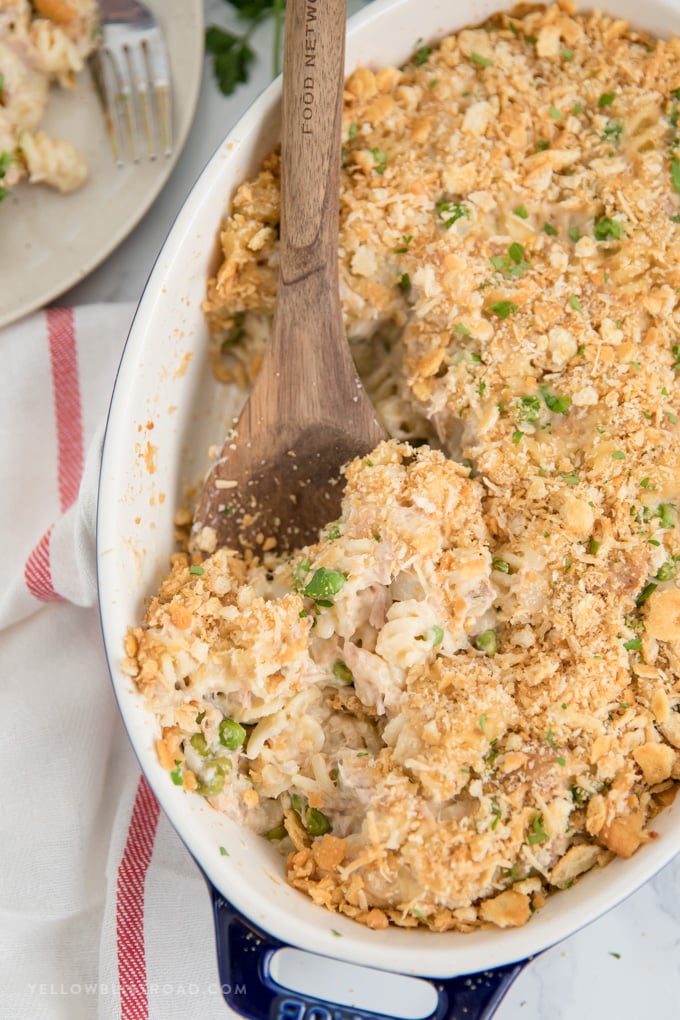 Day 4: Tuna Casserole
More comfort food, coming at you! My Tuna Casserole Recipe has delicious (and totally shelf stable) tuna, noodles and frozen peas in a cheesy, creamy homemade sauce with a crunchy cracker crumb topping. You can omit the cheese if you're out and use a canned cream of mushroom soup instead of making your own sauce.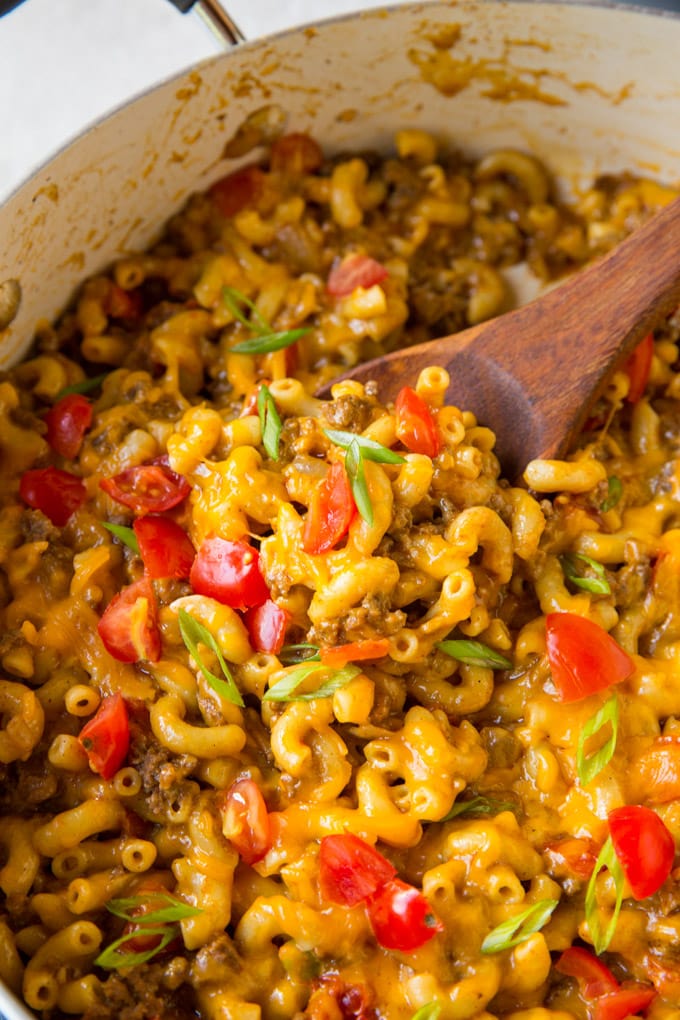 Day 5: One Pan Taco Macaroni and Cheese
This easy meal is ready in 30 minutes. Whether you're home all day or not, sometimes you just don't want to spend a lot of time on a meal. Easy enough that even older kids can make it! If you don't have fresh tomatoes, use a can of very well drained diced tomatoes or leave them out completely. Swap out ground beef for ground turkey if you like.
Day 6: Easy Chicken Pot Pie
Our Chicken Pot Pie recipes uses a premade crust or you can make your own. You just need shredded chicken and frozen veggies, as well as flour, butter and milk for the sauce. A canned cream soup can also be substituted.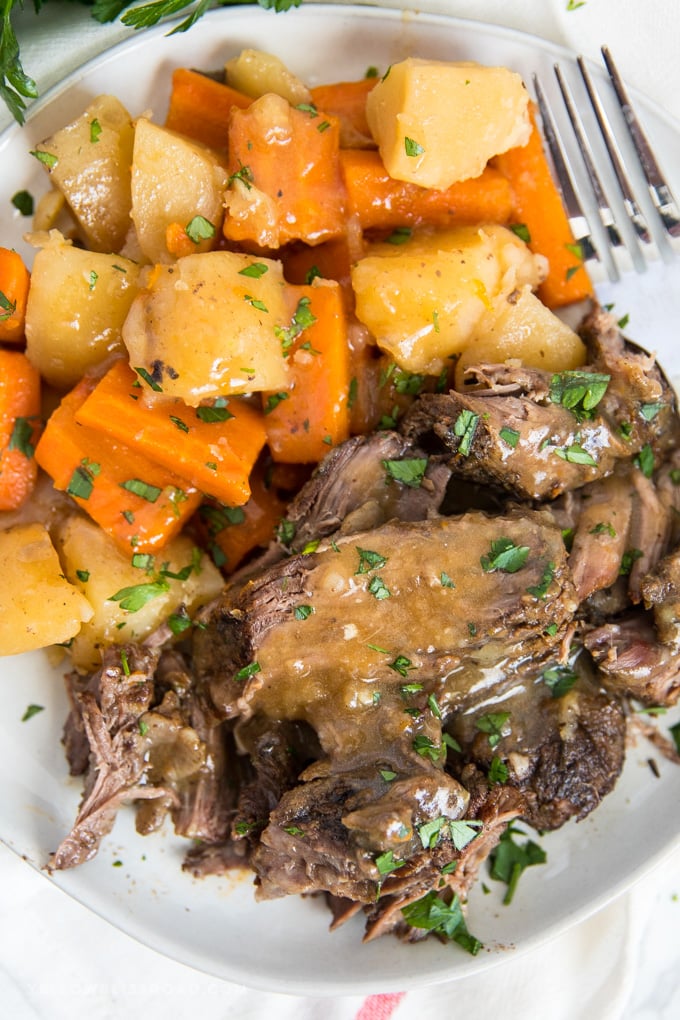 Day 7: Crock Pot Roast
Another one of our most popular recipes is a great meal that will last beyond one dinner. Sometimes I add the carrots and potatoes and sometimes I don't. It makes its own gravy using only cornstarch to thicken. Serve with make ahead mashed potatoes or frozen sweet potatoes and fresh or frozen veggies.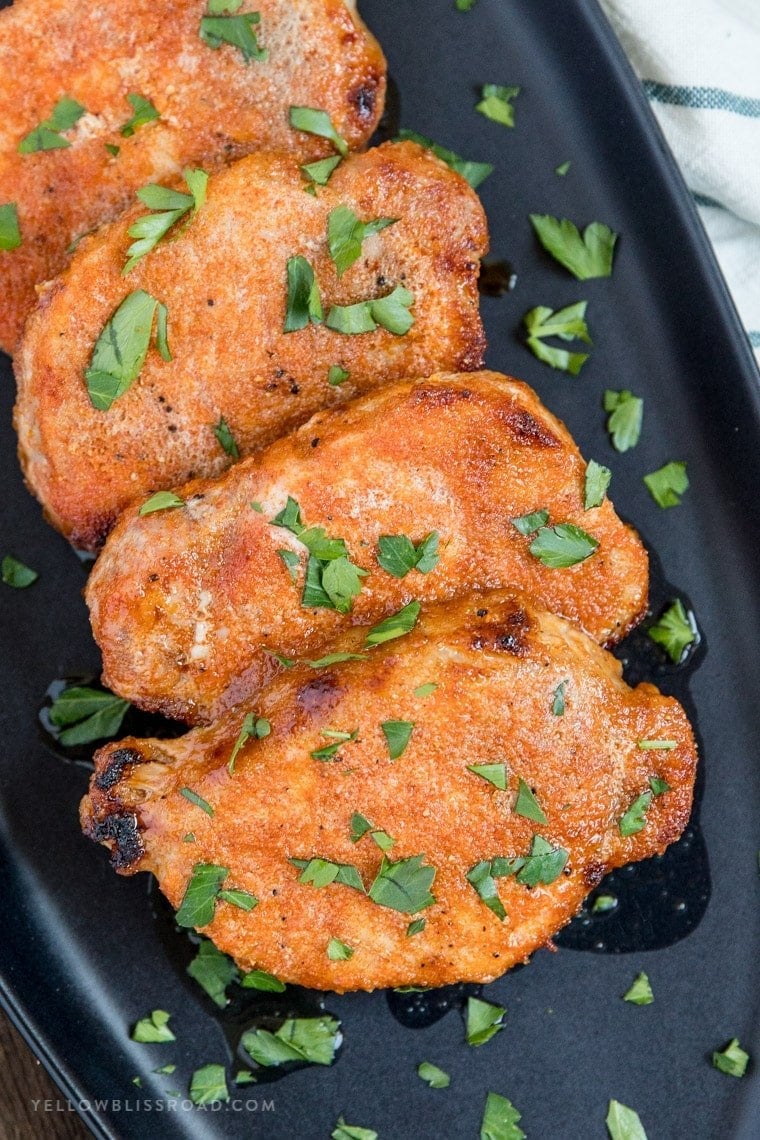 Day 8: Baked Pork Chops
If you have a pork loin, you can cut chops from there, or buy them pre-cut. The seasoning makes these chops so flavorful and it's easy to round out the meal with a side of steamed rice and veggies. These bad boys are on my meal plan at least once a month.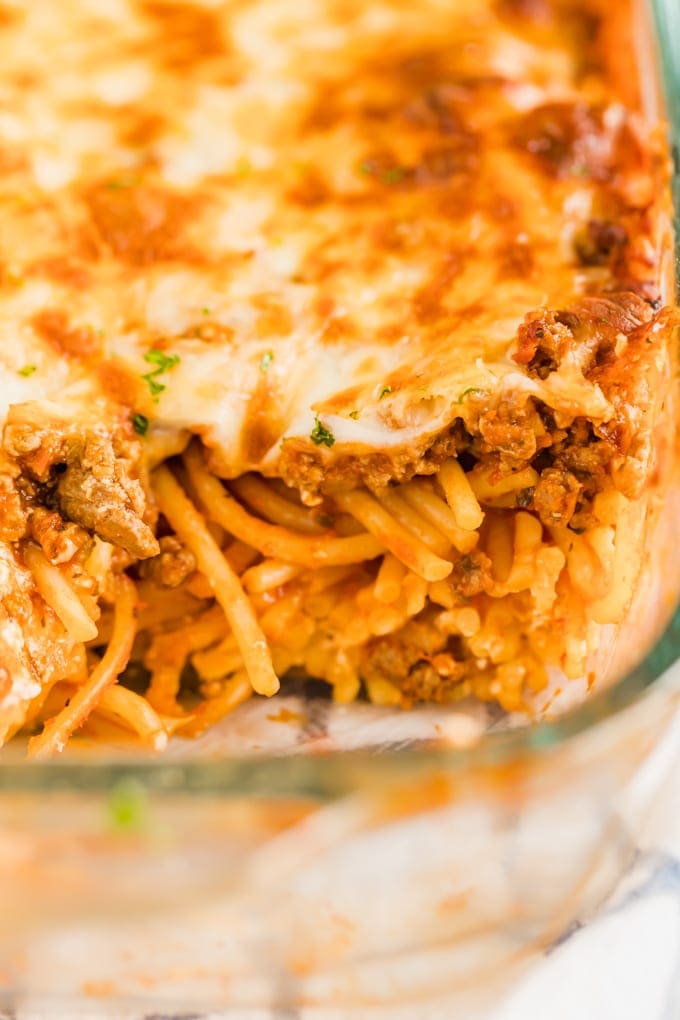 Day 9: Million Dollar Spaghetti
Time to indulge a little! This casserole is similar in flavor to lasagna, and it's so creamy and delicious. If you're bored with basic spaghetti, give this million dollar spaghetti casserole a try.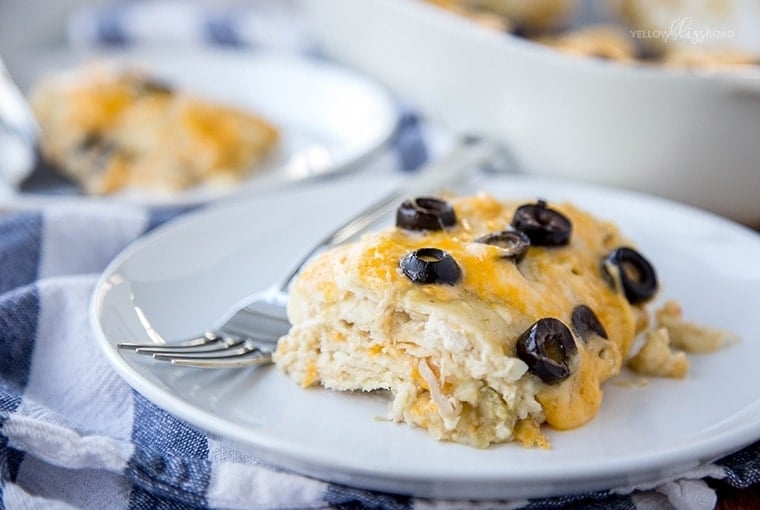 Day 10: Chicken Enchilada Casserole
I've included a lot of casseroles because they tend to stretch your dollar and feed a couple more mouths. Chicken enchiladas turned into a layered casserole is a perfect example! This recipe uses a lot of pantry ingredients, plus shredded cheese, cream cheese and shredded chicken. I can usually get two meals out of one big pan, or one meal and several lunches.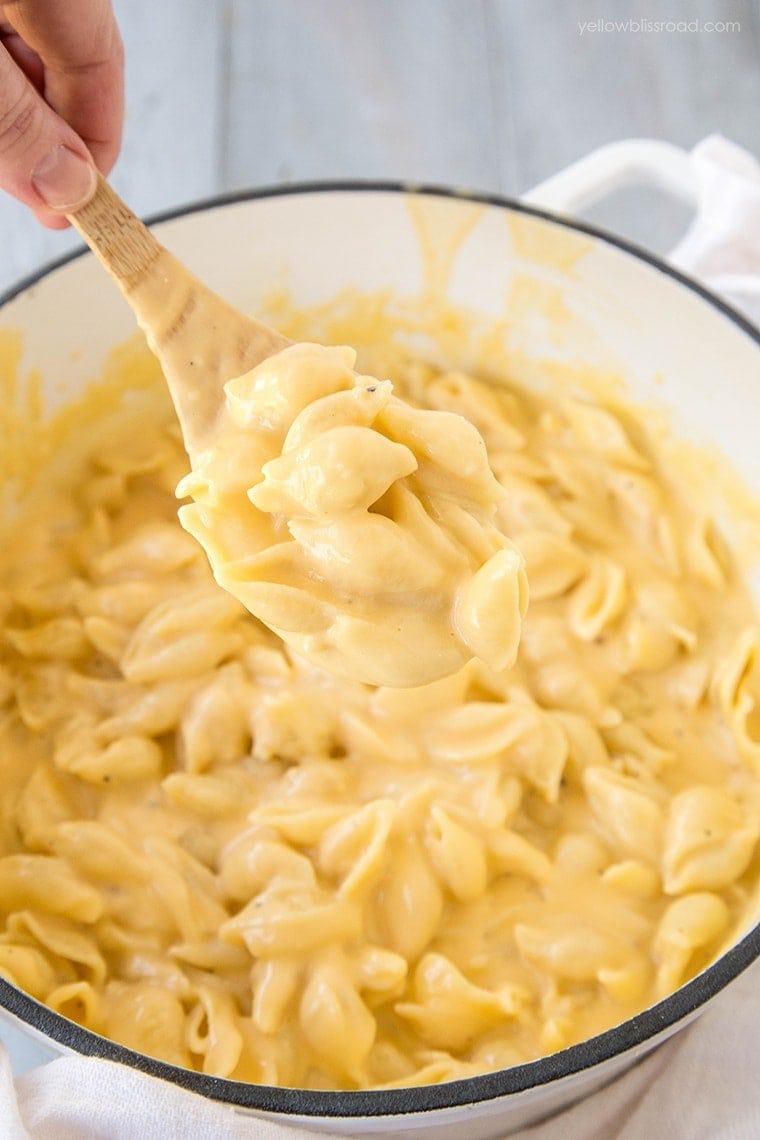 Day 11: Stovetop Macaroni and Cheese
More comfort food! Are you sensing a theme? If you've never made mac and cheese from scratch you have to try this recipe! I use a "secret" ingredient to ensure the sauce stays creamy and it's so good! You can mix in protein like tuna, chicken or even ground beef and some frozen veggies to make it a complete meal.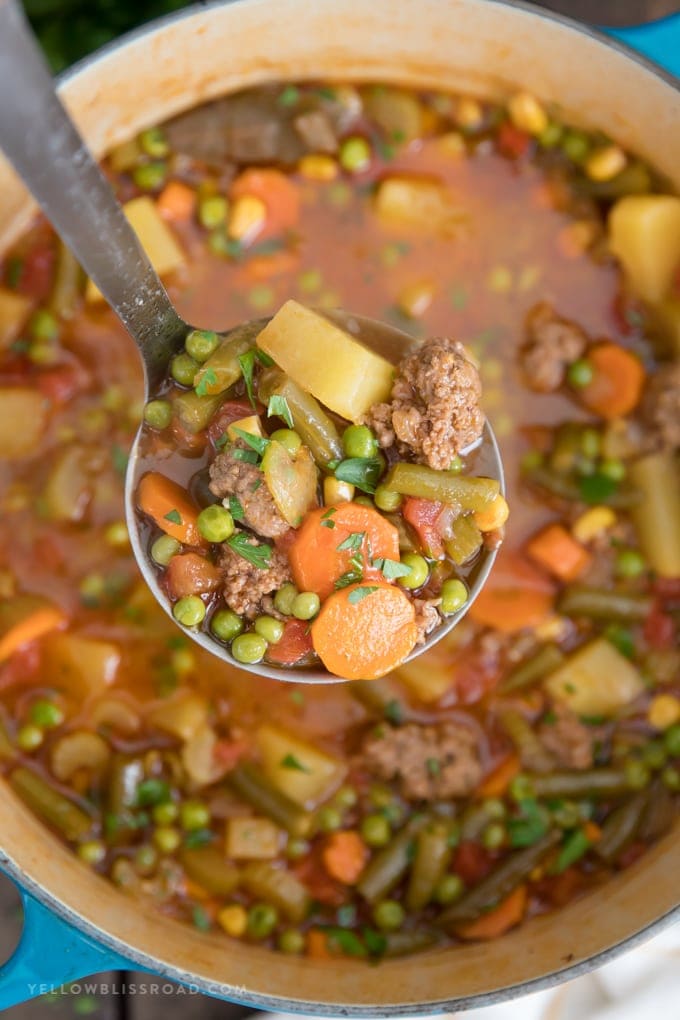 Day 12: Vegetable Beef Soup
No meal plan of mine would be complete with soup! Warm up with a bowl of totally customizable vegetable beef soup! Use whatever veggies you have in your fridge or freezer and beef broth or veggie broth. Since it's a complete meal, you can serve with crackers or a loaf of bread if you have some on hand. Swap out ground beef for ground turkey if you like; if you do, I recommend swapping the beef broth for chicken.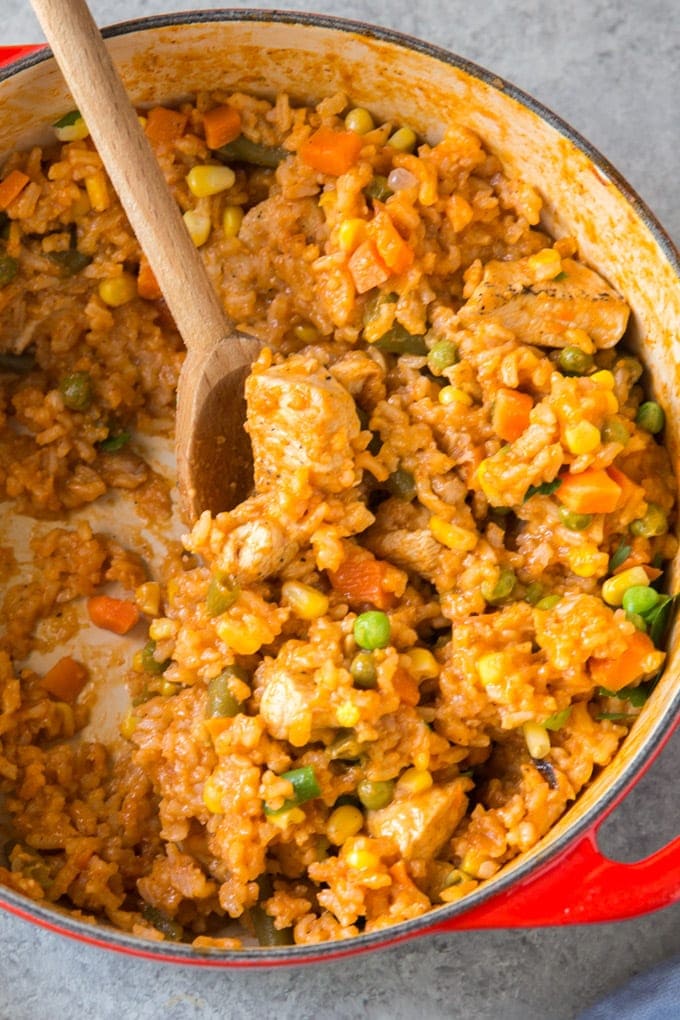 Day 13: One Pot Mexican Chicken and Rice
Our favorite Authentic Mexican Rice is turned into a complete meal with this one pan recipe. Uses chicken breast or thighs and frozen veggies. A meal on it's own, you can also serve with a salad or some refried means on the side.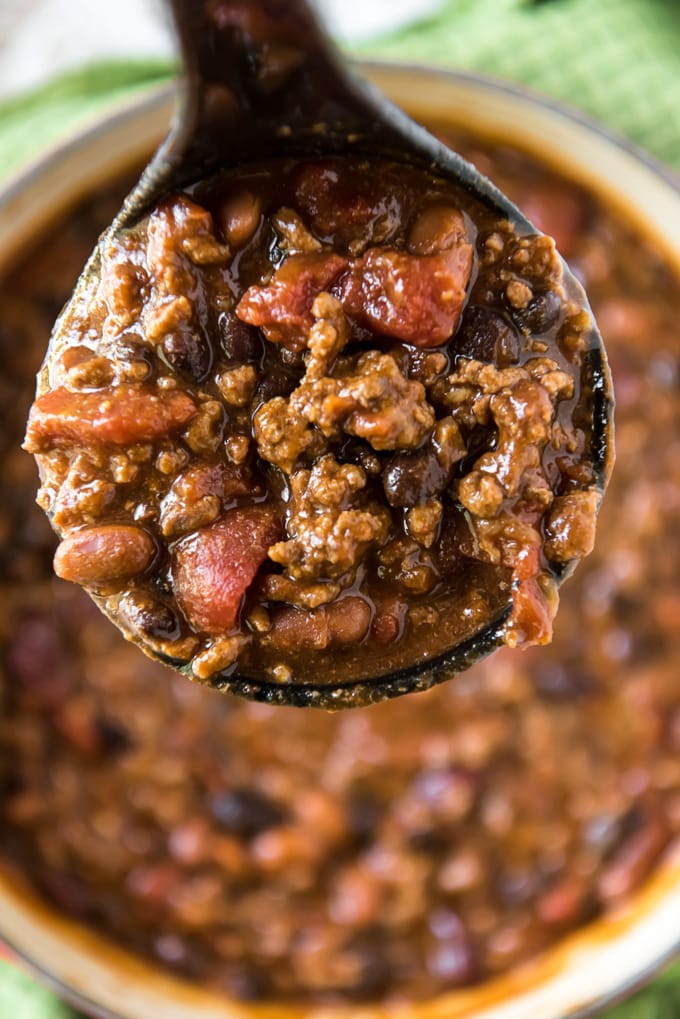 Day 14: Chili
You know this was coming! This is one of the first recipes I think of when I don't know what to cook for dinner. Uses up canned beans, canned tomatoes and tomato sauce and ground beef. Onion can be replaced with frozen or dried minced. It is a complete meal but can be served with tortilla chips, sour cream and shredded cheese. Ground beef can be swapped out for ground turkey.
Bonus Recipes from Pantry Ingredients:
If there is something on this list you don't have ingredients for or you'd just like to try something a little different, these recipes use mostly pantry ingredients, like canned salmon or dried beans.
Side Dishes for Any Meal Plan
While a lot of these recipes are completely meals on their own, you may want to include some sides to stretch your meals a little further. Here are some great options:
Desserts
Add some of these sweet treats!
Printable Shopping List
You can view the printable shopping list for our 14 day meal plan here. I've broken it down into typical sections that you'd find in your grocery store. Print on your home printer and use the checkboxes to mark off items you already have in your fridge, freezer and pantry. Be sure to make notes for substitutions and omissions.