Get ready to indulge in the delicious messiness of Sloppy Joes! This classic American sandwich is a crowd-pleaser that combines savory ground beef cooked in a tangy tomato-based sauce with a hint of sweetness.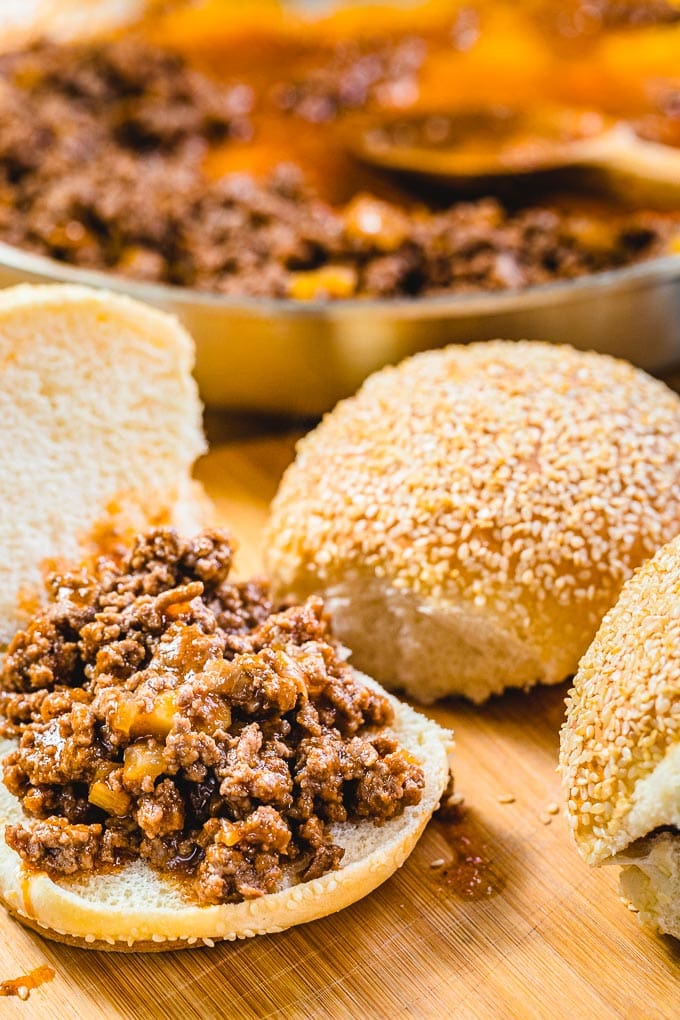 Pin this recipe for later!
About This Easy Sloppy Joes Recipe
Ah, the Sloppy Joe. Perhaps the most underrated school cafeteria meal out there. These easy sloppy joes are truly a simple meal to make, any night of the week and they hold up particularly well when refrigerated or frozen.
The flavorful meat mixture is piled high onto soft hamburger buns, creating a mouthwatering combination of textures and tastes. Topped with your choice of condiments such as melted cheese, sliced pickles, onions, or a dollop of coleslaw, each bite is a satisfying explosion of flavors.
Whether you're hosting a casual gathering or simply craving a comforting meal, this easy-to-make and versatile dish is sure to satisfy. Get ready to savor the messy goodness of Sloppy Joes and experience the timeless joy of this beloved comfort food classic.
A homemade sloppy joe is:
Fast and Kid-Friendly – These make a wonderfully quick, easy dinner during the week and are definitely a hit with the kids. When you've had a long day and fighting about eating is not on your "to-do" list, making these sloppy dinner joes will ensure everyone is happy!
Customizable – You can use hamburger buns, or even hot dog rolls, and various fixings for some added fun!
Easy and versatile! If you don't have ground beef, you could use ground turkey or ground chicken instead.
How to Make Sloppy Joes
See recipe card below for ingredient quantities and full instructions.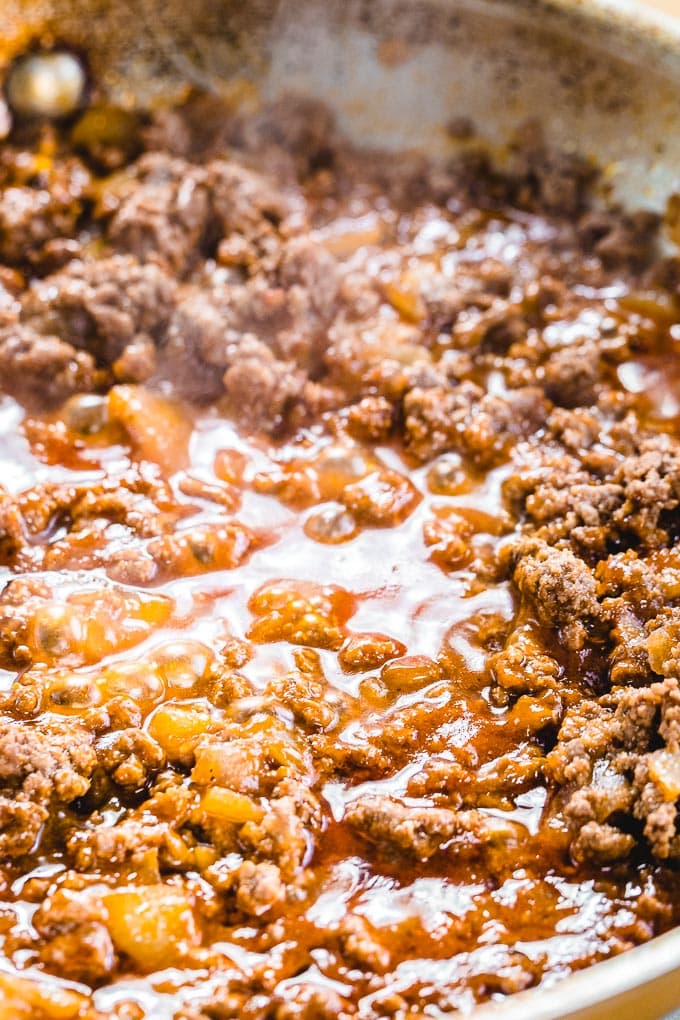 Saute onion and ground beef until browned and cooked through.
Stir in ketchup, seasonings and Worcestershire sauce. Simmer for 15 minutes, slightly covered so steam can escape.
Toast the buns, then top with the sloppy joe meat mixture and other desired toppings.
What is a Sloppy Joe?
A Sloppy Joe is a classic American sandwich with ground meat (typically beef), tomato-based sauce or seasoning, and various spices and flavorings. It is known for its messy and saucy nature, hence the name "Sloppy Joe." It's sometimes called a loose meat sandwich.
FAQs
What type of buns are best for serving sloppy joes?
The choice of buns for serving sloppy joes can depend on personal preference and the desired texture and flavor. However, there are a few types of buns that are commonly used and work well with sloppy joes:

Soft hamburger buns: Traditional soft hamburger buns are a popular choice for serving sloppy joes. They have a light texture and are sturdy enough to hold the saucy filling without falling apart. Look for buns that are fresh and slightly toasted for added texture.

Brioche buns: Brioche buns are a slightly richer and sweeter option. They have a soft and buttery texture, which can add a nice contrast to the savory and tangy flavors of the sloppy joe filling.

Kaiser rolls: Kaiser rolls are larger and denser than regular hamburger buns. They have a slightly crusty exterior and a soft interior, making them a sturdy choice for holding the hearty filling of sloppy joes.

Pretzel buns: Pretzel buns have a chewy texture and a slightly salty taste, which can provide an interesting twist to traditional sloppy joes. Their sturdy nature makes them a good option for holding the saucy filling without becoming too soggy.

Whole wheat or whole grain buns: If you prefer a healthier option or want to add more fiber to your meal, consider using whole wheat or whole grain buns. These buns offer a heartier texture and additional nutritional benefits.

Can I make sloppy joes ahead of time?
You can cook the sloppy joe meat mixture ahead of time and store it in the refrigerator for up to 2-3 days. Allow it to cool completely before transferring it to an airtight container. When ready to serve, simply reheat the mixture on the stovetop until warmed through.

In fact, go ahead and assmble the sandwiches, too. I find that they taste even better once they've hung out in the fridge for 24 hours. You can make the sandwiches ahead of time, and then quickly reheat them when it is time for dinner.
Are there any vegetarian or vegan alternatives to traditional sloppy joes?
You can replace the ground beef with a vegan alternative, like lentils, black beans or chopped mushrooms.
How can I reduce the amount of sugar in the sauce?
Sloppy Joe Sauce is notoriously sweet, so if you want to bring it more to the savory side, there are a few changes you can make: Use tomato sauce instead of ketchup, or use a sugar-free ketchup, and reduce or completely omit the brown sugar.
Make Ahead and Storage
Make Ahead: You can cook the sloppy joe meat mixture ahead of time and store it in the refrigerator for up to 2-3 days. Allow it to cool completely before transferring it to an airtight container. When ready to serve, simply reheat the mixture on the stovetop until warmed through. Do the same with leftovers.
Freeze the meat mixture: If you want to prepare sloppy joes even further in advance, you can freeze the cooked meat mixture. After it has cooled, transfer it to a freezer-safe container or zip-top bag. Label it with the date and freeze for up to 3 months. Thaw the mixture in the refrigerator overnight before reheating it on the stovetop.
Assemble the sandwiches in advance: If you prefer to have the entire sloppy joe sandwiches ready to go, you can assemble them ahead of time and store them in the refrigerator. However, it's important to note that the buns may become slightly softer as they sit in the filling. To prevent excessive sogginess, you can wrap the assembled sandwiches tightly in foil or plastic wrap and store them for up to 1 day in the refrigerator. When ready to serve, reheat the wrapped sandwiches in a preheated oven until warmed through.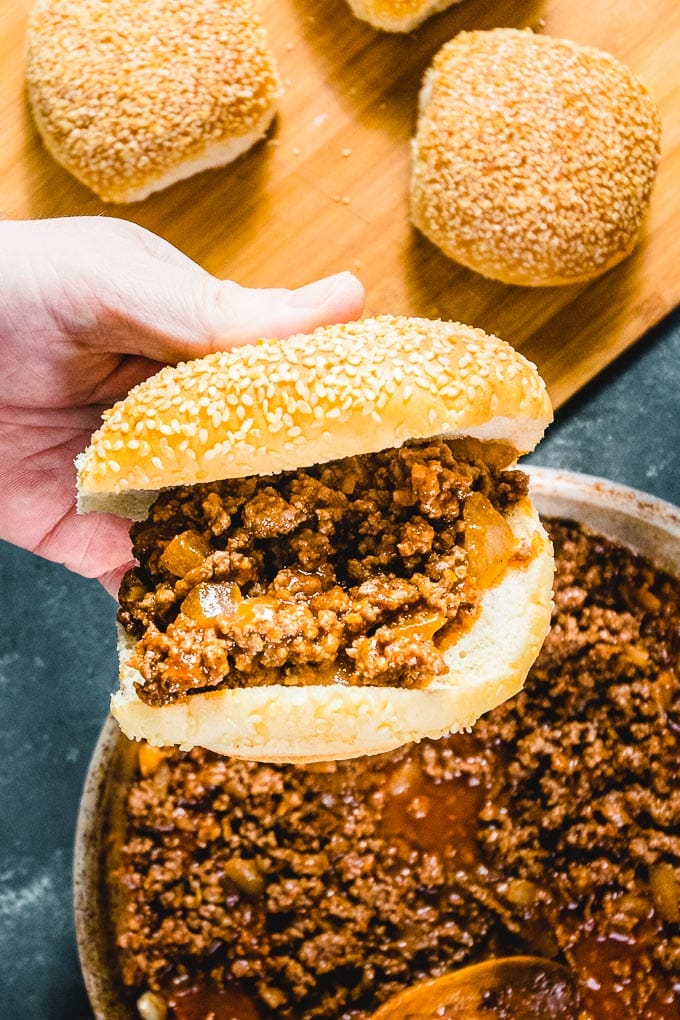 Helpful Tips
Choose the right meat: Ground beef is traditionally used for sloppy joes, typically using lean or medium ground beef. However, depending on your preferences, you can also experiment with other ground meats like turkey, chicken, pork.
Brown the meat properly: When cooking the ground meat, brown it well. This adds flavor and develops a rich, caramelized taste. Use a spatula or a meat chopper to break the meat into small crumbles while cooking.
Drain excess grease: After browning the meat, it's important to drain off any excess grease. This helps prevent the final dish from being too greasy or oily. You can use a slotted spoon or transfer the meat to a colander lined with paper towels to remove the excess fat.
Adjust the consistency: Sloppy joes should have a thick and saucy consistency. If the mixture is too runny, continue simmering until the excess liquid evaporates and the sauce thickens. If it's too thick, you can add a bit of water or broth to reach the desired consistency.
Toast the buns: Before assembling your sloppy joes, consider toasting the buns slightly. This helps add a nice texture and prevents them from becoming overly soggy from the sauce.
Let it rest: After cooking the sloppy joe mixture, let it rest for a few minutes before serving. This allows the flavors to meld together and makes the meat easier to handle when assembling the sandwiches.
Customize the toppings: Sloppy joes are often served with toppings like sliced onions, pickles, cheese, or coleslaw. Feel free to add your favorite toppings to enhance the taste and texture of the sandwiches.
Enjoy with care: As the name suggests, sloppy joes can be messy to eat. Serve them with napkins or on plates with utensils to help contain the deliciously messy experience.
Recipe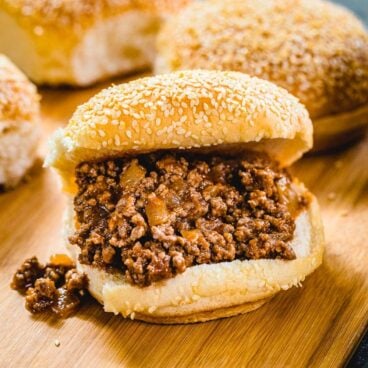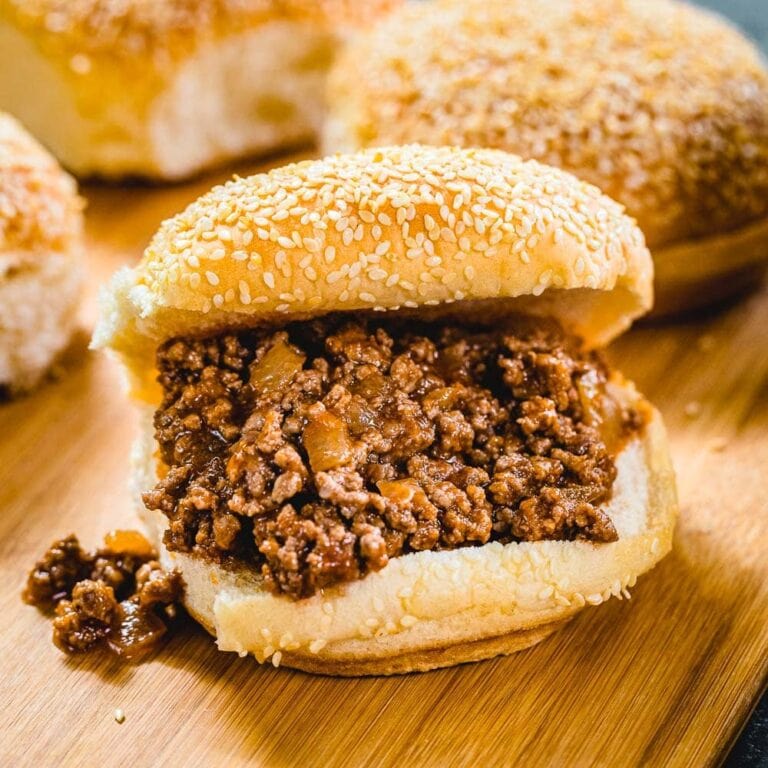 Sloppy Joes Recipe
Classic Sloppy Joes recipe with ground beef, onions, ketchup, Worcestershire, and brown sugar sauce for the ultimate sweet and savory meal.
Ingredients
1.5

pounds

ground chuck

1

medium

onion

diced

4

large

hamburger buns

1

Tablespoon

olive oil
for the sauce
1

cup

ketchup

1/3

cup

water

1

teaspoon

kosher salt

1/2

teaspoon

garlic powder

1/2

teaspoon

pepper

1

tablespoon

Worcestershire sauce

2

tablespoon

brown sugar
Instructions
Saute diced onion in a large pan over medium heat with 1 Tablespoon of olive oil.

After 3 minutes add beef to pan and break apart with a wooden spoon. Cook beef until brown on all sides (about 10 minutes).

Once the beef is brown, add in the ketchup, water, garlic powder, brown sugar, salt, pepper, and Worcestershire sauce. Mix well and simmer for 15 minutes slightly covered with a lid.

Serve on top of buns. Enjoy!
Notes
Recipe makes 4 large Sloppy Joes or 6 decent sized portions.
Draining beef fat is optional.
If sauce gets too dry during the simmering process, just add a few more ounces of water to pan and stir to combine.
Nutrition
Calories:
689
kcal
Carbohydrates:
47
g
Protein:
35
g
Fat:
39
g
Saturated Fat:
14
g
Cholesterol:
121
mg
Sodium:
1500
mg
Potassium:
777
mg
Fiber:
2
g
Sugar:
23
g
Vitamin A:
308
IU
Vitamin C:
6
mg
Calcium:
130
mg
Iron:
5
mg