Scotcheroos are a delicious no-bake treat that's perfect for parties and picnics. These Peanut Butter Crispy Bars with a chocolate and butterscotch topping require only six ingredients, and no baking!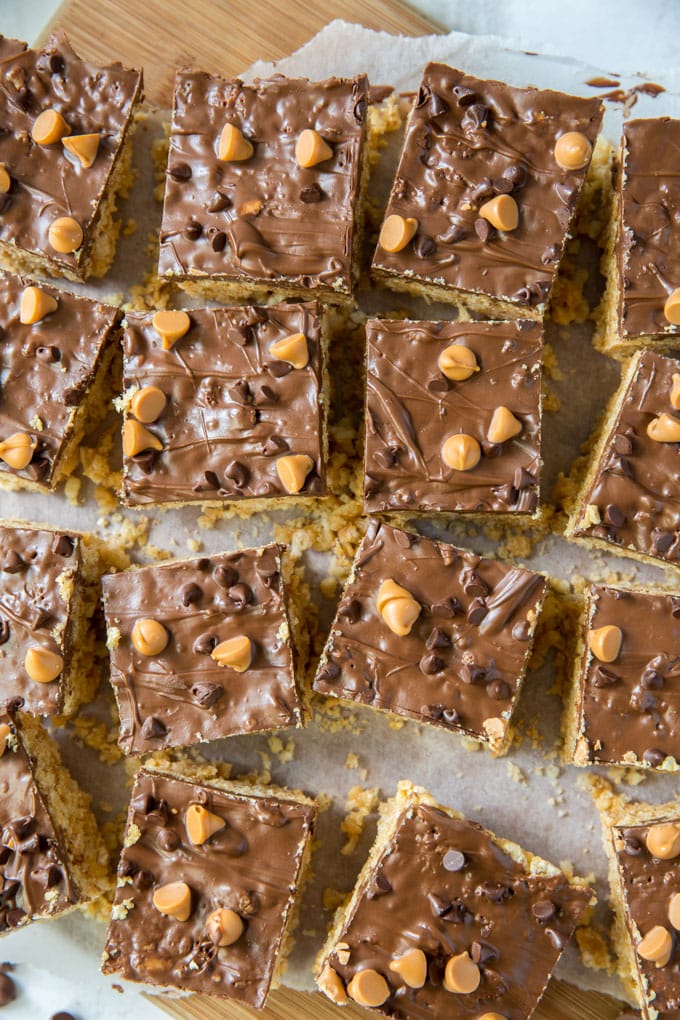 Scotcheroos Recipe
What do you get when you mix peanut butter, Rice Krispies, and chocolate together? Well, you almost get these Peanut Butter Crispy Bars. There are a couple other ingredients that you need to make them sweet and a little bit gooey. There are only six ingredients total, and two of them are chocolate chips and butterscotch chips.
This is the perfect treat to make when you can't run to the store because you already have everything in your cupboards and pantry! And if you don't have butterscotch chips, that's o.k. I won't tell. Straight chocolate never got any complaints.
Because they are no-bake, Scotcheroos are the perfect snack year round because you don't have to turn on hour oven. Kids can easily get in on the fun or even make them on their own. I love adding them to holiday cookie trays as a surprise treat.
What exactly is a Scotcheroo?
Scotcheroos are dessert bars with chocolate, butterscotch, peanut butter, and Rice Krispies cereal. The recipe was originally shared in the mid 1960s on the back of a Rice Krispies cereal box. The name refers to the delicious butterscotch chocolate topping.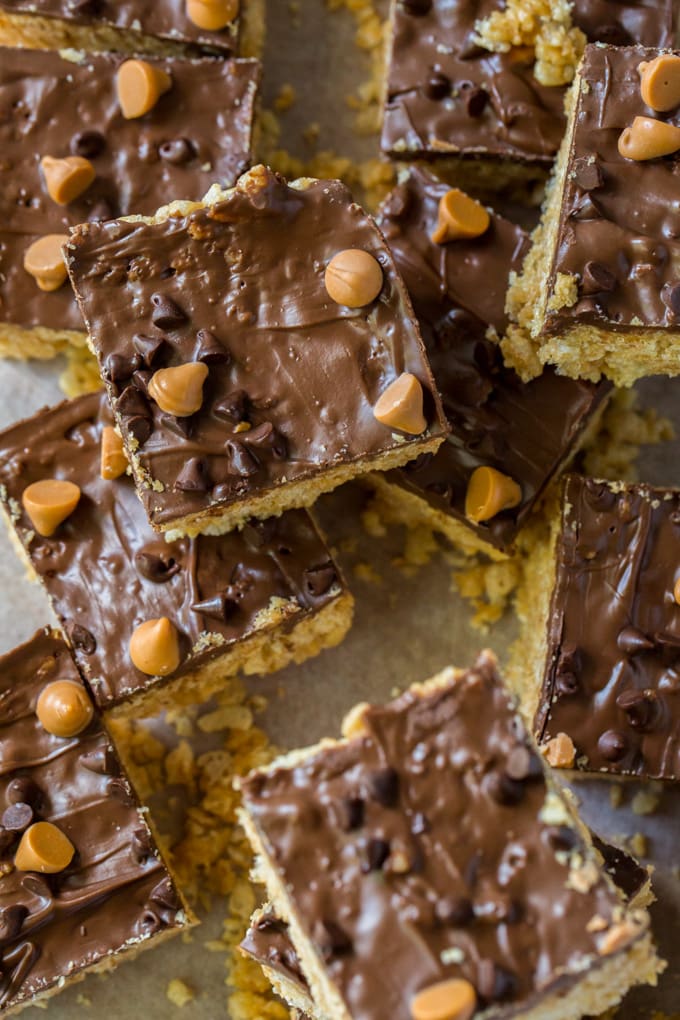 How to Make Scotcheroos
PREP. This recipe moves fast so it's important to have all of your ducks in a row before you get started. Grease a 9×9-inch pan with nonstick cooking spray or line with foil or parchment paper. I prefer to use the foil or parchment because it provided handles for lifting the whole pan of Scotcheroos out at once for easy cutting. Measure Rice Krispies cereal into a large bowl and set it aside. Combine the chocolate and butterscotch chips in a microwavable bowl and set those aside as well. Measure corn syrup, sugar and peanut butter into a large pot.
COOK. I know I said these are no-bake, but the sweeteners need a little bit of cooking time on the stove. Just heat that saucepan with the creamy peanut butter, sugar, and corn syrup over medium heat and keep stirring until it's hot and smooth.
ASSEMBLE THE BARS. Then you just take it off the heat, add all the Rice Krispies, and stir until they are all coated in the mixture. I definitely recommend using a silicone spatula for this and even spray it with a little nonstick cooking spray. Press the cereal mixture into the pan you prepared earlier.
MELT, POUR, SPREAD. Grab that bowl with the chocolate and butterscotch chips and melt them in the microwave. Use a dry spoon – any water at all will seize the chocolate and there's no coming back from that. Pour the chocolate butterscotch mixture over the Scotcheroo bars and gently spread in an even layer. It will take at least an hour for the chocolate to set, but do'nt try to speed that up in the fridge. Condensation will build and leave ugly white marks on top.
Recipe Tips and Tricks
I find that the best way to press these into pans is lightly spray your hands with cooking spray so that the Scotcheroos won't stick to them as you press them down. You could also get a square of plastic wrap, spray one side with cooking spray, place it spray-side down over the top of the whole thing, and press down until the top is even. Or, you could use a rubber spatula, also sprayed with cooking spray.
Wait until your bars are completely cooled and set before cutting with a very sharp knife.
This recipe can easily be doubled.
Make Scotcheroos ahead of time and store in an airtight container for up to 3 days. They are great for freezing, too! Cut into squares and place into a gallon freezer bag for up to 1 month.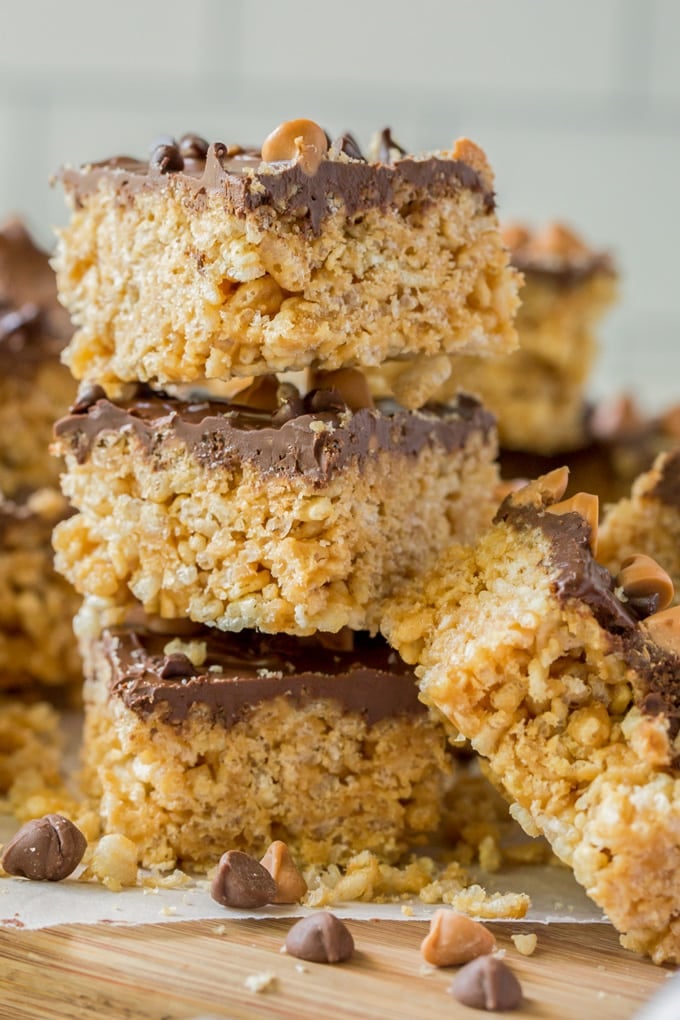 Looking for more yummy treats with Rice Krispies:
More peanut butter treats:
Recipe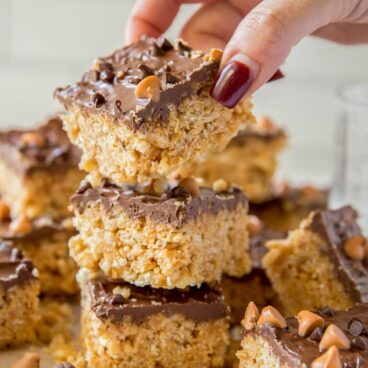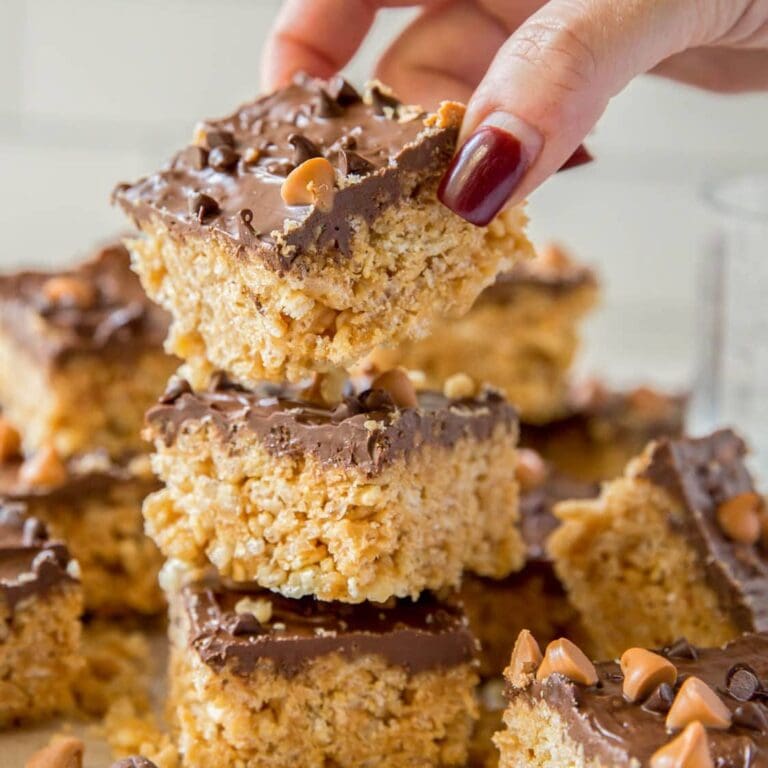 Scotcheroos
Scotcheroos are a delicious no-bake treat that's perfect for parties and picnics. These Peanut Butter Crispy Bars need only six ingredients, and no baking!
Total Time
1

hour
20

minutes
Ingredients
1/2

cup

light corn syrup

1/2

cup

creamy peanut butter

1/2

cup

sugar

5

cups

crisp rice cereal

like Rice Krispies

1/2

cup

butterscotch chips

1/2

cup

chocolate chips
Instructions
Line a 9×9-inch pan with foil or parchment paper. Set aside.

In a large pan over medium heat, combine corn syrup, peanut butter and sugar over medium heat. Stir constantly until melted and smooth.

Remove from the heat and add the Rice Krispies cereal. Mix until everything is well incorporated. PRO TIP – use a silicone spatula sprayed with nonstick cooking spray.

Spread cereal mixture into the prepared pan. and spread with the spatula.

Place butterscotch chips and chocolate chips in a microwavable bowl and melt on high in 20 second intervals, stirring in between, until melted. Pour over the bars and spread evenly. Cool for at least one hour to set before cutting into squares.
Nutrition
Calories:
173
kcal
Carbohydrates:
30
g
Protein:
3
g
Fat:
6
g
Saturated Fat:
2
g
Cholesterol:
1
mg
Sodium:
69
mg
Potassium:
59
mg
Fiber:
1
g
Sugar:
23
g
Vitamin A:
18
IU
Calcium:
11
mg
Iron:
1
mg